"I wake up for makeup." -Unknown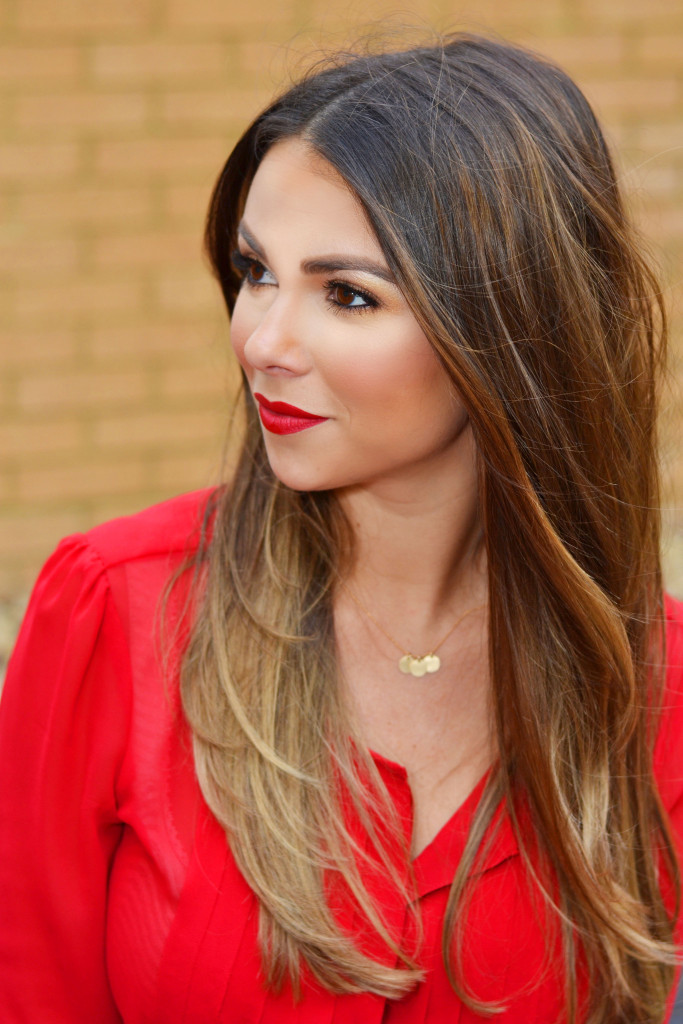 During the holidays I love adding a little sparkle to my eyes and a bold lip. For this look I chose a gold and bronze palette and skipped my signature winged eyeliner and opted for a bright and bold red lip.  Switching your look up for a night out will not only have your gal pals showering you with endless complements but you'll also have a little pep in you step.  Keep reading for details on this holiday makeup look.

From your tear duct out work from lightest to darkest using gold and bronze shadows.  Not wearing eyeliner but still want to wear fake lashes?  Instead of adhering your lashes to the top of your eyelashes, glue the lashes underneath.  This way the "track" won't show but you'll still have long, full lashes.  This lip stain is the best I've ever come across!  It will not smudge or budge!
MAC Veluxe Pearlfusion Shadow Palette in Amberluxe: Nordstrom | MAC eyeshadow in Shroom: Nordstrom | MAC eyeshadow in Mylar: Nordstrom | MAC eyeshadow in Omega: Nordstrom | MAC eyeshadow in Tempting: Nordstrom | MAC eyeshadow in Sketch: Nordstrom | Eyelash glue: Nordstrom
| Eyelashes: Nordstrom | Lip stain in Always Red: Spehora | Pencil eyeliner in Black: Sephora | Pencil eyeliner in Petro Blue: Sephora | Secret Brightening Powder: Nordstrom | Highlighter: Nordstrom | Concealer: Nordstrom | Powder: Nordstrom | Blush in Fleur Power: Nordstrom
Kisses and Holiday wishes,