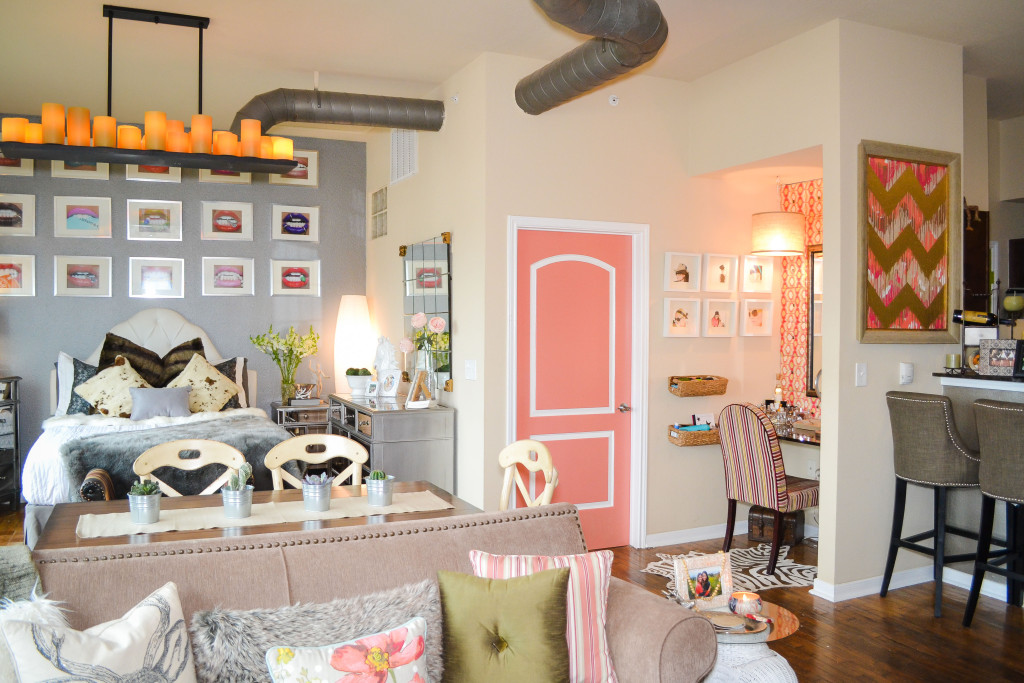 Hello friends and happy Wednesday!  I can't believe how fast this week is going (thank God!).  Last weekend I spent the whole weekend house hunting.  I have been in the loft I currently live in for 6 years and it's time to move on.  Knowing I will be moving soon has gotten me all sentimental so I've decided to share my pad with you before its officially not mine anymore.  Here I will be sharing decor inspo, how to achieve the look, how to make the most out of a small space and how to add some spice to small spaces.  I hope you enjoy!

Though small (850 sqft) and basically just one open concept room (I live in a studio) I feel like I've really been able to make this small space feel like home.  Loving your home, feeling comfortable where you live and having your space reflect you and your personality are so so important!  After coming home from a long day your home should feel like your own private and personal sanctuary.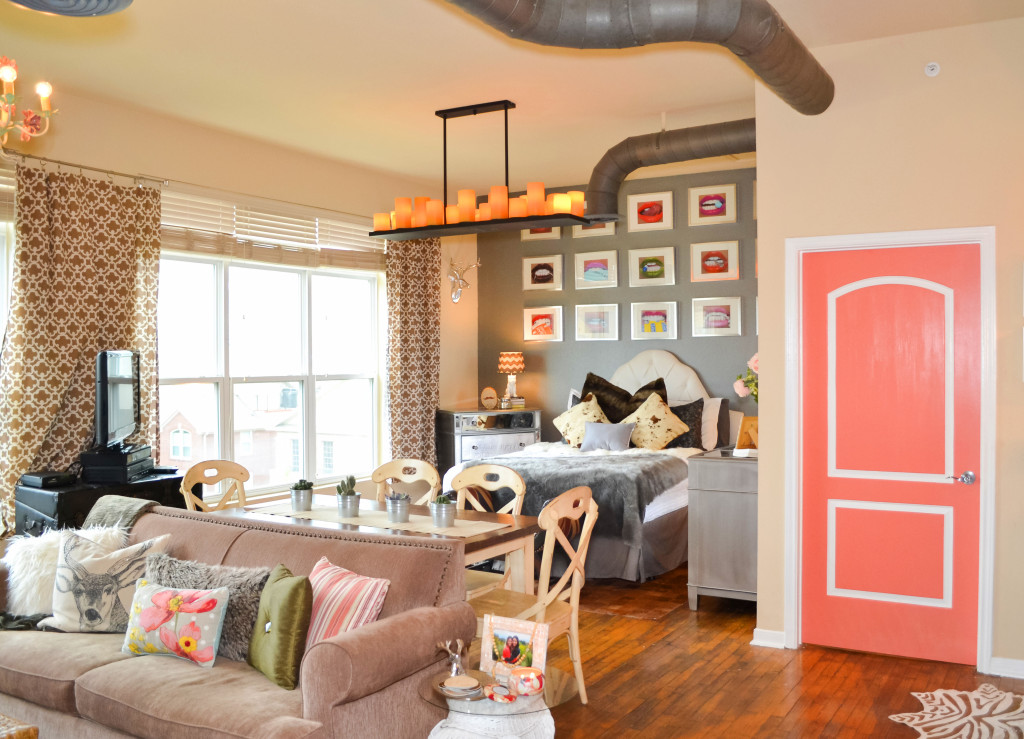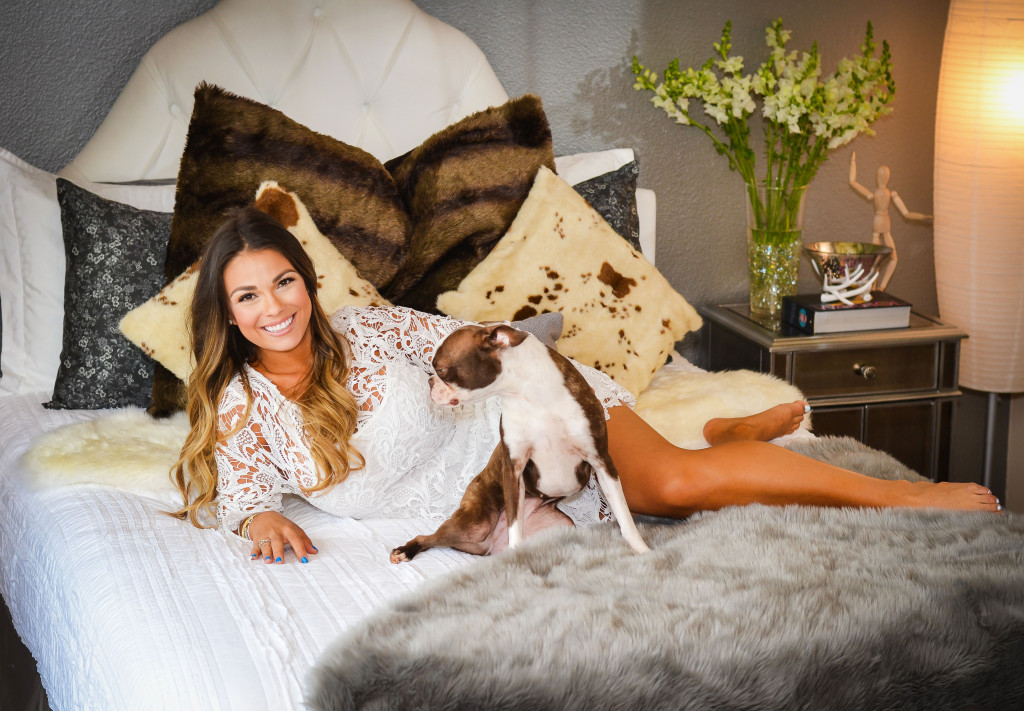 My home is very eclectic. I love mixing and matching colors and patterns you wouldn't usually see together. I feel like it gives personality and depth to design.
All of the art featured and displayed in my flat are my own pieces. If interested in the lips above my bead or any other pieces you see in my posts please email me meghan@themeghanjones.com.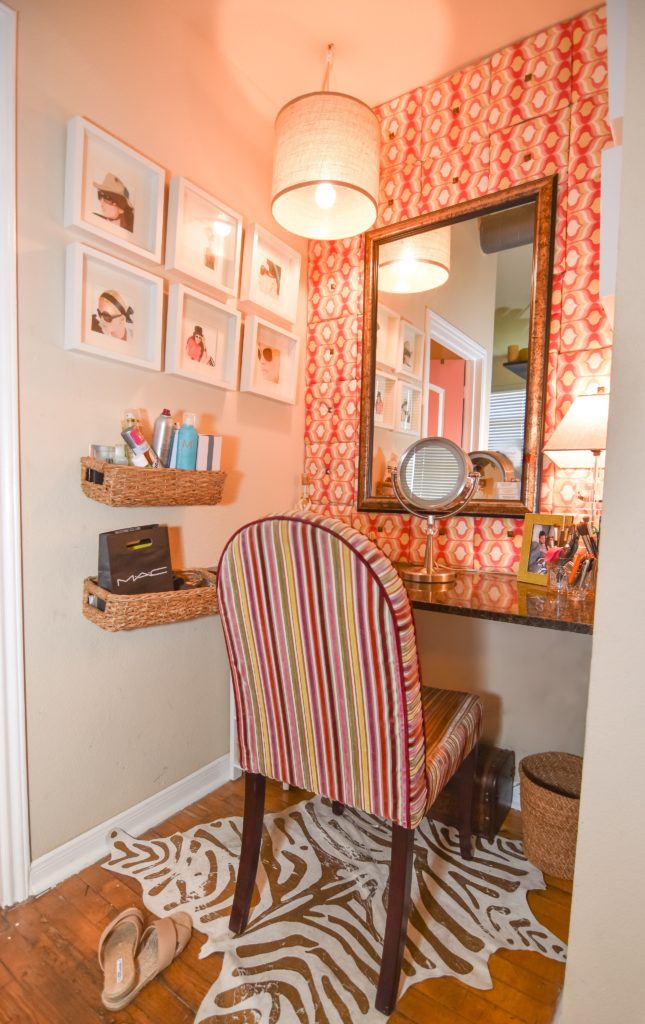 Like I said, I live in an 850 sqft studio and it has hardly ANY storage.  I have no coat or utility closet, I have a pedestal sink in my bathroom so the only storage I have in my bathroom is a small medicine cabinet… you get where I'm going with this- I seriously have a shortage of storage!  My studio came with a "desk" area.  Its basically a small area with a granite slab my complex advertised as an office.  I've turned this "office" into my vanity area.  I get ready here and also store all my beauty products here.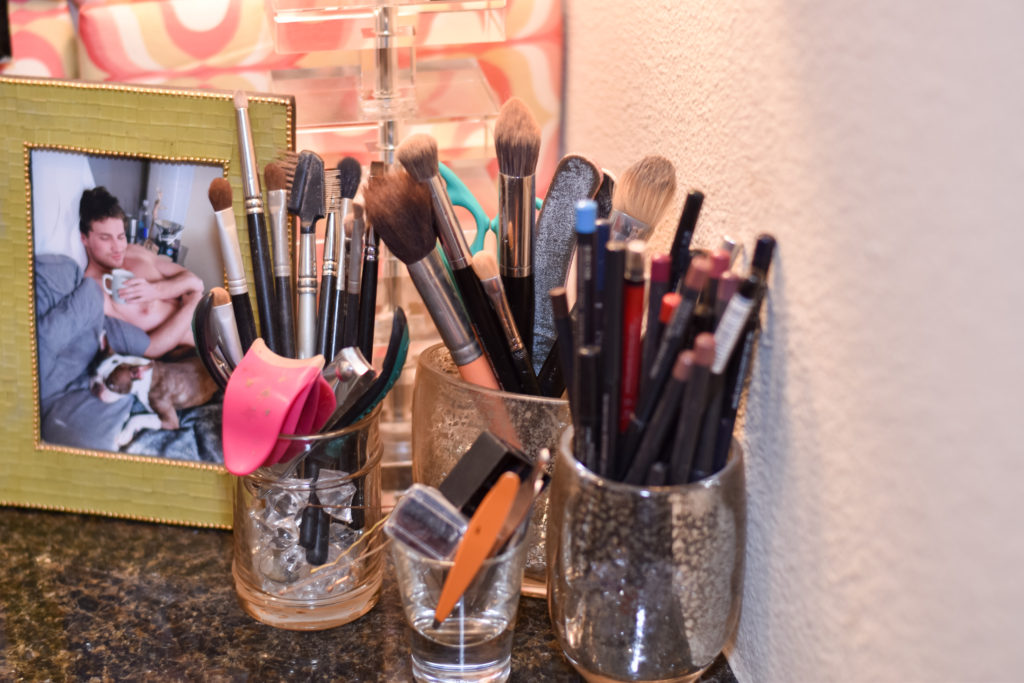 I keep all my brushes clean and organized by using pretty tooth brush holders or mason jars to store them.  I like separating them- eye brushes and face brushes.  I also store my liners this way.  I put my tweezers and sharpeners in a shot glass.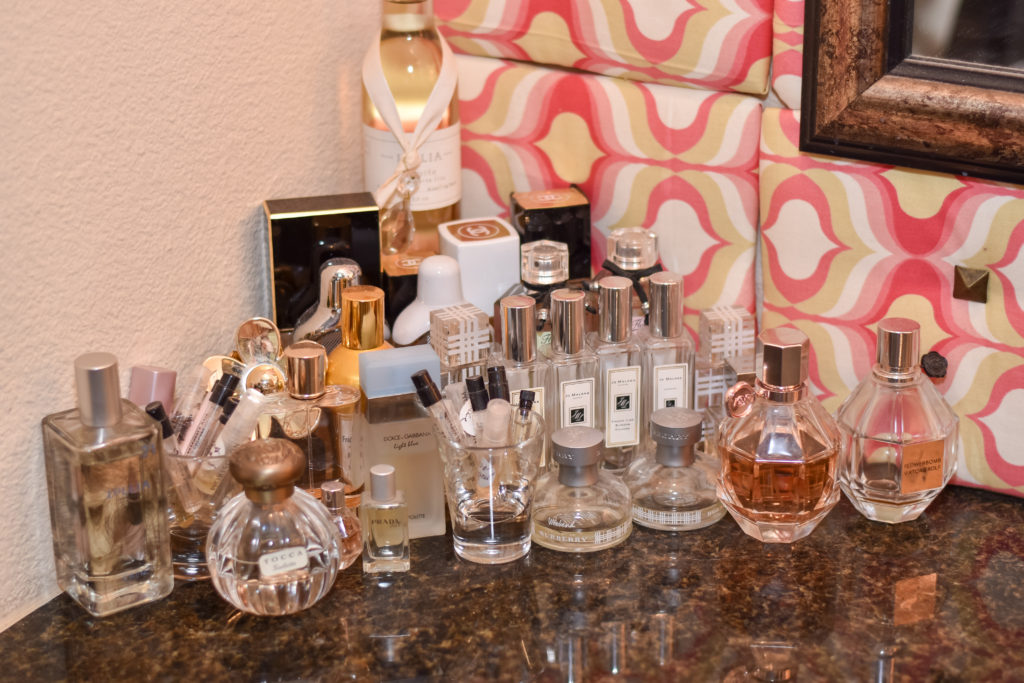 I like keeping all of my perfume displayed in one corner so I can easily see all of my options.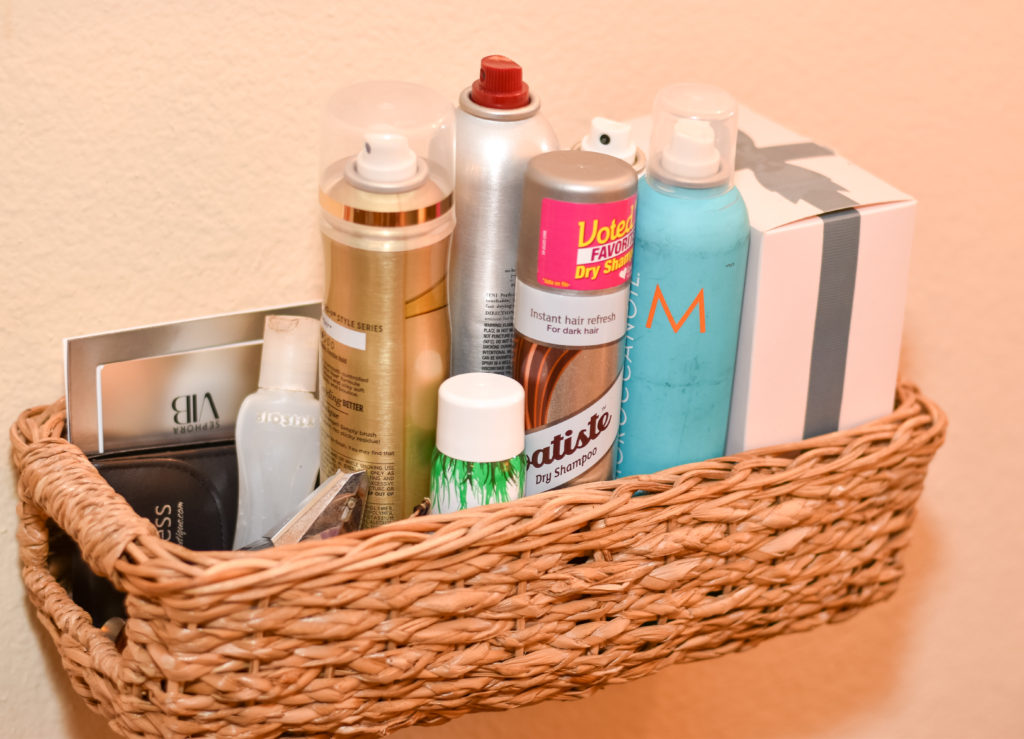 These storage baskets from Target are great!  I hammered them into the wall to create more storage.  You can do this anywhere in your home where you need extra space to store things.  All you need is a hammer and some nails and baskets that match your decor.  In these baskets I store my hair products.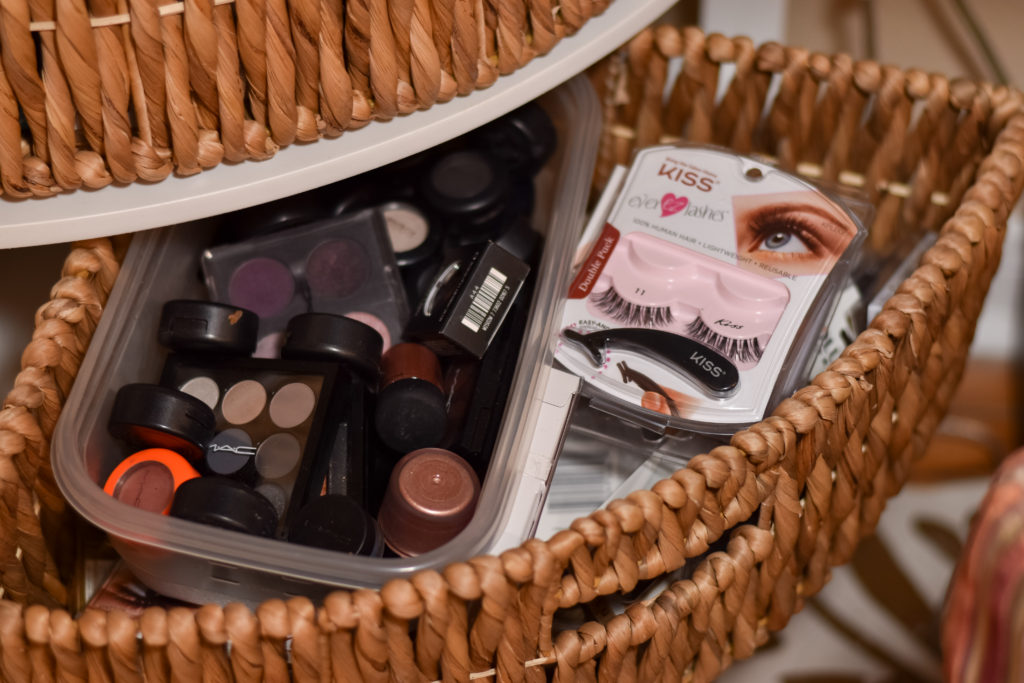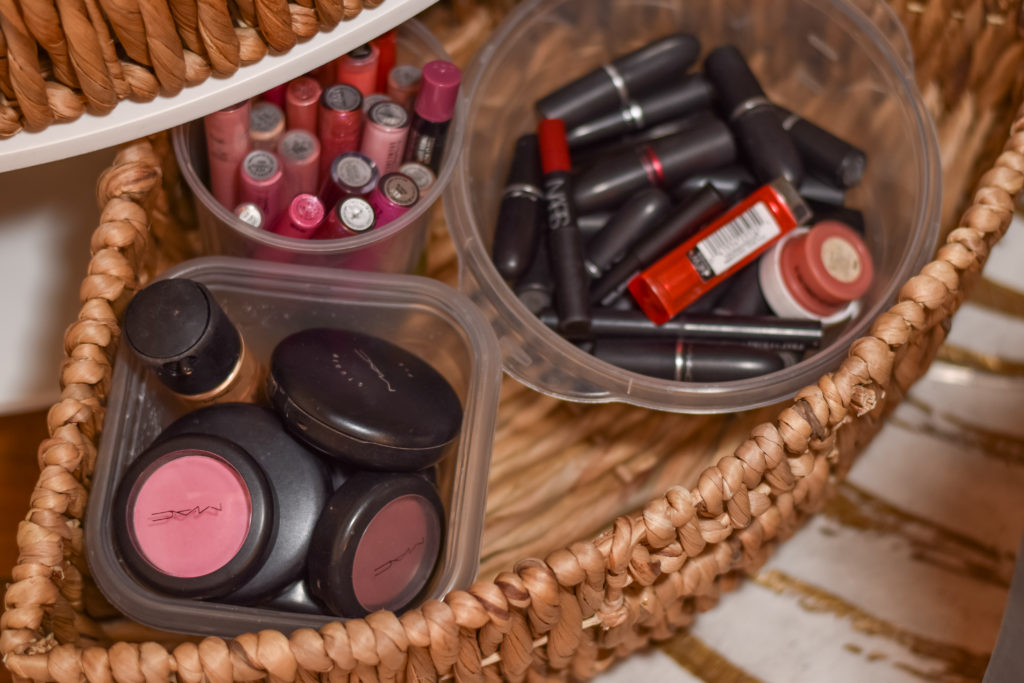 I love these storage cubes from target.  They come in different shapes and sized and you can really customize them to your exact needs.  I use sea grass baskets in them and I store the rest of my make up.  I like everything to be really organized in the baskets so everything is easy to find.  I use tupperware and old take out containers to separate my products- eyeshadow, face makeup, lipsticks, lip gloss.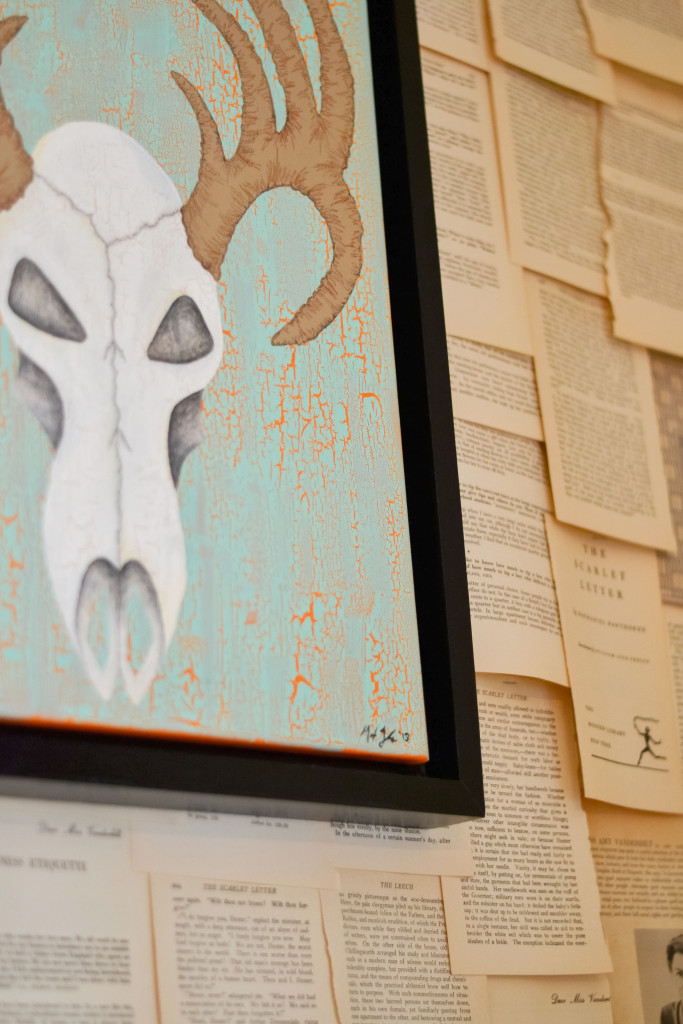 This little nook in my loft is my favorite spot in the house.  Using pages from vintage books, I covered the wall to create a some whimsical detail and texture.
This wall is so easy to recreate!  All you need are some old books, a staple gun and a ladder or step stool.  You can find vintage or old books at any antique store and they're cheap!  I paid under $5 per book.  For this wall I used a book on etiquette and a copy of The Scarlet Letter.  I though the juxtaposition of the two was comical.  I used two books because I wanted variation in page and font size.  This wall is 9ft by 3ft and with using two books I had pages left over.
First, carefully rip out the pages.  The paper is old so it's somewhat delicate and should rip out easily. Start at the bottom of the wall and using one staple at the very top of the page attach the page to the wall.  Have the pages overlap so the stables are covered.  Go row my row from bottom to top until the wall is covered.
Your loose pages will have 3 sides with crisp cut edges and one side with jagged ripped edges from where you removed the page from the book.  Make sure the clean edges are used where the wall meets the ceiling or another wall.  I liked putting different types of pages next to each other- a page with lots of text next to a page with very little text, a page with illustration next to a page with just text…
This is an affordable, quick and easy way to add some character to a space and I hope you feel inspired to do it in your home!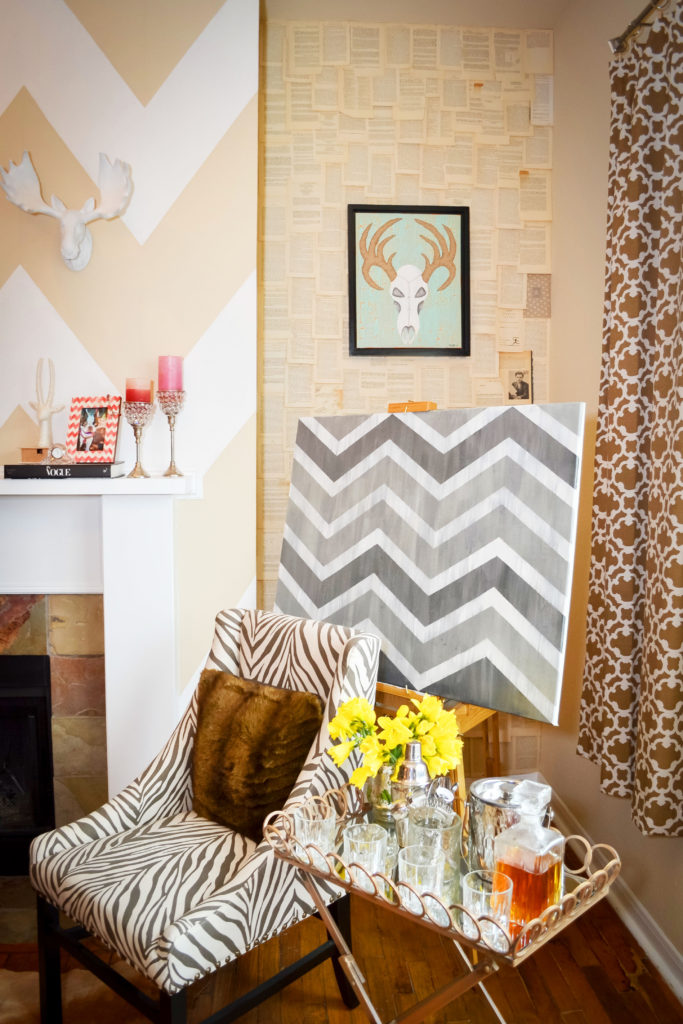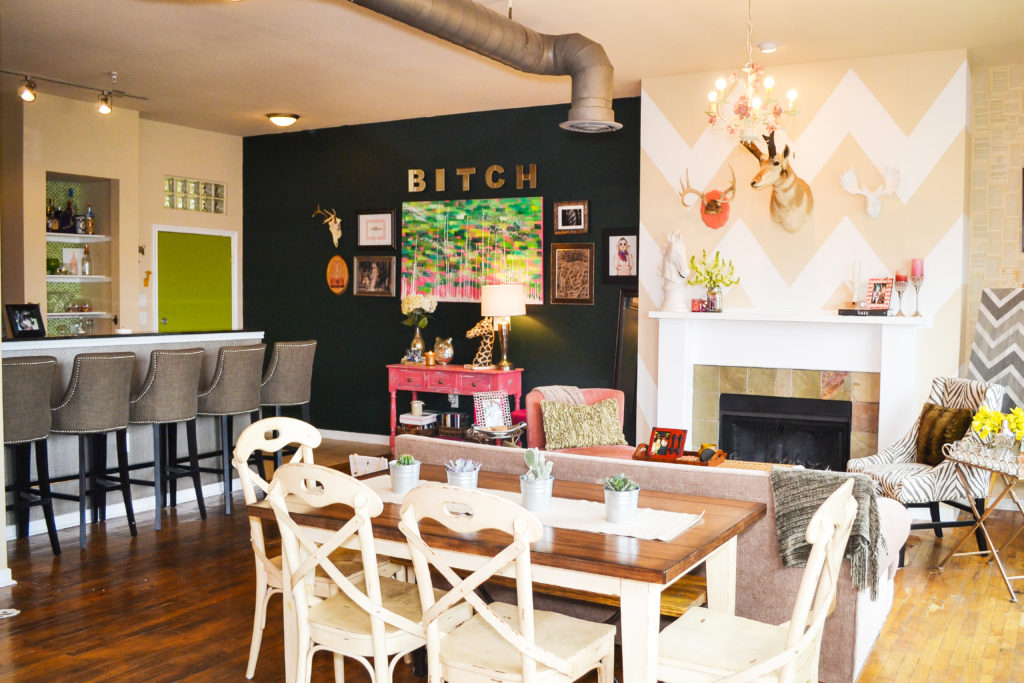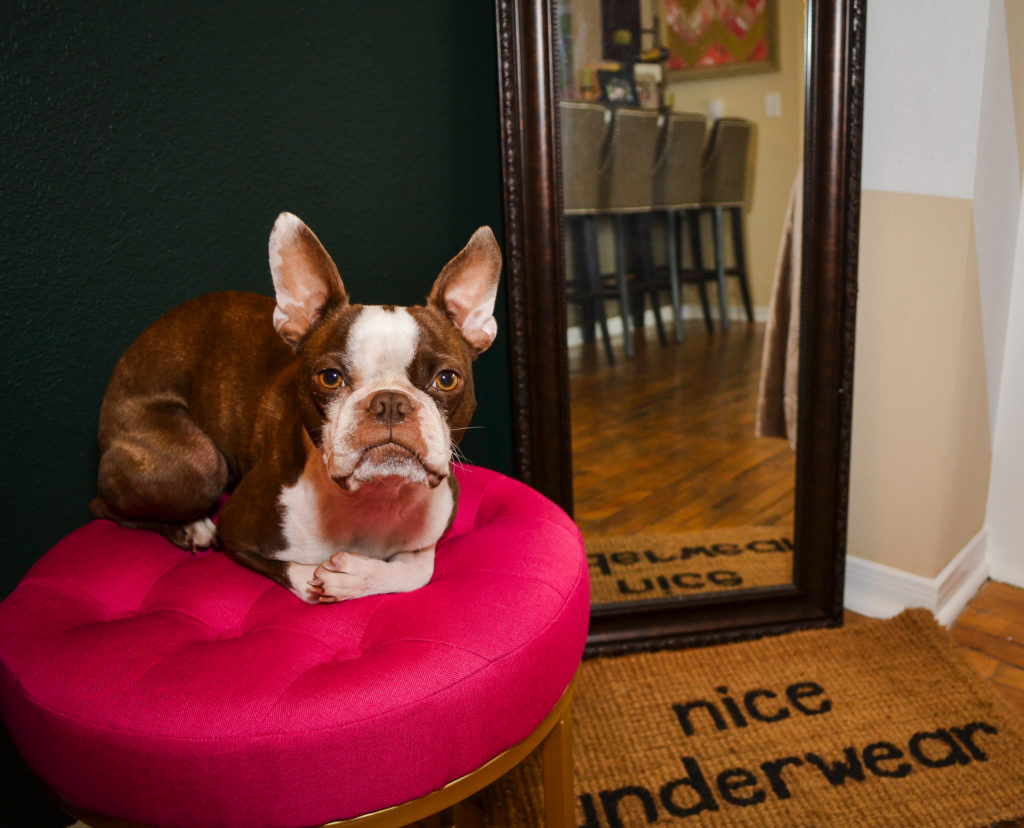 I hope you enjoyed my home tour and I cannot wait to share my new place with you!
Kisses and home sweet home wishes,