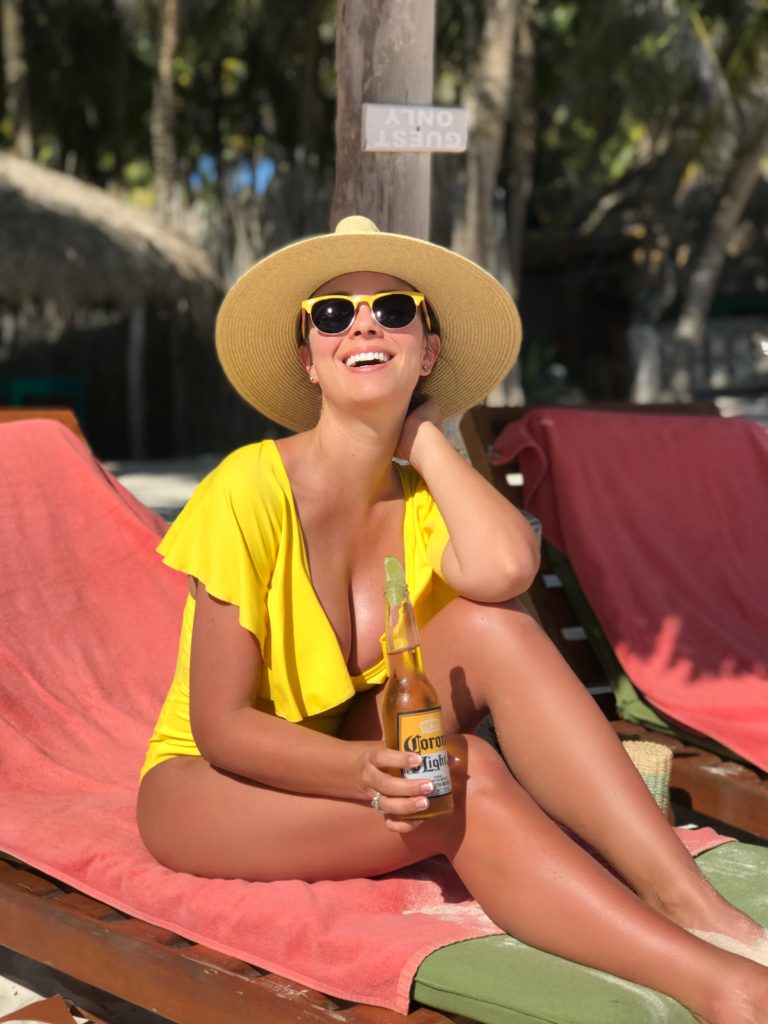 As promised, today I am sharing part two of my Mexican vacation with my mom. This post is a full run down of our perfect stay at Zamas in Tulum, MX. Keep reading for all of the details on this charming hotel, where we ate and what we did.
DAY 1:
We arrived to Zamas and it was love at first sight! The hotel is so charming and feels as "Tulum" should. Check in was a breeze and we were escorted to our ocean view suite, which was breathtaking! The room and bathroom was massive and had a huge porch as well. We changed and immediately hit the beach!
The beach at Zamas was absolutely flawless. We sat under a thatched umbrella and sipped on frozen margaritas and nibbled on fresh guac and chips. Our vacation at Zamas could not have started better!
For lunch, we ate at the hotel's beach front restaurant. We sipped on beers and split delicious chicken tacos. The resort has a couple of friendly dogs and during lunch, we were visited by a sweet girl named Lulu who made me miss my Lulu at home very much!
After lunch, we relaxed by the pool and sipped on refreshing white wine.
We freshened up and walked to a local restaurant, Mateo's, for happy hour. We sipped on serrano chili margaritas and watched the sun begin to set.
After happy hour we walked back to Zamas to get our jackets for dinner and we caught the most beautiful sunset we both had ever seen!
For dinner that night we went to Posada Margherita, an Italian restaurant about a 5 minute drive from Zamas. Located right on the water, this restaurant is packed with charm! We sat at a table right on the sand and started with white wine and a beautiful bread basket complete with an array of different breads, pickled cauliflower and tasty cheeses. You had me at carbs and cheese! For our appetizer we had a caprese salad and for our entrée we split a shrimp pasta dish with fresh tomatoes and zucchini. The meal and restaurant were both fabulous.
Not ready to call it a night, we went to Zamas' restaurant for a night cap and dessert. They had beautiful live Spanish guitar and we sipped on port and had chocolate lava cake. It was a flawless end to our first day in paradise.
DAY 2:
We slept like babies but still not being used to the time change, we woke up before the sun and decided to go on a walk in search of coffee. We stumbled upon the Maria Del Mar hotel and ordered two coffees and enjoyed them on the hotel's beautiful beach. We sipped our fresh piping hot coffee and watched the sun rise. It was such a beautiful way to start the day.
We went back to Zamas for breakfast and had an amazing meal with views of the beautiful cliffs and crashing waves. We had more coffee and I had avocado toast with a sunny side up egg and my mom had an egg sandwich. Both were amazing!
Afterwards, we changed into our swimsuits and hit the beach at Zamas again!
That afternoon we went on a walk and discovered a beautiful hotel and restaurant, Bejuco, with unique "teepee" like structures you could dine in! We fell in love with this restaurant and made reservations for dinner that night!
For lunch we went to Ziggy's Beach. We sat right on the sand and had the most beautiful lunch! I started with a frozen margarita, my mom ordered a Corona, and we shared chips and an assortment of delicious dips! For lunch, we split tuna nachos and coconut shrimp that came with the world's most amazing potato salad!
After lunch we went back to Zamas and relaxed with some beers on the beach.
The service at Zamas was impeccable and the staff never missed a chance to go above and beyond. Another added benefit, as a guest you can simply Whatsap the front desk with any request and it will be taken care of. Mom and I wanted wine while we were getting ready and they delivered it to us to our room! We got ready for the night and finished our wine in the garden area below our room.
Next, we went to the hotel's bar for happy hour. We sipped on wine and chatted with the other guests as the sun began to set.
We walked to Bejuco for dinner and were so excited for this unique experience! We were seated in our "teepee" on a high cliff over looking the beach and the ocean. We both agreed we have never experienced something that awesome and unique in our lives! We watched the sun set, sipped on rosé and ate chips and bread with hummus.
We started with grilled shrimp kabobs on a bed of greens. For our entrée we split a ribeye with pineapple mashed potatoes. Yes! Pineapple mashed potatoes! They were our of this world! We both agreed we couldn't wait to recreate this dish once we were back home. We completed the meal with a tart for desert and after dinner we finished our wine while swinging by the fire pit. I kid you not! There are swings throughout Bejuco which were especially fun after the bottle of wine! If in Tulum, I could not recommend this dining experience more!
DAY 3:
After the beautiful start to our previous day we wanted to repeat it! We went back to Maria Del Mar for their fresh coffee and spectacular sunrise!
We ate breakfast at Zamas and we both had breakfast sandwiches. At every meal at Zamas they served a really spicy habenero salsa I just could not get enough of! The breakfast sandwiches were served with avocado, bacon and fresh tomatoes. Yum!
After breakfast we enjoyed another day at Zamas' beautiful beach where we sipped on fresh coconut water and beers.
For lunch we walked to the neighboring hotel, El Pez, and split a burger and fries and sipped on cold Mexican beers.
As we got ready that night, the sweet staff delivered our favorite wine to our room again. Talk about service!
That night we ate at Gitano's. Knowing no dessert in town could top Zamas' lava cake, it is seriously SO good y'all, we went back to our hotel for another lava cake, some port and more beautiful live music.
DAY 4:
On our final day, we finally slept in, Whatsap'd the front desk for coffee and enjoyed coffee on our beautiful patio. It was such a serene and relaxing way to start the travel day. Because we're creatures of habit and because the breakfast sandwiches at Zamas were so good, we both had breakfast sandwiches for our last breakfast at the hotel.
After breakfast we went on a long walk around Tulum with fresh coconut waters in hand and picked up some souvenirs. We went back to the hotel to pack and were so so sad to leave this amazing hotel and town.
For our last meal in Tulum we had guacamole and chicken empanadas and of course margaritas at Zamas' restaurant. Yum!
If you are looking to plan a trip to Tulum, I could not recommend Zamas more! From the charming and beautiful rooms, to the breathtaking beach, to the impeccable service to the scrumptious food- Zamas is sure to be a five star experience!
Thank you so much to Zamas for a wonderful vacation my mom and I are sure to never forget!

Kisses and tropical wishes,