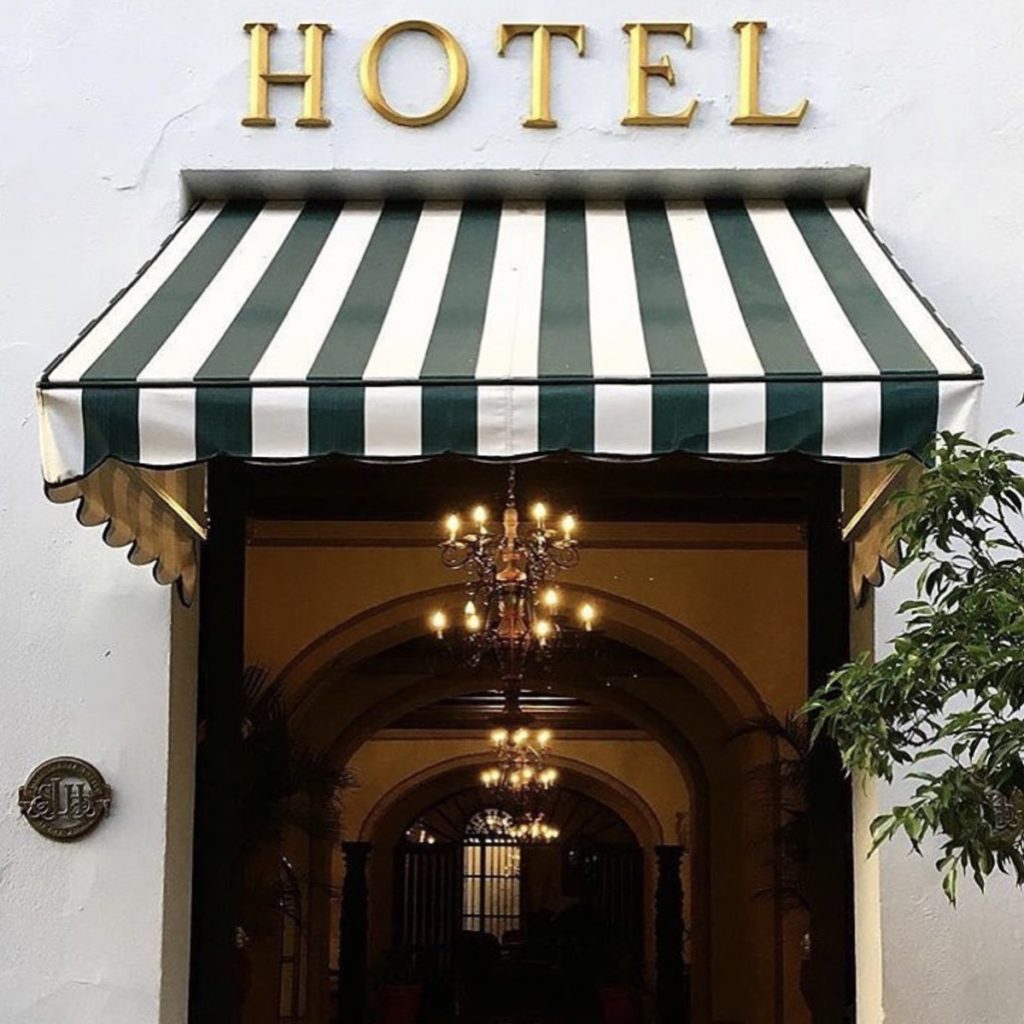 Immediately upon arrival at Hotel El Convento, we knew we were in a place like we'd never seen before—a tropical paradise nestled in a historic and captivating city. Its majestic old world charm and beautiful sights must be seen to be believed. But suffice it to say, we had no problem getting lost in the wonders of San Juan.
After a short taxi ride through the beautiful streets of San Juan we arrived at the charming Hotel El Convento. A restored 17th-century Carmelite convent, this beautifully romantic hotel combines Spanish Colonial architecture and a level of old world class that is indescribable. Construction began on this Carmelite convent in 1646 though every inch of this hotel offers modern luxury. And it could not be more conveniently located in the heart of Old San Juan. One need only walk outside its doors to step back into time and escape into the city's rich history. Its pastel colored walls, historic sites, and breathtaking views of the ocean offer the seasoned traveler an experience like no other.  We were greeted like old friends by the warm and inviting staff upon check in. We loved our beautiful suite, complete with a garden courtyard and an opulent bathroom larger than my apartment. The bathtub could fit an entire family!
We freshened up and headed to dinner at the hotel's tapas restaurant, El Picote. We sat outside on the cobble stone street with beautiful views of Old San Juan's enchanting avenues, while sipping on perfectly sweetened red sangria. For dinner we had broiled goat cheese served with pita bread, garlic shrimp, a Spanish tortilla, and mussels. Everything was delicious, but the garlic shrimp was what seafood dreams are made of!
After dinner we walked directly across the street to a trendy cocktail spot, Don Pablo's. I had a floral gin martini and Walker had an old fashioned. Next we went next door to El Batey, which is a must see while in Old San Juan. From the floors to the ceilings this bar is completely covered in graffiti and its old time jukebox accentuates its unique charm. Indeed, one of the many benefits of El Convento is its proximity to exciting and sultry night life.
The next morning we sipped coffee in our courtyard and mapped out our day full of sightseeing. One of the many hospitable offerings of Hotel El Covnento, chilled water bottles, hot tea and coffee are offered complimentary 24 hours a day.
We had a list of 16 stops meaning a full day of exploring the delightful streets and sights of Old San Juan. Once again, El Convento's prime location came through! The furthest stop on our list was a short 15 minute walk from the hotel so we could do all of our sightseeing by foot.
Our first stop was Castillo de San Cristobal, a massive fortress built by Spain to protect the island against attacks. It is part of San Juan National Historic Site and is also a U.N. World Heritage Site. The views from Castillo de San Cristobal were just as amazing as its history. We felt like we were on set at a Pirates of the Caribbean shoot.
Next we were off to lunch at Princesa Gastrobar, where we sipped on rum cocktails and both had mouth-watering fish dishes. On our way we stopped at Four Seasons fountain, Puerto de San Juan and Raices fountain.
After lunch we went back to Puerto de San Juan, or the Port of San Juan, which is an iconic gate in the historical walls of Old San Juan, to walk along Paseo del Morro. This trail, which is right on the water showcasing beautiful ocean views, leads to Castillo San Felipe del Morro, another fort in Old San Juan. Once at Castillo San Felipe del Morro, we decided to take a nature trail. This trail was filled with hermit crabs, which were so much fun to see because I used to have hermit crabs as pets growing up, and iguanas, so Walker had to piggy back carry me for most of the trail because I have a fear of reptiles. But, the views of the ocean from the trail were certainly worth it!
The trail dropped us off at Santa Maria Magdalena Cemetery, which was the destination I was most excited for! This cemetery is a colonial-era cemetery and is the final resting place of many of Puerto Rico's most prominent natives and residents. We walked around this stunning cemetery then were off to Castillo San Felipe del Morro, our final stop, for more exploration.
Once back in our suite we took relaxing baths in our boat sized tub, napped in the world's most comfortable bed I've ever been in and got ready for dinner. We roamed around the street of Old San Juan and decided to stop at The Chapel Tasca & Bar for a few pre-dinner cocktails. This street side bar had charming street performers, great views of Capilla del Cristo Chapel, and strong mojitos. What more could two travelers as for? The server offered to put our second round in to go cups and we sipped our minty cocktails on our way to dinner at Trois Cent Onze.  This is an absolute must while in Old San Juan. The charming and dimly lit restaurant had a simply perfect romantic ambiance. We shared a bottle of pinot noir and started our meal off with some of the best beef carpaccio we've ever had. For our entrees I had rack of lamb, which was cooked to perfection, and Walker had decadent plate of shrimp risotto. After dinner we sipped cordials and shared an apple tart, while enjoying the whimsical French music playing softly in the background. If you fancy a taste of Paris while in San Juan, this restaurant will make you think you're dining on the Seine.
The next morning we enjoyed a few drinks at Hotel El Convento's roof top pool showcasing views of both the bay and Cathedral de San Juan Bautista, the second oldest cathedral in the western hemisphere.  After some roof top relaxing we had breakfast at the hotel's restaurant Patio del Nispero. We both enjoyed Bloody Marys and Walker had smoked salmon eggs Benedict and I had a breakfast sandwich. The quaint patio restaurant was perfect for a relaxing breakfast.
After breakfast we walked across the street to see the historic Cathedral de San Juan Bautista. Have I mentioned what an ideal location Hotel El Convento has?!
After taking in the final sights of Old San Juan and Hotel El Convento, we packed our bags with promises to return again.
Thank you Hotel El Convento for the most amazing stay at your flawless and charming hotel.
Kisses and travel wishes,