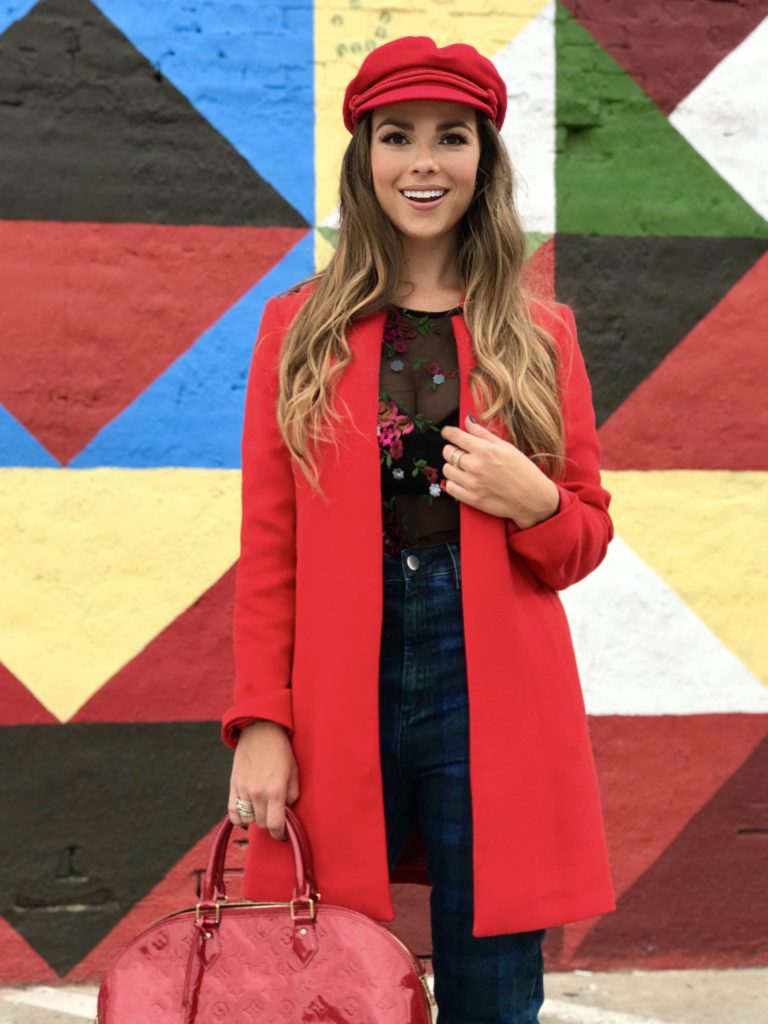 Sadly today is Walks' and my last day visiting my family.  We've had the best time with them, but I'm for sure sad to leave.  This will be my first Christmas without my parents (I'm spending the holiday with Walker's family) so I tried extra hard to enjoy this holiday with them!
Tomorrow is Cyber Monday y'all! Who's excited?! I will be posting all of the best sales and deals here so be sure to stay tuned!
Today is my final post for my fall fashion trends series, y'all! Today's hot fall trend is floral fashion for fall!  Keep reading for full details on this look, how to pull it off, a full run down on my top 20 favorite fall fashion trends AND… some of the best SALES going on right now.  This is a long one guys, enjoy!

I paired this sheer floral top (under $30) with a red blazer, my favorite red purse (similar here and here), red SJP Collection heels, plaid denim (only $56), black statement earrings and a fun red biker hat!
To pull off this floral fashion trend think fall and winter colors- red, emerald, burnt orange, black… and pass on pastel colors like baby blue, yellow and pink.
Top 20 Fall Fashion Trends

2.  Monochromatic red- red from head to toe.

3.  Florals.

4. Pajamas in public. Now this is a trend I can get behind!

5.  Fun with fur! Think bright colors and bold prints.

6. Fishnet tights.

7.  Fringe. Feeling like a flapper?

8.  Sheer layering.

9.  70's plaid! Plaid-a-delic, baby!

10. Retro hats.

11.  Victorian collars.

12.  Canadian Tuxedo, some may say. Denim on denim!

13.  Midi- skirts and dresses.

14. Sherling? Sure thing!


16.  Bodysuits.

17. Jewel tone velvet. How regal!

18.  One shoulder pieces.

19.  Leather, duh.

20.  Lingerie inspired pieces. Oh la la!

Today is my final Fall Fashion Trends Series post, but since y'all seemed to love it so much I will be doing something similar for winter fashion trends, so stay tuned for that!
Kisses and sexy fashion trends wishes,