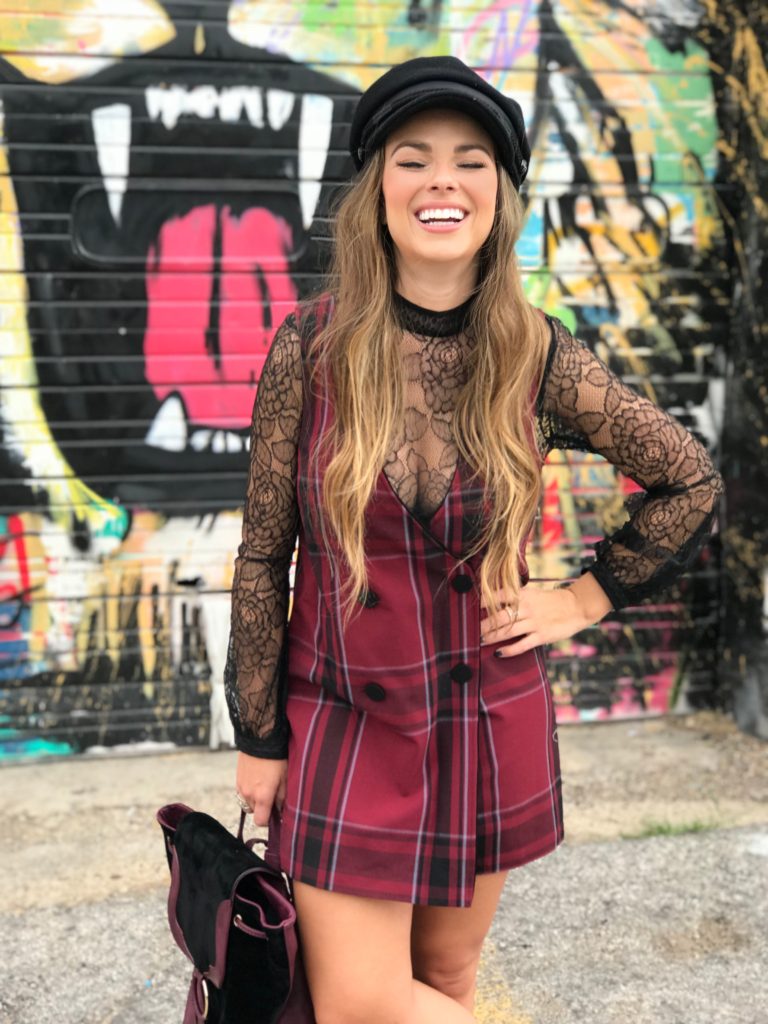 Hello everyone and happy Saturday!  Is everyone feeling fat and happy?  I know we are here!  Last night we went to Wise Guys Pizza in Orange.  It's THE best Pizza in Orange for sure!  They have a location in Yorba Linda, CA and also Grapevine, TX!  Its seriously AMAZING and the atmosphere is super laid back and fun.  We always get the Sicilian salad to start then do a pizza 1/2 Hawaiian with black olives and jalapeño and half with mushrooms, Italian sausage, black olives and onions.  YUM!
Today's post is the second to last post for my fall fashion trends series!  Today's hot fashion trend is lingerie inspired fashion.  This is a sexy and sophisticated trend that plays great for holiday parties!
Keep reading for full details on this lingerie inspired look (PS: Everything is under $100!), how to incorporate this trend into your wardrobe and a full run down of my favorite fall trends for 2017!

Moderation is key with this trend!  Pick ONE lacy, sheer or silky piece and add it to your look.  This trend is meant to be subtly sexy, not overtly.  Think a lace trimmed silky cami or a sheer lacy blouse under a blazer, like I styled this trend today.
I paired this sheer lace blouse under a red plaid romper (under $70).  I accessories this look with a suede backpack (under $60), drop pearl earrings and platform patent leather oxfords (under $30).
Top 20 Fall Fashion Trends

2.  Monochromatic red- red from head to toe.

3.  Florals.

4. Pajamas in public. Now this is a trend I can get behind!

5.  Fun with fur! Think bright colors and bold prints.

6. Fishnet tights.

7.  Fringe. Feeling like a flapper?


9.  70's plaid! Plaid-a-delic, baby!

10. Retro hats.

11.  Victorian collars.

12.  Canadian Tuxedo, some may say. Denim on denim!

13.  Midi- skirts and dresses.

14. Sherling? Sure thing!


16.  Bodysuits.

17. Jewel tone velvet. How regal!

18.  One shoulder pieces.

19.  Leather, duh.

20.  Lingerie inspired pieces. Oh la la!

Tomorrow will be my final Fall Fashion Trends Series post, but since y'all seemed to love it so much I will be doing something similar for winter fashion trends, so stay tuned for that!
Kisses and sexy fashion trends wishes,