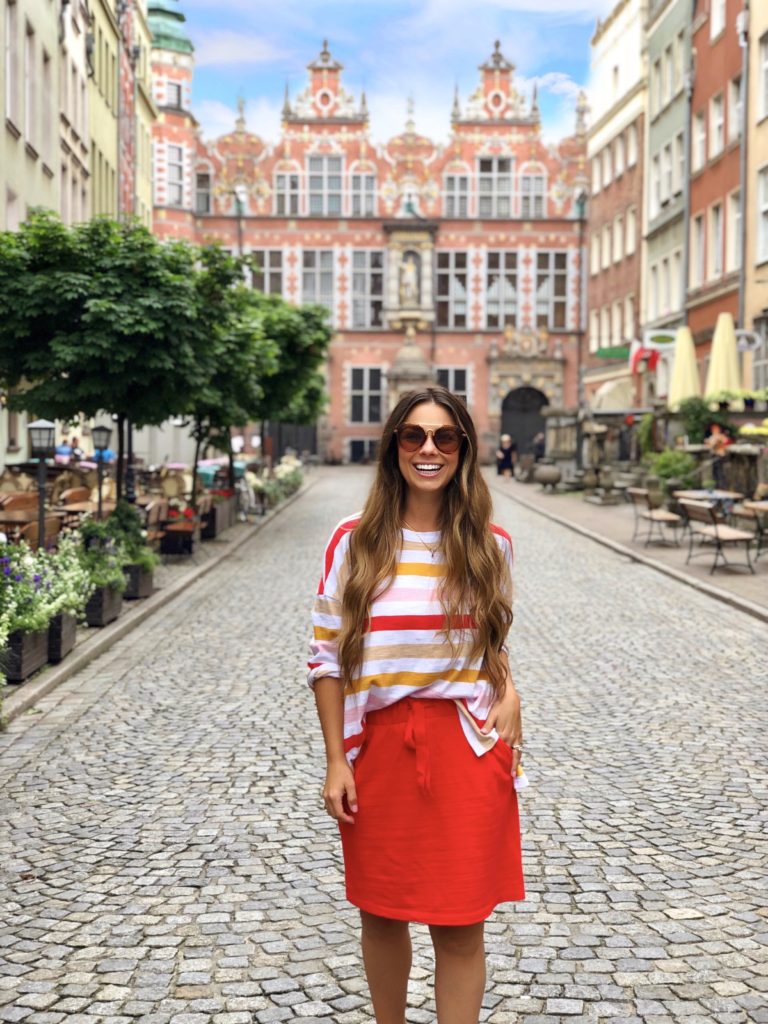 Good morning friends! Today I am sharing all the details on our beautiful stay in Gdansk, Poland with the Q Hotel Grand Cru. Read all about it here!

After a quick flight from Copenhagen (read all about Copenhagen here!) we arrived in Poland.  Not knowing anyone who's ever been to Gdansk before we weren't completely sure what to expect.
Gdansk is a city on the Baltic coast of northern Poland. The city is situated on the southern edge of Gdansk Bay on the Baltic Sea, It is Poland's principal seaport and the country's fourth largest metropolitan area. The city's history is complex, with periods of Polish, Prussian and German rule.
In the early-modern age, Gdansk was a royal city of Poland. It was considered the wealthiest and the largest city of Poland prior to the 18th century.
In the late Middle Ages, it was an important seaport and ship building town and, in the 14th and 15th centuries, a member of the Hanseatic League.
World War II began on September 1, 1939. Most sources claim that the Battle of Westerplatte, which took place off the peninsula of Gdansk was where WWII began. That same day, German Nazi troops also stormed the Polish Post Office in Gdansk, killing many innocent workers (I'll be discussing this in further detail later in this post). So it's pretty safe to say Gdansk is where WWII began.
In the 1980s it would become the birthplace of the Solidarity movement, which played a major role in bringing an end to Communist rule in Poland.
Ok, so enough with the super interesting history… After a short ride from the airport, we arrived at Q Hotel Grand Cru. Check in was an absolute breeze and our room was massive! We quickly freshened up and hit the town to explore. Our hotel had the most PERFECT location so we would be able to walk everywhere. Awesome!
Absolutely starving from not having eaten all day we stopped at a charming Italian restaurant called Al Ponte Ristorante right outside our hotel with amazing views of the water and Ferris wheel, the AmberSky. We each had an Aperol Spritz and split the bruschetta.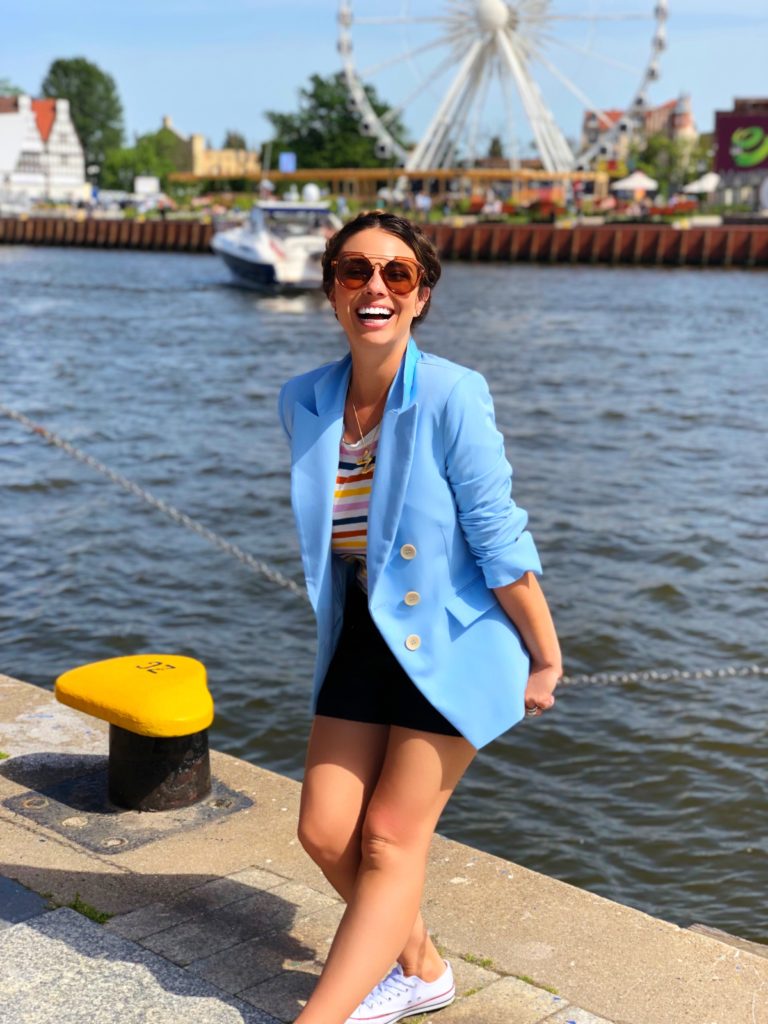 shop the look: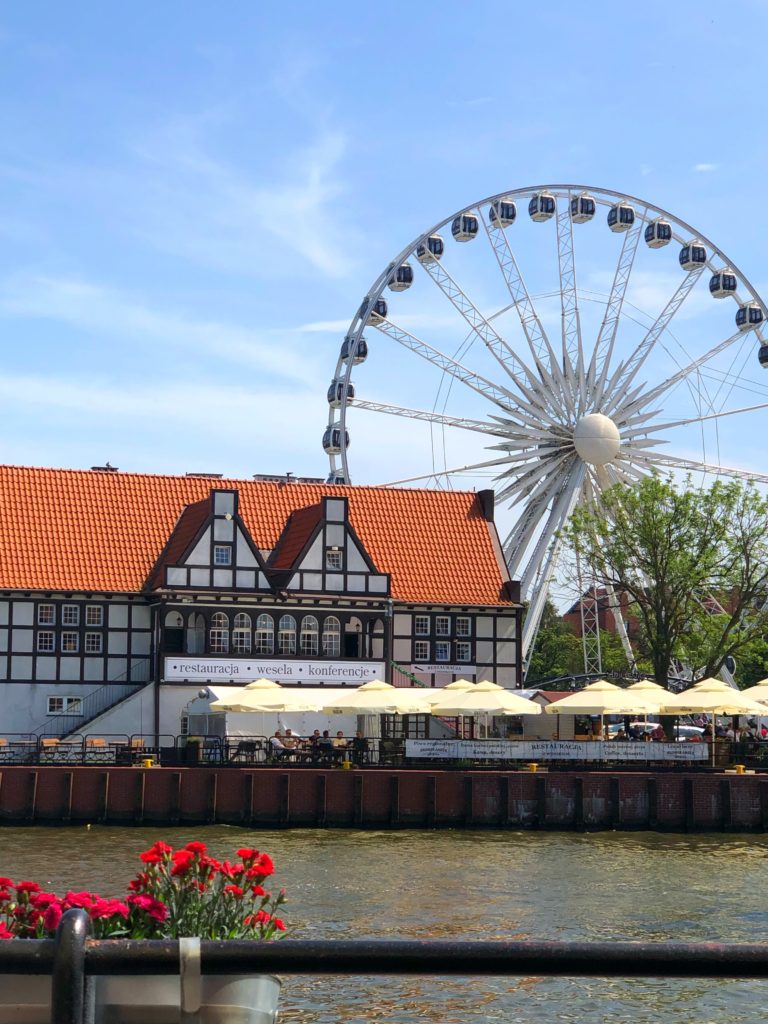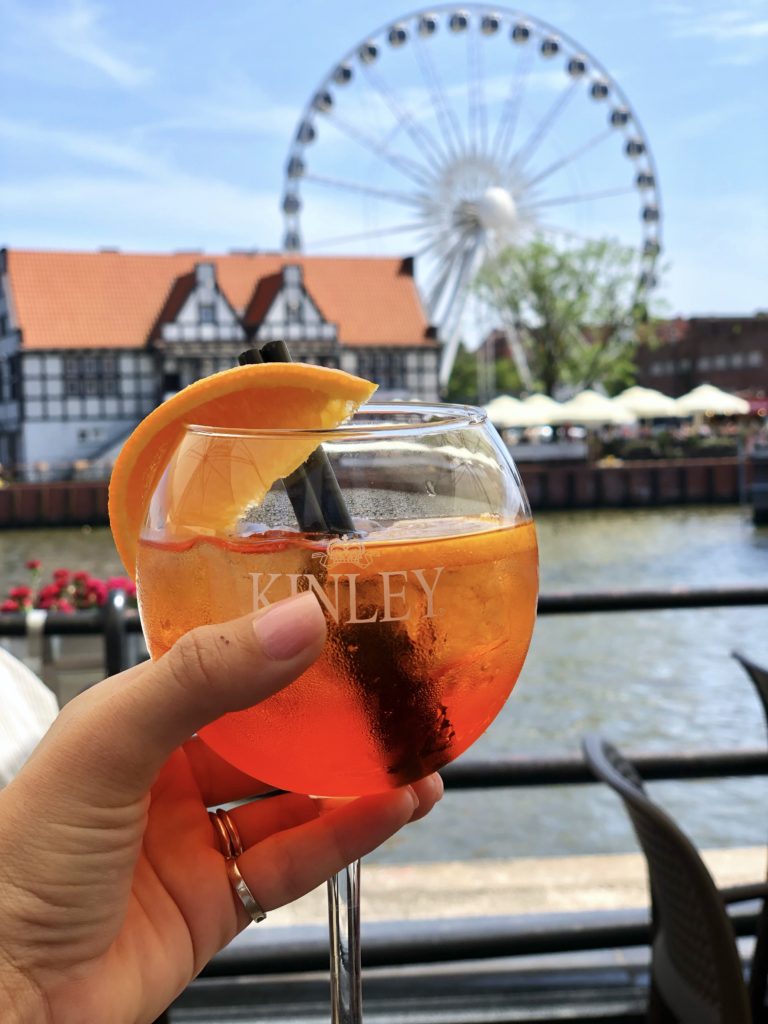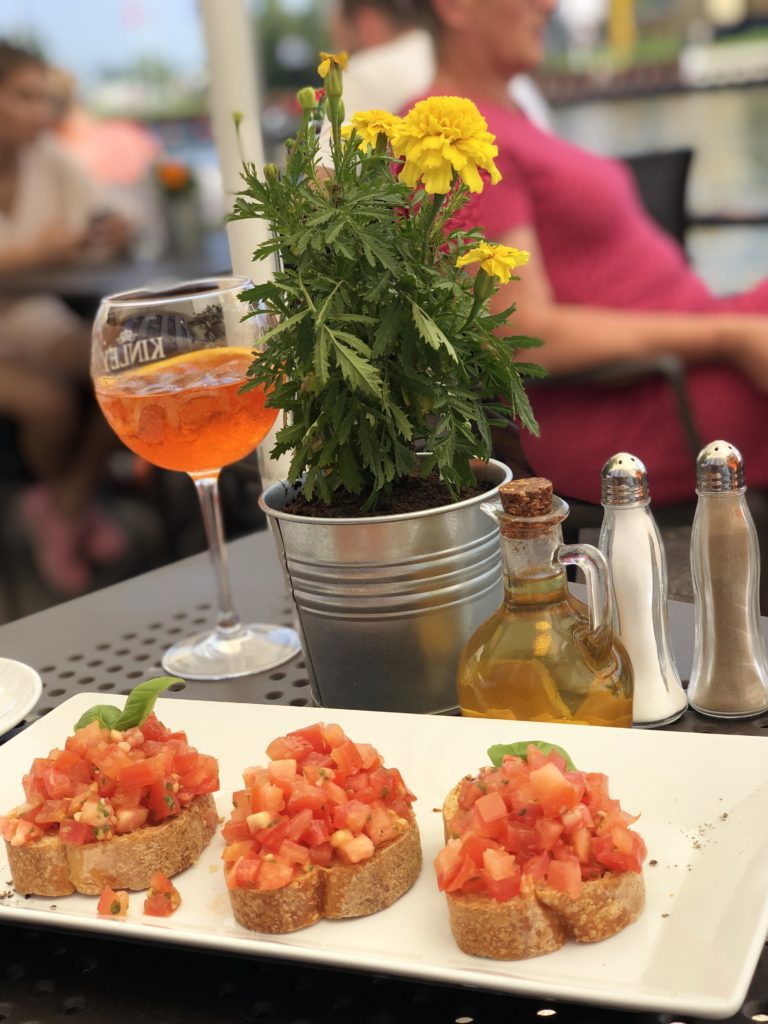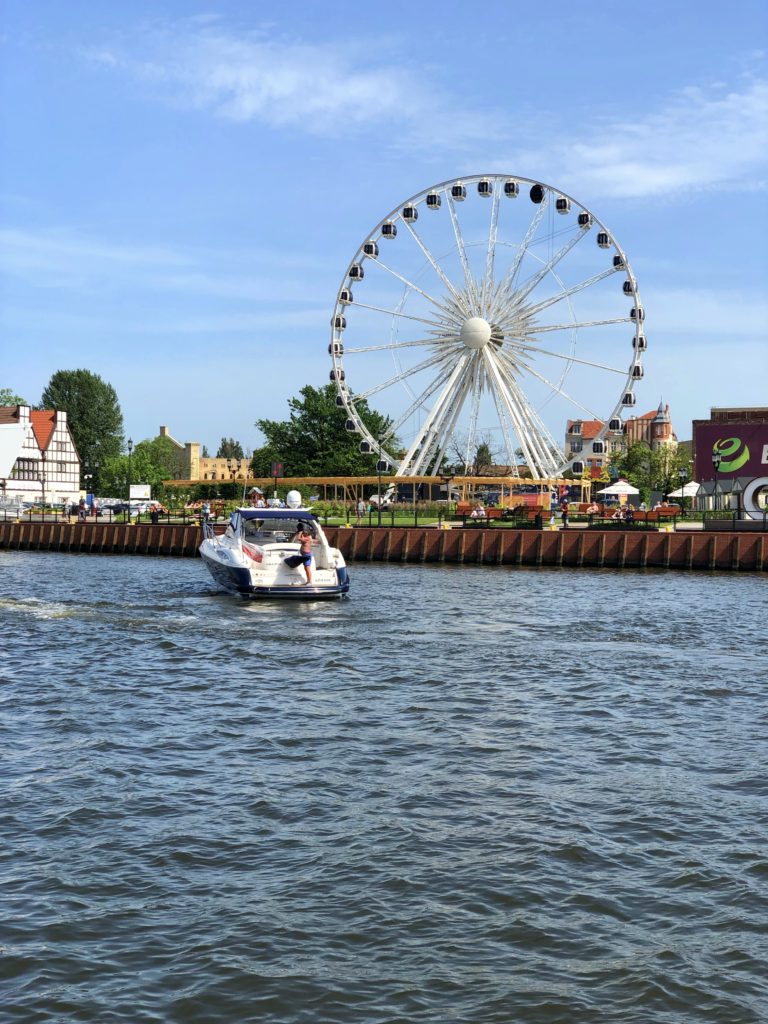 We next walked to pick up our tourist cards which I highly recommend! A tourist card is a package of discounts and free entries to museums, cultural institutions and restaurants.
Next we had a light lunch at Restauracja Latający Holender where we had more Aperol Spritz and perogis! Neither of us had ever had them before and they were a treat! This restaurant is on Dlugi Targ, or Long Street, which is basically the town square with many shops and restaurants.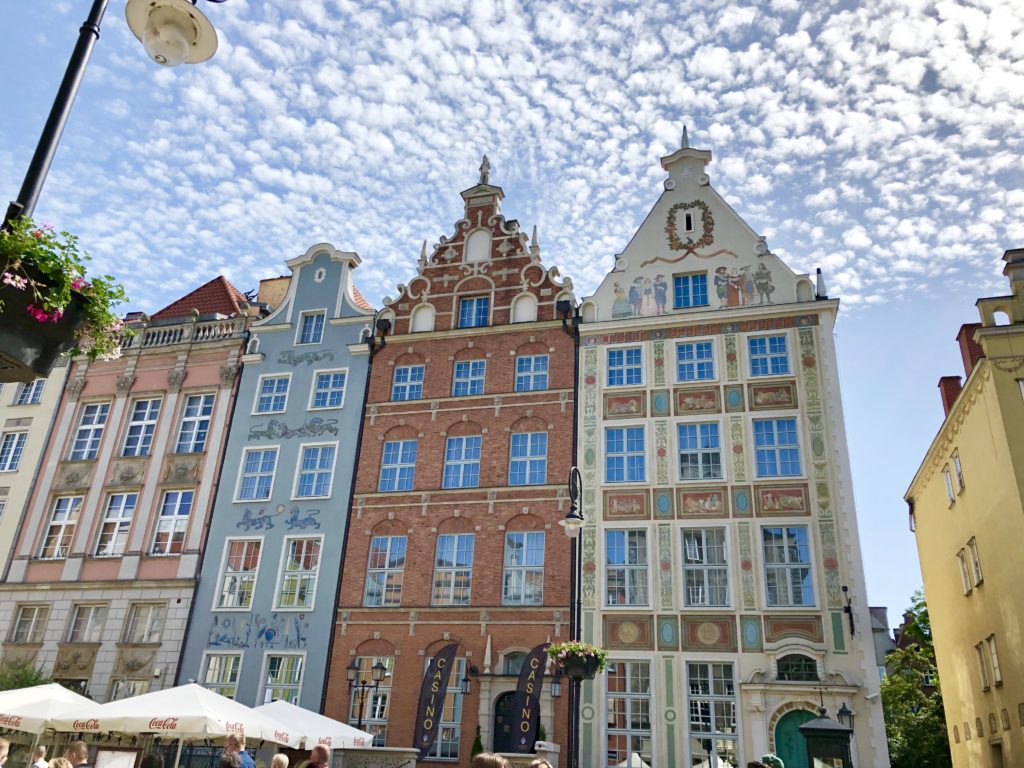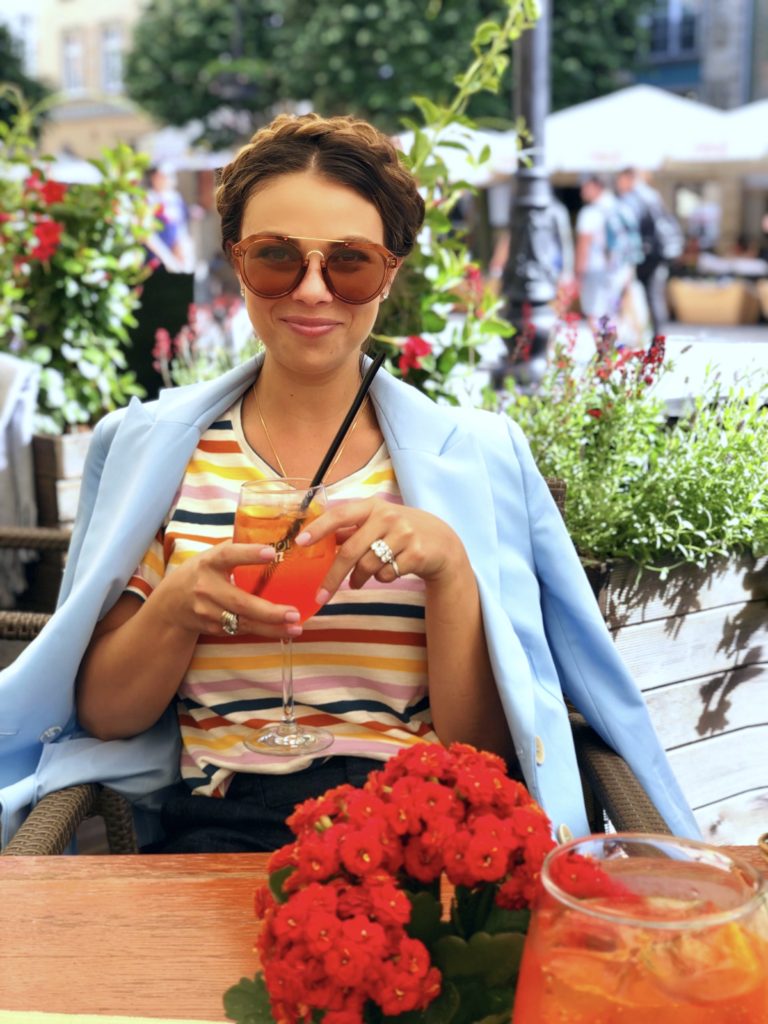 shop the look: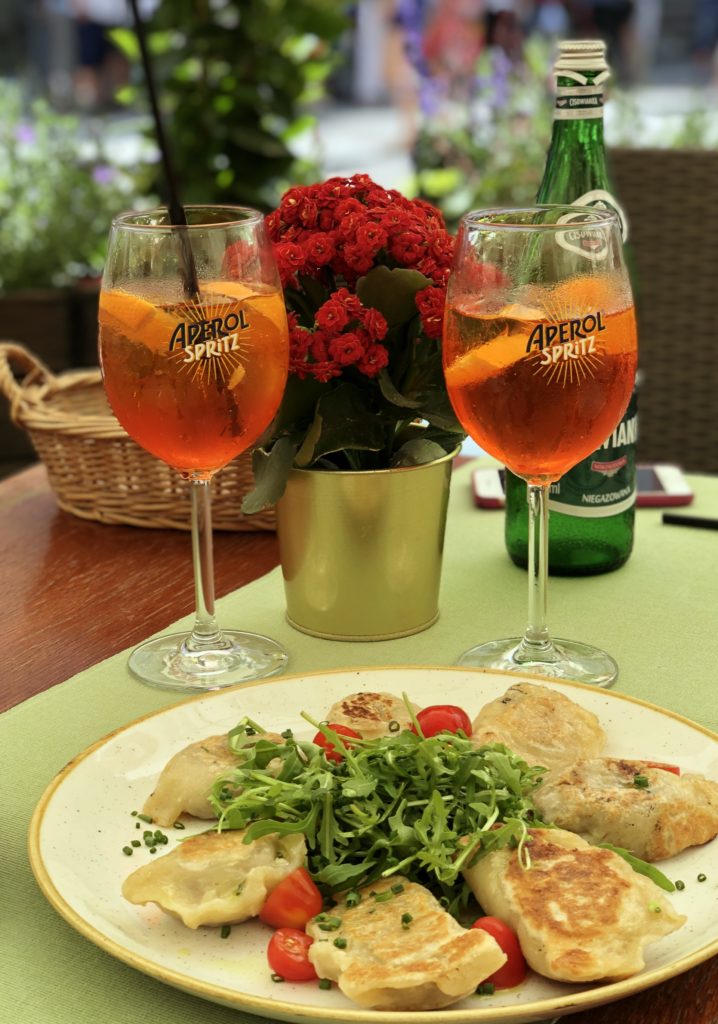 After lunch we walked around Gdansk exploring the beautiful city. It was one of the most beautiful cities I have ever been to. It was absolutely stunning and so clean!
On our walk we stumbled onto the heart of the Gdansk amber market, Mariacka Street. The picturesque Mariacka Street is lined with numerous stores and workshops and it is absolutely beautiful! We each got a pair of earrings and my mom also got a ring.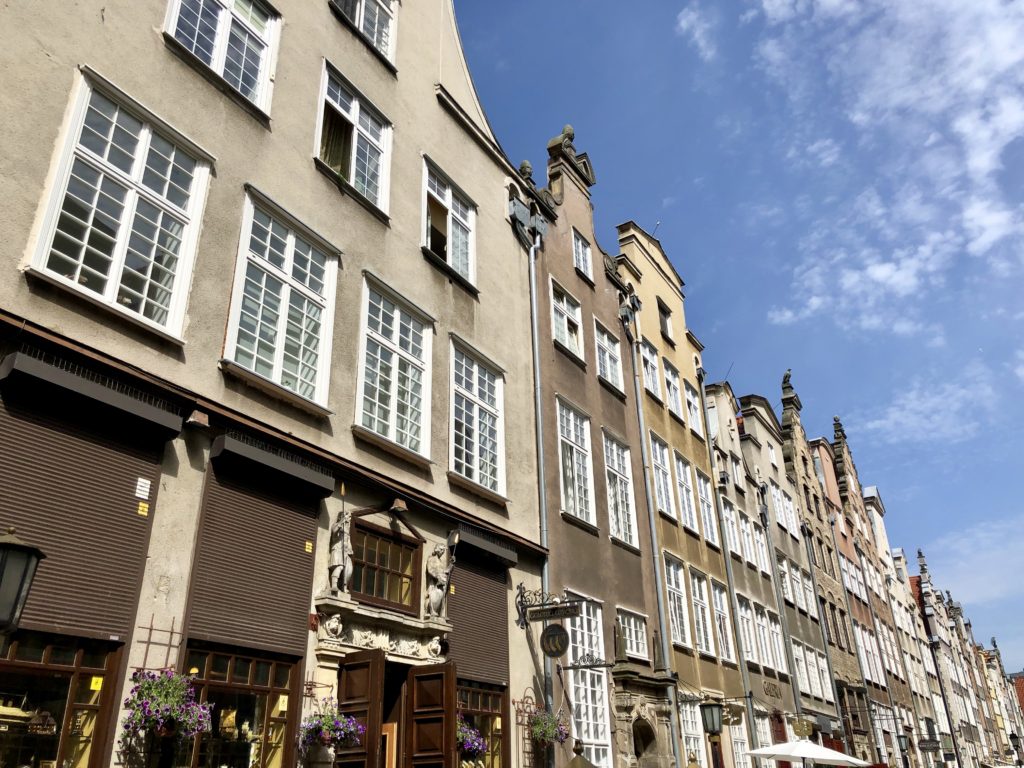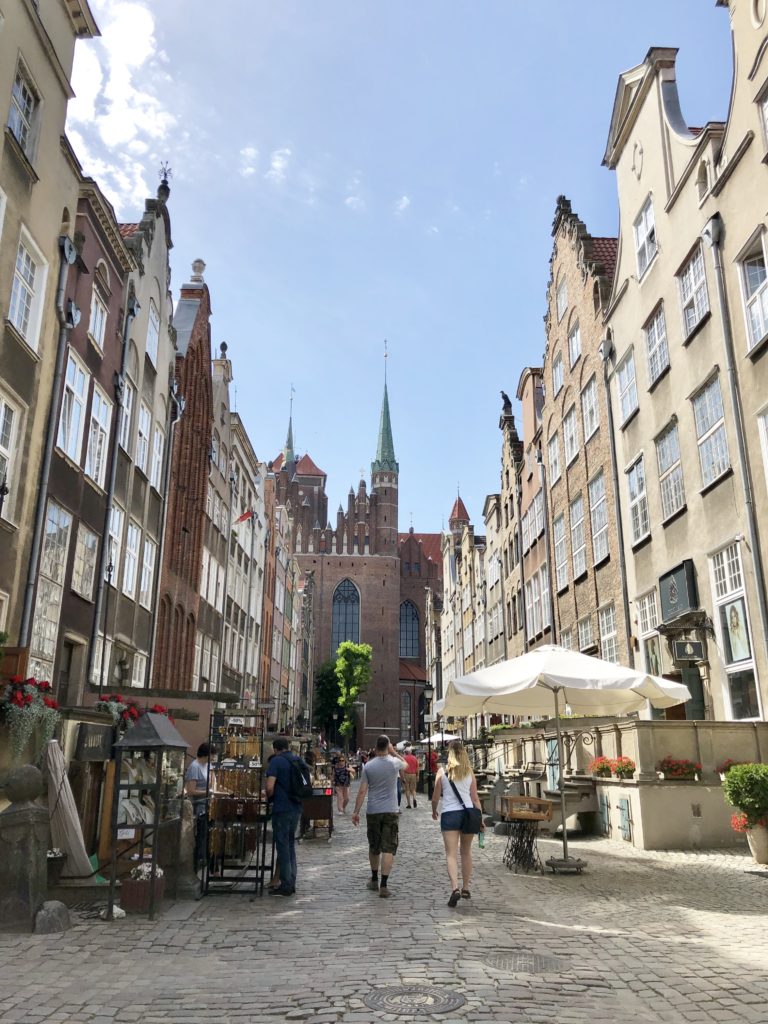 After freshening up back at the hotel we left for the evening. First we rode the Gdansk Carousel. Judi is a massive fan of carousels so this was a real treat for us. The carousel is right on the water and offers beautiful views.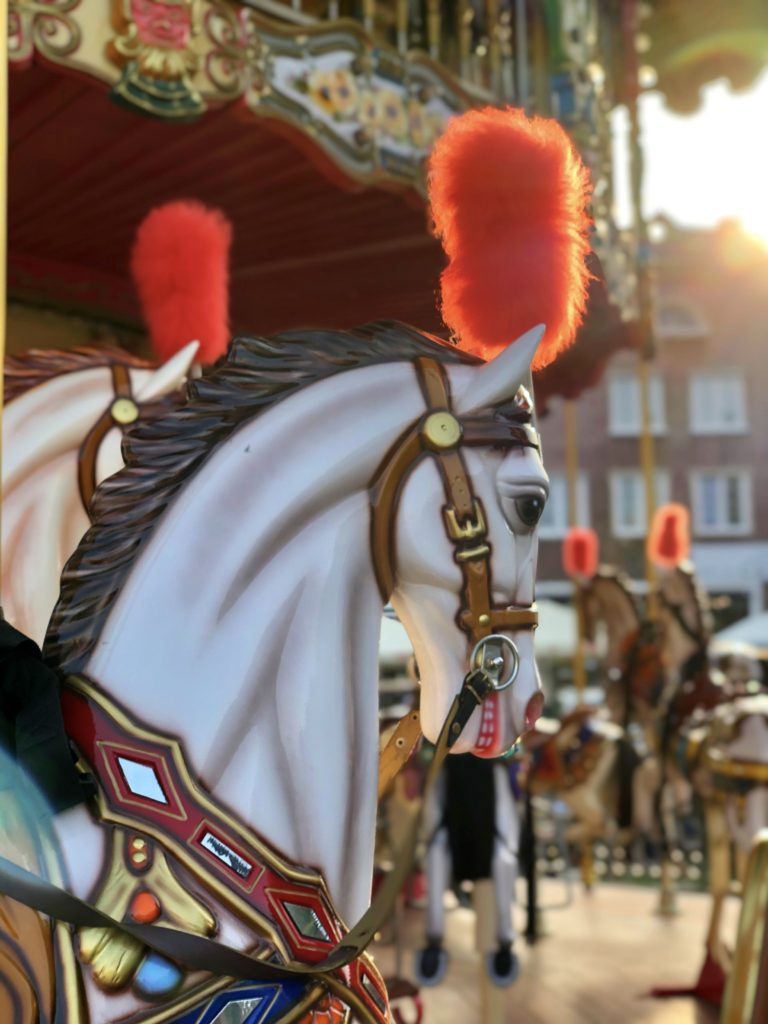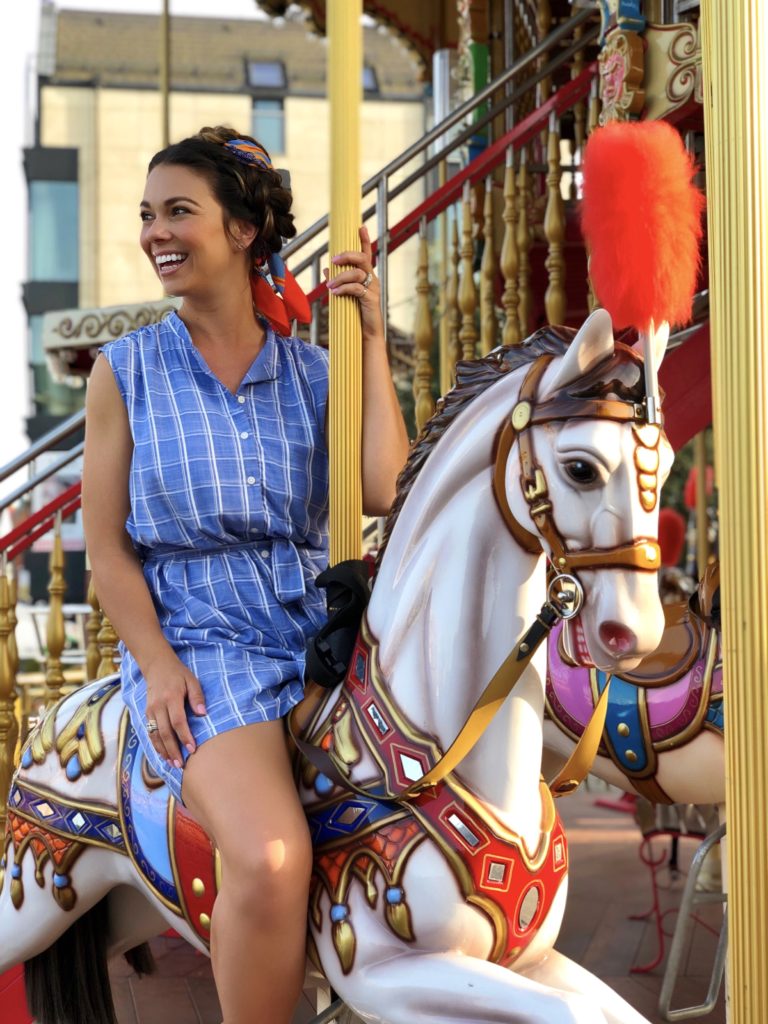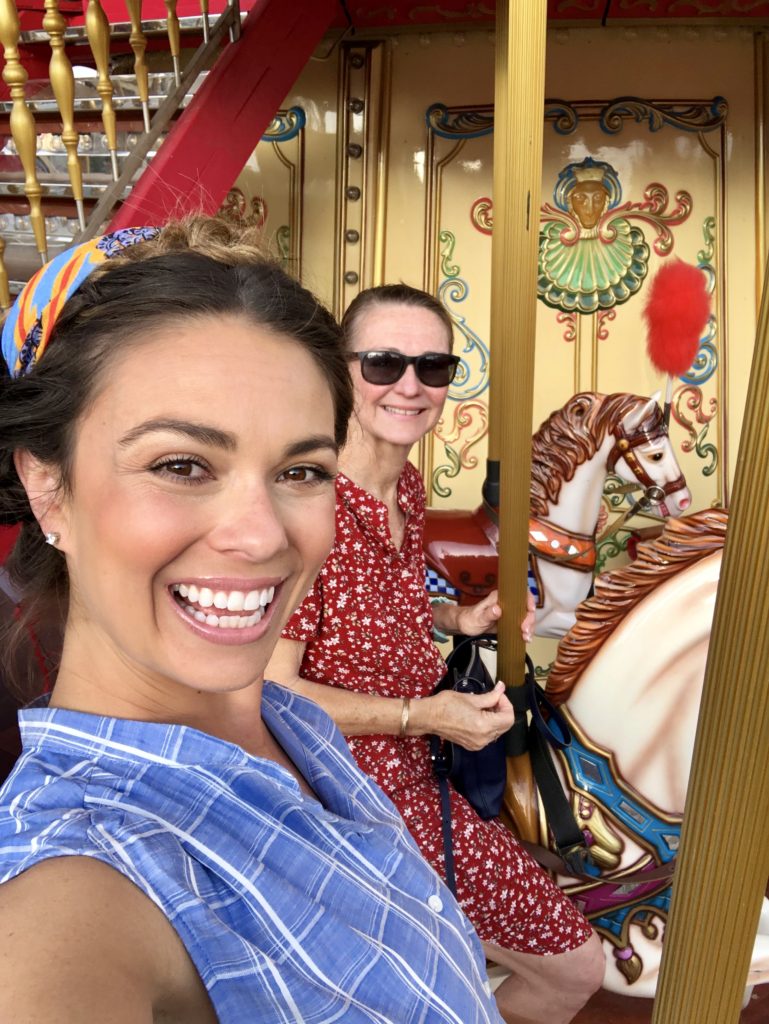 We ate a beautiful meal right behind the carousel at a spot called Restauracja Targ Rybny – Fishmarkt. The charming white and blue décor was literally to die for and the food was tremendous as well! We started with a beautiful salmon tartar and for our entrée we split the fish special which was 3 different types of fish, turbo, zander and sea bass, served with whole grain mustard mashed potatoes and a light spring salad.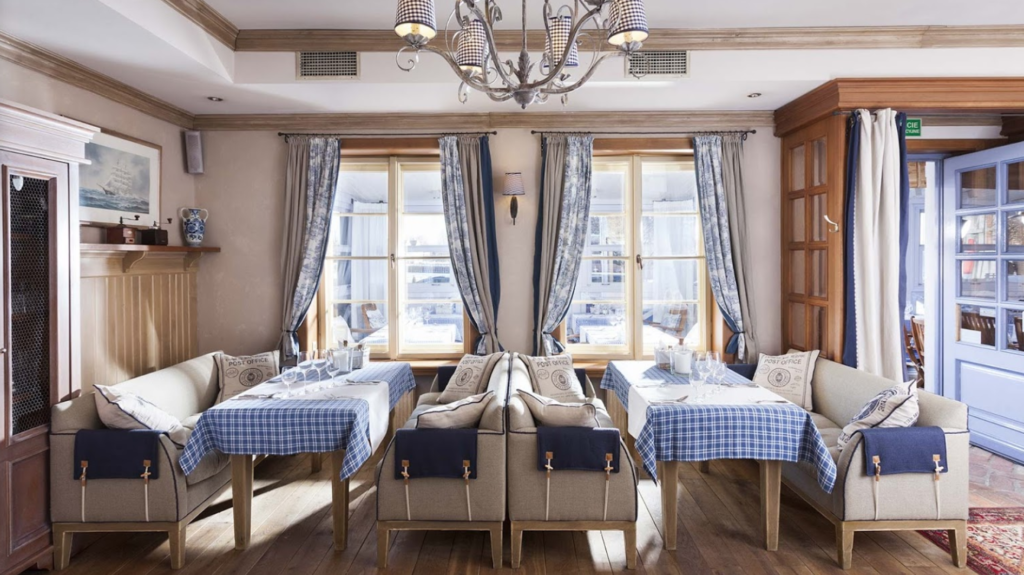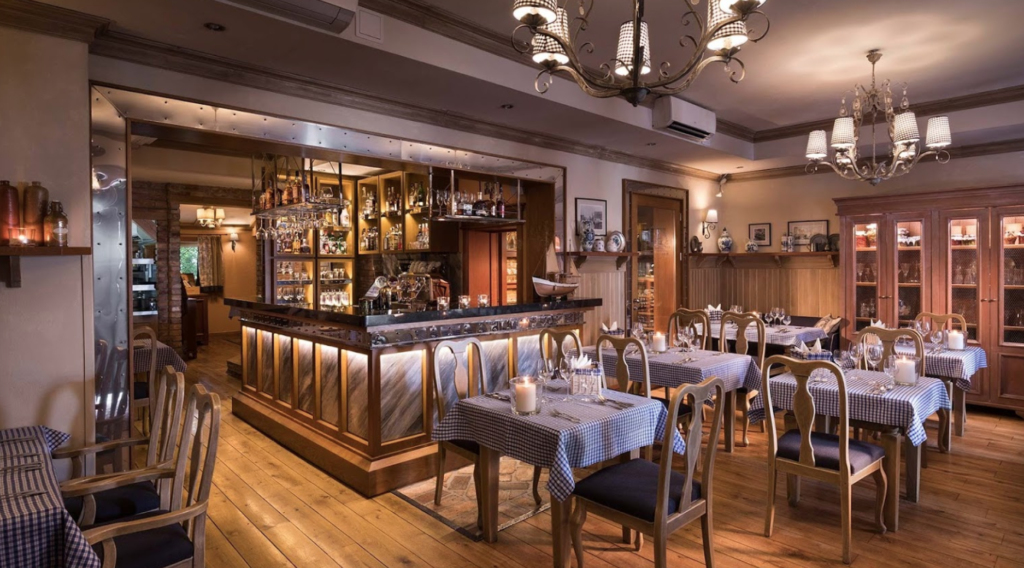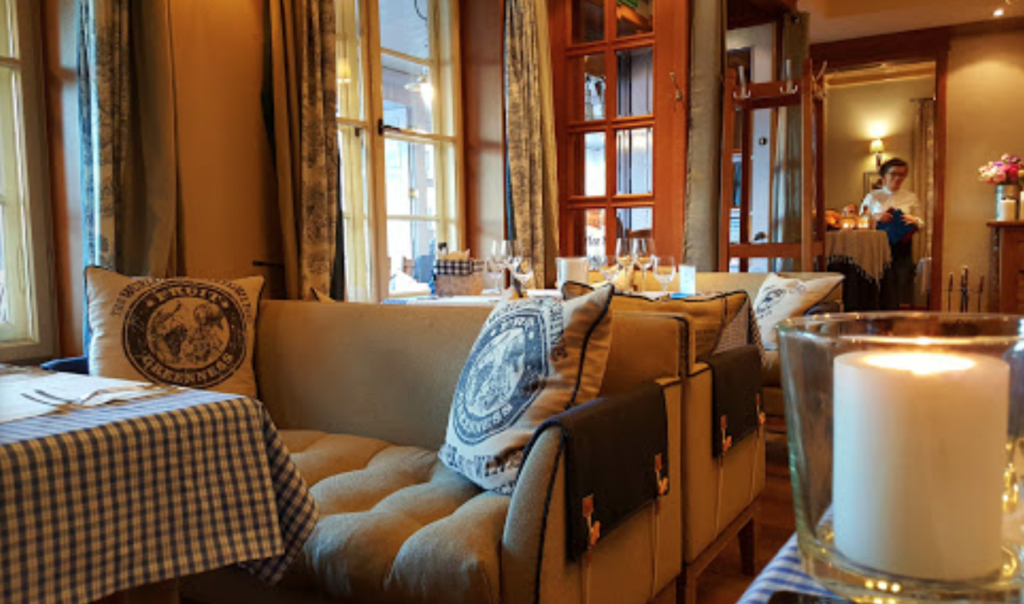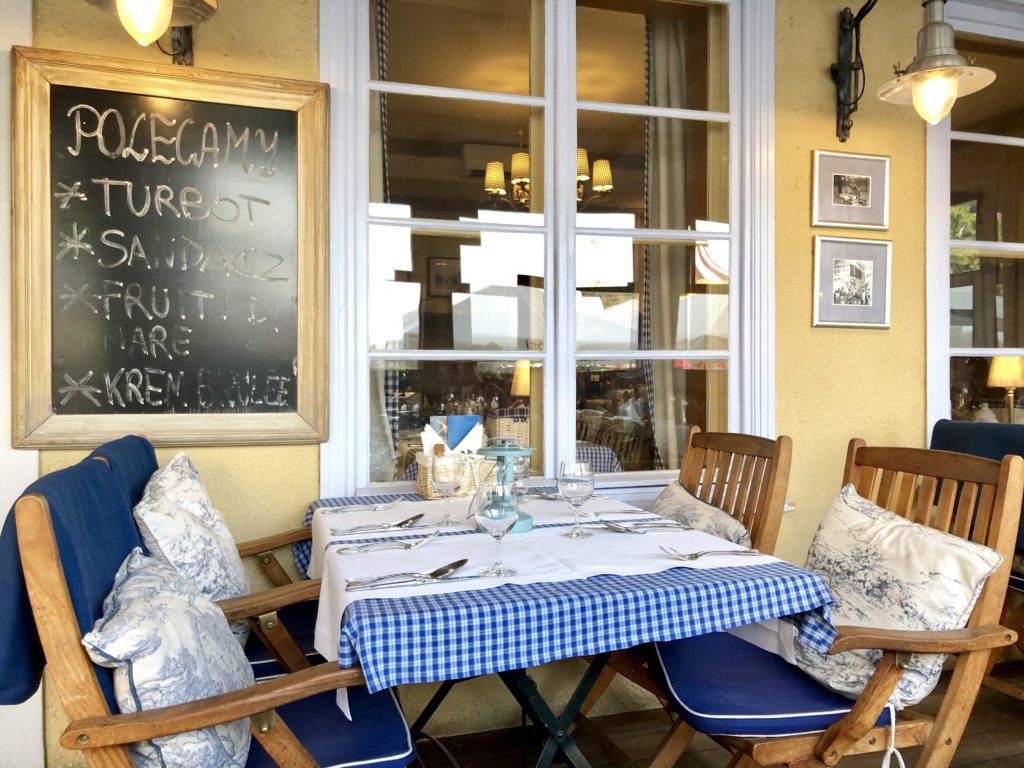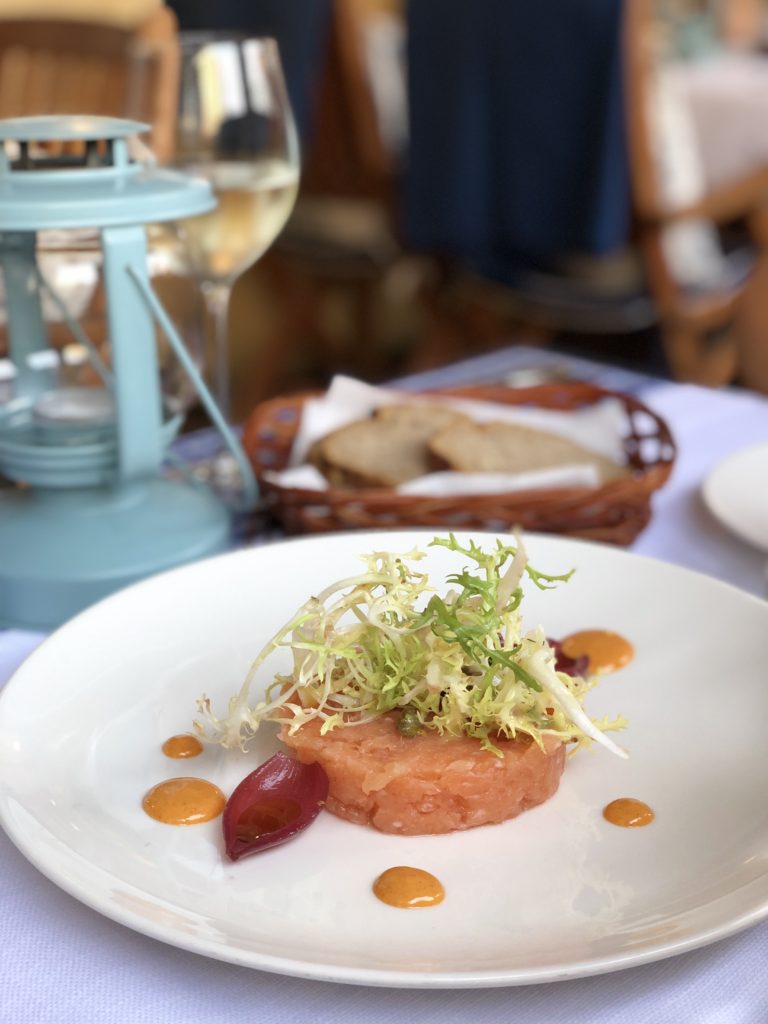 After dinner we stopped into a beautiful restaurant called Tawerna Dominikańska for wine and dessert. It was decorated like the Garden of Eden complete with a 15 foot python snake who lived in an in ground glass cage. The snake's cage was thankfully inside and we chose to sit outside which was so charming! We had the apple cake and it was delicious!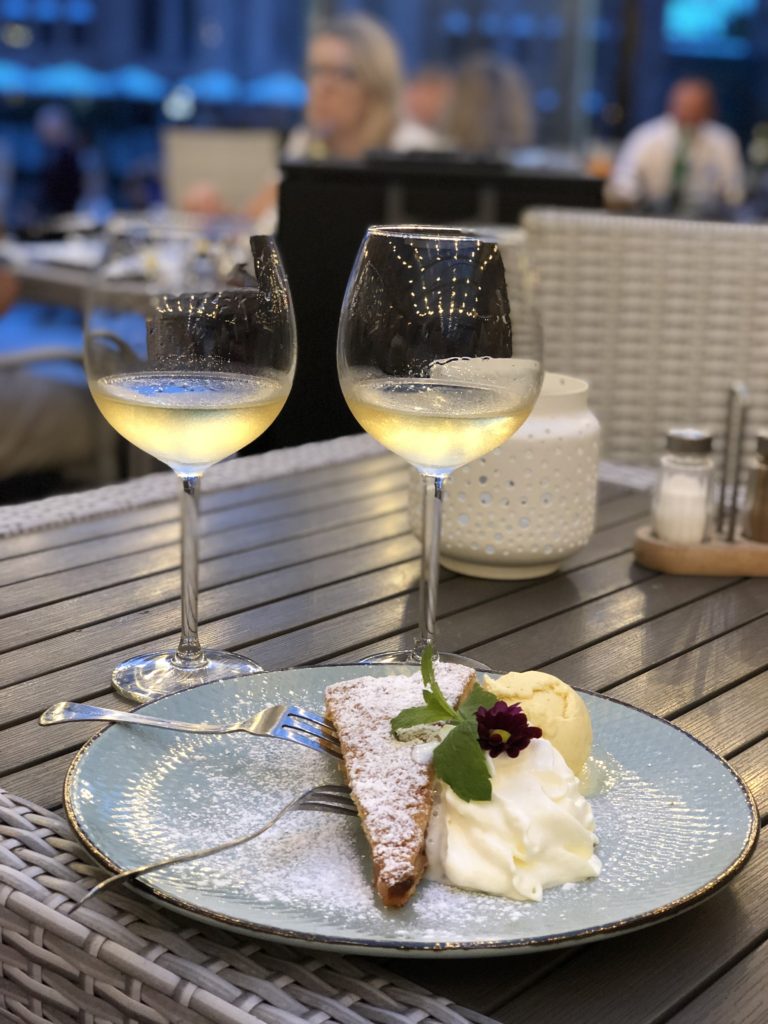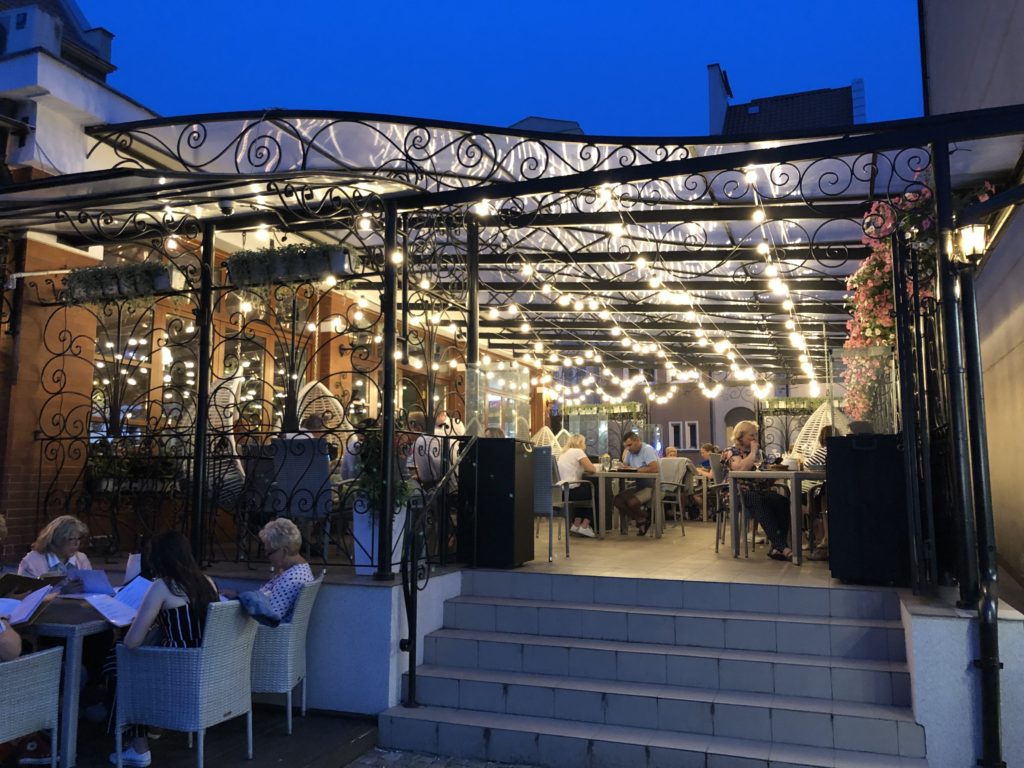 The next morning we enjoyed the beautiful breakfast buffet spread at Q Hotel Grand Cru.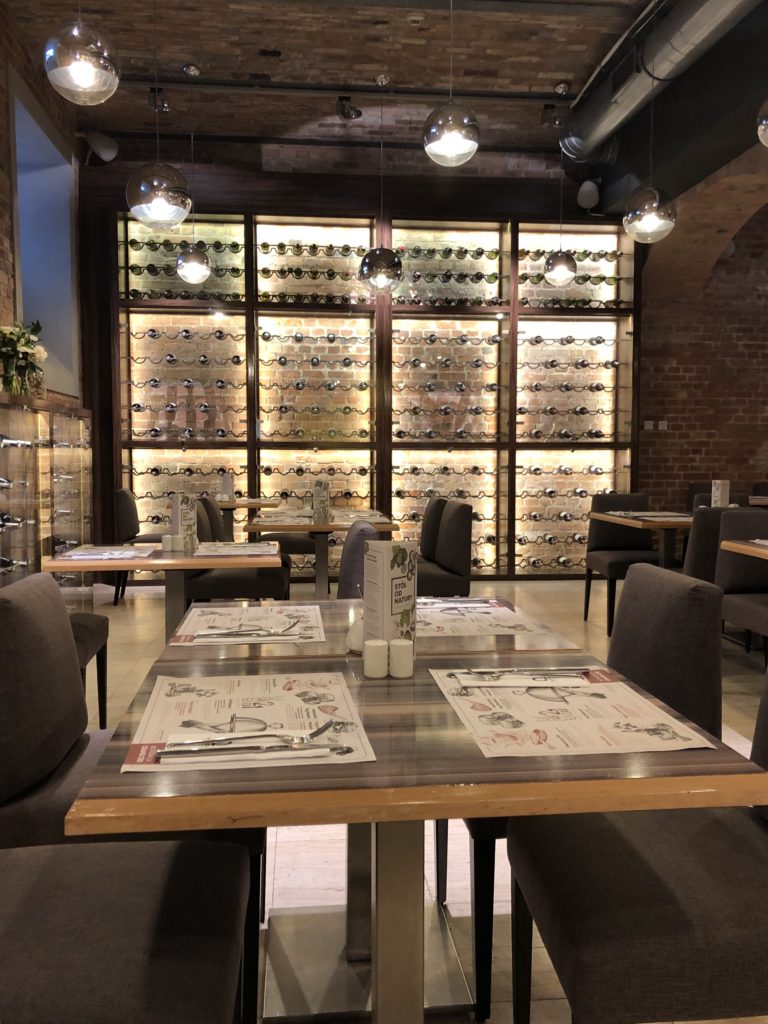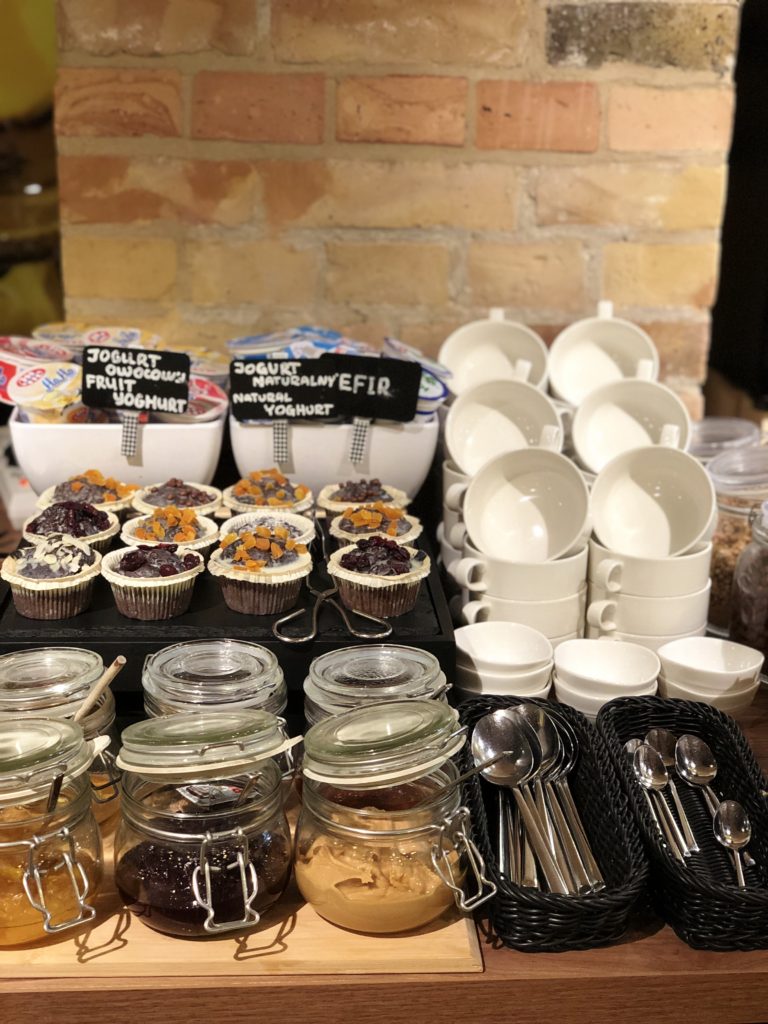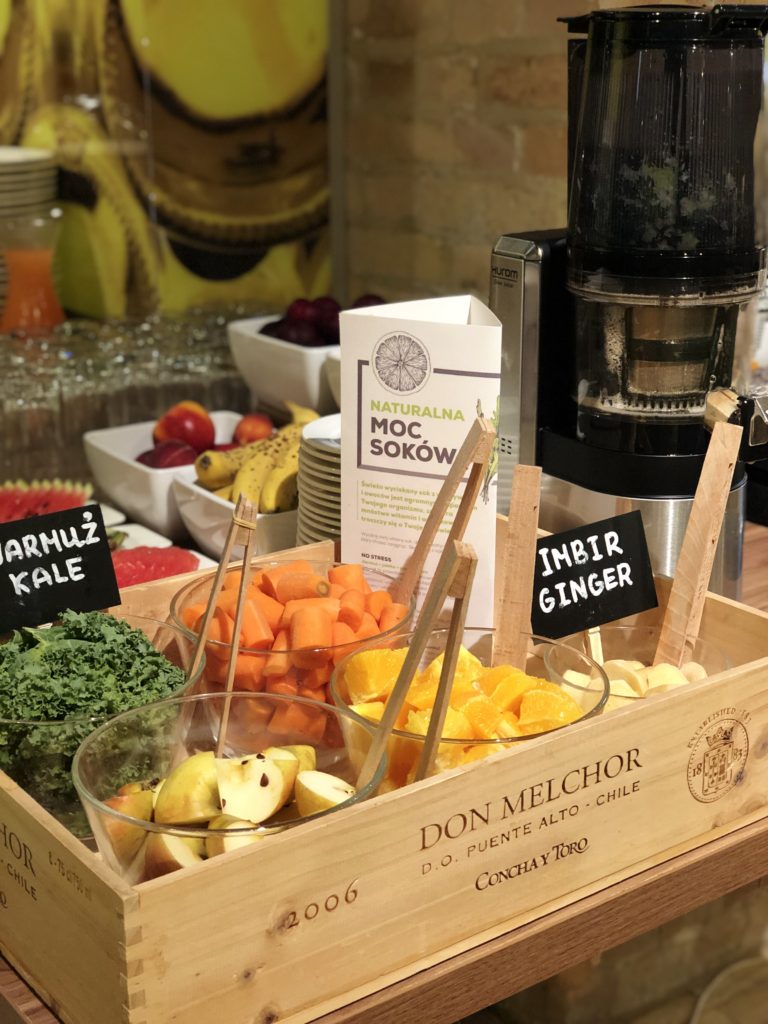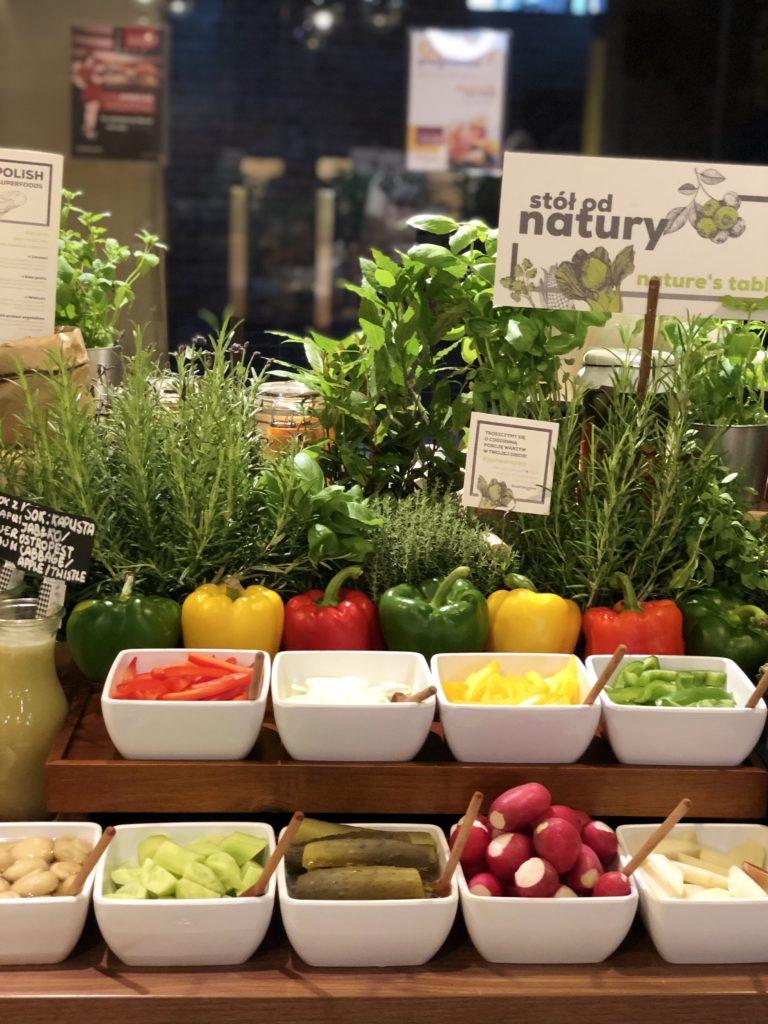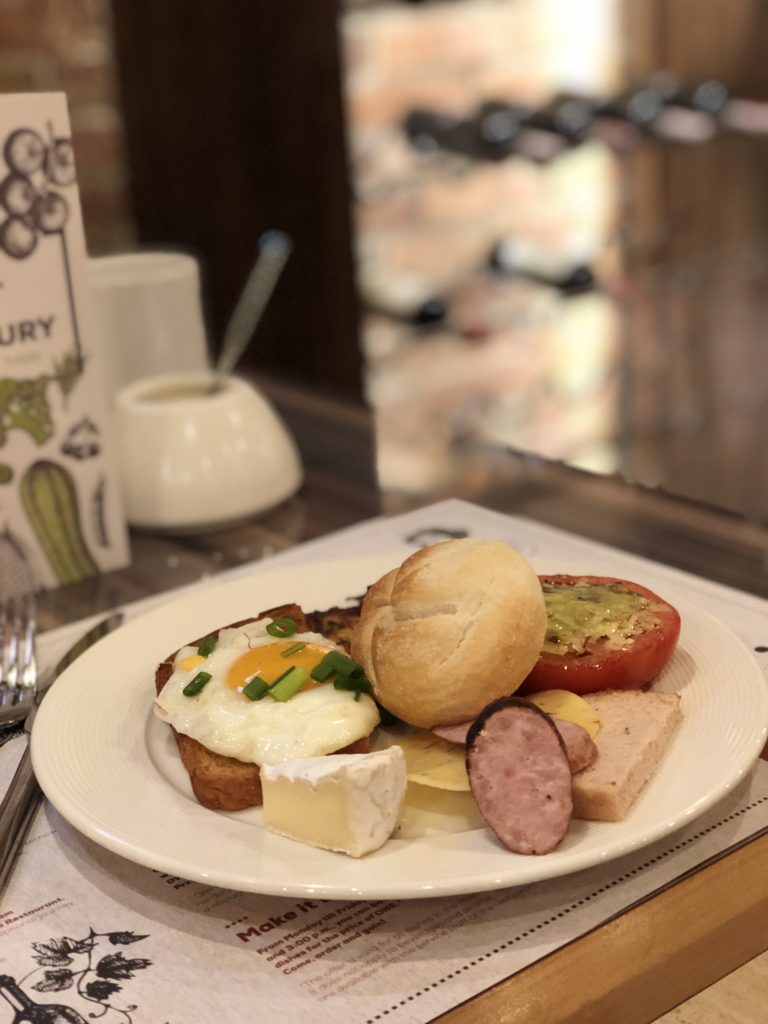 Our first stop was St. Mary's Basilica. Its construction began in 1343 and it is currently one of the largest brick churches in the world. The massive tower, well visible on the city's skyline, is 80 meters high. In the old days it served an important function but today it is just an observation platform which tourists can climb, though we didn't. We did how ever see a portion of a Mass which was absolutely beautiful to witness.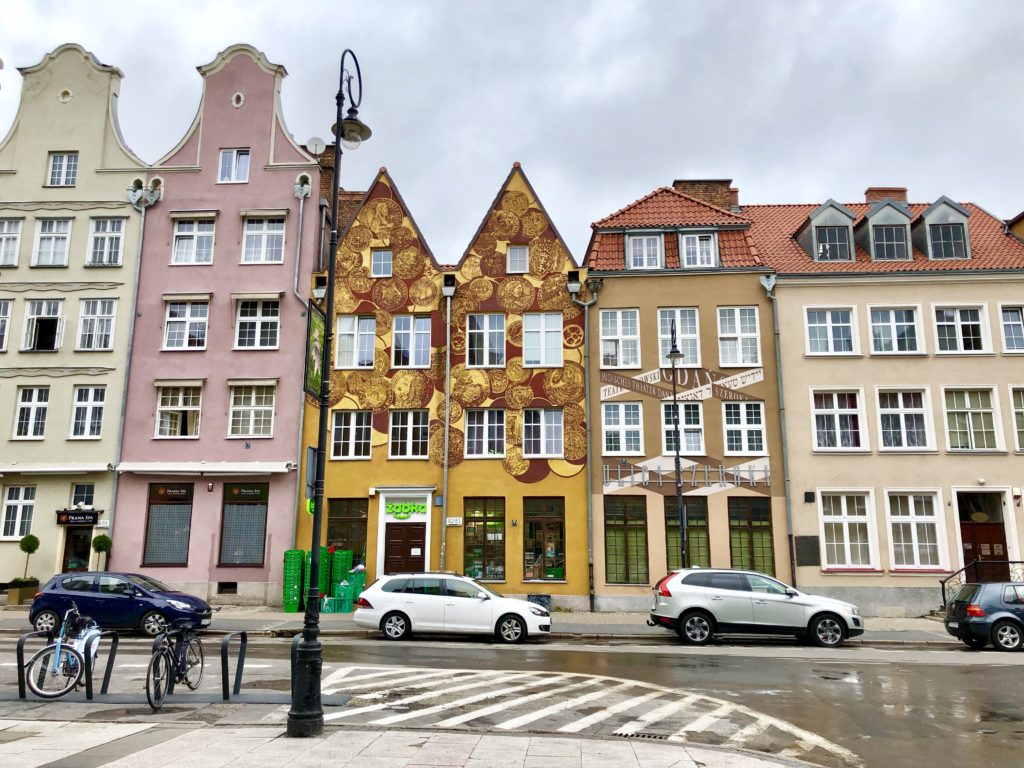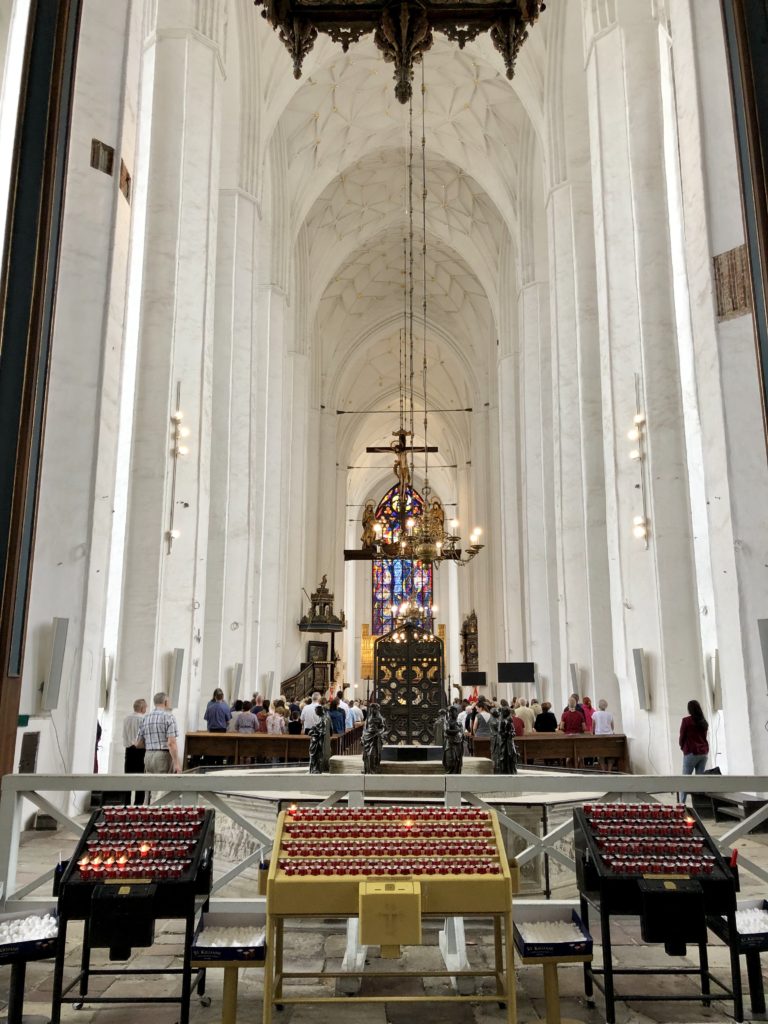 Next we walked to The Great Armoury. The Great Armoury was built in 1600 on the medieval line of the city walls and was a working arsenal until the 1800s. The armoury remains the finest example of Renaissance architecture in the city. It is famous for a particular carving on the front of the building. It depicts a lion whom is, shall we say, showing off his sword? The Armoury is no longer open to the public but a walk by is a must.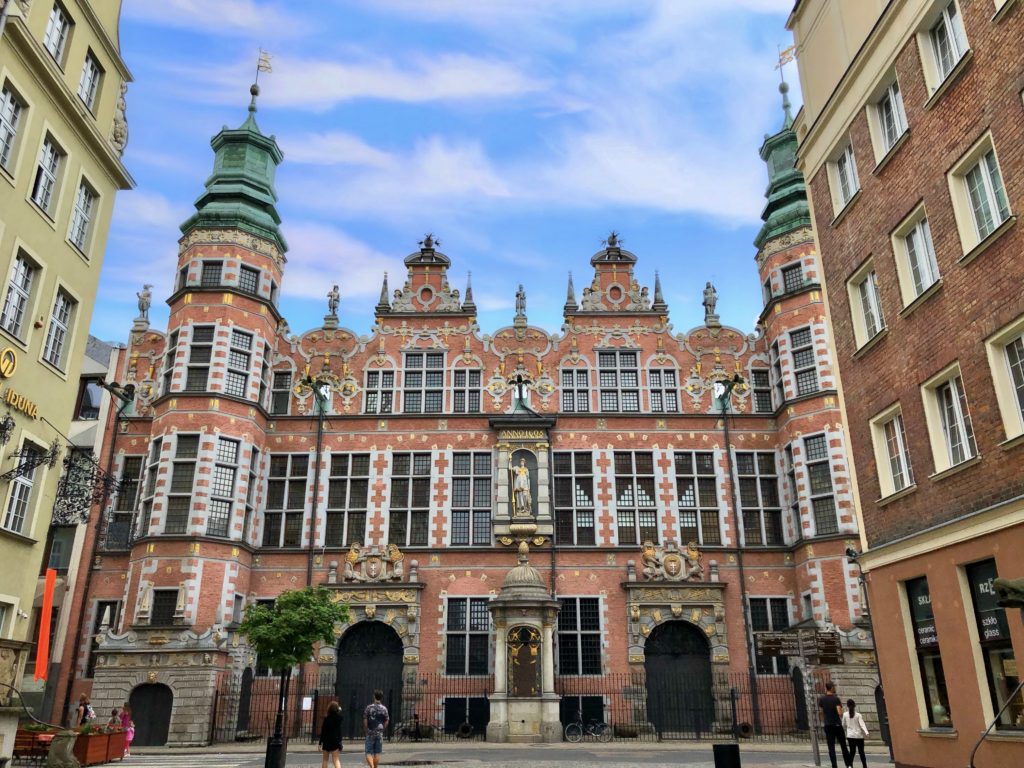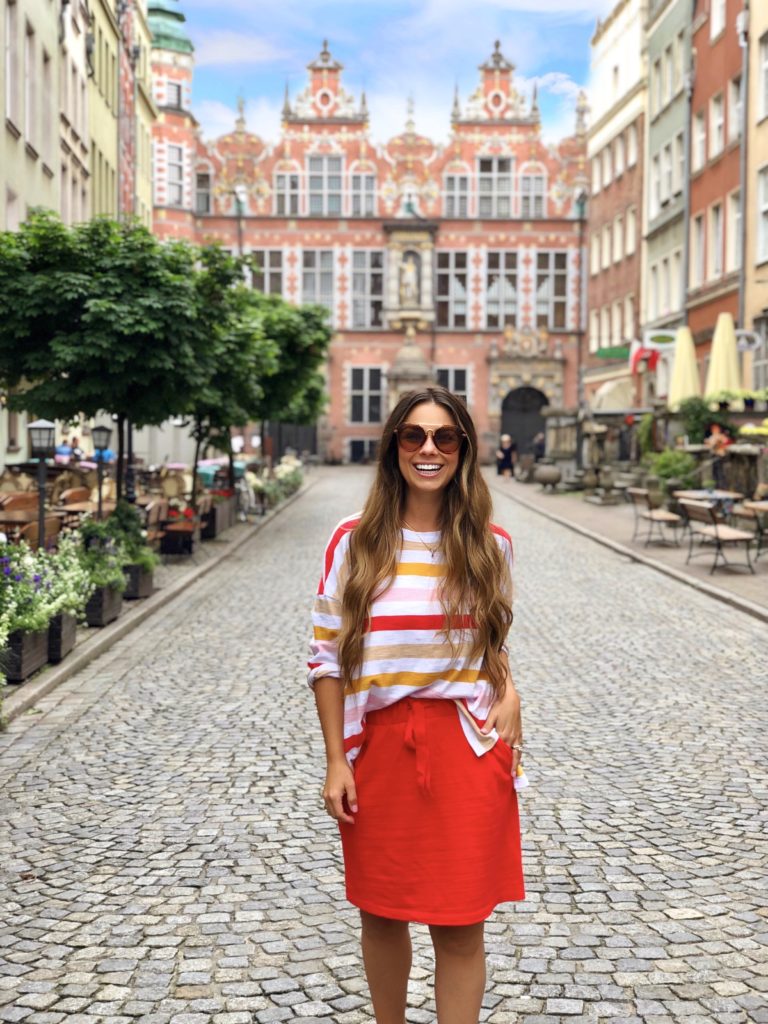 shop the look:

Next we checked out St. Mary's Gate which was first mentioned in 1484. Wow!
The Gdanks Crane was our next stop. The Crane is one of the main symbols of Gdansk and represents what little is left of the city's great trading age. First mentioned in 1367, as a working crane it was used to transfer cargoes and to put up masts on ships.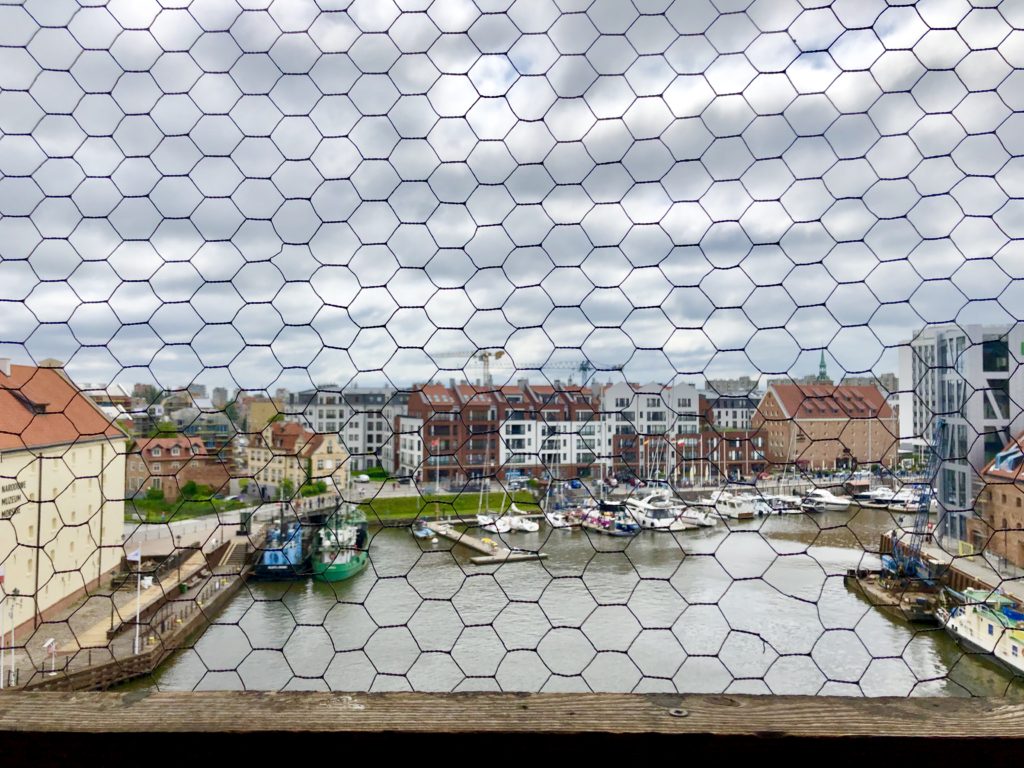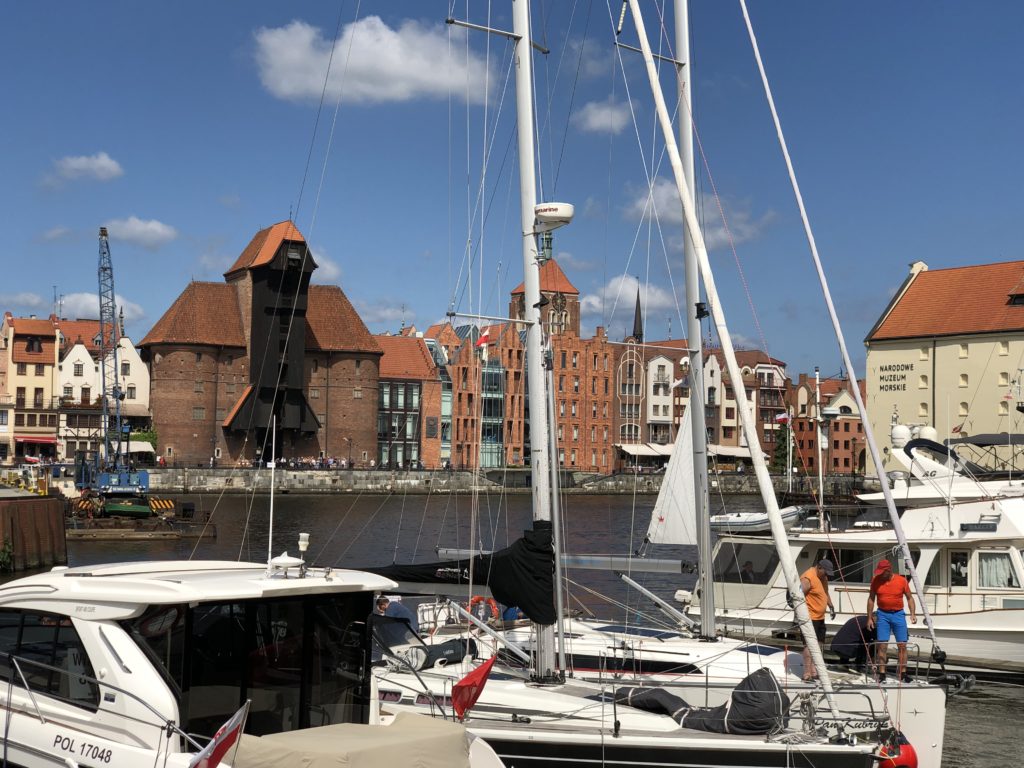 Next up? Dom Uphagena, which would be our favorite stop of the day. Dom Uphagena is an 18th-century merchant house. The house was originally owned by Johann Uphagen, hence the name, in 1775 before becoming a museum in 1911. The house is one of only a few 18th century merchant town houses in Europe open to visitors, which makes it even more special. The intricate details inside are mesmerizing and absolutely gorgeous. It is always fascinating to see how people lived back in the day. This is a spot I'd highly recommend!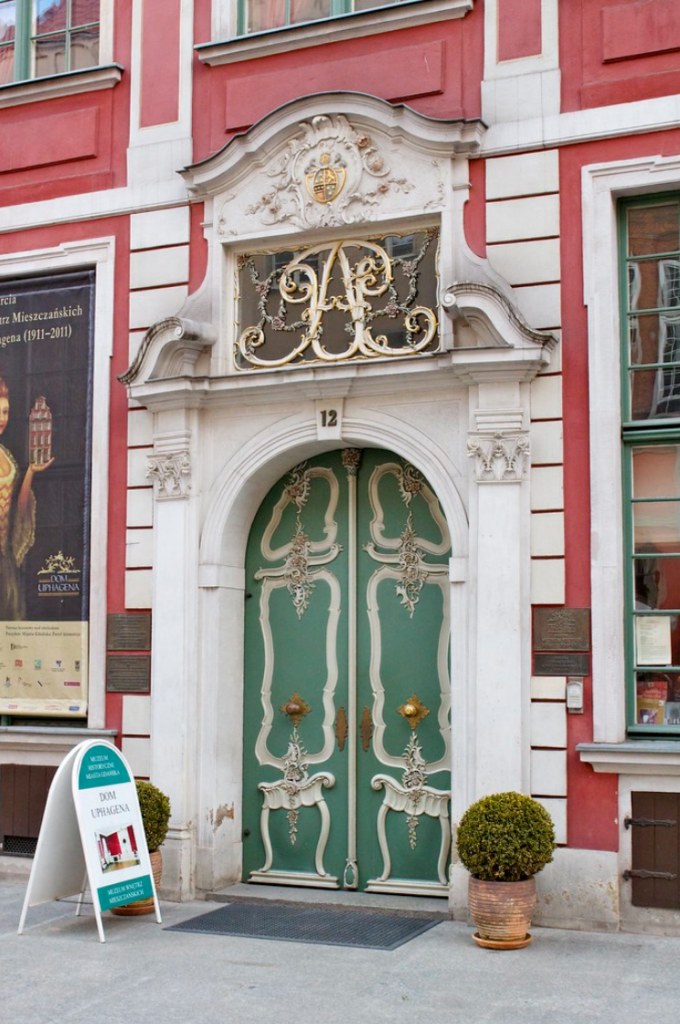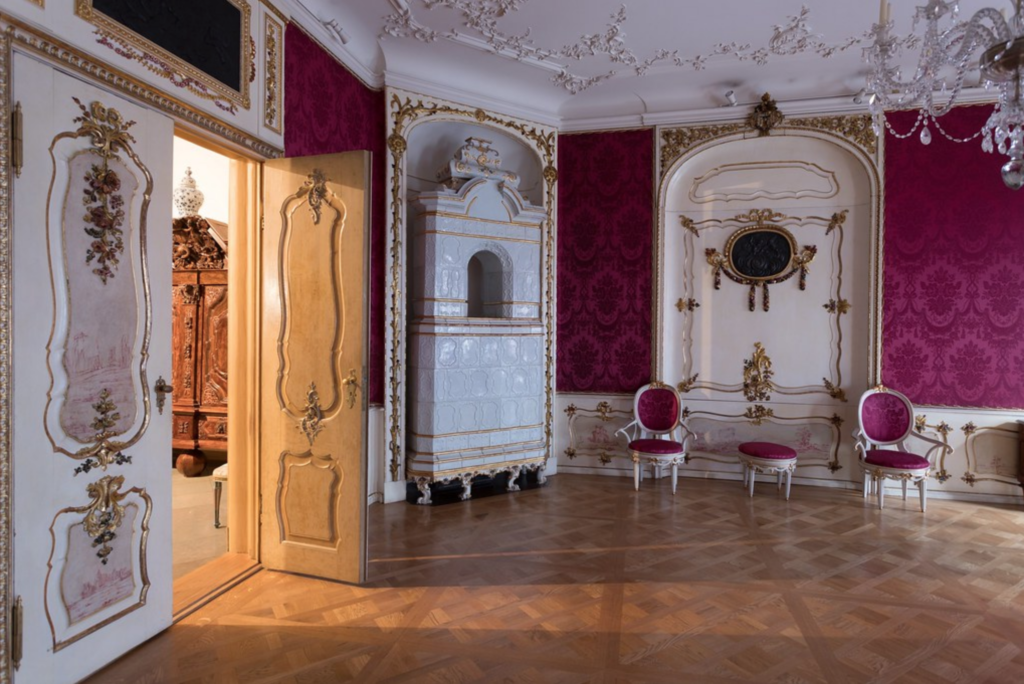 We had worked up quite an appetite and decided to have lunch at Gdansk Bowke. It's right on the water offering great sights, people watching and traditional fare. We split the schnitzel, which was served with a a fried egg, a light cucumber salad and sweet and sour cabbage, which was out of this world! This restaurant is a great spot for lunch or a casual dinner.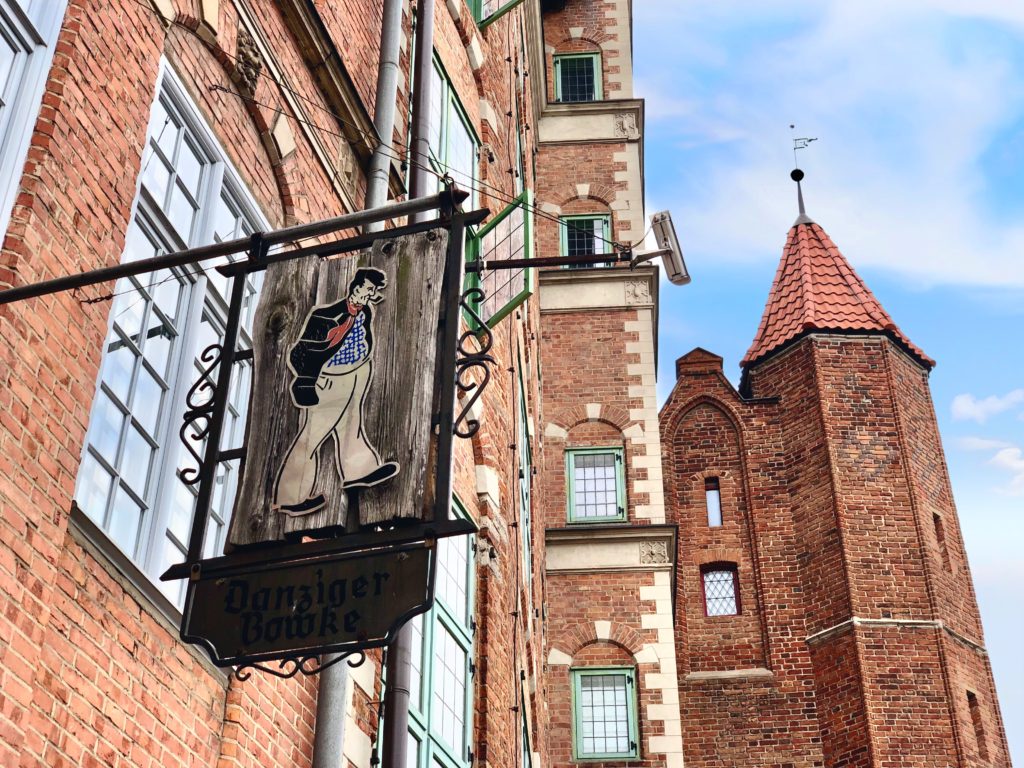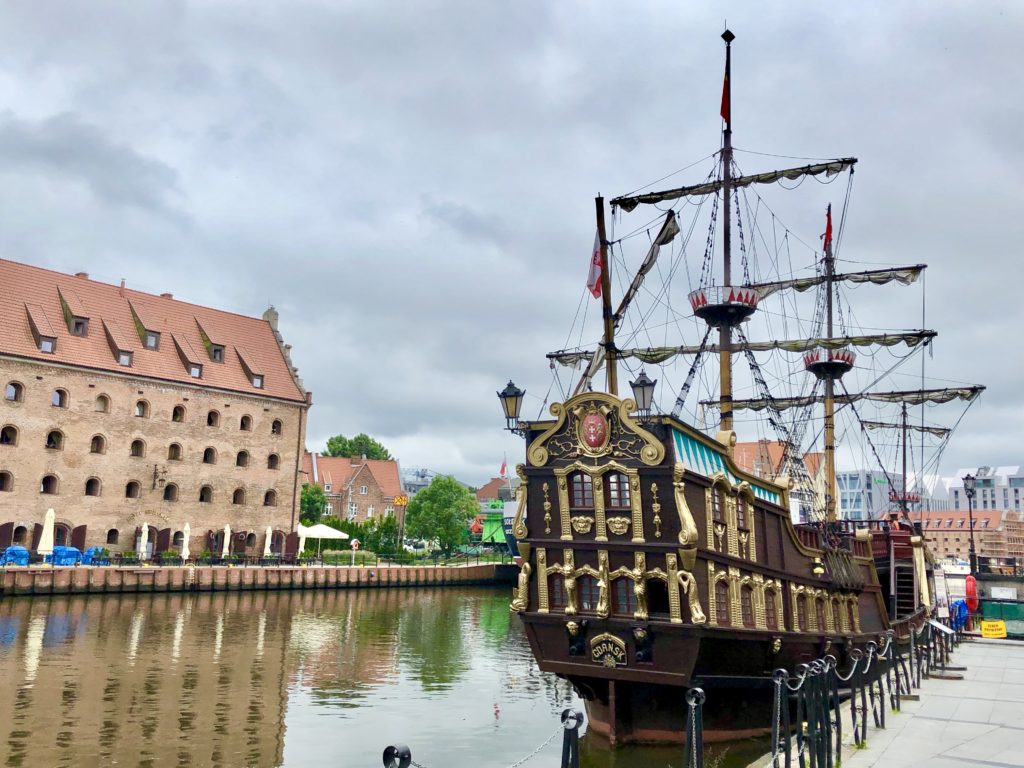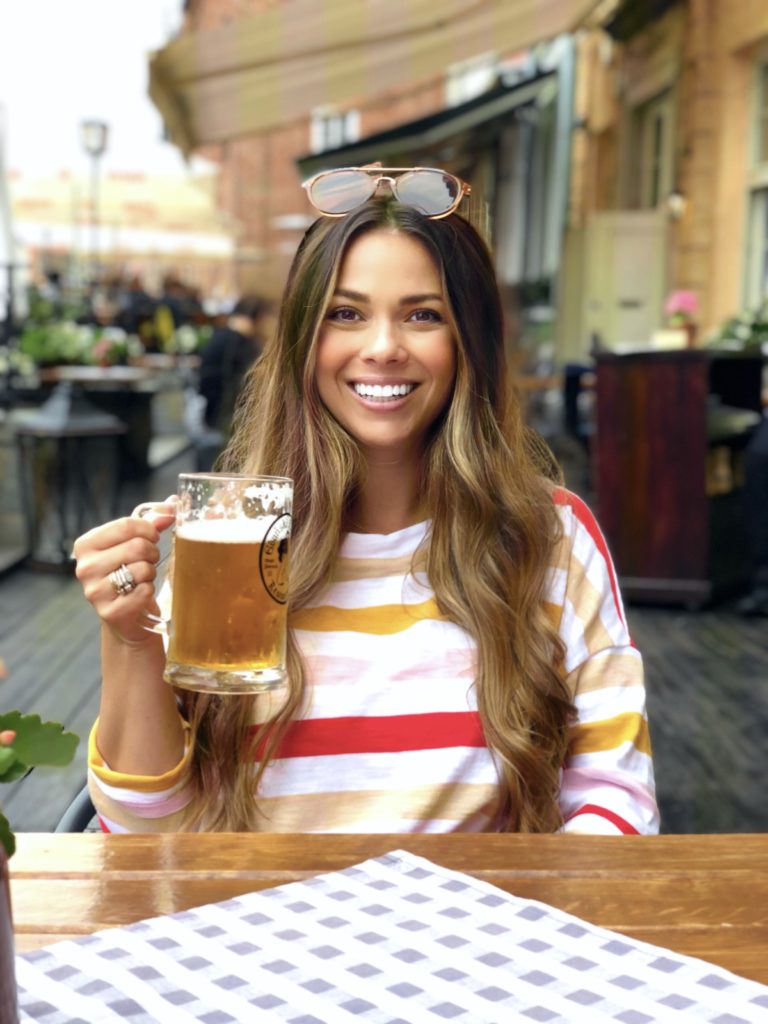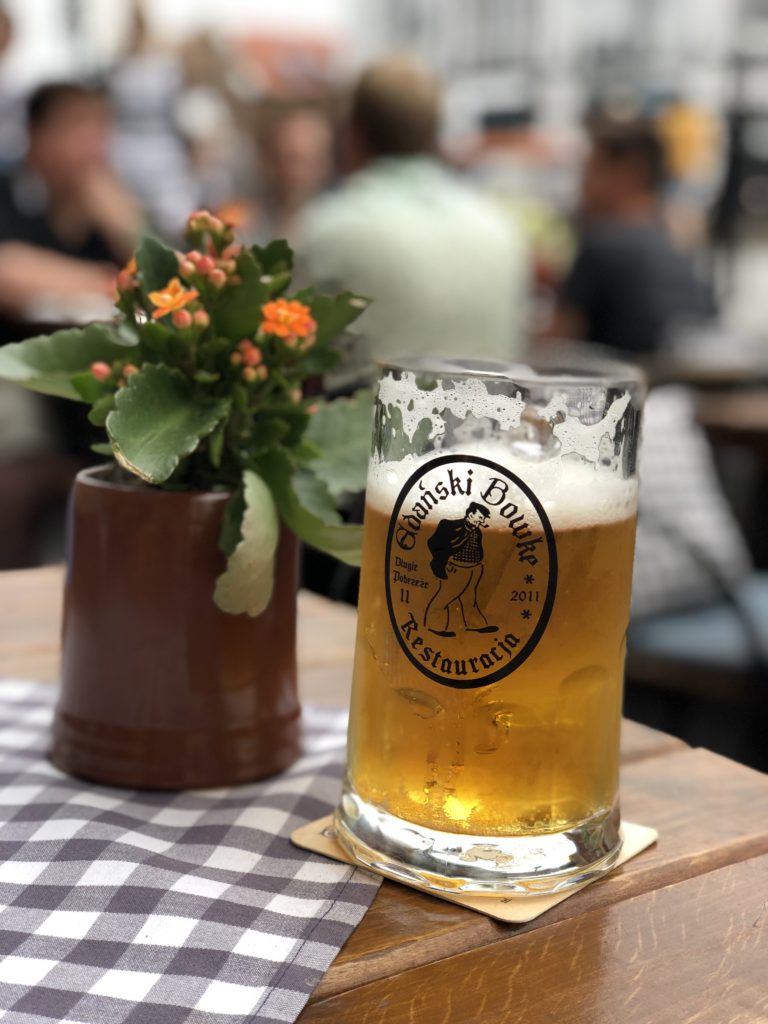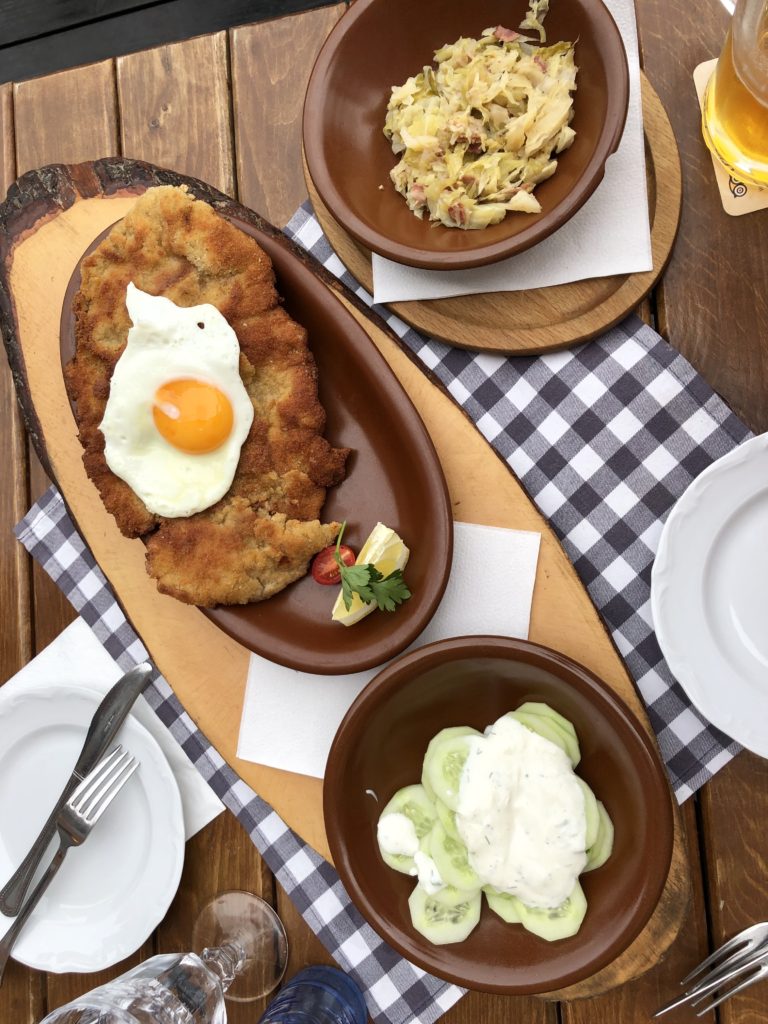 After lunch we took a gander at the Old Prussian Hags of Northern Pomerania, which are located directly outside the restaurant. These ancient stone reliefs date back to the 1200s. Ancient pagans, a mix of the Baltic tribes, Slavic clans and Nordic settlers, inhabited the area and these stone carvings are some of the last remaining pieces of them and their culture today.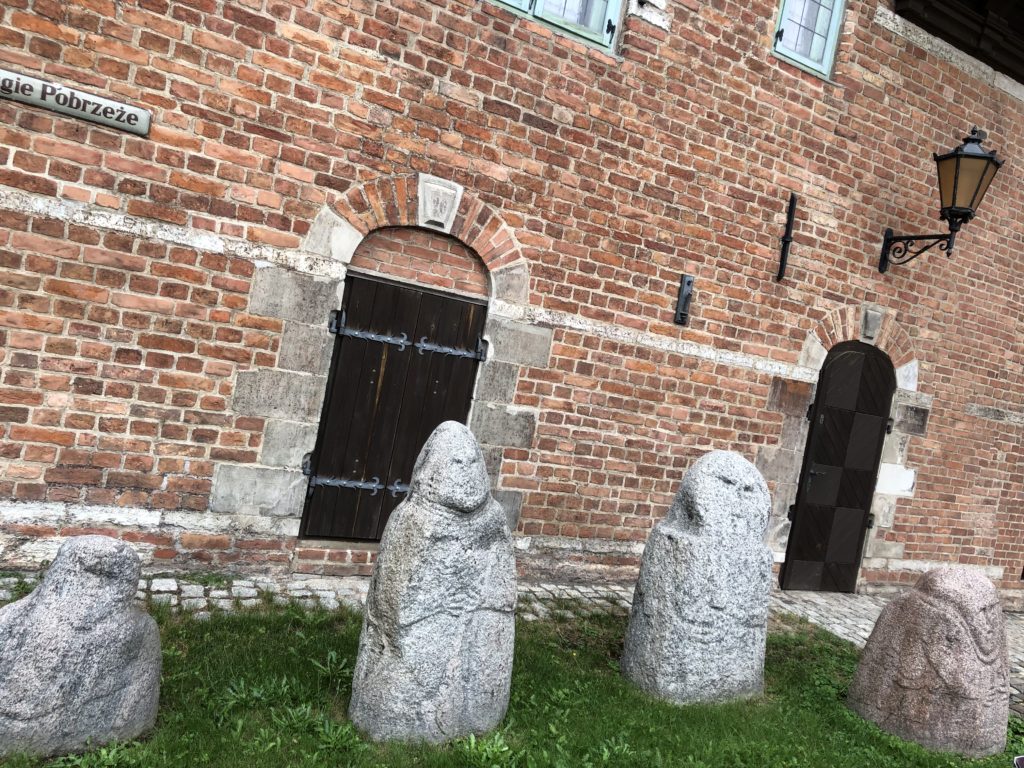 Full and recharged we were off to check out the Artus Court, which used to be the meeting place of merchants and a centre of social life. The interiors are simply stunning!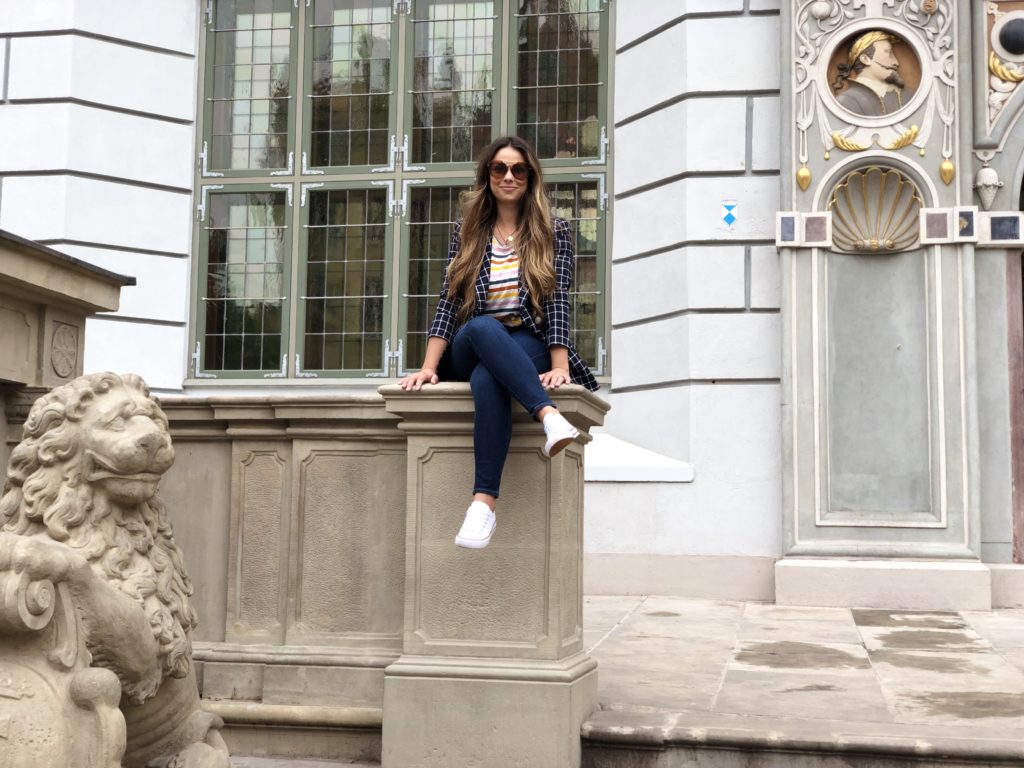 shop the look: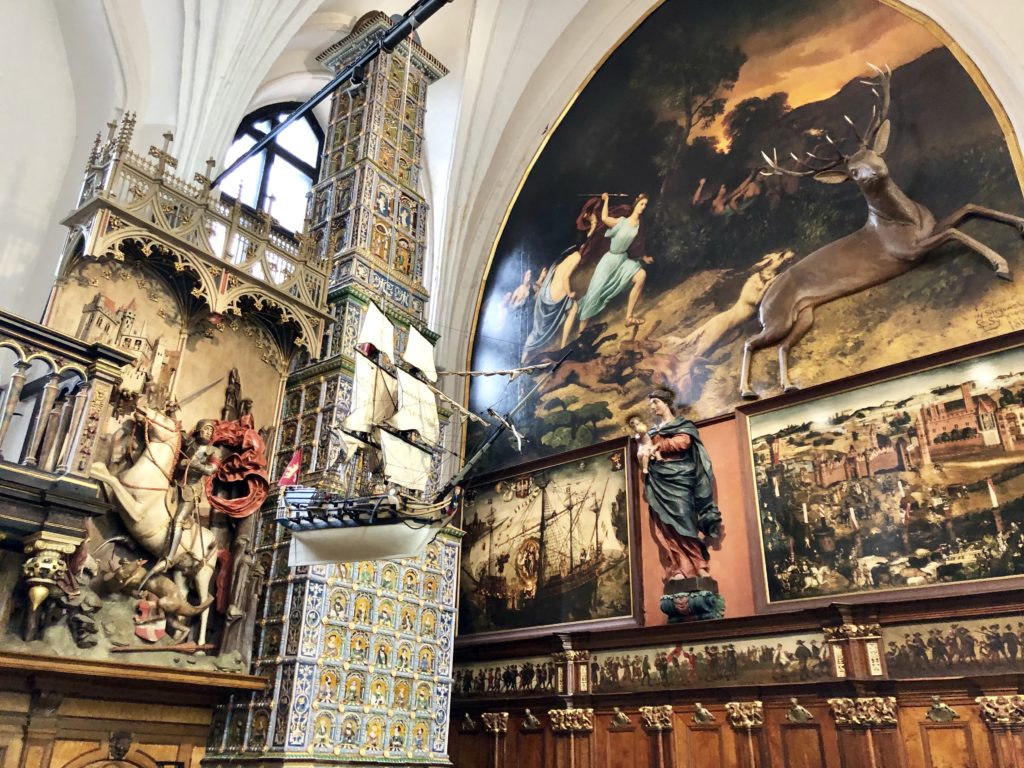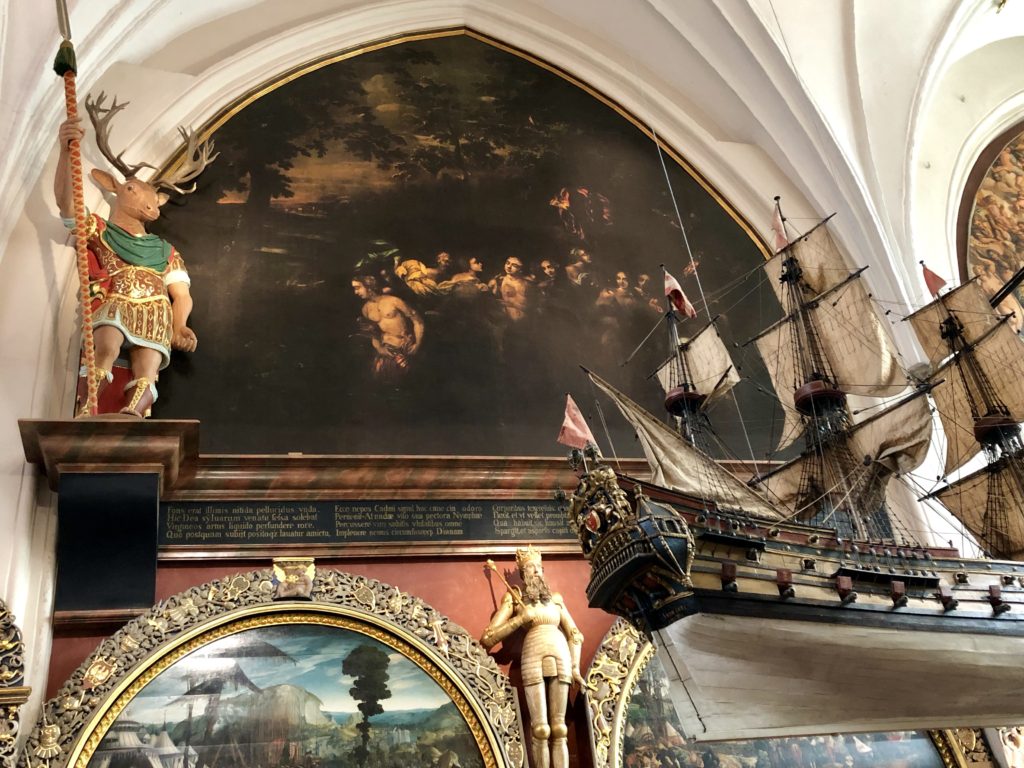 And City Hall with equally stunning interiors!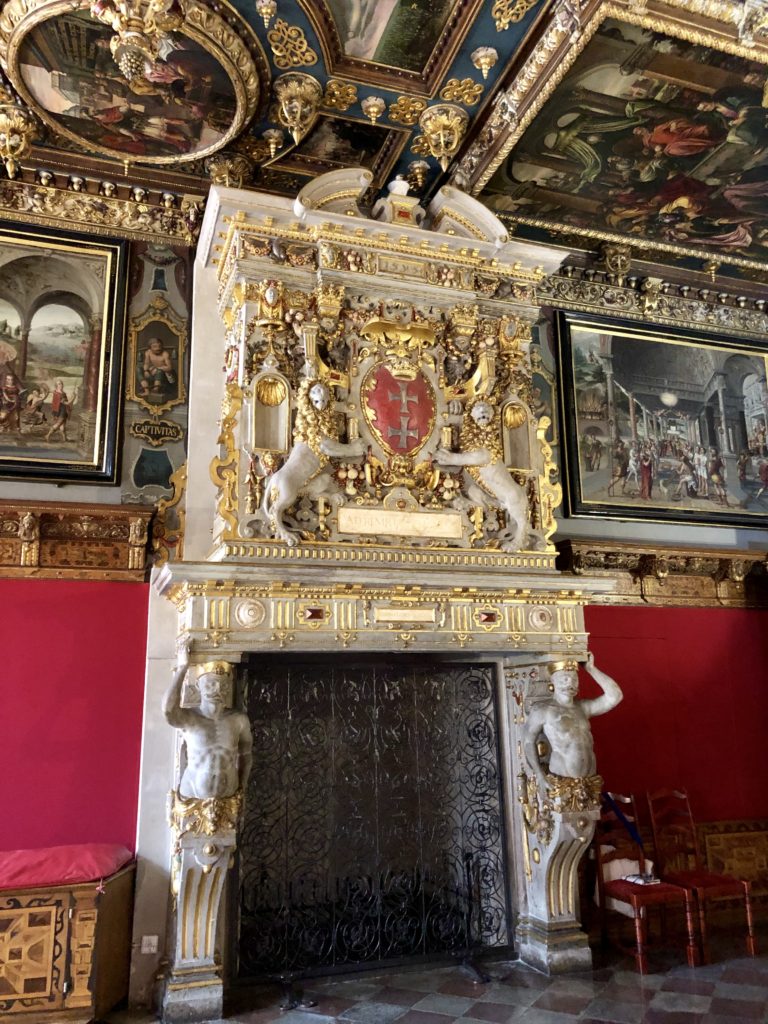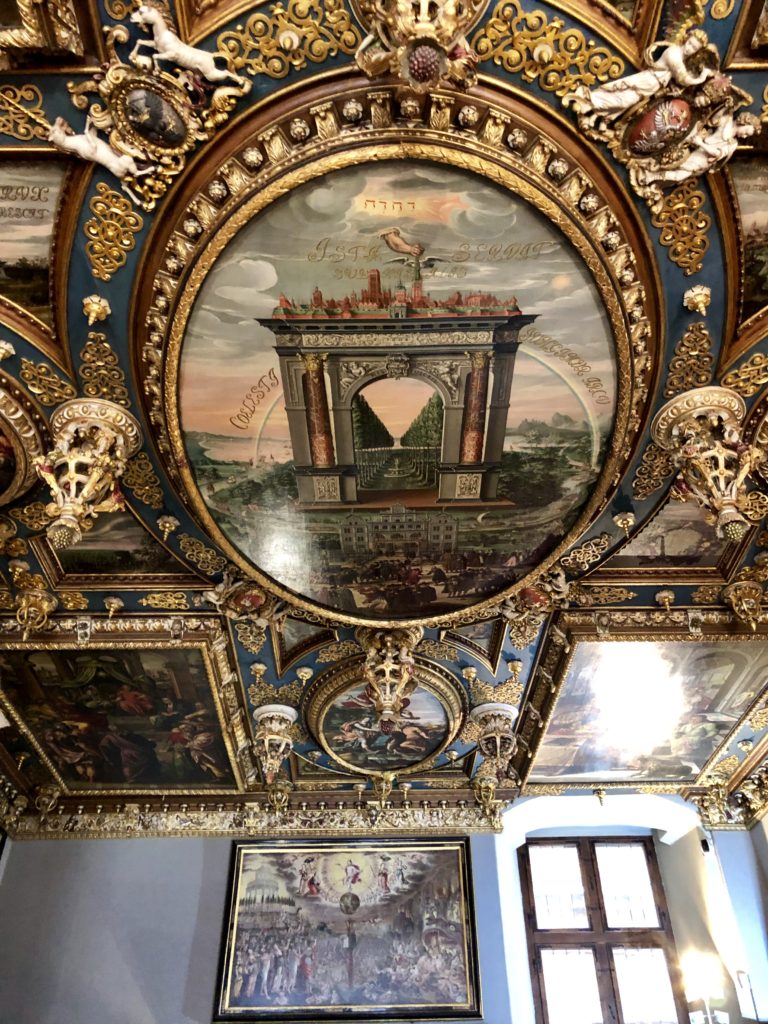 Next we stopped by Neptune's Fountain, a historic fountain that has become the symbol of the city.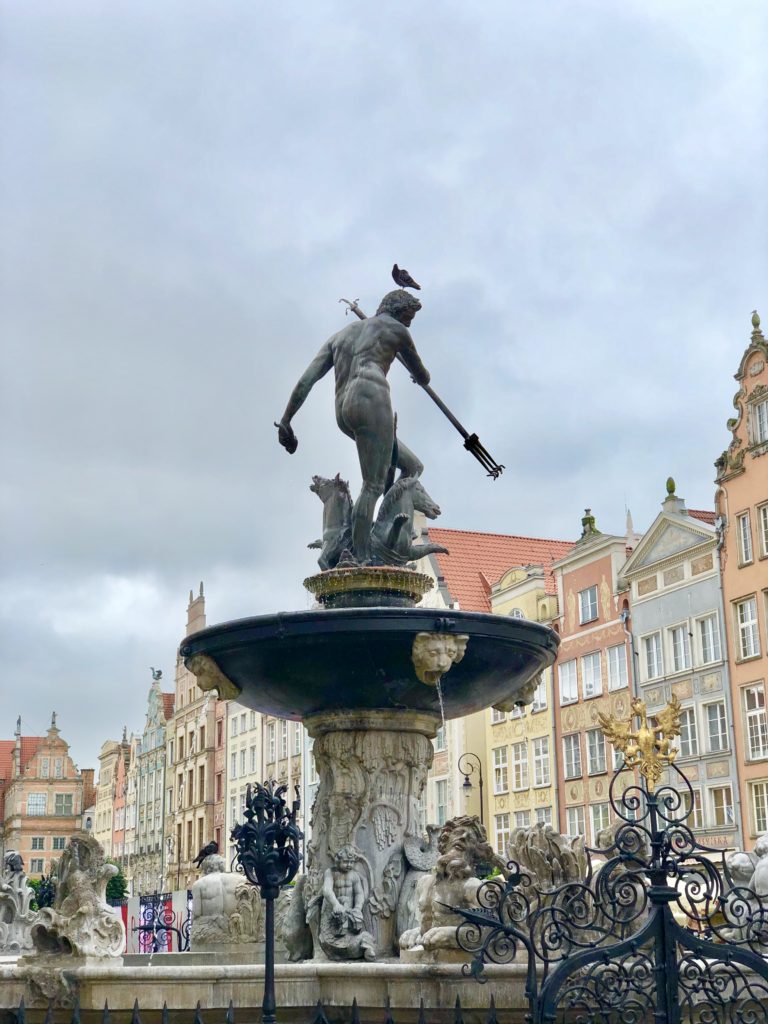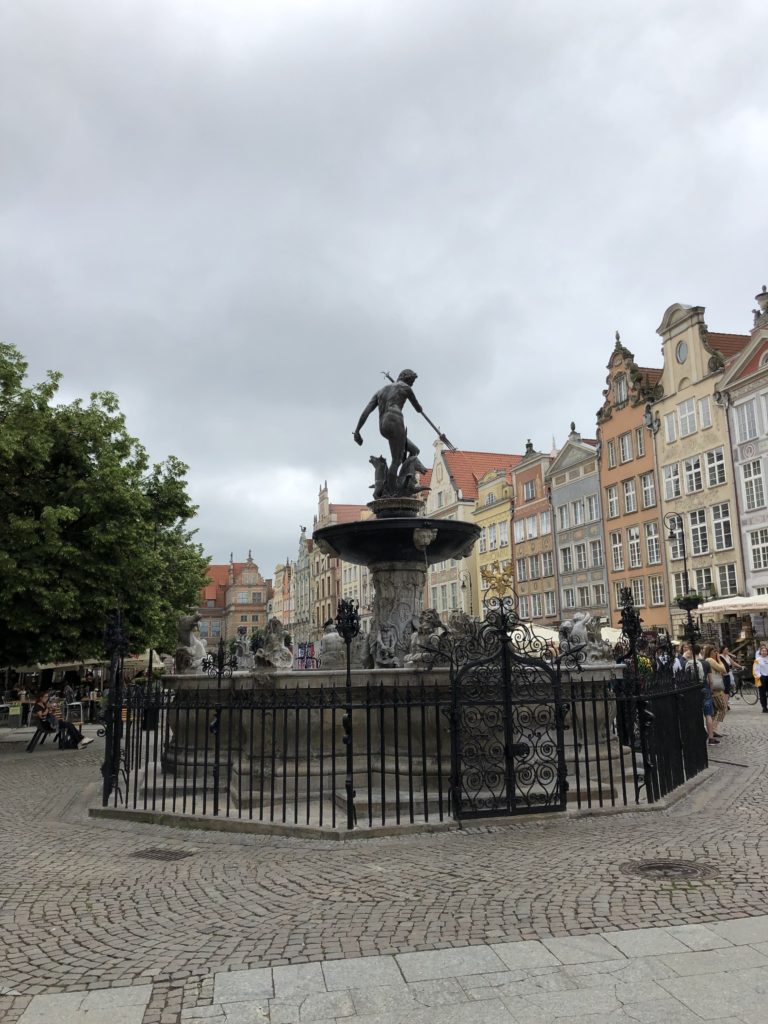 Museum'd out for the day, we stopped at Piwnica Rajcow, a restaurant and brewery directly outside of Artus Court and behind Neptune's Fountain for a beer tasting. The local beer was tasty and the location is perfect to people watch and see street performers. This is another spot I'd seriously recommend. We had an absolute blast and afterwards we walked along Long Street for some shopping. We pick up some souvenirs and I bought a beautiful landscape watercolor painting from a local artist.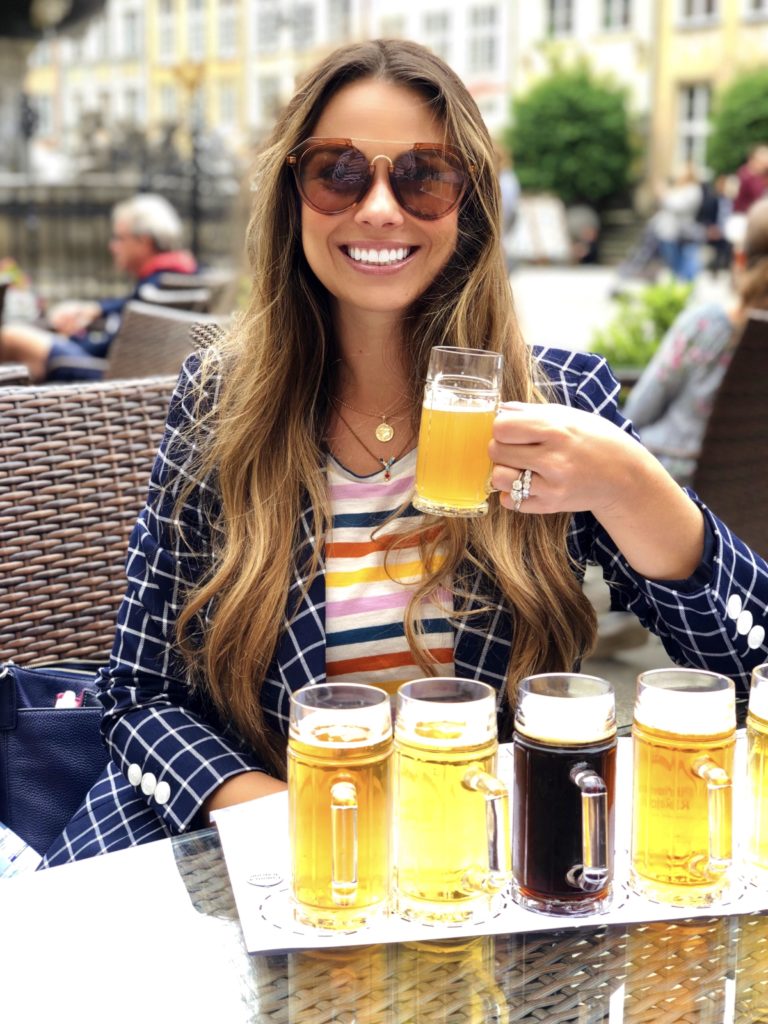 shop the look: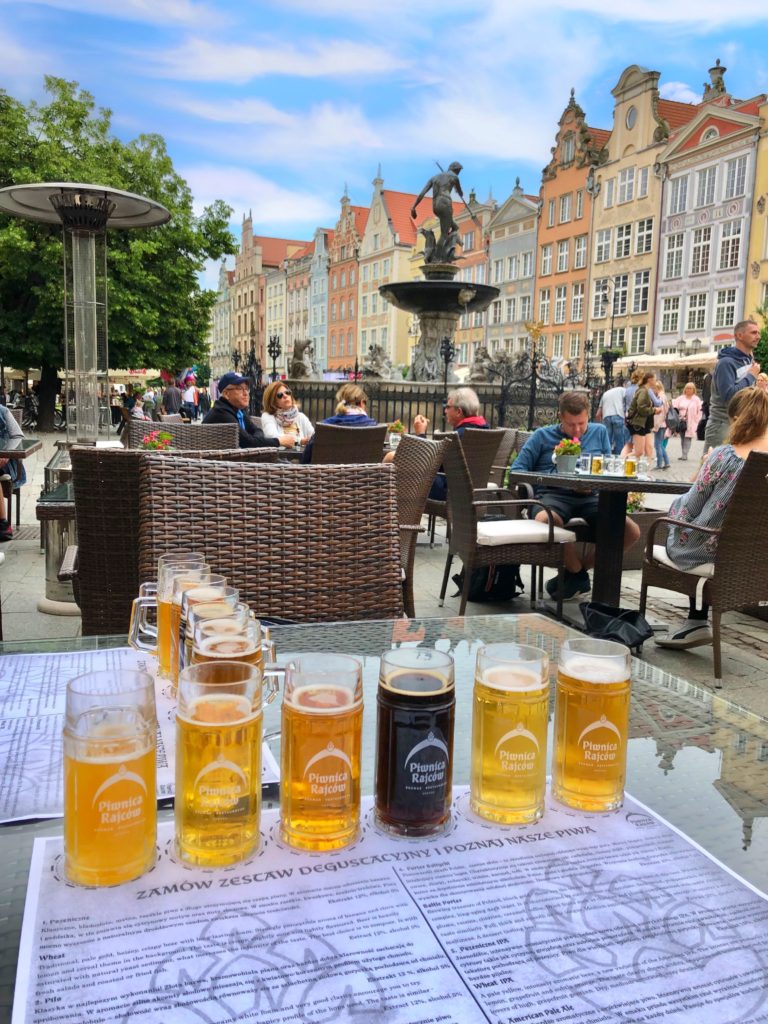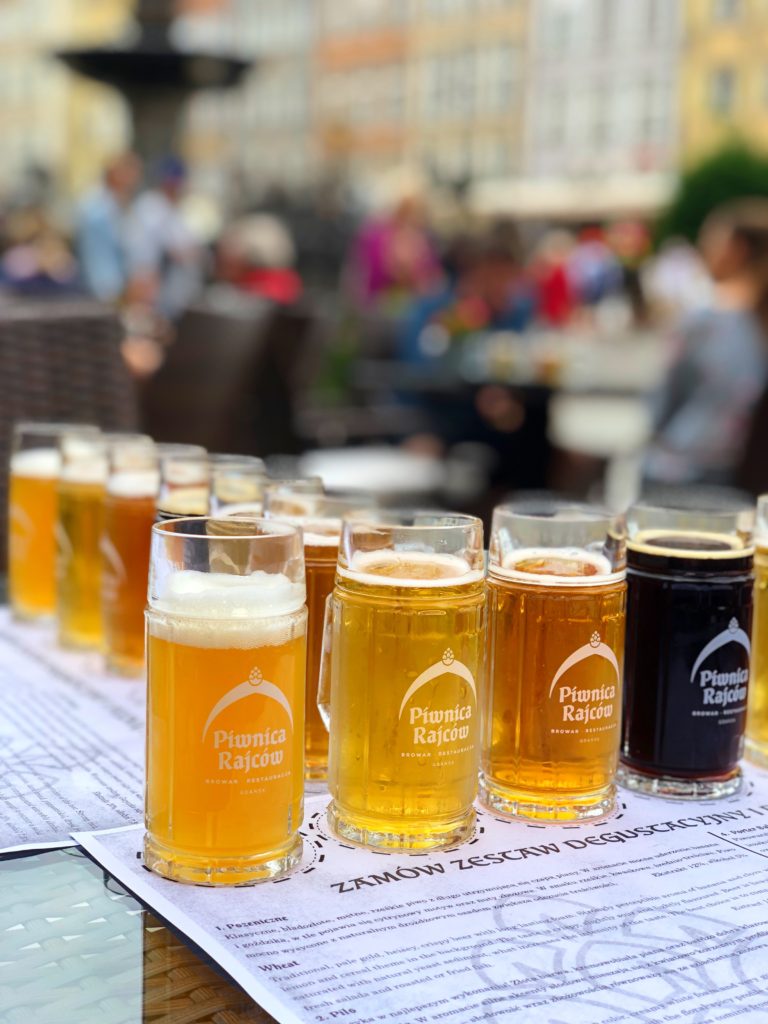 On our walk back to Q Hotel Grand Cru we saw the Fahrenheit Monument. Daniel Fahrenheit was born in 1686 in Gdansk. The Gdansk Fahrenheit Monument displays an antique thermometer to remember the man. For such a small city, Gdansk is packed with history!
We freshened up and were off to dinner. I was very excited about the restaurant we were dinning at and boy, did it not disappoint. We were eating at Goldwasser. Firstly, the décor and ambiance were out of this world. So opulent but cozy at the same time. We sipped on white wine and took in the views of the water. We started with elk carpaccio then Judi had a Cesar salad and I lobster bisque. For our entrée we split the wild boar, which was served with traditional Polish dumplings, purple cabbage and a mushroom gravy. Yum! Stuffed, we decided to pass ob dessert and each have a glass of their house made Goldwasser. Goldwasser, also known as "the vodka of Gdansk", is a strong root and herbal liqueur that dates back to 1598. It is made from herbs and spices such as cardamom, cloves, cinnamon, lavender, thyme, coriander and juniper and had 23 karat gold flakes floating in it. Back in the day it was the drink of royals.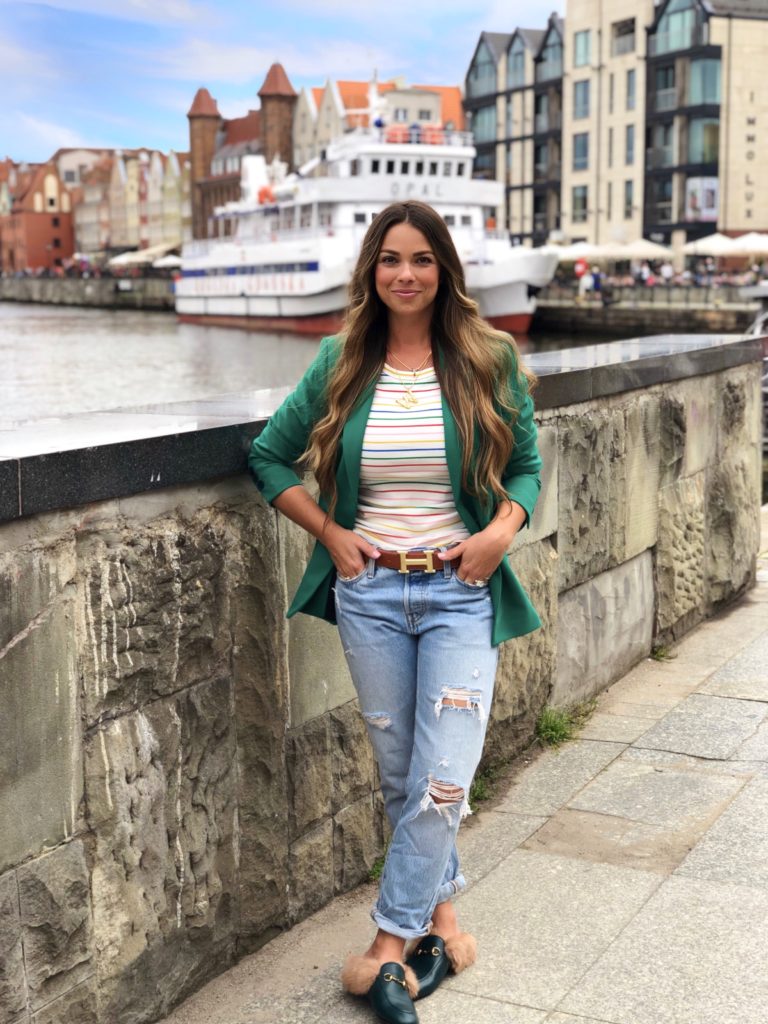 shop the look: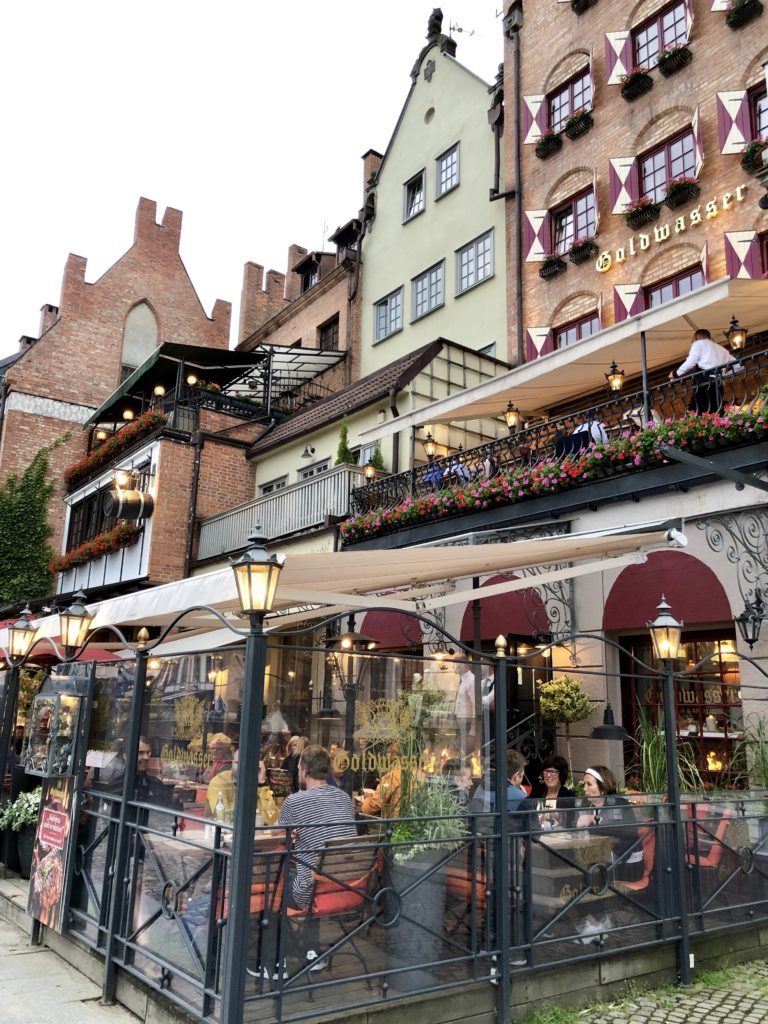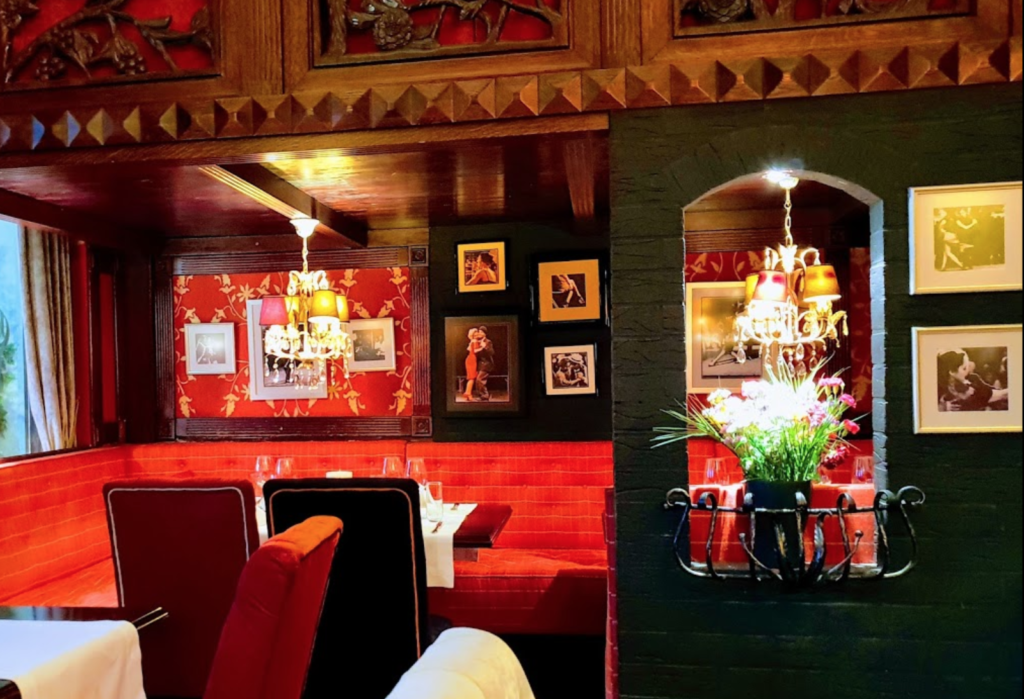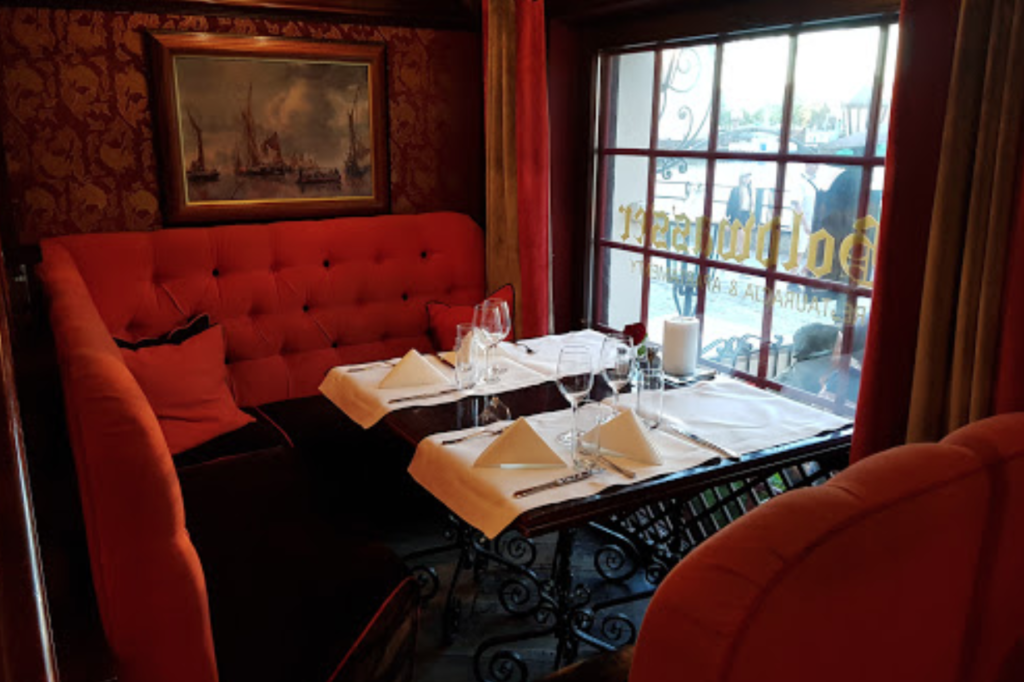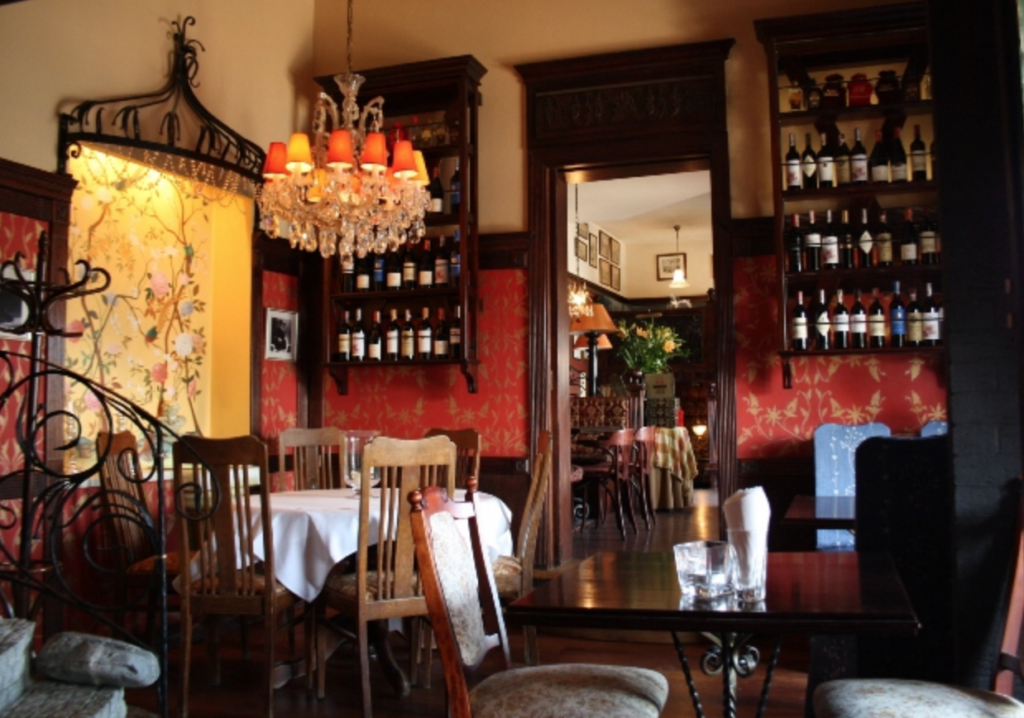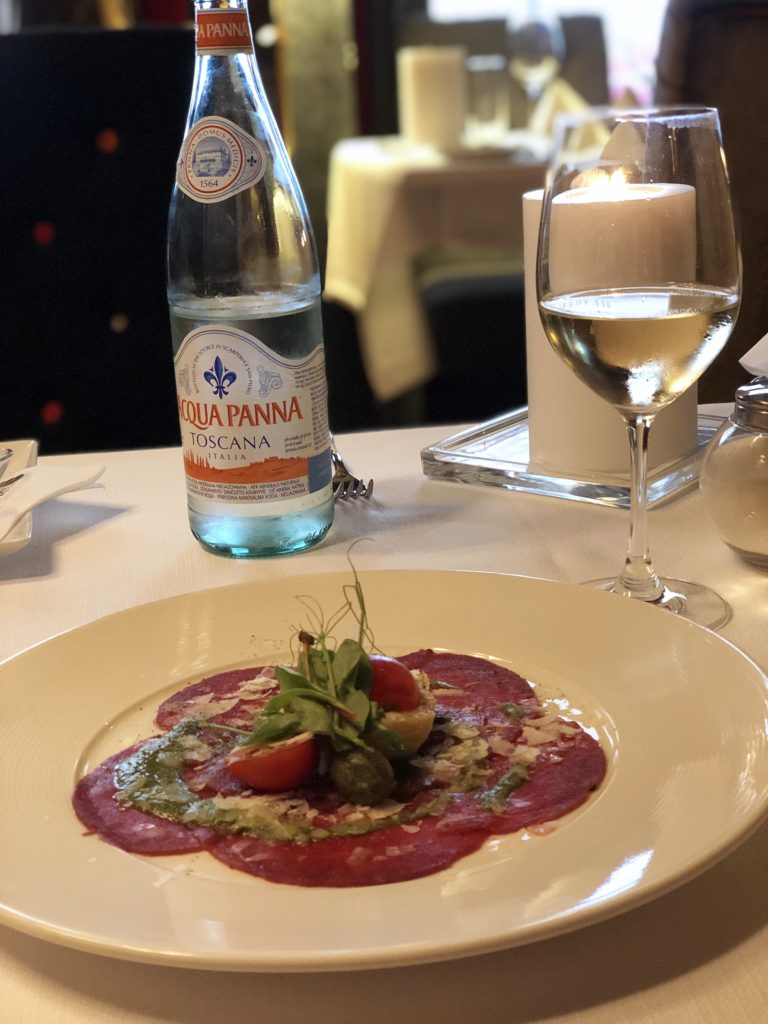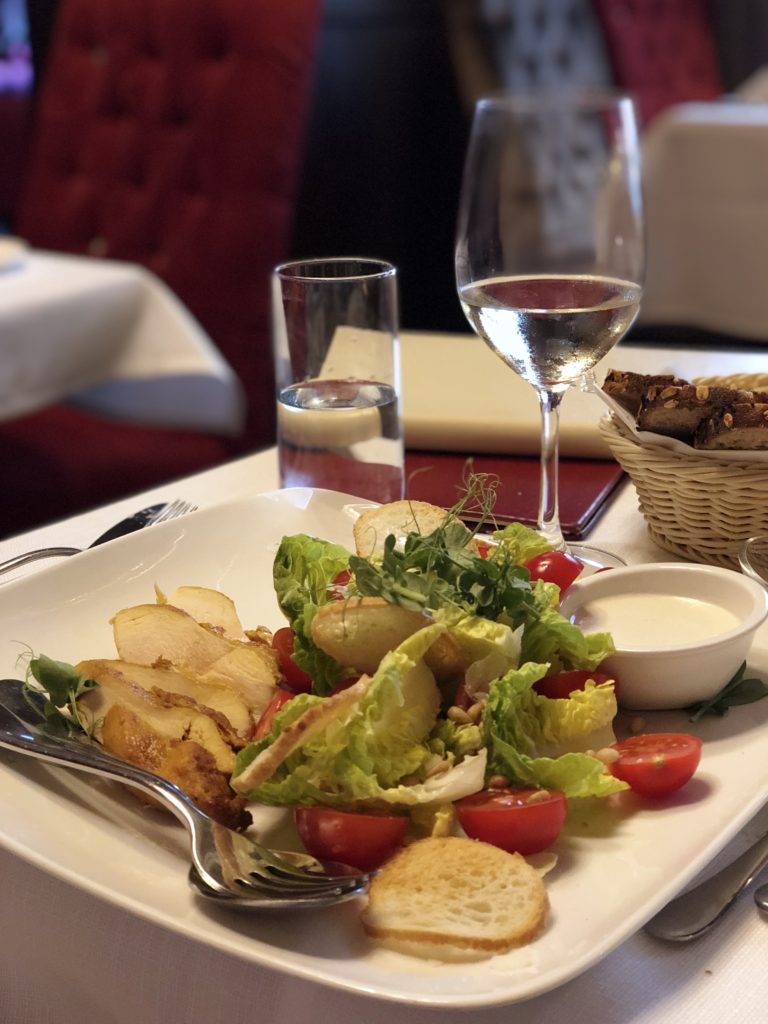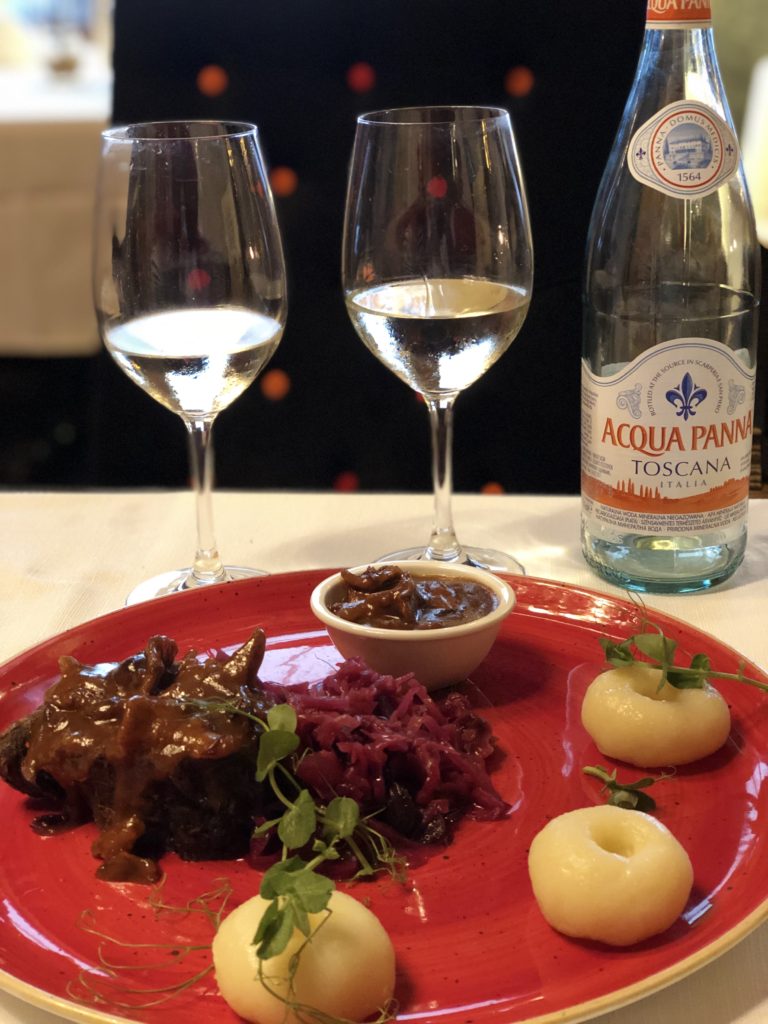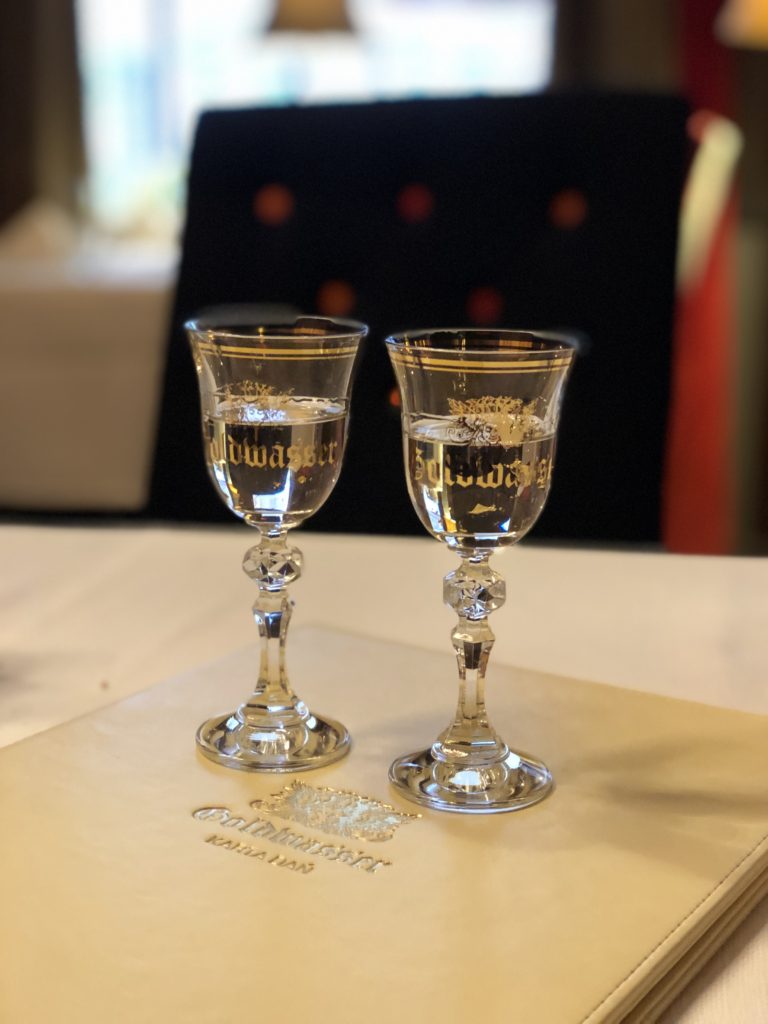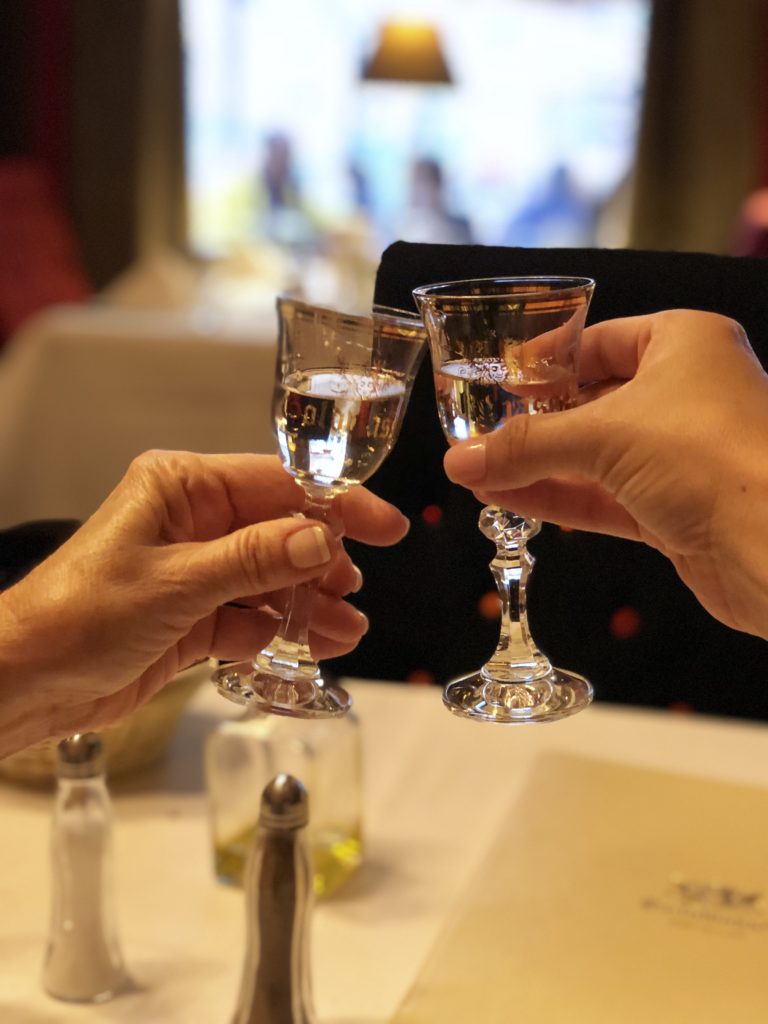 Well rested and ready to take on the day, we enjoyed the breakfast buffet again at Q Hotel Grand Cru. After breakfast we took a long walk around Granary Island, which was just across the bridge right outside our hotel. Gdansk is absolutely gorgeous!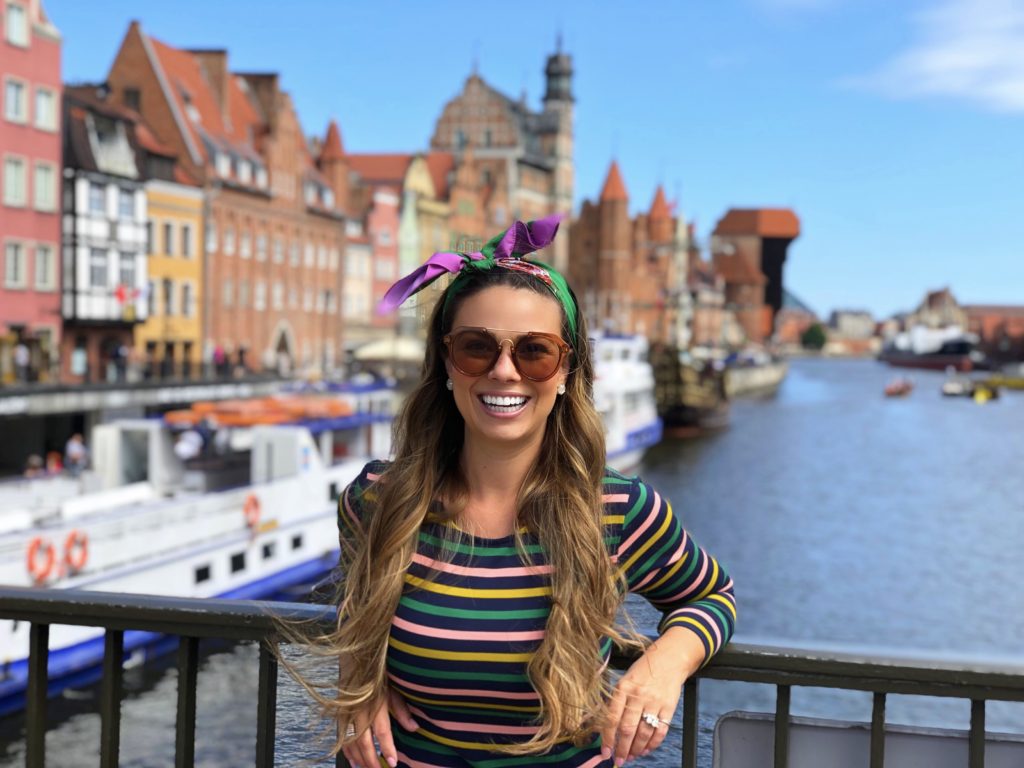 shop the look: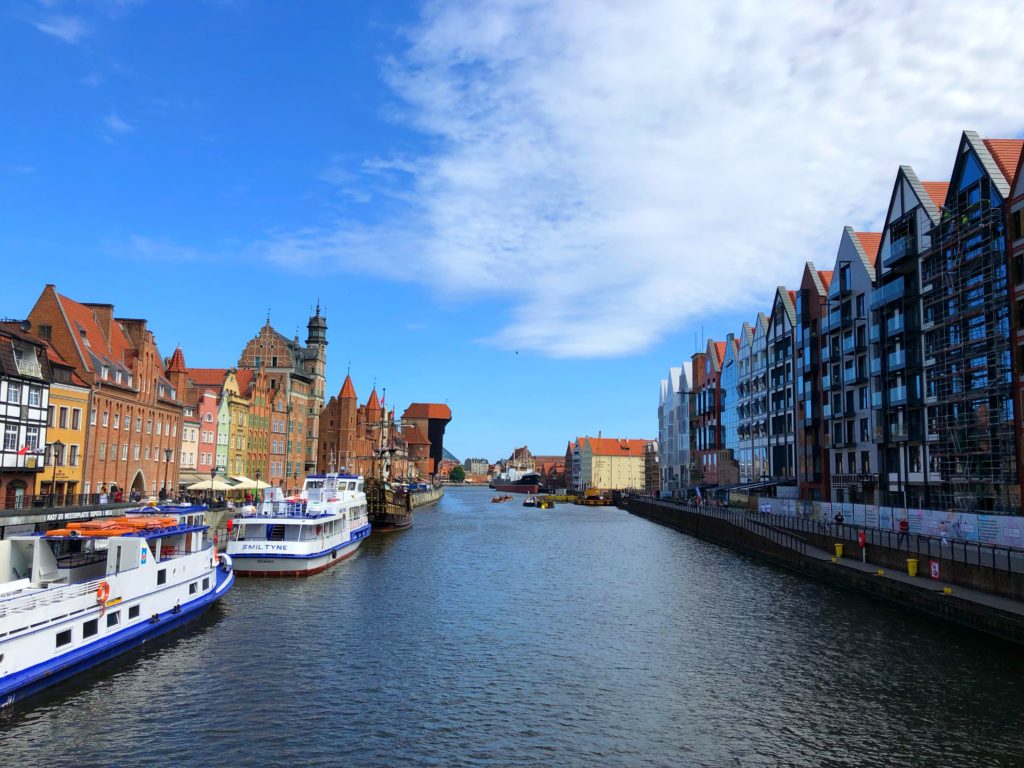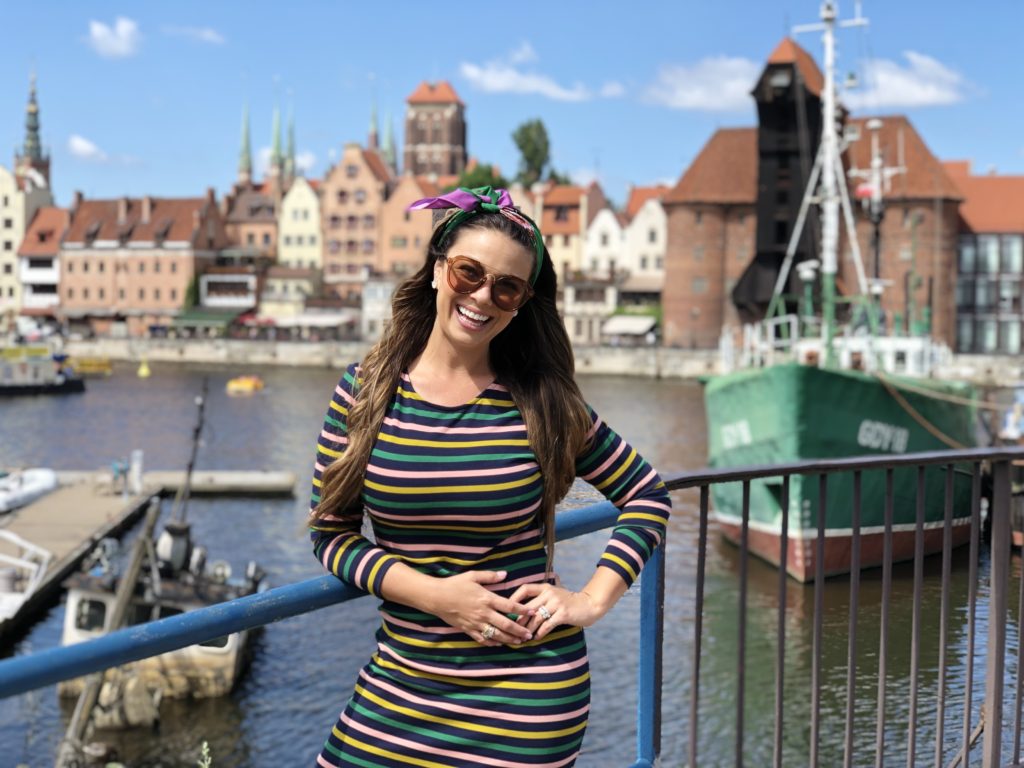 shop the look: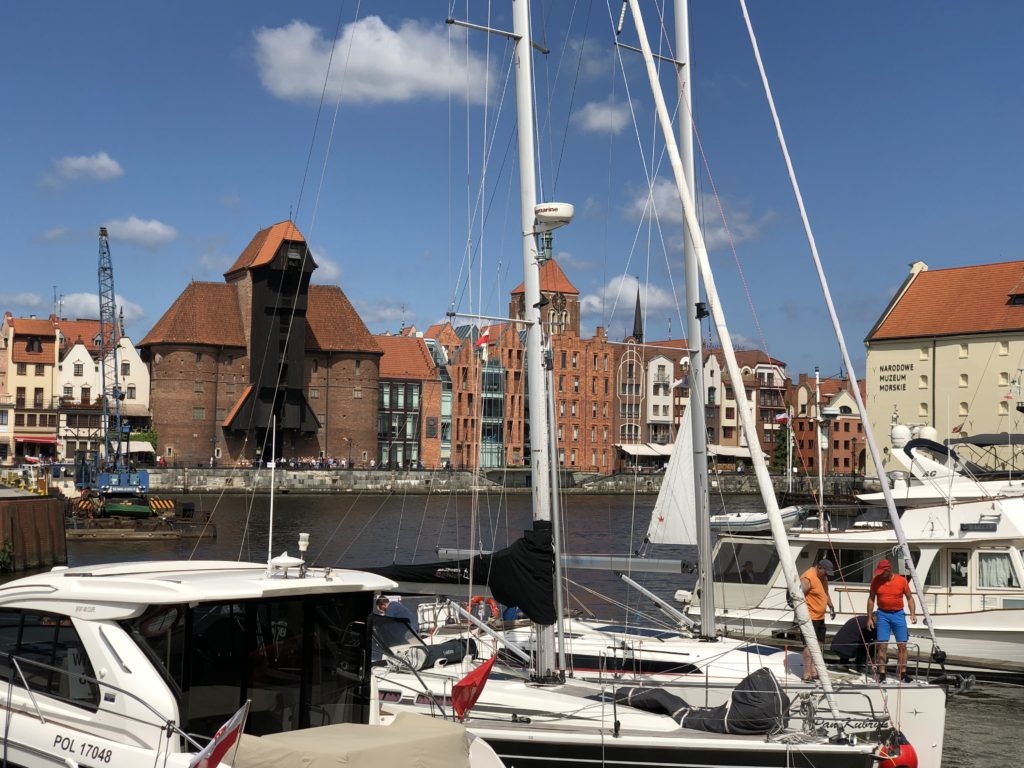 Once breakfast was walked off we walked to Polish Post Office Museum, which I mentioned at the beginning of this blog post. This is an absolute must see when in Gdansk. The Polish Post Office Museum was founded on September 1st,1979, on the 40th anniversary of the outbreak of the Second World War. The museum tells the heartbreaking story of September 1st,1939, when the Polish Post and Telegraph Office was attacked by the Germans. The 56 defenders including 1 woman and a child, did not receive outside help, as a much larger attack, the Battle of Westerplatte, was going on off the coast of Gdansk at the same time. Even without assistance, the defenders were able to hold out for 15 hours while being ruthlessly attacked by the Germans. This exhibit is touching and emotional and heartbreaking.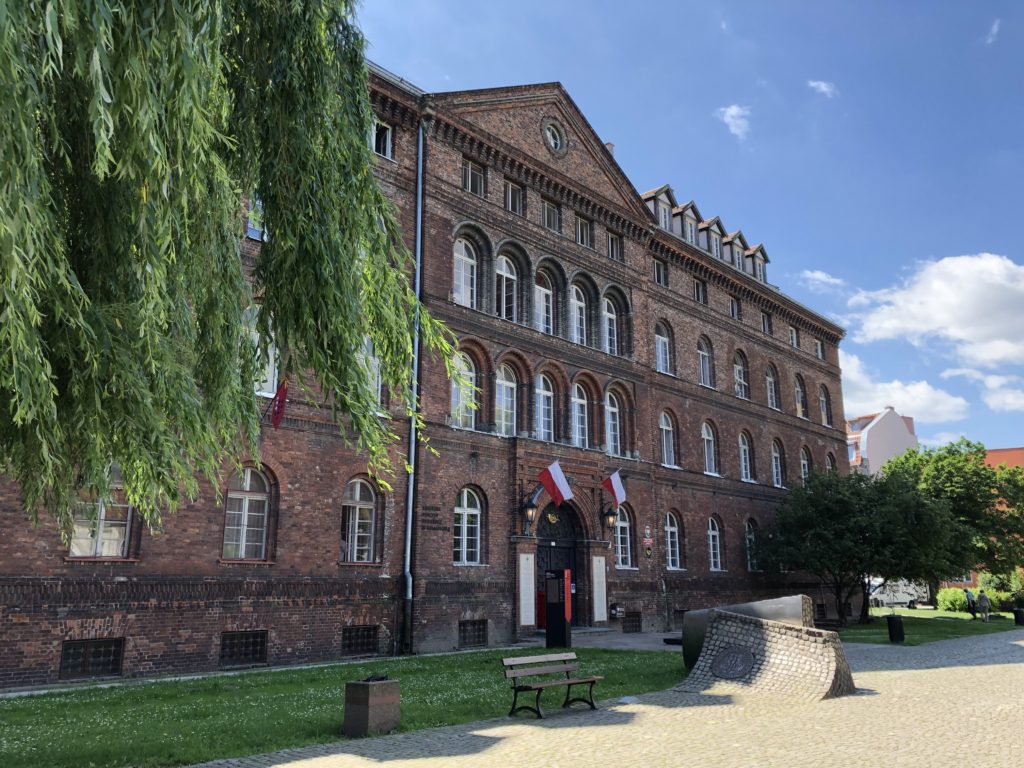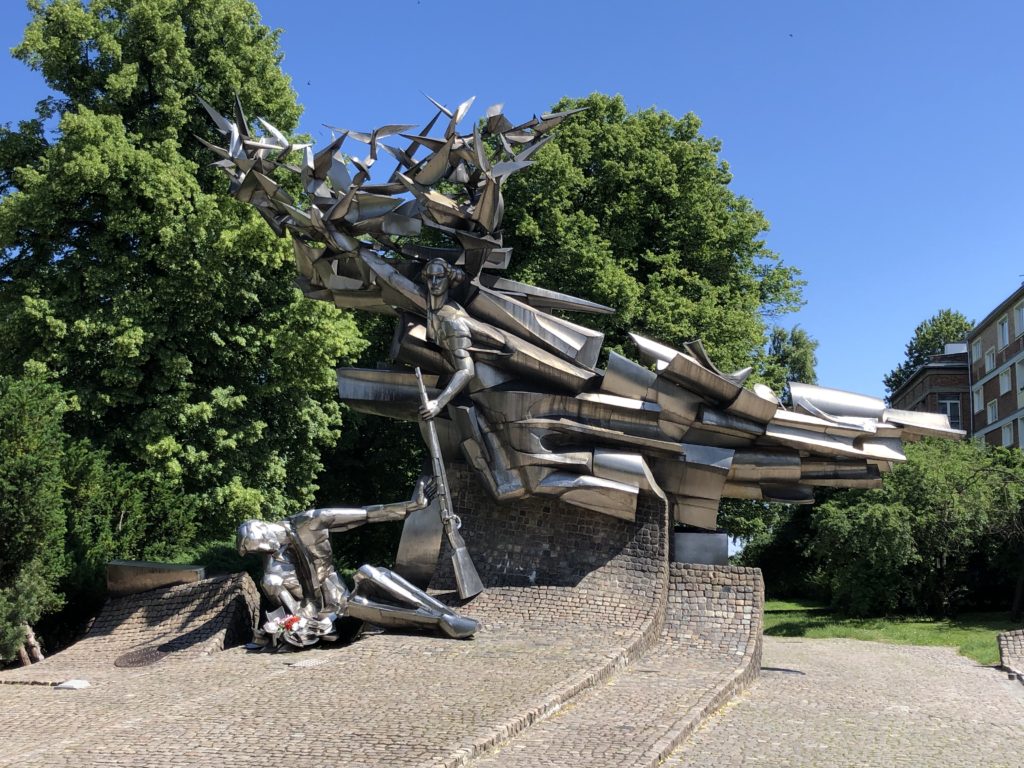 Next we walked to Kossciol Sw. Brygidy, or St. Bridget's Church. The church was almost completely destroyed during WWII. It was rebuilt in 1973, based on original designs dating to 1394. The church was founded as a place of worship for members of St. Bridget's Order as St. Bridget's remains were laid in a small chapel that existed on this very spot. The alter, made completely out of amber, is a show stopper!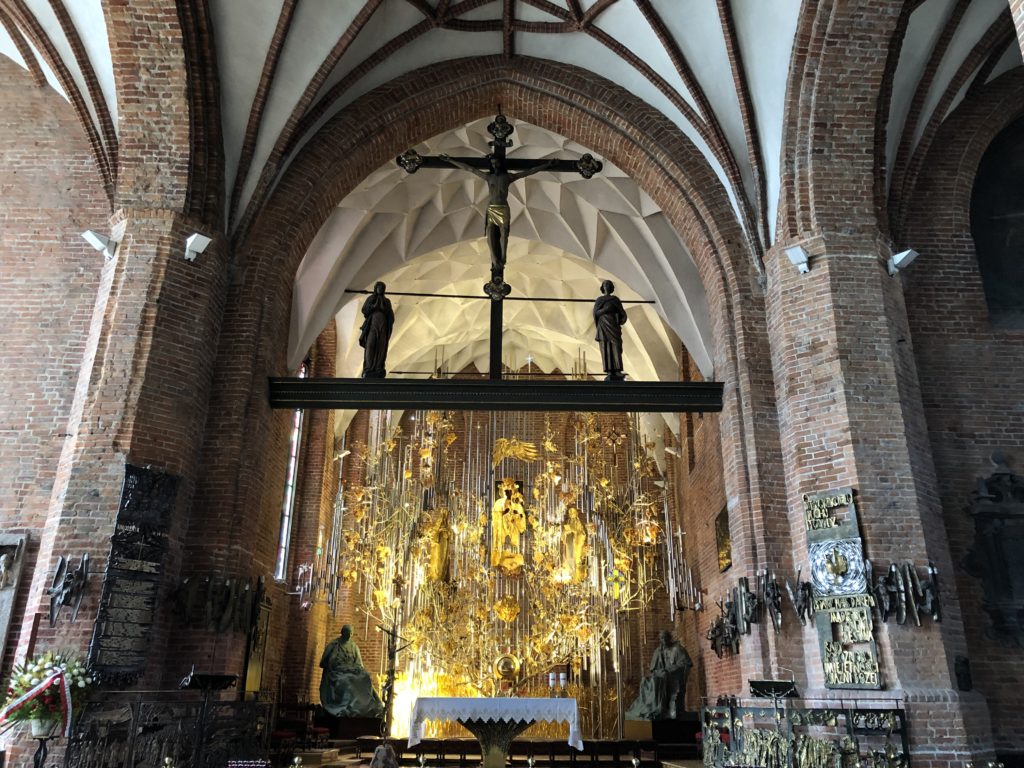 Next we stumbled upon the Museum of Science. Now, a science museum is not a stop we gals would usually make and to be honest with you I have no idea why they even call this a "science" museum. Located in the tower of St. Catherine's Church this small museum exhibits a collection of tower clock mechanisms dating back to the 15th century. But enough with that. The main attraction of the science museum are the views from the top of the clock tower! Keep in mind you have to climb 324 steps, but the views from the top are completely worth it! This is another must see in Gdansk!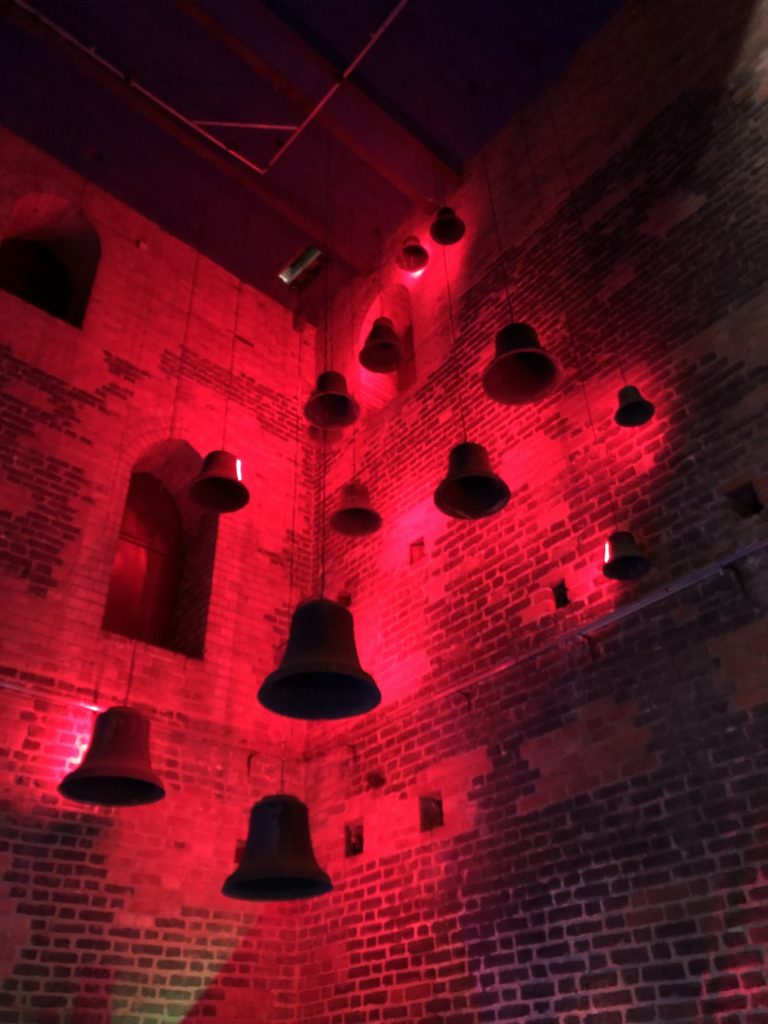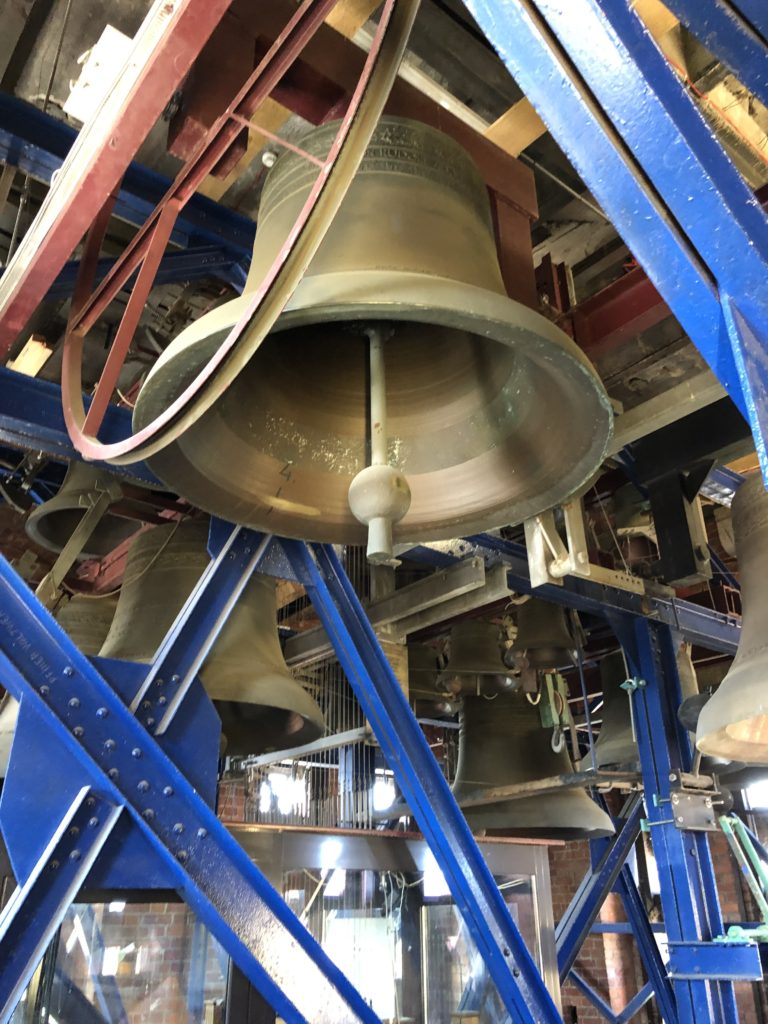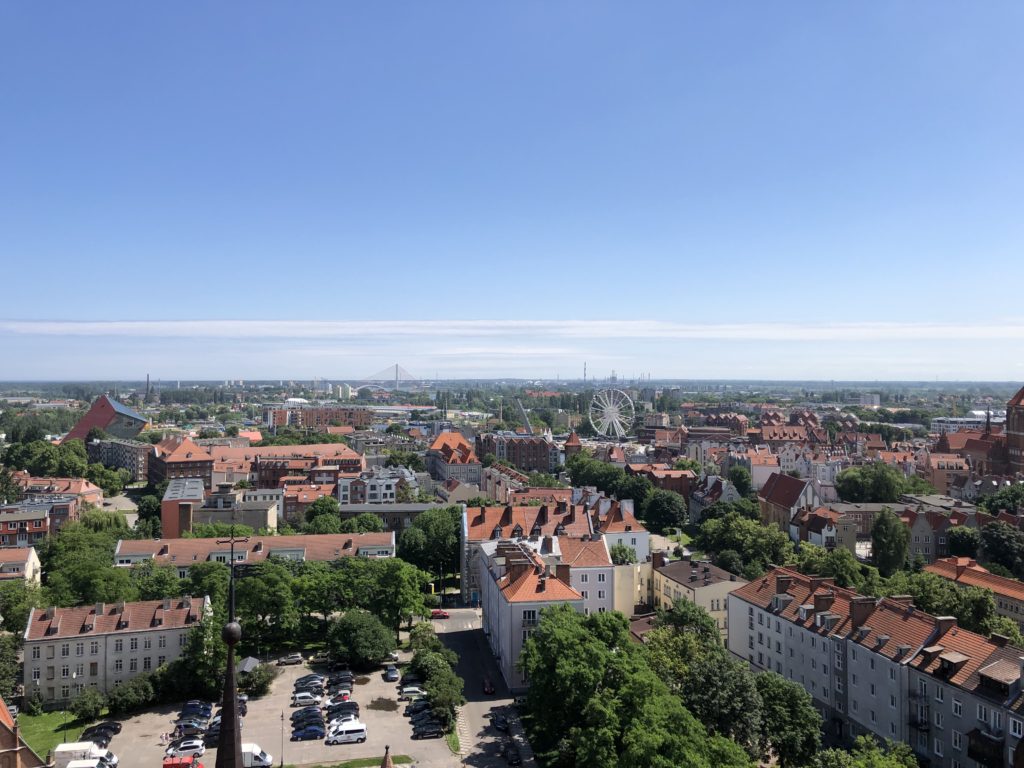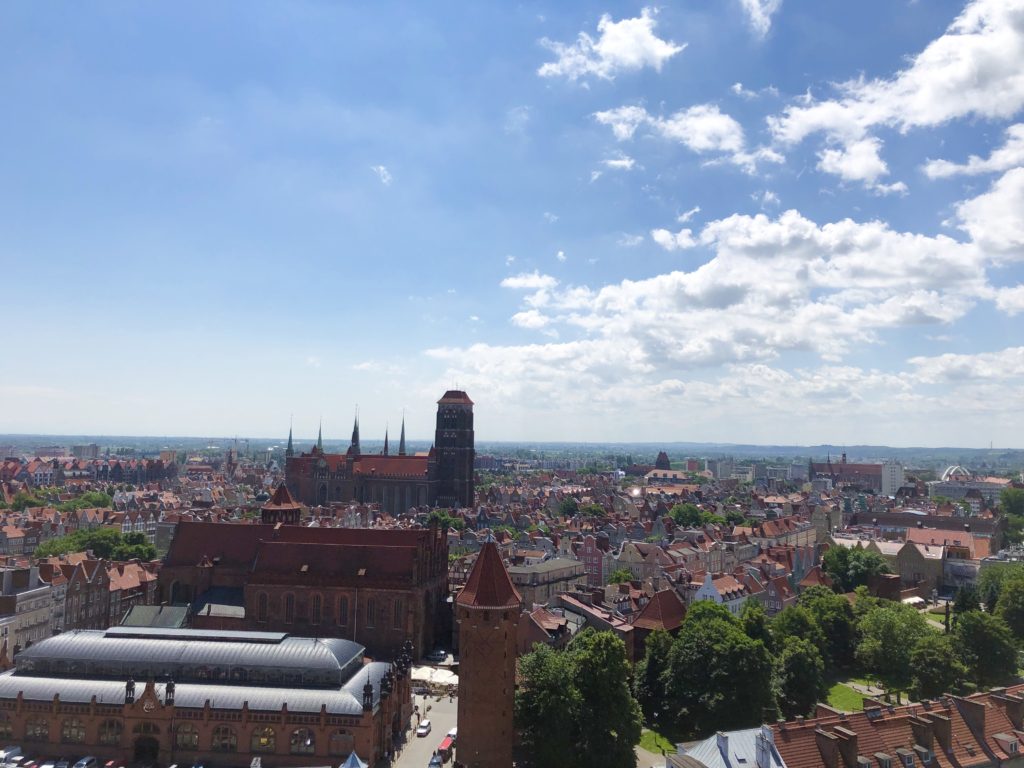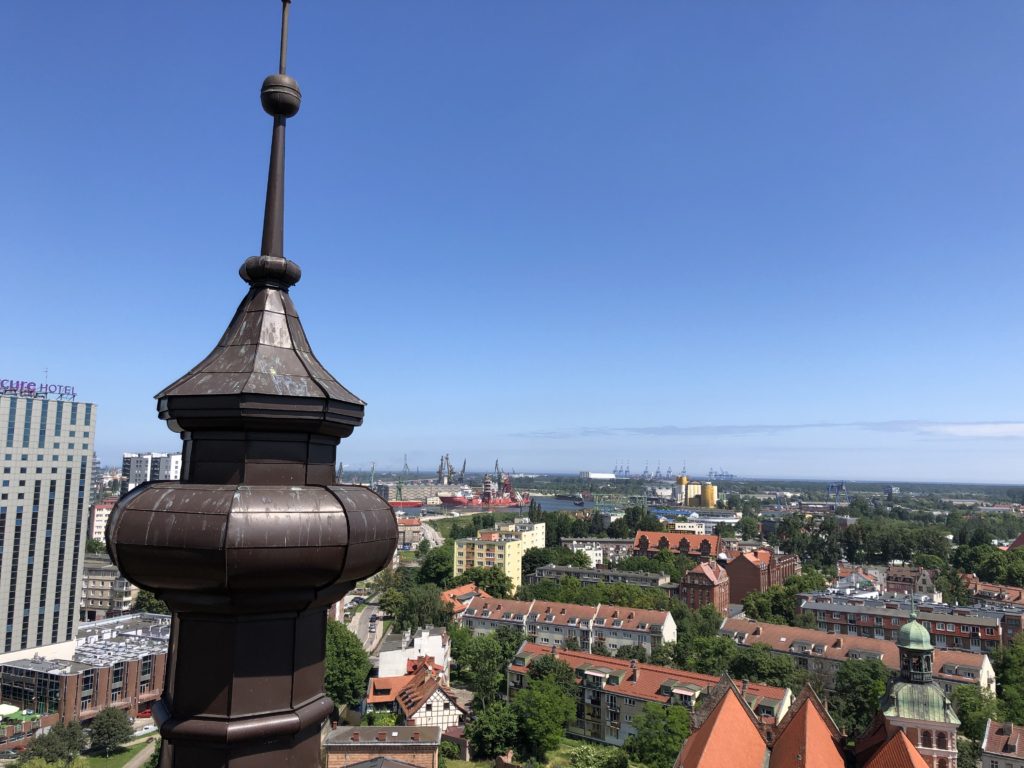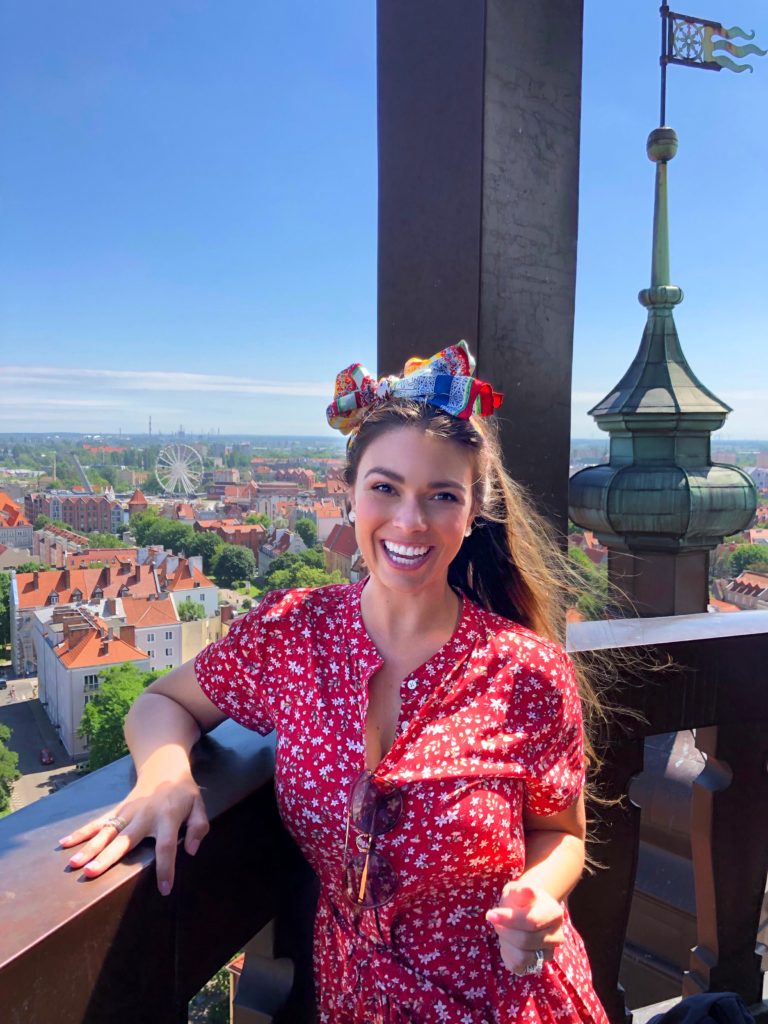 shop the look:

On our walk back to Long Street for lunch we walked through Hala Targowa, a market. I love seeing all of the beautiful and color produce.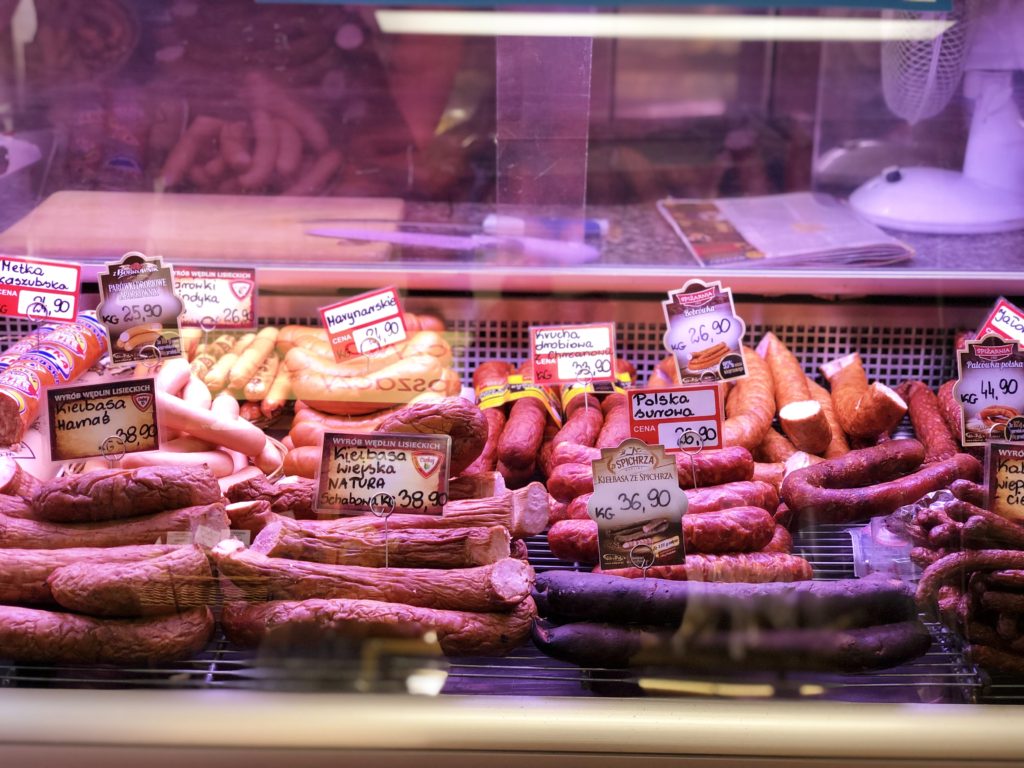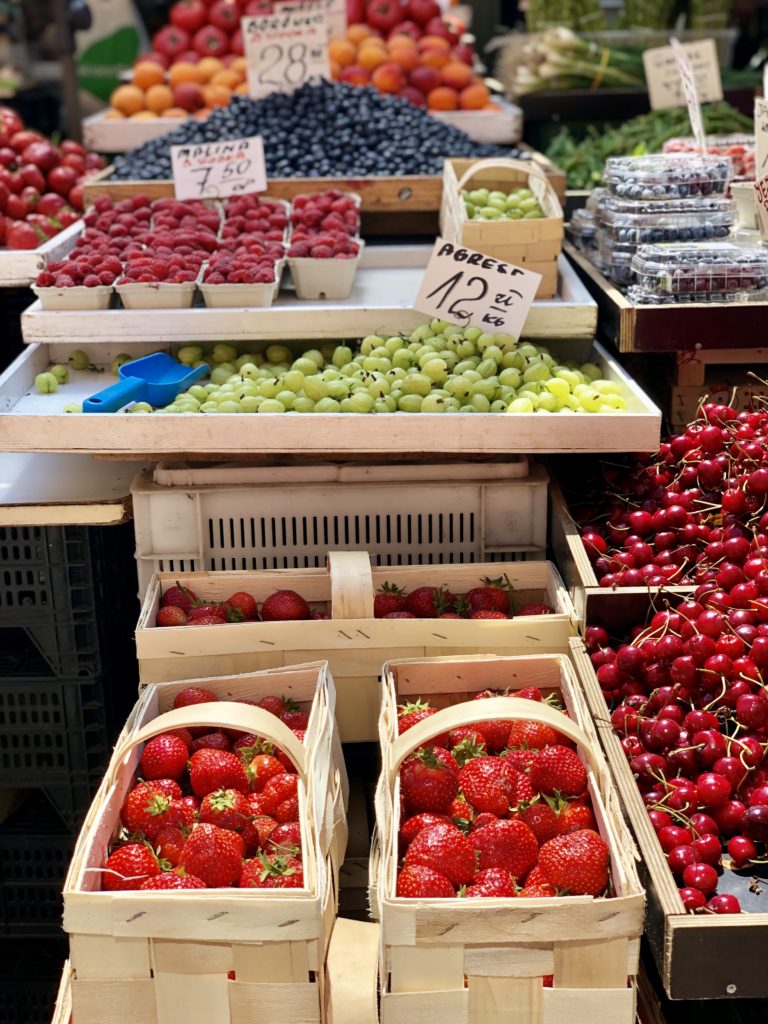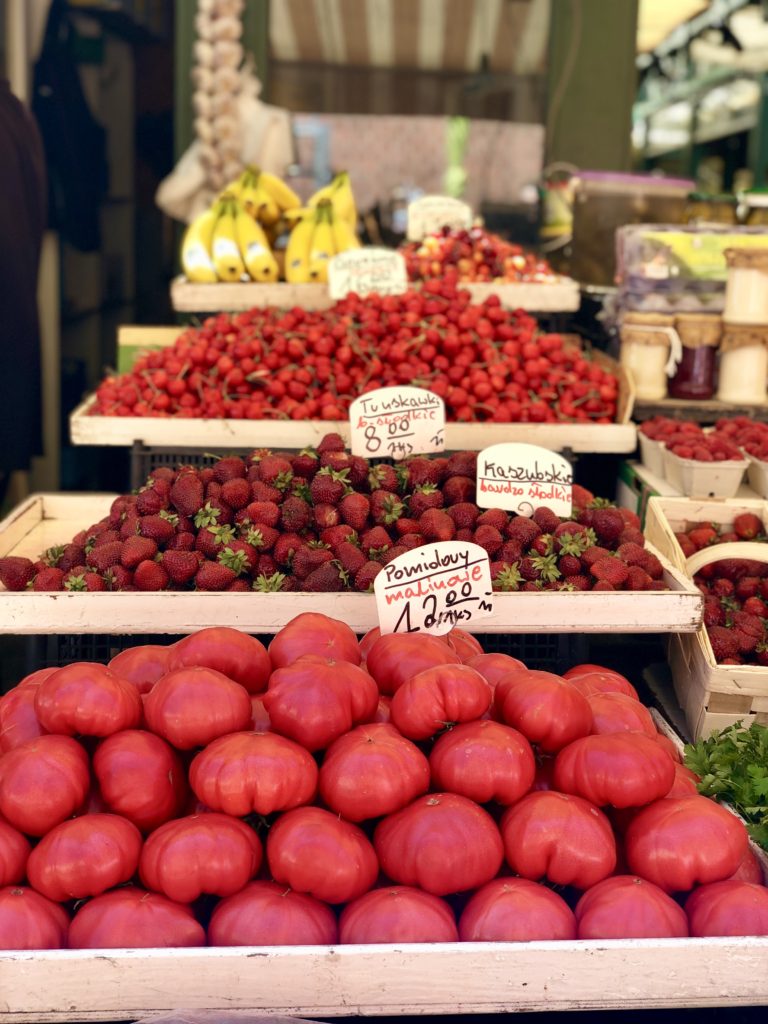 After lunch we walked by the Golden House. Built in1609, this tenant house is famous for its rich façade ornamentation including statues of classical figures such as Cleopatra, Oedipus and Achilles.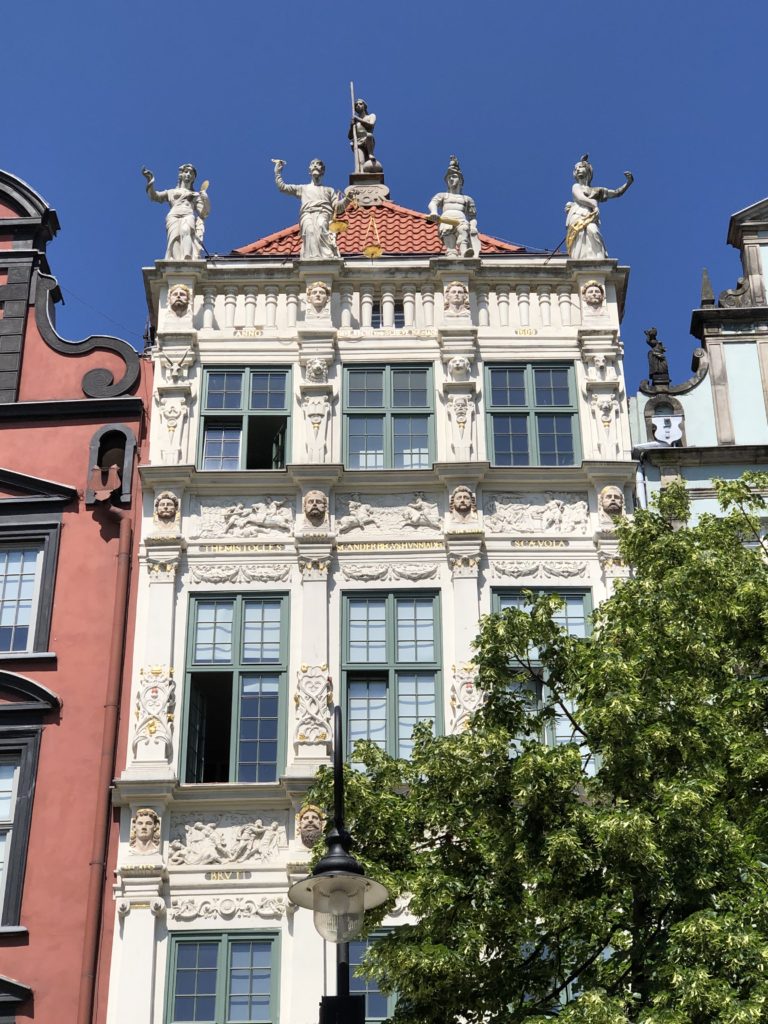 On our walk back to the hotel we stopped for an Aperol Spritz at Restauracja Kubicki, the oldest restaurant in Gdansk!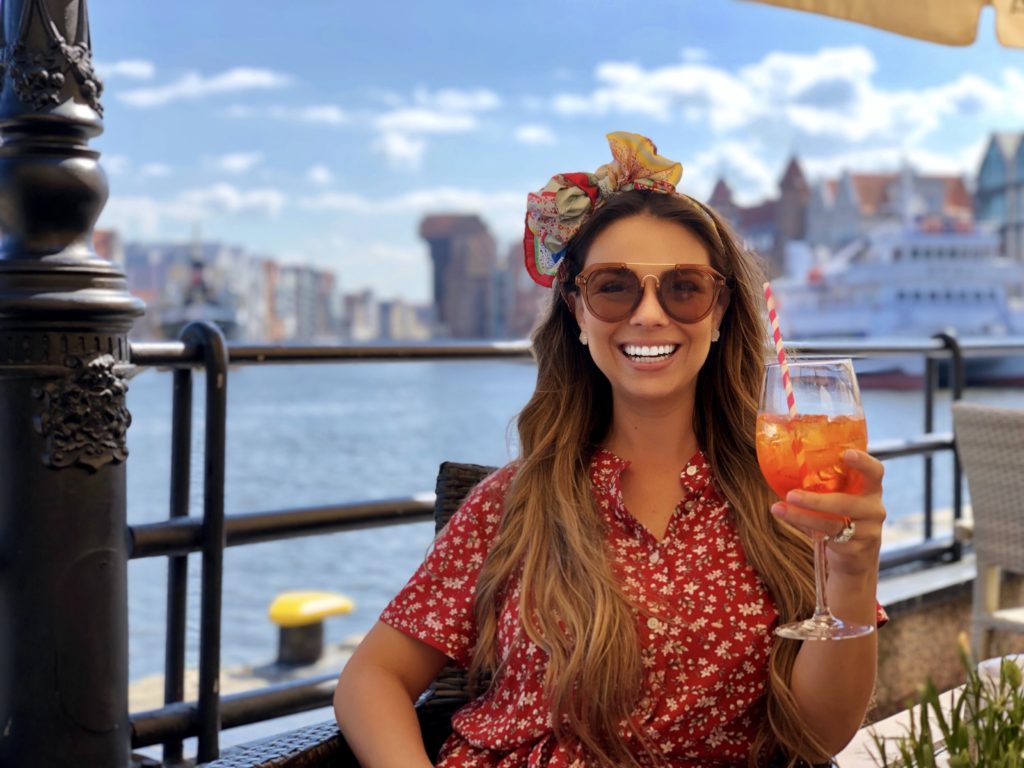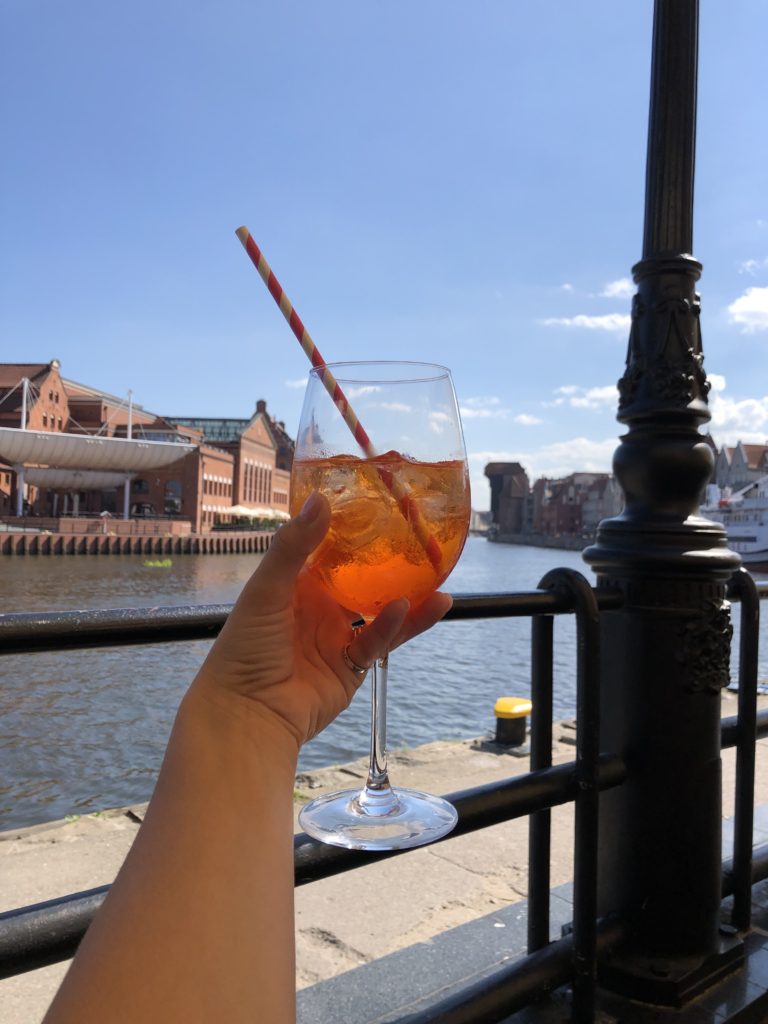 After freshening up for dinner we enjoyed more Aperols at High Five Bar, a rooftop bar with stunning views of the city.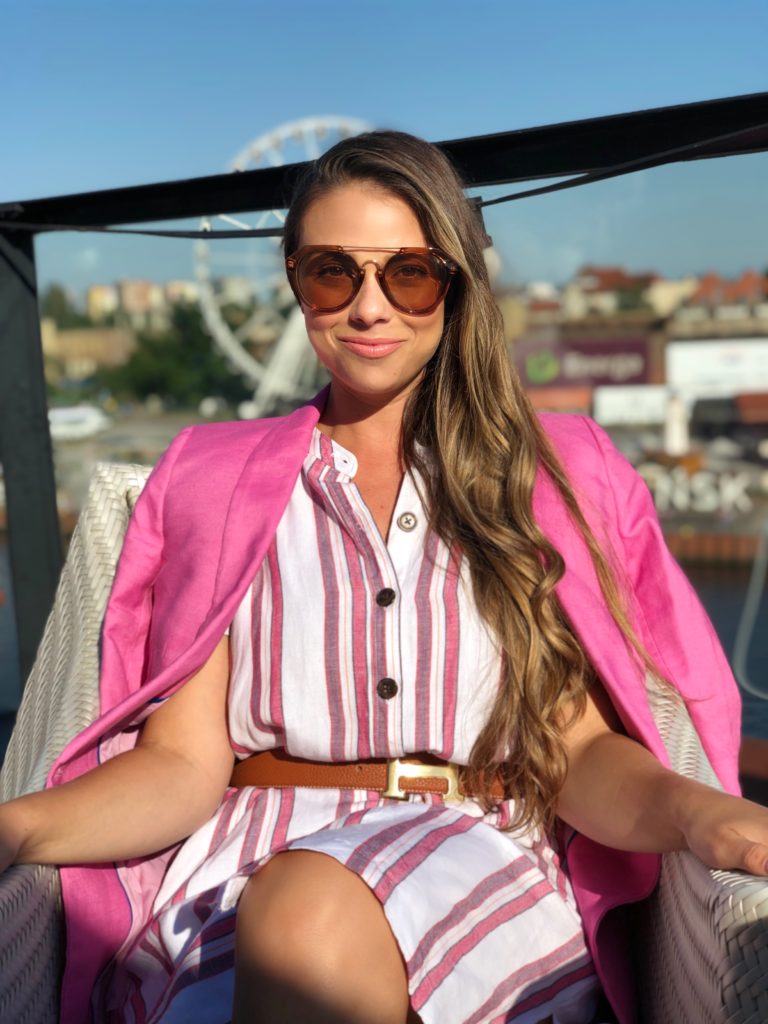 shop the look: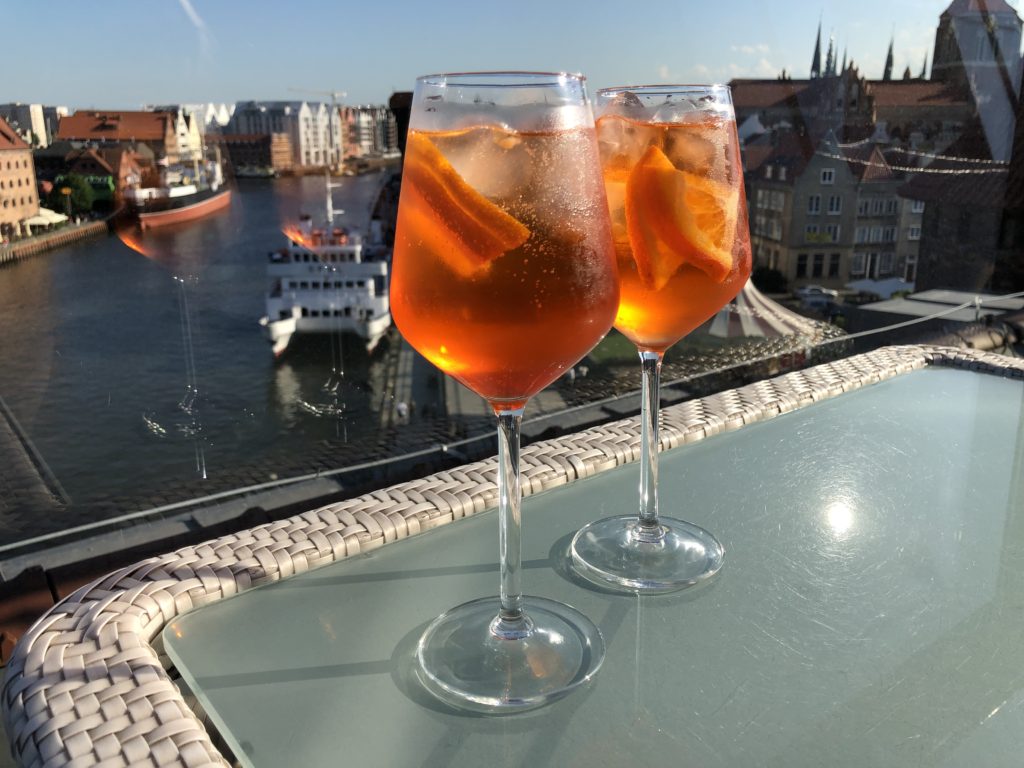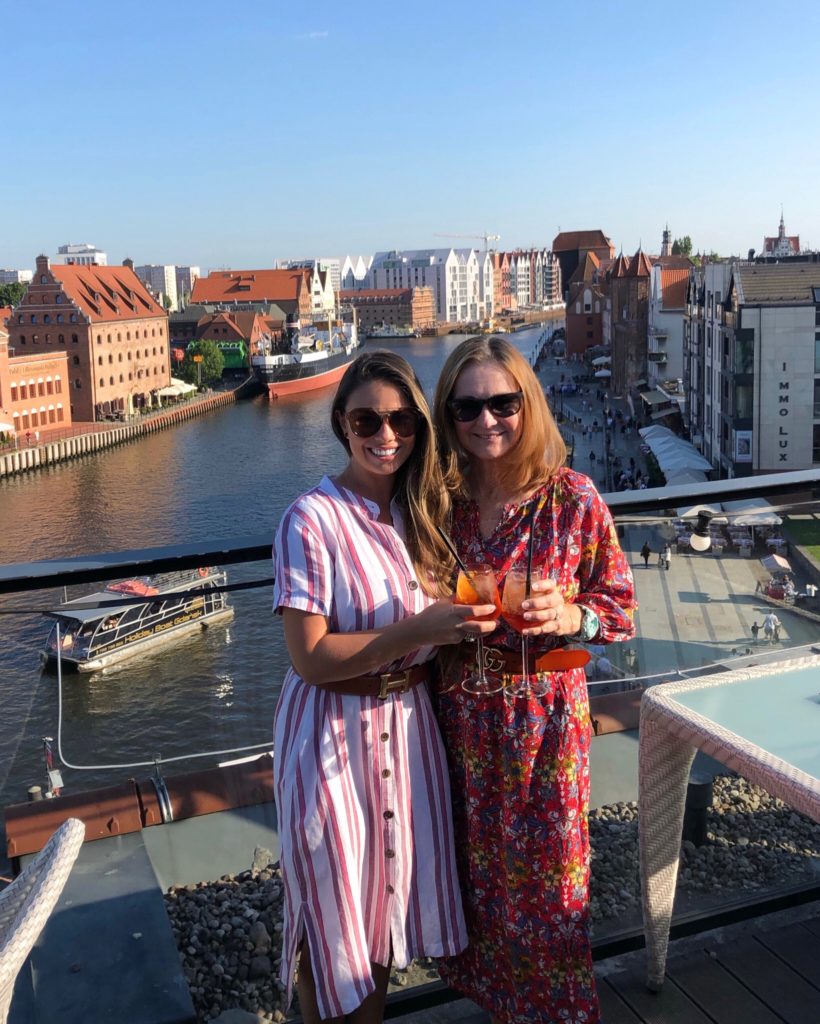 shop the look:

For dinner we ate at Restauracja Gdańsk Pod Łososiem Goldwasser House and boy were we in for a treat. We were also in good company-Pope John Paul II, President George H.W. Bush and Margaret Thatcher have all eaten at the restaurant. Firstly the décor was insane! It felt as if we were eating in a grand ballroom of a royal palace. Totally beautiful. And the food was divine as well. We started this scallops in a leek parmesan sauce. OMG, Amazing. For our entrée we had baked salmon crusted in 23 karat cold served with roasted vegetables, spinach noodles and a rich lobster cream sauce. Wow. And if that wasn't enough we finished the meal with a glass of Goldwasser again. When in a Goldwasser House… This is an absolute MUST in Gdansk! If you have just one meal in Gdansk it should be here.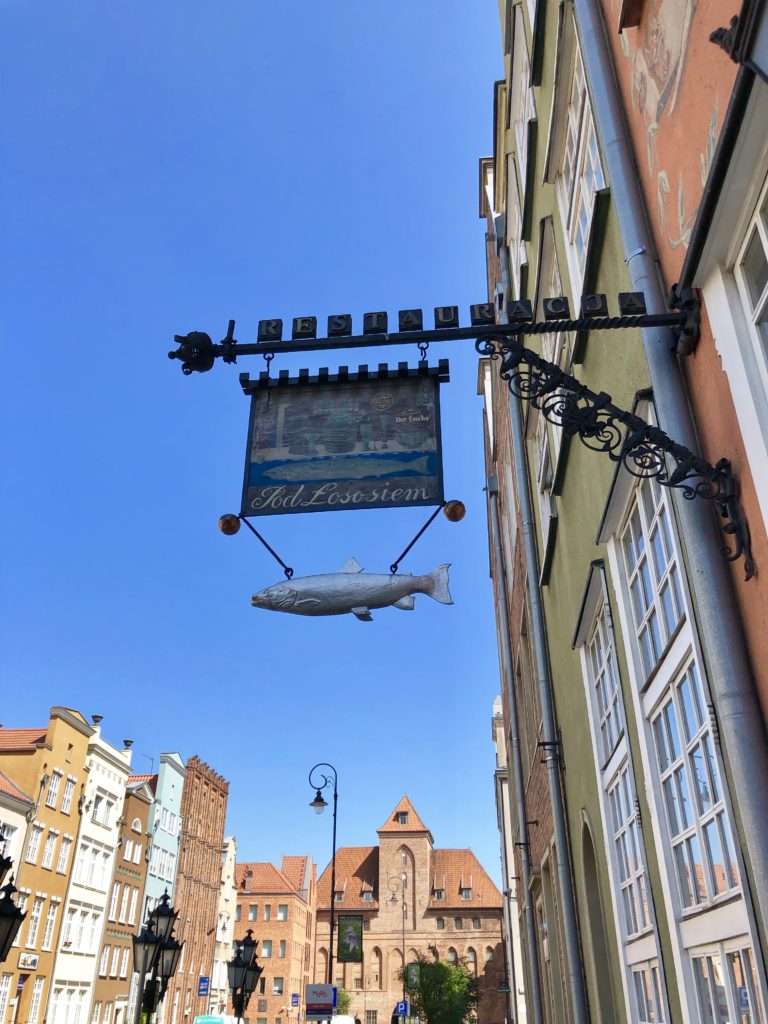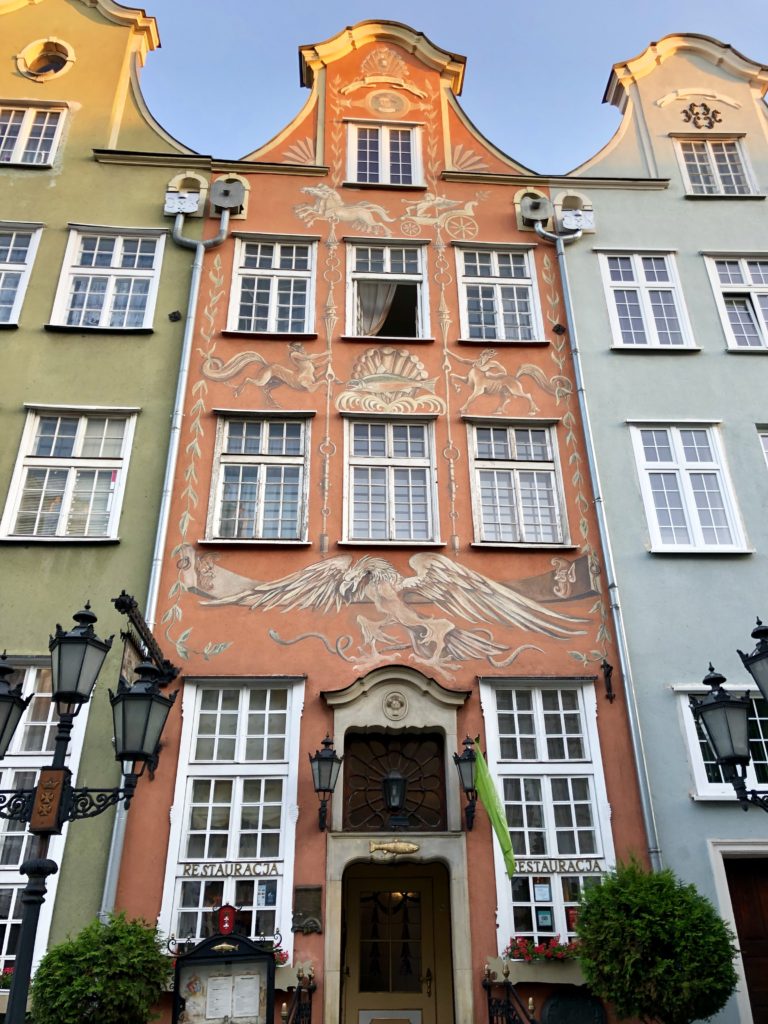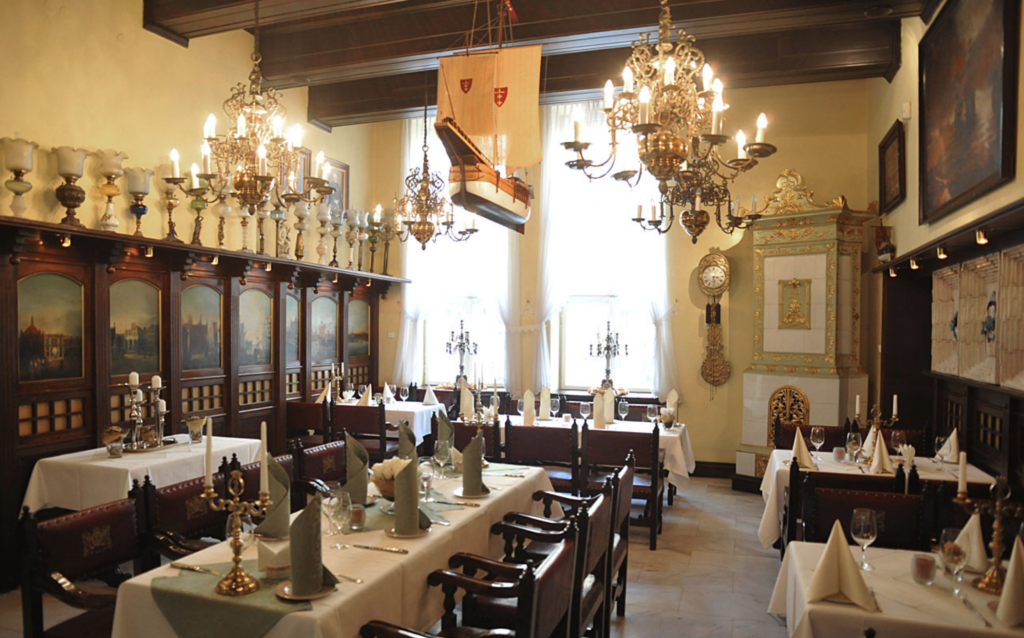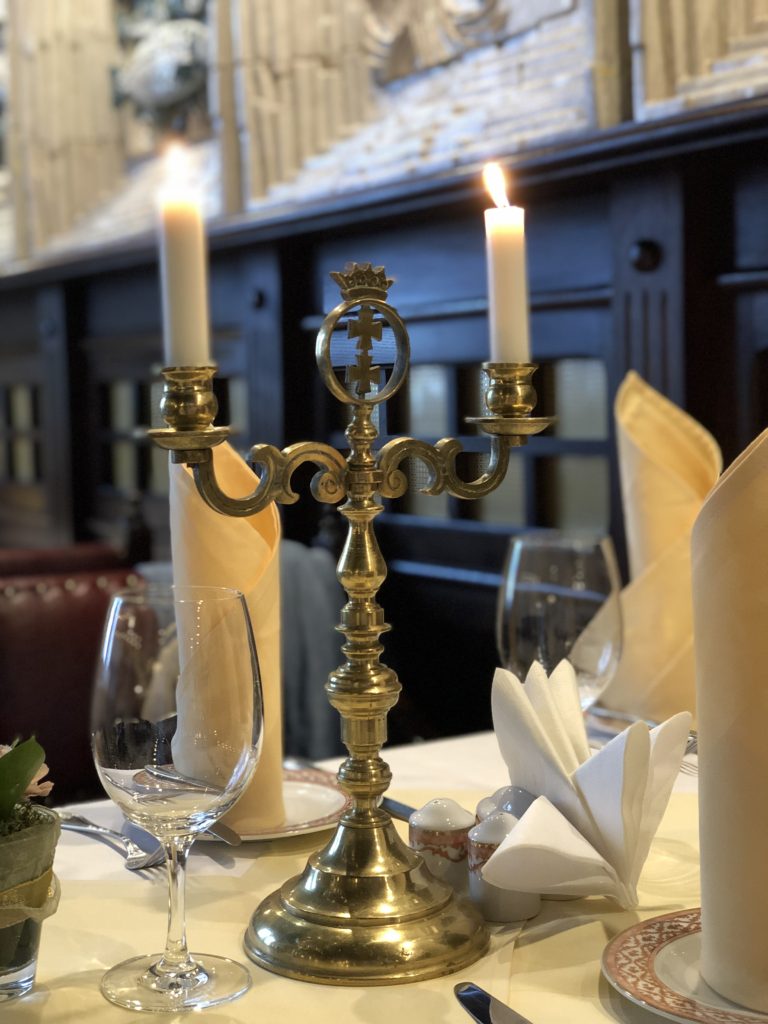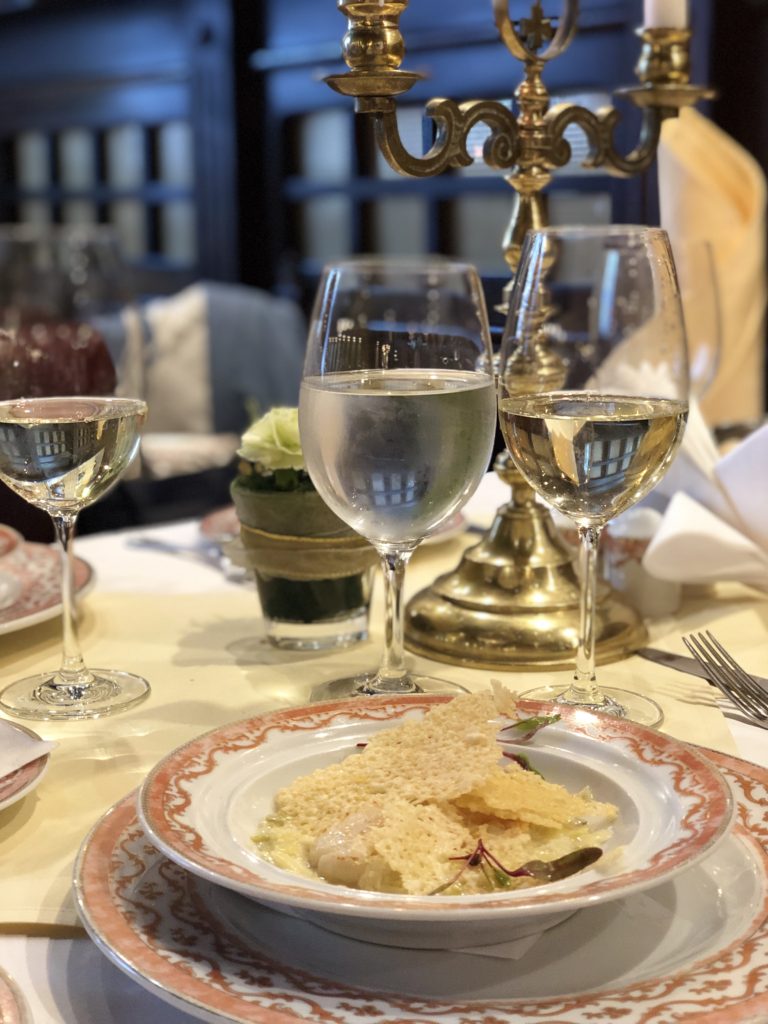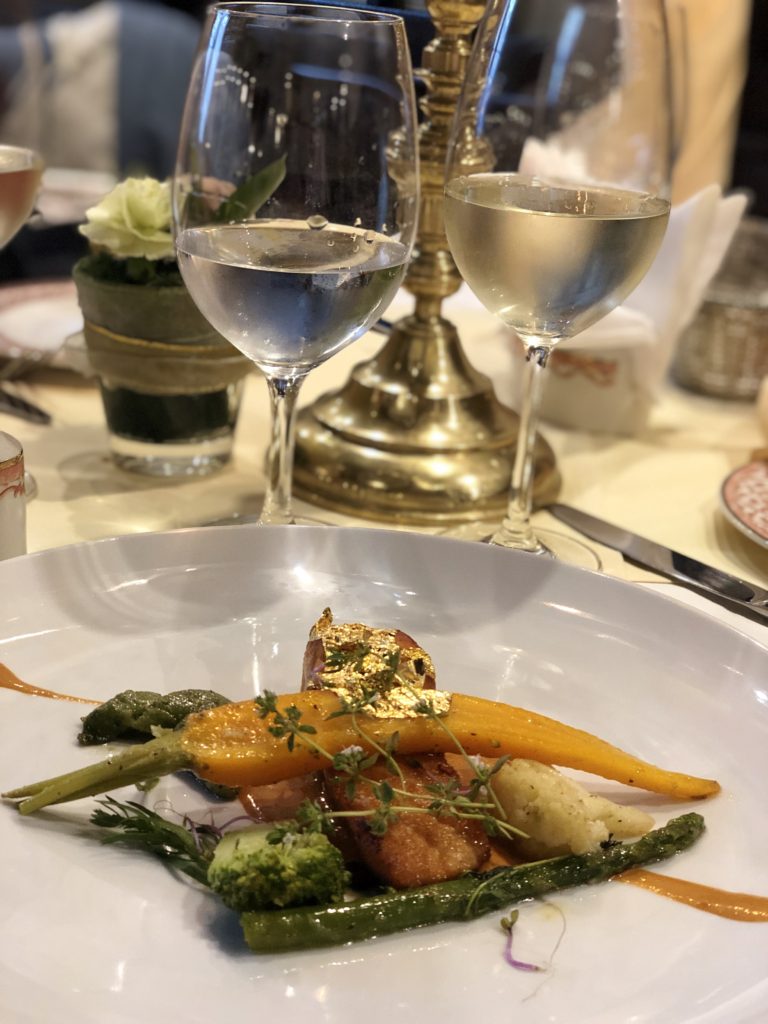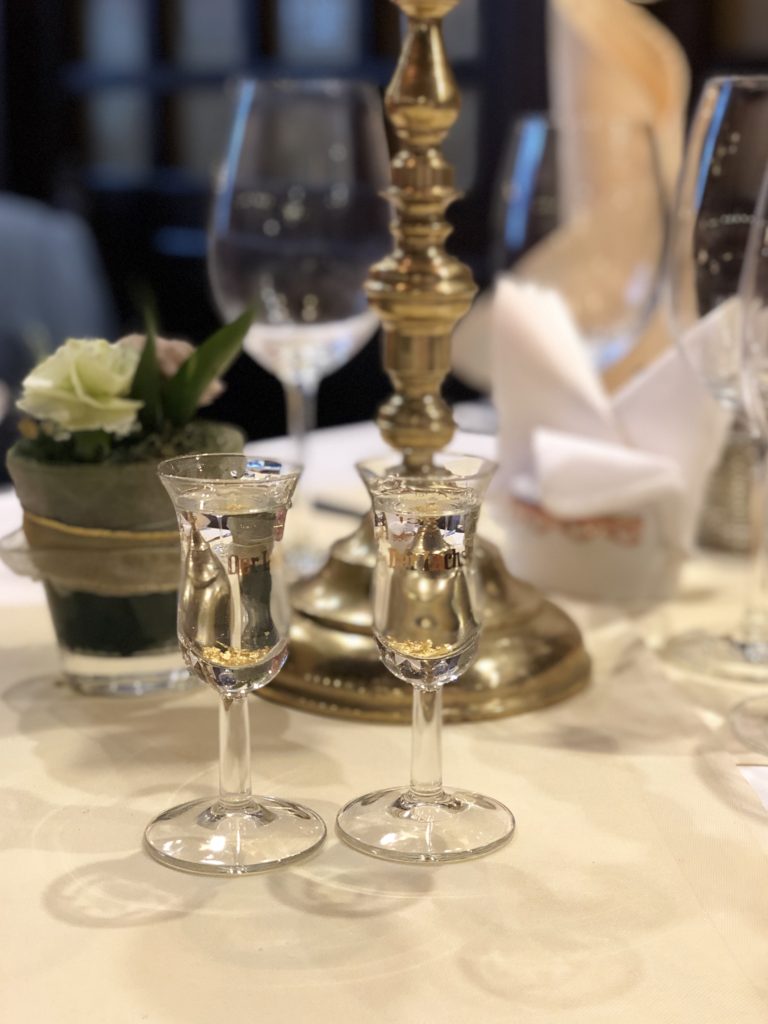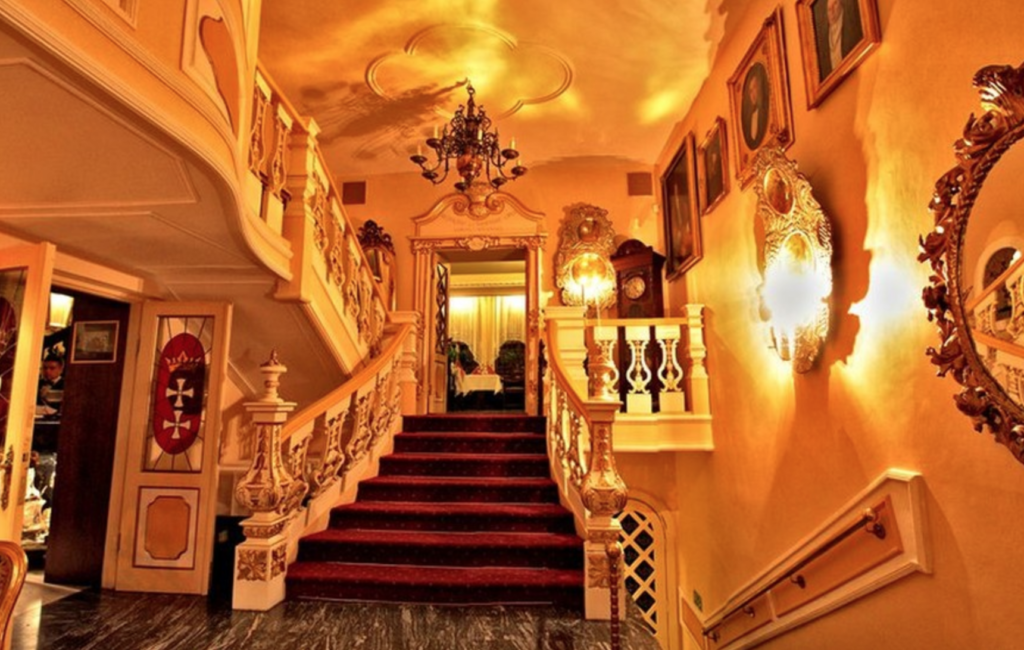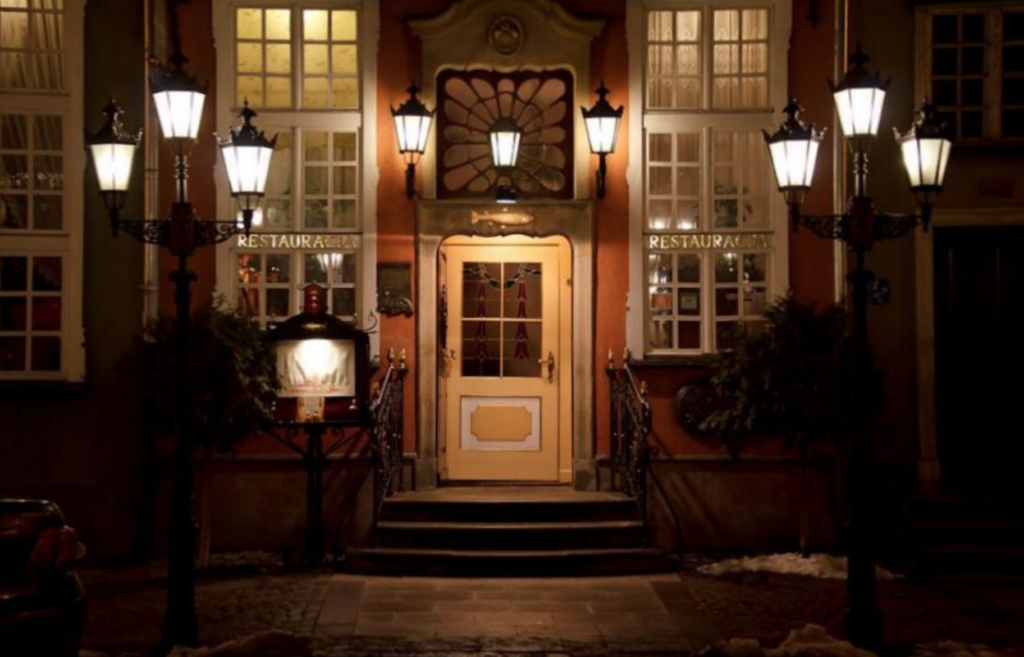 After dinner we went back to Tawerna Dominikanska for more wine and more apple cake.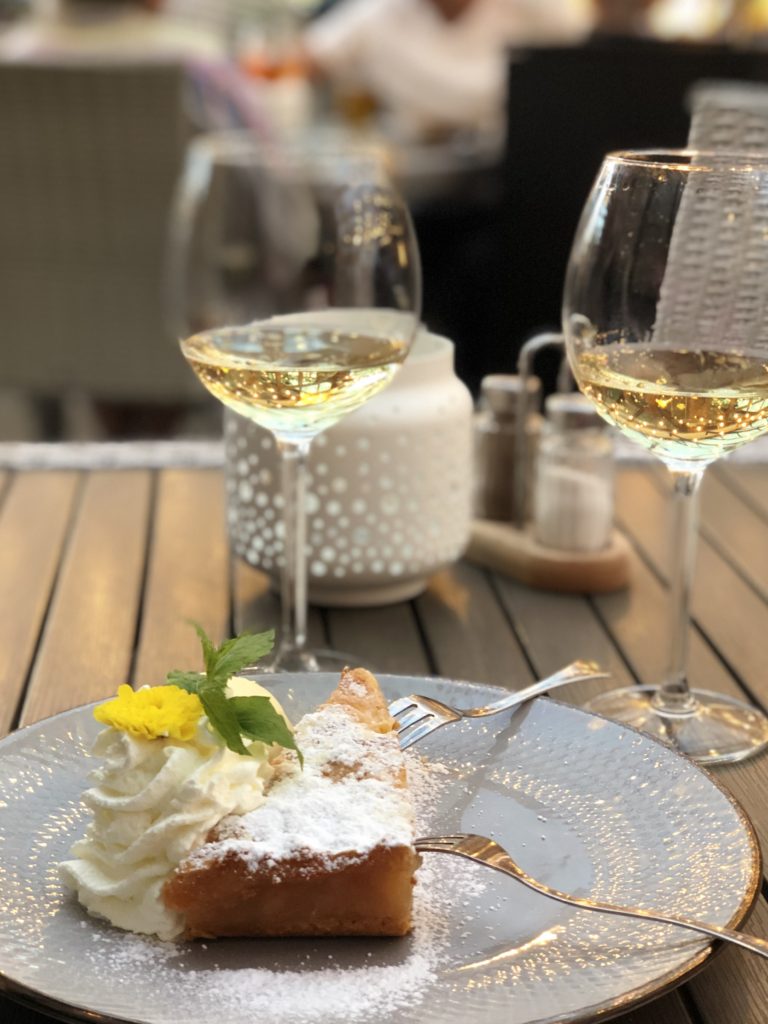 After another night of wonderful sleep we had our final breakfast at Q Hotel Grand Cru. Sad to leave such a beautiful city, we boarded a train to Warsaw for yet another exciting adventure.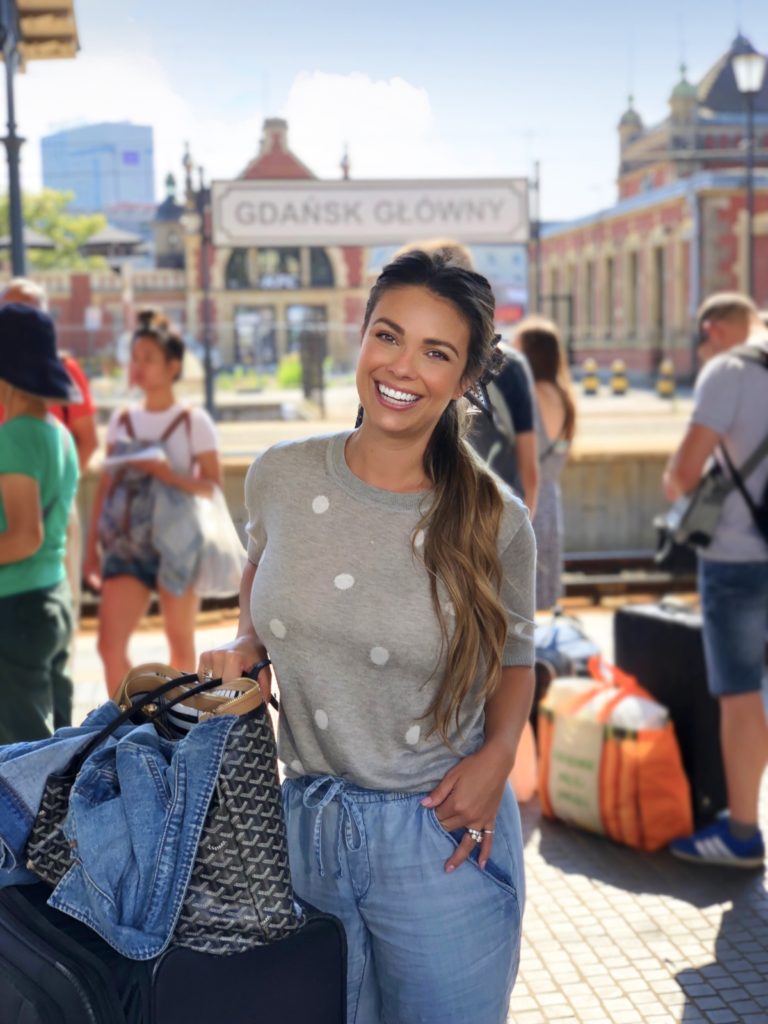 shop the look:

Thank you so much to Q Hotel Grand Cru for your amazing hospitality. I could not recommend your hotel more! From the wonderful service to your amazing location, you knocked it out of the ballpark.
Kisses and Polish wishes,