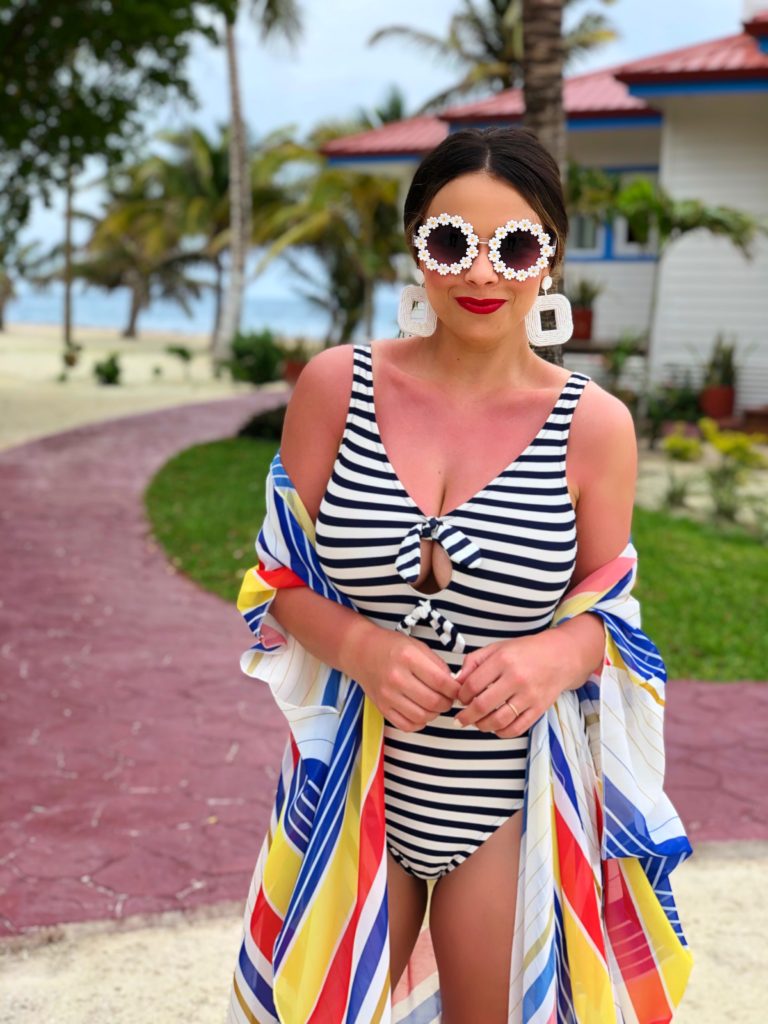 Hello friends! Today I am going to share every detail of our FLAWLESS stay at Ray Caye Island Resort, a private 7 acre island off the coast of Placencia, Belize. Keep reading for all the details of our 1 year anniversary trip! Heads up- its fabulous!

We arrived in Placencia and dropped our luggage off at Ray Caye's main office in Placencia Village and went to grab lunch in town while we waited for the boat to arrive.
We decided on Tipsy Tuna, which was just a short walk from the office. We sipped on fruity frozen cocktails on the restaurant's rooftop bar and took in the amazing view. After we had lunch there beachside. I had shrimp curry tacos which were so tasty and Walker had a fish basket, which he said was great as well!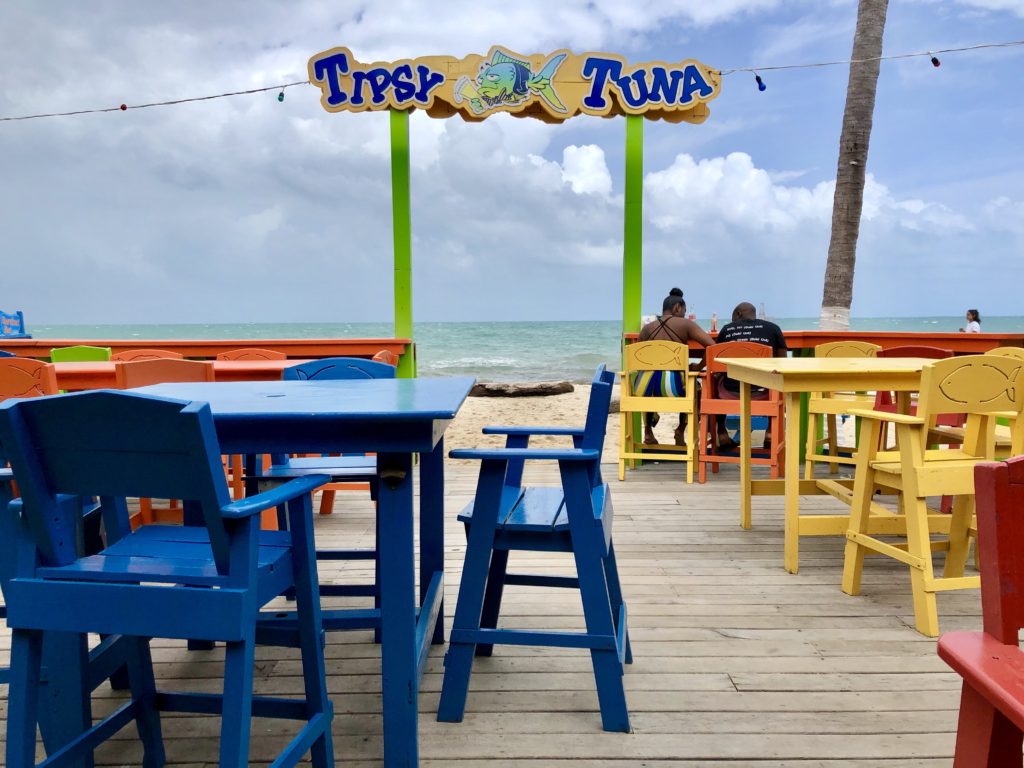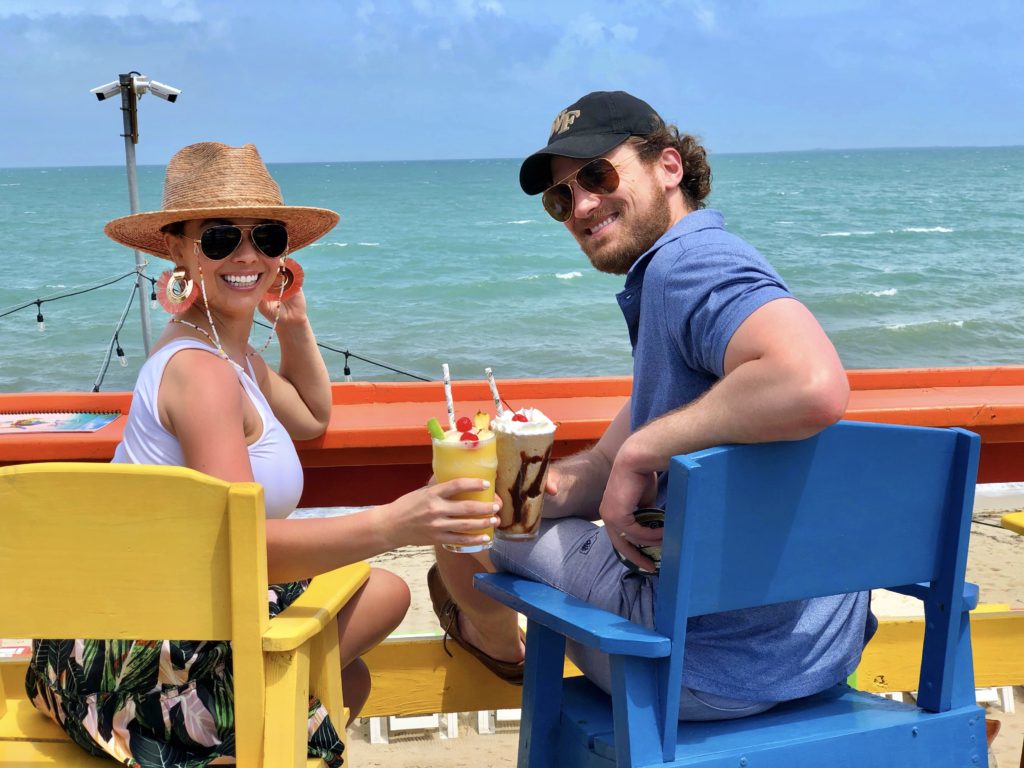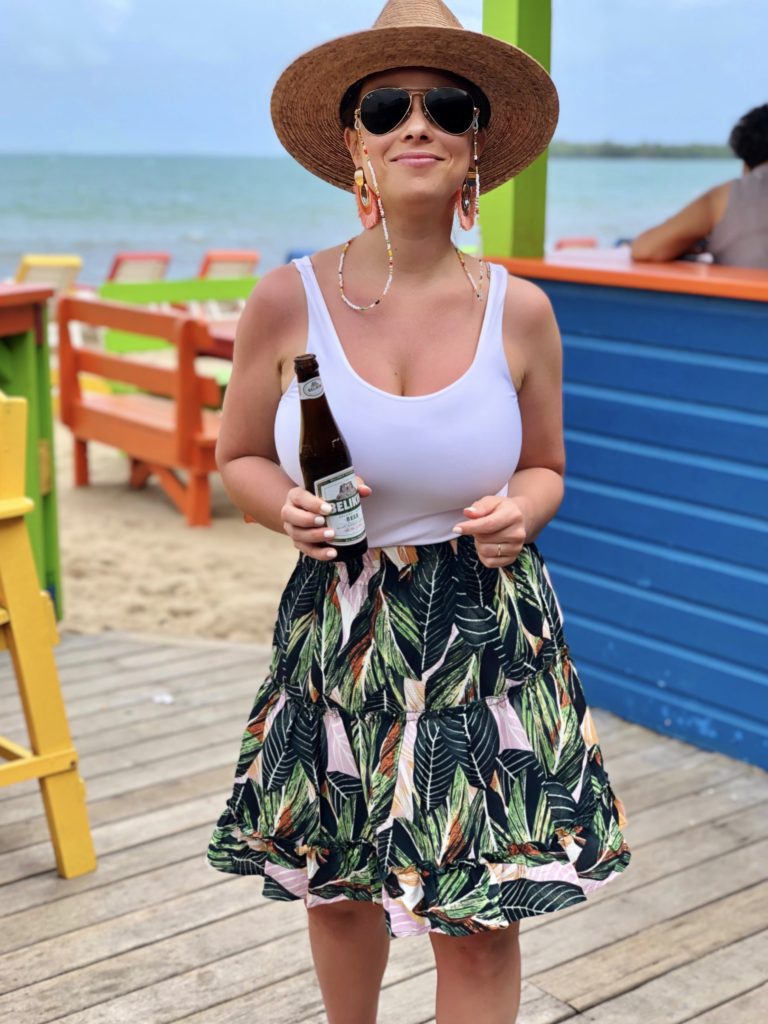 shop the look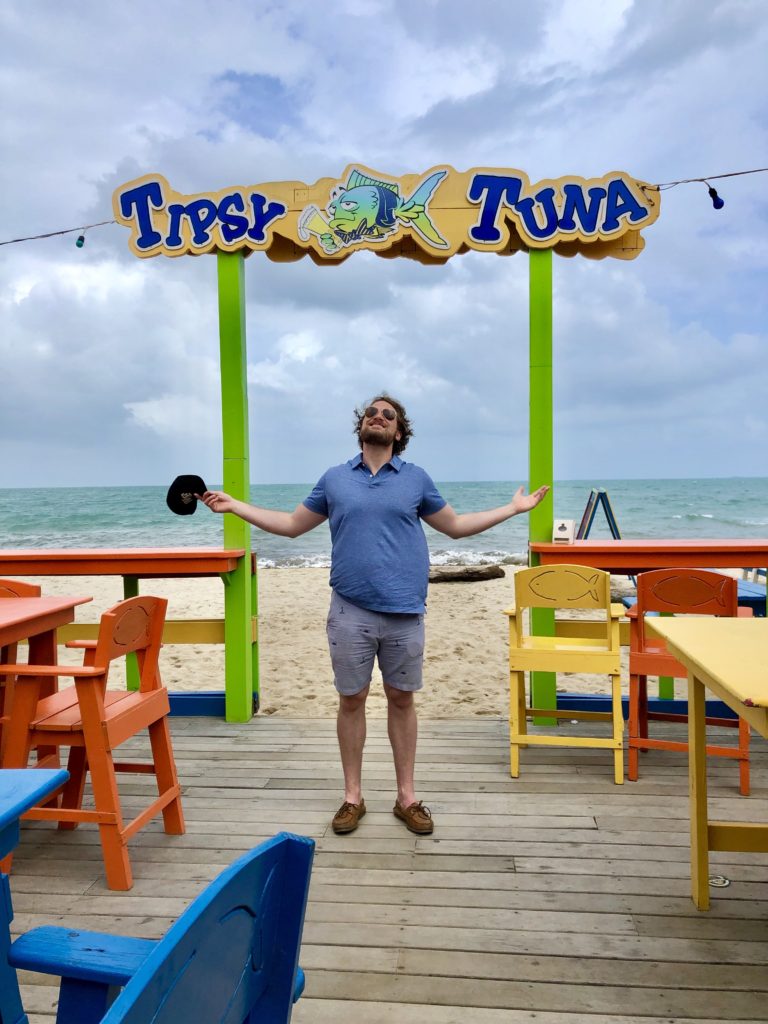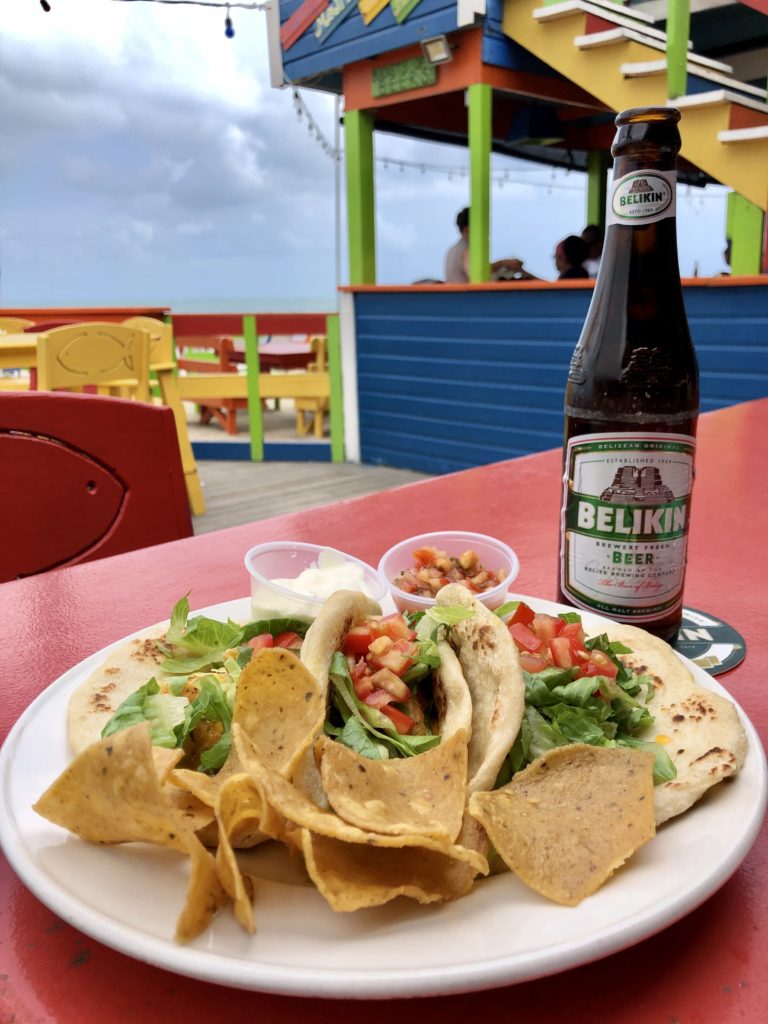 A driver from Ray Caye picked us up at the restaurant and took us back to the office where we got our luggage and boarded a beautiful boat which would take us to Ray Caye. After a 20 mile, 1 hour ride amidst stunning teal blue waters we arrived at Ray Caye Island Resort.
Ray Caye Island Resort offers a unique vacation experience like no other in Belize! An alternative experience to the hustle and bustle of Belize's larger cities and mainland beach destinations, Ray Caye is a private island, yes, PRIVATE ISLAND, off the coast of Placencia, Belize. The only thing on the island is the resort making it a truly VIP experience. The tropical island paradise caters to travelers who are looking for an exotic, relaxing and adventurous vacation. The resort is the epitome of barefoot luxury, while feeling 100% authentic Belizean. Basically, its a vacation dream come true!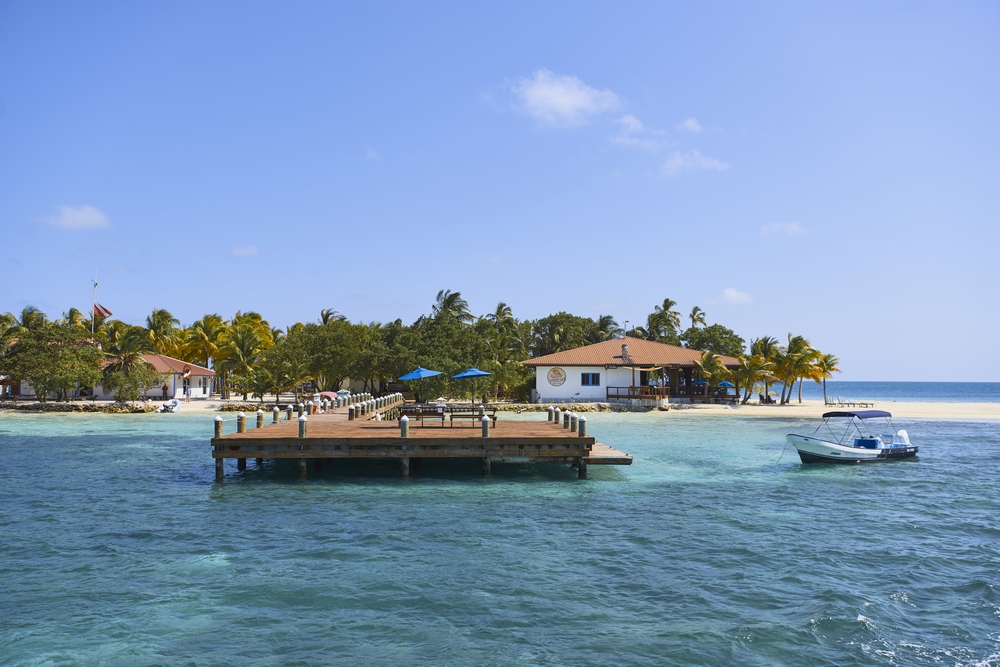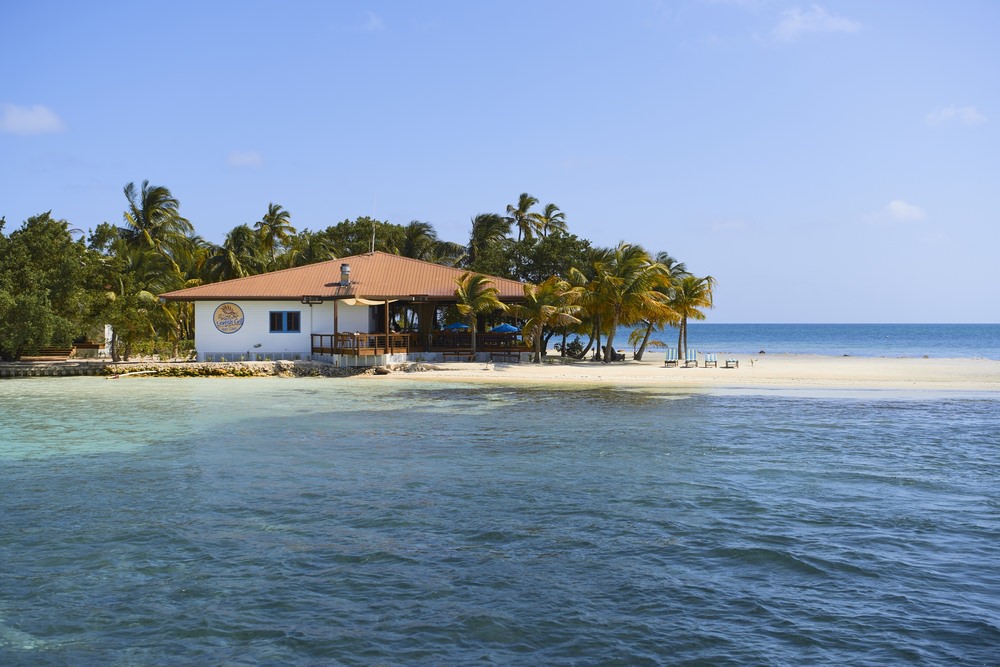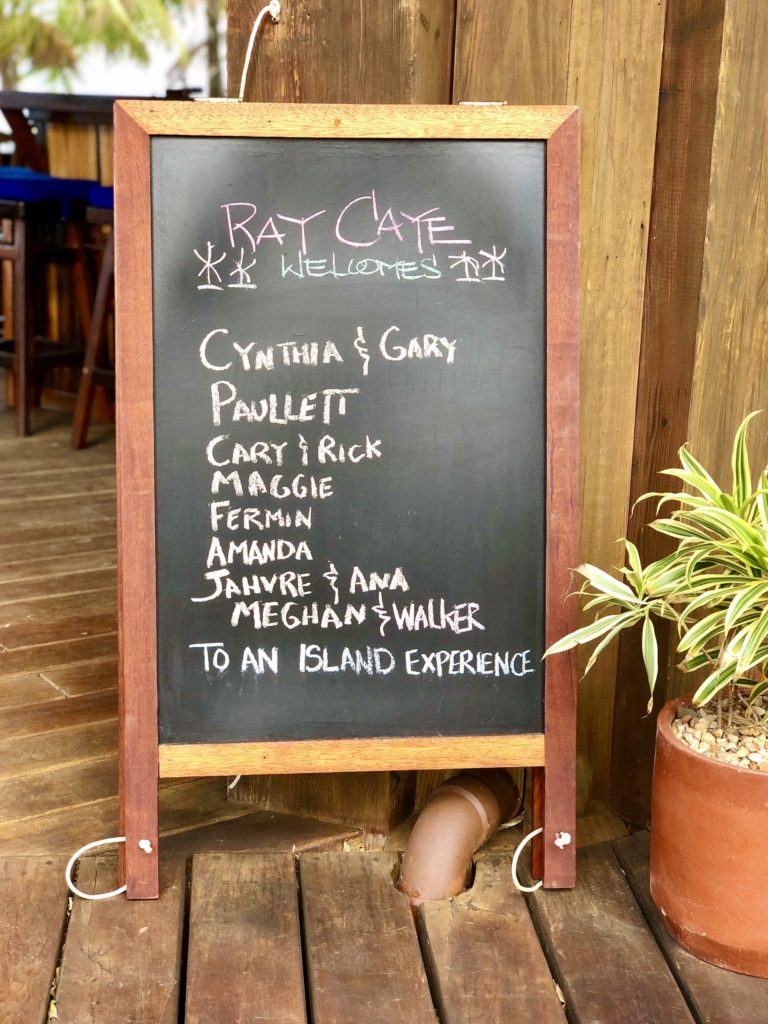 We were greeted with fruity welcome drinks and given a tour by the sweet property manager, Dasha.
Next, we were escorted to our villa and our luggage was delivered to us. Our villa was insane! The newly built 1,670 sqft luxury villa featured a full kitchen and living room. The ocean front suite had a massive patio and even a private plunge pool! Yep, we wanted to move in! The villas and suites at Ray Caye can be booked individually or 2 rooms and 1 suite can be combined creating a spacious as 3-bedroom unit for families or groups vacationing together.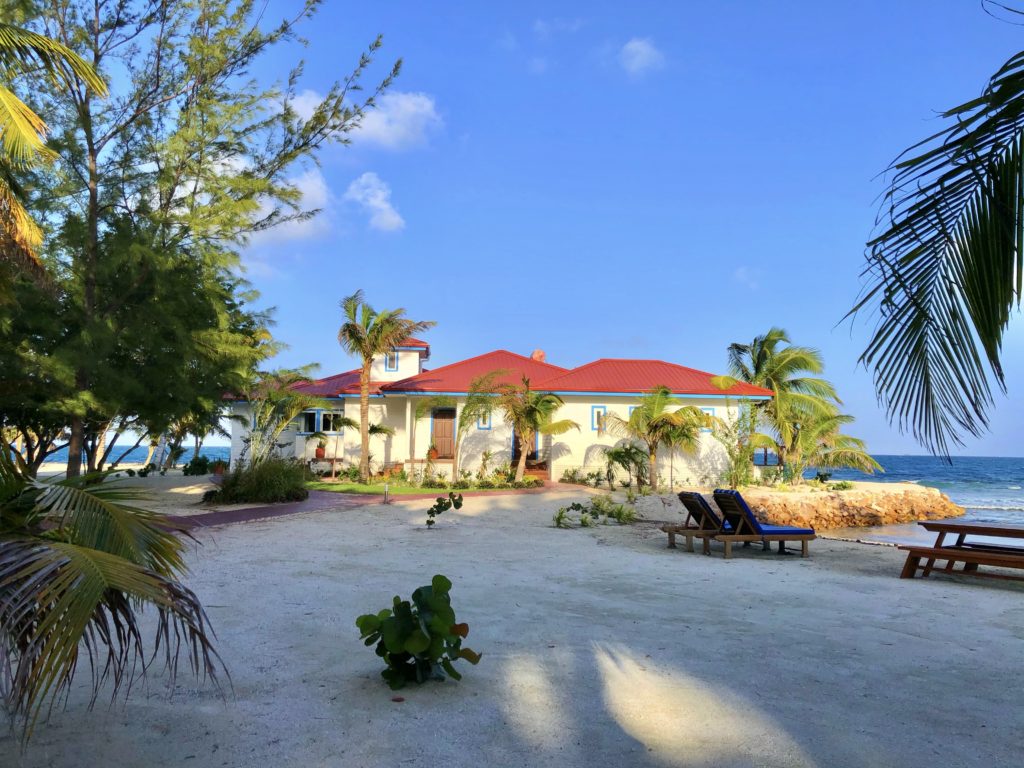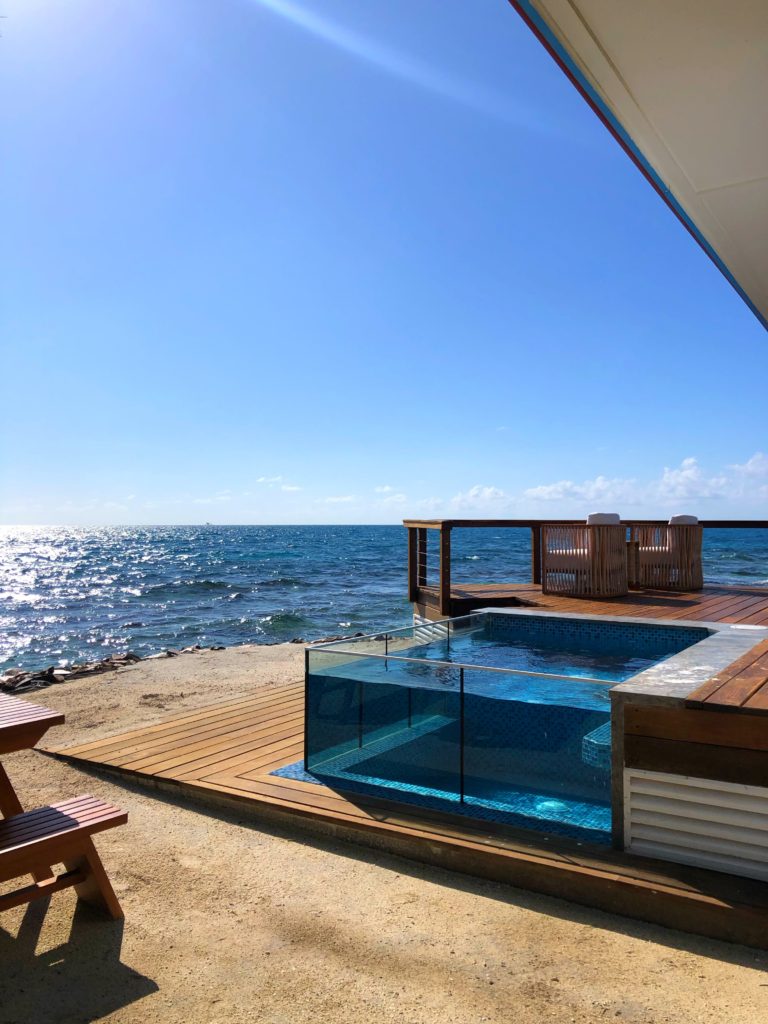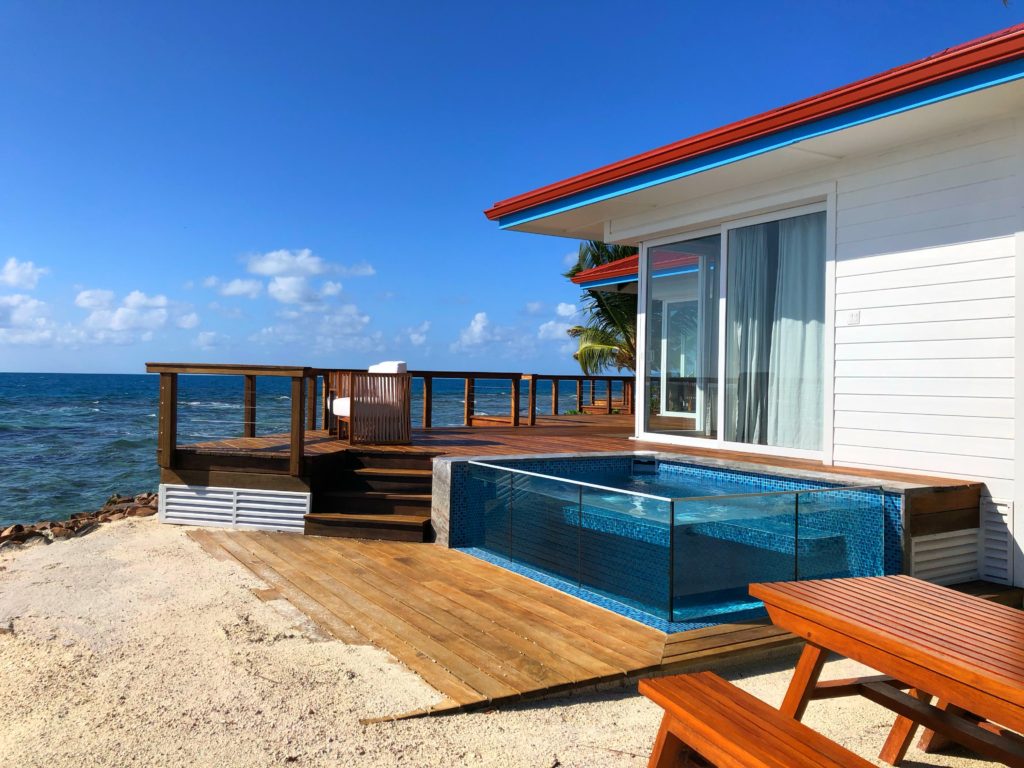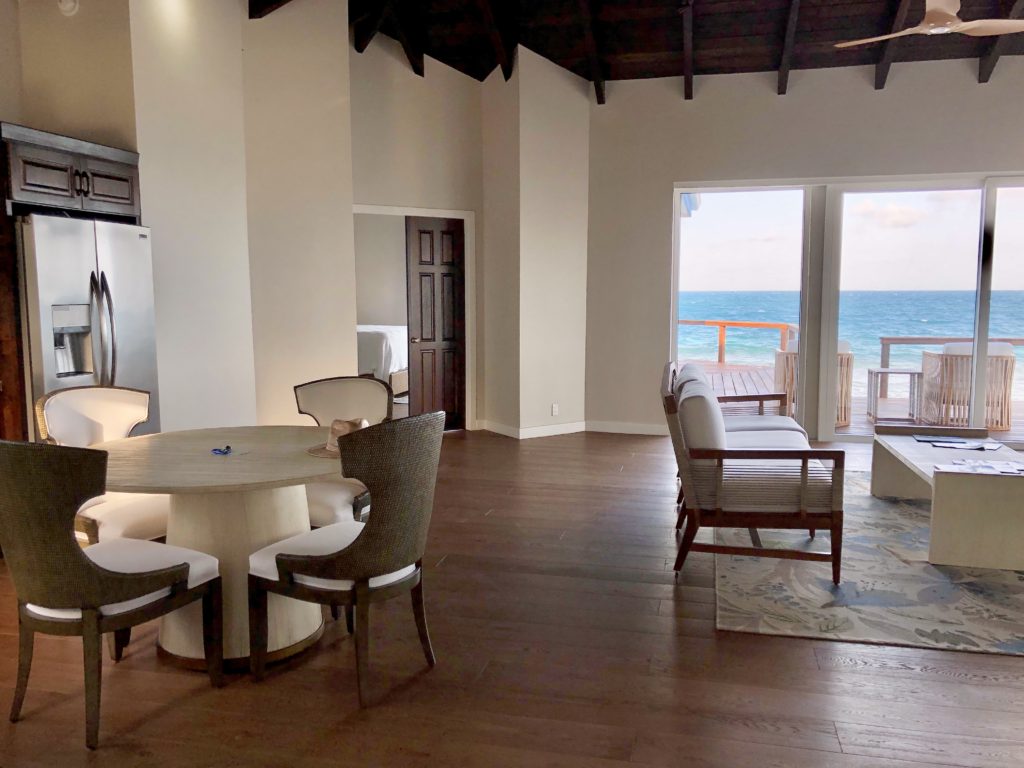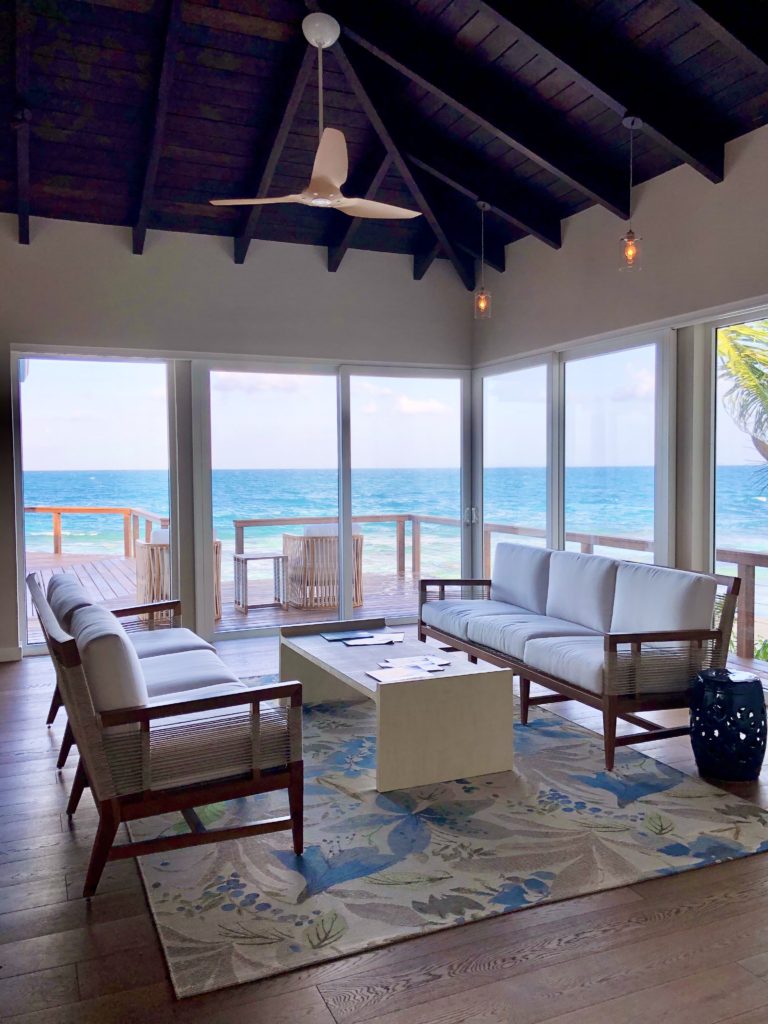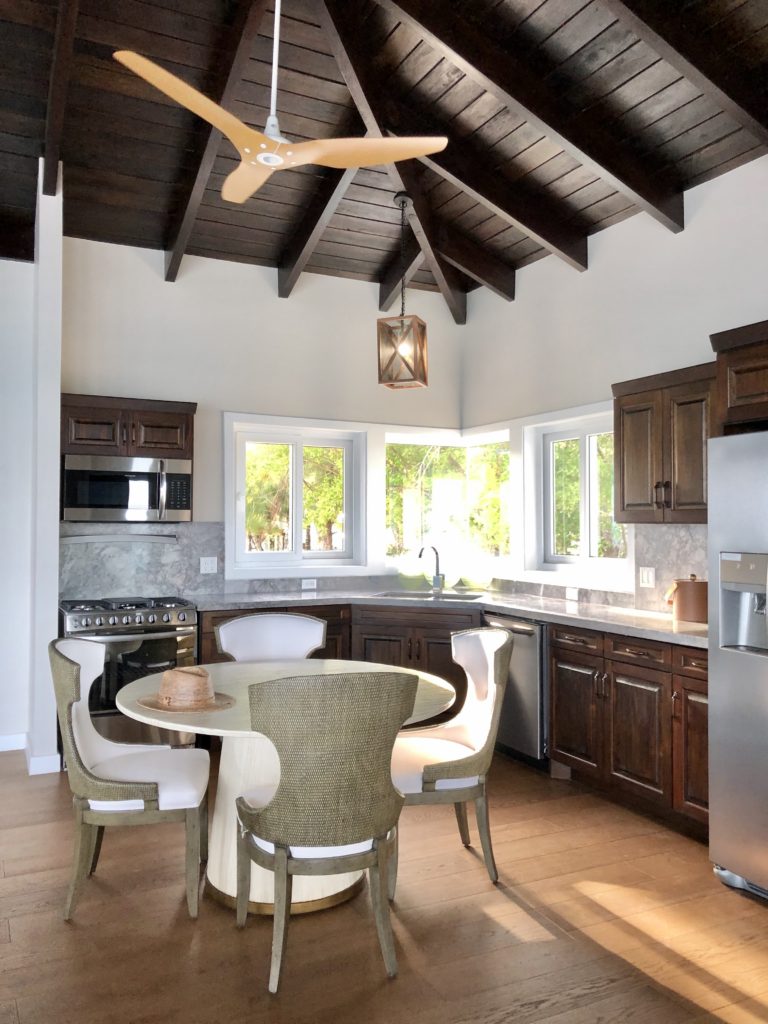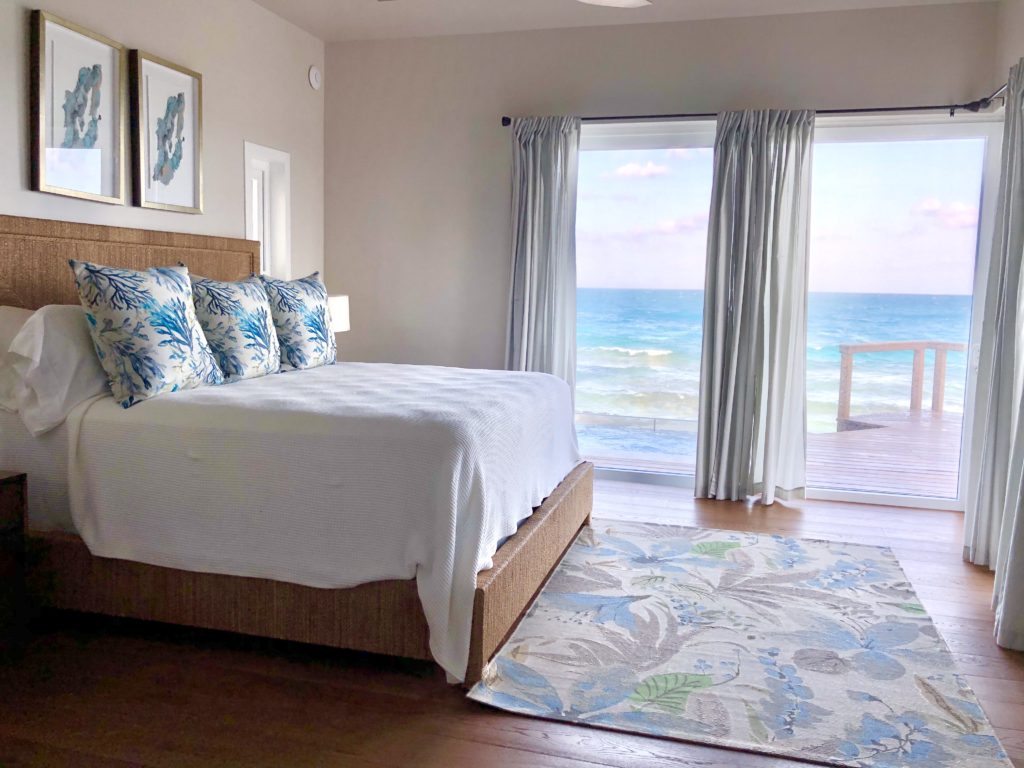 Once settled, we changed into our suits and jumped into our plunge pool, with cocktails in hand, to enjoy the stunning view and let the relaxation begin to wash over us.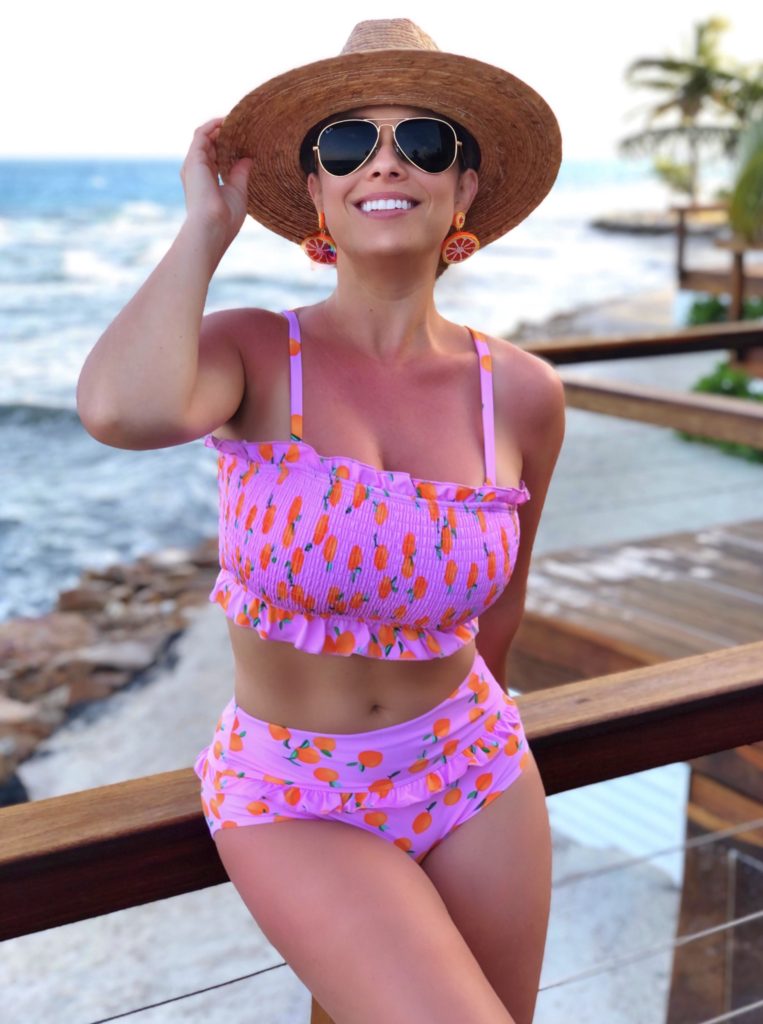 shop the post

We freshened up and headed to the bar. The bartenders knew us my name already, which created a fun and unique experience. It was so nice getting to know the staff at the resort and having them get to know you as well. Compared to staying at a 500 room corporate resort where everyone is just a "guest" this was a refreshing and authentic experience. We each grabbed cocktails and watched the sunset over the ocean. Stunning!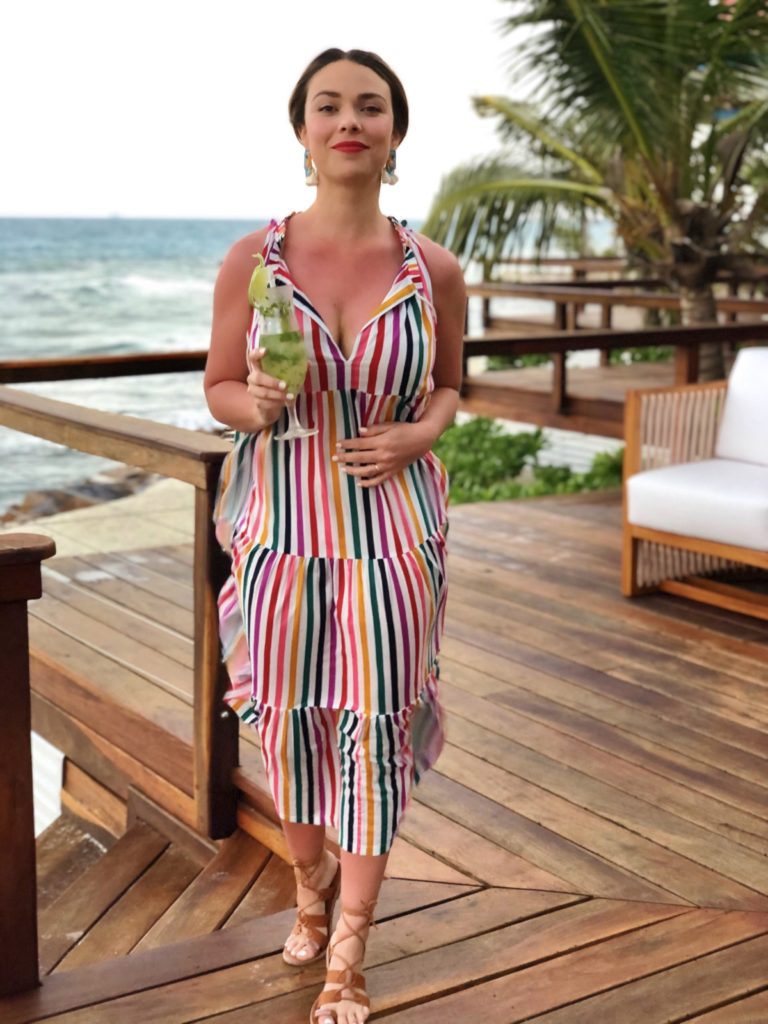 shop the look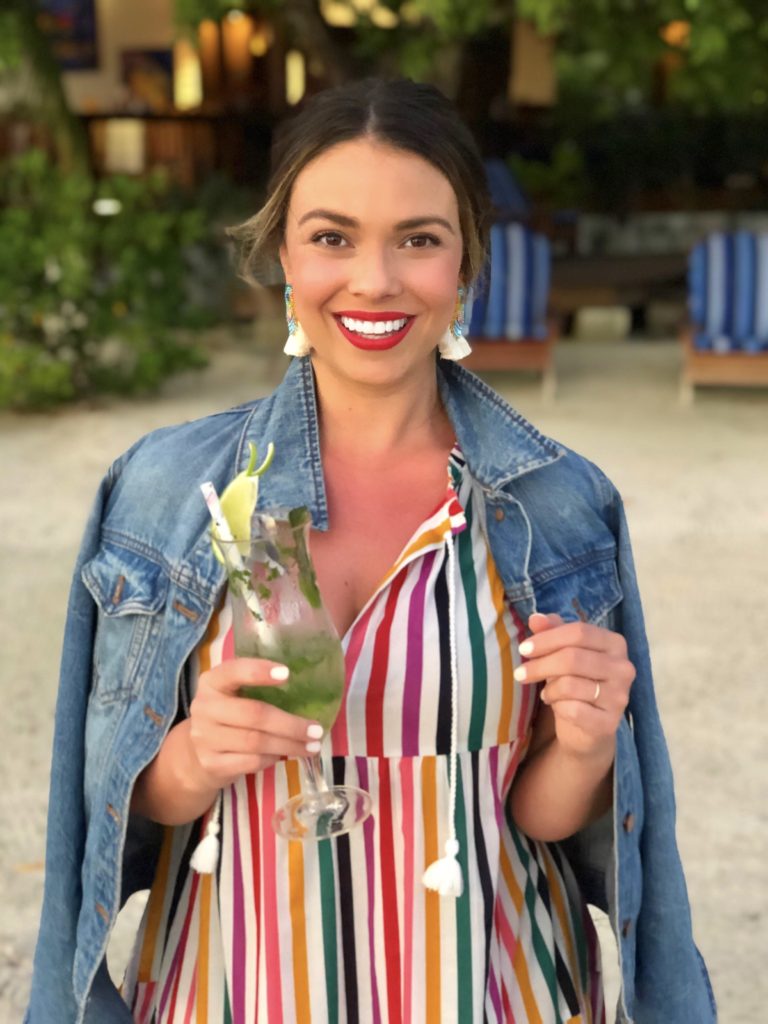 shop the look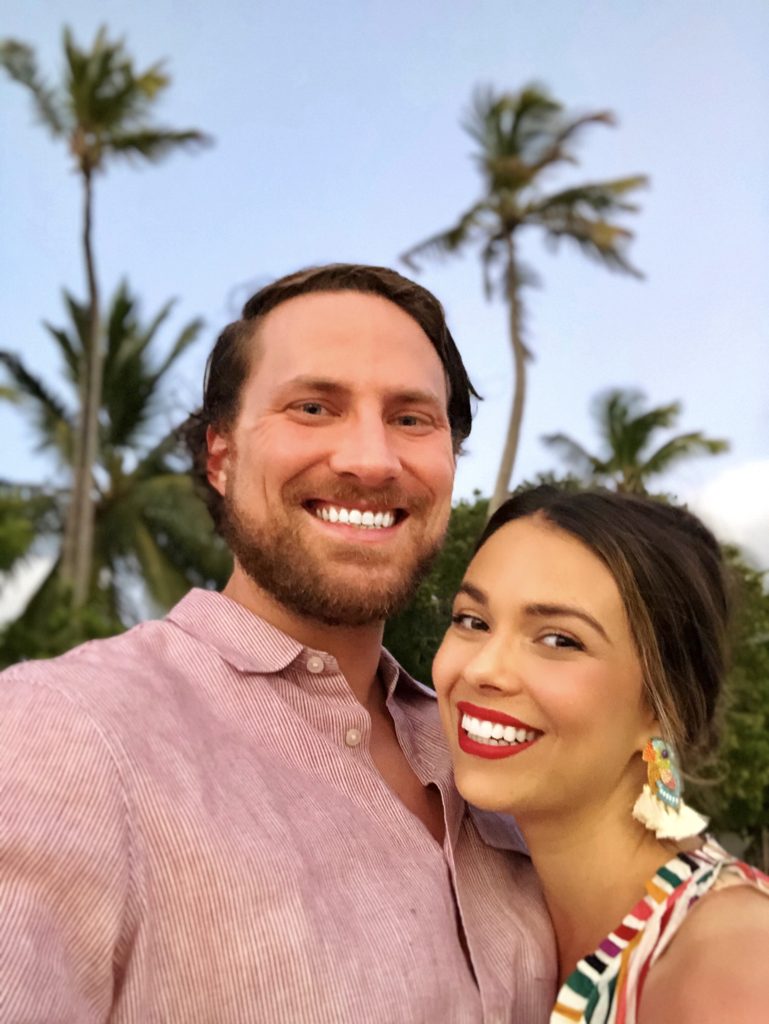 Once the sun was down and our glasses empty we were seated for dinner at the resort's restaurant, Lionfish Grill.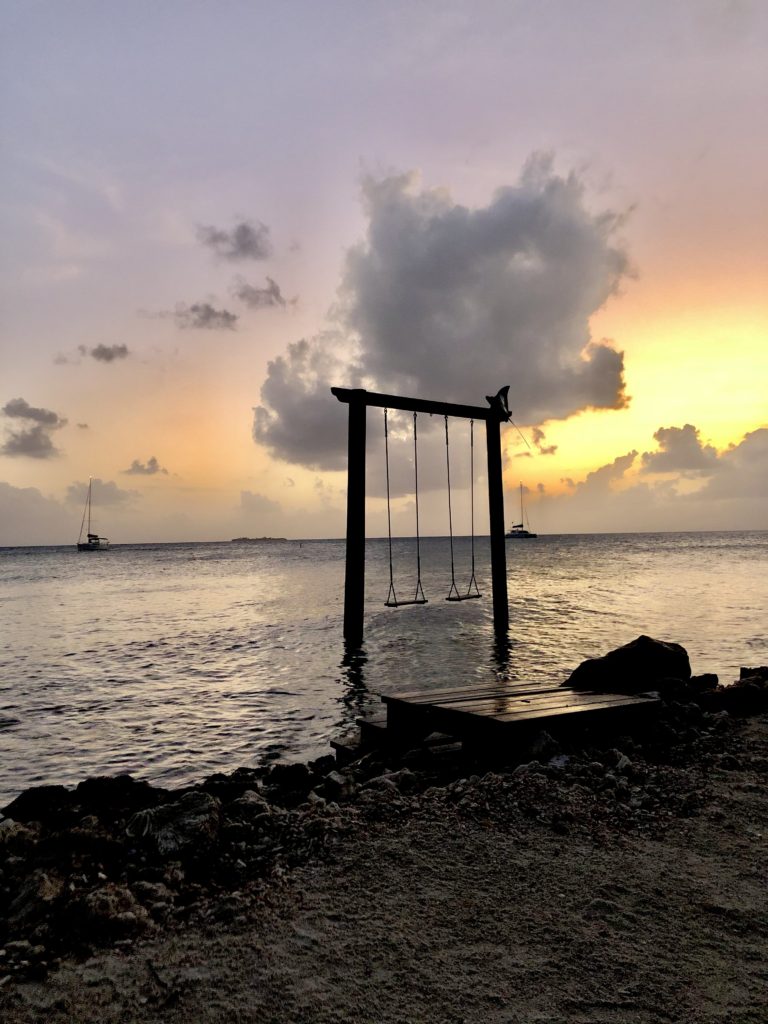 Open to the public as well as guests, Lionfish Grill is open seven days a week for breakfast, lunch and dinner. The Belizean restaurant offers a unique and expansive menu made up of local produce, some of which is grown in the island's own organic garden and the freshest seafood, including lionfish!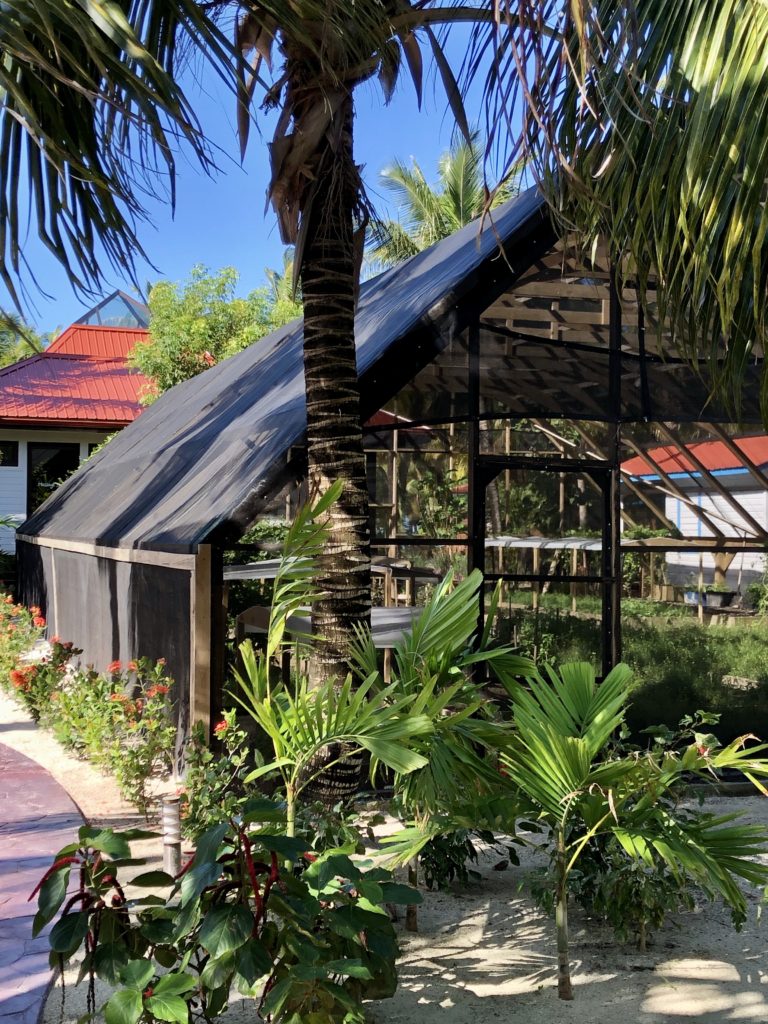 Lionfish, while exotic and beautiful, are a menace to the waters of Belize. Guests can help control the local lionfish population and support the Belize Lionfish Project by enjoying some of Ray Caye's signature Lionfish dishes! Lion fish is delicious btw, but more on that later.
*Ray Caye is in the process of opening a second restaurant, Catch 831, which will be open to solely guests.
We opted for the resort's meal plan which is $95 per day per person for adults and $50 per day per person for children and includes coffee, hot tea and one breakfast menu item, one lunch menu item and a three course dinner including a starter, a main and a dessert. Ray Caye also offers a drink plan which is $65 per day per person and includes soft drinks, local beers and local rum drinks. We didn't do the drink plan because we aren't big rum drinkers and we like having wine at dinner.
For breakfast and lunch at Ray Caye there is a menu with many items to choose from but at dinner it's specials only which we found fun and exciting. Based on whatever the chef gets in that day he crafts a beautiful menu featuring two appetizer and two dessert options and three entree options.
With a table right on the water and a bottle of chilled wine, we were ready to hear the night's specials. For dinner that evening our appetizer options were potato and leek soup, which I got, and a calamari salad, which W got. For the entree selections there was a shrimp curry served with mashed potatoes and veggies, which I got, cornish game hen served with mushroom risotto, which W got, and pork chops. For dessert I got the white cake filled with berries and W got the fruit roll. EVERYTHING was so amazing! And the service matched! Our server was charming and charismatic and made our dinner flawless!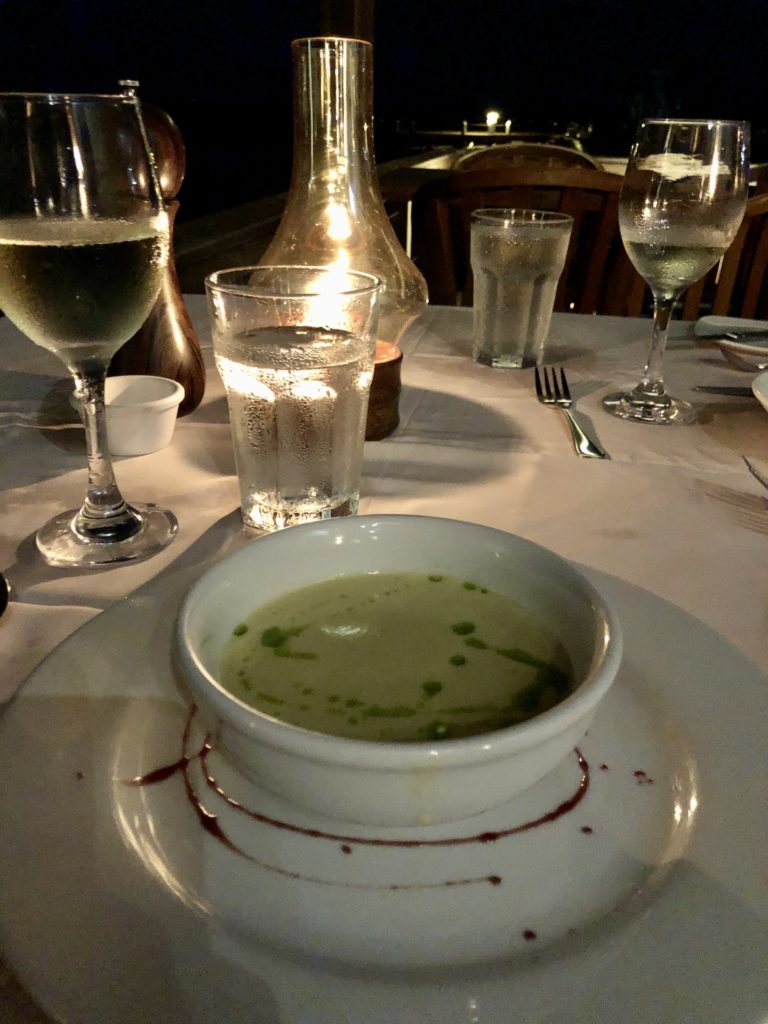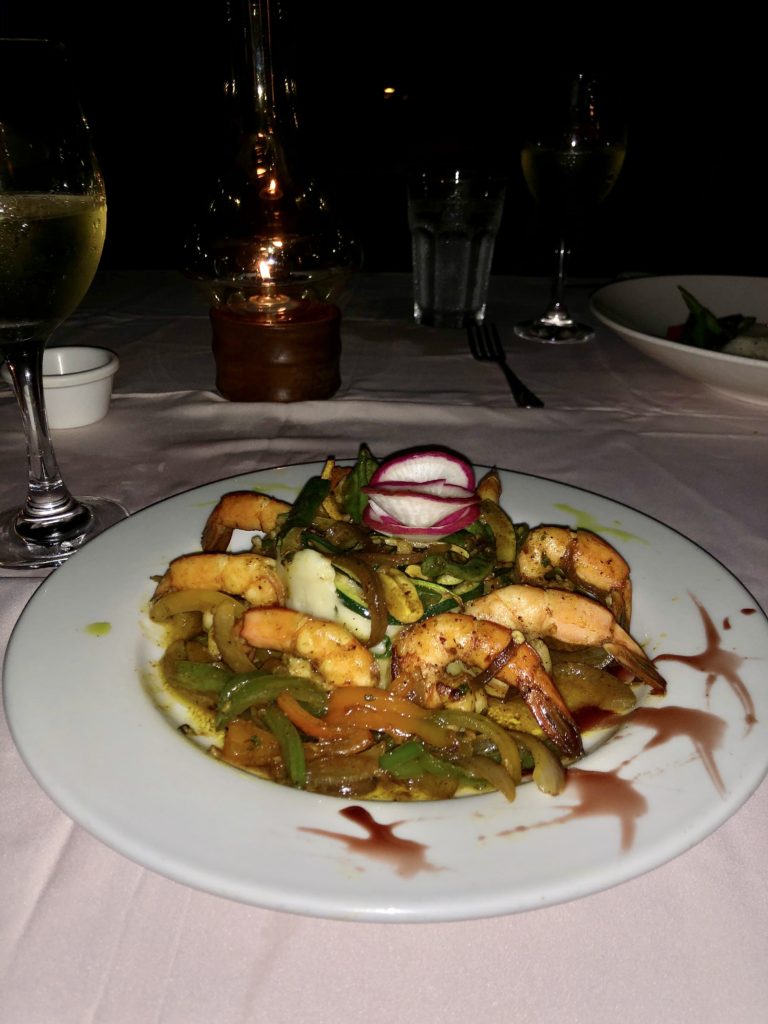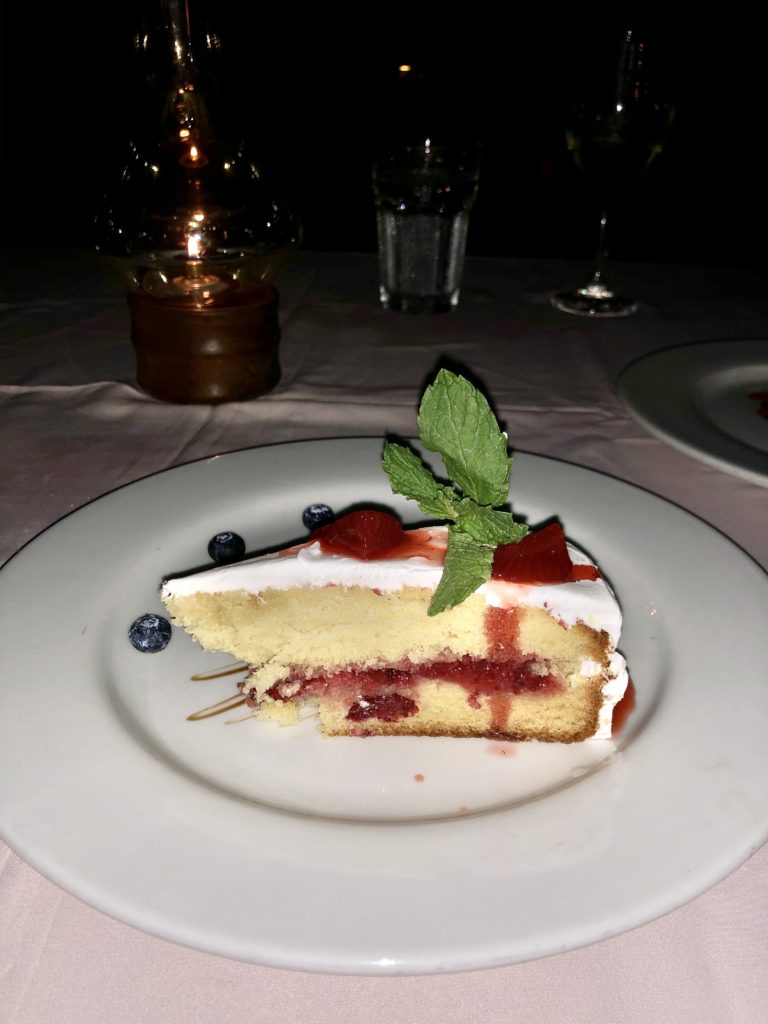 After dinner on our walk back to our villa we walked down the dock were the resort has a huge black light that shines in the water. This allows you to see all of the nocturnal sea life! There were dozens of rays swimming all around the dock! It was so cool to see!
Before going to bed we sat on our patio with glasses of wine in hand to watch the moon rise and to star gaze. There is virtually zero light pollution at Ray Caye, so the star gazing is breath taking there!
We settled into bed and slept like absolute babies in our beautiful and cool rooms.
You know how usually in tropical destinations the air never REALLY works in the room? And you spend the majority of the time in your room hot and sweating? Well not at Ray Caye! Walker and I said to each other at leave two dozen times during our stay, "babe, the air actually works here!" It became such a treat after a long day of adventures or sunbathing to come home to a cool room that could actually be enjoyed!
The next morning we woke up just as the sun was rising. We don't know how to sleep in, even on vacation. We sat on our deck and watched pelicans fish while the sun rose. It was simply magical.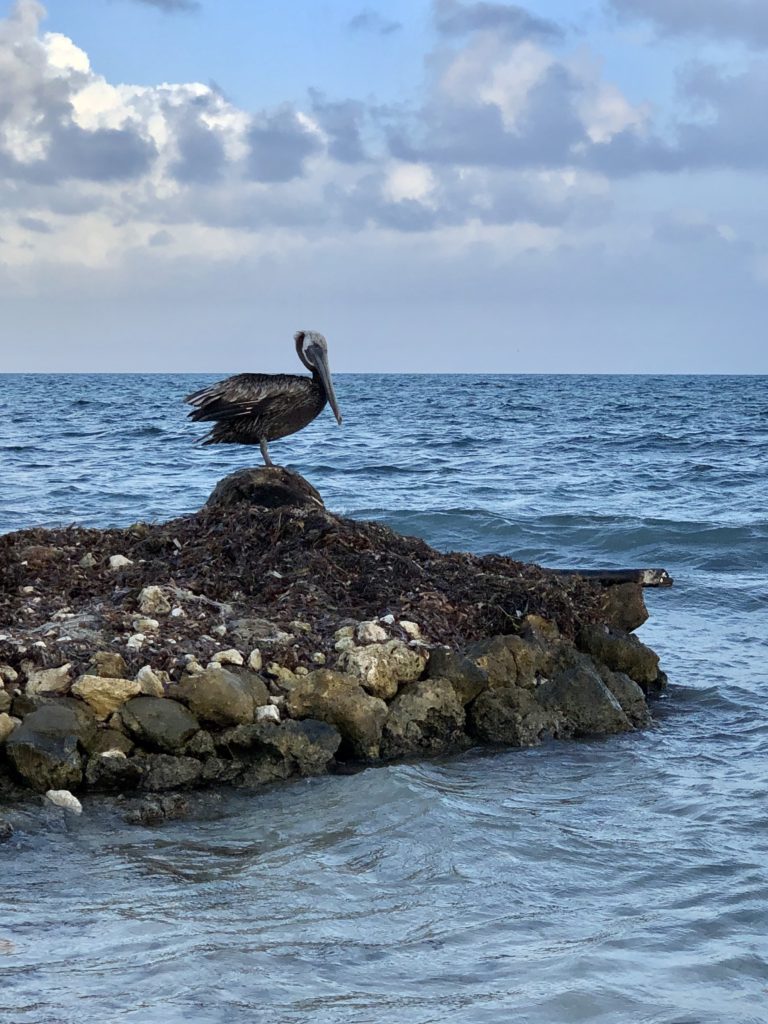 The restaurant starts serving coffee at 6:30am so we got ourselves a cup and hit the beach to enjoy more pelican fishing. It was so relaxing. Just what the doctor ordered!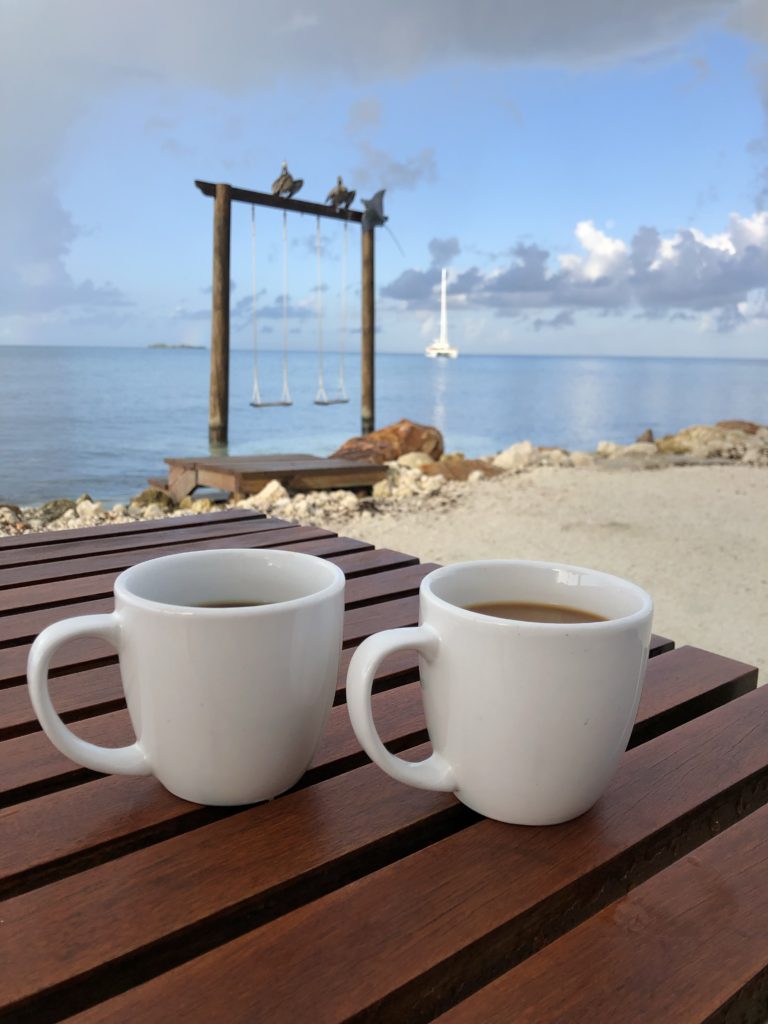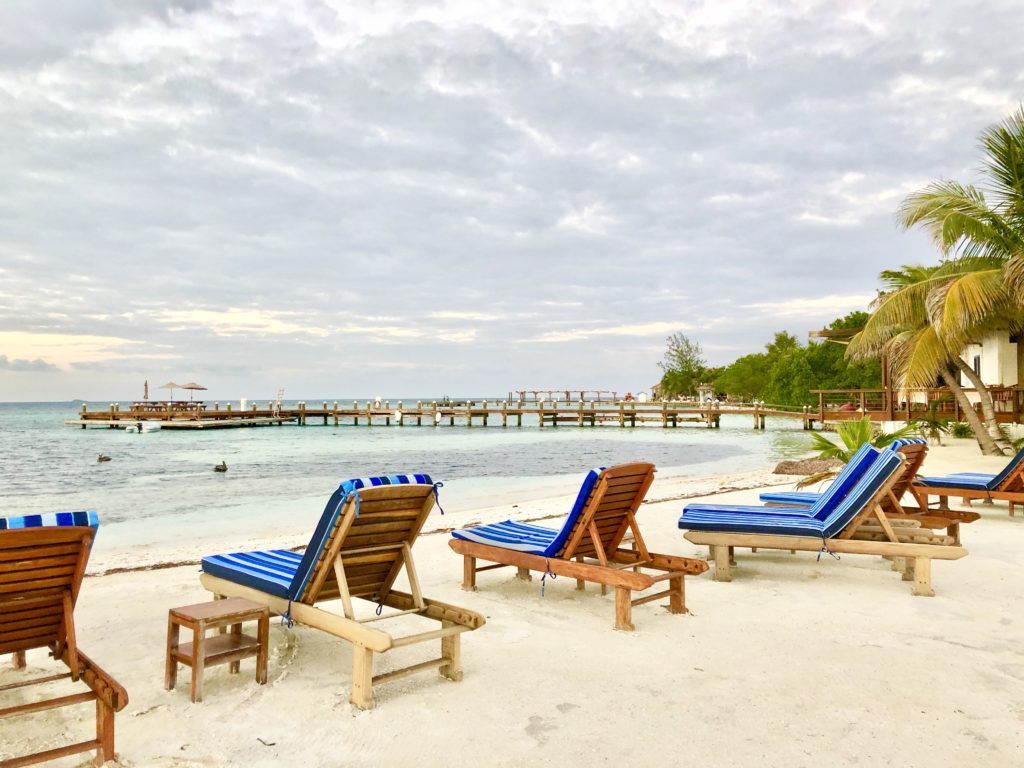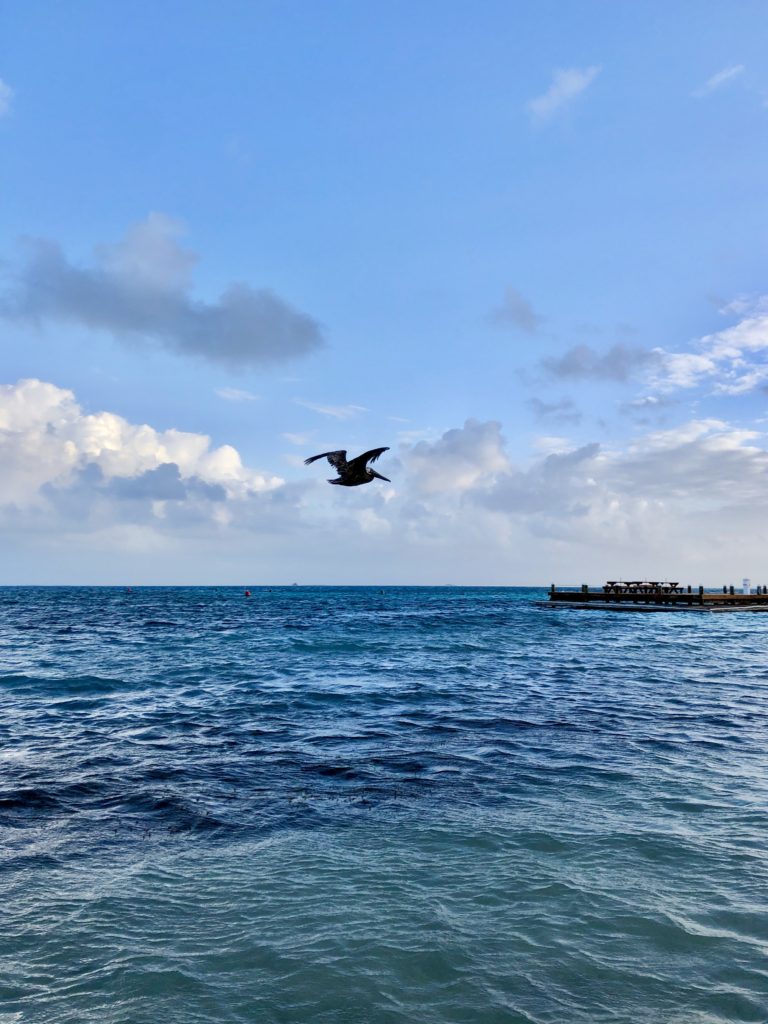 Once well caffeinated we had breakfast. I had the huevos rancheros and W the "pirate reef breakfast" which was lionfish hash, refried beans and fry jacks. Fry jacks, a traditional dish in Belizean cuisine, are deep fried dough and they're delicious, as was the rest of our breakfast.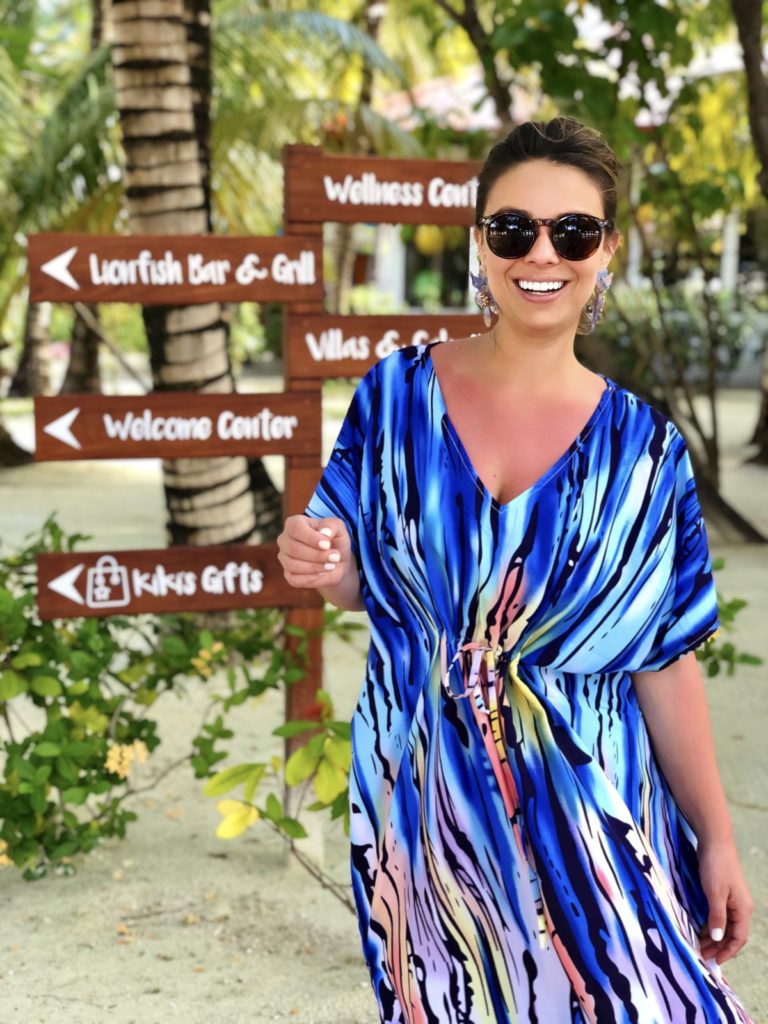 shop the look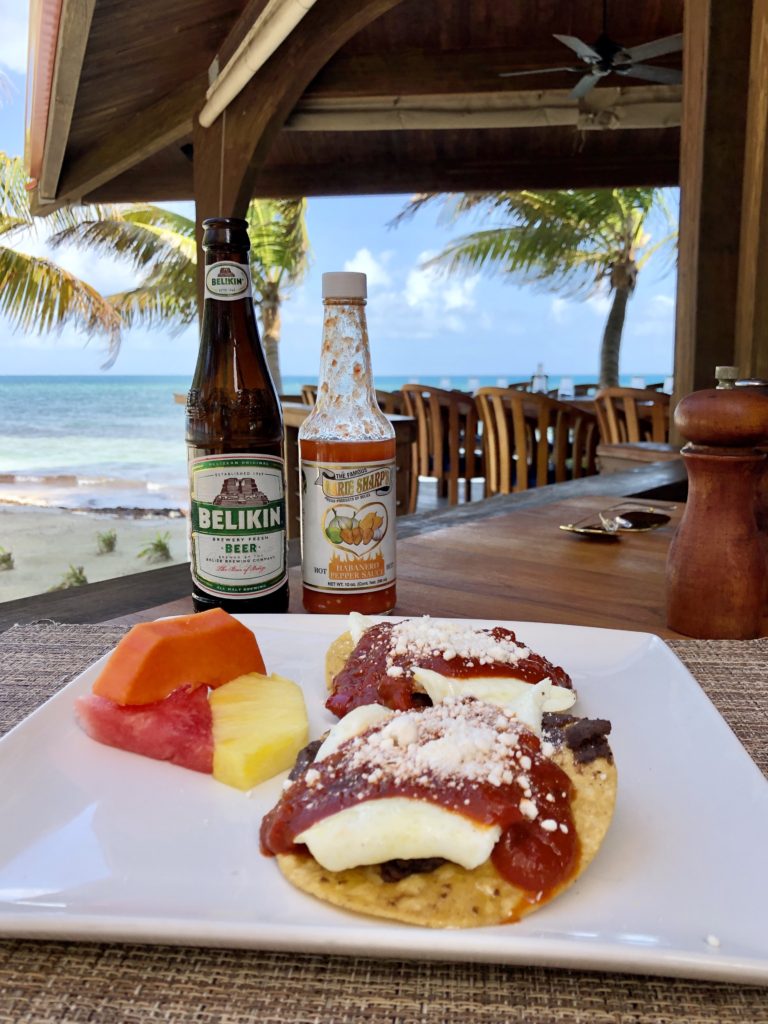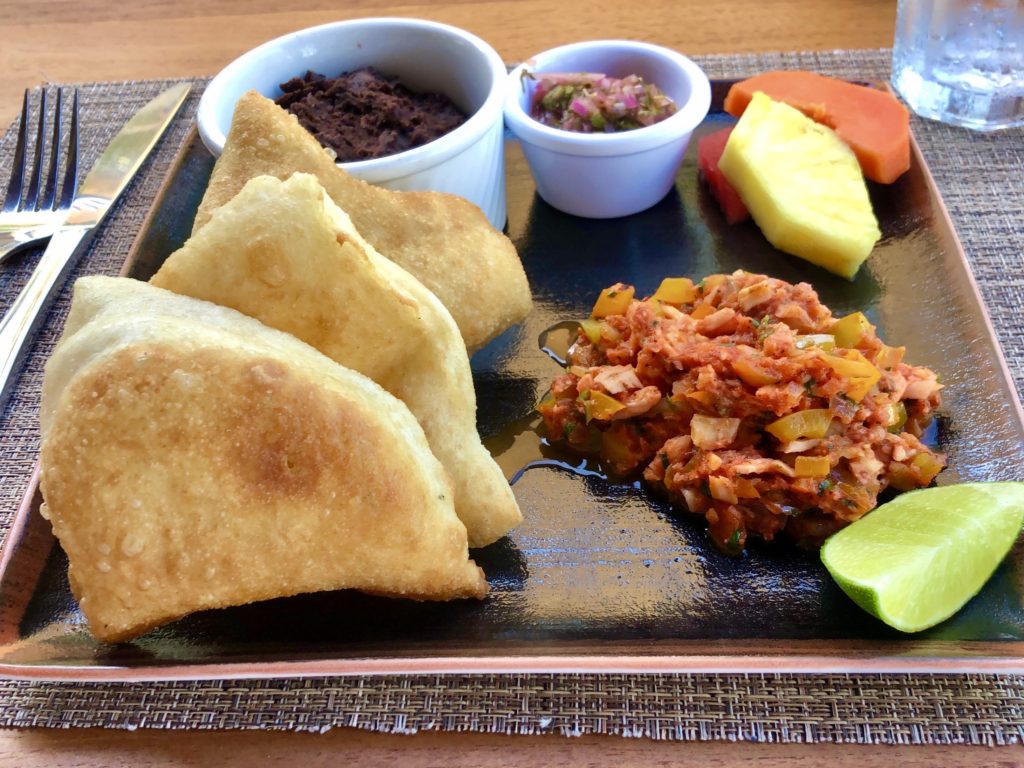 After breakfast we relaxed on the beach outside of the restaurant, took a dip in our villas plunge pool and sipped on beers. With such limited guests on the island you really feel like you have the whole place to yourself. Unlike other beach resorts, you don't have to rush out first thing in the morning to save yourself a chair at the beach or pool, which is awesome!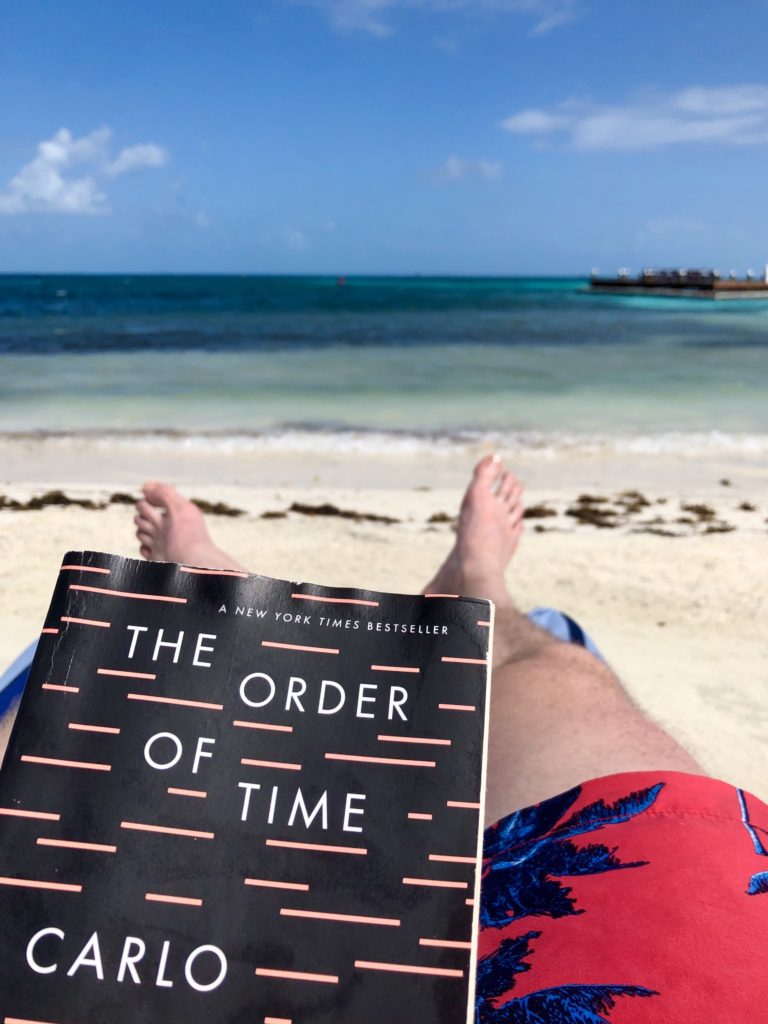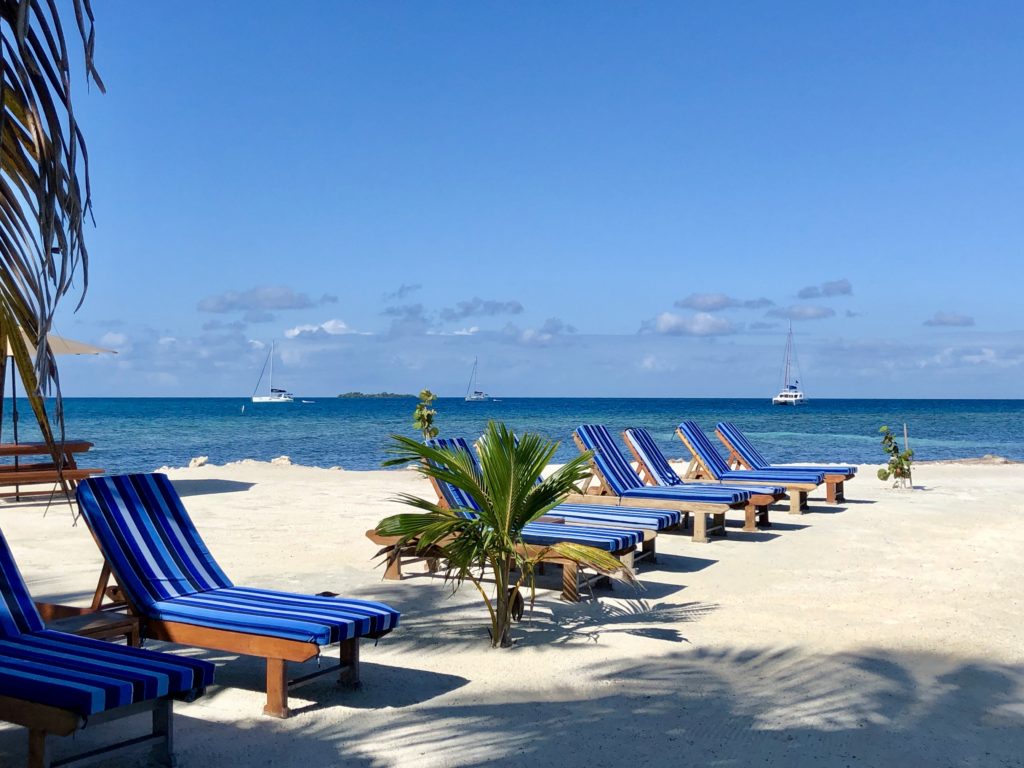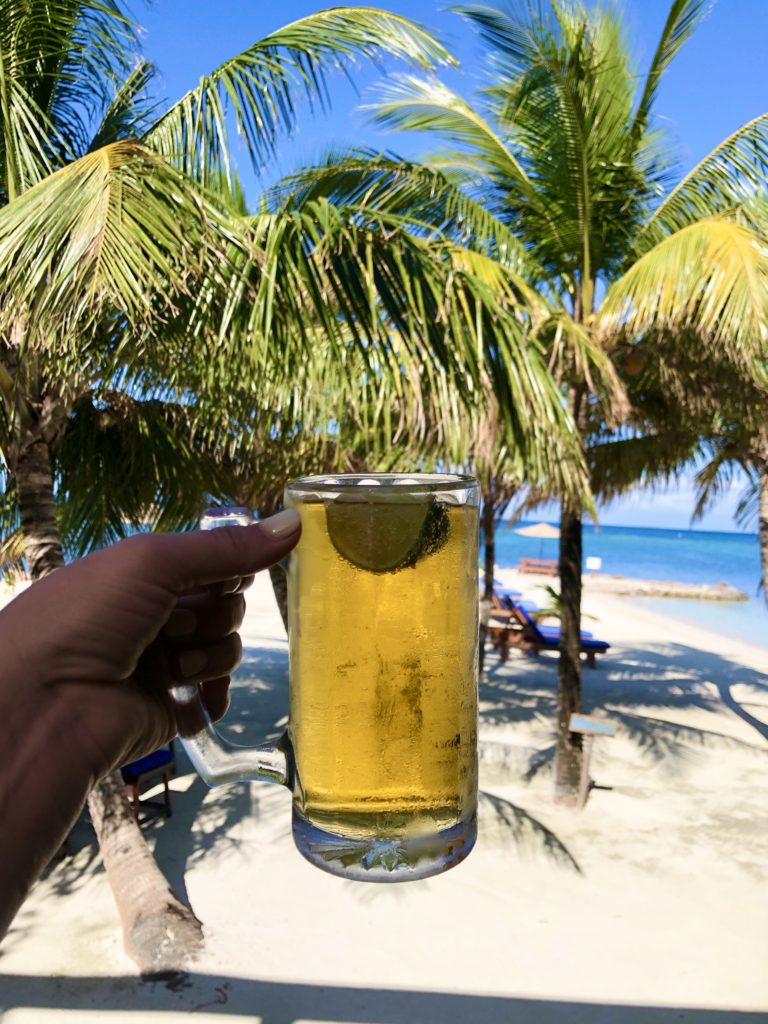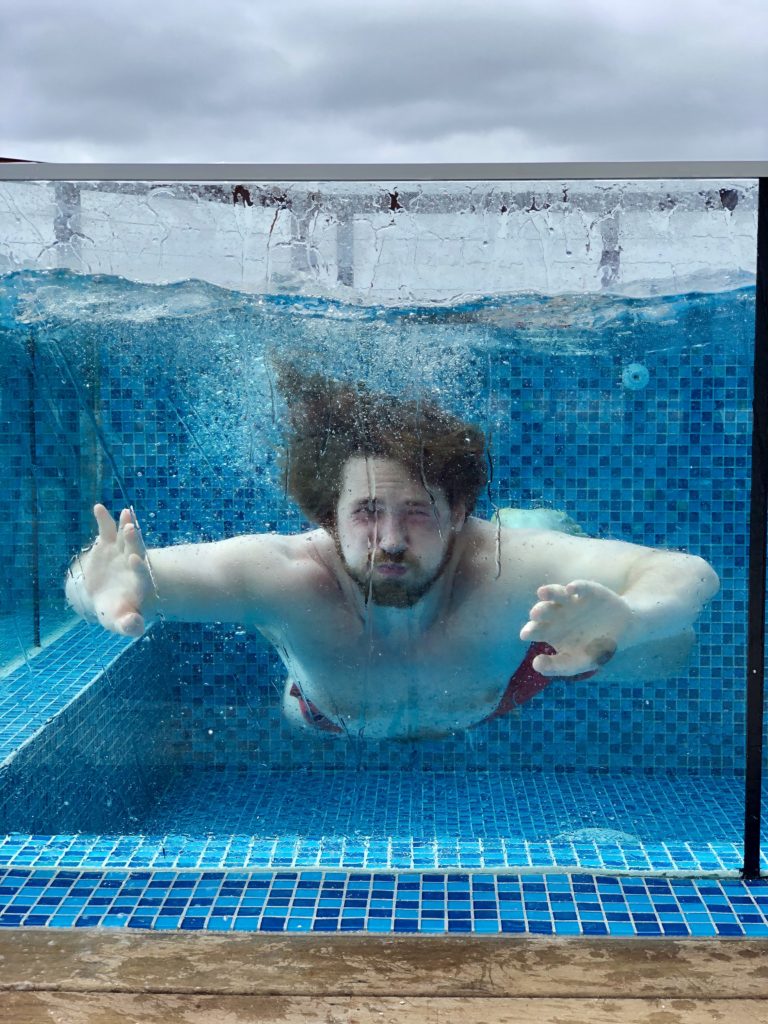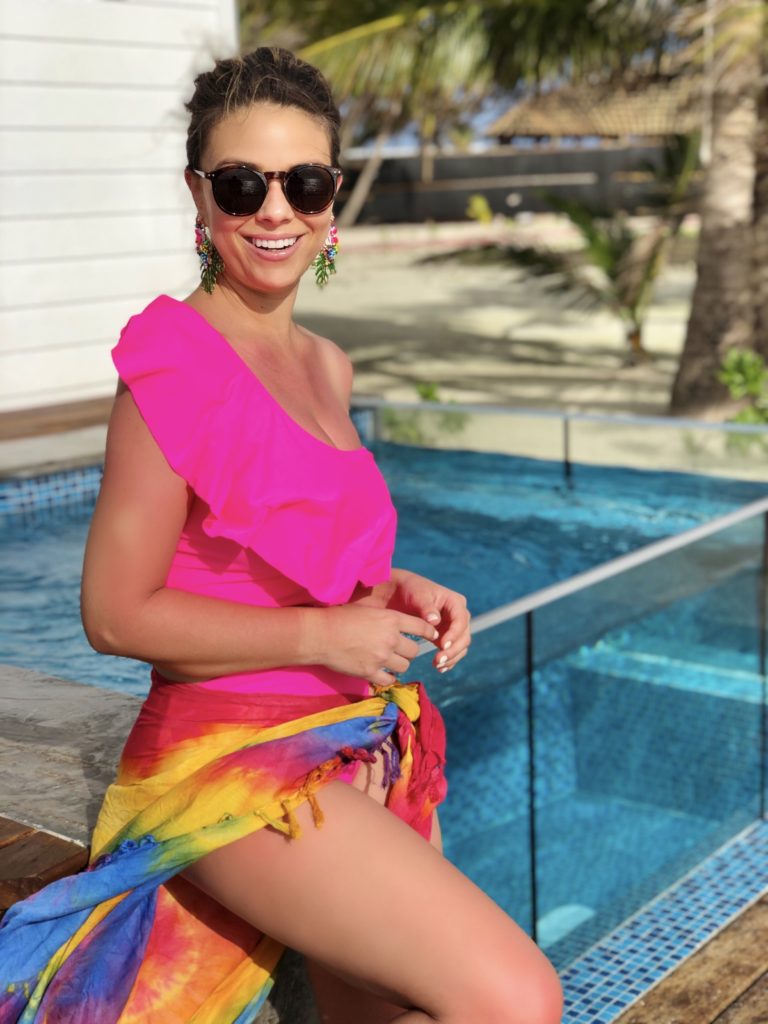 shop the look

With nearly a mile of private shoreline and a limited number of guests at any time, it is easy to play, explore and relax in the Belize island lifestyle any way you want at Ray Caye! Pack your stay with the many adventures Ray Caye offers such as diving, fishing, snorkeling, kayaking, paddle boarding, catamaran tours… the list goes on and on, or just relaxing on the beach or by the pool.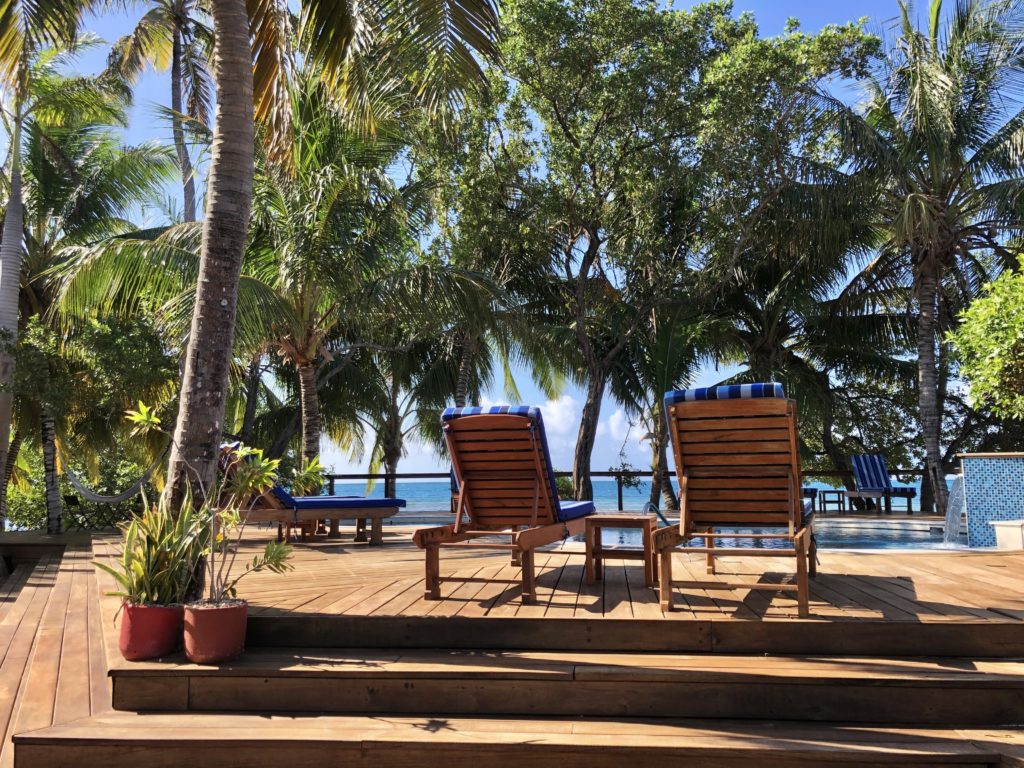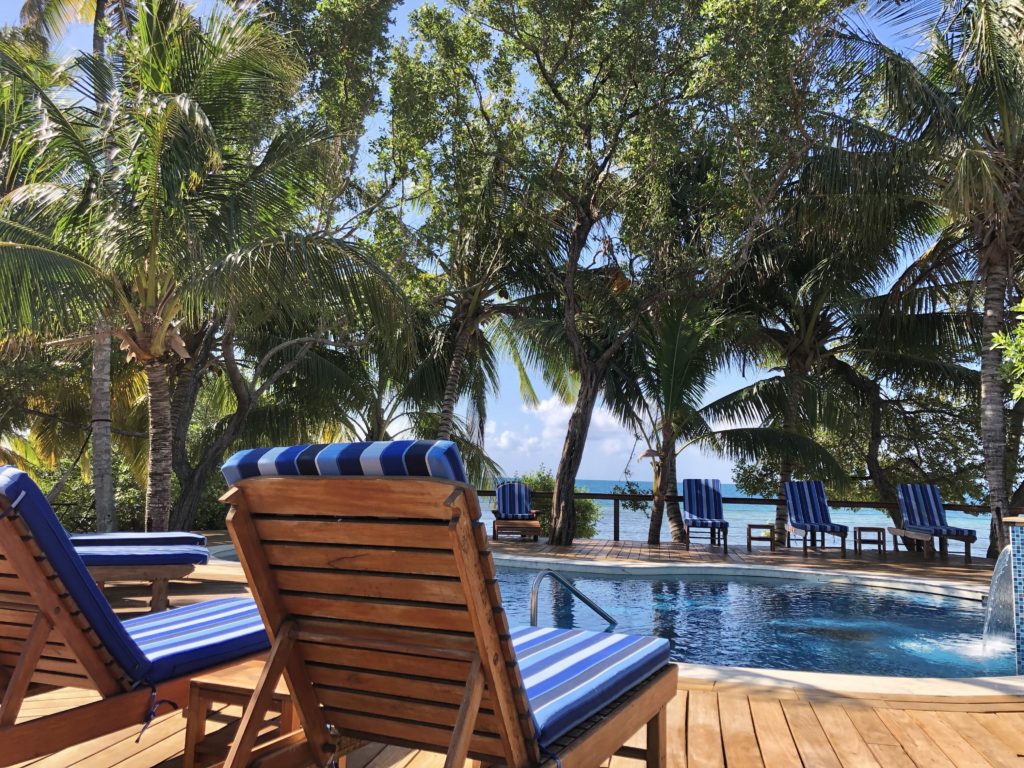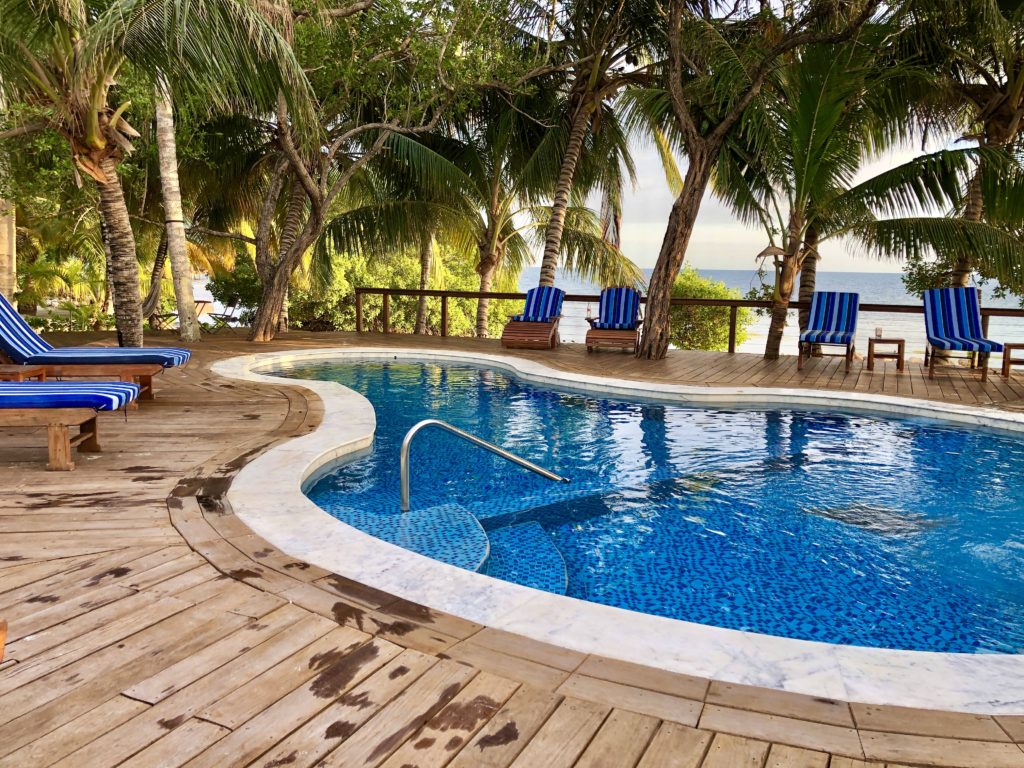 For lunch we started with conch ceviche which was amazing and we both had lionfish tacos. THEY WERE SO GOOD! The fish was so tender and buttery and they were fried to perfection and topped with the freshest and tastiest toppings. Delicious tacos and helping preserve the reefs of Belize? Its a win win!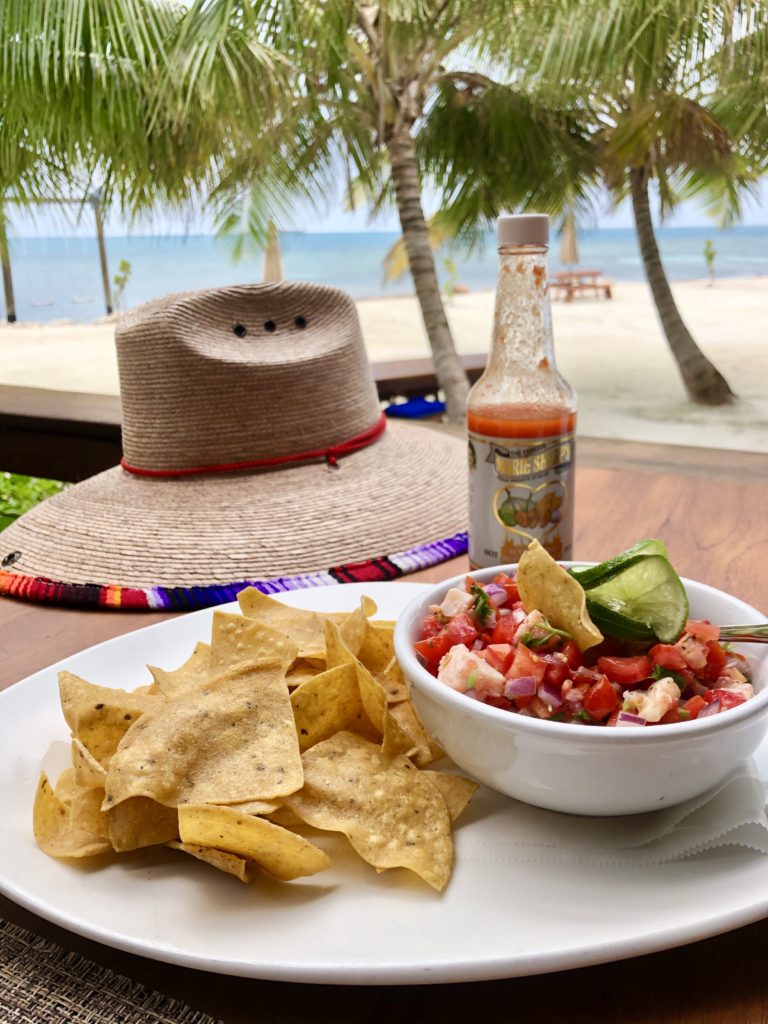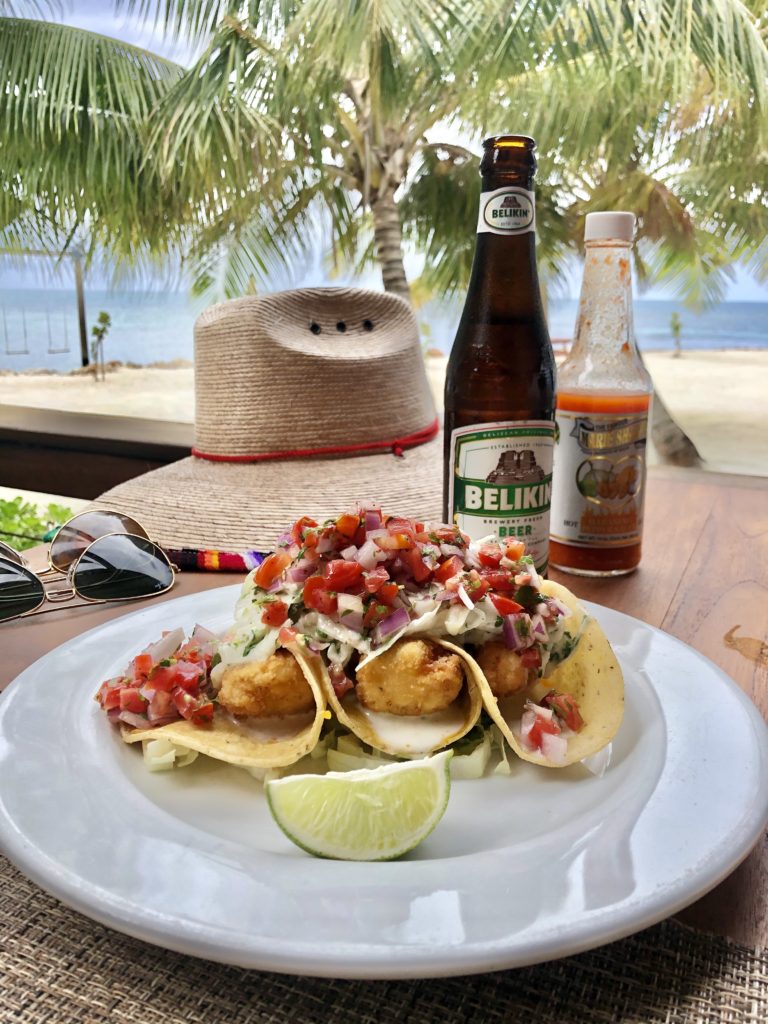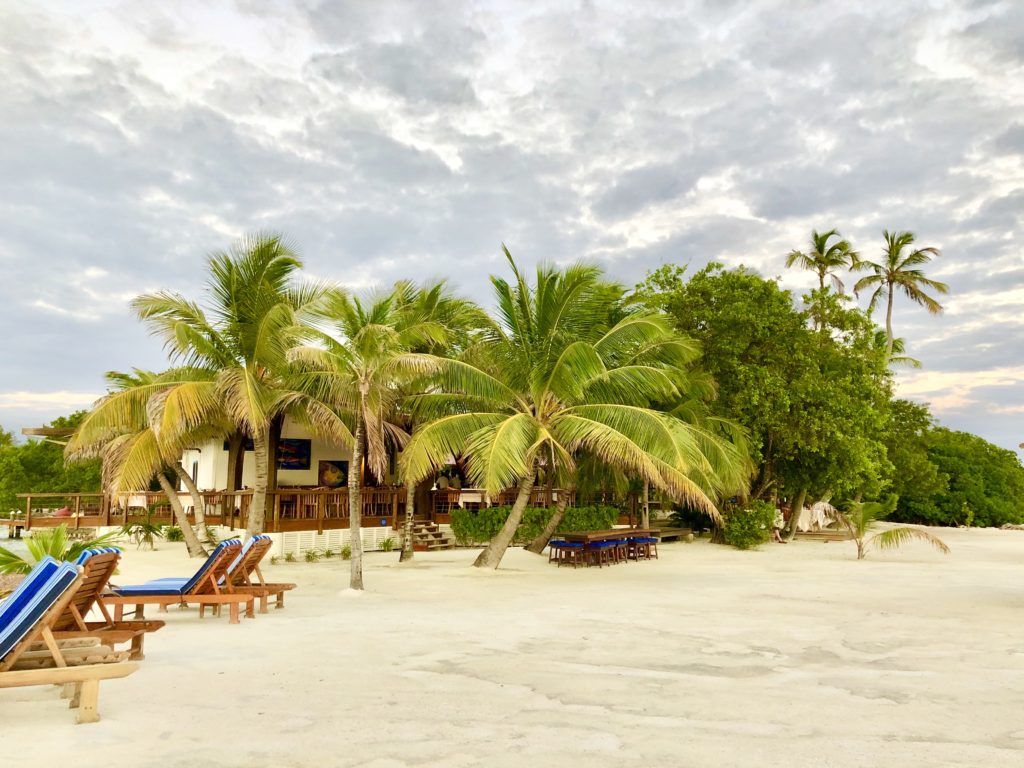 After lunch we hit the dive shop! At Ray Caye's dive shop their experts fit you with the perfect snorkel gear, which you keep with you your entire stay. It was so nice not having to check out gear every time we wanted to snorkel.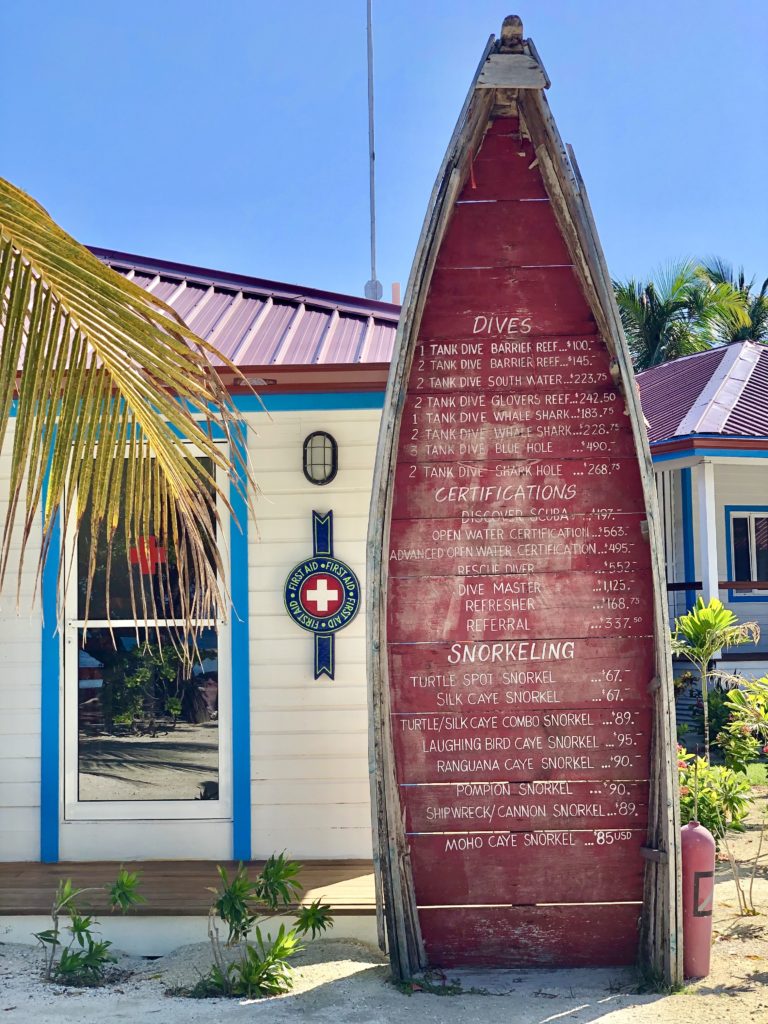 Geared up and ready to go we snorkeled right off Ray Caye's private dock. It was so cool! There was so much colorful life to see right at the resorts doorstep!
Located on the edge of the Gladden Spit and Silk Cayes Marine Reserve, Ray Caye is literally a stones throw away from the Belize Barrier Reef making it an ideal location for world class diving!
We freshened up and hit the bar! A martini for W and a frozen spicy margarita for me. We sat on the beach, sipped our yummy cocktails and watched the sunset over the crystal clear water.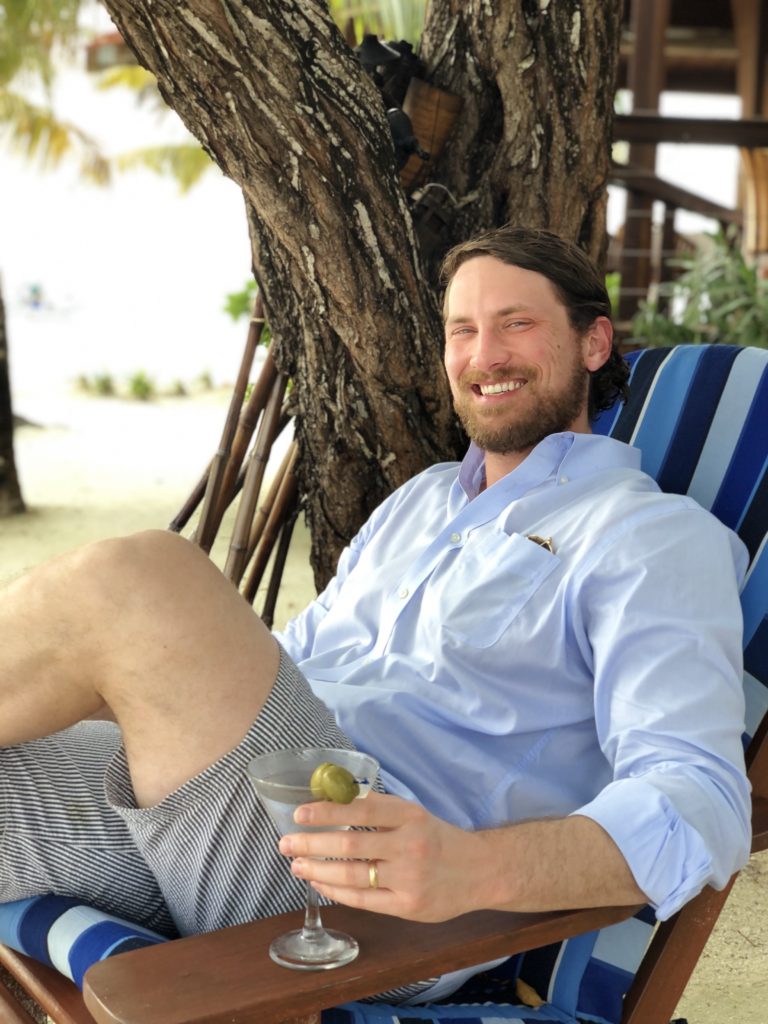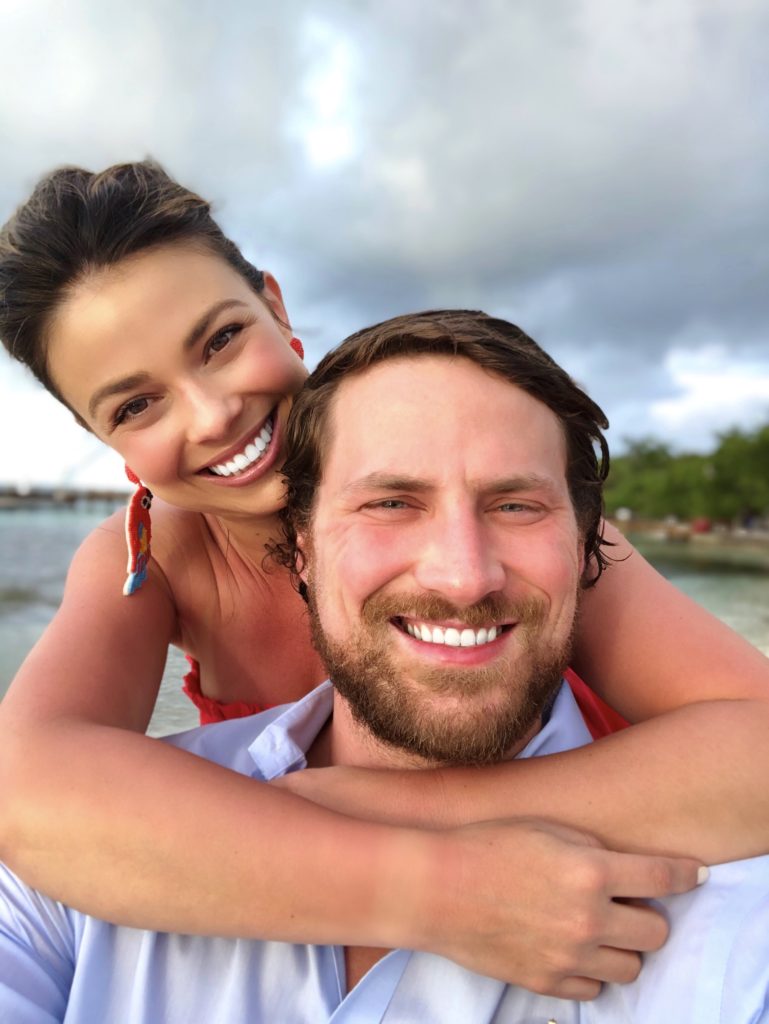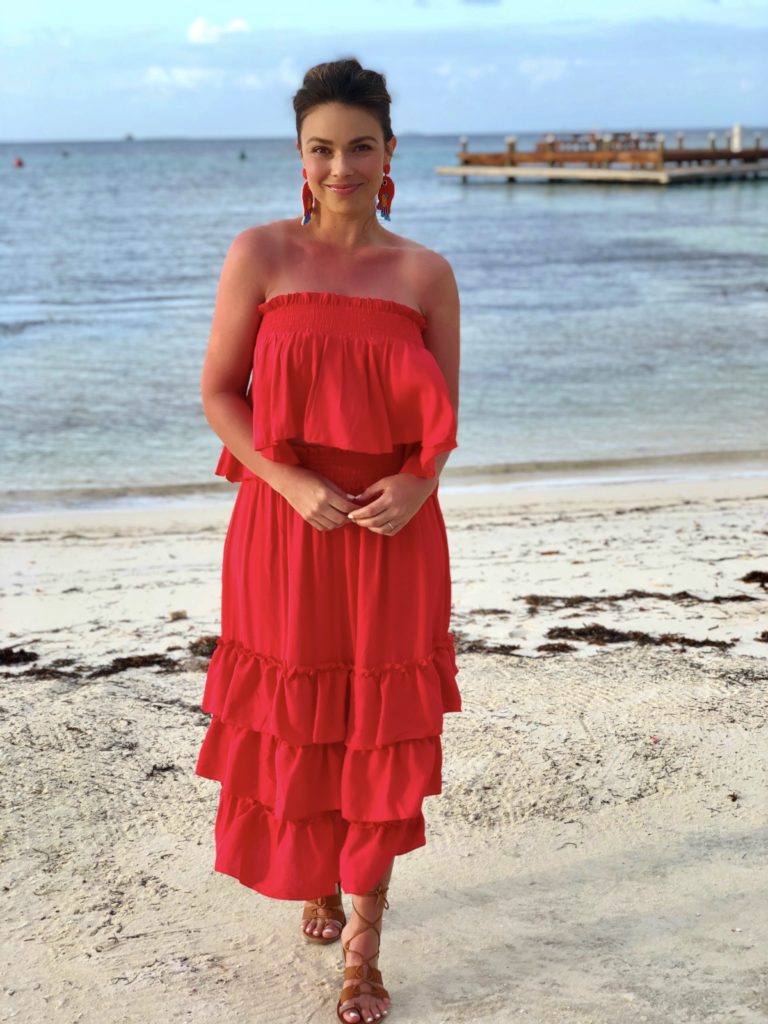 shop the look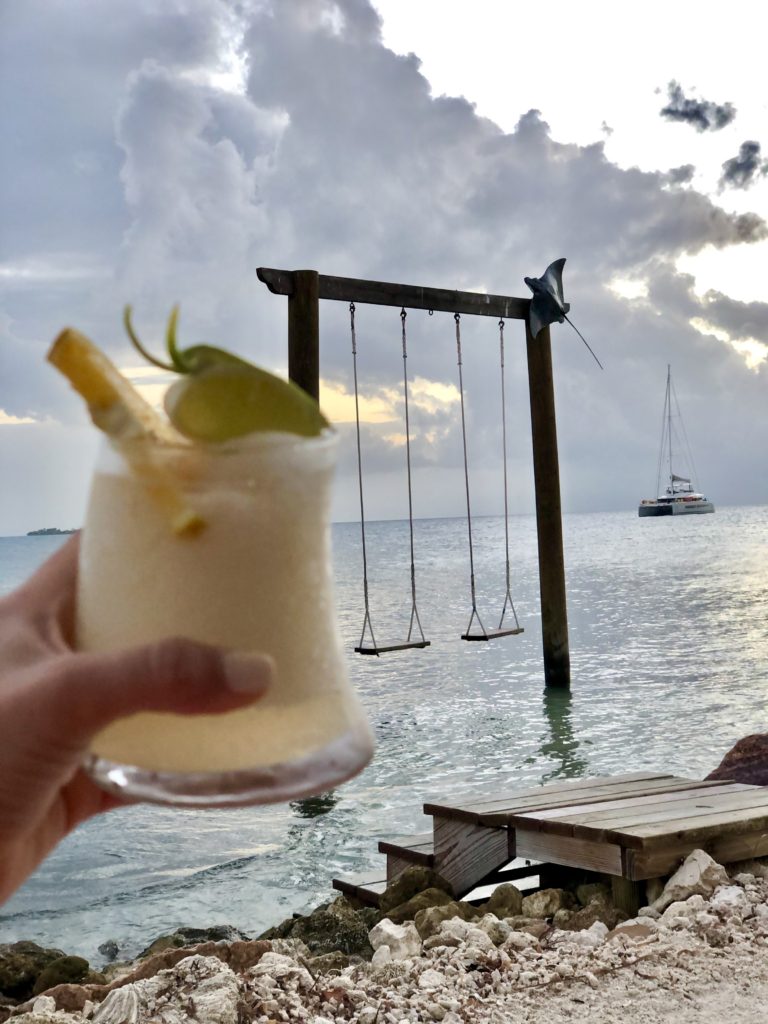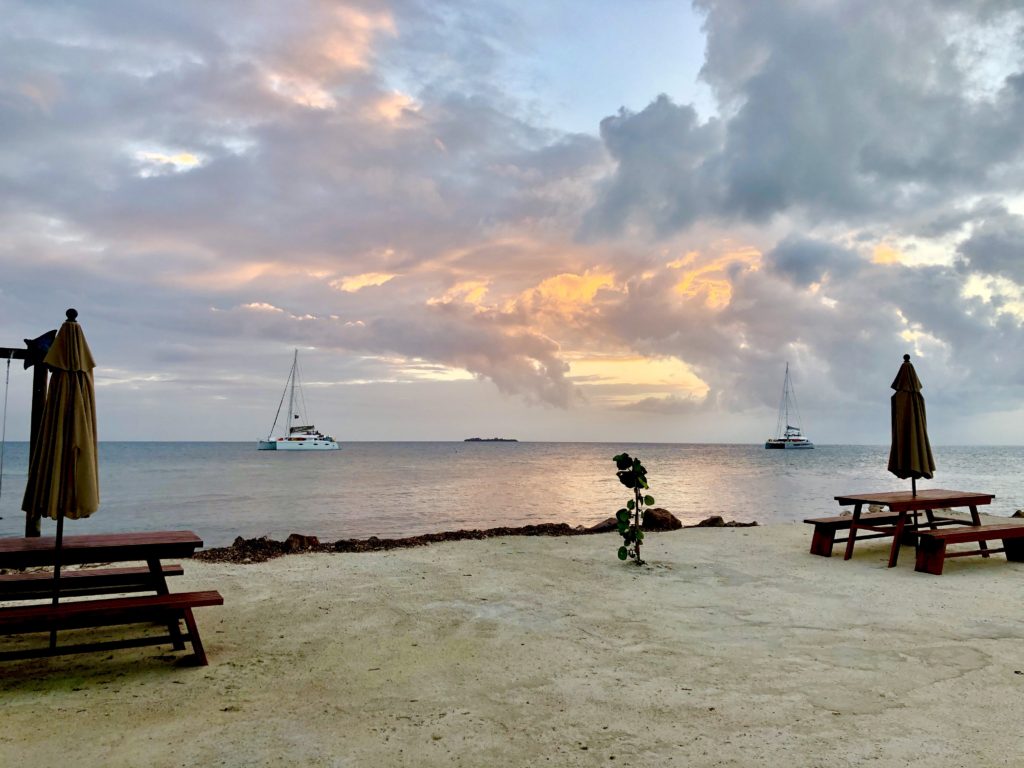 Next up was another amazing meal at Lionfish Grill. I forget what all the options were (those frozen spicy margaritas were good, real good!) but we both started with conch fritters and each had the ribeye for our entrees. Delish! We wrapped up our meal with homemade ice cream. Basil for me and coconut for W. Yum!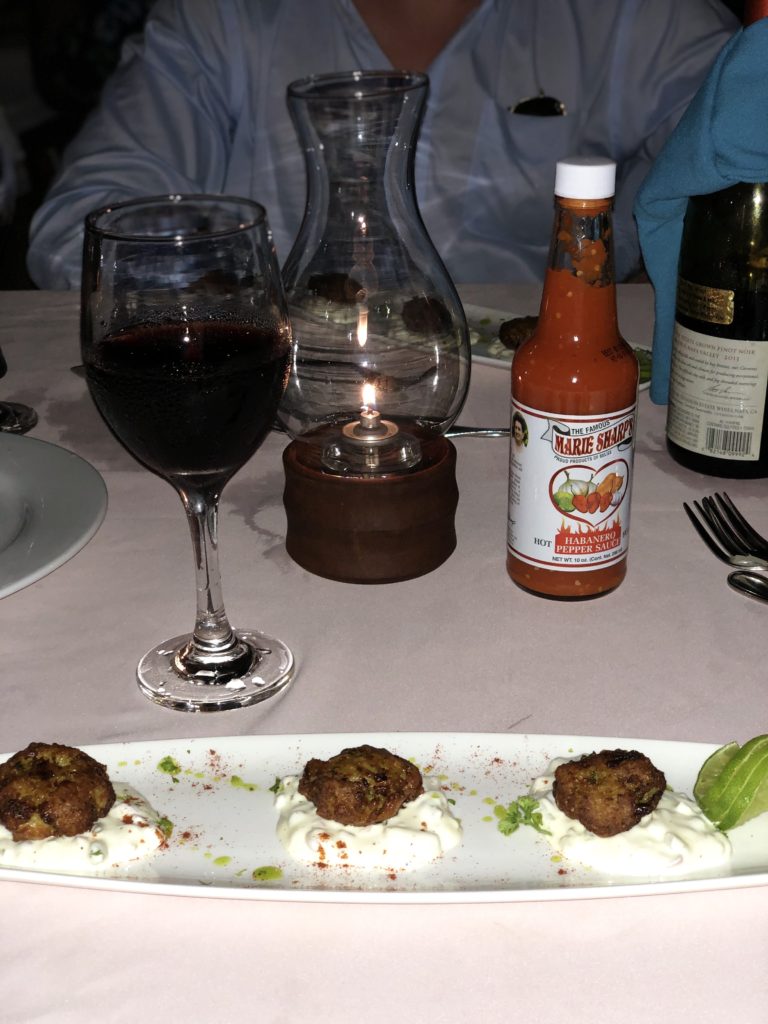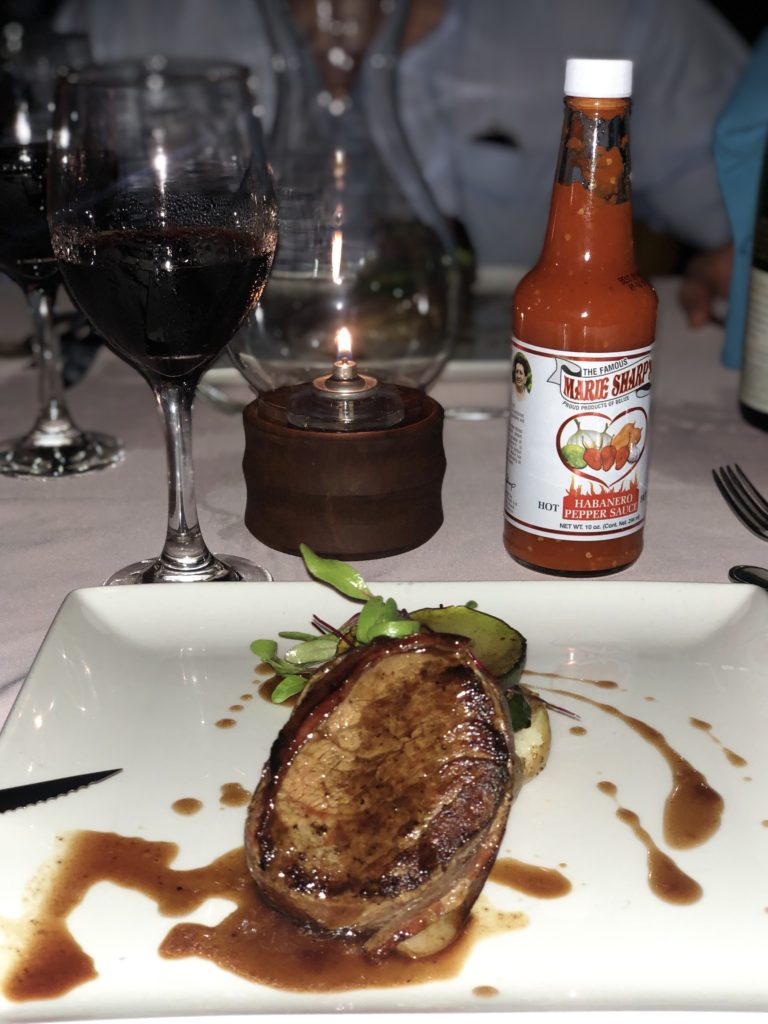 The next morning started much like the one before- pelican fishing, stunning sunrise, coffee on the beach. This morning though featured a STUNNING double rainbow that just glistened over the water. It was truly magical.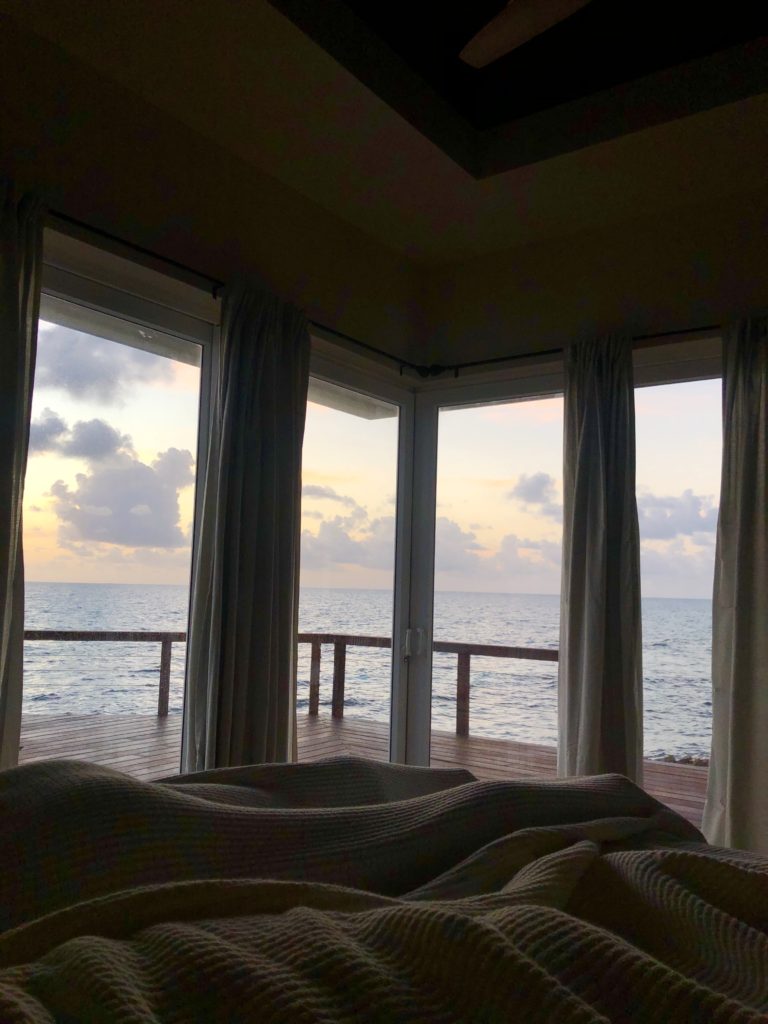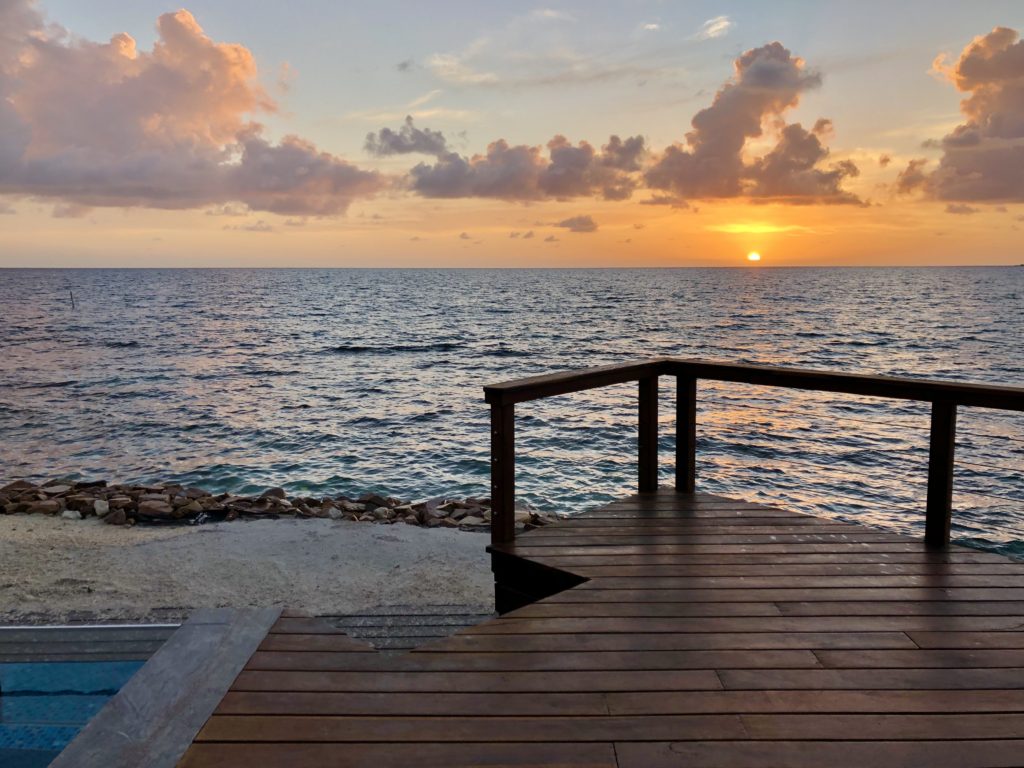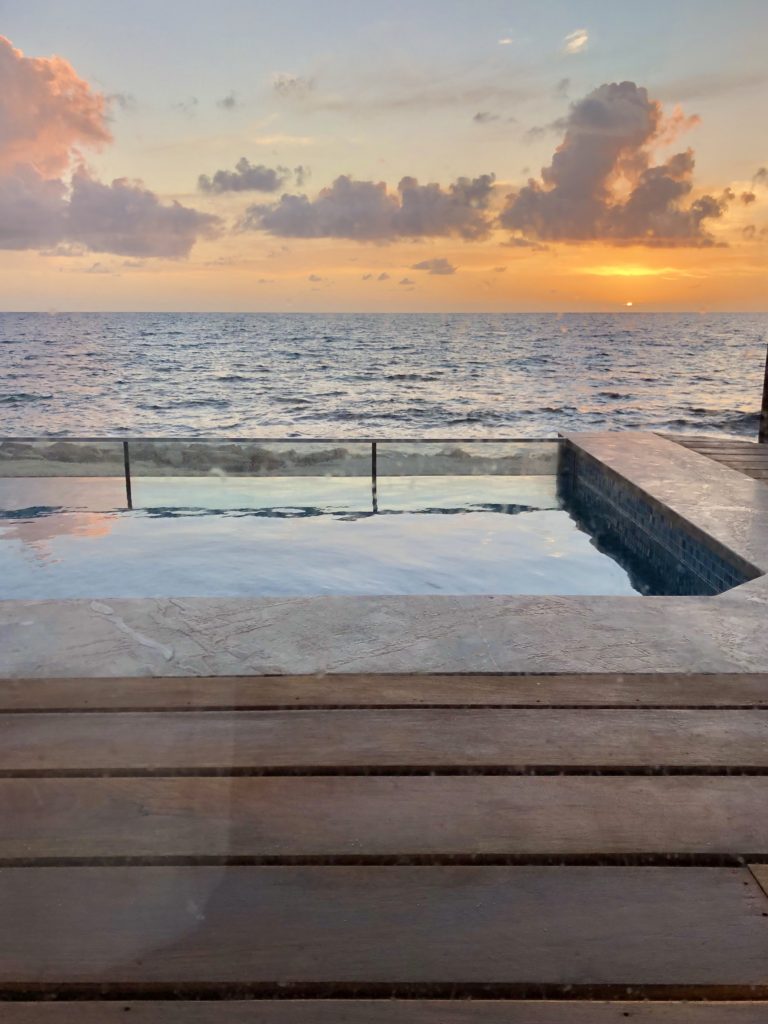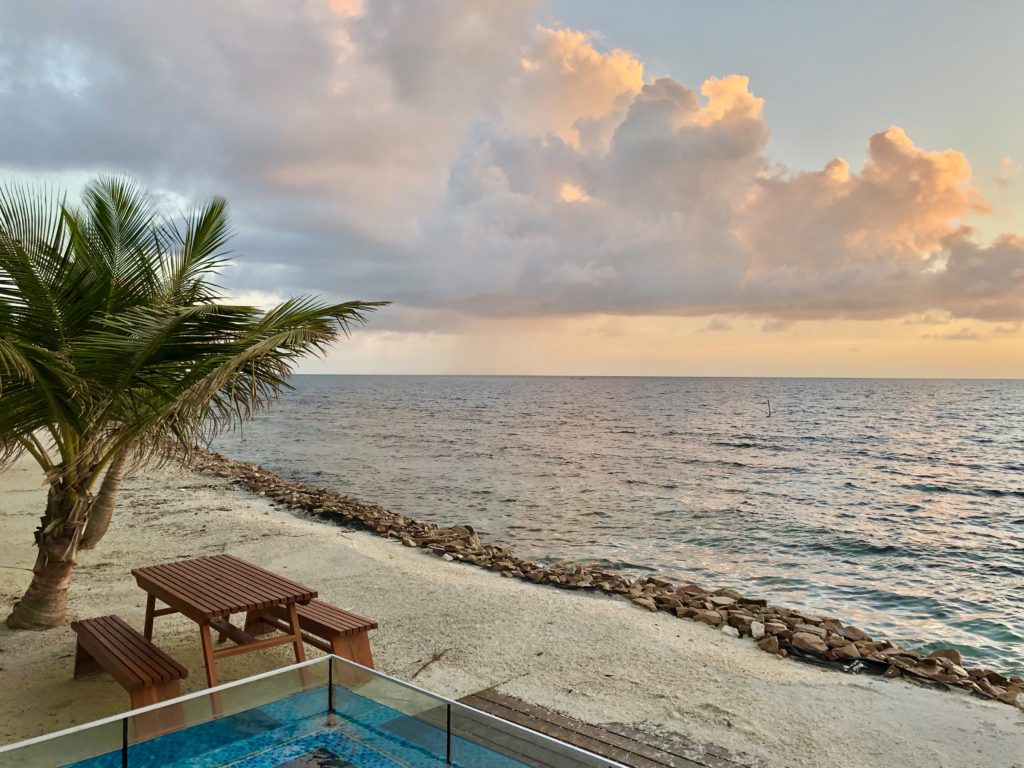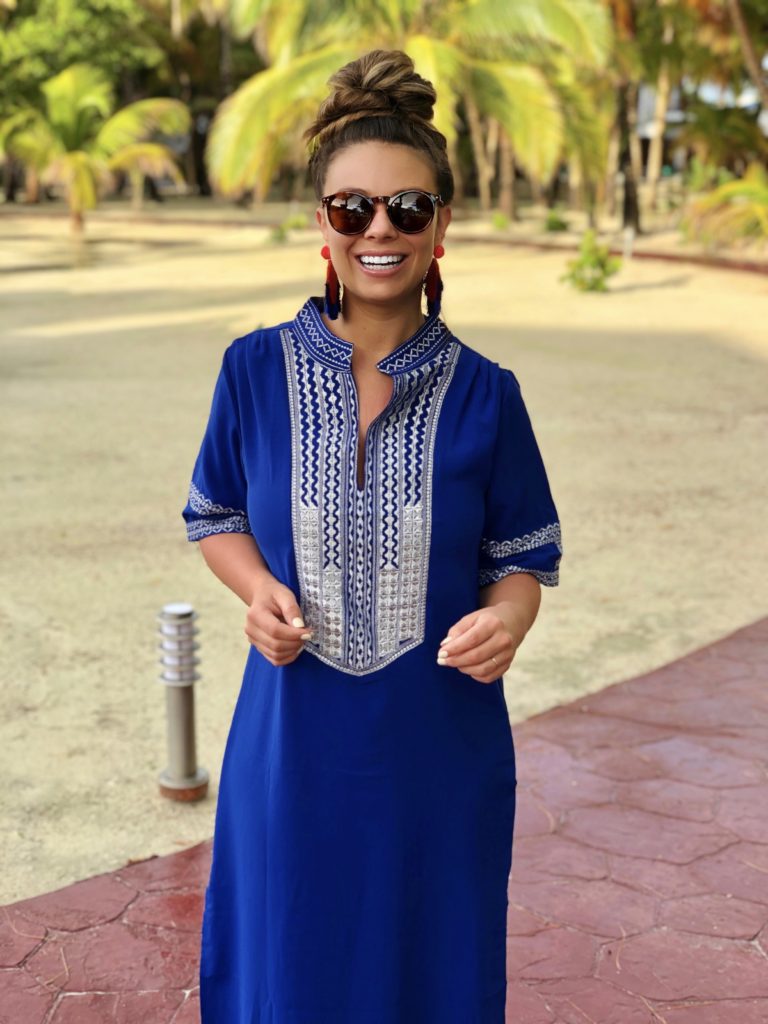 shop the look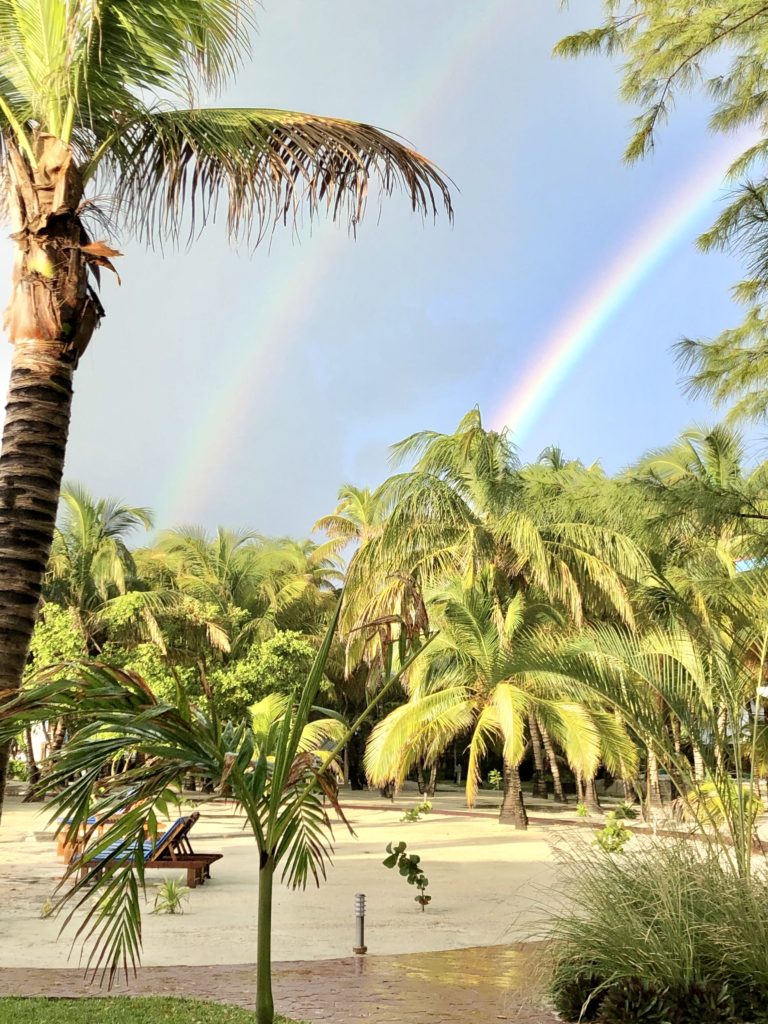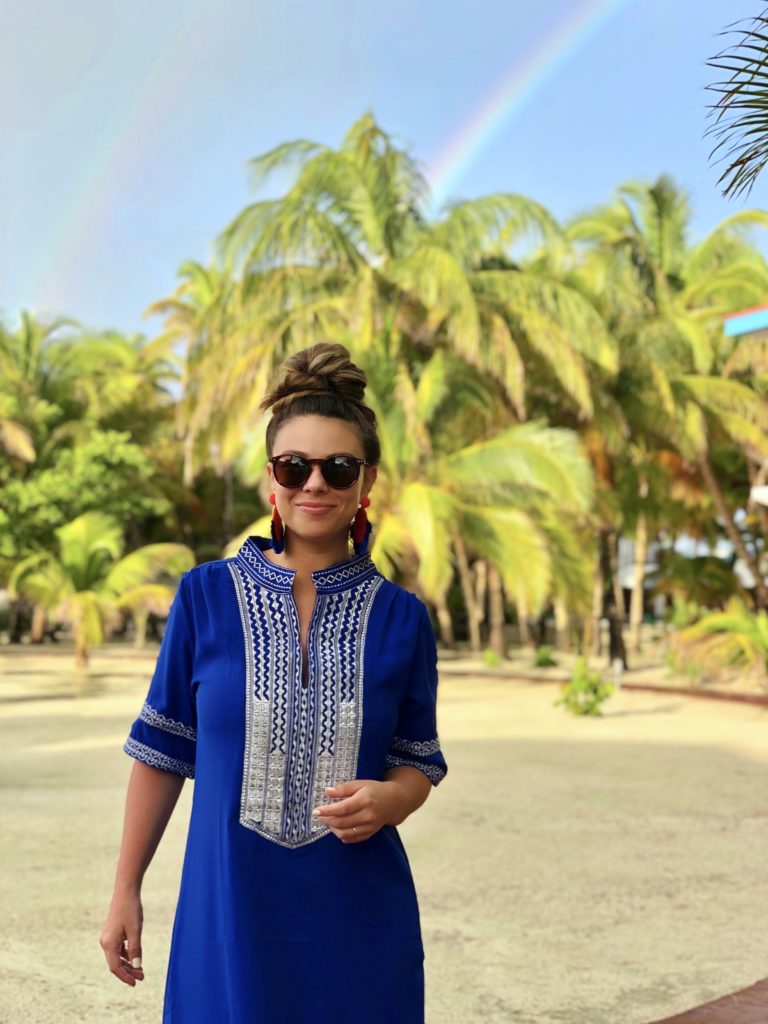 shop the look

The whole vibe and feel of Ray Caye though is truly magical. You feel completely secluded and "away from it all" but have every necessity and luxury right at your finger tips. Its like Castaway, but luxury and with booze.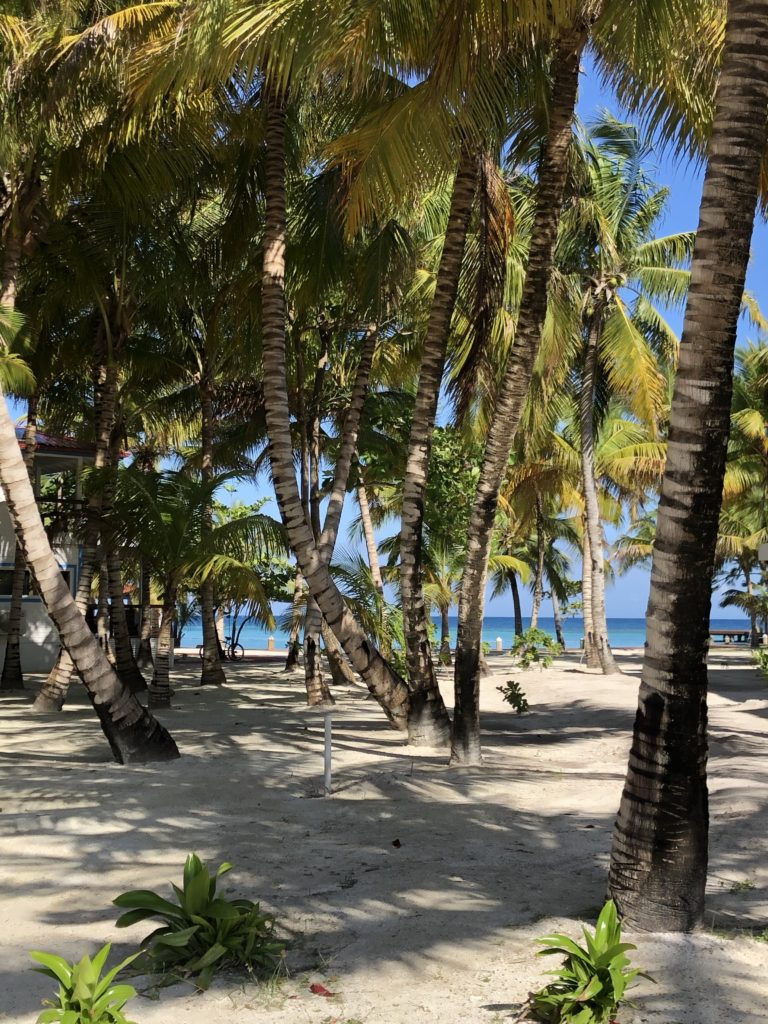 For breakfast that morning I had a ham and avocado breakfast burrito and W had a fruit plate.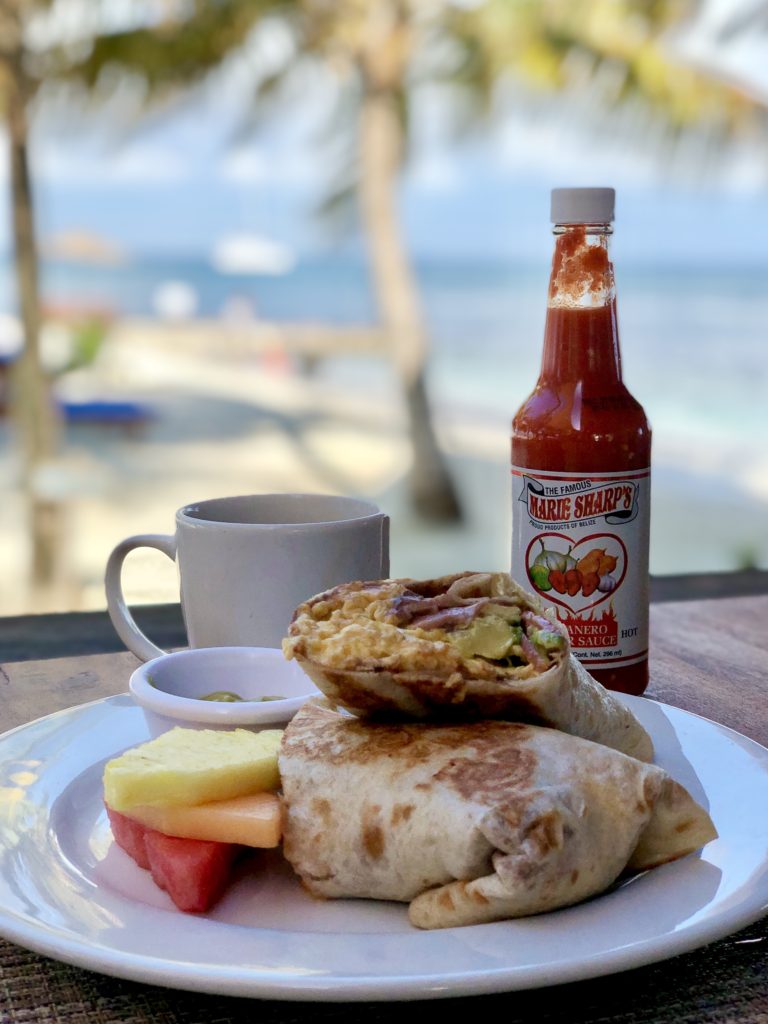 We spent the rest or the morning relaxing at a little beach cove right outside our villa. We nick-named this spot "James Bond Cove" because it looked like Dr. No was filmed there.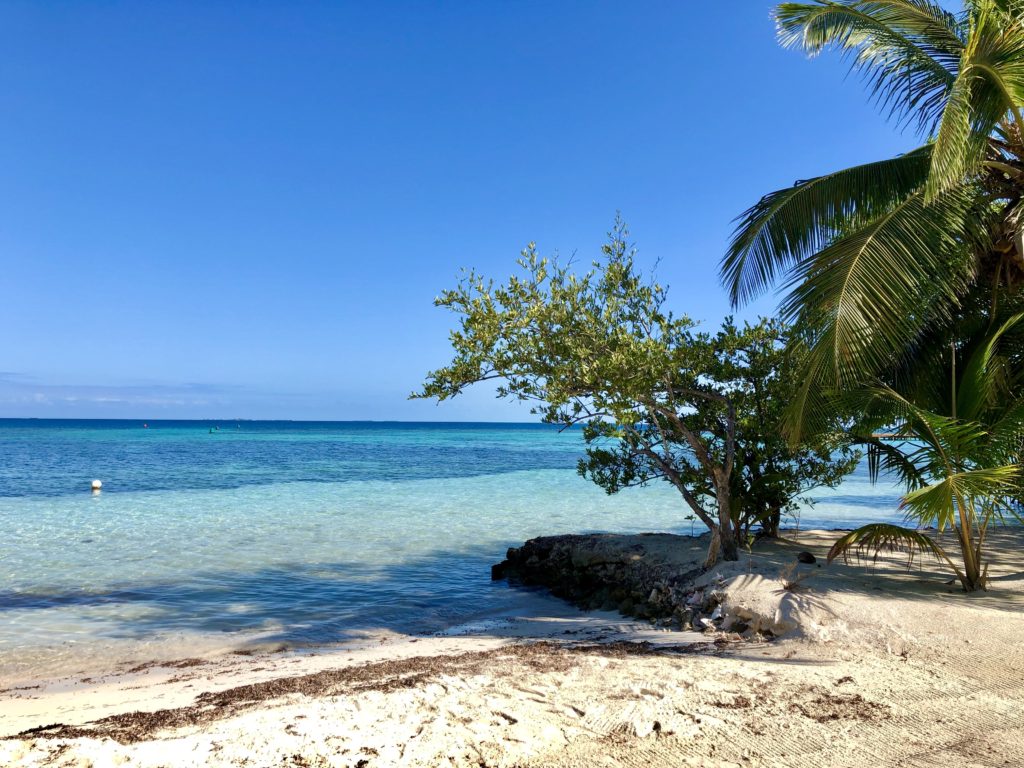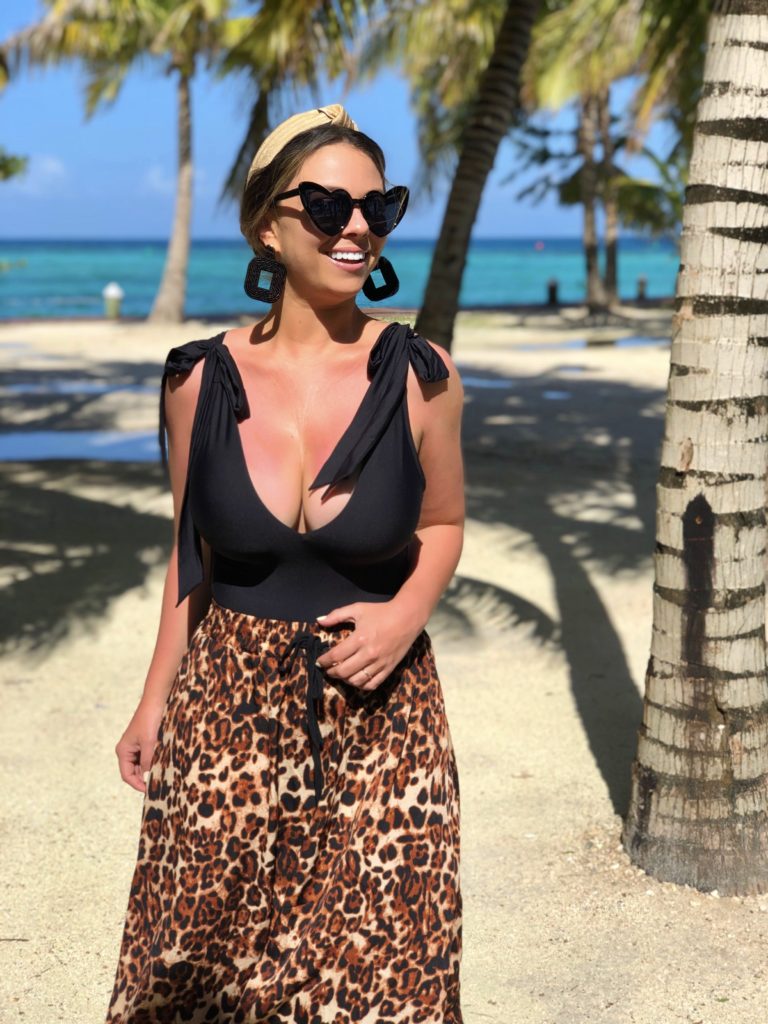 shop the look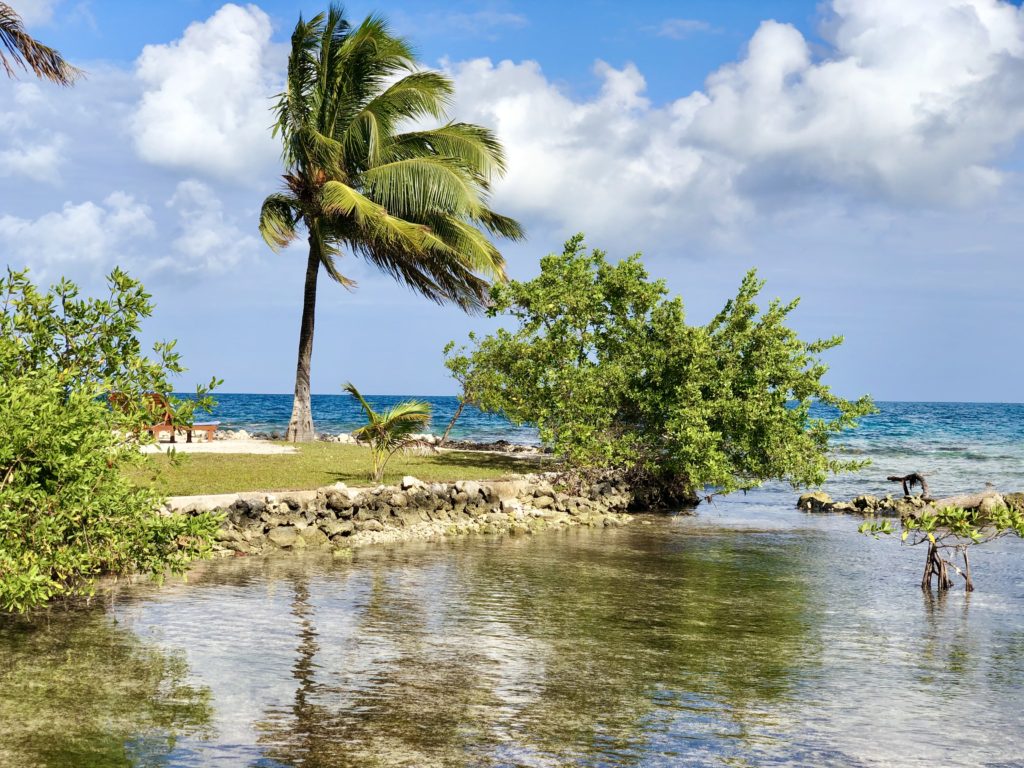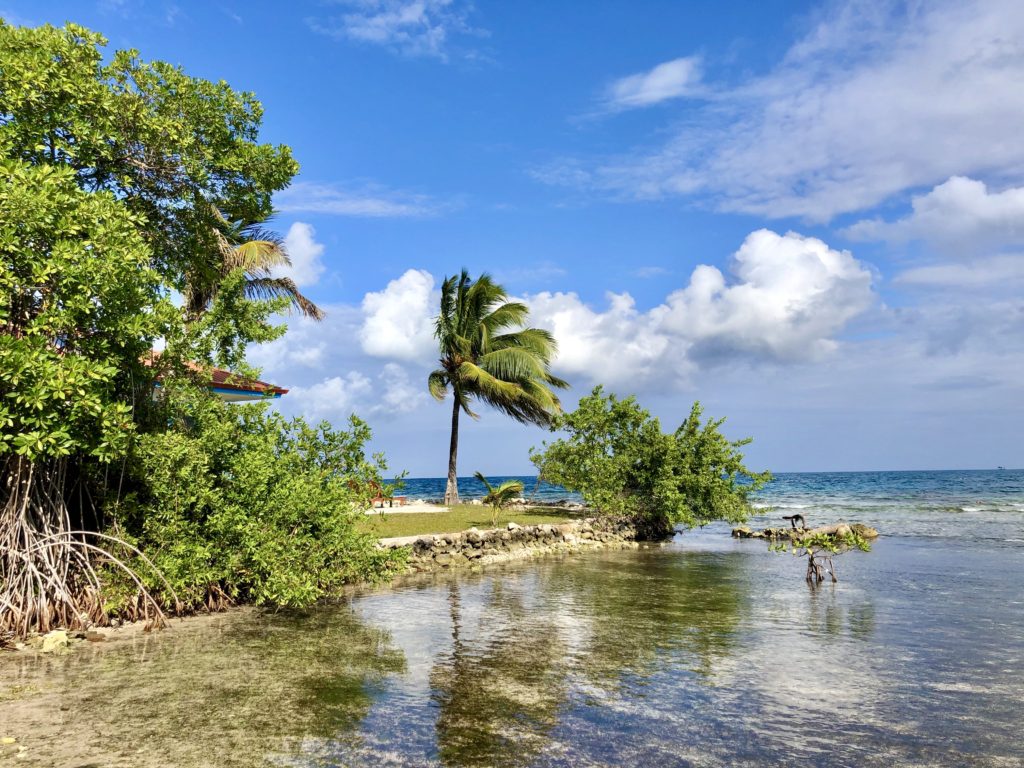 For lunch I had a scrumptious crispy snapper sandwich and W had a fish basket. Both were served with these amazing chips and were simply delicious!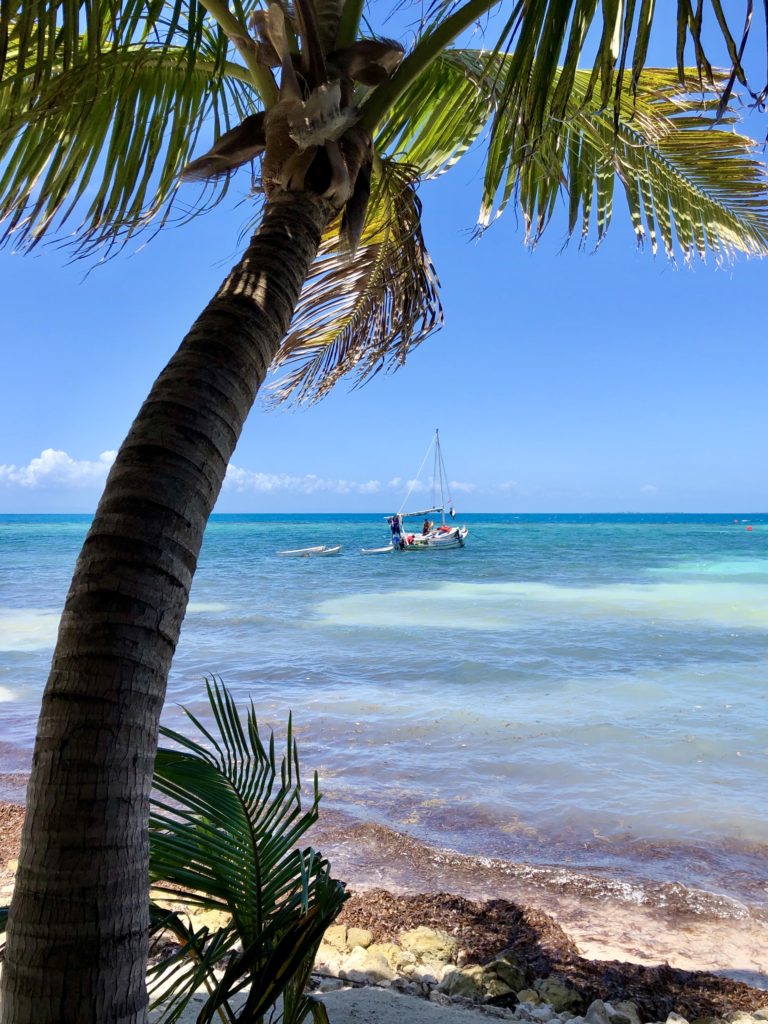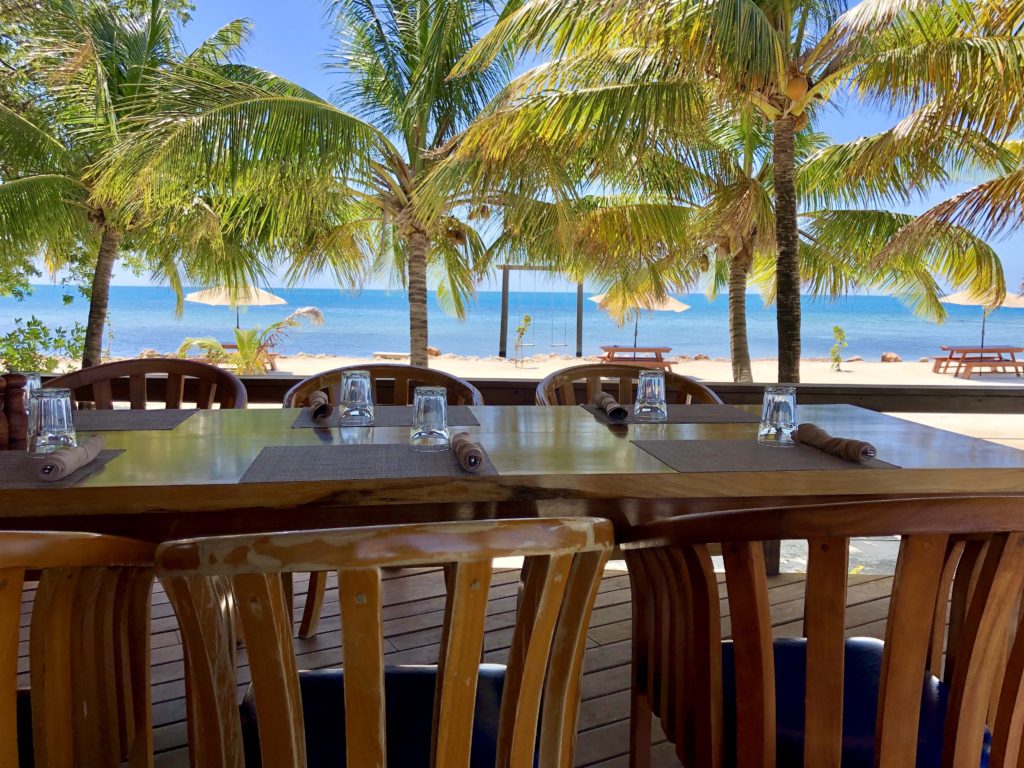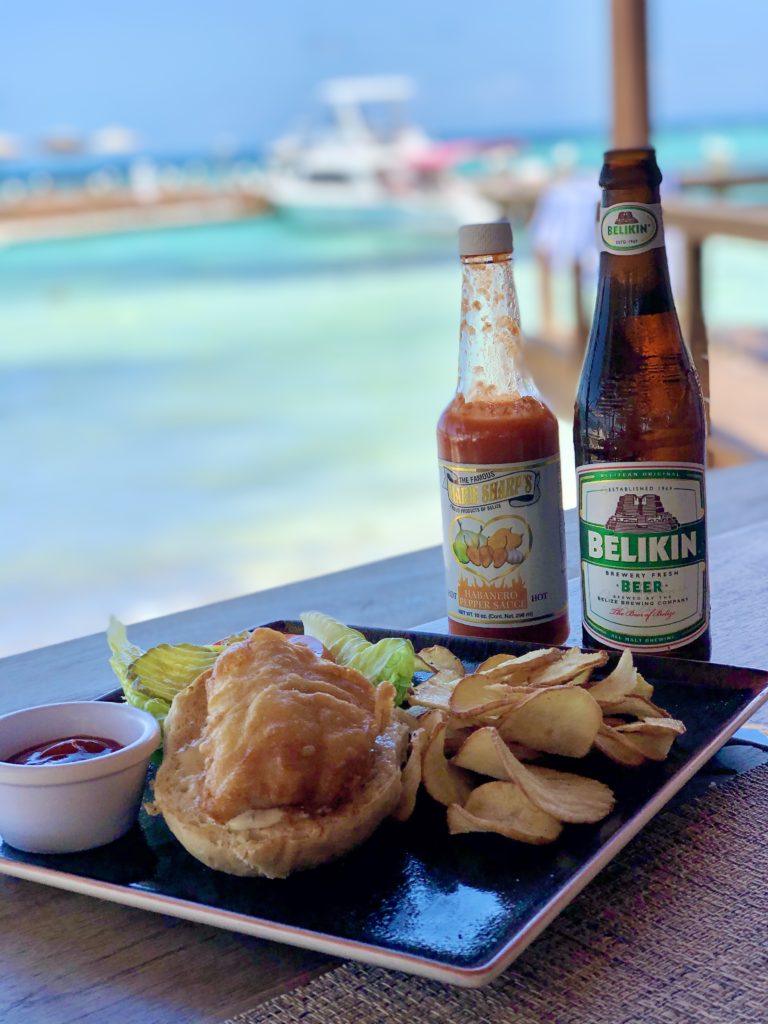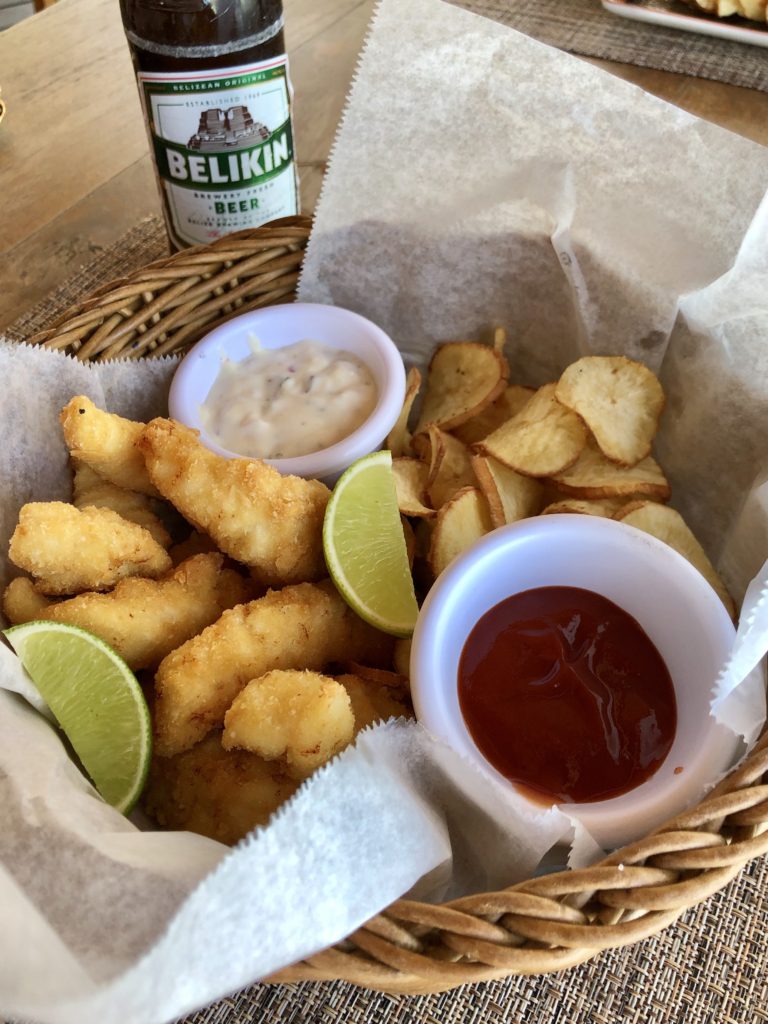 After lunch it was time for our first adventure at Ray Caye– swimming with sharks! We boarded a boat with beers in tow and were off! IT WAS AMAZING! Just a 5 minute boat ride from Ray Caye we swam with sharks, an array of rays and turtles! Turtles, y'all! It was so thrilling and exciting!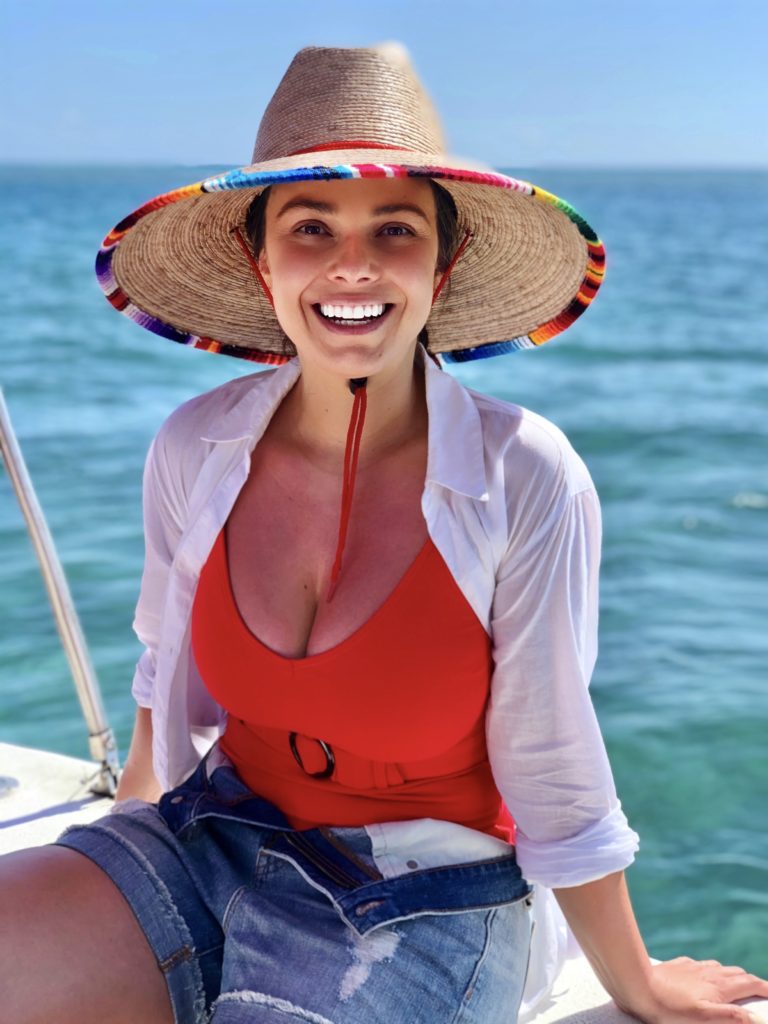 shop the look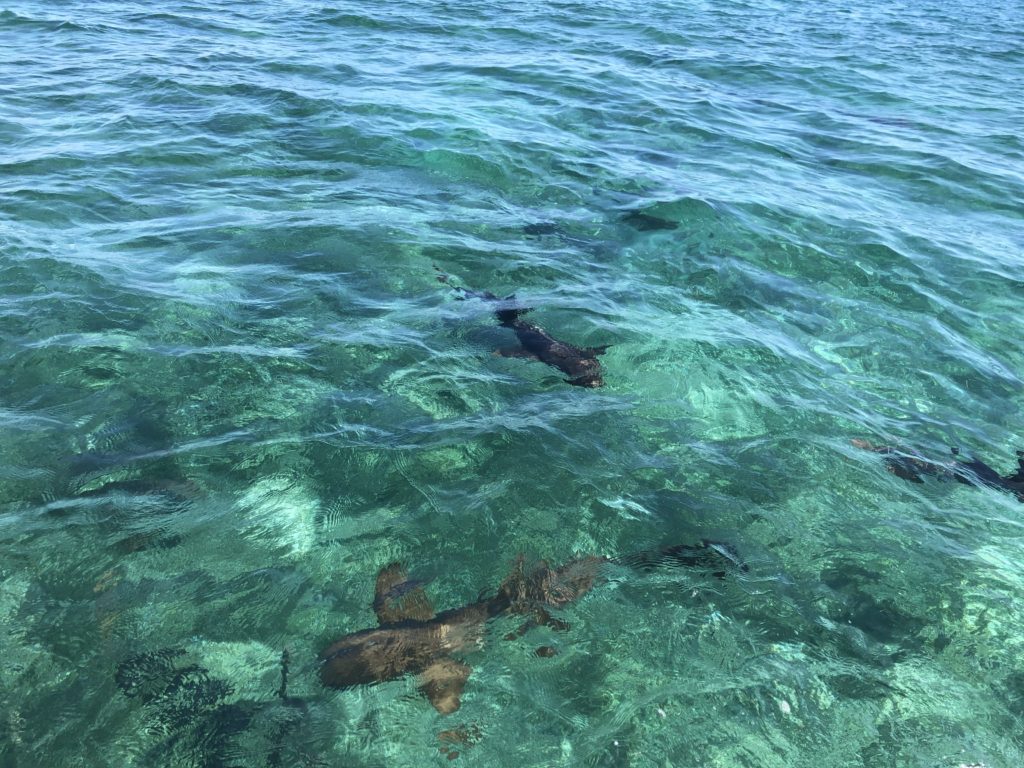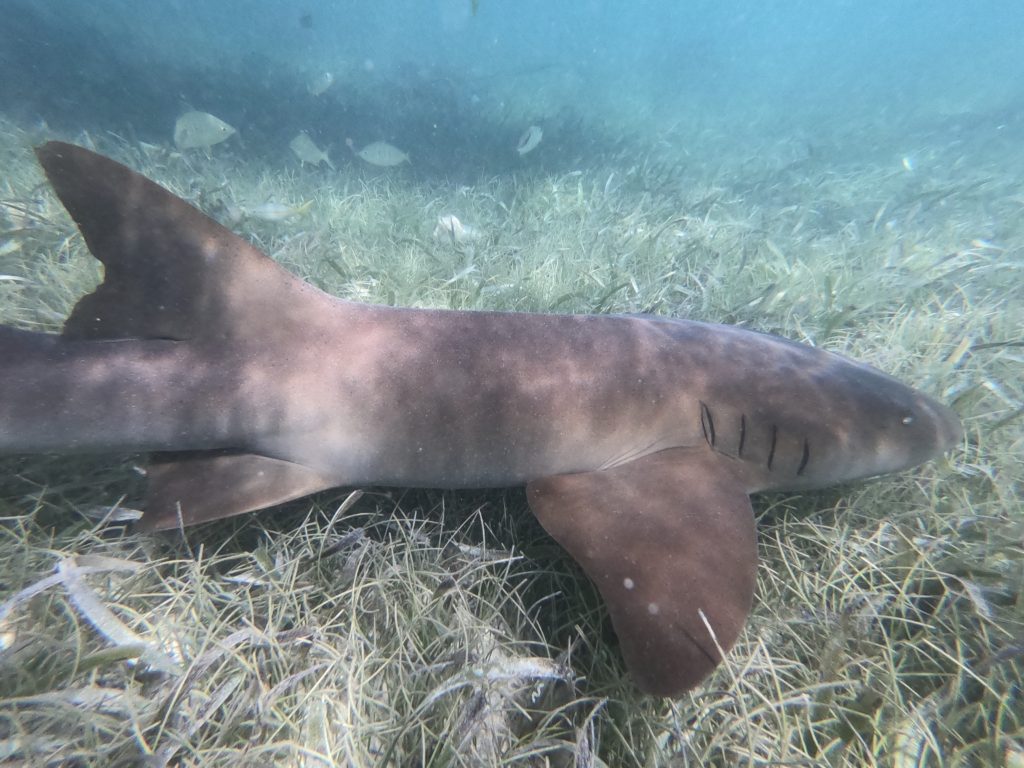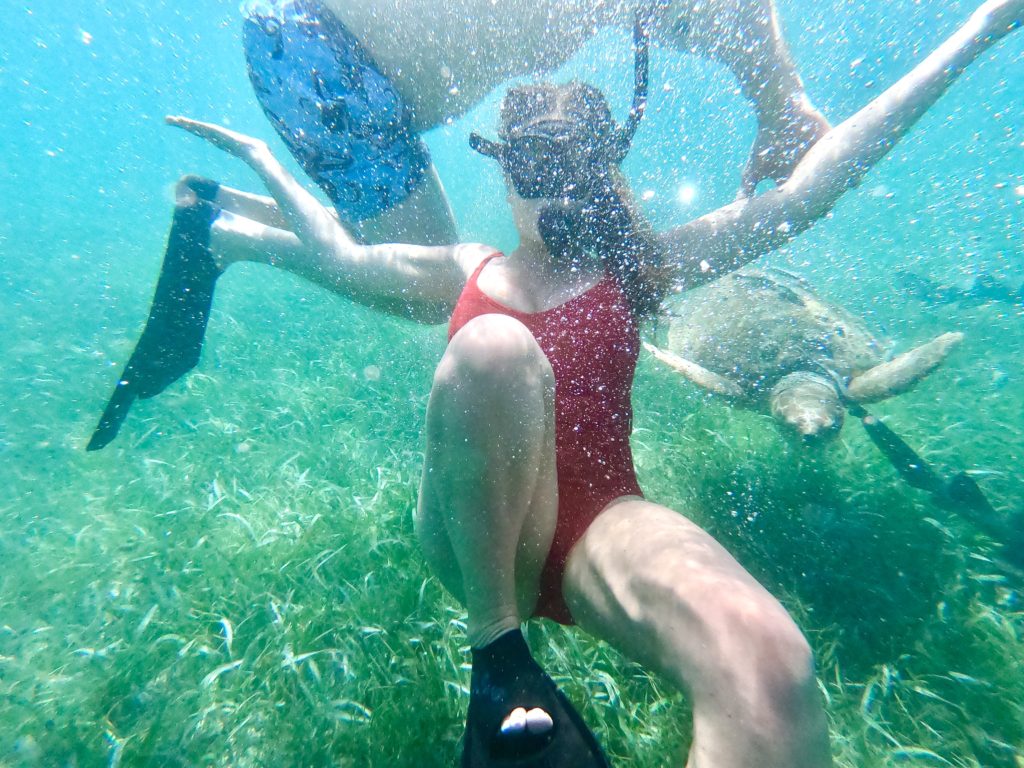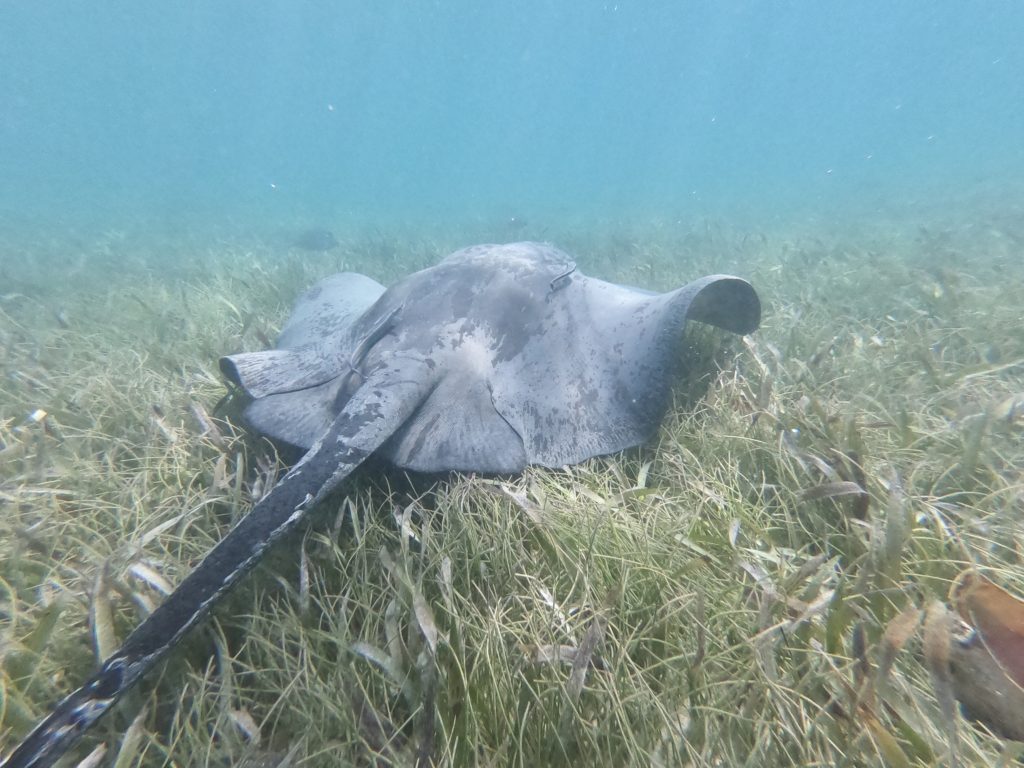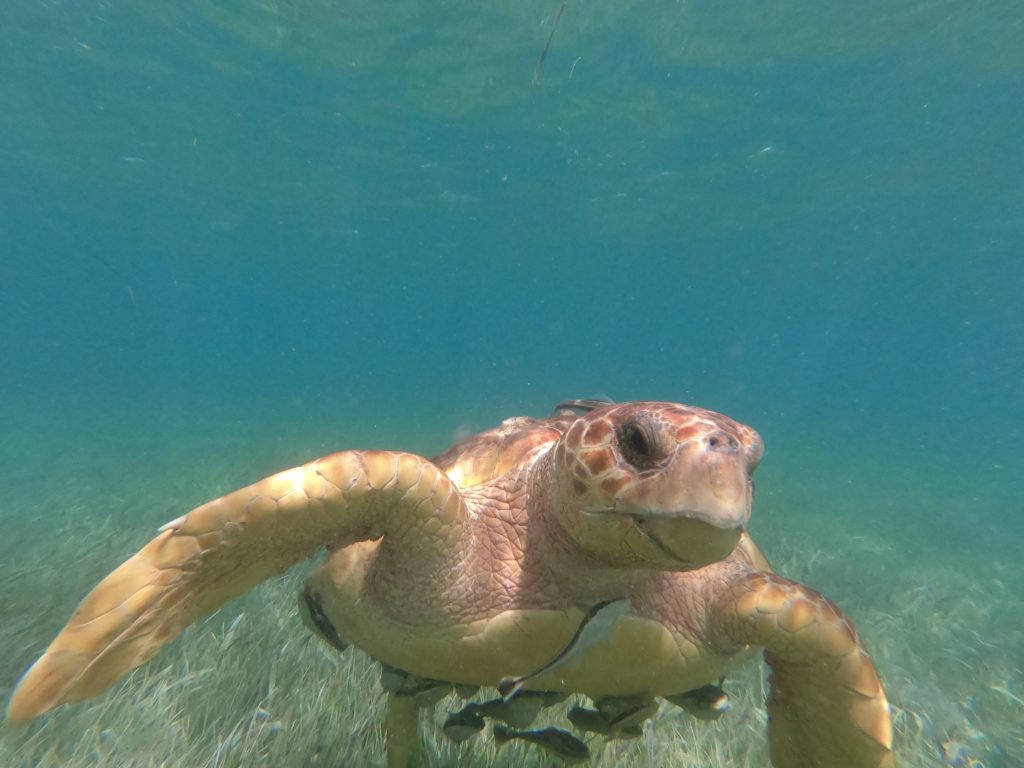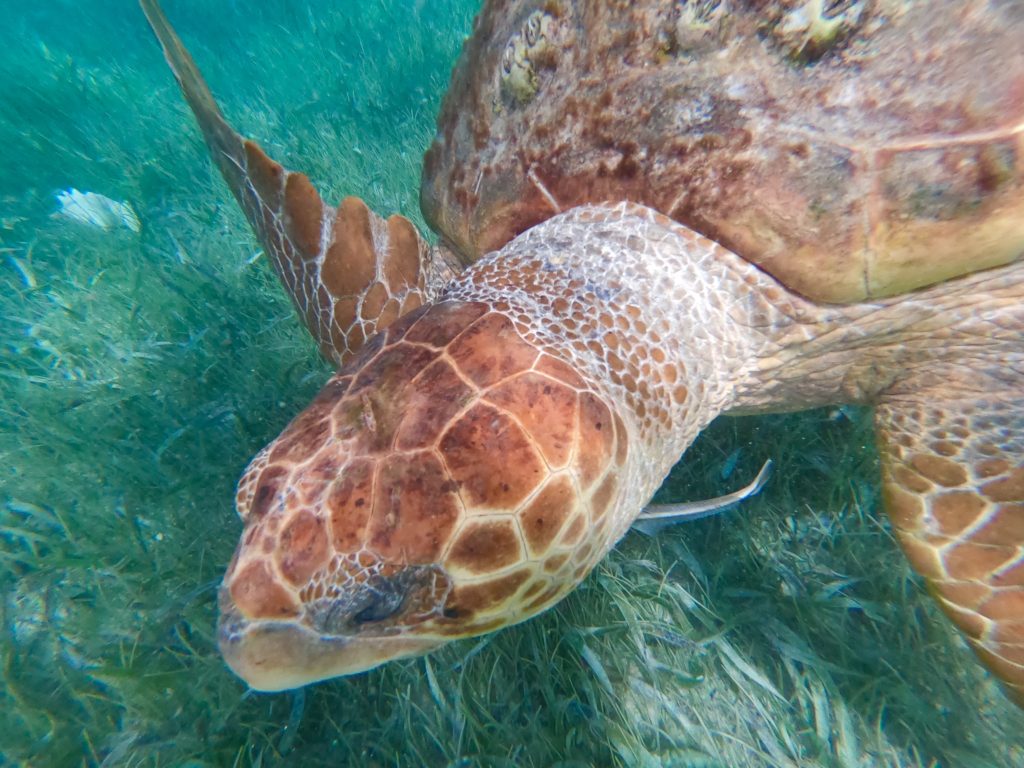 No underwater camera? No problem! Your guide at Ray Caye will bring one and easily share the photos with you via an app. Just another example of how Ray Caye goes above and beyond at every step.
Next we went to Silk Caye. Usually packed with up to 200 tourists, the itty bitty private island was empty! Ray Caye plans their tours around other tours so their guests get a private experience. The island was beautiful and we snorkeled around it seeing jelly fish, star fish, sea cucumbers and a wide array of colorful fish and coral. The whole adventure was an amazing experience.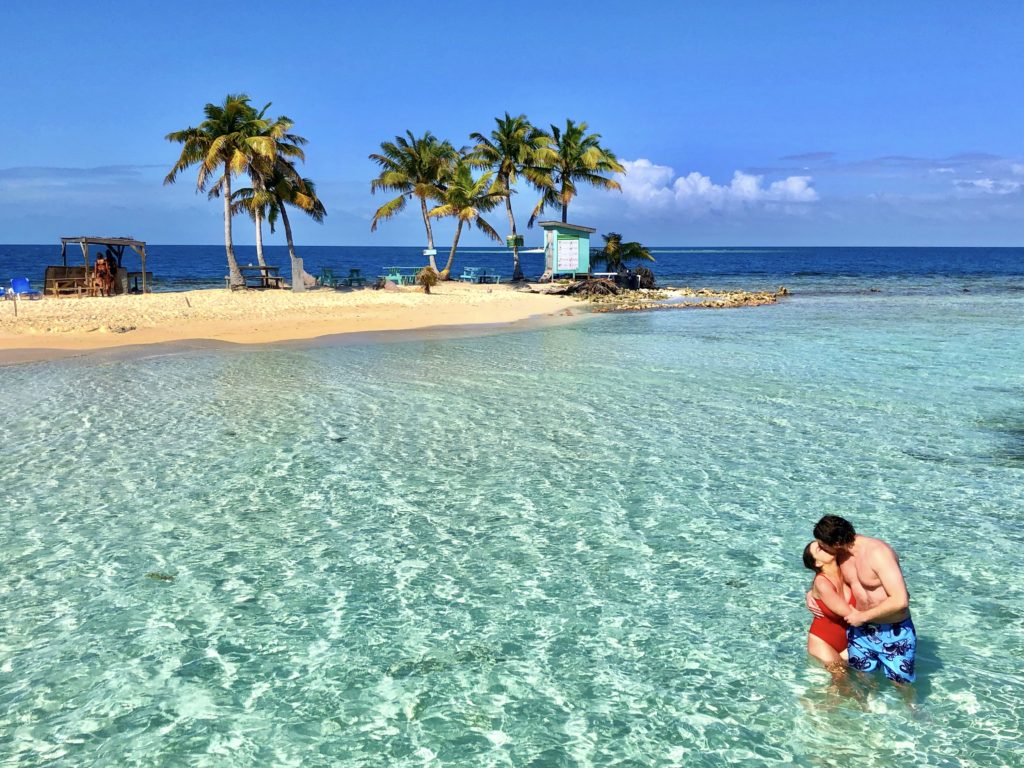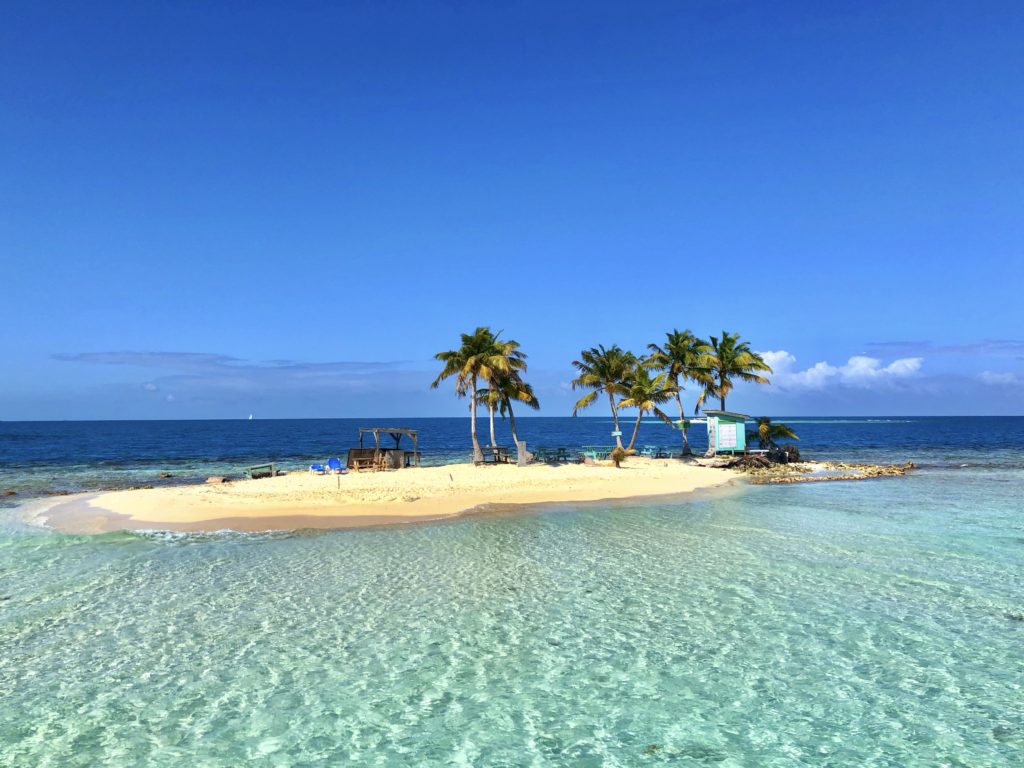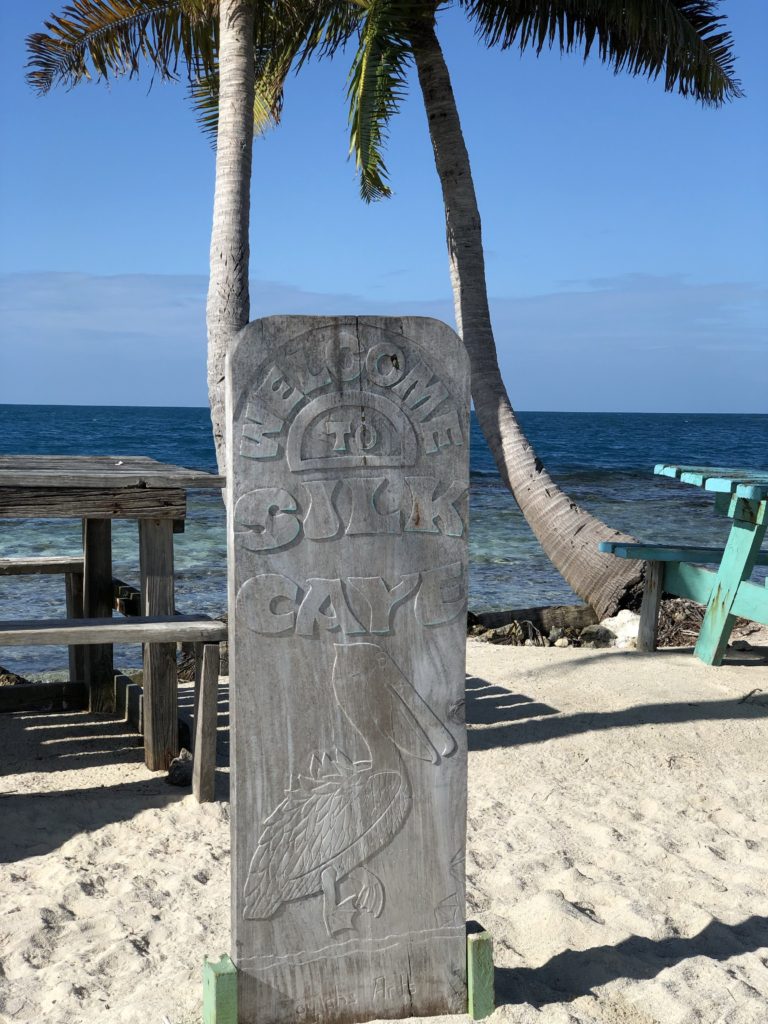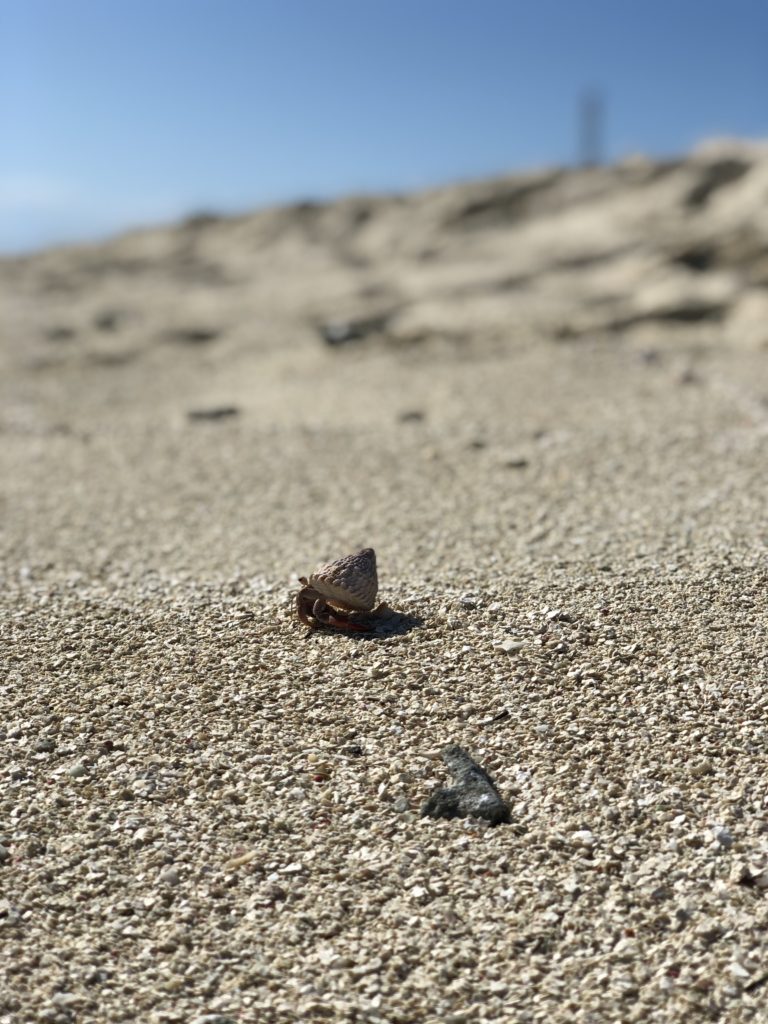 Once back at the resort we had cocktails at the bar with one of the guests we had become friendly with.
For dinner that night we were in for another treat. We both started with the shrimp cocktail which was INSANE! So good! I had the duck, and W the seafood risotto. Both scrumptious! The third entree option that evening was ribs. It was such a challenge every night making our selections because everything sounded so good! And I had frozen key lime pie for dessert.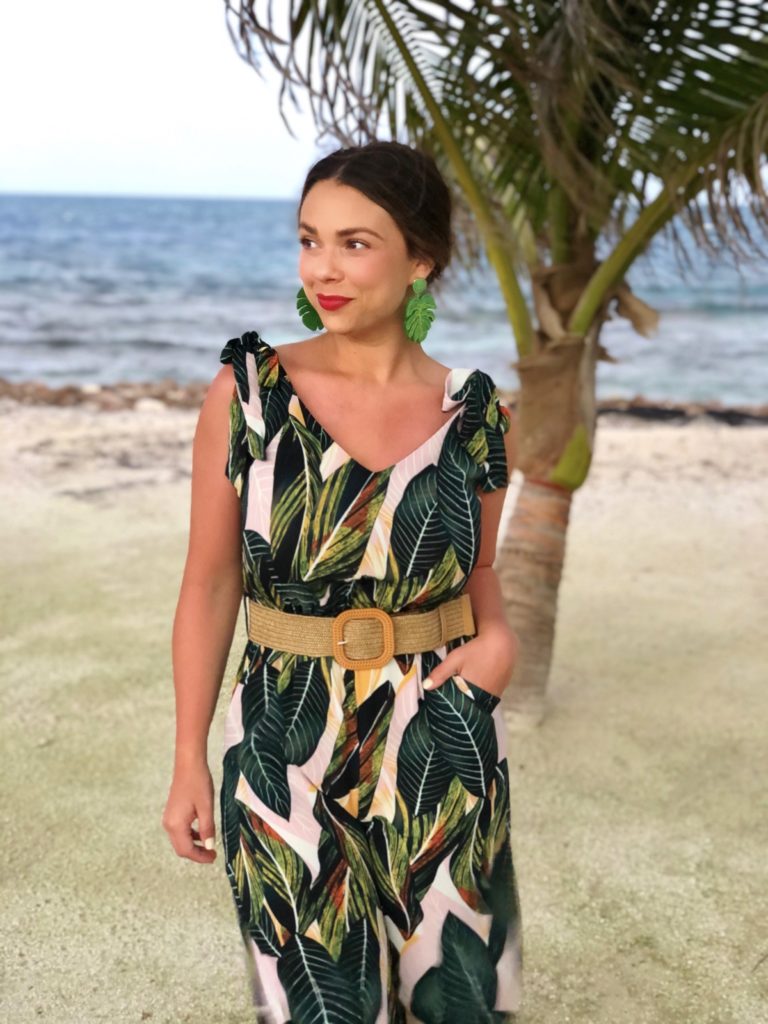 shop the look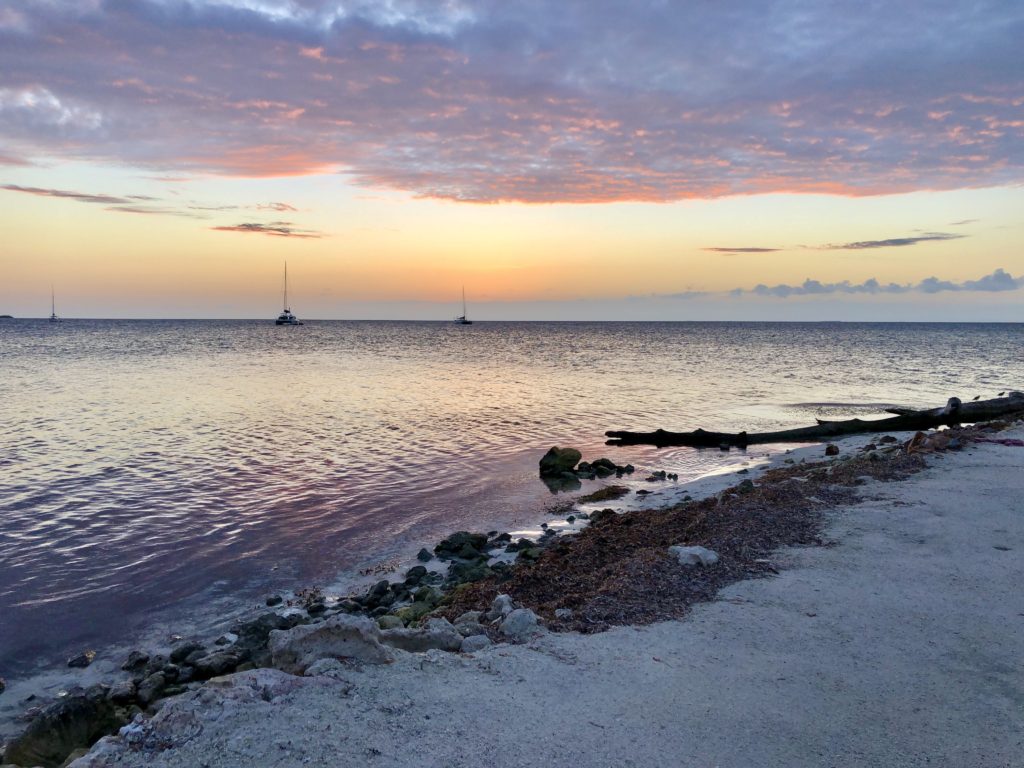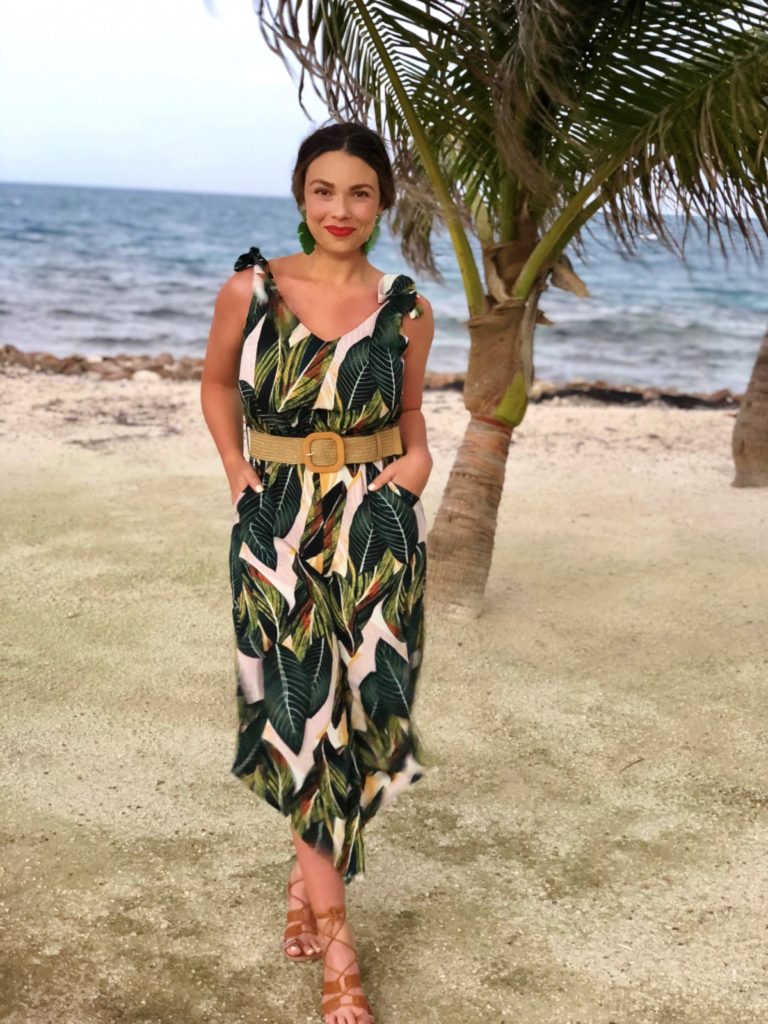 shop the look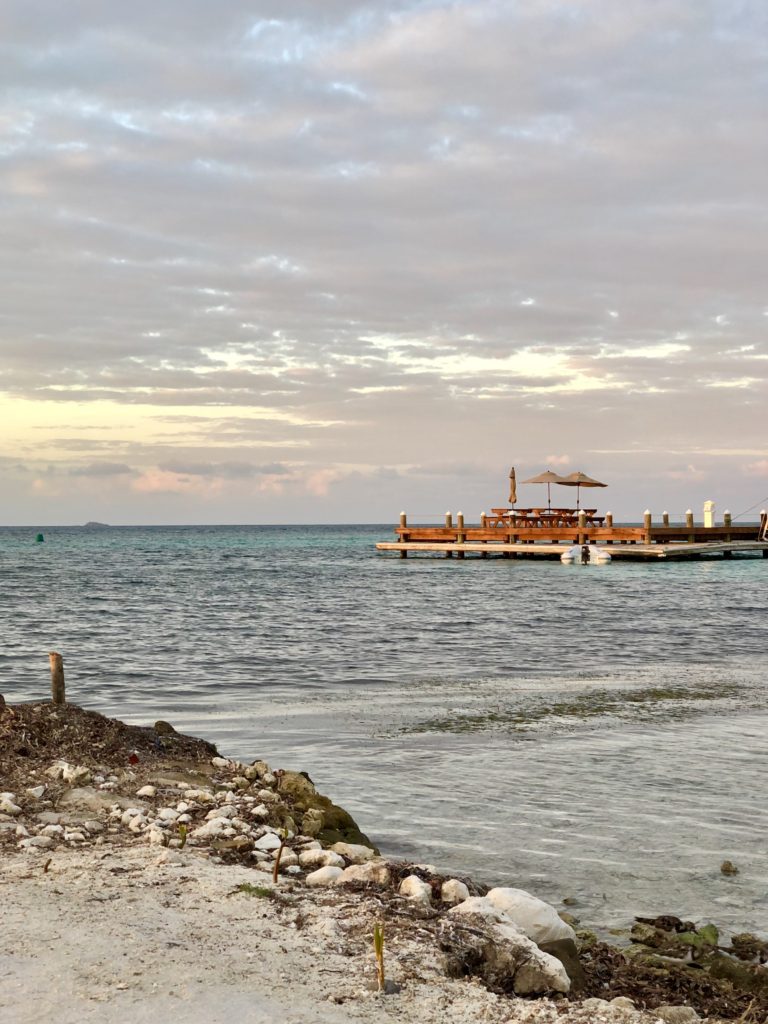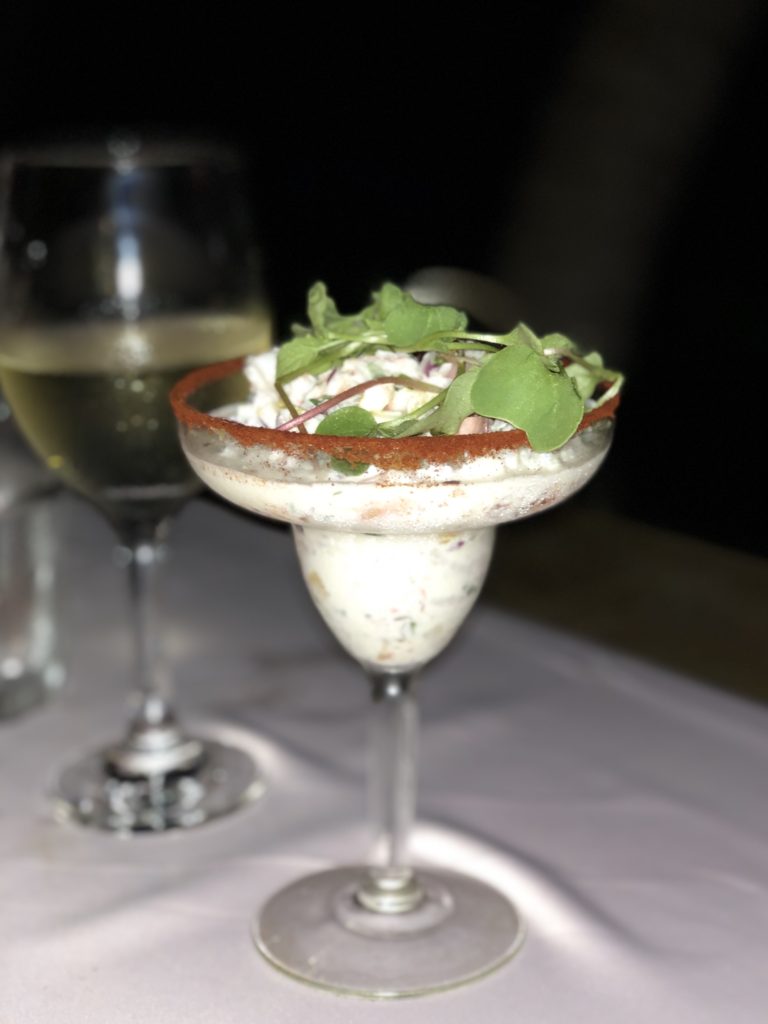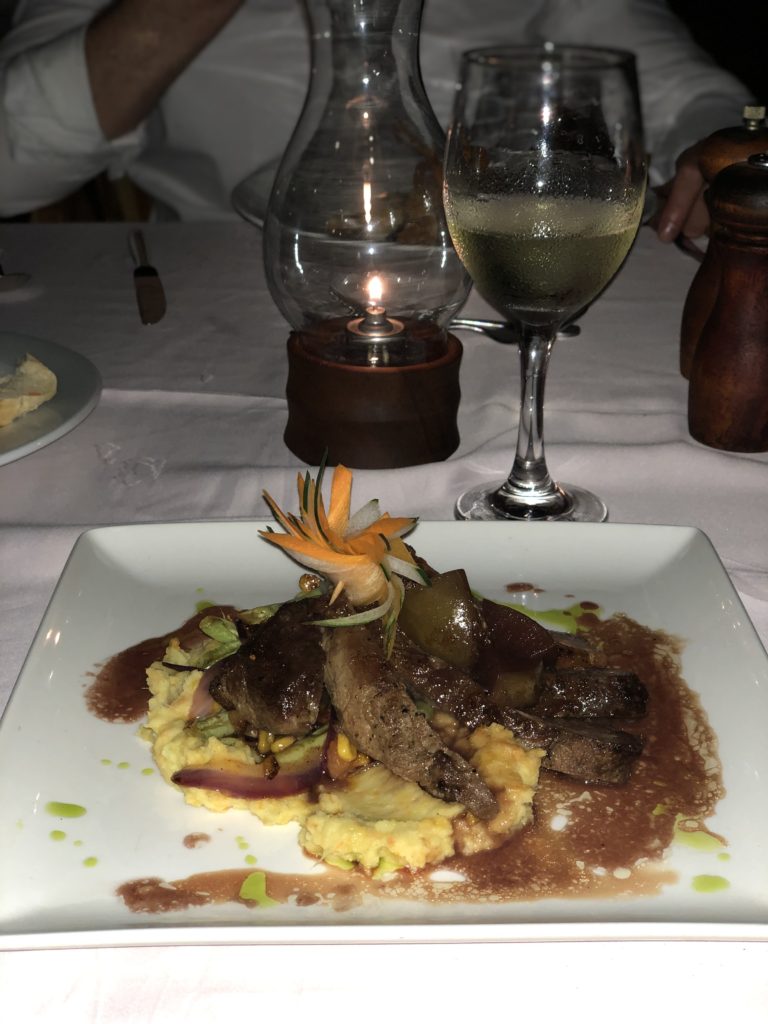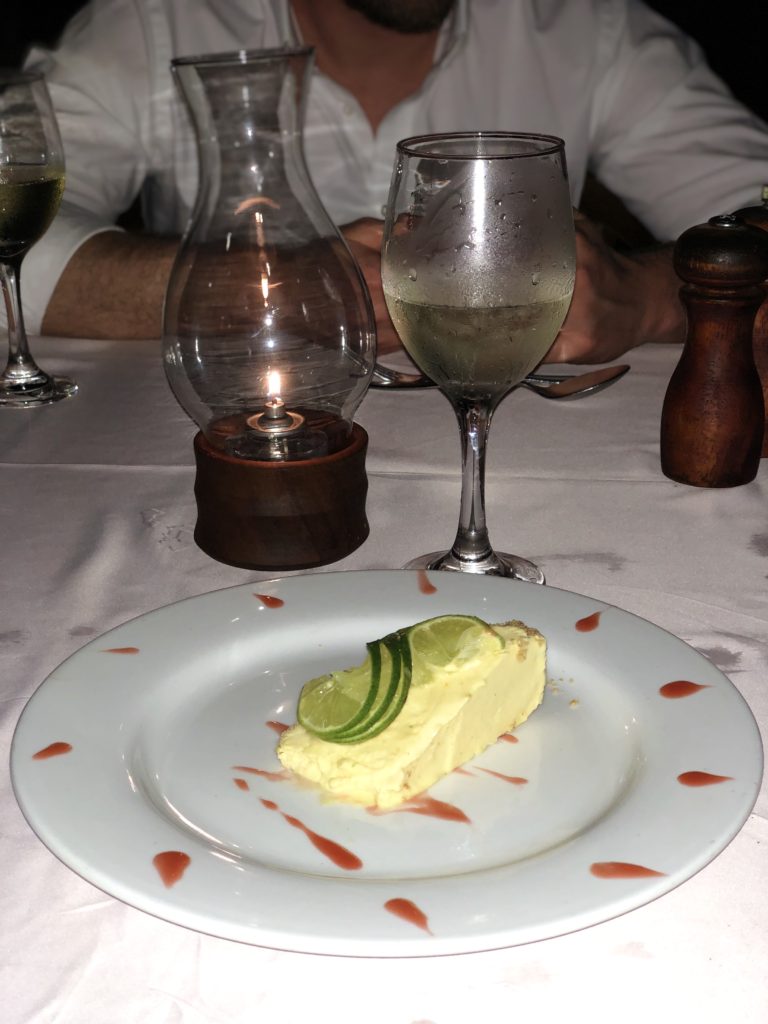 Full and happy, we checked out the rays under the black light, which had become our nightly routine and we were off to bed.
The next morning we were up with the sun and off to fish! I was so excited to go fishing! Our captain, William, and guide Elroy, who were also with us on our tour the day before, gave us the perfect fishing experience. We sipped on Belizean beer and caught so many fish- snappers, barracudas, mackerels and a yellow jack! Us not exactly being fishing pros, William and Elroy were so helpful and made the experience extra special.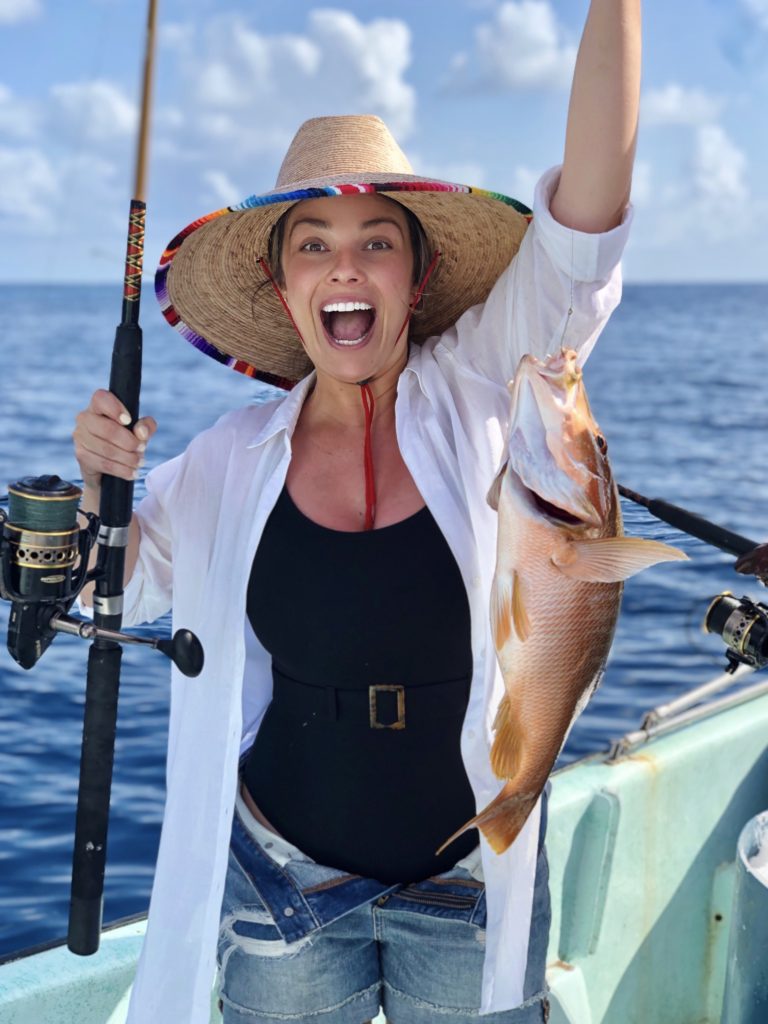 shop the look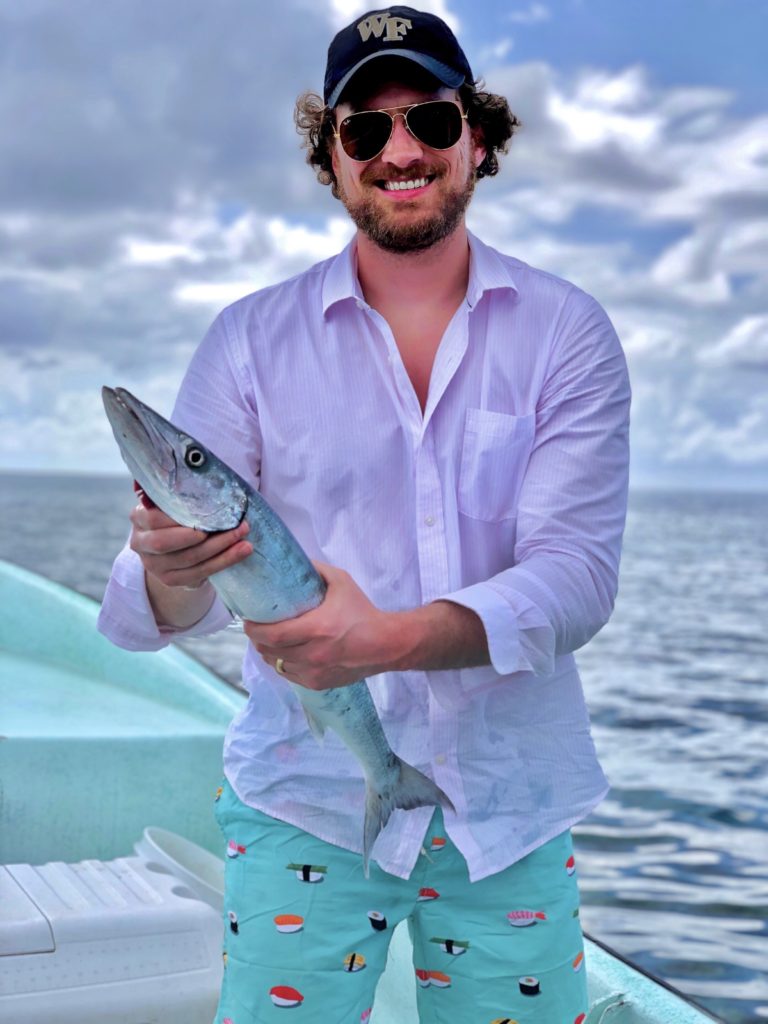 shop the look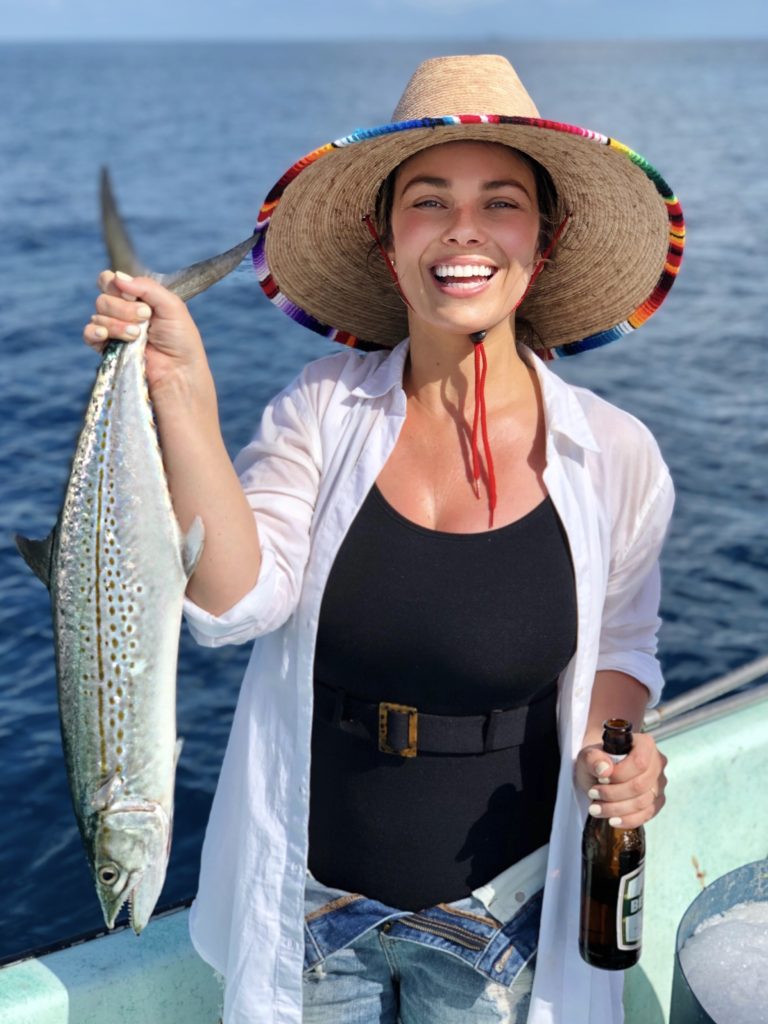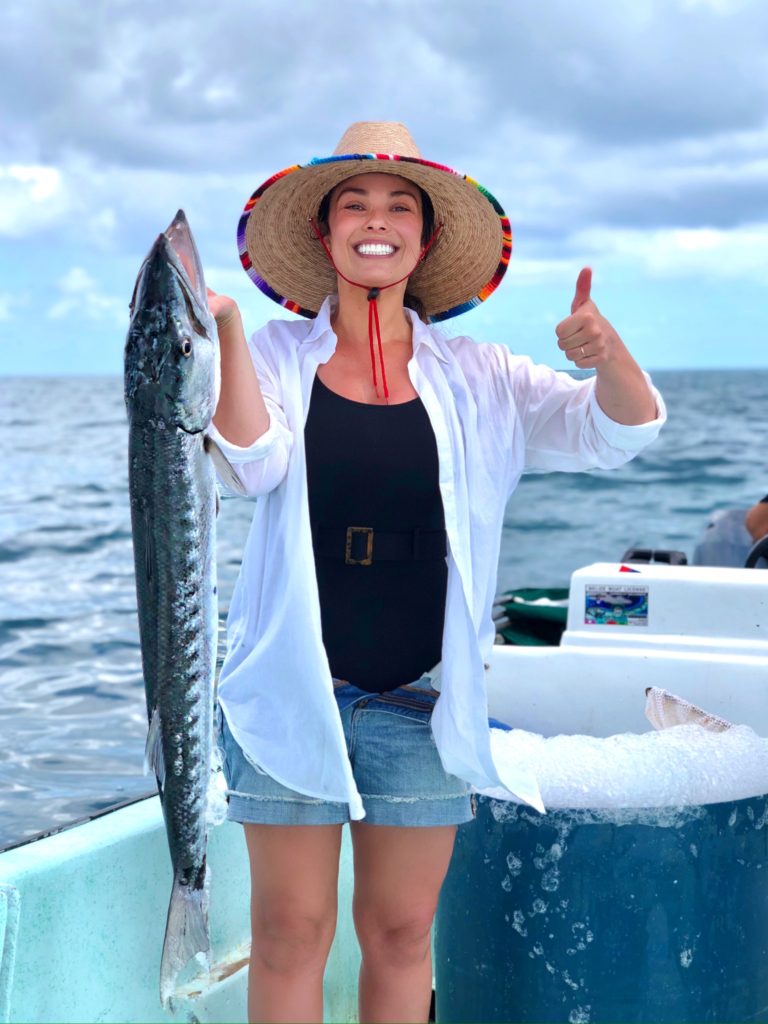 We returned to Ray Caye with enough fish for the remainder of our stay AND fish left over for William and Elroy! They cleaned our fish while we freshened up.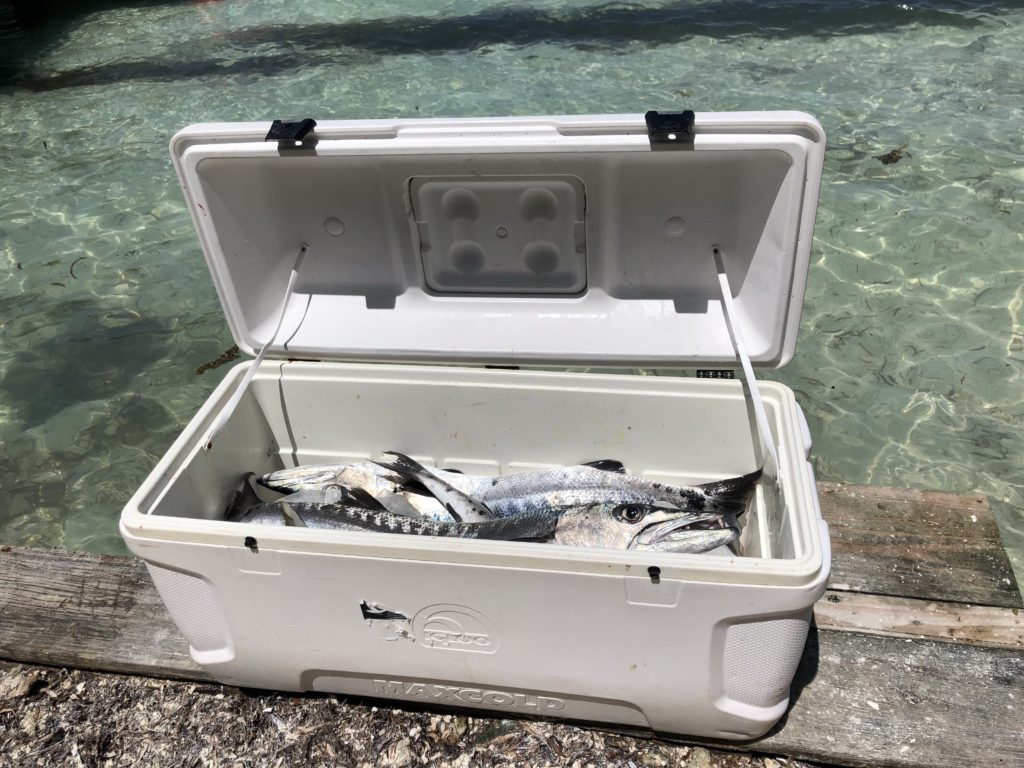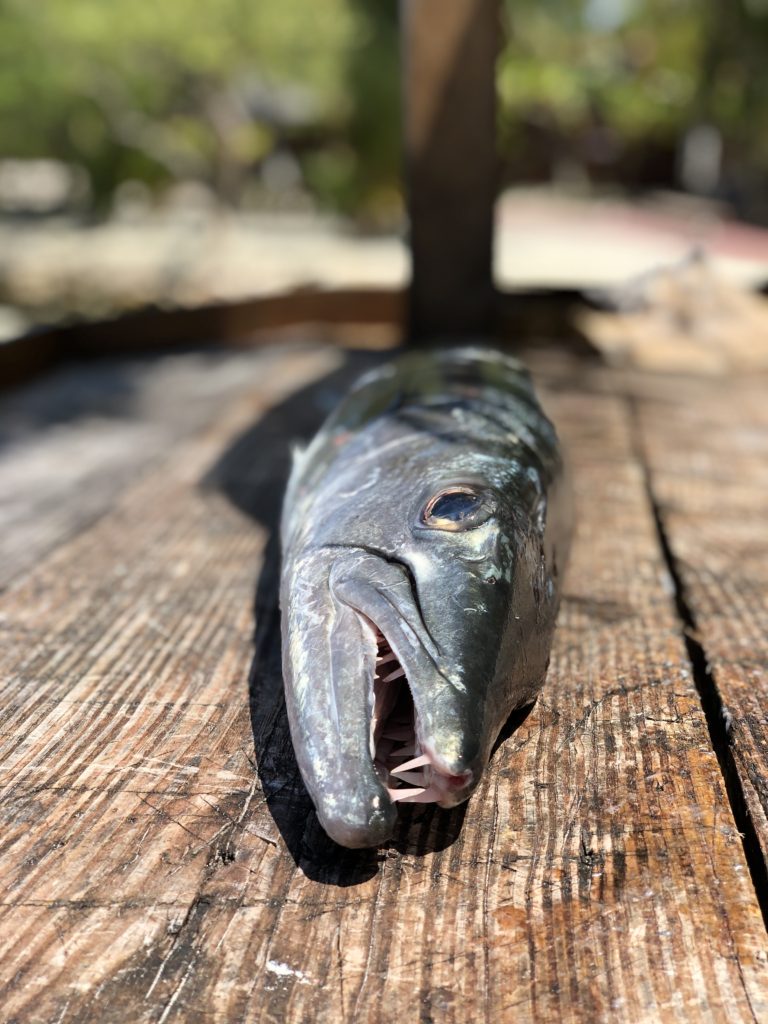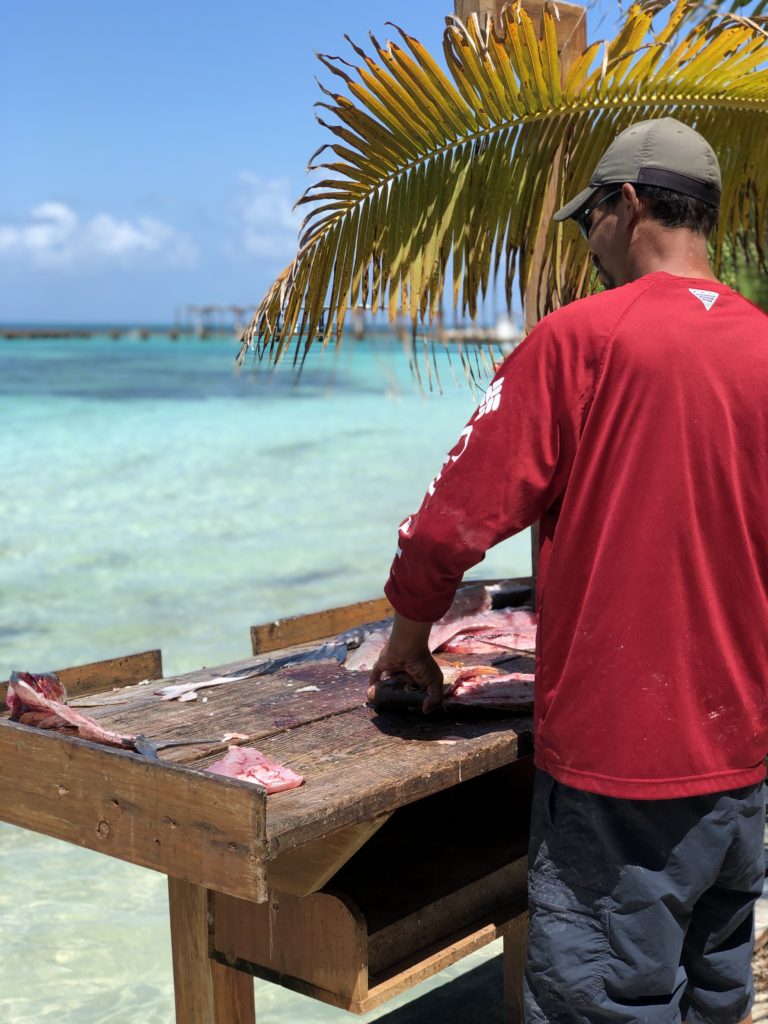 After working up quite an appetite we had lunch at Lionfish Grill where the chef prepared the fish we had just caught! Talk about fresh! We had blacked and fried barracuda (OMG! It was so good!) and barracuda tacos. It was all so tasty and made even tastier knowing we had really worked for our supper.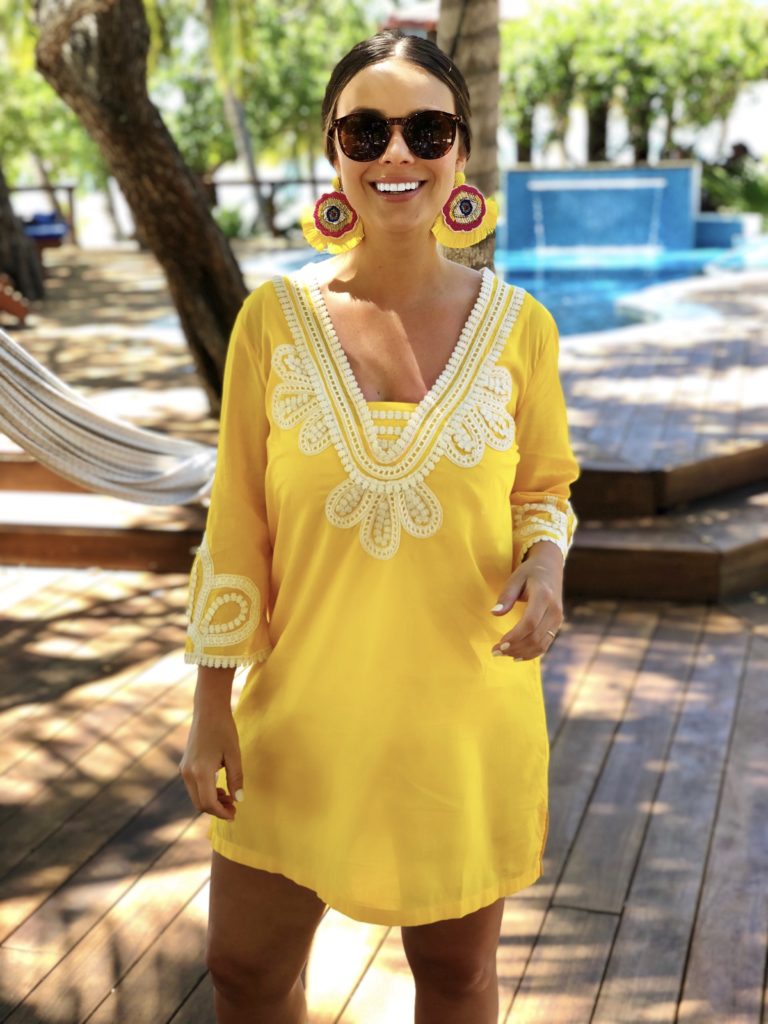 shop the look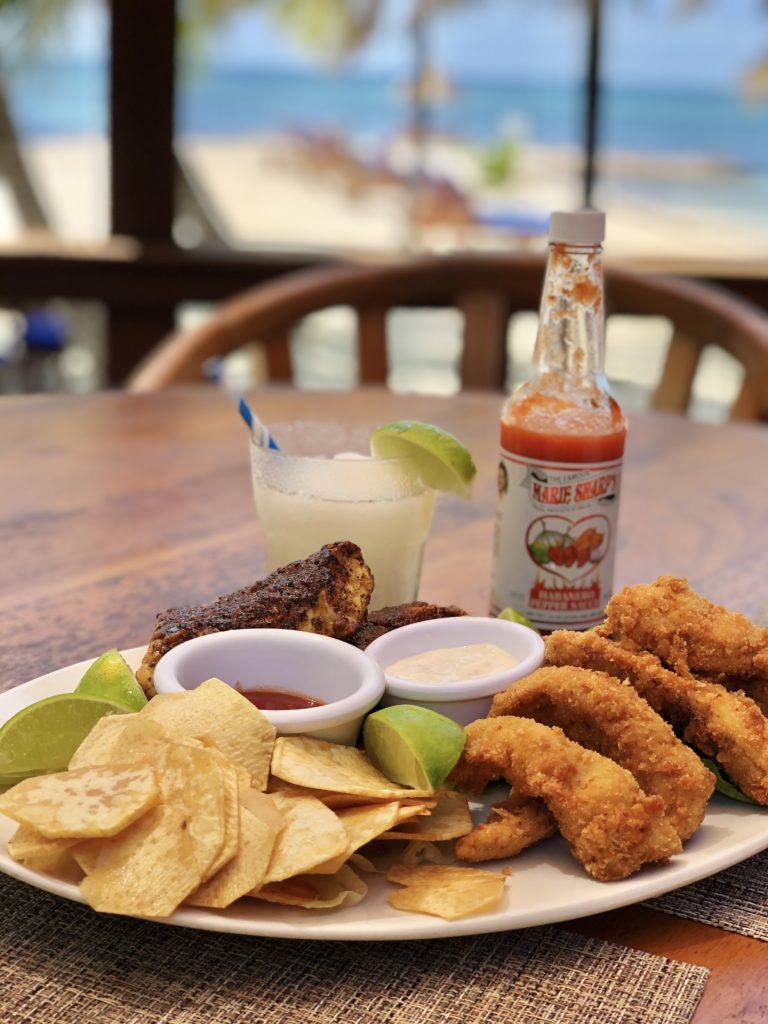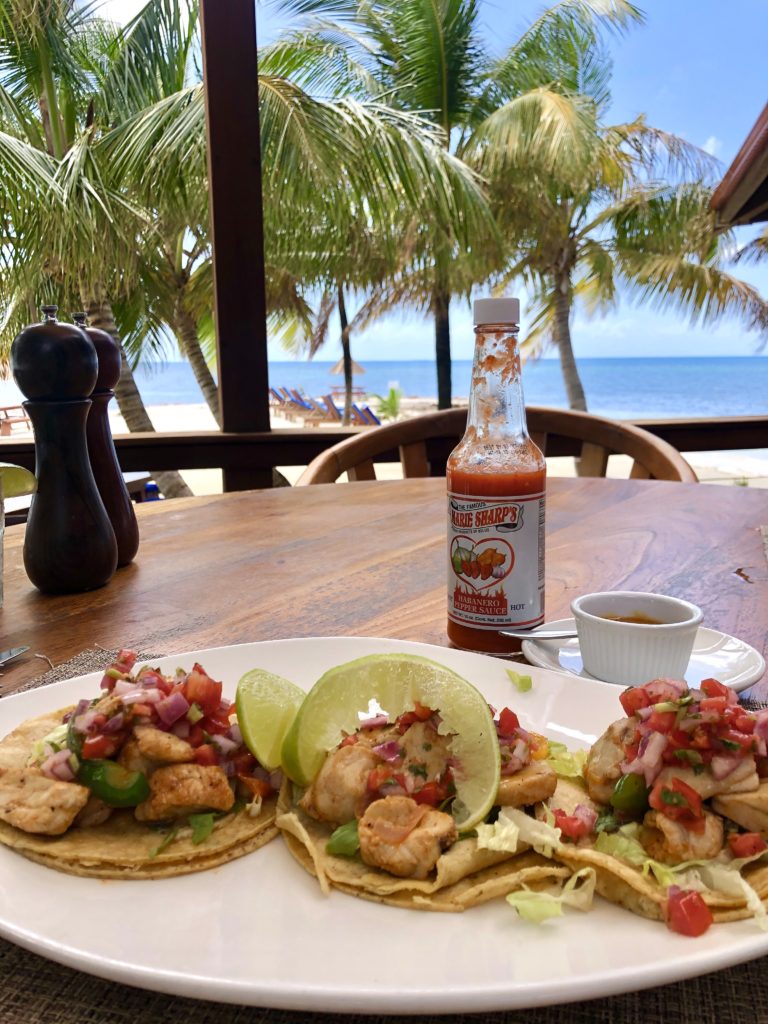 We spent the remainder of the afternoon relaxing on our deck and in our plunge pool. It was a perfect day.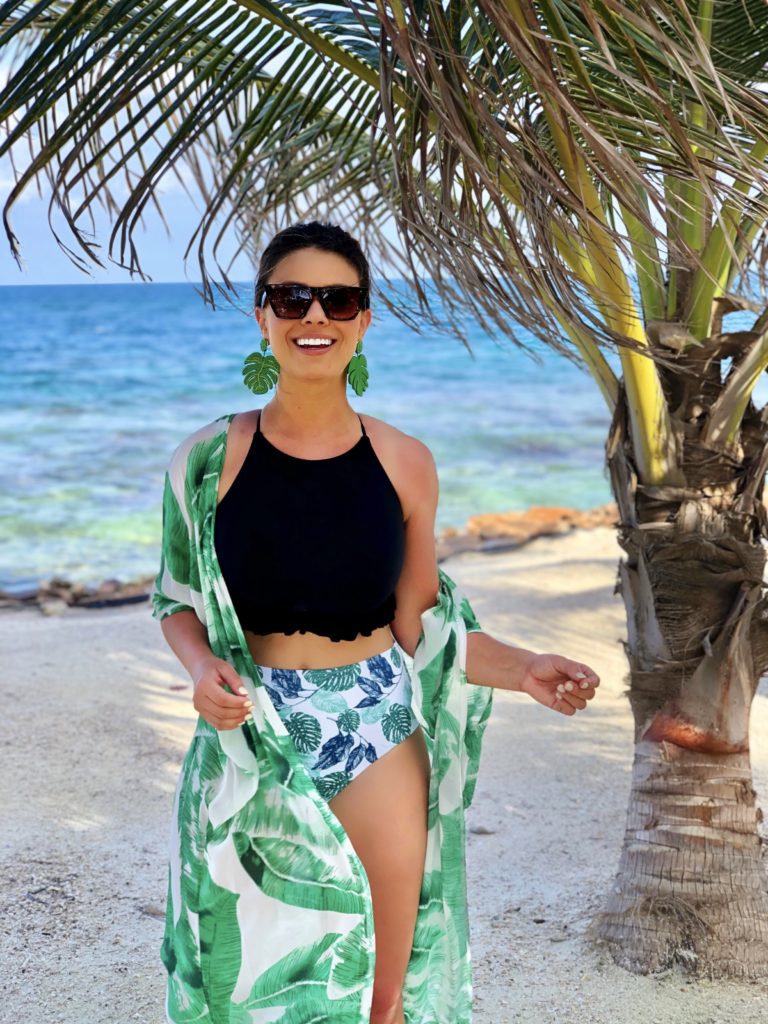 shop the look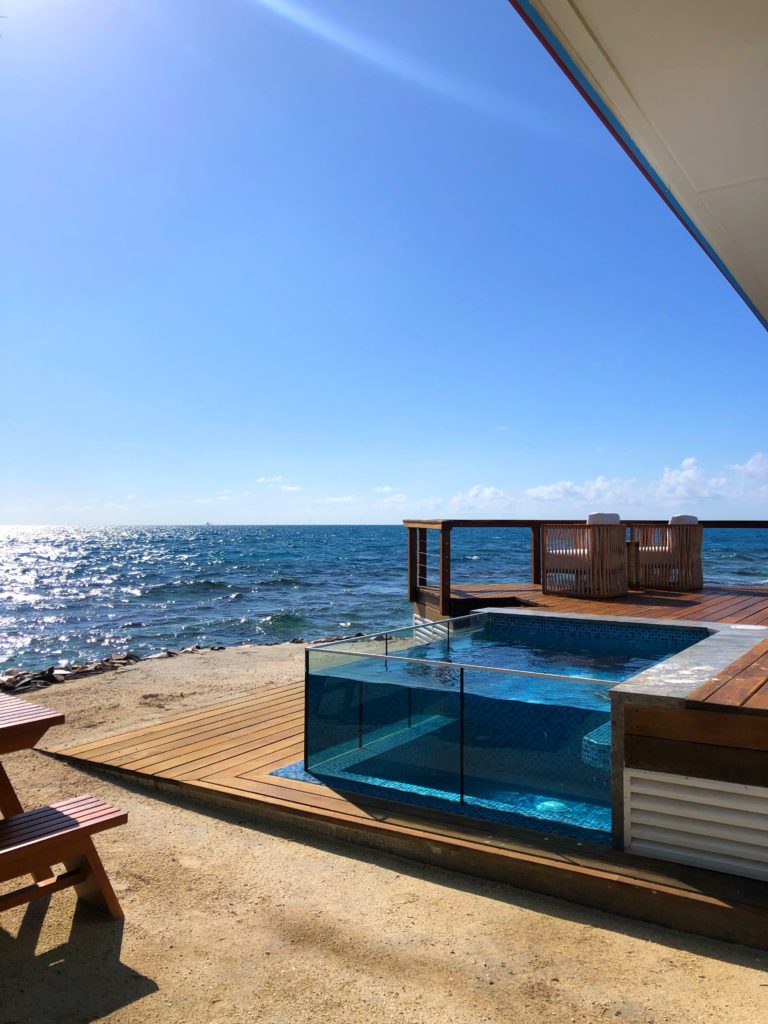 So sad it was our last night at Ray Caye we sipped cocktails on the beach and watched the sunset.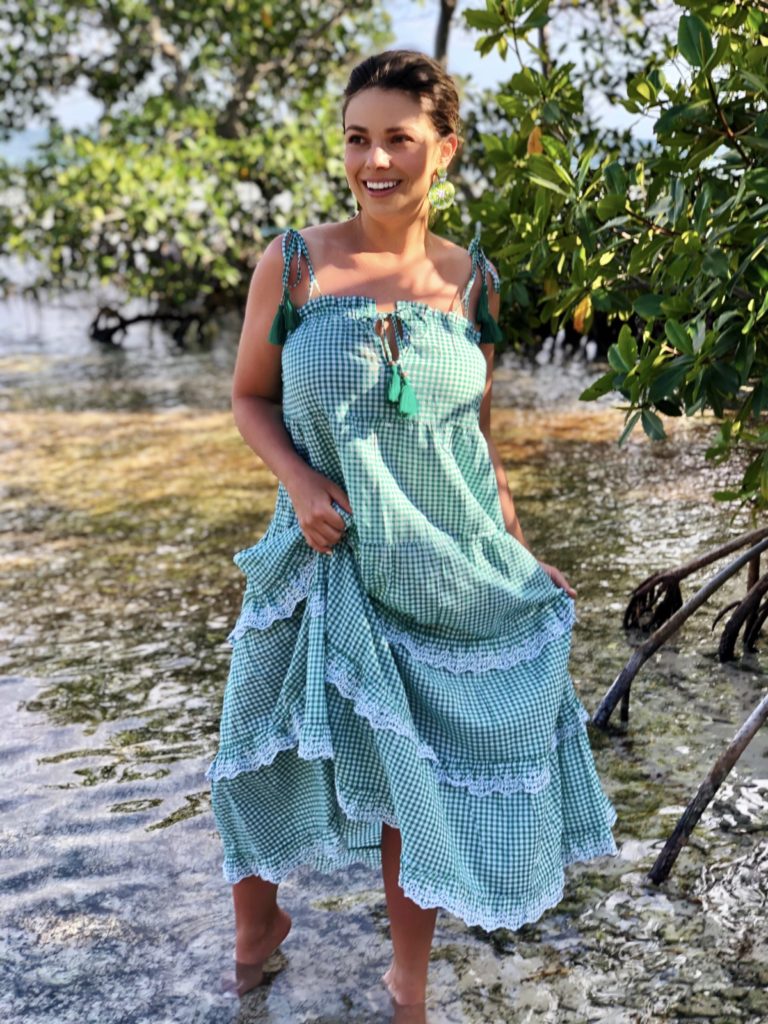 shop the look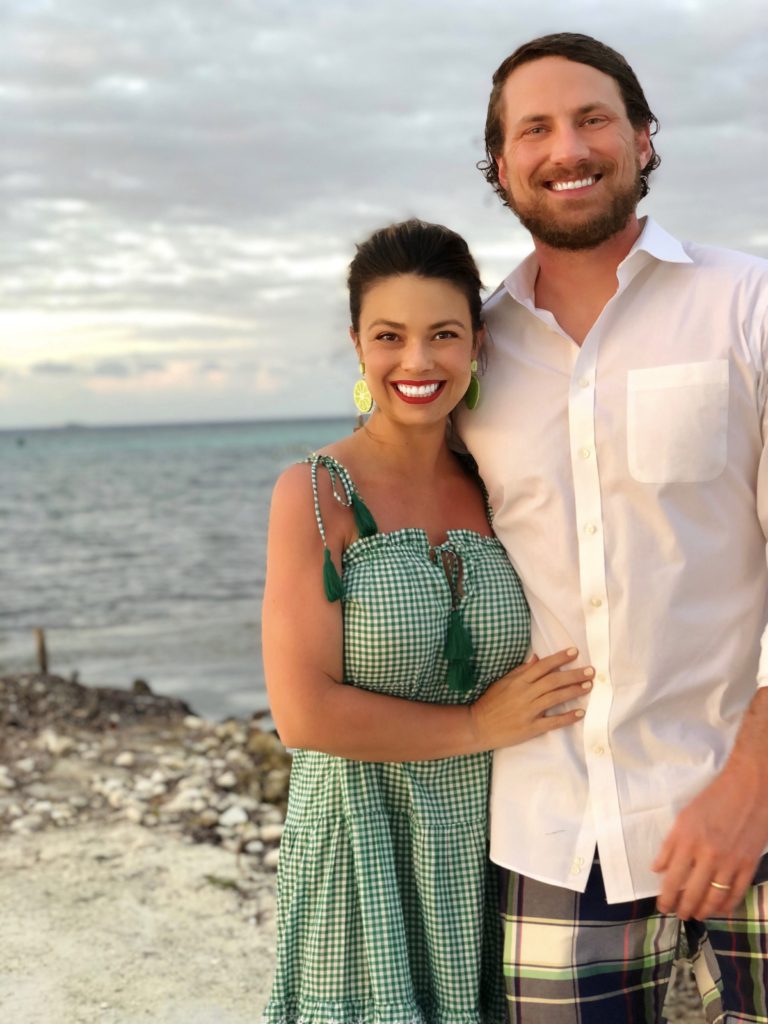 shop the look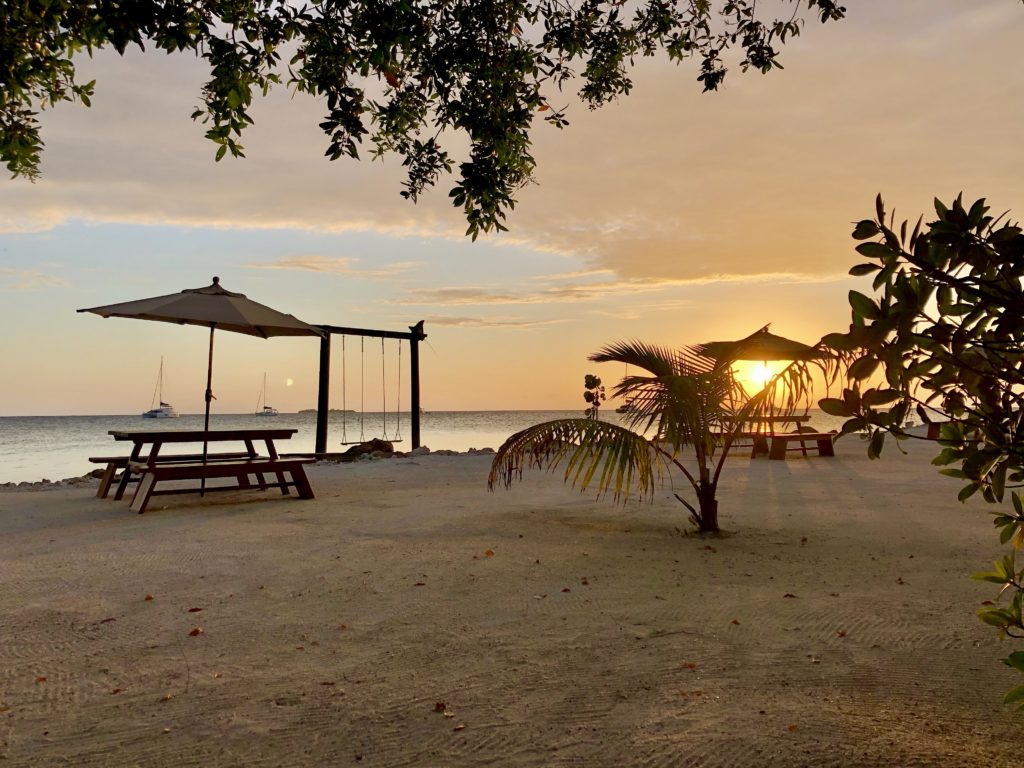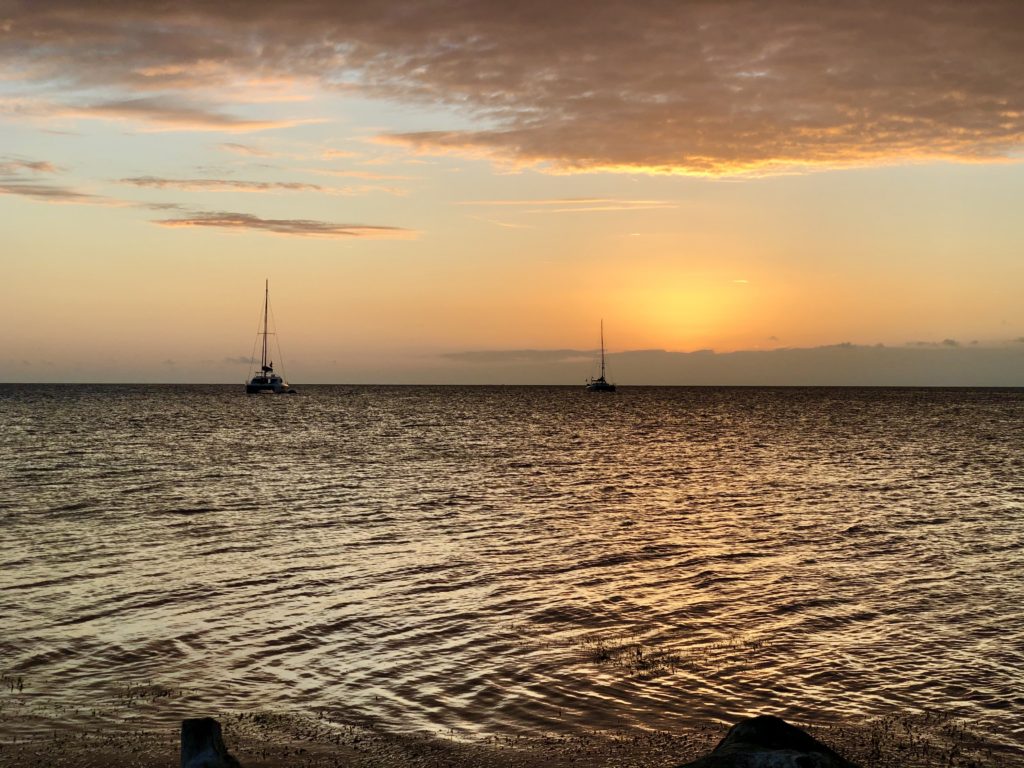 Since it was our last night, the staff had set up a romantic and secluded table for us for dinner. It was the perfect way to end not only our perfect day, but our perfect stay at Ray Caye.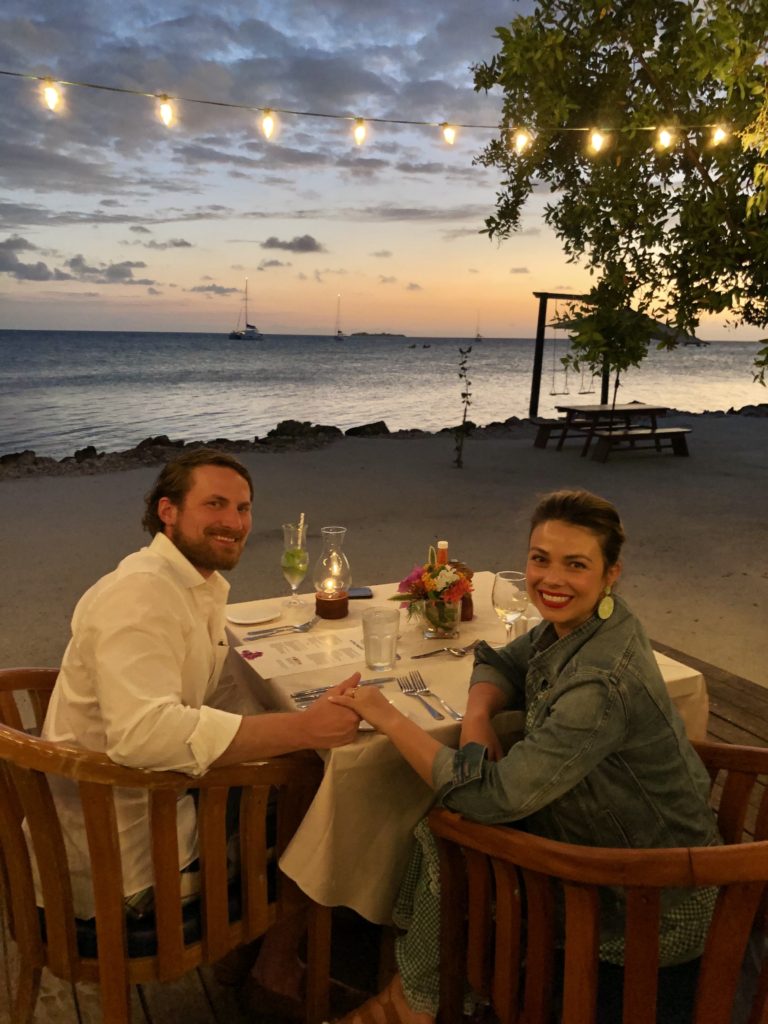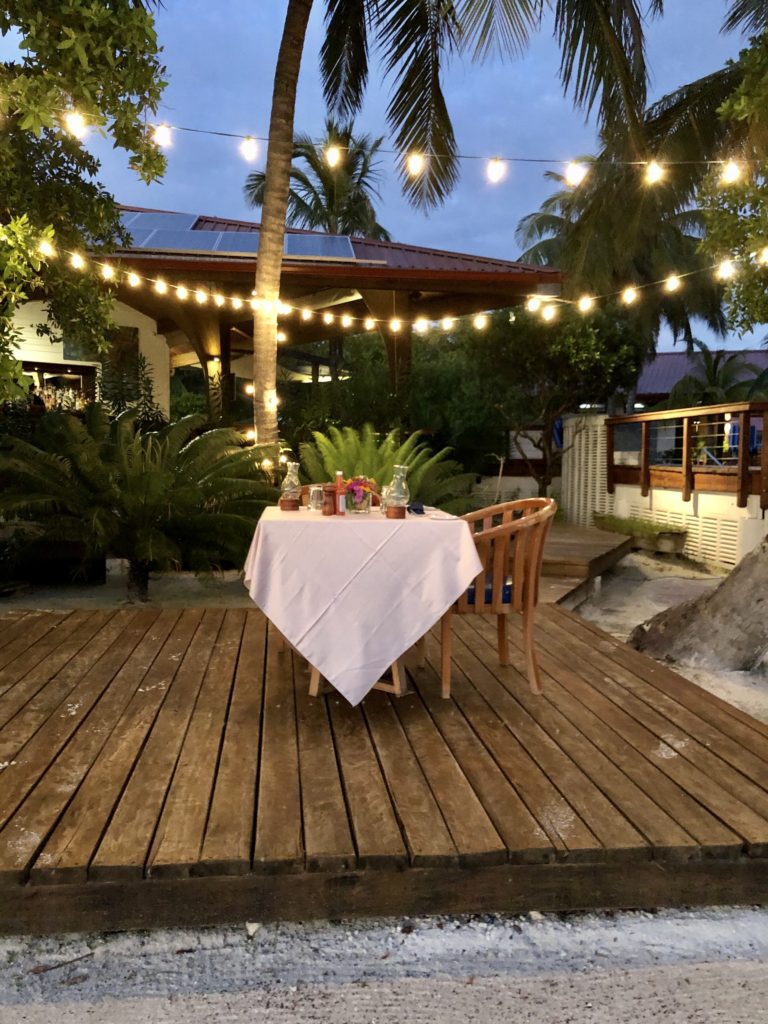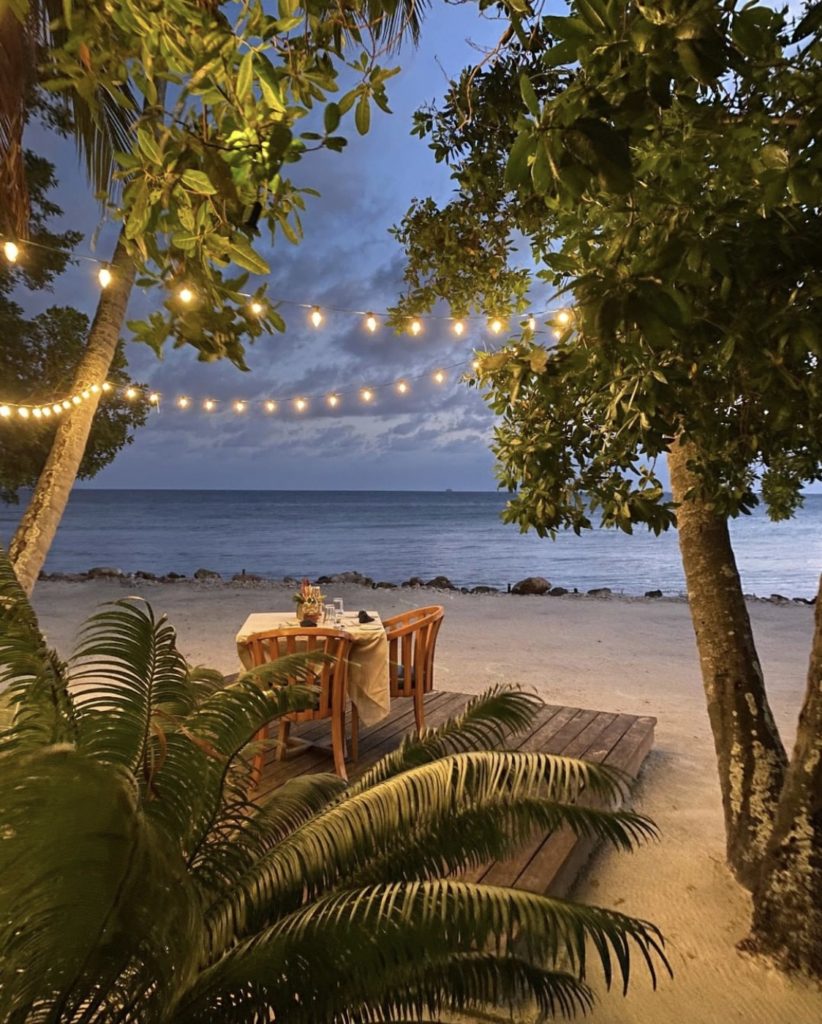 For dinner, I started with shrimp bisque and grilled bread (yum!) and W, a green salad. For our entree the chef prepared our catch from early that day and we feasted on blacked snapper and mackerel served with twice baked potatoes and grilled asparagus. We topped the meal off with chocolate cake for dessert. Perfection.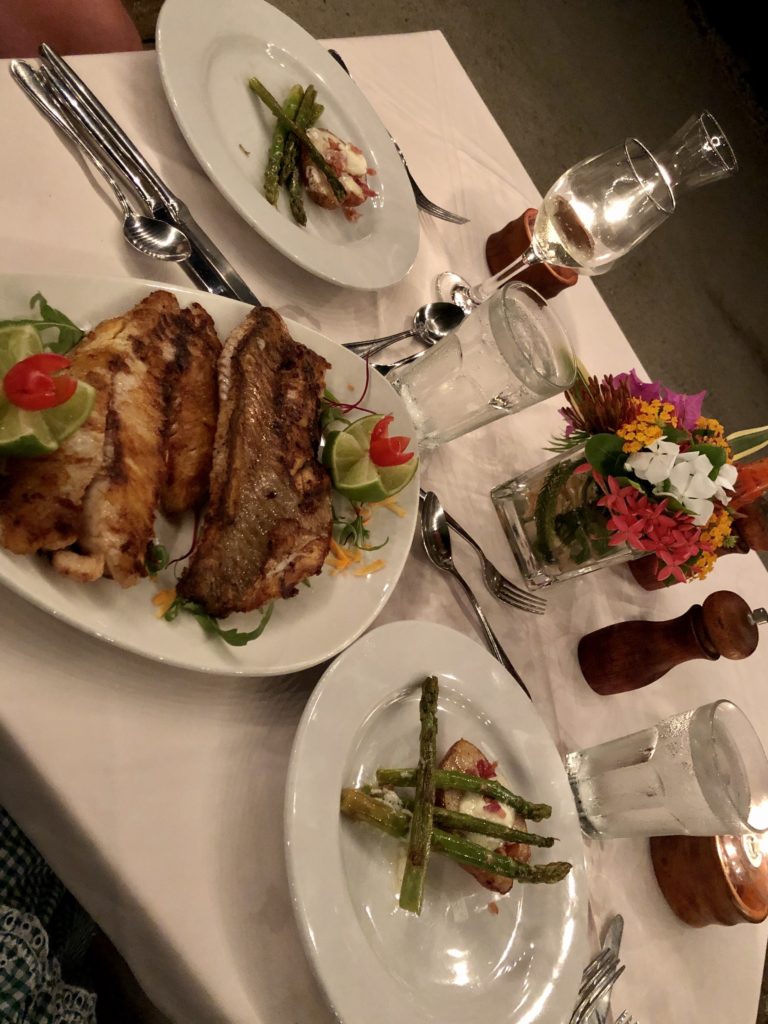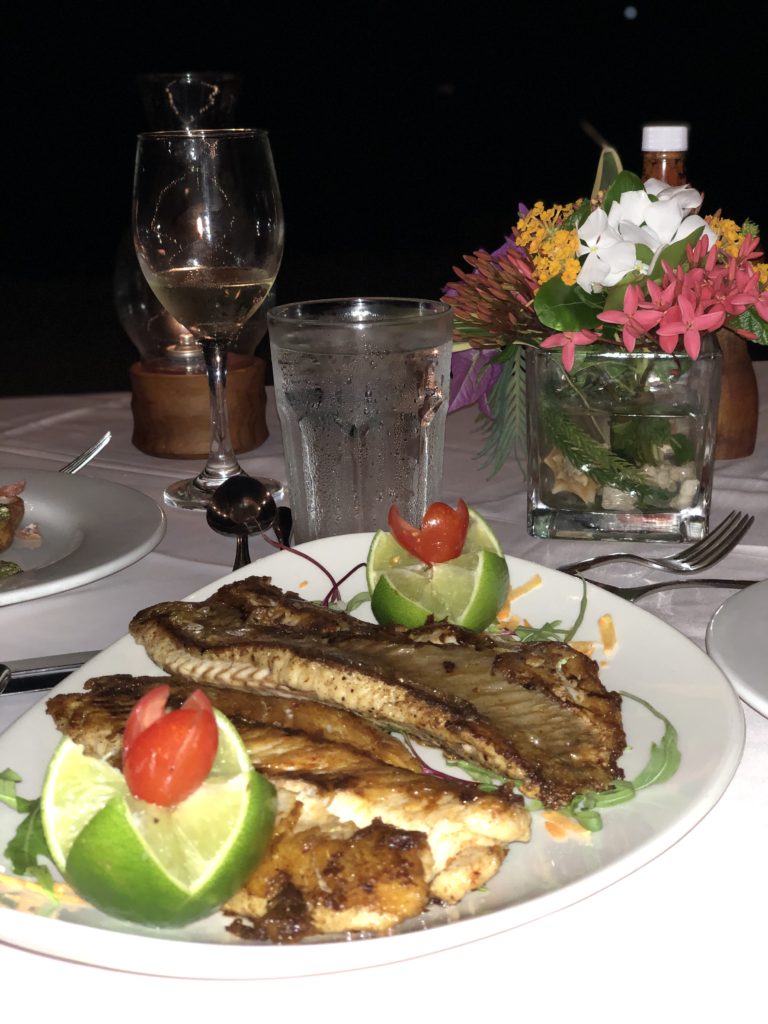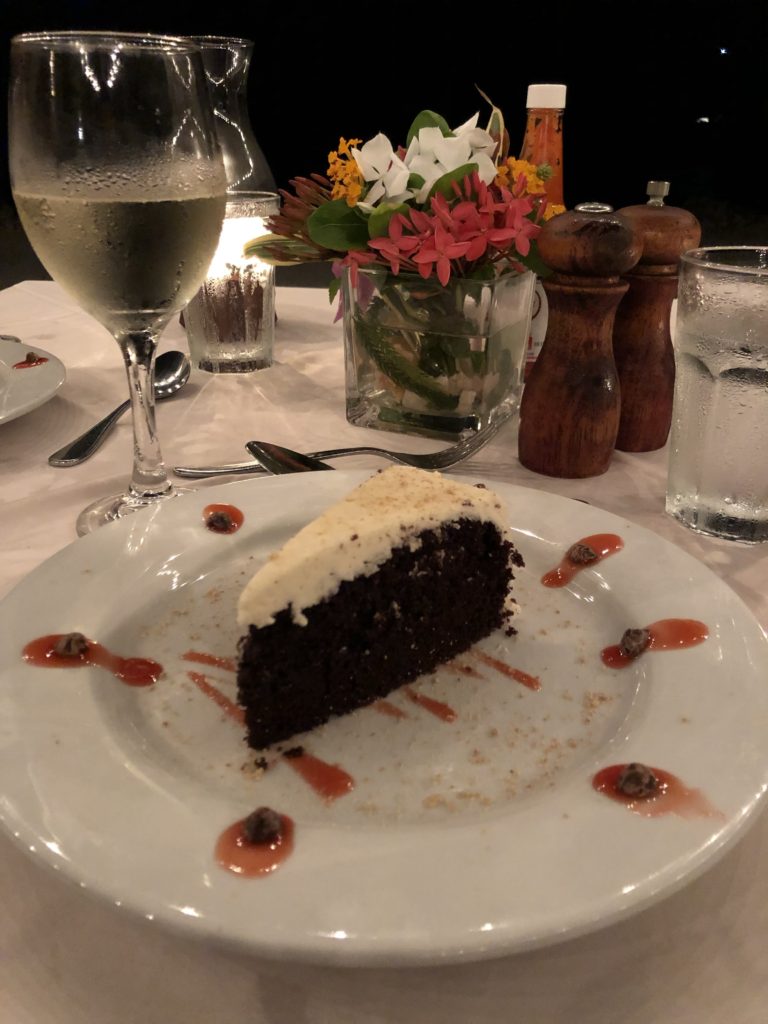 The next morning we enjoyed our last coffees on the beach so sad to be leaving. For breakfast I had huevos rancheros and W had the breakfast burrito with bacon.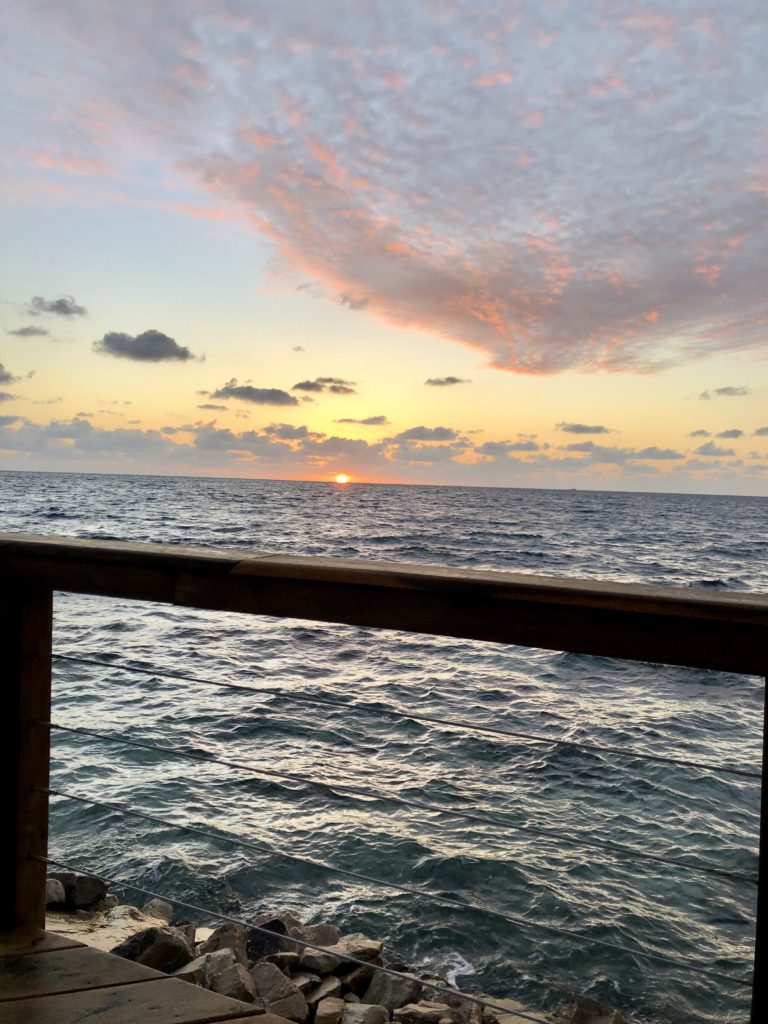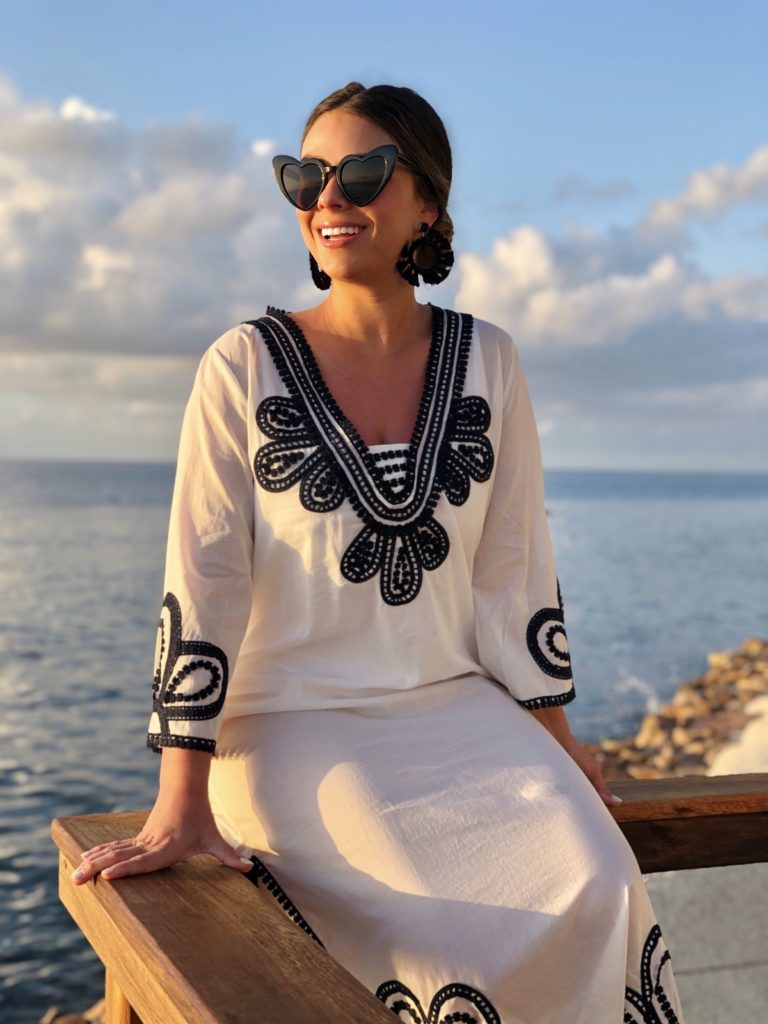 shop the look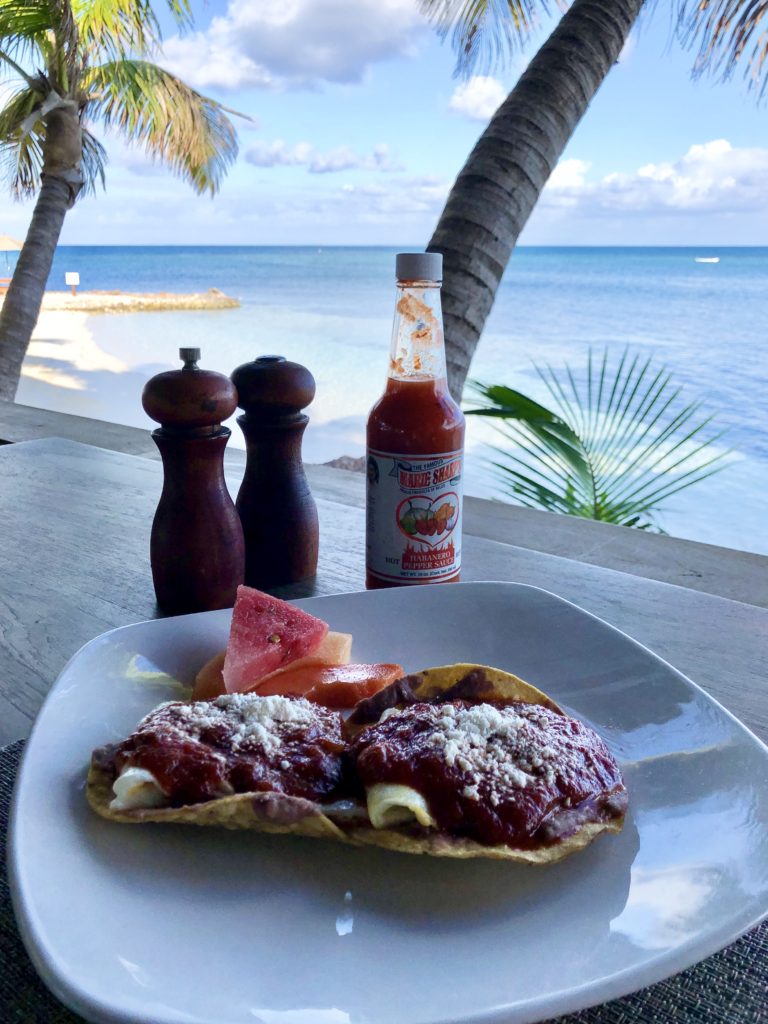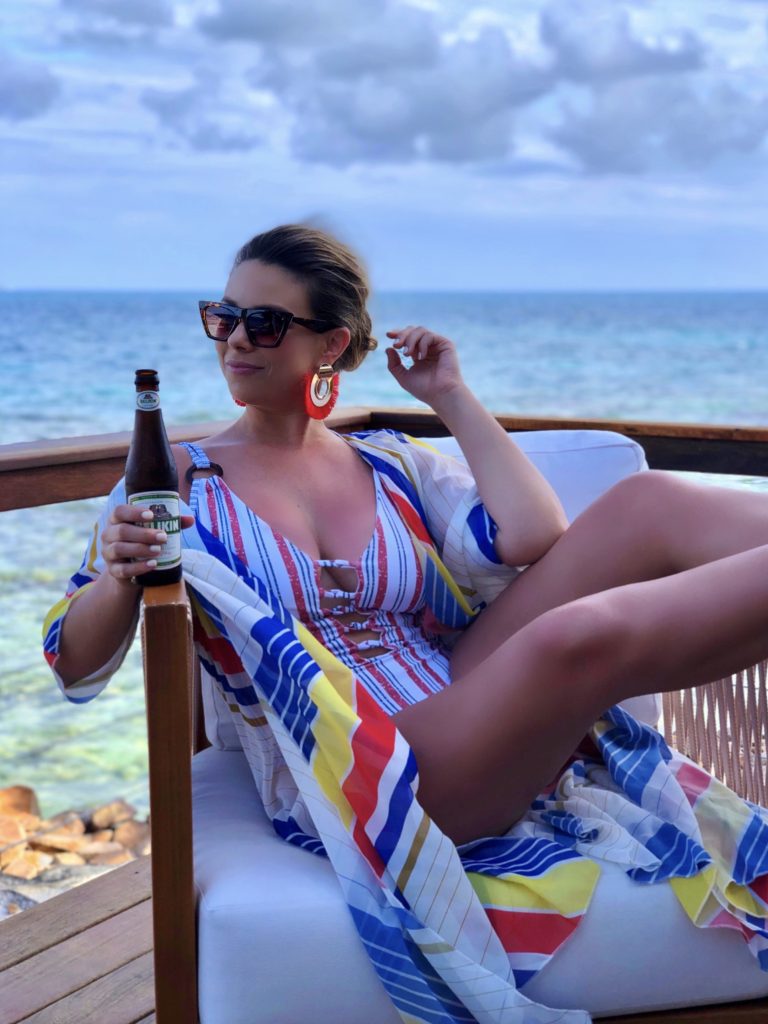 We sipped a few last beers before boarding the boat back to the mainland promising each other we'd return again.
Thank you to everyone at Ray Caye for making our anniversary trip one we will remember for the rest of our lives. From the accommodations and amenities, to the food and service to the amazing adventures every single aspect was better than we could ever have dreamt. We cannot wait to return to your magical island paradise.
Kisses and Belizean wishes,