"Once a year go somewhere you've never been before." Dalai Lama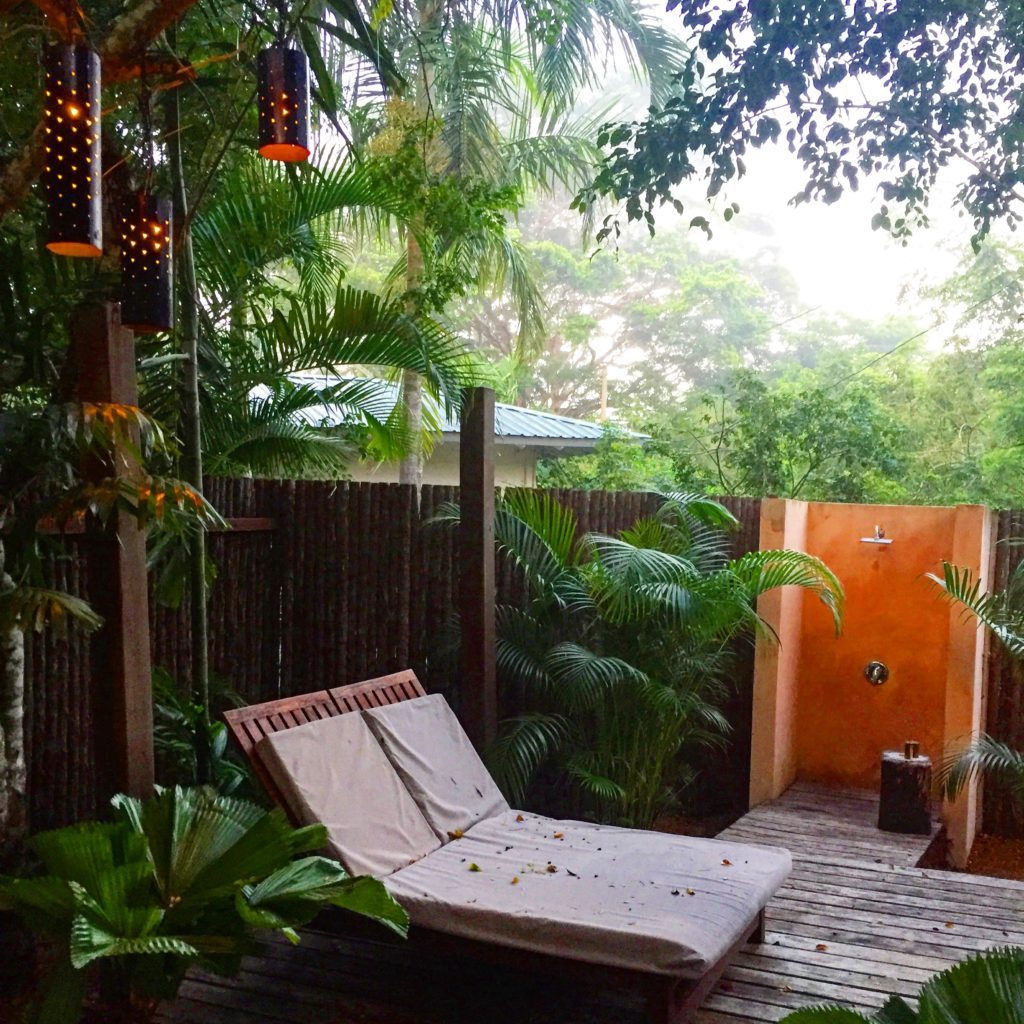 Earlier this month Walker and I got to spend eight days in Central America. The first part of our trip was spent in San Ignacio, Belize and Petén, Guatemala.
Today I am sharing a play by play of our flawless stay at the jungle paradise of Ka'Ana Resort in San Ignacio, Belize.
DAY 1:
After a quick (and very affordable) Southwest flight, we arrived in Belize City and were met by Jamie, a friendly member of the resort's staff who drove us to Ka'Ana. During our two hour drive to San Ignacio, which is at the boarder of Guatemala, Jamie gave us a wonderful tour though the countryside of Belize. On our drive we saw quaint little towns, the Mopan river, and even Mennonites in horse drawn carriages! Not exactly something we thought we'd see in Belize.
We arrived to the hotel and we greeted with a frozen cocktail, which was both refreshing and delicious!
We quickly settled into our spacious master suite. The front porch had its own hammock and the back porch had a massive private outdoor patio with a romantic outdoor shower. It was like something out of a booking.com commercial.
Once we freshened up, we were treated to a engaging orientation of the resort at Ka'Ana's bar. We sipped Nance, a Belizean liquor, and discussed our itinerary for the next few days. Our host was incredibly gracious and could not have made us feel more welcomed at Ka'Ana.
Once our plans we set, we stayed in the bar area for a history of the Mayan people and enjoyed delicious cocktails complete with chips and guacamole.
After history night, we ventured into the dining room where Walker and I enjoyed the first of many delicious dinners.
When we arrived back to our room, we found mini banana pies in our fridge and an itinerary for our adventures for the next day on our bed. Talk about full service!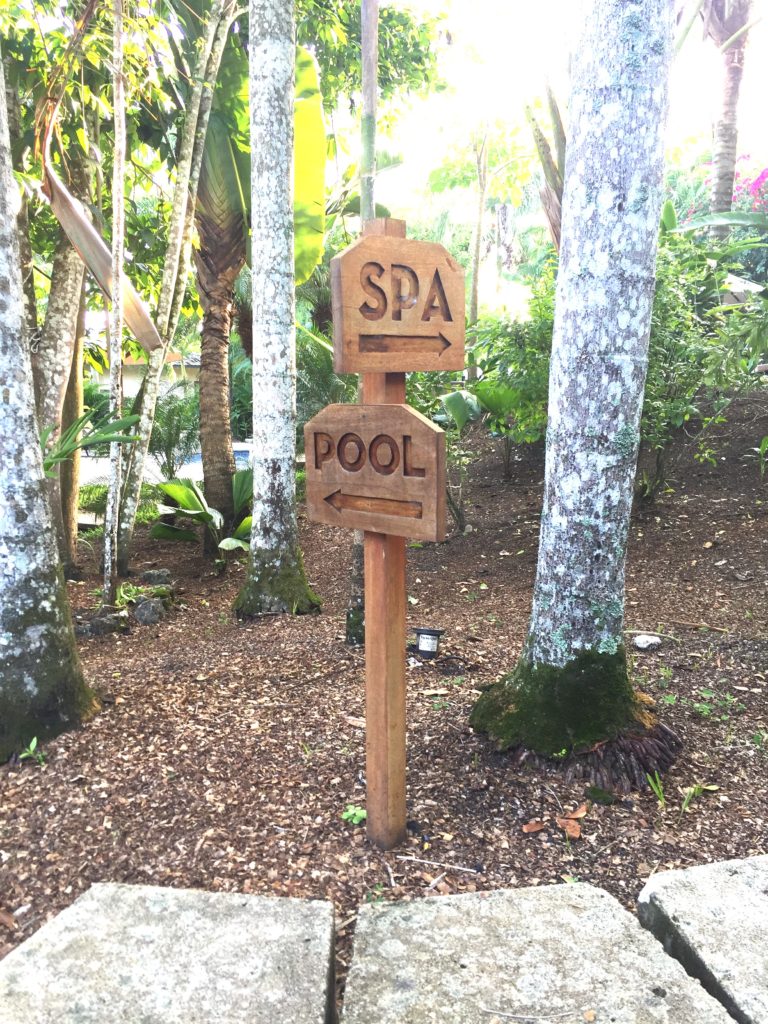 DAY 2:
It was an early wake up call because we were off to Guatemala to see the magical ruins of Tikal, an ancient Mayan city and UNESCO Heritage Site. But first, in true Ka'Ana style, we feasted on room service- eggs, bacon and potatoes for Walker and yogurt parfait for me. Oh! And fresh, hot, Guatemalan coffee!
At 7:00am we met our driver and tour guide in the lobby and we were off to our private tour! All tours and adventures at Ka'Ana are private, which makes the experience so much more special and personal.
After a short 10 minute drive to the boarder and a quick walk through immigration, we were in Guatemala and ready for adventure!
During our 2 hour drive from the boarder to Tikal we stopped at a beautiful lake where local women were doing their Sunday laundry. We also stopped at a shop and enjoyed some more of that amazing Guatemalan coffee.
We spent the entire afternoon exploring the ruins. We saw toucans, spider monkeys, and howler monkeys. While climbing one ruin, a spider monkey was just a few feet above our heads but somehow it did not recognize our calls to it.
Hugo, our tour guide was so knowledgeable and explained every little piece of history to us while we hiked, explored and sipped on Gallo, the traditional Guatemalan beer. We learned of the Chocolate King and saw his and saw the temples he built for his wife. We hiked to the top of Temple IV, where a portion of the original Star Wars was filmed. We sat and relaxed and enjoyed the view at the top of the massive structure. Bright green jungle filled the horizon as far as the eye could see and was broken only by the temples in front of us. Saying it was breathtaking doesn't even begin to describe it.
After a full day of exploring we had worked up an appetite! We had lunch at a delightful little restaurant near the ruins. We loved our chicken tacos with rice and beans and of course Marie Sharp hot sauce! A few more Gallos didn't hurt either!
To complete this magical experience, on our way back to Ka'ana we saw a magnificent rainbow that was as big as Dallas and as clear as day. The contrast between the gorgeous rainbow and the lush forest behind it was an image I'll never forget.
We arrived back to Ka'Ana and enjoyed cocktails on our front patio in our hammock and watched a cool afternoon shower fall.
That night was Mayan night at the hotel's restaurant. We enjoyed a buffet of traditional Mayan food- chicken tamales, chaya (similar to spinach) tamales, pulled pork, grilled chicken, and roasted pumpkin for dessert. The food was amazing! That night we sat outside while we ate in an adorable thatched roof hut. Walker joked that it looked like something out of the Bachelor in Paradise. He was right! It could not have been more perfect or romantic.
When we returned to our rooms that night our itinerary for the next day was waiting on our bed and there were mini sweet potato pies in our fridge.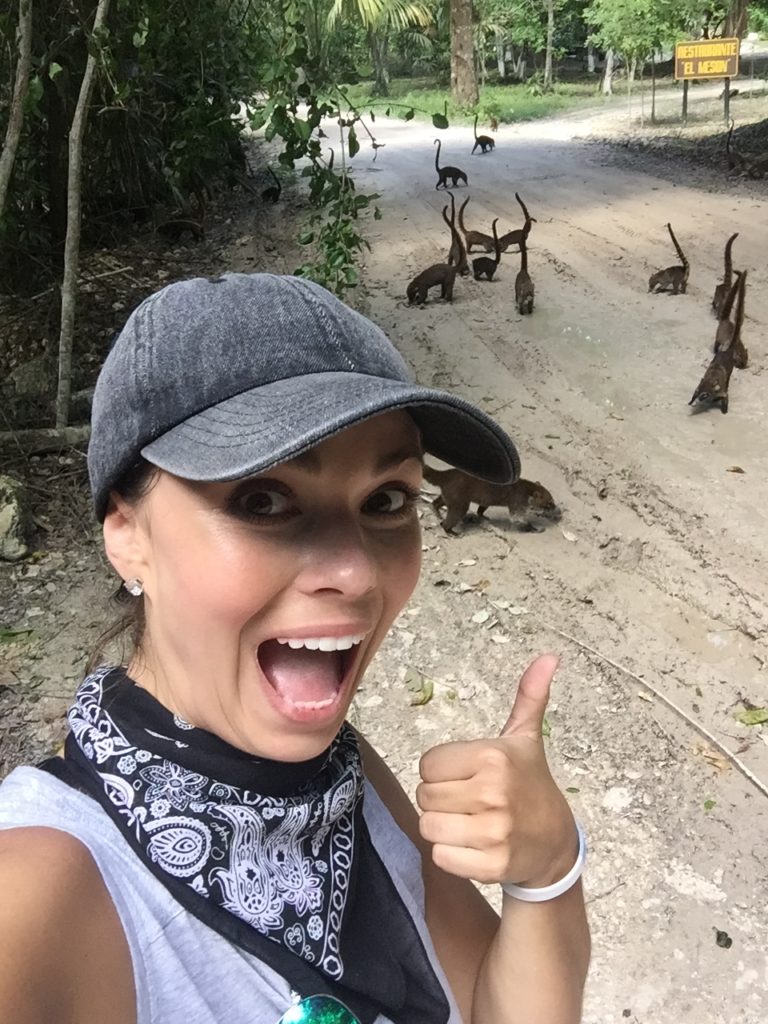 DAY 3:
We woke up and had fresh coffee delivered to our room, which I enjoyed with the mini sweet potato pies that were left in our fridge the night before. Yum! We had breakfast under the thatched roofed hut- Walker approved of his omelet and my oatmeal was also great. And we were off to anther adventure!
We were taken to Hannah's stables where me met Santiago, one of our tour guides, and we saddled up!
On horse back, we road to Xunantunich, crossing the Mopan on a hand crank ferry! After about a 90 minute ride we were at Xuantunich, a Mayan ruin site, where we met our guide Brandon. We explored the ruins and learned so much about the ancient people of Xunantunich. We climbed to the tallest structure and the view was amazing! You could see all of San Ignacio and well into Guatemala. Once we were done exploring, we got back on our horses and rode to a beautiful picnic area on the Mopan, complete with pillows, blankets, and umbrellas! There, we relaxed, sipped on wine, and had an amazing lunch. It was just Walker, our server, and myself. Talk about another Bacheloresque moment! After lunch Walker went swimming in the Mopan while I finished our bottle of crisp white wine and soaked my feet in the refreshing river.
Back at the hotel it was rum night! We got to make craft cocktails using fresh fruits and herbs grown right at the resort's organic farm! We both opted for a basil and blueberry cocktail, which we sipped by the fire pit.
For dinner that night we were back in our Bachelor in Paradise hut. We sipped on champagne and enjoyed ceviche. For those of you who watch Shahs of Sunset, MJ was right. Their ceviche is amazing!
For dinner that night I had a curry fish soup and Walker had rack of lamb and both were outstanding.
Mini lemon pies awaited us in our room fridge and, again, I was pleased to see them.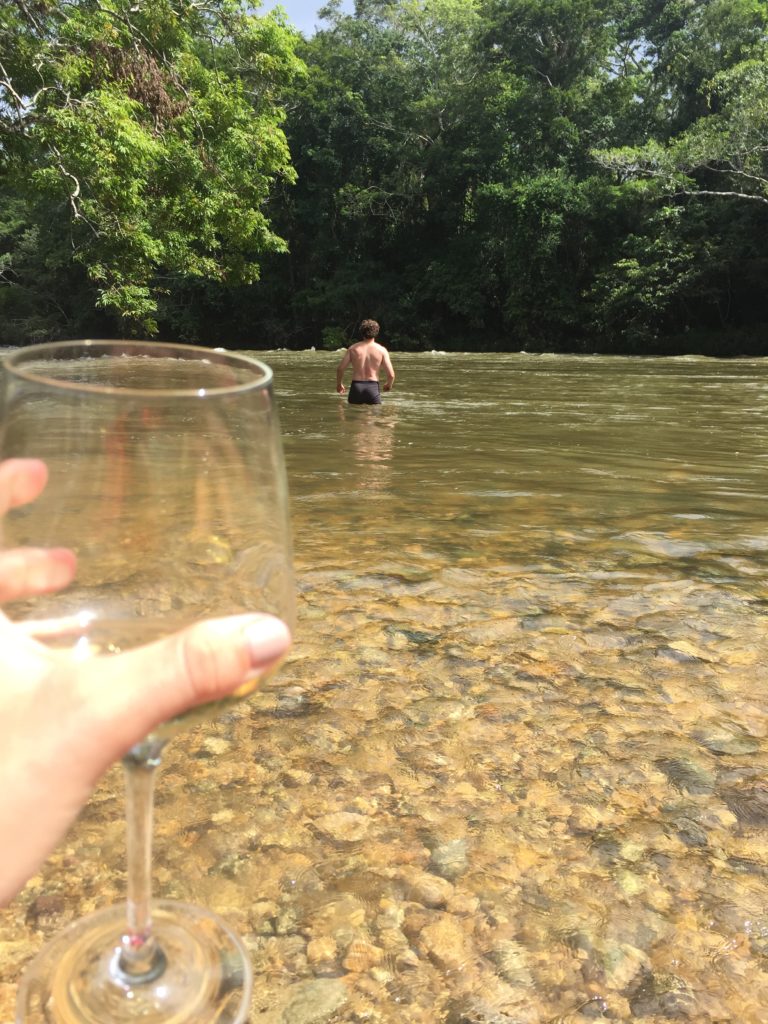 DAY 4:
With no adventures on our schedule, we slept in! Once we woke, we sipped on hot coffee delivered to our private patio and enjoyed the lemon pies from the night before. While we relaxed and got our caffeine fix, a toucan landed in a tree in our patio! It was so cool!
We had breakfast in the dining room that morning- breakfast burritos for two and let me tell you, it was the best breakfast burrito I've ever had!
After breakfast we explored Ka'Ana's organic farm and visited with the two sheep on the property.
The rest of the afternoon was spent sipping cocktails and champagne and reading at the resort's beautiful pool.
That night we enjoyed cocktails in a romantic swing and stared at the full moon, while listening to howler monkeys in the trees above us. Our last dinner under the stars was as great as ever and we both wished that moment could have lasted forever.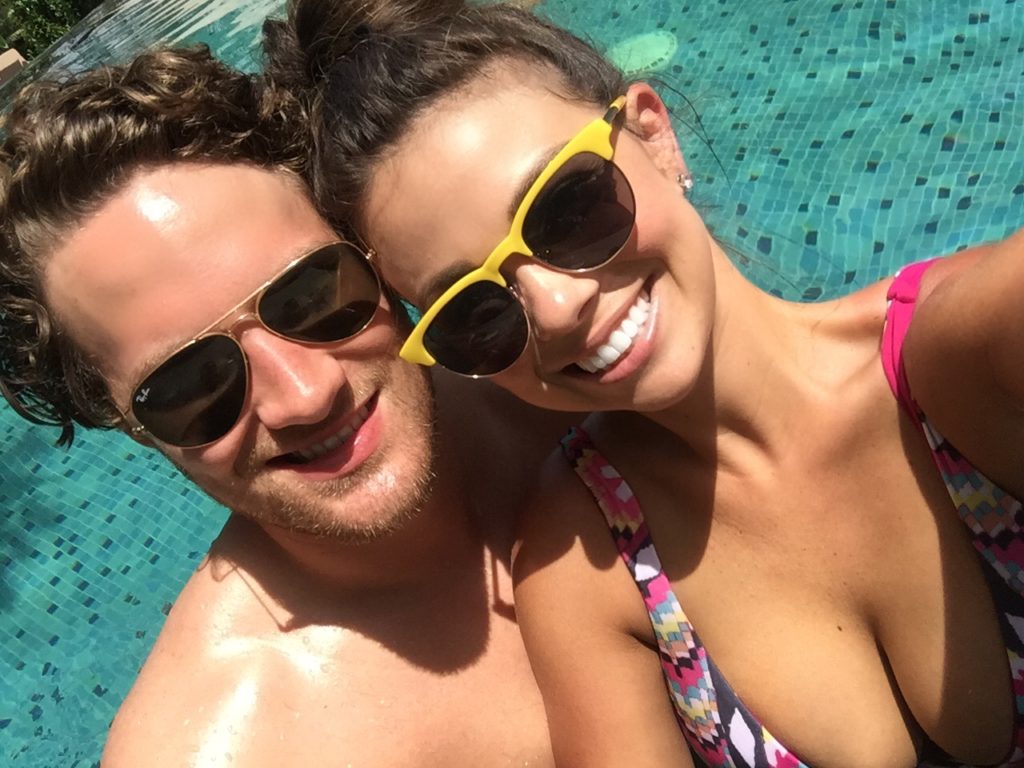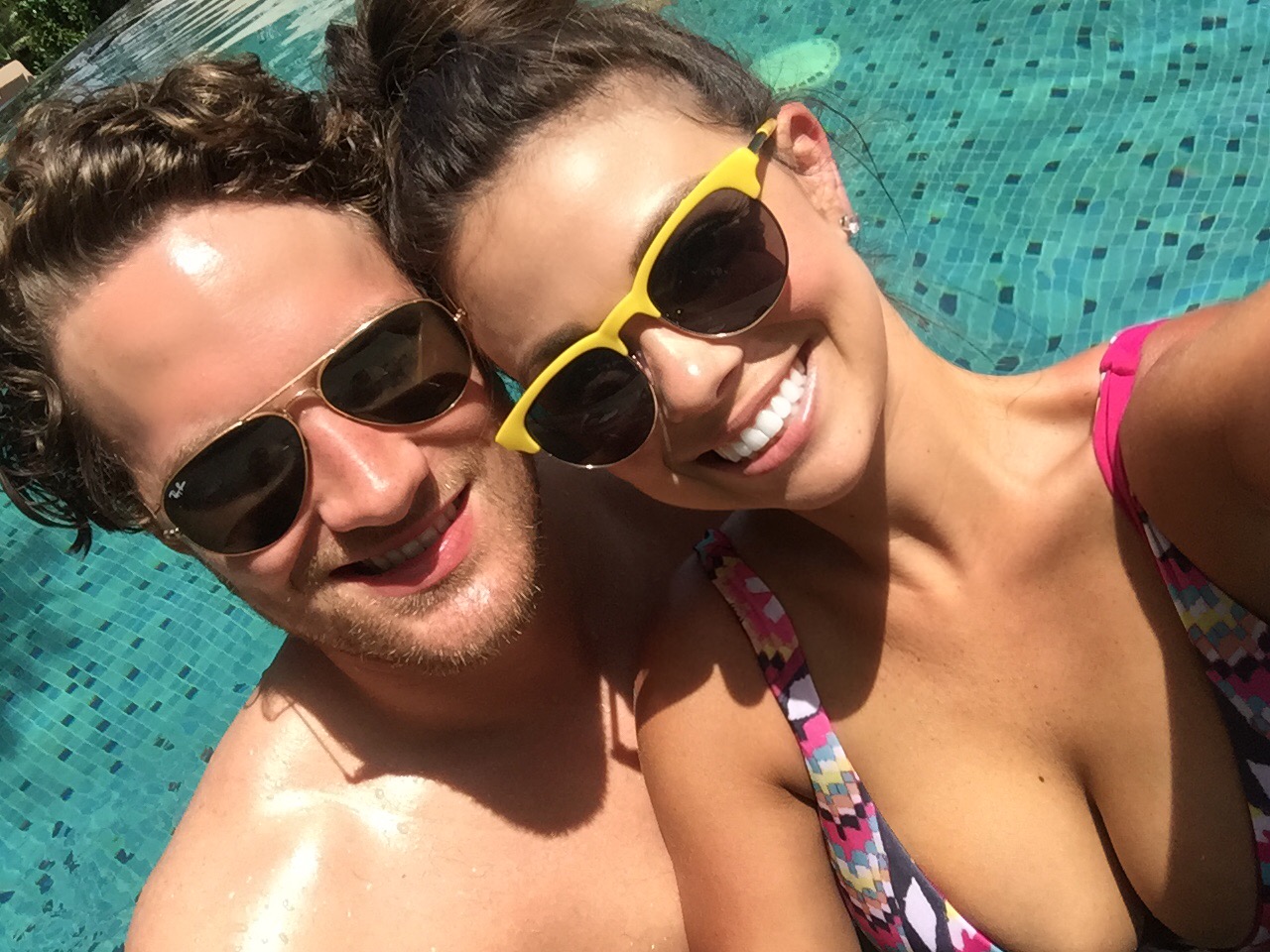 DAY 5:
After yet another breakfast of breakfast burritos we were so saddened to leave the beautiful Ka'Ana. Until next time…
Thank you Ka'Ana for an adventurous vacation we will never forget.
SHOP MY VACATION LOOKS:


Kisses and traveling wishes,