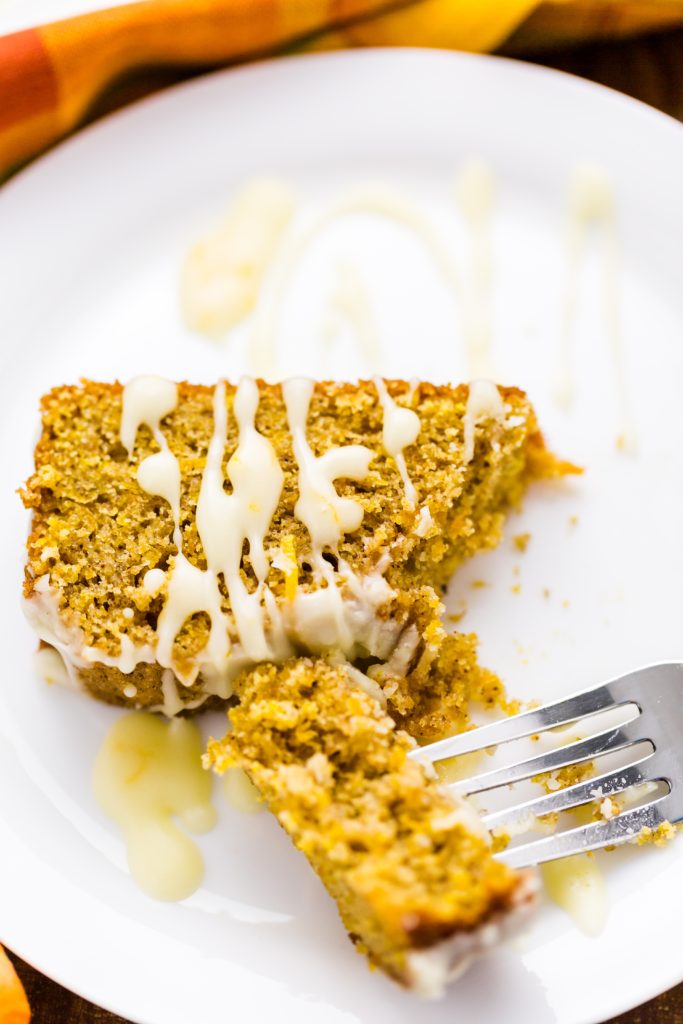 Every human loves pumpkin Everything during the fall and I am totally on board with this!  I believe pumpkin foods should be served all year long and today I am sharing one of (it's so hard to choose) my favorite pumpkin bread recipes with you- pumpkin bread with maple glaze!  This is LITERALLY to die for!  You'll be licking your plate on your way into the kitchen to make another loaf!
I love having this bread warm in the morning with my coffee or at night for dessert again warmed up, with a scoop of vanilla ice cream!

PUMPKIN BREAD WITH MAPLE GLAZE
This recipe makes 2 loaves
Ingredients:
3 cups sugar
1 cup vegetable oil
4 eggs
16 ounces canned unsweetened pumpkin
3 1/2 cups flour
2 teaspoons salt
2 teaspoons baking soda
1 teaspoon baking powder
1 teaspoon nutmeg
1 teaspoon allspice
1 teaspoon cinnamon
1/2 teaspoon cloves
2/3 cup water
1 cup powdered sugar
1/4 teaspoon ground cinnamon
1/2 tablespoon vanilla
1/4 cup maple syrup
1 tablespoon orange zest
Directions:
Preheat oven to 350 degrees.
Butter and flour 2 9 x 5 loaf pans.
Mix sugar, oil, eggs and pumpkin in a bowl.
Combine dry ingredients in separate bowl.
Blend dry ingredients and water into wet mixture.
Divide batter between two loaf pans.
Bake for 30 to 40 minutes or until cake tester comes out clean.
Meanwhile, mix remaining ingredients on a bowl and set aside.
Let stand 10 minutes and remove from pans and cool.
Slide bread and drizzle with maple glaze.
Kisses and pumpkin wishes,