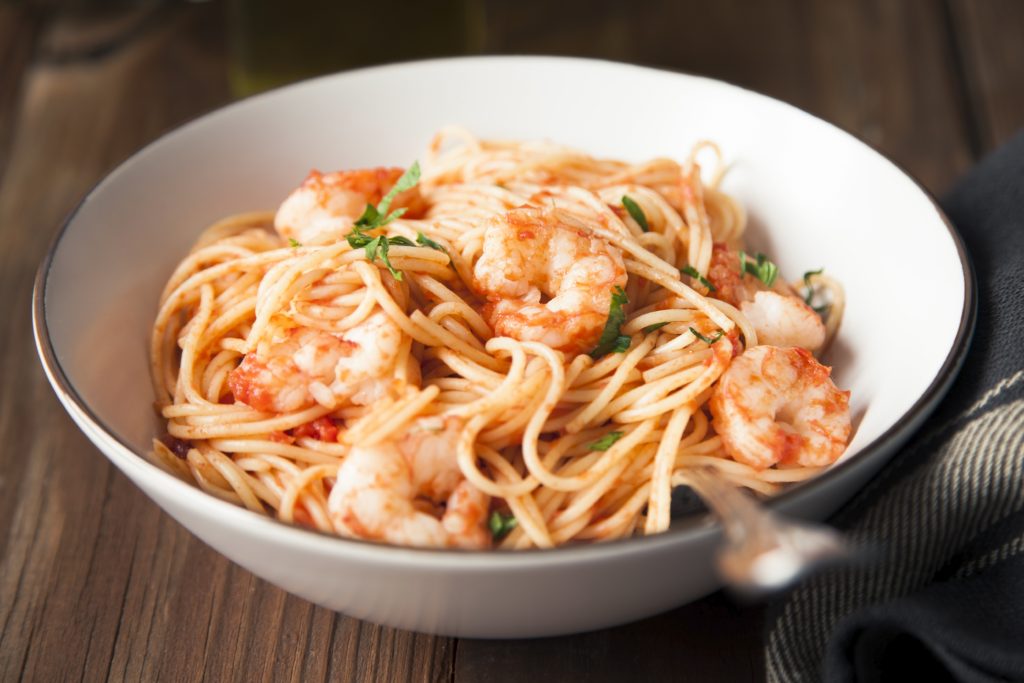 It's finally Friday!  Yay!  Today I am sharing another Lent approved recipe- spicy shrimp pasta.  Though this is a great recipe for us Catholics on Fridays during Lent this is a great week night recipe to use year round because its so quick and easy.  Keep reading for recipe details.
Spicy Shrimp Pasta
Ingredients:
1 box Angel Hair
2 tbsp. EVOO
1 lb. large raw peeled and deveined shrimp, tails removed
4 clove garlic
¼ to 1/2 teaspoon crushed red pepper flakes
1 can Italian-style diced tomatoes
½ c dry white wine
¼ c chopped fresh basil
3 tbsp. freshly grated Parmesan cheese
S&P tp taste
Directions:
Cook pasta according to directions on box.
Meanwhile, heat EVOO in large skillet over medium-high heat.
Add shrimp; cook 3 to 5 minutes, until pink.
Add garlic and crushed red pepper flakes and cook for about 1 minute, stirring constantly.
Remove shrimp from skillet and set aside.
Stir tomatoes, wine and basil into skillet.
Continue cooking until liquid is reduced by half, about 5 to 10 minutes.
Add shrimp and cooked, drained pasta to skillet.
Continue cooking to heat through, stirring occasionally.
Sprinkle with additional chopped basil and season with S&P as desired.
It's really that simple y'all!
Kisses and Friday wishes,