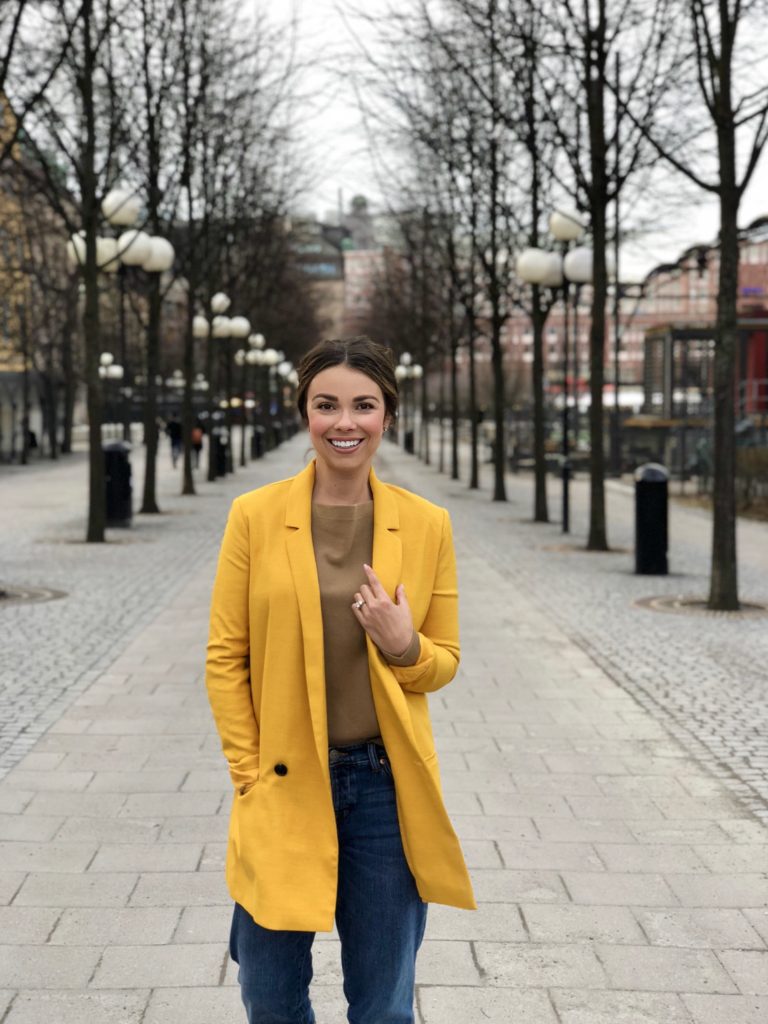 Happy Monday my fellow travel enthusiasts! I hope you all had wonderful weekends.
Today I am sharing all the details from my trip to Stockholm, Sweden with my mom. Keep reading for my Stockholm travel guide, day-by-day play-by-play and a rundown of all the restaurants we dined at in Stockholm. I hope you my Stockholm travel guide enjoy!

After a short flight from Norway, mom and I landed in beautiful Stockholm. Walker visited Sweden a few months prior and promised we would love it! Though he gave raving reviews, we couldn't understand the beauty of the city until we were there. It was really something else!
We checked into our charming and centrally located hotel, Downtown Camper, and fell in love with our room's simplistic Scandinavian design and the lobby's unique design. We dropped our bags and we were off!
Our first stop was the Riddarholm Church, which was just a short walk from our hotel. The Riddarholm Church is the burial church of the Swedish monarchs and is located close to the Royal Palace. The church was not only packed with history but was also breathtakingly beautiful!
After exploring the beautiful church we had lunch in Gamla Stan, old town Stockholm, at a quaint little restaurant called 22 Matgatan. The décor was very simplistic and Scandinavian. And better yet, the food was VERY reasonably priced and delicious! Both mom and I had hard apple ciders. I had the goulash with warm garlic bread and mom had tomato soup and a grilled cheese. Yum! The warm and cozy lunch was the perfect way to start our day!
After lunch we walked around the city and took in its beauty! We were so thankful with how centrally located our hotel was! Just blocks from the water and the Royal Palace!

After our day of exploring we freshened up in our room and were off again! We explored Gamla Stan more and simply fell in love with this area of Stockholm. The old cobblestone streets and charming historic buildings were the perfect backdrop to our fabulous European vacation.
We stopped into Gastabud for dinner and boy, were we in for a treat! The restaurant was packed but they quickly found us a cozy seat in the corner of this lovely restaurant. We started with white wine, duh. And for dinner I had the sausage with was served with creamy potatoes and lingonberry sauce. It was literally to die for and I have been wracking my brain trying to recreate the creamy potatoes at home ever since. Mom ordered the Swedish meatballs, when in Sweden, which was served with lingonberry sauce as well and a beautiful and hearty gravy. And because calories don't count on vacation, we finished with an apple crumble which did not disappoint either. We walked back to our hotel on the water and chatted about how much we already loved Stockholm.
We slept like babies in our cozy beds, enjoyed coffee in our room and then feasted at the hotel's scrumptious buffet which is included in your stay. The buffet was so impressive and offered any and everything one could want for breakfast. Staying true to my English roots, I had beans and toast with a side of bacon and tomatoes. Yum!
Full and happy, we were off for another great day of adventure! Our first stop was at the tourist center to pick up our Stockholm Passes, which offer free entry to over 60 of Stockholm's most popular attractions and free bus and boat tours.
We put those passes to good use and took a bus tour which covered all of Stockholm! The tour was fascinating and informative. As an American, it is hard to comprehend just how old this city is and I found myself marveling at all the history Stockholm has seen.
After our tour, we visited Hedvig Eleonora Church in central Stockholm. The church was consecrated in 1737 and is named after the Swedish Queen Hedvig Eleonora. Though rumored to be haunted, the church was beautiful!
Hungry from all of our sightseeing we stopped into Östermalm's Market Hall for lunch. Dating back to the 1880s, this food hall and market houses antique stalls selling produce, seafood & gourmet goods, plus several cafes. We explored the market, worked up an even bigger appetite and decided to dine at one of the quaint restaurants. While eating we noticed Joel Kinnaman (Governor Conway) from House of Cards dining at the restaurant across from us. So cool!
After lunch we walked to Djurgården. On our bus tour that morning we learned Djurgården is a tranquil island known for being the royals' hunting grounds back in the day. Now it is home to the Vasa Museum, Skansen open-air museum, the ABBA museum, Gröna Lund amusement park and the Nordic Museum.

Our first stop was the Nordic Museum which is dedicated to the cultural history and ethnography of Sweden from the early modern period to today. We found the exhibits beautiful and fascinating especially loving the fashion exhibit! At the museum's gift shop I bought four paintings which now hang in our dining room.
Next we were off to the Vasa Museum which I had heard from friends was SO COOL! They did not lie! The Vasa museum houses the Vasa, which is a retired Swedish warship built in the 1620s. The ship sunk after sailing only 1,400 yards of its maiden voyage in 1628. That's less than five minutes. Forgotten until the late 1950s, she was rediscovered in a busy shipping lane just outside the Stockholm harbor, salvaged and brought to land in 1961. The beauty and magnitude of this ship are hard to put into words; it was simply so impressive! This was one of our favorite experiences in Stockholm.
We walked back to our hotel along the canals and stopped at a chic waterfront Bistro, Strand Bistron. We sat outside under heaters and cozy blankets and sipped champagne. What a perfect afternoon!

We freshened up for dinner and headed back to Gamla Stan, our favorite area of Stockholm, for a lovely dinner at Mårten Trotzig. We started with white wine, mussels and fries, which were divine! For our entrée we split a traditional Swedish dish which consisted of beef and veggies with a side of raw egg yolk for dipping. It was amazing! For desert we had a strudel. Yum!

While dining we kept noticing the most heavenly fragrance and we came to the conclusion that it must be our waiter's cologne. Embarrassed, but determined to figure out what his fragrance was we asked him. He shared that it was Mojave Ghost by Byredo, a modern Swedish luxury house, founded in Stockholm. The irony was that since we had been in Europe, mom kept saying she wanted to buy us a perfume as a souvenir! Now, we were on a mission to find this Mojave Ghost!

The next morning we feasted at the Downtown Camper's beautiful buffet again and it was as delicious as it was the day before!
Our first stop of the morning was the Royal Palace, which was walking distance from the Downtown Camper. How cool is that?! Due to the fact that the royal family was in residence, we could only visit the royal treasury, where the crown jewels are kept. Though we really wanted to see inside the palace, the beautiful royal jewels did not disappoint!

We wanted to explore more of our favorite stomping grounds, Gamla Stan and we were on the hunt to find an antique map to bring home as a gift for Walker. What do you know, we stumbled upon Antique Maps and Prints, a charming boutique in old town that sells what it says. Though I didn't find a map for Walker I bought four lithographs for myself dating back to 1920 and mom bought two pieces for herself as well.
Feeling very pleased with ourselves and our new purchases we were off to find the Stortorget, the oldest square in Stockholm home to beautifully painted colorful buildings.

Wow! The Stortorget was even more impressive in person than on Google! The buildings were beautiful, unique and hundreds of years old. We had ciders and goulash at Café Misteln nearby and watched the gentle bustle of this charming square.
Next up was the Royal Canal boat tour! On our way to the harbor we got to witness the changing of the guards outside the palace, which was so cool! The Swedish Royal Guard has continually guarded the palace since the 16th Century and put on quite an impressive show.
The boat tour was absolutely beautiful and though we didn't think it was even possible, we fell in love with Stockholm even more!
After the boat tour it was cocktail o'clock and we went back to the Stortorget to find a watering hole. We were in luck and found the most amazing bar, Pharmarium, which was once an old pharmacy! We tried orange wine, which was fun and yummy and something we'd never tried before.

I'll give you one guess as to which area of Stockholm we had dinner in… if you guessed Gamla Stan, you guessed right! Wanting to try this restaurant since we arrived in Stockholm we finally got a reservation and were able to experience The Hairy Pig Deli, a tapas style restaurant, and gosh was it completely worth the wait! We started with white wine and salmon pâté. This pâté was so mind blowing since, mom and I have recreated it at home multiple times. Next we had the empanada and sausage of the day, goose fat potatoes and moose lasagna! Every single bite was more fabulous than the next! If you only have time to dine at one restaurant while in Stockholm, make sure it's The Hairy Pig Deli!

The next morning we ate at the Downtown Camper's buffet again and switched things up this time by having smoked salmon, which was very fresh as you might expect! Yum!
Our first stop for the day was City Hall. Stockholm's City Hall houses offices and conference rooms as well as ceremonial halls and the luxury restaurant Stadshuskällaren. But, its main claim to fame is that it's the venue for the Nobel Prize banquet each year! The tour was so beautiful and educational. We loved it!

Next on our Stockholm sightseeing agenda was Storkyrkan Cathedral, the oldest church in Gamla Stan. This impressive cathedral has frequently been the site of major events in Swedish history, such as coronations, royal wedding and royal funerals. The last Swedish king to be crowned here was Oscar II in 1873. Crown Princess Victoria, oldest daughter of King Carl XVI Gustaf and Queen Silvia, was married at the Cathedral in 2010.
For lunch we went back to the Stortorget and had lunch at Restaurant De Svarta Fåren. We had hard pear cider, caprese, garlic bread and arugula pizza. It was delicious and we were stuffed!
After lunch we came upon an antique shop in Gamla Stan and I bought a painting dating back to 1890 that now hangs proudly in my living room.
Next we visited the Museum of Modern Art and explored more of the historic city. While exploring we visited the Hotorget, which has been a Stockholm meeting place for hundreds of years. Today the square is home to a lively market with vendors selling some of the city's best fruits, vegetables and fresh flowers.
Not forgetting our perfume mission, we decided to dedicate the remaining afternoon to hunt to this Mojave Ghost. Unable to find much of anything helpful after a quick search with limited wifi on my phone we decided to just walk around until we found a beauty supply or department store. After roaming the streets of Stockholm for about 5 minutes, we spotted a beauty store a couple of blocks away. In route to the store, we literally ran into a Byredo boutique! It was fate and the fragrance gods must have been on our side that day. We purchased two bottles of the heavenly scent and were off to find a bar to celebrate our success!

We had celebratory champagne at Vau de Ville, which seemed to be the happening spot of the young and beautiful of Stockholm.
While at dinner at The Hairy Pig Deli the night prior, the waitress mentioned to us they had a second restaurant, The Hairy Pig Restaurant. Still talking about our experience at the deli we decided to give it a go! Also in Gamla Stan, the restaurant is cozy and quaint and charming. We started with crisp white wine, the salmon pâté because it's outstanding, a mini pot pie, lobster ravioli in a bisque sauce, fried eggplant with goat cheese and the sausage of the day. Everything was wonderful!
After dinner we walked back to the Downtown Camper along the water and were so sad it was our last night in the beautiful city of Stockholm.
We had one last beautiful breakfast at the Downtown Camper's buffet and we off to the airport.
Thank you so much to Scandic Hotels and to Visit Stockholm. We had the most wonderful stay in your beautiful city and cant wait to return!
Kisses and traveler wishes,