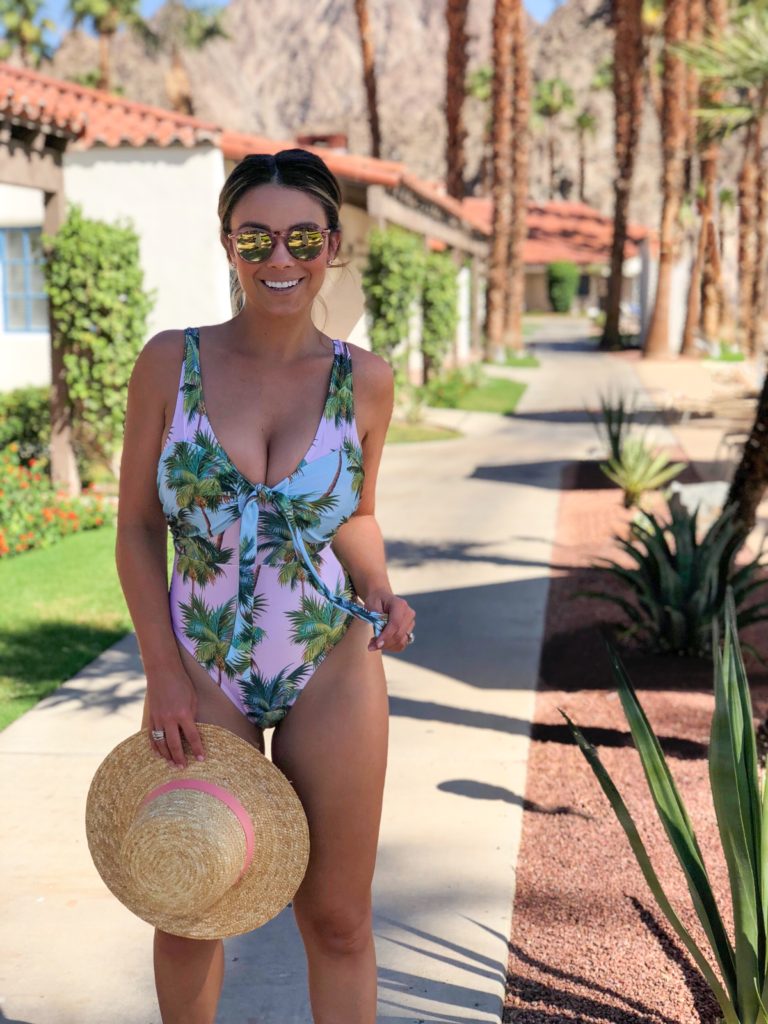 It's Finally Friday friends!  Yay!  Is it just me or has this week been the longest?! As i type this blog post I've wondering if I should have a cup of coffee or a glass of wine!
If you follow me on Instagram, and I know most of you do, you know that two weeks ago I spent a couple days in California at La Quinta Resort, where Walker and I are having our destination wedding!  Early this summer I stayed at the resort as well and you can read about that stay here!  To get all the deets on our most recent stay, keep reading!

Mom and I drove down to the desert from Orange County, where my parents live and I grew up, on Thursday afternoon.  We checked in and ogled the lobby as if it was our first time seeing it.  Mom commented how beautiful it was going to be in February when the massive fire place was on as out guests were checking in!

We checked into our pool front casita and we got a tour of the suite Walker and I will be staying in the weekend of our wedding.  Wow! This suite offers one king bedroom, one-and-a-half baths including one with a fire place, a separate living and dining area with a cozy fireplace, oh, and a private pool and hot tub!
Our next stop was with Jen Plus for a hair and makeup dry run!  We absolutely loved Jen and her amazing work.  I won't be sharing pictures though, because I want my look to be a surprise for the big day!

Next, it was margarita time at Adobe Grill, one of La Quinta's amazing restaurants on property.  Mom had wine and I had a skinny margarita that was bigger than my head!  We started with the tuna tostadas which are seriously out of this world! They are so amazing we are serving them as a starter for our rehearsal dinner.  Next we split the combo plate because it is equally as delicious.  We are also serving this at the rehearsal dinner.
We went back to our beautiful room and slept like babies!
The next morning we met with Luna Solamon of Arrangements Design for our demo.   Luna is doing the flowers and rentals for both our rehearsal dinner and our wedding.  Although I am keeping her design a secret until the wedding, I can promise you to was STUNNING!  Below are some images of previous weddings Arrangements has done.
Swooning over Luna's beautiful work we were off to El Paseo, an upscale outdoor shopping area, think Rodeo Drive, to find my wedding shoes.  We walked into Gucci and asked if they had a particular shoe and they said they only had one pair left in a 36.5, which just so happens to be my size!  It was fate!  We bought the shoes and were off to have a boozy lunch at The Daily Grill to celebrate.

We walked to The Daily Grill, where I ate all the time as a kid with my grandparents.  We sipped white wine and split the artichoke as an appetizer.  For our entree we split the club sandwich with fries.  Yum!  It was the perfect afternoon!
Once back at La Quinta Resort we hangout at the pool for a little R&R.

After getting ready for dinner, we took a walk around the beautiful grounds of the resort and went to look at the venues our rehearsal dinner and wedding would be at.  "What a perfect place for a wedding!" we both kept saying to each other!  We couldn't wait for Walker to see it too!  He was arriving the following morning with my dad.

We had a beautiful dinner at Morgan's, another amazing restaurant at the resort.  We started with a bottle of wine, duh, and started with the tuna tartar which was so so light and refreshing and delicious.  Next we split a new pasta on the menu with a creamy truffle sauce!  It was so die for!  So much so, it's going to be the vegetarian option at our wedding!  We mentioned to our waitress how much we loved the dish and she invited us back into the kitchen to meet the chef and have a tour of the immaculate kitchen, which was so cool!  I know I have mentioned this before, but the service at La Quinta Resort is nothing I have ever experienced!
After dinner we had drinks at The Top of The Plaza.  We sipped our wine and listened to the amazing live music.
The next morning we met up with my dad and Walker and gave them a tour of where all the wedding festivities would be.  Both the boys were very impressed!

Next we were off to our tasting!  We had no idea what to expect but in typical La Quinta Resort fashion, they went above and beyond and treated us like kings and queens!  We walked into a private dining room to find a beautiful cocktail bar set up for us featuring prickly pear margaritas, spicy margaritas and sangria!  We all grabbed one of each, I mean, when in Rome and took our seats.  Joining us was our planner Cathy from COJ Events and Nicole the Director of Catering at La Quinta Resort.  We sat and were promptly served perfectly chilled champagne.  Clearly they knew the Joneses were coming, because the booze we flowin'!
As we sipped our champs we started with our passed appetizer options- blackened seared ahi on a sesame won-ton with papaya salsa, poached prawn with basil cream, dates stuffed with blue cheese and wrapped in bacon, dijonaise crusted lamb chops with herbs and Japanese bread crumbs, Baja crab cake with mango aioli and pancetta wrapped scallops with a spicy orange jam.  Holy amazeballs!
Next it was time to try the starters/soup/salad portion of our menu.  We first started with the potato and leek soup topped with a bacon and lobster salad.  Divine.  Next we tried a lamb chop accompanied with a lemon, parsley risotto, granny smith apples and a cinnamon jus.  Next up was a jumbo lump crab salad with avocado, creme fraiche and tabasco gelee.  Seriously out of this world.  Chef Lesly is one talented gal!  She was also so sweet through out the entire tasting and sat with us and explained each and every dish.  These were served with a beautiful white wine.  At this point I think we lost count of how many adult beverages we've had.
Red wine was poured and it was time to try our entree options.  First up was the braised duck leg served with creamy polenta, goat cheese and huckleberry sauce.  I think after the first bite, Walker fell more in love with the dish than he is with me.  It was seriously mind blowing!  Next we sampled a slow roasted Scottish salmon paired with rainbow swiss chard, fingerling potatoes and pastis broth.  Our final entree tasting was braised center cut short ribs atop roasted fingerling potatoes, cipollini onions, forest mushrooms and braising jus.  As if it wasn't clear to us before, it is obvious why La Quinta Resort of know as the culinary destination of the desert.  If you're a foodie you HAVE to have a La Quinta Resort wedding!
We all took cocktails for the road, i.e., the walk back to our casitas, and we felt fat and happy.  We spent the rest of the afternoon relaxing at the pool.

That evening we went to The Nest with my parents and my uncle Gordon and aunt Traci.  Back in the day my grandparents used to party at The Nest and to this day it's still a desert hot spot!  The owner recognized my parents from when they used to live in the desert and the atmosphere and food were both amazing!

The next morning we were all sad to leave, but so so excited to get married in this desert paradise!
Thank you so much La Quinta Resort for another beautiful stay at your flawless resort!  I can't wait for my La Quinta Resort Wedding in February!
Kisses and wedding wishes,