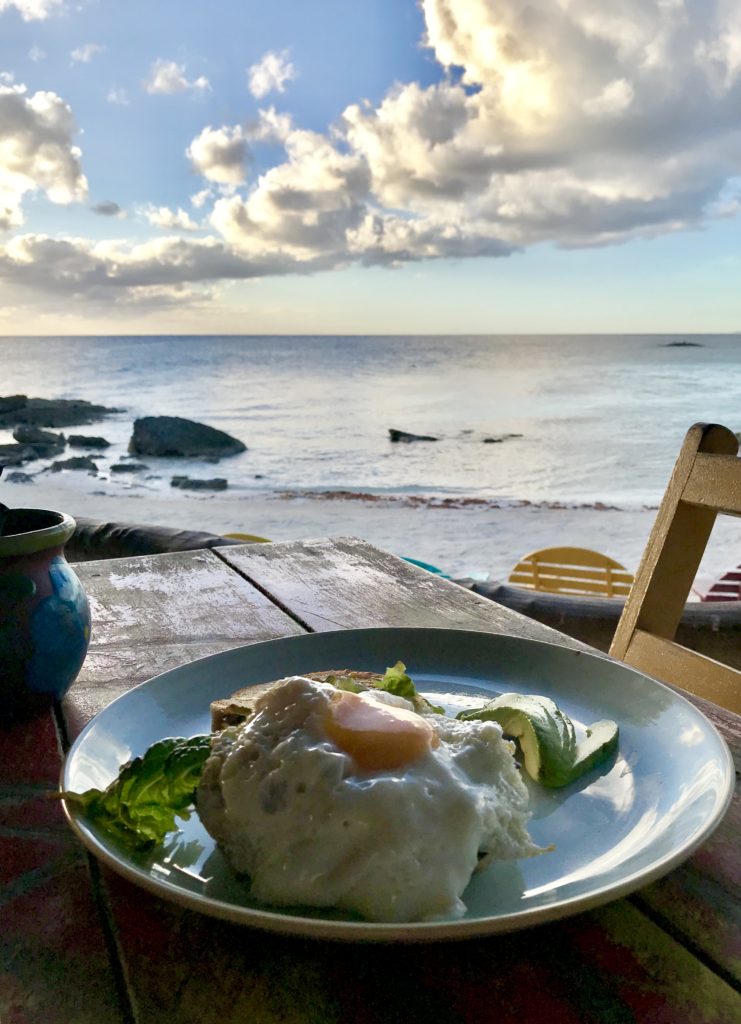 Hi friends and fellow travel enthusiasts! As y'all know I recently traveled to Mexico and visited beautiful Tulum, Mexico.  You can check out that full post here.  Today I wanted to share with you a round up of where we ate, what we ordered and why you should go there to dine (or drink) if you're heading to Tulum!  So keep reading for a list of the best restaurants in Tulum.
Zamas is a hotel and restaurant (we stayed here while in Tulum) located right on the beach.  This Tulum restaurant over looks the beautiful beach and ocean.  You can sit outside with a beautiful cliff view, inside (there's also a bar) or on the sand.
I would highly recommend their breakfast!  The avocado toast is wonderful and their breakfast sandwich is out of this world!
They have amazing sunset views and a 2 for 1 margarita happy hour.  Their drinks that aren't included in happy hour are also VERY affordable.
At night they have live musical entertainment.  We could have dessert and a night cap every night here.  Their chocolate lava cake is seriously out of this world!
Mateo's has great sunset views and happy hour specials.  They offer 2 for 1 drink specials on their sunset deck which offers beautiful views of both the ocean and jungle.
Posada Margherita is a beautiful beachfront restaurant with beautiful Italian food.  The decor and ambiance at this restaurant is amazing!  So charming and unique.  You can dine on the sane or from inside and still have perfect ocean views.
We ordered the caprese which was so fresh and delicious and the shrimp pasta special which was also wonderful.  We dined at this Tulum restaurant for dinner, but this would also be a wonderful lunch spot because of the beautiful views.
Great food right on the sand.  You can also rent day beds here and hang out all day if you like.  We just came for lunch and it was amazing!
Their tuna nachos were wonderful and the coconut shrimp was INSANE!
We dined on the sand, but at the bar they have swings you can sit and sip in which was very cool I thought.
The most unique dining experience I've ever had.  An absolute MUST in Tulum.  You eat in "teepees" built on cliffs over looking the ocean.
They also have swings and fire pits throughout the restaurant for your enjoyment.
We started with shrimp kabobs which were lovely and had the ribeye with pineapple mashed potatoes for out entree.  It was THE BEST ribeye I've ever had in my life!
Beach front restaurant with beautiful views.
I had a cheeseburger and fries and it was amazing!
Beautiful restaurant in the jungle.  A reservation is a must here and I'd recommend making to for 8pm or later.  The live music is amazing and doesn't start until then.
The craft cocktails were amazing and the atmosphere is beautiful and unique.  We ordered the chorizo lettuce wraps and the cauliflower.
I hope this list helps you plan your trip to Tulum and gives you an idea of the best places to eat in Tulum!
Check out my 2017 travel round up too!  Click here!
Kisses and foodie wishes,