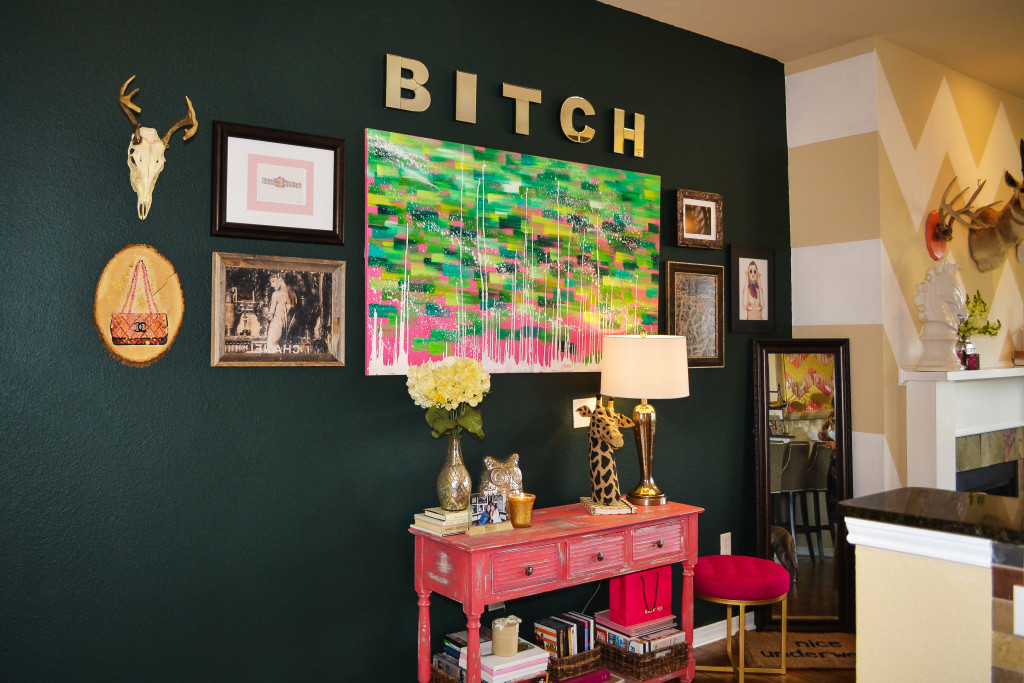 Gallery walls are so trendy right now and I am a major fan! I have a gallery wall in my foyer that involves 13 individual pieces ranging from a deer skull to mirrored lettering spelling out "BITCH". Today I'm talking tips and tricks to creating a chic gallery wall in your space in a flash!
1) Make a statement. It's the perfect way to make a personal statement in your home. Remember, your home is a reflection of you!
2) Play with the lay out. Lay out, arrange, and rearrange your pieces on the floor before you commit and nail them to the wall. Start with the central focus piece and work your way out.
3) Mix and match. The more variety the better! Combine photographs, antiques, paintings, framed works and unframed pieces and anything in between. Mixing and matching will add depth and uniqueness to your gallery wall.
The struggle is real. Hanging a gallery wall can be a struggle! You want everything to be level and spaced perfectly. Above I listed some helpful hints and guidelines to get started but here is the best tip and piece of advice I can offer: trace each frame onto butcher or painters paper. (You can find rolls of this at Home Depot or any home improvements center or if you are friendly with yours, ask your local butcher for some.) Next, cut the shape out. With a pen or sharpie mark on the cut out shape where the nail should go. Tape the paper cut out to the wall in the desired spot. Place all paper cut outs on the wall before touching the hammer and nails! Once you are happy with the placement of everything you can feel free to hammer away! Using the guide you drew on the paper hammer the nail in the appropriate spot, remove the paper leaving the nail in the wall and then hang your piece. And voile! Your have yourself a gallery wall. Easy peasy.
GET THE LOOK:
Gold framed nude sketch: Z Gallerie
Fashion books: Z Gallerie
Silver cow skull: Z Gallerie
Gazelle head: Z Gallerie
Wood Union Jack: Nordstrom
Balloon dog: Nordstrom
Cow skull canvas: Nordstrom
Mirrored wall letters: Pottery Barn Kids
Kisses and creative wishes,