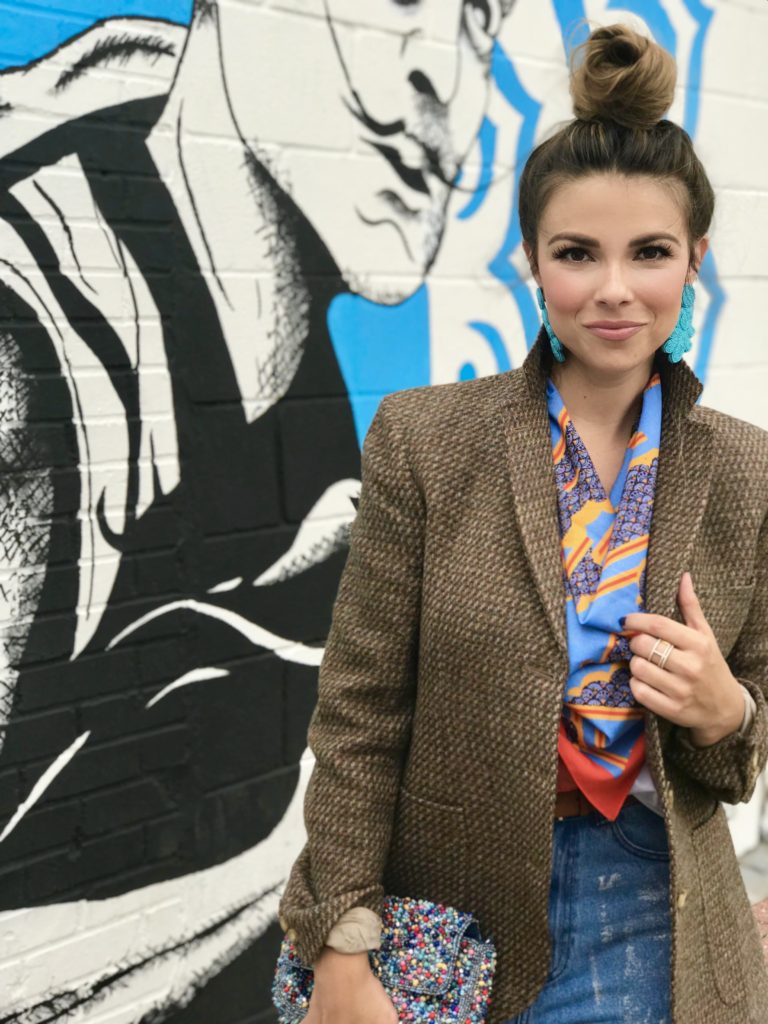 Good morning friends!  I hope everyone is having a wonderful day!
Today is another installment of my winter fashion trends series and today's hot winter trend is scarves!  This neckerchief trend is one of my favorites!  Keep reading for full look details plus 19 more amazing winter trends!

Out of all my scarves, this one maybe my favorite!  I paired this beautiful orange and blue scarf (only $18) with a simple white v-neck tee (under $15), silver painted mom jeans (under $100) a saddle colored belt (under $25), a beaded clutch (similar here), beaded earrings, blue suede pumps (more affordable pair here) and a plaid blazer (under $60).
1.  Grey plaid.

2.  Red, hot! All red everything.

3.  Berets.  Ms. Lewinski loves them too!

4.  Vintage inspired faux fur.

5.  Silver, and well, silver.

6.  Galactic prints.  Oh, my. Starry eyed surprise.

7.  Turquoise on turquoise on turquoise.

8.  Be a leopard lady!

9.  Be a flamingo and think pink!

10.  P. Diddy's fave- puffer jackets.

11. Patent leather and vinyl.

12.  Winter white.

13.  Demin on denim.

14.  galore!

15. Workwear.  Not just for 9-5 anymore.

16.  Embellished denim.

17. Mules.  The shoes.  Not the animal.

18.  White boots.

19. Military jackets.

20.  Pearl detailing.

Stay tuned for more winter fashion trends posts and I will he your HQ for everything Christmas!  From recipes, to gift guides, to #OOTD's… and more!
Kisses winter wishes,