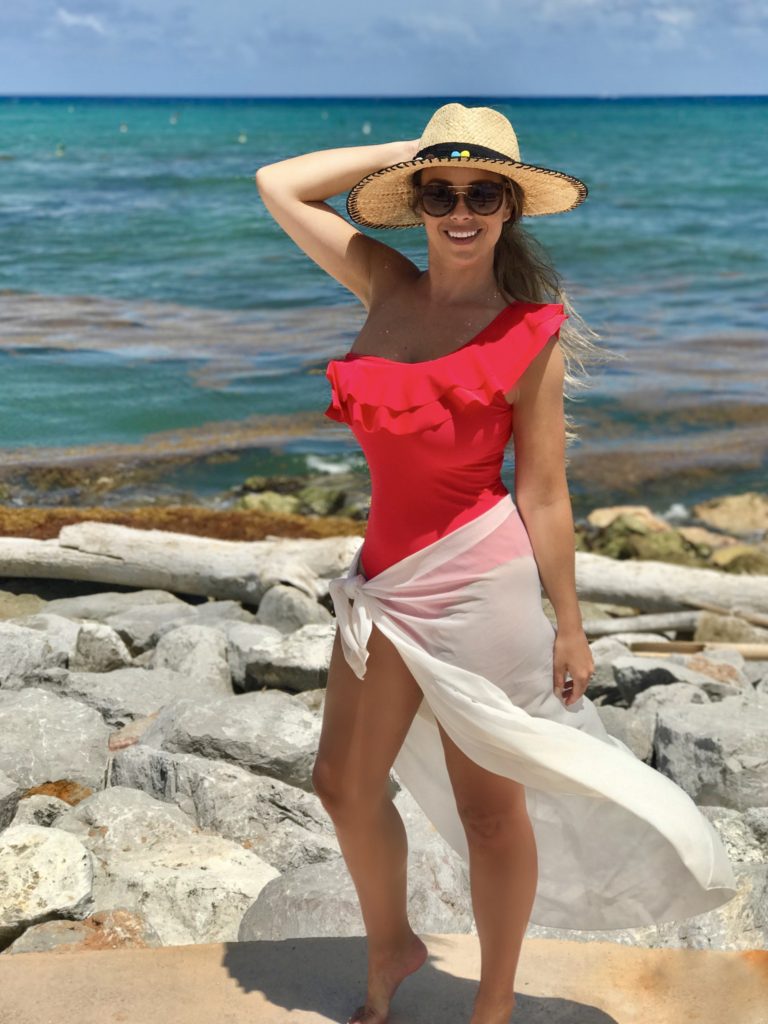 Last week Walker and I took a trip to the Dominican Republic to relax before he began his new job and to celebrate the joys of this last year. After a few days in La Romana, we were off to the beautiful Cap Cana area of the Dominican Republic to stay with AlSol Resorts at their all-inclusive hotel, Tiara Cap Cana. Continue reading for full details of our action packed but relaxing stay at AlSol Tiara Cap Cana.
Cap Cana is an ideal destination for any type of traveler because it has a variety of things to do such as water sports, outdoor activities, day trips and excursions and upscale restaurants and shoppping. Cap Cana is home to one of the most spectacular marinas in the world, famous for its amazing fishing! Cap Cana's Punta Espada Golf Clubone of the best golf courses in the Caribbean. All of these amenities combined with Cap Cana's turquoise waters and white sand beaches make it one of the most beautiful and desirable vacation spots in the world!
AlSol Tiara Cap Cana is a luxury resort in the heart of Cap Cana's Marina. The resort has only 115 spacious suites. AlSol Tiara Cap Cana offers a variety of dining options! On the property there are three themed restaurants- a seafood & Caribbean grill, a Mexican restaurant and an Asian restaurant complete with hibachi grill! Plus, multiple bars and a coffee shop!
As a guest at Tiara Cap Cana, you also get to enjoy the restaurants and amenities of its sister resort, AlSol Luxury Village! This resort is located directly next door to Tiara Cap Cana and golf cart transportation is provided between the two resorts.
We arrived at the beautiful resort a little before noon. Though check-in is at 3pm they were able to rush our room and we were able to check in almost immediately!
Our marina view room was breathtaking! Complete with a massive walk-in closet, sitting area and huge patio, we knew we'd never want to leave after staying here!
We changed into our suits and hit the pool! We sipped on El Presidente beers and read while enjoying the refreshing infinity pool over-looking the marina beach.
For lunch we dined at Caribya Beach Club located right on the sand. We started with ceviche, which Walker and I both agreed was the best ceviche we both had ever had! For our entrees I had red snapper with a conch sauce and coconut rice and Walker had a whole fried fish! For dessert Walker had ice cream and I had a lemon tart. Yum!
After lunch we walked along the marina and sipped more El Presidentes. The views were amazing!
Having a later dinner reservation that night, we decided to get an afternoon snack delivered to our room from room service. We snacked on chips and pico, steak quesadillas and a beautiful fruit plate on our patio.
Before dinner we took a walk around the beautiful grounds of the property and sipped on champagne at the Lotus Bar until our dinner reservations. That night we were having dinner at Blue Lotus, Tiara Cap Cana's teppanyaki restaurant. Our hibachi chef was as hilarious as he was talented and we could not stop laughing as we feasted on sushi, sashimi, veggies, fried rice, chicken, steak, squid, mussels and shrimp, oh my!
After dinner we went to the property's sports bar with a cute couple, Mike and Stephaney, from Pennsylvania, whom we sat next to at the hibachi grill.
The next morning we woke early for our day packed with adventure! To get some pep in our step, we ordered coffee to the room and sipped and read the news on our beautiful patio with views of the breathtaking marina.
At 8:20am our driver with Scape Park picked us up in the lobby for our day filled with adventure!
Scape Park, which is located just a short 10-minute drive from AlSol Tiara Cap Cana, is a natural theme park with numerous attractions!
Our first adventure and excursion at Scape Park was the cenote Las Ondas, a mystical and breathtaking cenote! We walked through a beautiful trail to get to the cenote and we both had no idea what to expect but we loved what we found! We took a few flights of stairs down into the cenote to find the clearest water we'd ever seen! We floated in the water of the underground cave and couldn't believe how cool of an experience it was! The refreshing waters and peaceful atmosphere inside the cave created a magical experience I would highly recommend!
Our next adventure was the waterfall safari. Our first stop was at the very tip of the island. We stood on the cliffs and looked down upon the crashing waves. It was such a breathtaking sight! I felt like I was standing on the cliffs of Dover.
Our next stop would be at a traditional Dominican home. On our ride there, we had views of amazing caves, the ocean and goats relaxing on the beach. We got to the home and were served traditional coffee while we listed to live traditional music.
Next Walker and I explored the coolest caves with massive stalactites and stalagmites! From the cave we had the most beautiful views of the ocean and the island.
Exhausted and hungry from our day's adventures at Scape Park, our first stop once we arrived back at the hotel was the bar! We sipped refreshing and ice cold El Presidente beers and enjoyed fresh fish crudo.
After lunch at the Caribya Beach Club, we relaxed at the pool. Alba, our pool side waitress from the day before, remembered our orders and brought us cocktails without us even having to ask! What service!
For dinner that night we went to AlSol Luxury Village. Before dinner we explored the beautiful village and marina.
Once we'd worked up an appetite, we had dinner at the Argentine Bistro. Set on the second floor of the hotel, we had beautiful views of the pool, marina and setting sun as we sipped champagne. We were so sad it was our last night at the amazing hotel and we chatted how we would love to come back again with our families.
For dinner we enjoyed red wine and started with beef carppaccio and fried calamari. For our entrees with both ordered the rack of lamb. Yum! It was delicious and cooked perfectly. For dessert I had the pineapple upsidedown cake and Walks had chocolate cake. We curbed our sweet tooths while live mariachis serenaded us.
After dinner we had cocktails on our patio while Walker had another cigar and we took in the beautiful views of the marina at night.
The next morning, we had coffee on our patio and hated the fact it was our last time to do so. After coffee we went to AlSol Luxury Village and had breakfast overlooking the marina. It was beautiful!
After breakfast we explored more of AlSol Luxury Village and caught some rays at one of their beautiful pools over looking the marina.
After breakfast and a little sunshine we sadly went back to our room to pack.
With a little time to spare we decided to take a final dip in one of the resorts luxury pools and enjoy one last tropical meal. For our final meal at AlSol before heading to the airport, we both had whole fried fish and El Presidente beers and we cheers'd to a flawless trip.
Thank you AlSol Hotels and Resorts for such an amazing experience at your beautiful hotels in Cap Cana. We cannot wait to return again soon!
Like this post?  Check out our trip to Uvita, Costa Rica too!
Kisses and vacation wishes,