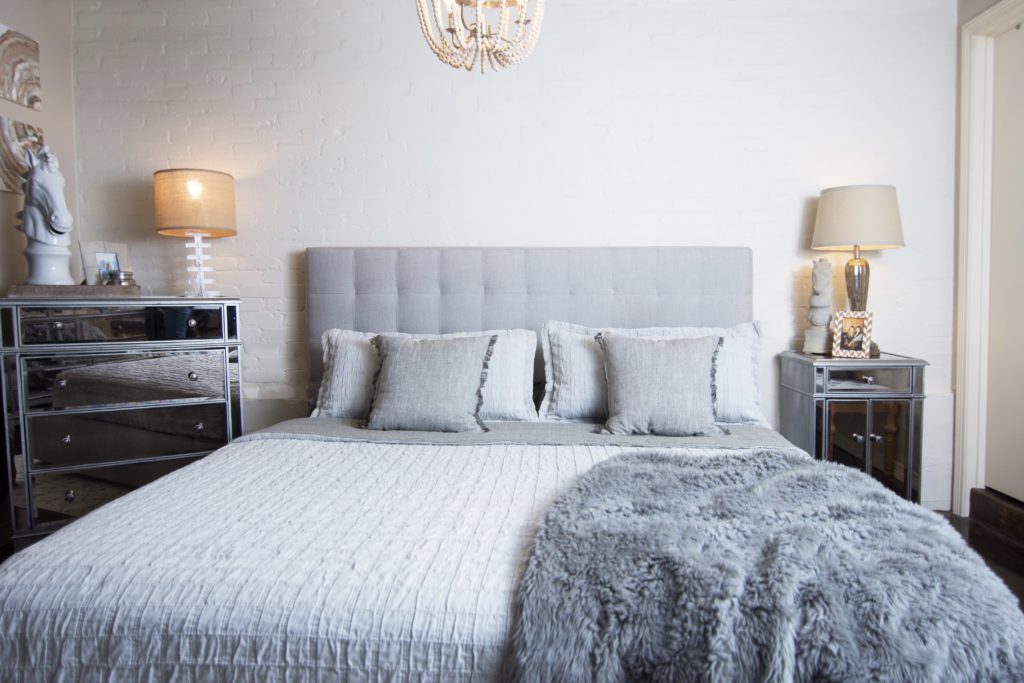 Hello friends and happy Friday! I hope you all have had wonderful weeks.
I've teamed up with Room & Board and today I am sharing my and Walker's bedroom reveal with you! I hope you're as excited as I am! Keep reading to learn more about Room & Board (umm did you know they just opened a store here in Dallas?!), full room details and how I was able to combine both my and Walker's and my style to create our dream master bedroom!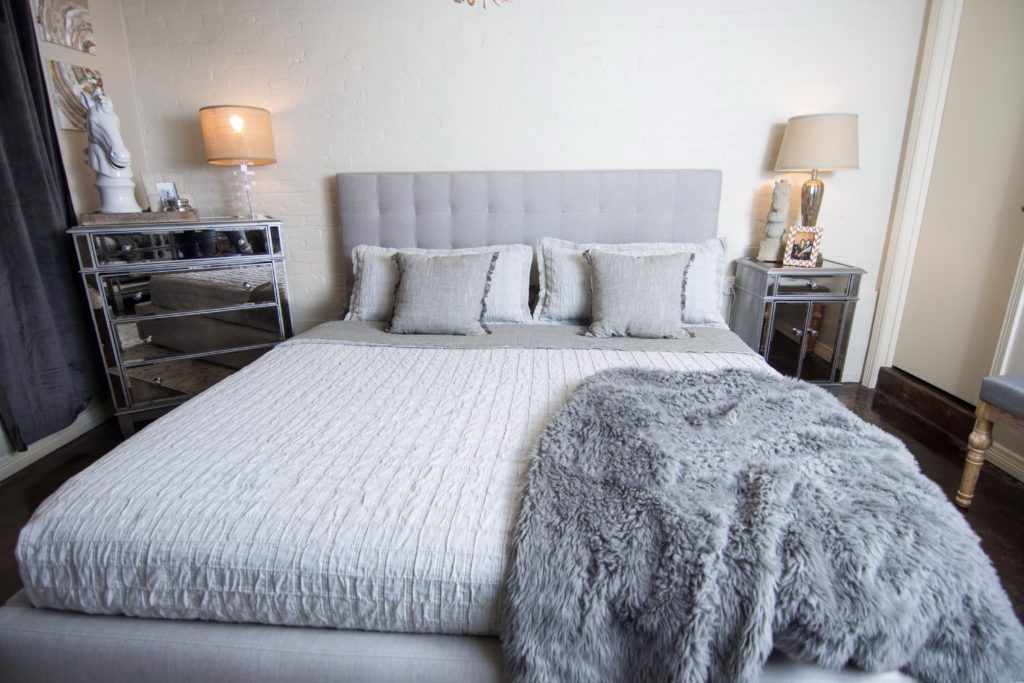 For more than 35 years Room & Board has created modern furnishings designed to be practical, timeless and comfortable. What's also awesome, is over 90% of their products are manufactured here in the US using quality American and imported materials. Working with family-owned companies around the country allows Room & Board to bring you the best craftsmanship and fastest delivery with the least environmental impact. It also means you get furniture with a story you'll be proud to share. How cool is that?! Natural materials are central part of their designs, and their respect for these materials leads Room & Board to source them responsibly.
When partnering with Room & Board, I knew I wanted to select a room to furnish that Walker and I would spend the majority of our time in so we could enjoy our new beautiful space together as a couple. Our master bedroom seemed like a no brainer!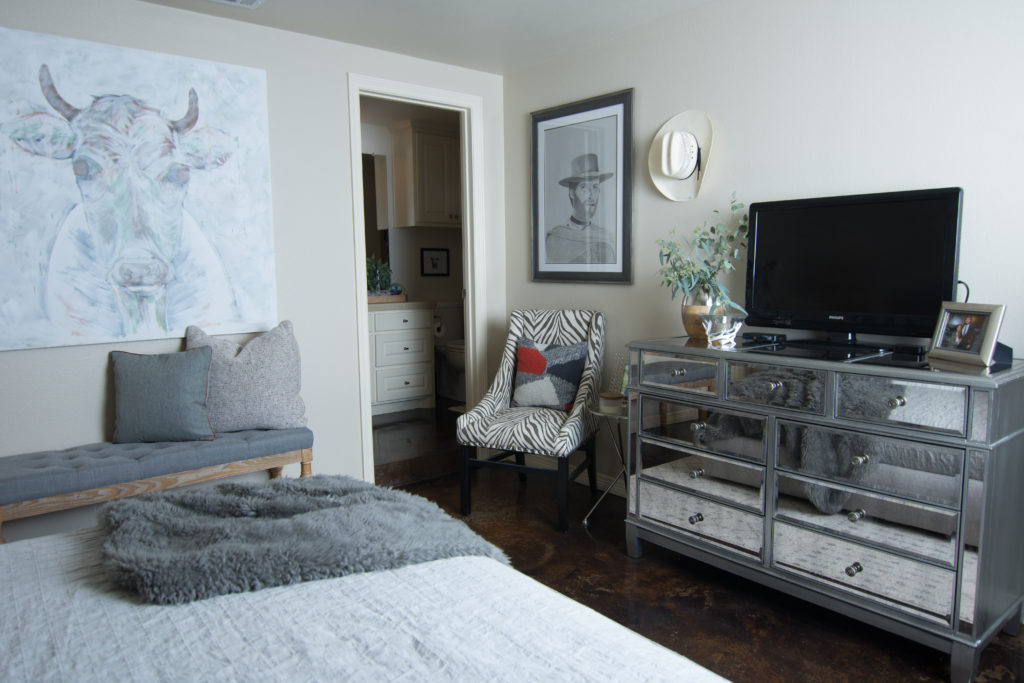 Then it was time to design! Most of you are familiar with my old apartment. It was pink, girlie and eclectic. Walker's bachelor pad was… have you seen the movie Animal House? Yeah… So my goal for our room was to create a space that showcased both our personal styles in a way that felt sleek, mature and inviting. Inspired by a recent trip to Scandinavia I wanted to select a bed, the focal point of a bedroom, that had clean, simple and minimalistic vibes. Well obviously I went to the right place! Every bed I looked at at Room & Board was even more beautiful than the next! After hours of staring at beautiful beds online, Walker and I finally decided on the king sized Avery bed. My old bed was a queen and Walker's was a full (how?! He's 6"4'!). We knew we wanted to scale up to a bigger bed- it was a tight squeeze in the queen with the two of us and Lulu and we would like to get a bigger dog soon, so a King was a must! We selected a Sunbrella canvas fabric in the color canvas cement. The great team at Room & Board sent over beautiful fabric swatches and we selected the Sunbrella because Sunbrella textiles are made with close attention to design detail, and engineered with tough performance characteristics that provide resistance to fading from sunlight and chemical exposure. The fabric is very durable and is easy to care for! With a dog, and a messy fiancé, and myself, an addict to eating in bed, an easy clean up fabric was a must! I opted for a grey fabric because I wanted the room to lean slightly more masculine and I prefer grey/cool tones over beige/warm ones. I knew this classic grey bed with a modern twist would be the perfect piece to design our room around.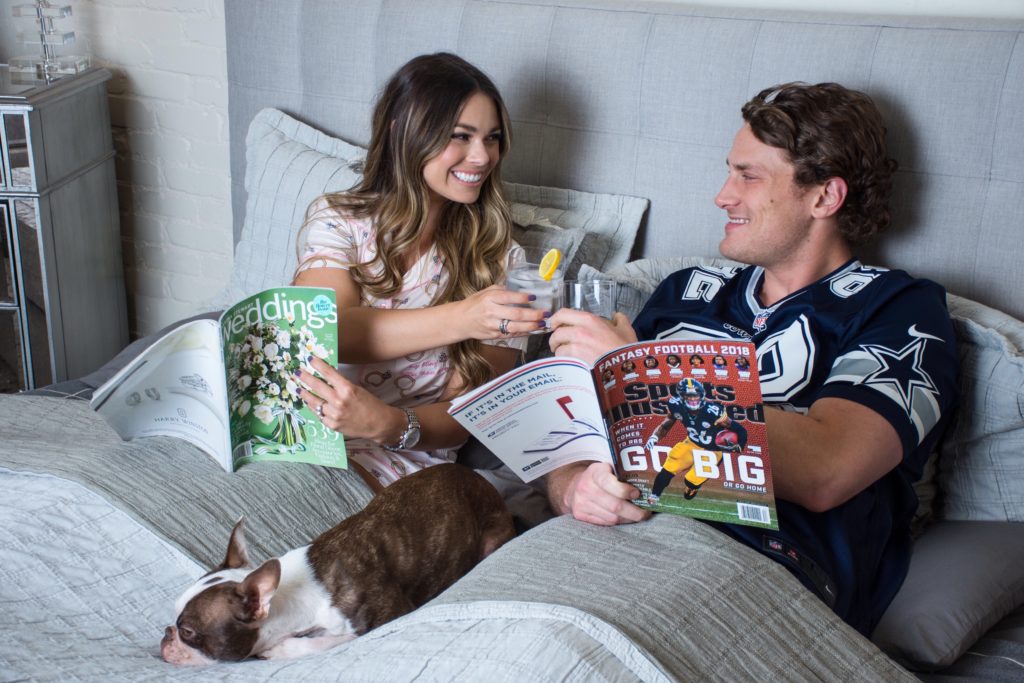 Next up, mattress! We selected Room & Board's Innerspring – Extra Firm mattress, which offers time-tested support and a traditional, buoyant feel. The connected innerspring coils flex with your position to provide proper orthopedic support and allow heat to dissipate to keep you pleasantly cool. Their private-label innerspring mattresses feature an organic cotton cover, low-VOC foams and no flame retardant chemicals so you can sleep comfortably and safely. This low-profile designed mattress is a perfect fit for their modern platform beds, which have support slats that eliminate the need for a box spring. Each mattress is engineered for lasting comfort without the need to flip. And let me tell you- it's SOOO comfortable!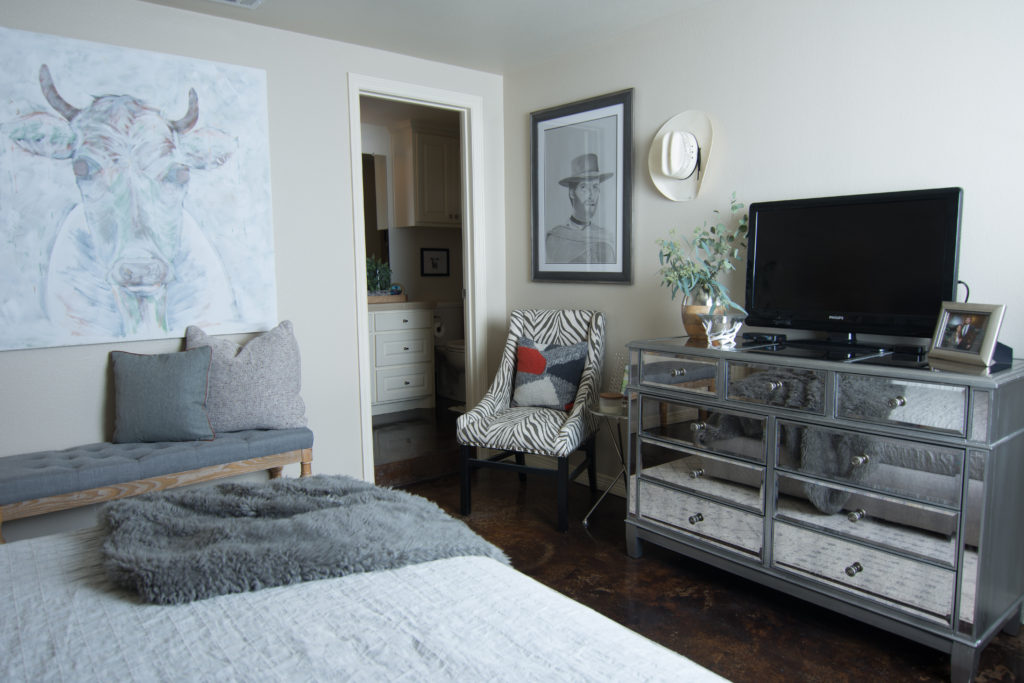 Now that our bed was complete it was time for linens and bedding! Room & Board has so many styles to choose from! Again, I wanted sleek, minimal and slightly masculine and grey. The Room & Board design team went above and beyond when helping me select the bedding. Since colors can sometime appear different online than in person, I wanted to make sure I was selecting pieces that would go with each other and also our bed. The amazing design team recommended the perfect colors in the pieces I was interested in. We selected the Percale sheets and pillowcases in charcoal, the Apex Blanket in Heather/Grey and the Marley Coverlet and Shams in cement. This combo feels cozy, simple and gender neutral!
The bed was delivered and placed exactly where we wanted it in our room and the entire white glove delivery process was so simple! I didn't have to lift a finger!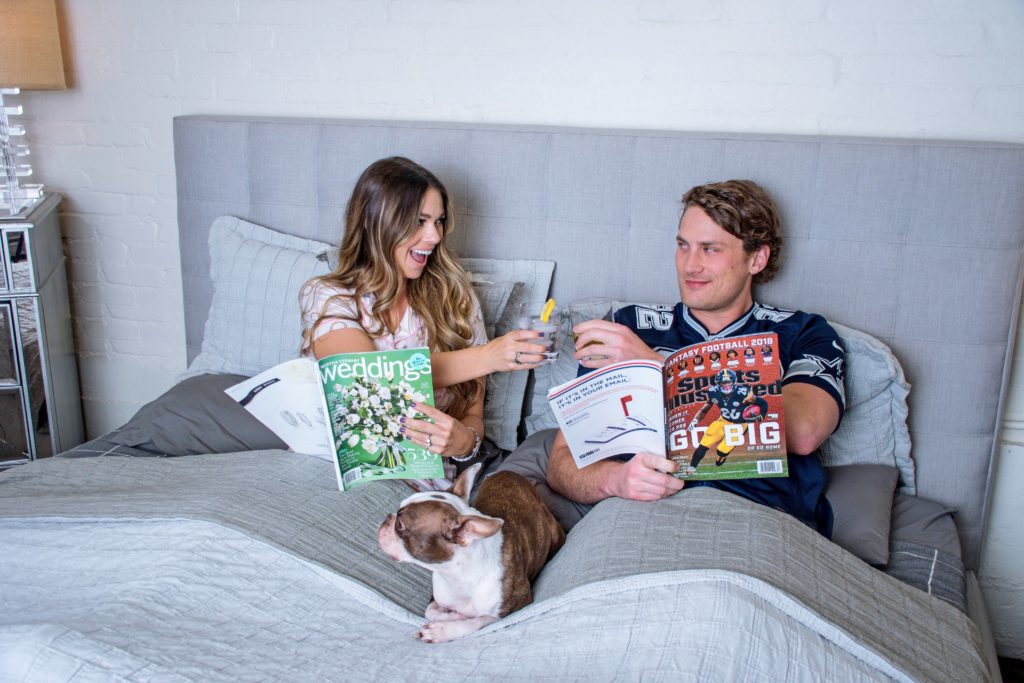 Now it was time to decorate and to combine our styles! Since our bed and bedding is sleek, minimalistic and neutral, I wanted to add a little girlie glam with velvet curtains, a fur throw, cozy and heavily textured throw pillows and mirrored furniture. To keep with the natural and simplistic feel of the bed, I added a beaded chandelier and bench both featuring naturally stained wood. I added more natural wood and cement pieces for décor and hung a large portrait of Clint Eastwood. Keeping a neutral color palate and combining natural materials and textures with luxe fabrics and a little bit of glam was how I achieved a look that reflects both our styles!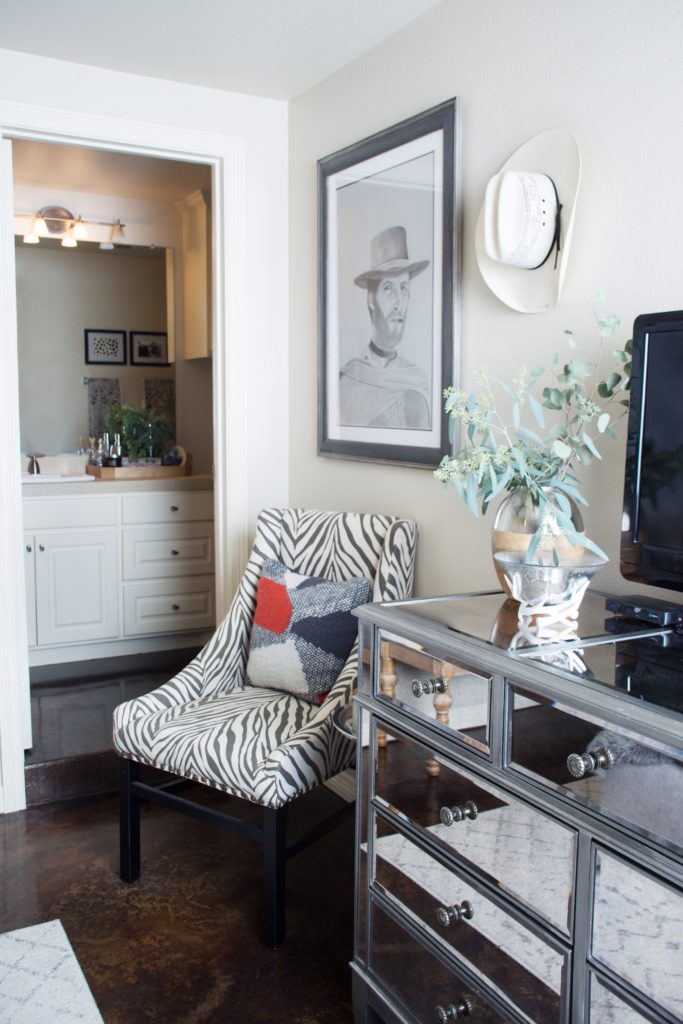 I hope you enjoyed a peek into our home and stay tuned for more room reveals!
Kisses and home sweet home wishes,