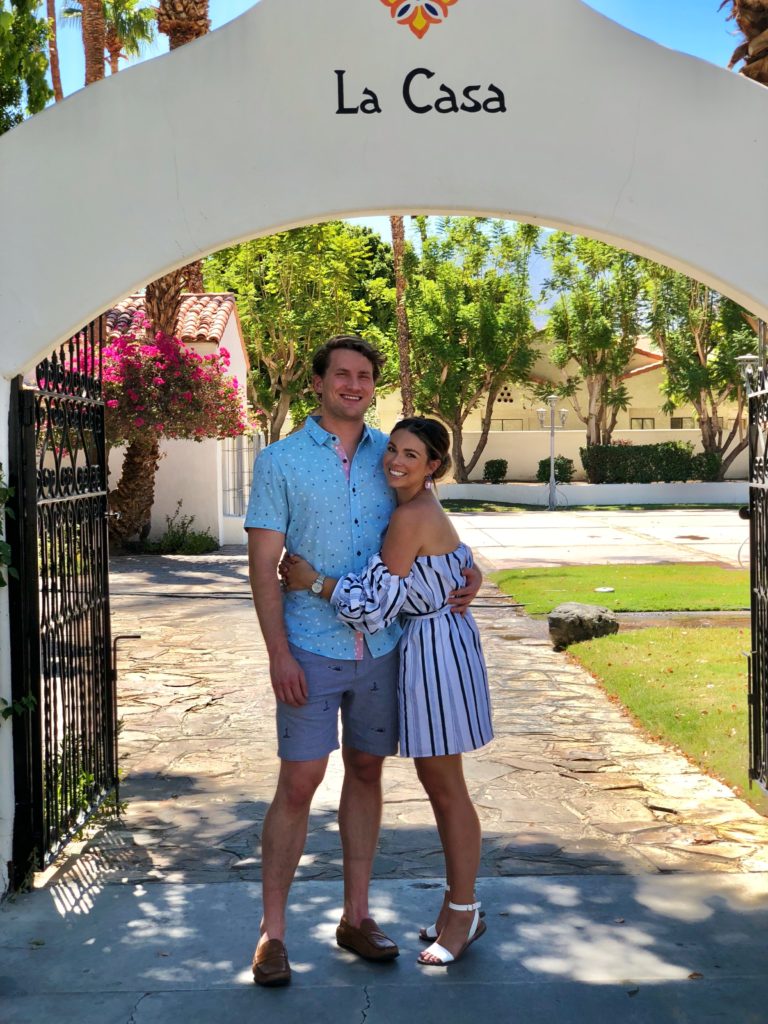 What is up my friendly people?!  Happy Happy Tuesday!  I hope you all had wonderful and exciting weekends.  Walker was out of town this weekend dove hunting so Lu and I stayed home, caught up on Bachelor In Paradise and working on a longer due DIY project.
In 4 months and 14 days Walker and I get married!  Can you believe that?!  A few weeks ago we went out to California for our tasting at La Quinta Resort and we were so impressed by the service, hospitality and cuisine that I just HAD to share my experience with y'all!

We had no idea what to expect but in typical
La Quinta Resort
fashion, they went above and beyond and treated us like kings and queens!  We walked into a private dining room to find a beautiful cocktail bar set up for us featuring prickly pear margaritas, spicy margaritas and sangria!  We all grabbed one of each, I mean, when in Rome and took our seats.  Joining us was our planner Cathy from
COJ Events
and Nicole the Director of Catering at
La Quinta Resort
.  We sat and were promptly served perfectly chilled champagne.  Clearly they knew the Joneses were coming, because the booze we flowin'!
As we sipped our champs we started with our passed appetizer options- blackened seared ahi on a sesame won-ton with papaya salsa, poached prawn with basil cream, dates stuffed with blue cheese and wrapped in bacon, dijonaise crusted lamb chops with herbs and Japanese bread crumbs, Baja crab cake with mango aioli and pancetta wrapped scallops with a spicy orange jam.  Holy amazeballs!
Next it was time to try the starters/soup/salad portion of our menu.  We first started with the potato and leek soup topped with a bacon and lobster salad.  Divine.  Next we tried a lamb chop accompanied with a lemon, parsley risotto, granny smith apples and a cinnamon jus.  Next up was a jumbo lump crab salad with avocado, creme fraiche and tabasco gelee.  Seriously out of this world.  Chef Lesly is one talented gal!  She was also so sweet through out the entire tasting and sat with us and explained each and every dish.  These were served with a beautiful white wine.  At this point I think we lost count of how many adult beverages we've had.
Red wine was poured and it was time to try our entree options.  First up was the braised duck leg served with creamy polenta, goat cheese and huckleberry sauce.  I think after the first bite, Walker fell more in love with the dish than he is with me.  It was seriously mind blowing!  Next we sampled a slow roasted Scottish salmon paired with rainbow swiss chard, fingerling potatoes and pastis broth.  Our final entree tasting was braised center cut short ribs atop roasted fingerling potatoes, cipollini onions, forest mushrooms and braising jus.  As if it wasn't clear to us before, it is obvious why La Quinta Resort of know as the culinary destination of the desert.  If you're a foodie you HAVE to have a La Quinta Resort wedding!
We all took cocktails for the road, i.e., the walk back to our casitas, and we felt fat and happy.  We spent the rest of the afternoon relaxing at the pool.
Thank you so much to La Quinta Resort for, as usual, going above and beyond and for helping us create our dream wedding!
Kisses and wedding bell wishes,