"My mom always cooked healthy. Greek food lends itself to cooking healthy." -Cat Cora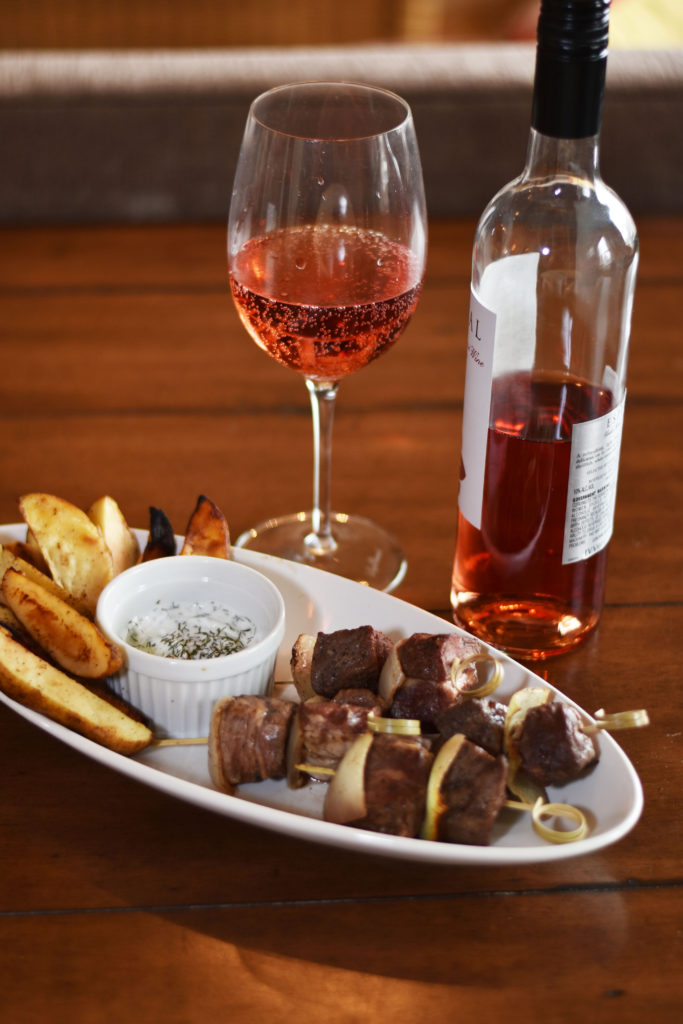 Greek food has always been one of my favorites! Its simple ingredients allow the flavors to really shine through. Today I'm sharing easy kabobs with lemony Greek potatoes and a creamy dipping sauce that will make you want to lick the bowl!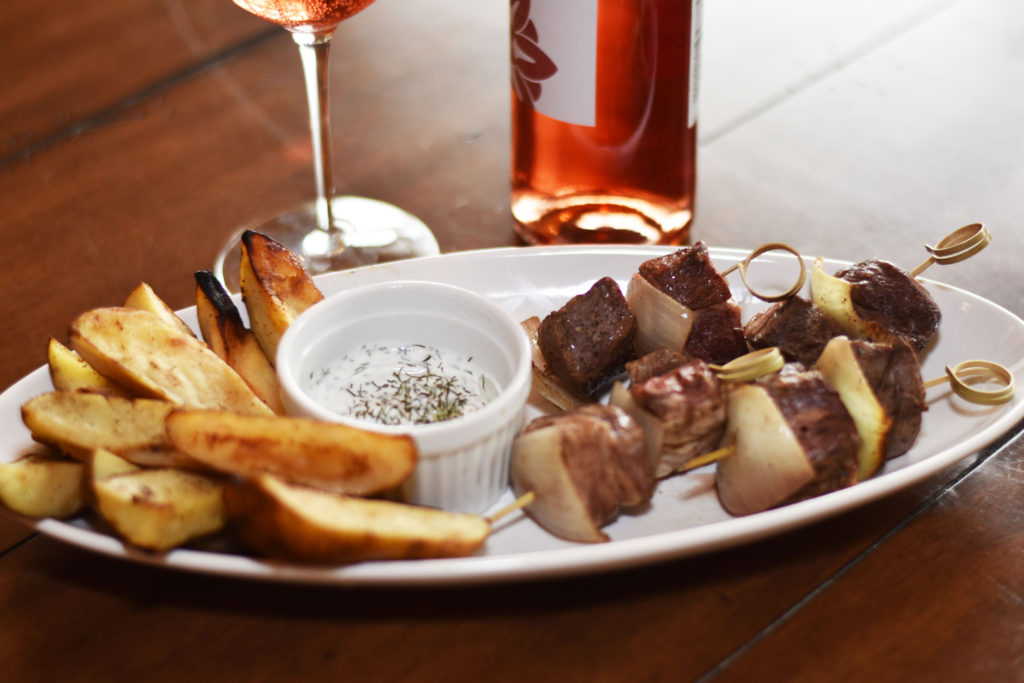 Beef Kabobs
INGREDIENTS
2 pounds beef tenderloin, trimmed and cubed into 16 pieces
1 yellow onion, diced into large chunks
1 tablespoons dried parsley
1 tablespoon dried oregano
1 tablespoon garlic, chopped
2 teaspoons onion powder
S&P to taste
1 cup EVOO
8 (10-inch) wooden skewers, soaked in water for 30 minutes
DIRECTIONS
Once your meat and veggies have been prepped thread meat and onions onto the skewer.
Repeat the process with the rest of the skewers.
Set made kabobs into a roasting pan in one layer and set aside.
In a medium sized bowl whisk parsley, oregano, garlic, onion powder, S&P, and EVOO until well incorporated.
Pour the mixture over the kabobs and refrigerate 1 hour.
Preheat oven to 450 degrees.
Bake for 10 minutes for medium.
Potato Wedges
INGREDIENTS
5 large potatoes, peeled, cut into large wedges (about 6-7 wedges per potato)
4 garlic cloves, minced (more garlic is a good thing, less garlic is a no-no for this recipe)
1⁄2 cup olive oil
1 cup water
1 tablespoon dried oregano (get the Mediterranean, it's the best!)
1 lemon, juiced
sea salt
fresh coarse ground black pepper
DIRECTIONS
Preheat oven to 420°F A reviewer has suggested spraying the baking pan with Pam – that sounds like a great idea!
Put all the ingredients into a baking pan large enough to hold them.
Season generously with sea salt and black pepper.
Make sure your hands are very clean and put them in the pan and give everything a toss to distribute.
The garlic will drop into the water/oil solution but its flavour will permeate the potatoes, and this way, it won't burn.
Bake for 40 minutes.
When a nice golden-brown crust has formed on the potatoes, give them a stir to bring the white underside up, season lightly with a bit more sea salt and pepper and just a light sprinkling of oregano.
Add 1/2 cup more water if pan appears to be getting dry, and pop back into oven to brown other side of potatoes.
This will take about another 40 minutes.
Do not be afraid of overcooking the potatoes- they will be delicious.
Greek Yogurt Dipping Sauce
INGREDIENTS
2 garlic, minced
Salt
1/4 cup cucumber, finely chopped, peel removed
1 cup plain Greek yogurt
1 tablespoon fresh lemon juice
1 tablespoon EVOO
1 tablespoon fresh dill, finely chopped
DIRECTIONS
In a bowl add yogurt, lemon juice, olive oil, dill, garlic, cucumbers and salt to taste.
Stir well.
Cover and refrigerate for at least 2 hours to allow flavors to blend.
Kisses and Mediterranean wishes,