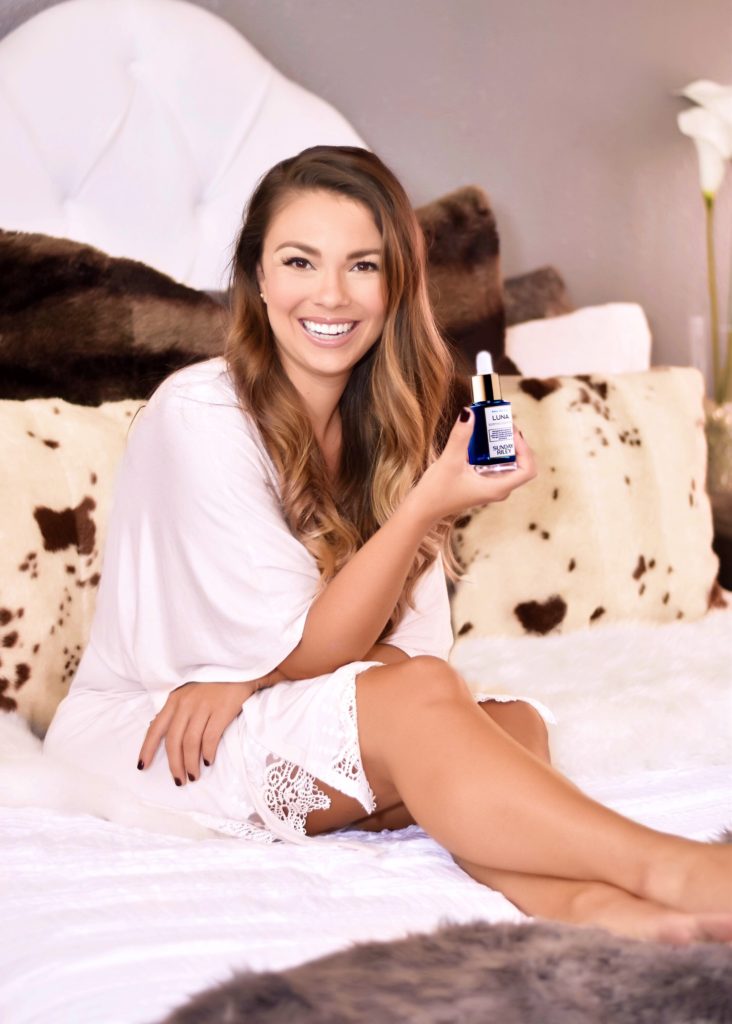 In just 12 days I turn 30!  I honestly cannot believe it!  Skincare products and taking care of my skin has always been a priority for me has become even more so in recent years as I get older.  Today I am sharing my fall skincare routine (yes, its different that my summer and spring) and all my favorite products that go along with it!

Each day my skincare routine begins by washing my face with Purpose facial cleanser.  I've been using it since high school and will never switch face washes.  It's gentle and keeps my skin clear.  It's also great at removing makeup!
The first product I put on is MyChelle Perfect C Serum.  This product brightens the skin and is the only product that has helped get rid of the appearance of my melasma and I have tried pretty much everything under the sun including prescription bleaching creams.  This is also a great product for lessening the appearance of acne scares!
Next I put on Reviva Labs High Potency Collagen Serum.  Collagen is a must for your skin!  This collagen serum helps moisturize the skin and eliminate fine lines and wrinkles.  I like to keep this product in the fridge and it feels SO refreshing when applying.
Next I put on MyChelle Magnolia Fresh Eyes.  This is the perfect eye cream to wear under makeup.  It is more of a gel consistency so your mascara won't rub off onto your lower eye throughout the day like some eye creams cause.
Before I leave the house I always out on sunscreen!  If I'm not wearing makeup I put on Murad's Essential-C Moisture spf30.  This sunscreen is rich and creamy and I love getting another dose of vitamin C!  If I am wearing make up I use Murad's Invisiblur Perfecting Shield spf30.  This sunscreen doubles as a primer and anti-aging treatment as well.  Its SUPER lightweight and perfect for under makeup.
Before makeup or after sunscreen (depending if I'm wearing makeup that day or no) I apply Belif's The True Cream Moisturizing Bomb.  This is my favorite moisturizer I have ever used.  It goes on so rich and creamy but dries with no oily or greasy residue.
Throughout the day I use Drunk Elephant's Lippe Balm.  It's very hydrating and helps with fine lines and wrinkles around the lips.  Its also tastes and smells AMAZING!!!
When I wash my face before bed I use Andalou Naturals Radiant Skin Polish.  This is a gentle exfoliant and it smells great! It polished the skin leaving it smooth and even.
After my face is clean I put MyChelle Perfect C Serum and Riviva Labs High Potency Collagen Serum on again.
My next product is Sunday Riley's Luna Sleeping Night Oil.  This retinoid oil reduces the appearance of pores and wrinkles while fighting the signs of aging over night.  It smells so fresh and clean!  It goes on blue and once rubbed in its clear.  This oil is the perfect consistency too!
After putting on the retinoid oil I use my jade roller for about 10-15 minutes while watching tv.  This promotes collagen growth and honestly it just feels good!
Right before bed I out on Drunk Elephant's Virgin Marula Luxury Facial Oil.  This oil is so silky and moisturizing and feels amazing on your skin!
My last step is applying Murad's Renewing Eye Cream around my eye area.  This product helps with lines and wrinkles around the eye and I love its rich and creamy constancy.
4-5 times a week I steam my face with a facial steamer.  The humidity is good for preventing wrinkles and the steaming keeps your poor clean.  I do this with a clean face usually while I'm checking emails before bed.
Every other night I do either a sheet or cream face mask.  I usually do masks for brightening, moisturizing or anti-aging.  You can shop my favorite face masks below!
… skincare routine face masks …

I hope you enjoyed my fall skincare routine!
Kisses and beautiful wishes,