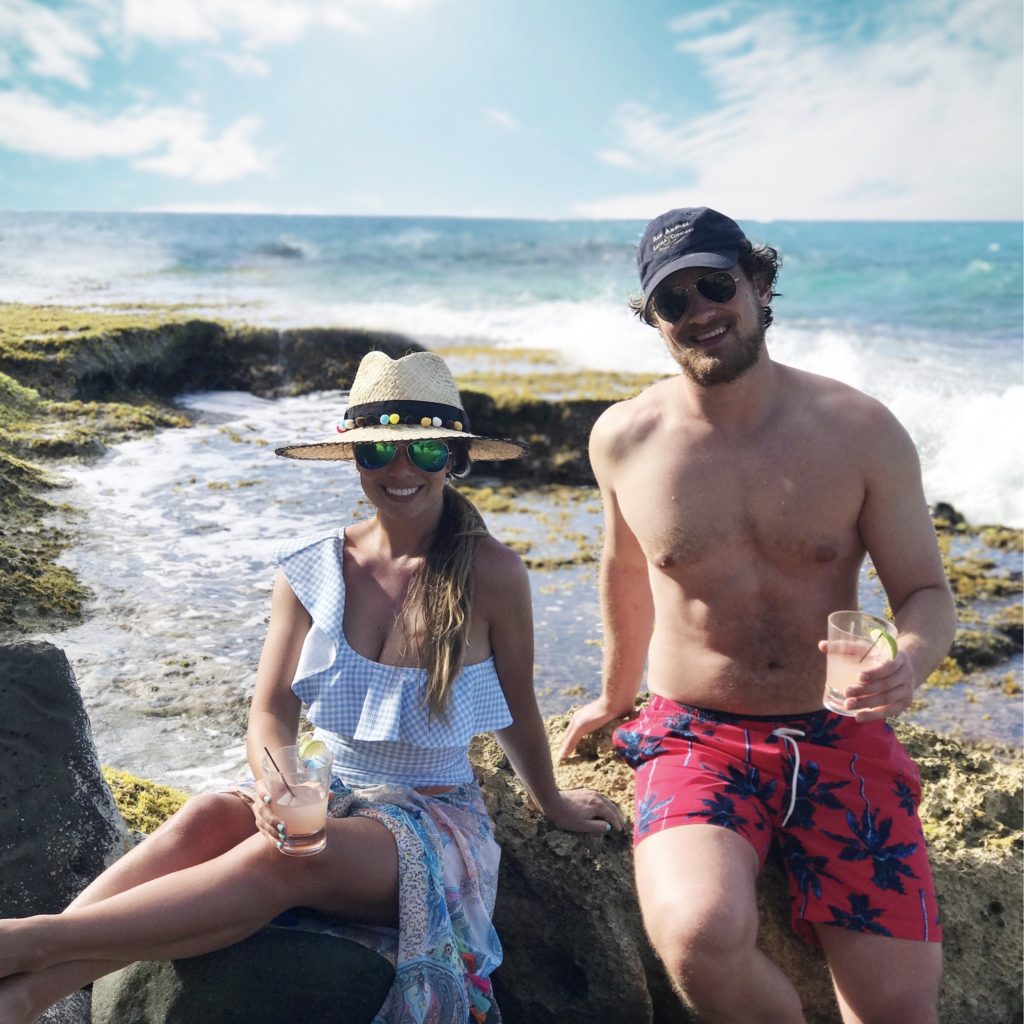 After sightseeing filled days in Old San Juan we were off to continue celebrating our anniversary in style at Condado Vanderbilt Hotel in Condado.
Less than a 15 minute drive away from Old San Juan, we arrived at Condado Vanderbilt Hotel, a perfect combination of retro chic old Hollywood and modern day sophistication and luxury.
Greeted with warm smiles and cold champagne we checked our bags with the front desk and were off to the pool for some R & R and cocktails!
We enjoyed the day at the adult pool with breathtaking views of the beach, while sipping on spicy jalapeno margaritas. We ate lunch from one of the hotel's restaurants, Tacos and Tequila, at the pool—shrimp tacos for me and chicken tacos for Walker. Once sufficiently bronzed and acquainted with the resort's tropical island vibes, we checked into our suite.
Mind-blowing is how our suite would be described. As an anniversary treat an iced bottle of champagne was waiting for us when we arrived. With two balconies showcasing views of the bay, ocean and city, a kitchenette, living and dining room, and master suite, we were tempted to never leave the room! And our private butler made the stay the definition of a luxurious elegance.
We cleaned up and enjoyed our champagne on the balcony overlooking the bay and the ocean and watched as a storm rolled in.
Next we had martinis in the hotels wine and cognac bar- Veritas, and listened to the bar's pianist play. After drinks we had dinner at the resort's restaurant 1919.  Afterwards, we enjoyed after dinner drinks at the resort's cigar lounge, Avo, and Walker enjoyed a cigar from their fine collection. Housing multiple restaurants, lounges and bars, there's no need to ever leave this spectacular five star resort!
The next morning we sipped on coffee while taking in the beautiful views and ordered room service for breakfast. The room was just too beautiful and robes just too comfy for us to depart just yet. Walker had an open faced smoked salmon sandwich and I enjoyed short rib eggs Benedict.
After breakfast, we dressed for the day and went on a long walk on the beautiful beach right outside the resort. We spent the rest of the day at the main pool, home to two pools and magnificent views of the ocean. We had another poolside lunch, this time from the resort's Ola Oceanfront Bistro- two club sandwiches, grapefruit and rum cocktails for me and mai tais for my love. The service poolside was just as excellent as our food and beverages.
For dinner that night we walked next door to La Concha Resort and dined at Perla. We shared a bottle of crisp white wine and feasted on lobster, sword fish and seabass. We capped off the meal with an apple dessert and bailey's and coffee.
The following day we went to Condado's hot spot Oceano for their jazz brunch. We soaked in the views, dined, and sipped on rose. It was the perfect way to end our beautiful stay in
Thank you Condado Vanderbilt for the most exquisite and luxurious anniversary at your beautiful resort.
Kisses and five star wishes,