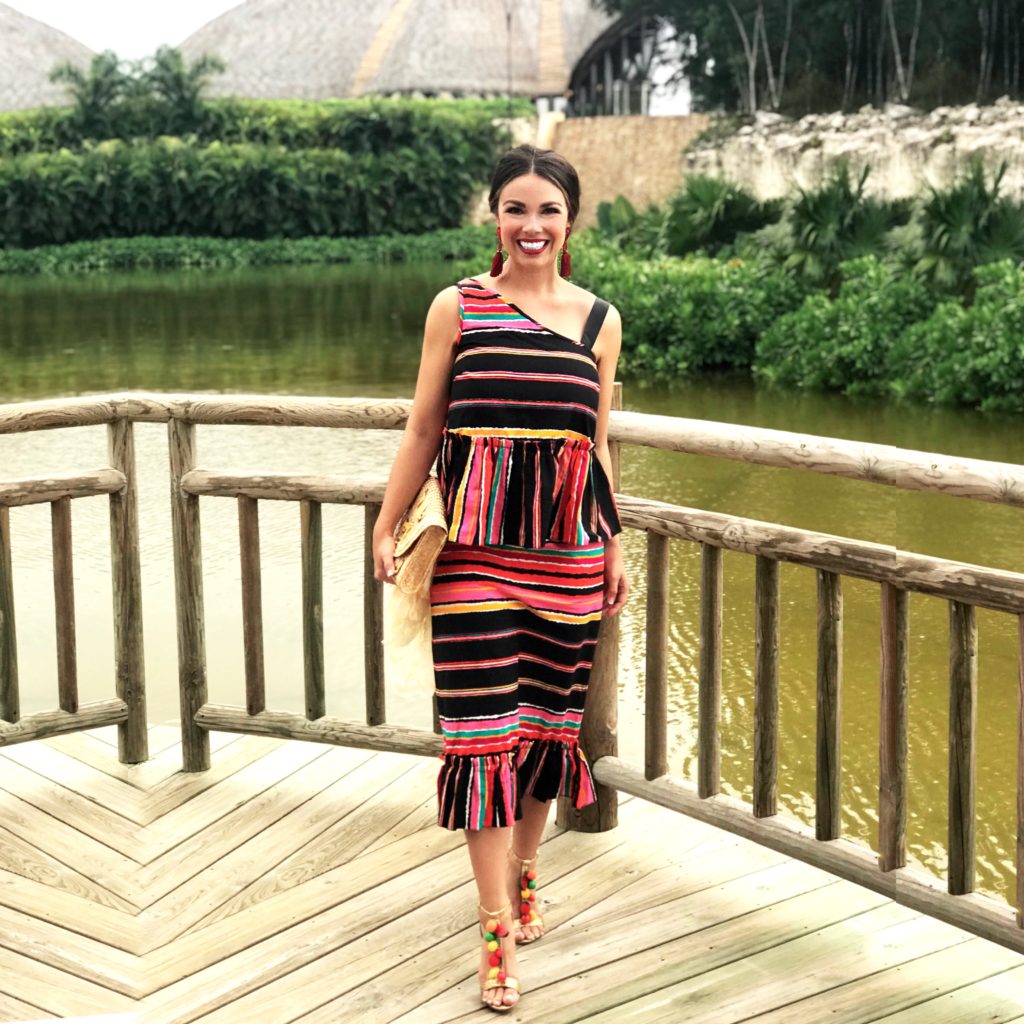 As most of you know, last month my mom and I went to Mexico for a pre-Christmas celebration girls' trip. On our first night there we had the most amazing experience at Vidanta in Playa del Carmen! We were treated to Vidanta's Cirque du Soleil show, Joya. Our evening was so special and magical that I just HAD to share it with you!
For those of you who know nothing about Joya, it's a complete show: featuring a 75 minute long Cirque du Soleil performance, an hour long dinner, and a musical experience. This resident show at the Vidanta resort in Riviera Maya, Mexico is Cirque du Soleil's first resident show in Latin America! Joya combines culinary and performing arts in an intimate and whimsical theater setting that entice all the senses. Keep reading for full details on this spectacular evening at Vidanta!
We pulled up to the Joya venue at Vidanta in Playa del Carmen and knew we were in for a night of wonder! The breath taking grounds set the stage for a magical and memorable night from the get go!
We quickly made our way to the bar, sipped on white wine, and attempted to take in all of the beautiful surroundings. And they were truly beautiful: looking out on the water and decorated with colorful lanterns and hanging chairs. This scene was something straight out of a fantasy land.
Once we finished our wine, we were greeted by our hostess who was dressed in the most beautiful costume, makeup and headdress. Vidanta arranged for a VIP dinner, which included a cocktail experience, three course dinner, show and unlimited champagne! She escorted us into an imamate and ornately decorated bar where a Mad Hatter like bartender put on a show while creating magical cocktails. His concoctions smoked and sparkled as the room filled with fog. As we sipped on our handcrafted and enchanting cocktails, that were delicious by the way, we commented to each other that we couldn't believe that this was just the cocktail portion of the evening. We were already so blown away!
We were escorted to our amazing seats, where we sipped on champagne and listened to an amazing live Cuban band. We were greeted by our waiter and the most amazing bread basket we had ever seen. But, the magic didn't stop there: we soon found the menus were edible! The bread, shaped as a tree, was almost too beautiful to eat and the menus were served with unique and delicious dips, spreads and butters.
Our appetizers, which were infused with smoking herbs, were to die for! Our appetizer plate consisted of ceviche, shrimp tacos on a jicama shell and a prosciutto and melon salad. Holy yum!
For our entrees I chose the short ribs and my mom chose the salmon so we could try both. My shorts ribs were served with the creamiest mashed potatoes, veggies and bone marrow. My mom's salmon looked as if Ariel from The Little Mermaid had crafted the dish. I have never seen a more beautifully plated dish in my life! This salmon did not stop there though; we both agreed it was the best salmon we'd EVER had in our lives and we both eat salmon all the time.
And as if things couldn't get more amazing- we were presented with books that looked like they were straight from Hogwarts and were instructed to open them. We were shocked and delighted to find four beautifully crafted desserts inside. The desserts were a dark chocolate cake, a lemon cream tart, a tropical bread pudding and a hibiscus crème brulee. With every bite we changed our minds on which sweet creation was our favorite and in the end we decided they were all too scrumptious to decide.
Stuffed and mesmerized by the culinary creations we just experienced, the show began!
Drawing on Mexico's history and heritage, Joya tells a story of an alchemist and his granddaughter who embark on a journey to discover the secrets of life.
The show is performed in both English and Spanish making it easy to understand and follow along.
All of the show's sound, including instrumentation and vocals, is completely live and that only begins to describe how epic and sensational this show is. From start to finish everything about the Cirque du Soleil show was amazing, thrilling and captivating!  We were amazed by each and every act and shocked the human body was able to do such amazing and beautiful things.  I don't want to give too many details of the show away, but I have seen many Cirque du Soleil shows and this one was BY FAR the most captivating, enchanting and amazing!
We were so sad when the show ended but could not have been more grateful to have experienced something so dream-like! From the food, to the sounds, to the entertainment: every single aspect of our night at Vidanta and the Joya show was flawless!
I could not recommend this experience more. If you are in Playa del Carmen and don't experience Joya for yourself, you will be making a huge mistake.
Thank you so much to Vidanta and Cirque du Soleil for one of the most magical and exquisite experiences!
Kisses and traveling wishes,