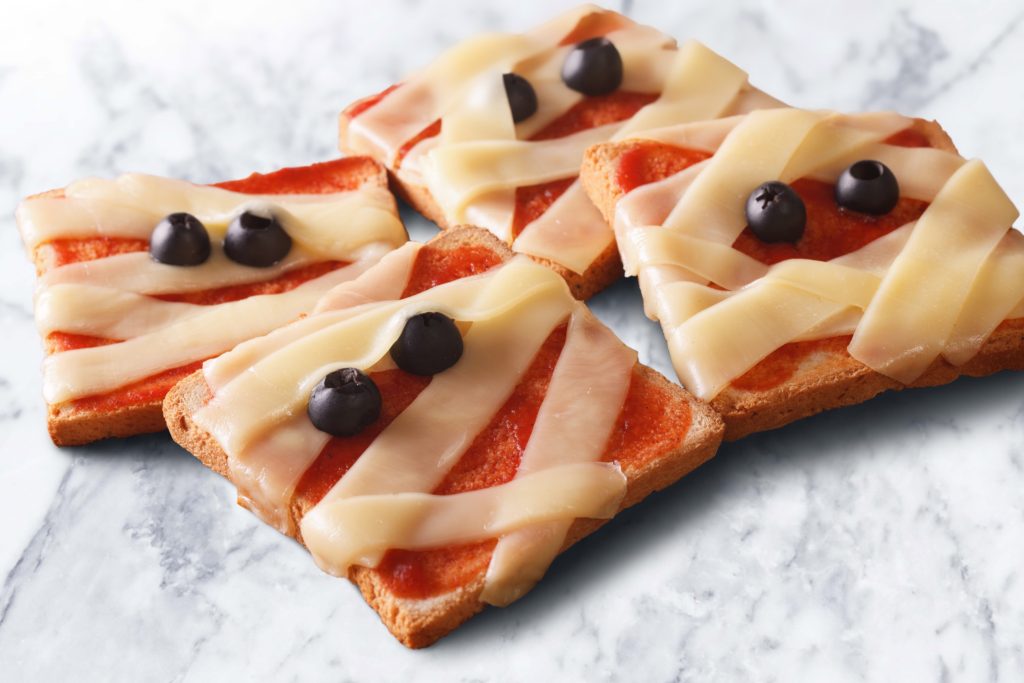 Hi friends! Wow! Halloween is just a few days away!  I cannot believe how fast this month is flying by.  Yesterday was 2 months from Christmas.  Holy Cow!
Today I am sharing a cute and easy (and kid friendly) Halloween recipe with y'all plus some non-costume costume ideas and some cozy fireside musts!
This mini mummy pizza is a beyond simple Halloween recipe and it's so flippin' adorable!
Mini Mummy Pizzas
Ingredients:
Sliced bread (I like using sour dough)
Sliced white cheese (I like provolone)
Jared tomato sauce
Whole black olives
Garlic salt
Butter, softened
Directions:
Preheat oven to 450 degrees.
Spread a thin layer of softened butter onto bread slices and sprinkle with garlic salt.
Bake for 10 minutes on a cookie sheet.
Meanwhile slice cheese into 1/2 inch think slices for the "bandages".
Cute olives in half for the "eyes".
Remove bread from oven.
Top each bread slide with 1 TBSP tomato sauce and assemble the cheese and olives to look like mummies.
Put bread back into oven for 2-5 minutes for the cheese to warm and slightly melt.
Serve warm.
Non-costume Costume Ideas
If you're anything like me you're not really into dressing up for Halloween. Here are some non-costume costumes that will make you look festive without putting really any effort into it!


Fireside Snuggle Musts
I cannot wait to cozy up by the fire and pass out candy with my girls on Halloween.  Here's are some of my favorite snuggly pieces for fall.

Kisses and Halloween wishes,