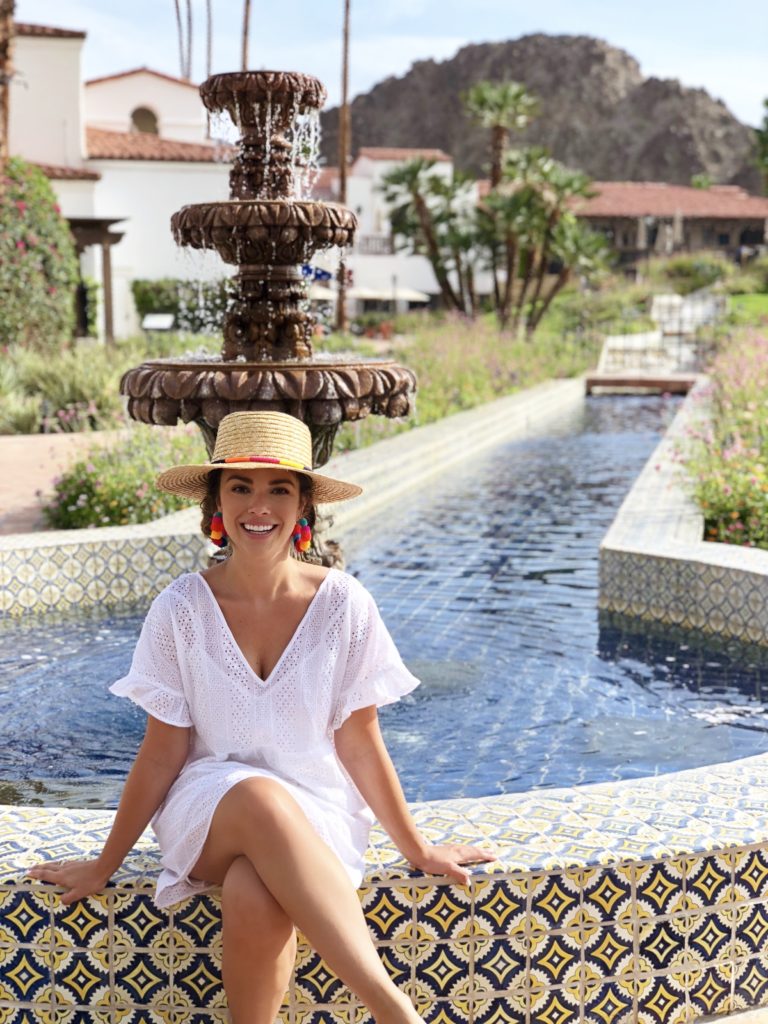 Hello gal pals and happy Tuesday!  I hope you all have had wonderful weeks so far.
As most of you follow me on Instagram as well, I'm sure you know I have been in the desert at La Quinta Resort planning my wedding.  Today I wanted to share all the details of my first stay at La Quinta Resort with you!  Interested in the details of my most recent stay at the resort too?  Stay tuned!
In July my mom and I spend 3 nights at La Quinta Resort to begin the wedding planning process.  From the second we drove on property we knew I had made the right decision selecting La Quinta Resort for my destination wedding.
Walker and I had looked at pretty much every hotel in the desert as a potential venue but La Quinta's above and beyond service, accommodating staff and breathtaking grounds gave us all the wedding feels.
We checked-in at the resort's magnificent lobby and were escorted via golf cart with luggage in tow to our deluxe pool-side casita complete with fireplace.  Oh la la!
After settling in we met with Nicole, the Director of Catering at La Quinta Resort, at Twenty6, one of the many restaurants at the resort.  Nicole was amazing and made us feel like our dream wedding would be a reality.
We started with the calamari and for our entrees my mom and I spilt the spinach and beet salad and the grilled grouper sandwich with a side of their garlic tater tots.  Holy mind blowing!  The foods was simply amazing!
After lunch Nicole gave us a tour of the property.  This may come as a shock to you all, but Walker and I picked the La Quinta as our wedding venue pretty much sight unseen.  We had lunch at one of the resort's restaurants once, but that's it!  Nicole gave us the grand tour which cemented the idea that we had selected the most gorgeous resort in all of California to get married at!
We spent the rest of the afternoon lounging and relaxing at the pool just outside out casita.
For dinner that evening we dined at Morgan's at the resort.  The food, service and atmosphere are all to die for!  We started with cocktails at the bar, for our starter we had a flawless beef carpaccio and for our entree we split salmon and a side of roasted cauliflower.  Wow!  The dishes were as beautiful visually as they were delicious!
When we arrived back at our casita to find a sweet surprise from Nicole.  Have I mentioned that the resort's staff goes above and beyond every chance they get?!
The next morning we had coffee pool-side.  Aww so relaxing!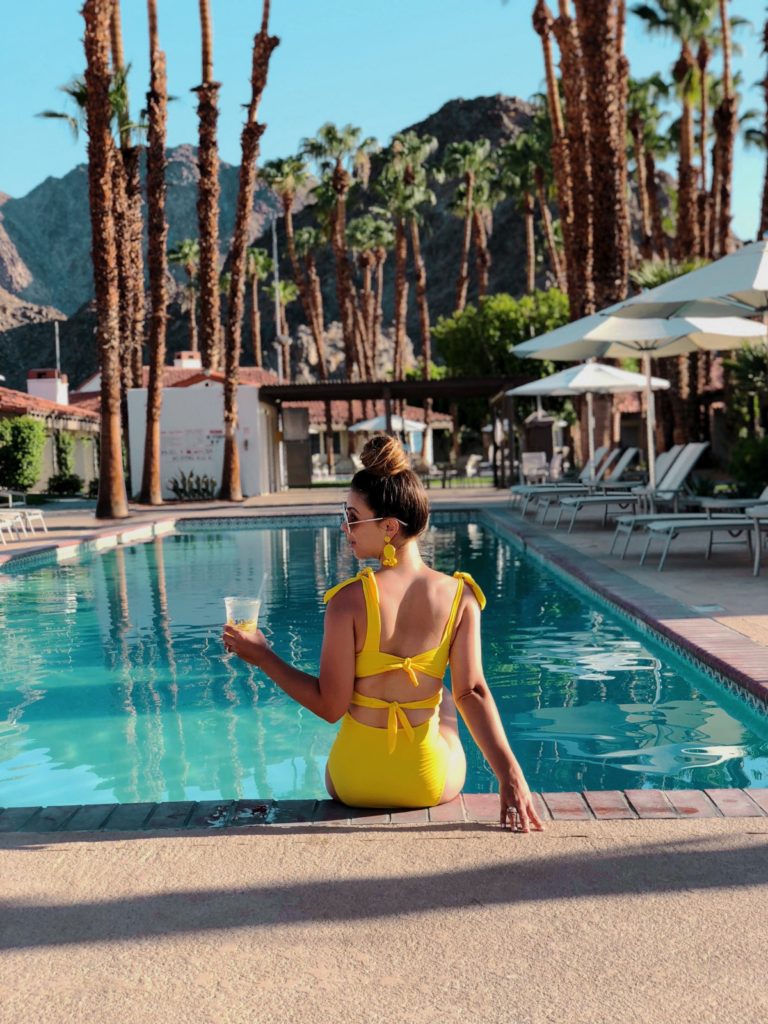 …poolside mornings at La Quinta…Next we met with our photographer Alexandria Monte who was equally as impressed with the flawless grounds as we were!  Still talking about the tater tots from the day prior, we had to visit Twenty6 again and get our fix.  We split a club sandwich and devoured the tots.
Once full and happy, we spent the afternoon as we did the day before, soaking of the desert rays by the pool.
For dinner that night we ate at an adorable and charming Italian restaurant in town called Chapelli's.  It was delish!
The next morning began as did the day before, coffee by the pool.
For "breakfast" that day we had a cake tasting with a bakery in town.
After our cake tasting we met in the beautiful California chic lobby with our planner Cathy with COJ Events.
Wondering what we had for lunch?  You guessed it, tatertots at Twenty6.  This time we paired the tots with a split cheese burger.  Yum!
And after lunch we relaxed at the pool.
For dinner that night we ate at the resort's Mexican restaurant, Adobe Grill.  It was amazing!  I had a Cadillac margarita and my mom a cold beer.  We started with the tuna tostada and for our entree we split the combo plate.  For dessert, the tres leeches cake!  So impressed with the dishes, we selected them for our rehearsal dinner fiesta!
The next day we spent the morning at the pool sad to leave that afternoon but so excited that we had chosen such a perfect place to host the biggest day of my and Walker's lives!
Stay tuned!  Next week I will be sharing all the details on my second stay at La Quinta Resort!
Kisses and wedding planning wishes,