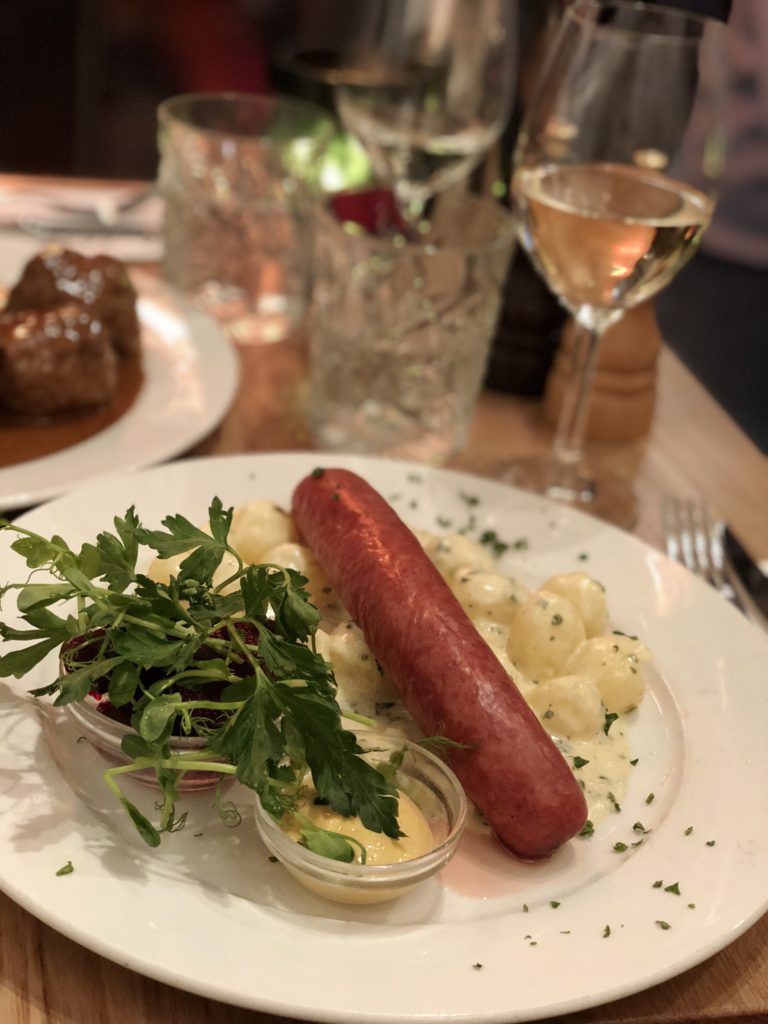 Hello sweet readers! Hope y'all are having wonderful days! Today I am sharing my Stockholm restaurant guide and just a heads up, don't read if you're hungry. This will only make it worse.
While in Stockholm we ate some of the best food we've ever had and were so inspired by many of the dishes, my mom and I have even attempted to recreate many of them back home!
Best Breakfast in Stockholm
We stayed at the Downtown Camper while in Stockholm and breakfast was included in your stay. This wasn't your typical hotel breakfast of odd looking eggs and stale cereal. This was like country club on Easter Sunday type of buffet! Anything and everything you could possible want was included in the Downtown Camper's beautiful breakfast spread.
Not only is this a great money saving and convenience perk, but this hotel was in the PERFECT location for all your tourist and sightseeing needs. And it was adorable too!
Best Lunch in Stockholm
22 Matgatan
22 Matgatan is located in Glam Stan, old town Stockholm, this quaint little restaurant with chic, simplistic and Scandinavian décor also served us traditional dishes at VERY reasonable prices! And the food is delicious! Both my mom and I had hard apple ciders to drink. I had the goulash with warm garlic bread and my mom had tomato soup and a grilled cheese.
Östermalm's Market Hall
Östermalm's Market Hall dates back to the 1880's. This food hall and market houses antique stalls selling produce, seafood & gourmet goods, plus several cafes. While eating we noticed Joel Kinnaman from House of Cards dining at the restaurant across from us.
Best Dinner in Stockholm
Gastabud
Located in Gamla Stan, Gastabud was packed but they quickly found us a seat in the cozy and charming restaurant. We started with white wine and for dinner I had the sausage with was served with creamy potatoes and lingenberry sauce. This is one of the dishes I've attempted to recreate at home. It was literally to die for! Mom ordered the Swedish meatballs, which was served with lingenberries as well and a beautiful and hearty gravy. I've also attempted to recreate this dish. And we finished with an apple crumble which did not disappoint either. This spot is charming and on an adorable street in Old Town and has a lively atmosphere with great service.
Mårten Trotzig
An upscale bistro located in Gamla Stan, Mårten Trotzig, offers wonderful food, charming service and chic and romantic ambiance. While having dinner here, started with white wine and mussels and fries which were divine! For our entrée we split a traditional Swedish dish, which consisted of beef and veggies with a side of raw egg yolk for dipping. For desert we had a strudel.
The Hairy Pig Deli
The Hairy Pig Deli is a tapas style restaurant located in Gamla Stan. MAKE A RESERVATION! It took us 3 nights to get a reservation here but gosh was it completely worth the wait! We started with white wine and salmon pâté. This pâté was so mind blowing since then, my mom and I have recreated it at home multiple times. Next we had the empanada and sausage of the day, goose fat potatoes and moose lasagna! Every single bite was more fabulous than the next! If you only have time to dine at one restaurant while in Stockholm, make sure it's The Hairy Pig Deli!
The Hairy Pig Restaurant
The Hairy Pig Restaurant is owed by the same folks who own The Hairy Pig Deli and they have some of the same dishes as the deli but also a few more elevated dishes due to the larger kitchen. Also in Gamla Stan, the restaurant is cozy and quaint and charming. We started with crisp white wine, the salmon pâté because it's simply outstanding, a mini pot pie, lobster ravioli in a bisque sauce, fried eggplant with goat cheese and the sausage of the day. Everything was wonderful!
Best Bars in Stockholm
Strand Bistron
Though not a "bar" per say, Strand Bistron is a chic waterfront Bistro that is a perfect spot to crab an afternoon or pre dinner cocktail. We sat outside right on the water under heaters and cozy blankets and sipped champagne. Tres chic.
Pharmarium
Pharmarium, a craft cocktail bar located in the Stortorget, was once an old pharmacy! We tried orange wine, which was fun and yummy and something we'd never tried before but they also have an expansive list of fun and unique cocktails.
Vau de Ville
Vau de Ville, thought also, not a bar is a perfect spot for a late afternoon cocktail. This bistro was trendy, lively and seemed to be the happening spot of the young and beautiful of Stockholm.
Welp, now that you're starving and probably looking up flights to Stockholm, I'll let you go!  I hope you enjoyed my Stockholm restaurant guide and much as I enjoyed eating my way through the city.
Thank you so much to Scandic Hotels and to Visit Stockholm. We had the most wonderful stay in your beautiful city and cant wait to return!
Kisses and foodie wishes,