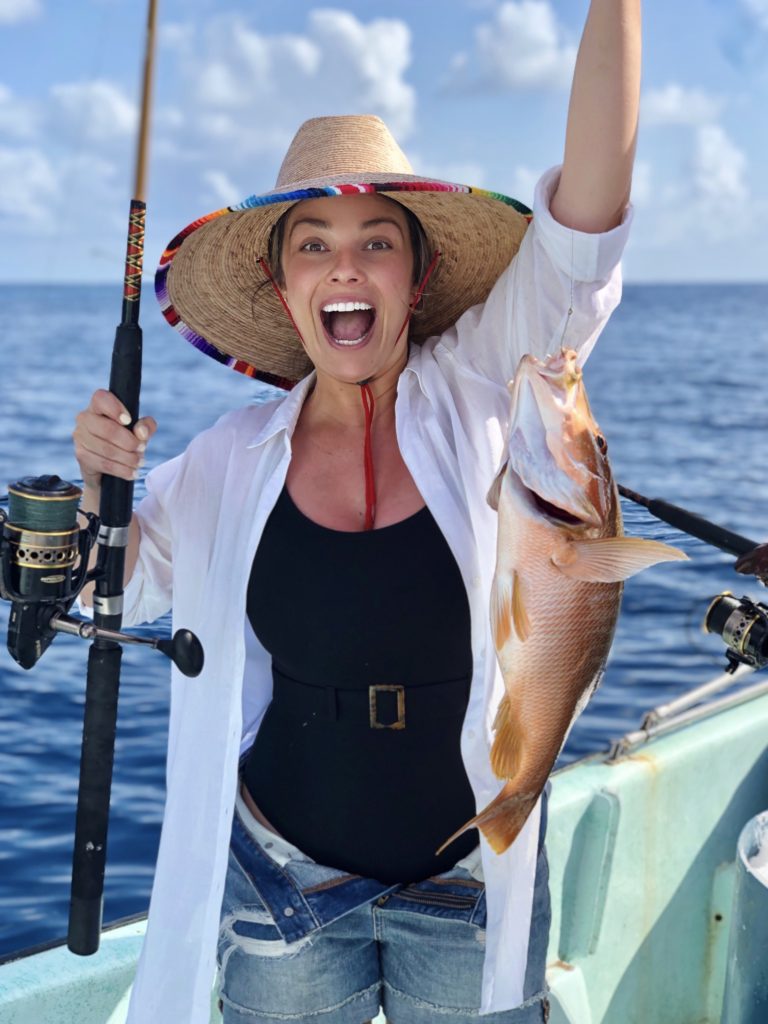 Hello friends and travel enthusiasts! Today I am sharing two exciting and fun experiences we had while staying at Ray Caye Island Resort last week for our one year anniversary trip. Keep reading for all the deets!

Our one year anniversary trip at Ray Caye Island Resort off the coast of Placencia, Belize could not have been more amazing and memorable! It was the perfect balance of relaxation and excitement.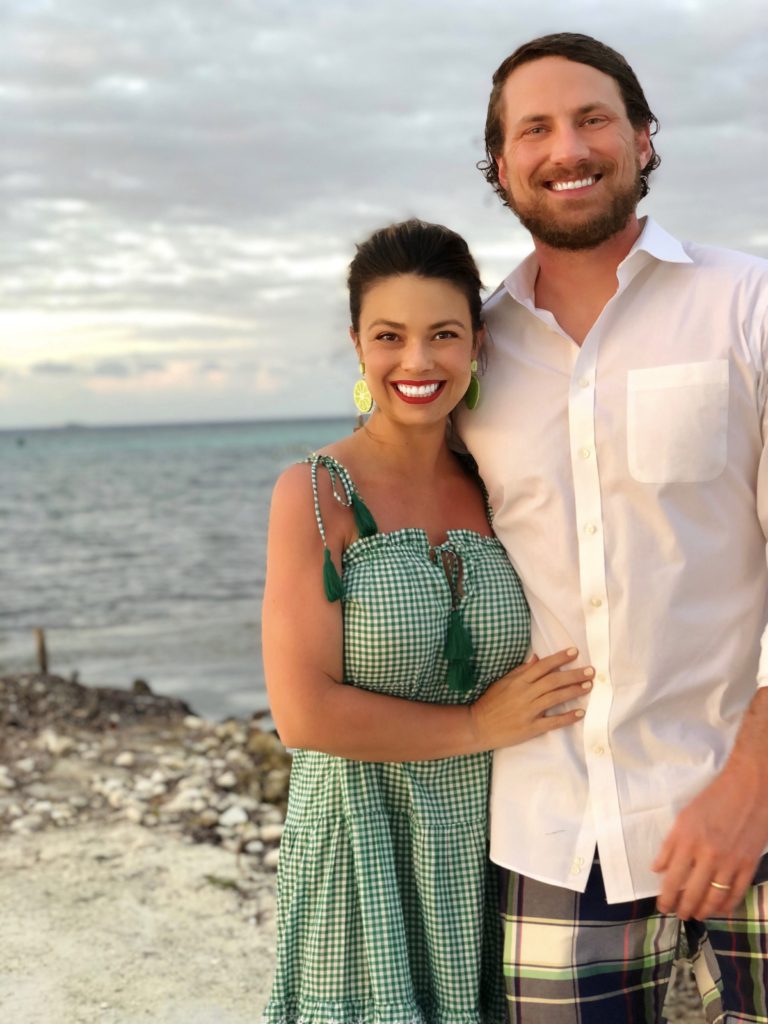 shop the look

Today I am going to share three of the activities and adventures we enjoyed while staying on the private island- snorkeling, swimming with sharks and turtles and fishing! All of which were an absolute BLAST!
With almost a mile of private shoreline, it is easy to play and explore any way you want at Ray Caye! You can spend your days relaxing on the beach or by the pool or pack your stay with the many adventures Ray Caye offers such as diving, fishing, snorkeling, kayaking, paddle boarding, catamaran tours… the list goes on and on! Though we did quite a bit of relaxing on the pristine beaches of Ray Caye and in our villa's private plunge pool (click here for more on our villa!) we also wanted some fun, adventure and excitement!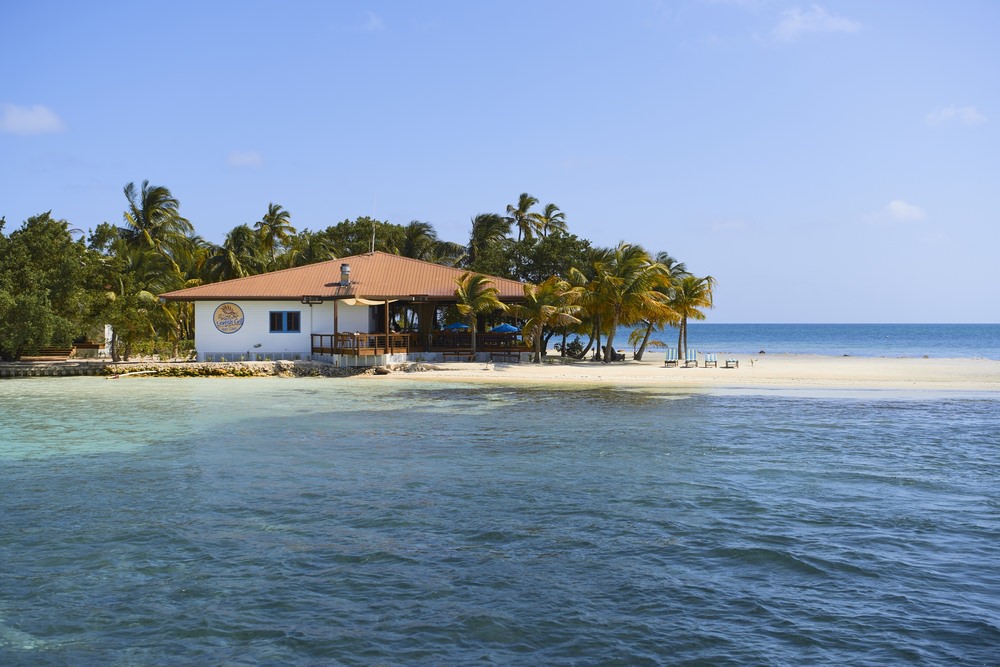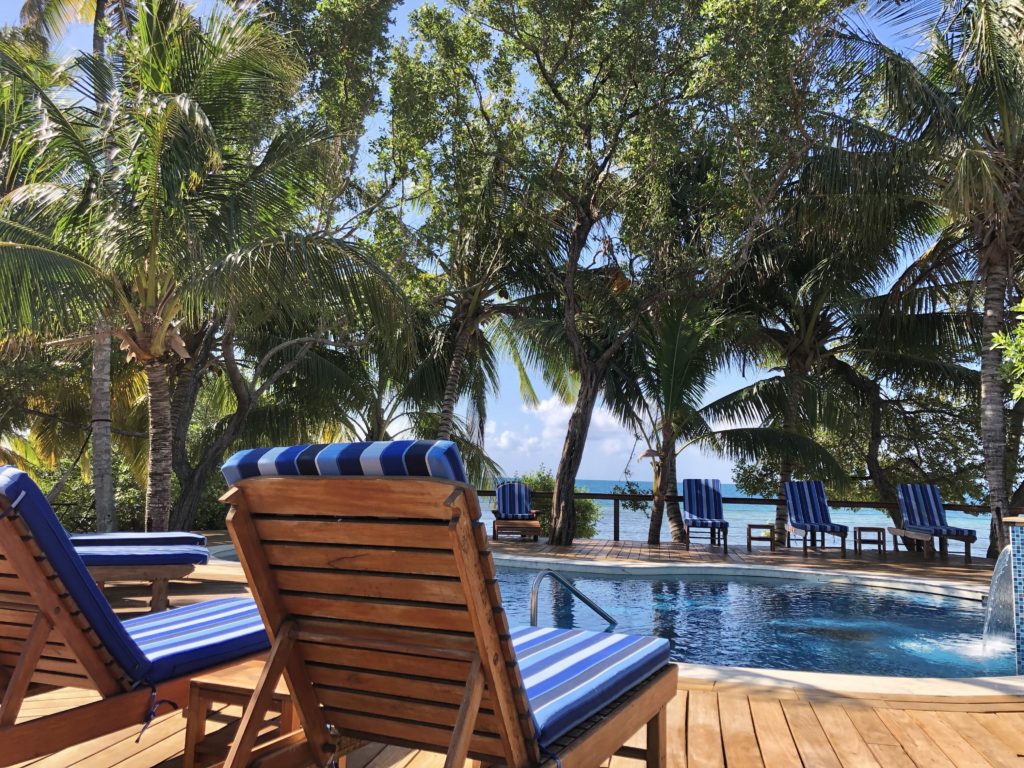 On our first full day at Ray Caye's we visited the resort's dive shop. There, Ray Caye's expert, Candido, fit us with the perfect snorkel gear. At Ray Caye, guests keep their snorkel gear the entire stay. It was so nice not having to check out gear every time we wanted to snorkel.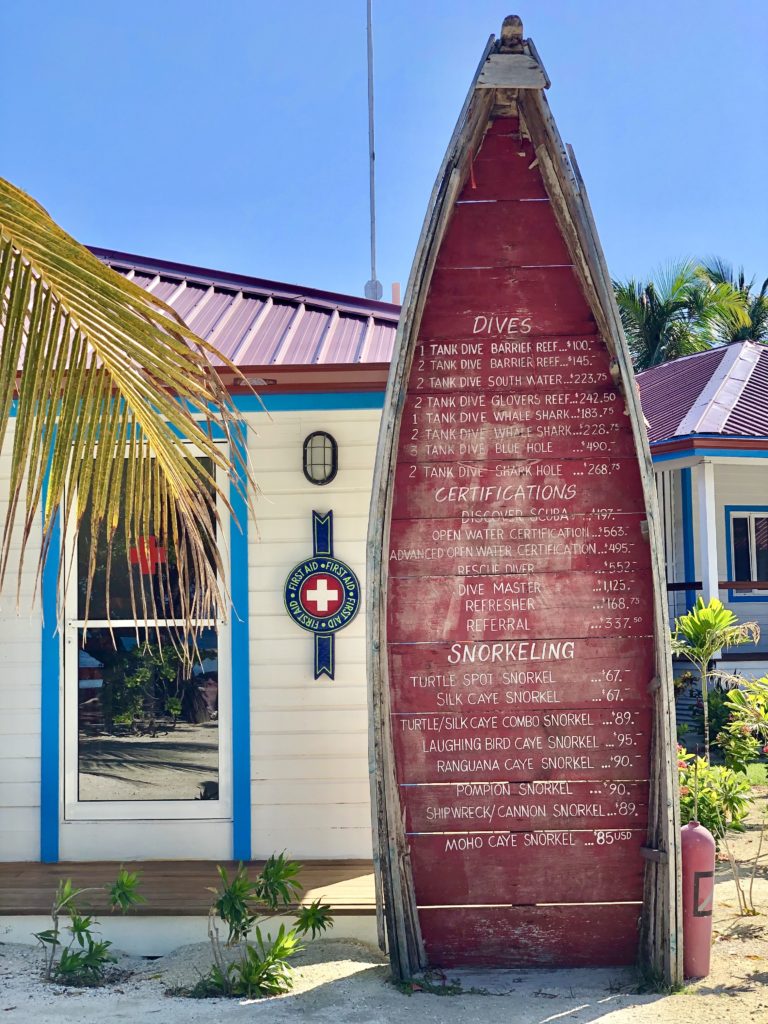 Geared up and ready to go we snorkeled right off Ray Caye's private dock. It was so cool! There was so much colorful life to see right at the resorts doorstep! The coral formations around the island are so full of life you can literally step into the water right outside your villa or cabana and snorkel! How cool is that?! Located on the edge of the Gladden Spit and Silk Cayes Marine Reserve, Ray Caye is literally a stones throw away from the Belize Barrier Reef making it an ideal location for world class diving!
On our second day at Ray Caye it was time for our first BIG adventure- swimming with sharks and turtles! We boarded a beautiful boat with beers in tow and were off! Just a 5 minute boat ride from Ray Caye we swam with sharks, an array of rays and turtles! Turtles, y'all! It was so thrilling and exciting!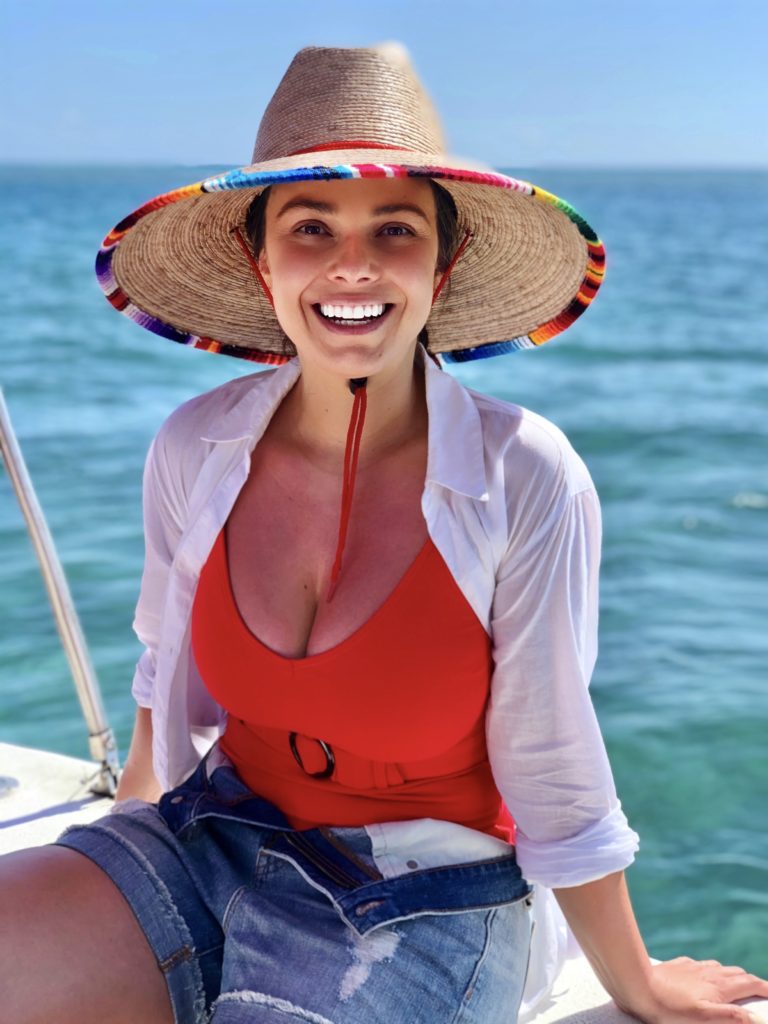 shop the look

While swimming in the Gladden Spit marine reserve, we encountered loggerhead turtles (some as old as 150 years!), rough tail stingrays, southern stingrays, spotted eagle rays and nurse sharks. The spotted eagle rays were my favorite! They had the sweetest little faces which I was so surprised to see! For decades, these beautiful animals visit this particular site to feed on the leftovers from local fishermen who anchor and clean their catch in the area. The marine life has become so accustomed to getting treats this way that they come running, or swimming, I should say, whenever they hear a boat.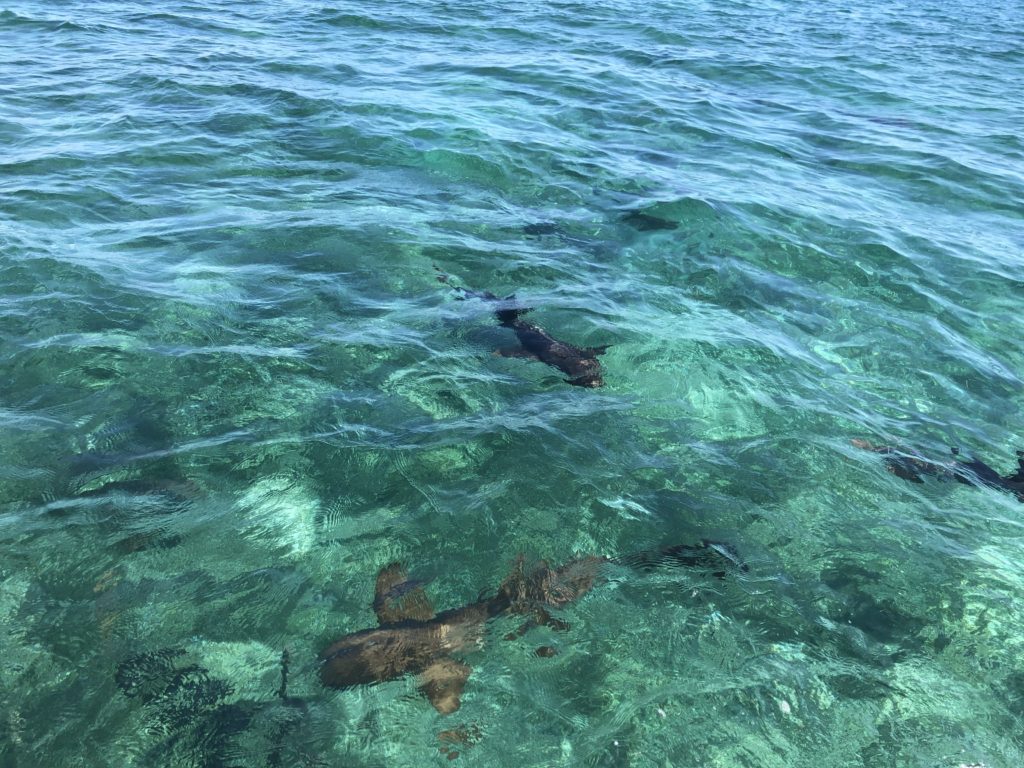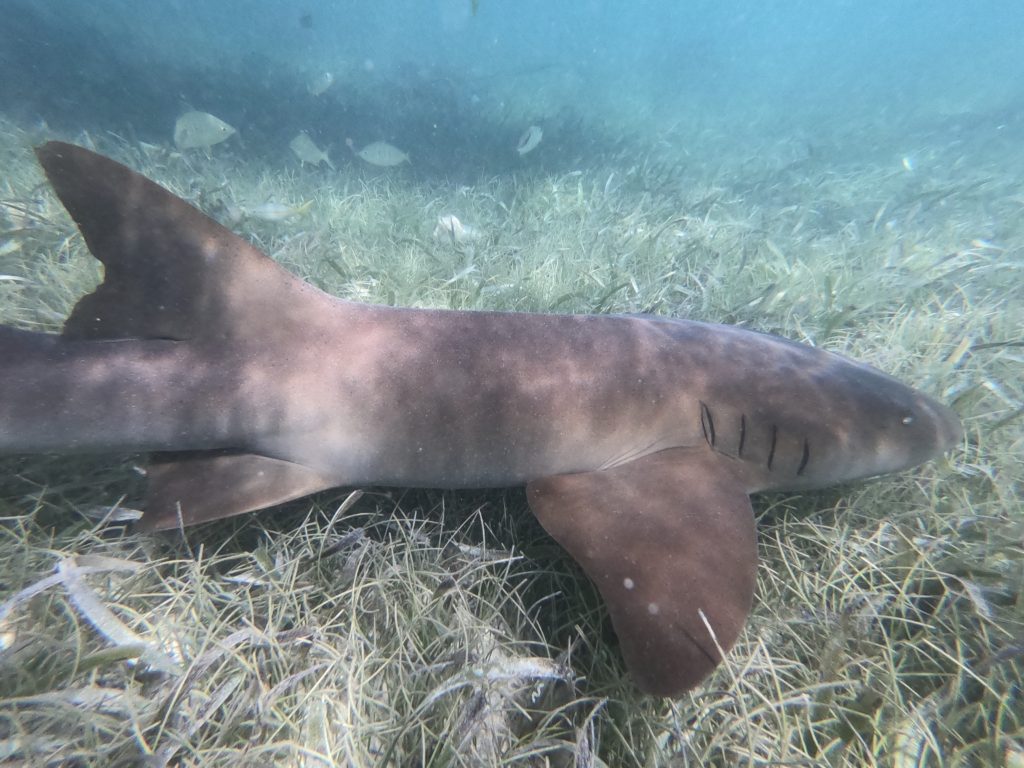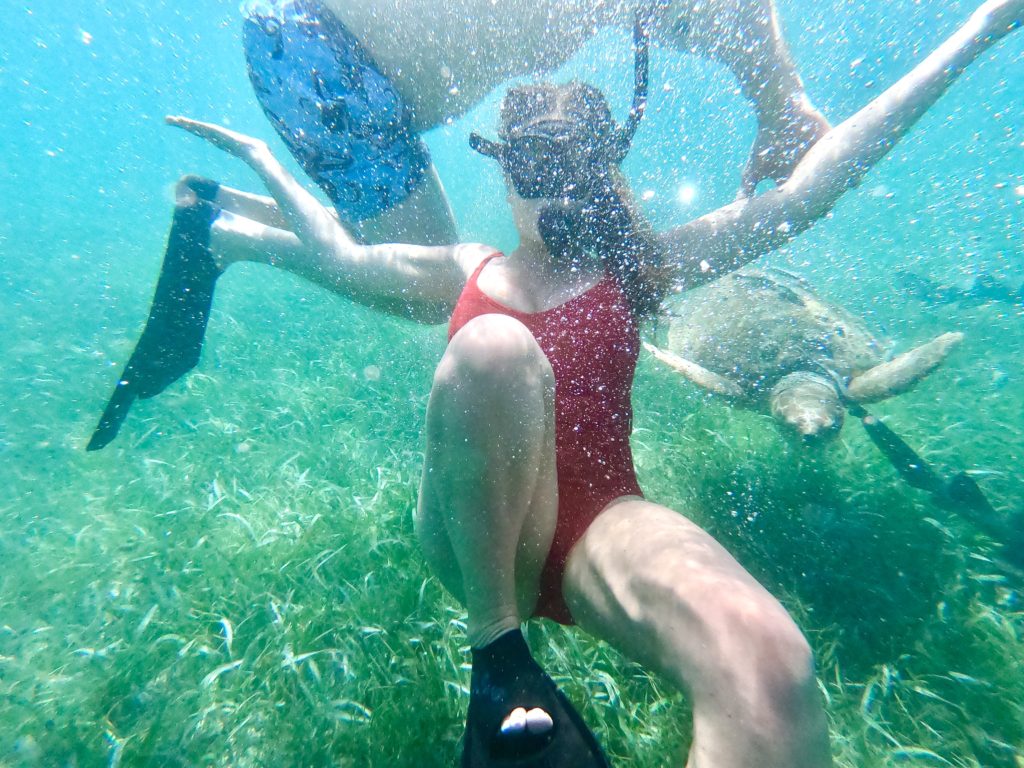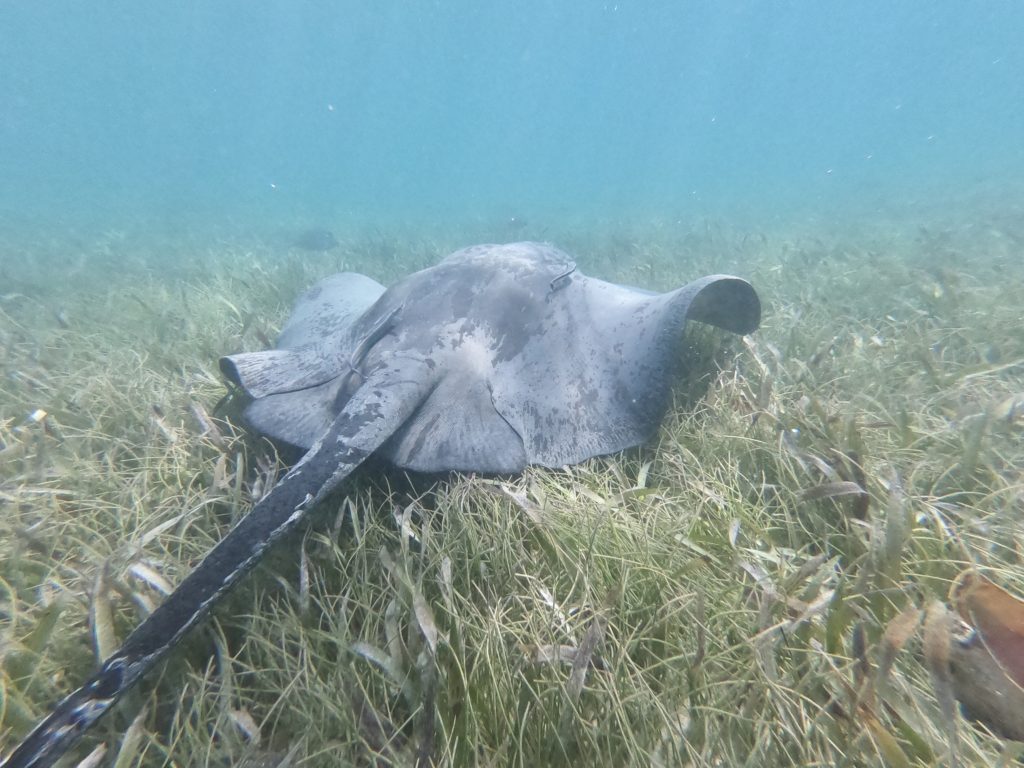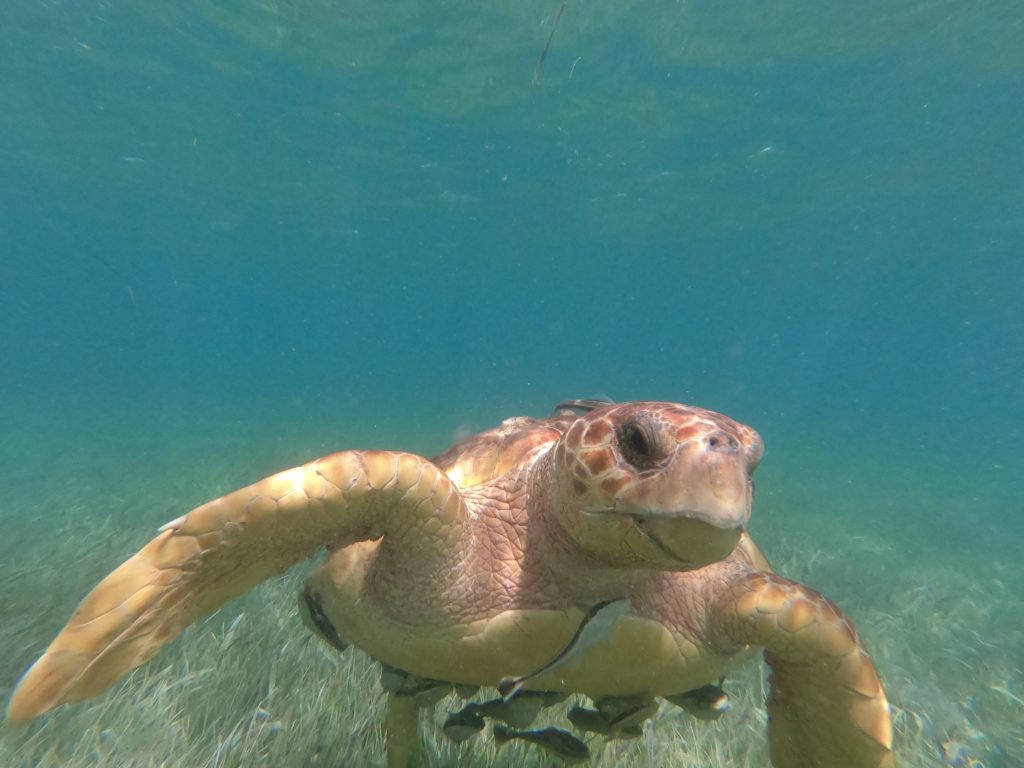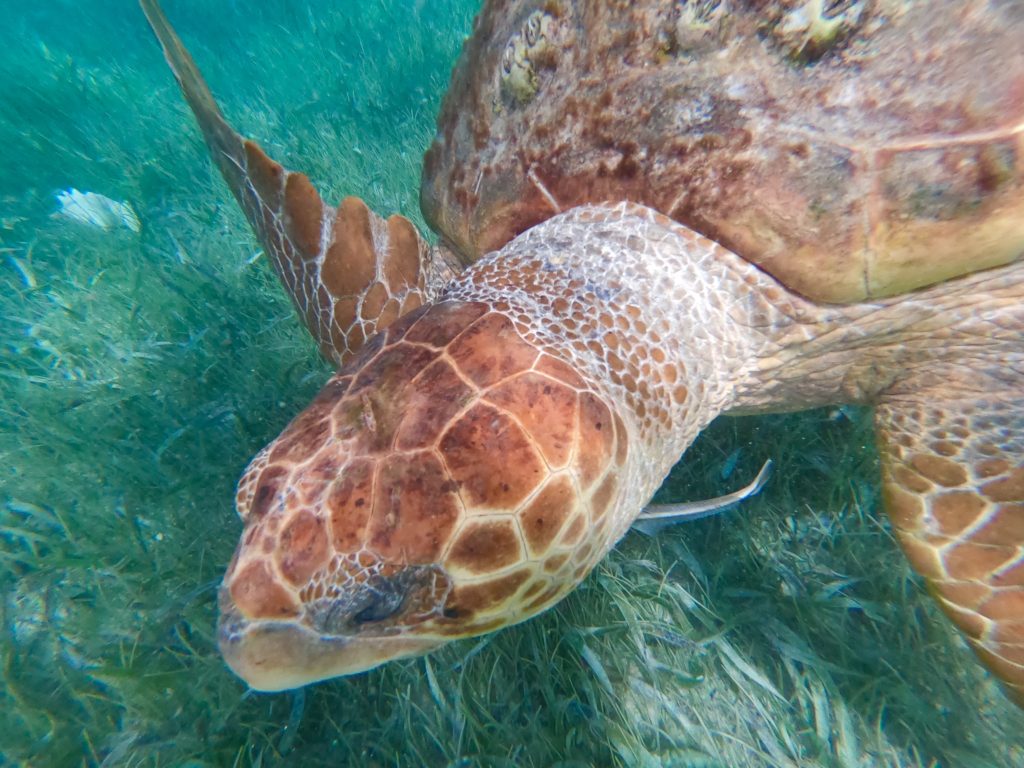 I know "swimming with sharks" sounds kinda scary, but I promise you it wasn't at all! Our expert guide, Elroy did a wonderful job at making us feel safe and comfortable. Also, the water in this area is only 8-12 feet deep, which also makes it less scary. Instead of being frightening, the experience was actually thrilling, beautiful and tranquil!
Next we went to Silk Caye. Usually packed with up to 200 tourists, the itty bitty private island was empty! It was literally just us! Ray Caye plans their tours around other tours so their guests get a private experience which makes it so special. The island was beautiful and we snorkeled around it seeing jelly fish, star fish, sea cucumbers and a wide array of colorful fish and coral. Elroy pointed out every fish and species and told us about each one. He was so knowledgable and informative. It really added an interesting aspect to the experience. He would dive down and pick up certain creatures for us to hold or touch. I've been on multiple snorkeling tours and this hand on experience was one of a kind! I even got to pet a jellyfish! The whole adventure was an amazing experience and one I'd highly recommend!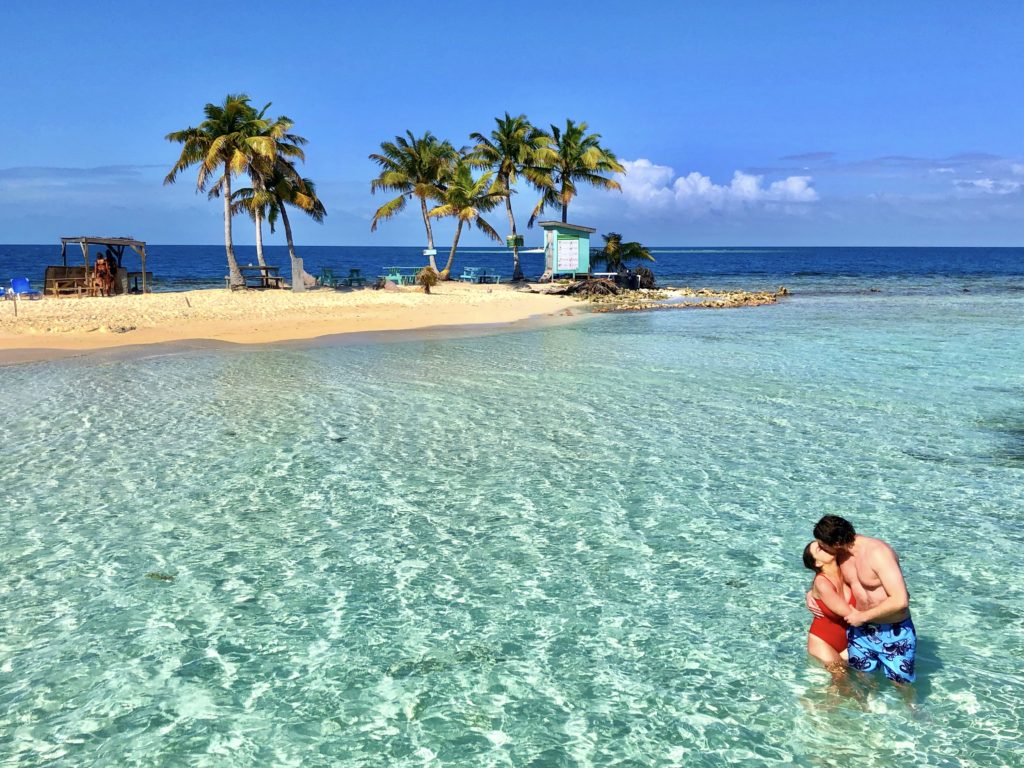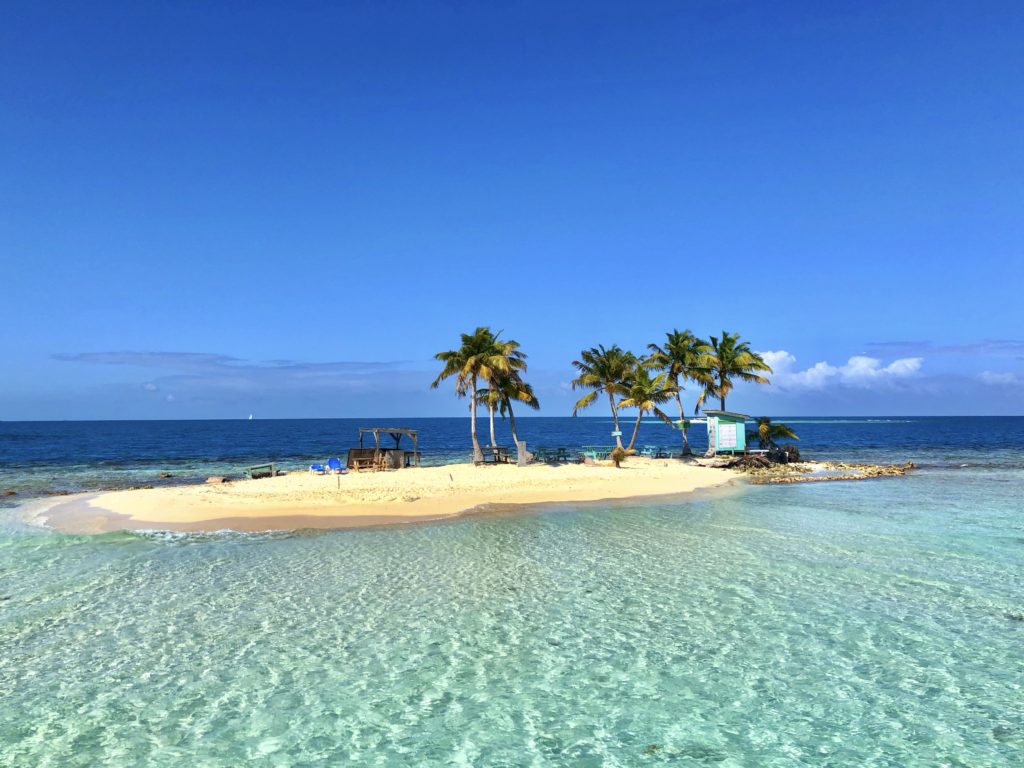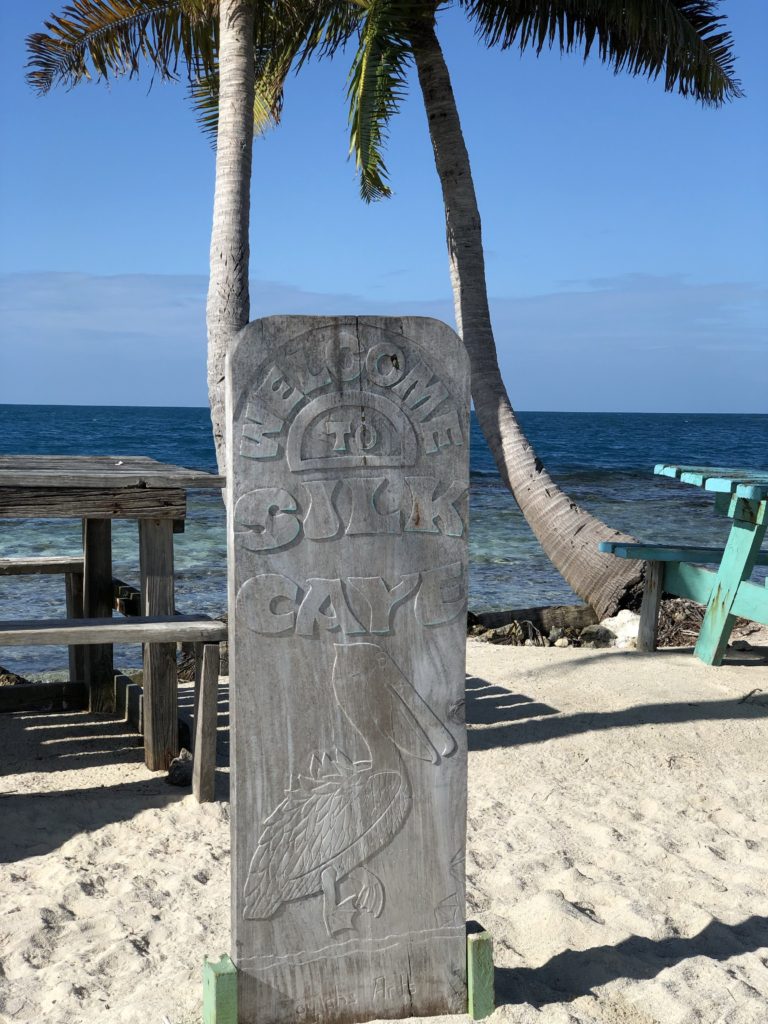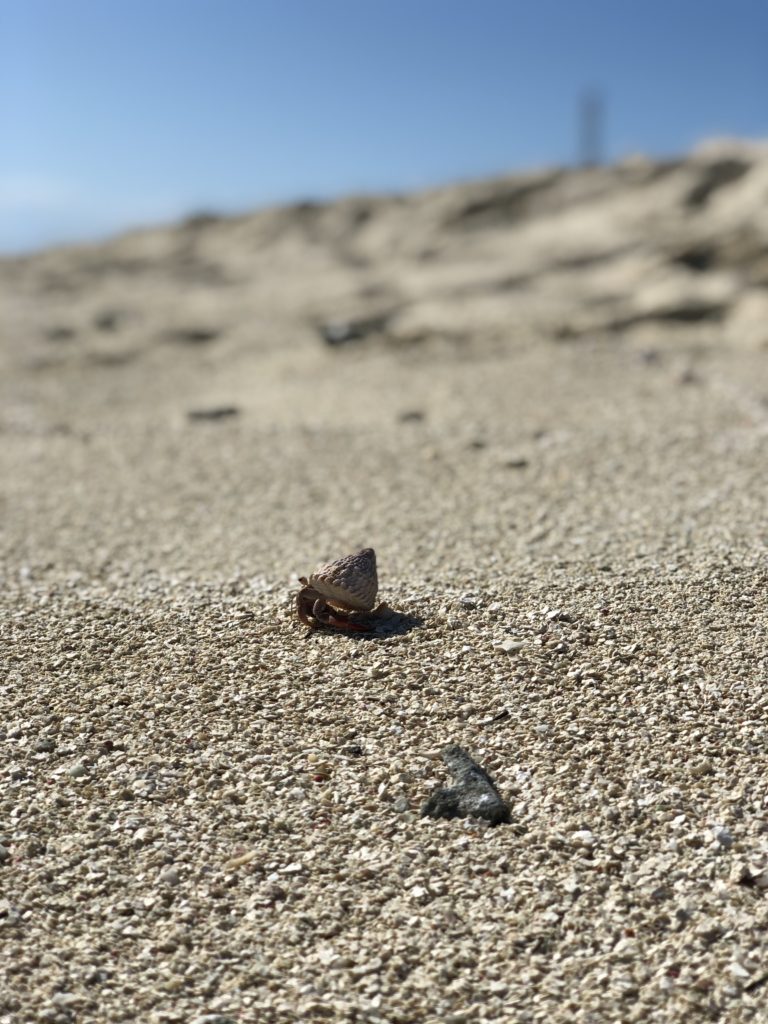 *No underwater camera? No problem! Your guide at Ray Caye will bring one and easily share the photos with you via an app. Just another example of how Ray Caye goes above and beyond at every step.
The next morning we were up with the sun and off to fish, our final adventure while at Ray Caye! I was so excited to go fishing! Our captain, William, and guide Elroy, who were both also with us on our tour the day before, gave us the perfect fishing experience. Before we even boarded they had already gone out and caught all of our live bait. Walker could handle putting the bait on his own line and removing his catch from the hook, but I was a chicken and every time either had to be done either Elroy or William was happy to assist. We sipped on Belizean beer and caught so many fish- snappers, barracudas, mackerels and a yellow jack!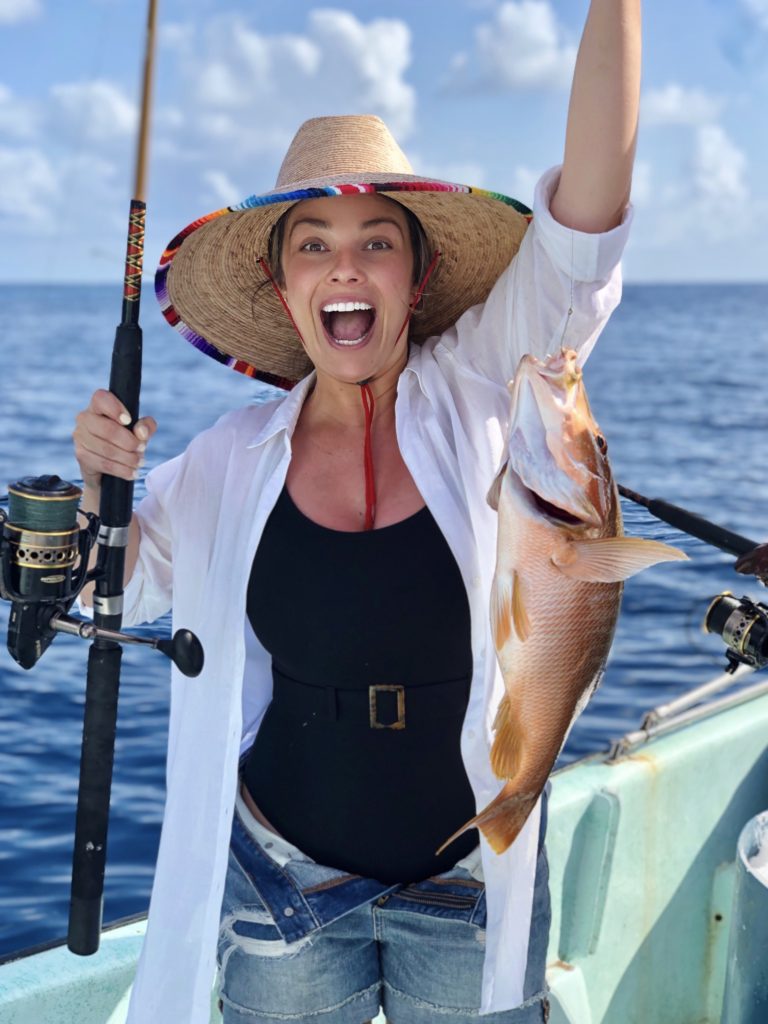 shop the look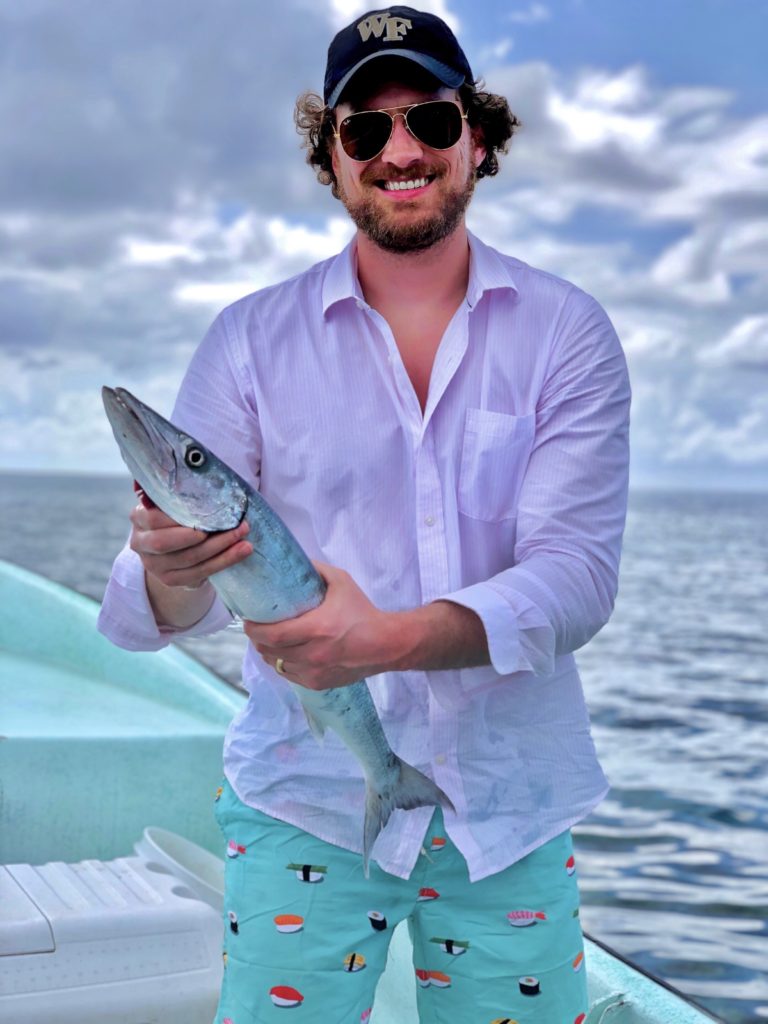 shop the look

Yes, Walker and I have been fishing a few times before, but we're no experts. William and Elroy were so patient with us and helped us every step of the way making the experience not only a major blast but also a major success!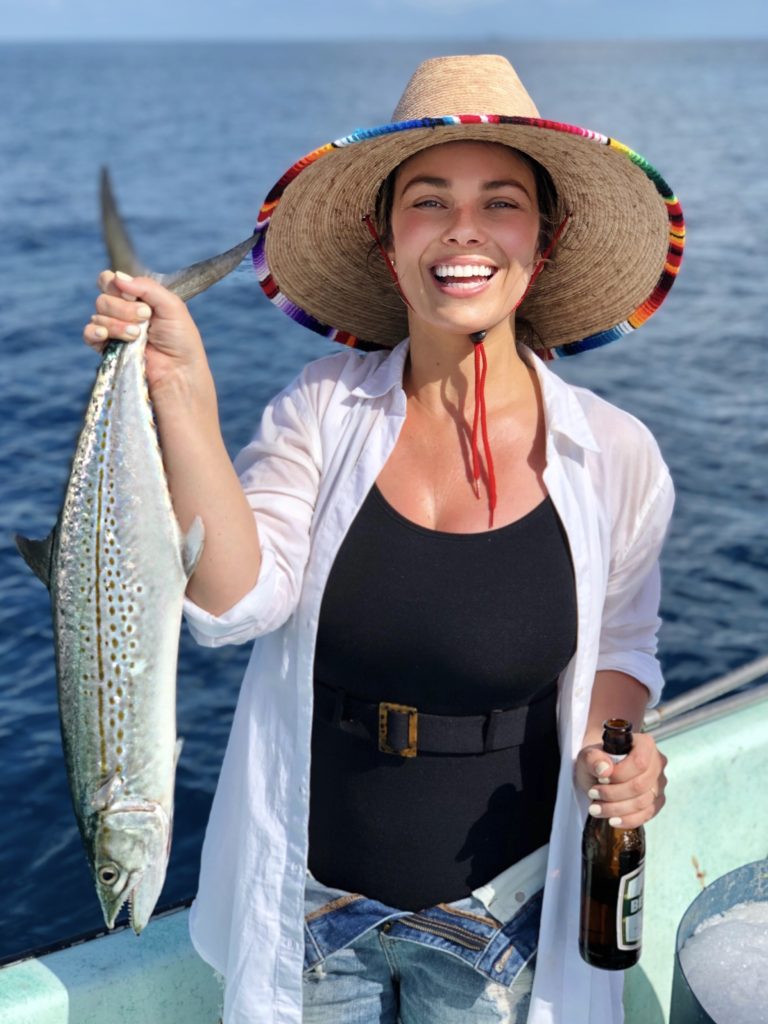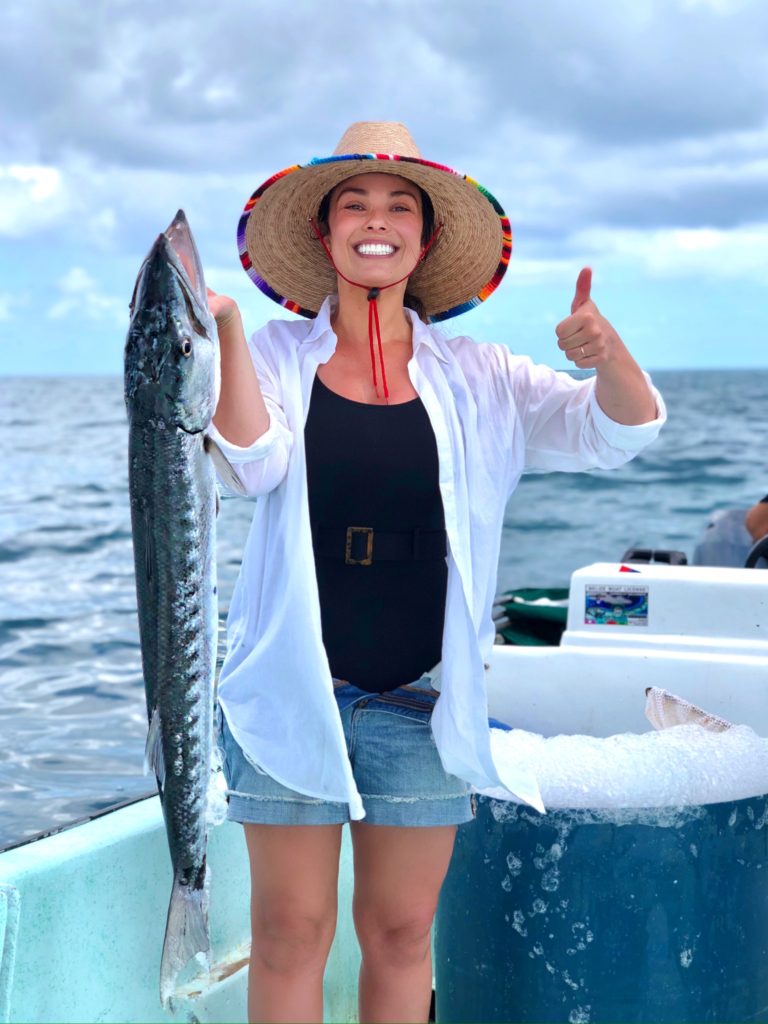 We returned to Ray Caye with enough fish for the remainder of our stay AND fish left over for William and Elroy!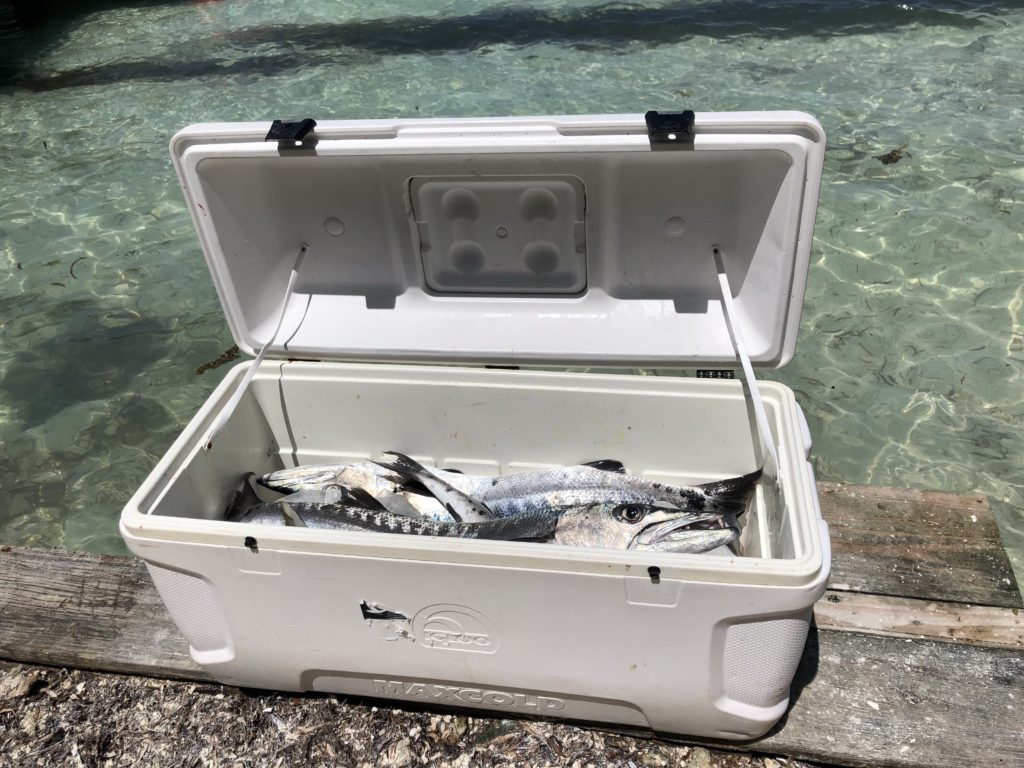 They cleaned our fish while we freshened up. From start to finish the whole experience was VIP!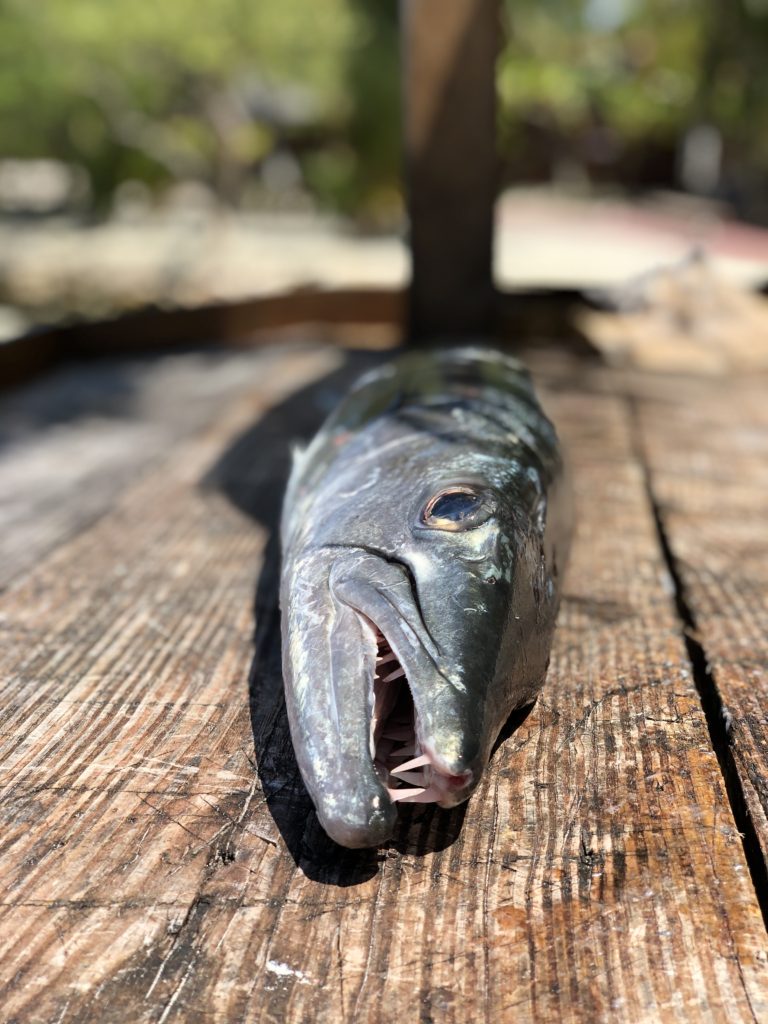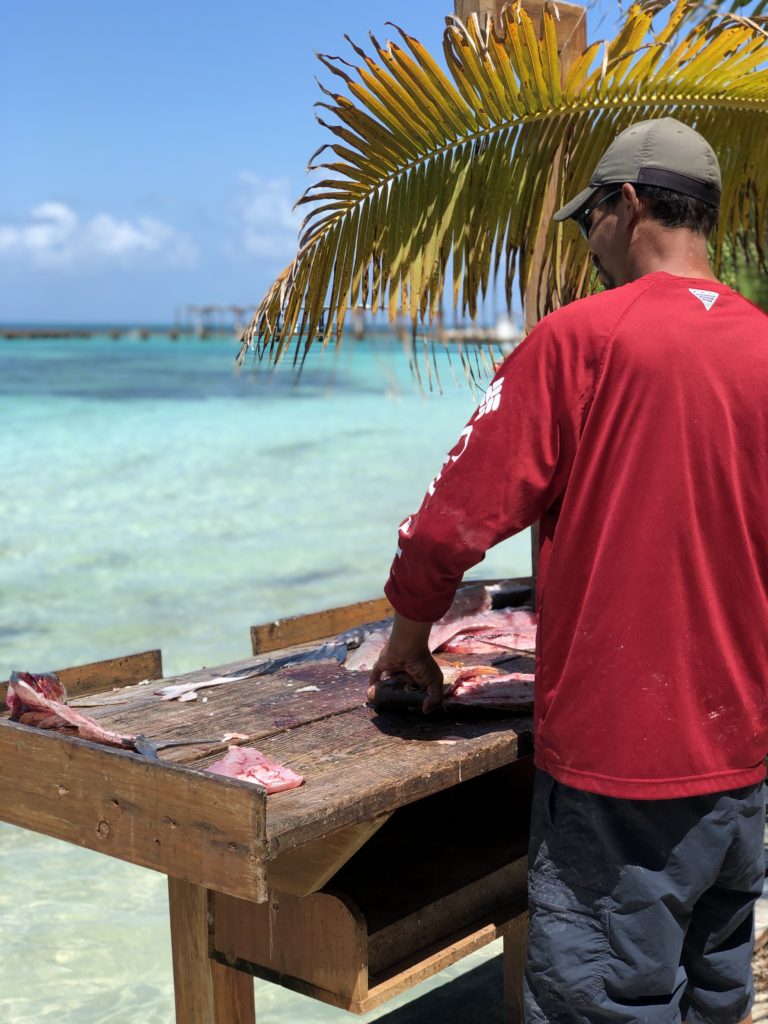 After working up quite an appetite we had lunch at Lionfish Grill, Ray Caye's water front restaurant, where the chef prepared the fish we had just caught! Talk about fresh! We had blacked and fried barracuda (OMG! It was so good!) and barracuda tacos. It was all so tasty and made even tastier knowing we had really worked for our supper.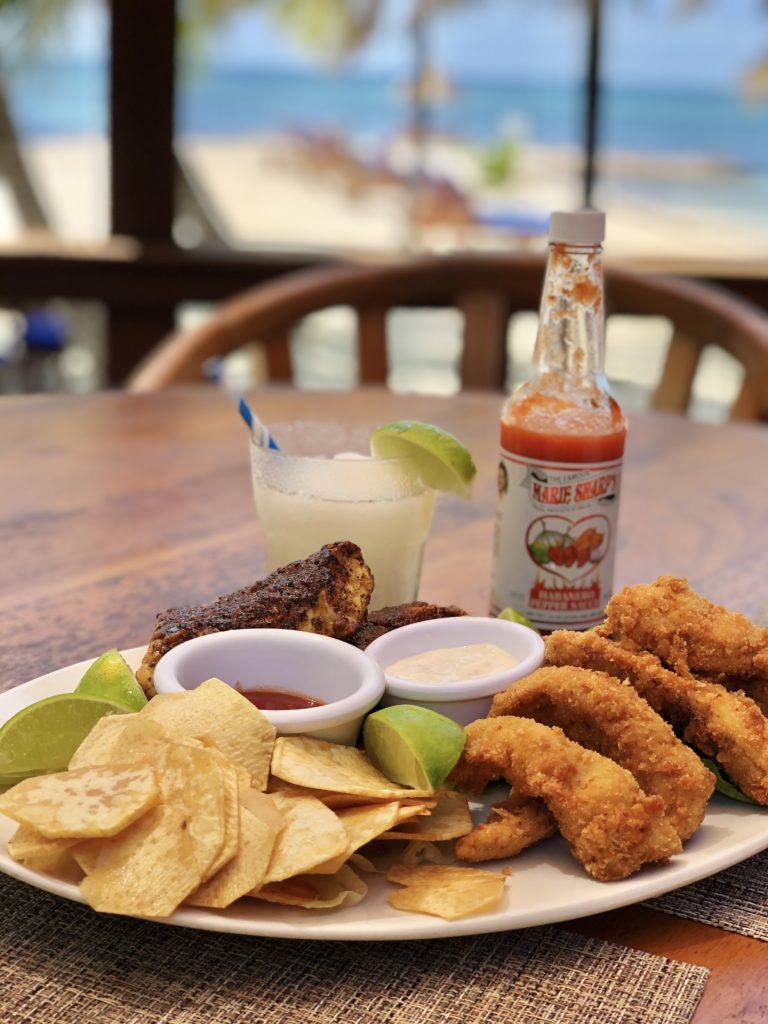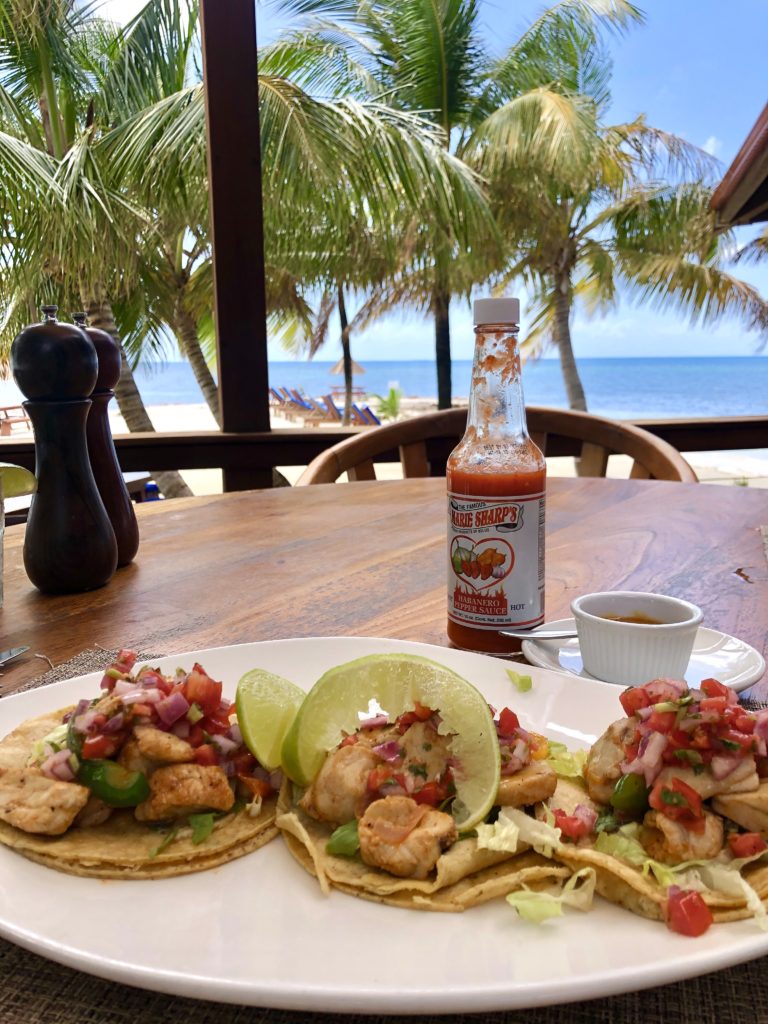 That night for dinner, the chef prepared our catch from early that day and we feasted on blacked snapper and mackerel served with twice baked potatoes and grilled asparagus. We topped the meal off with chocolate cake for dessert. It was seriously the perfect ending to a perfect day.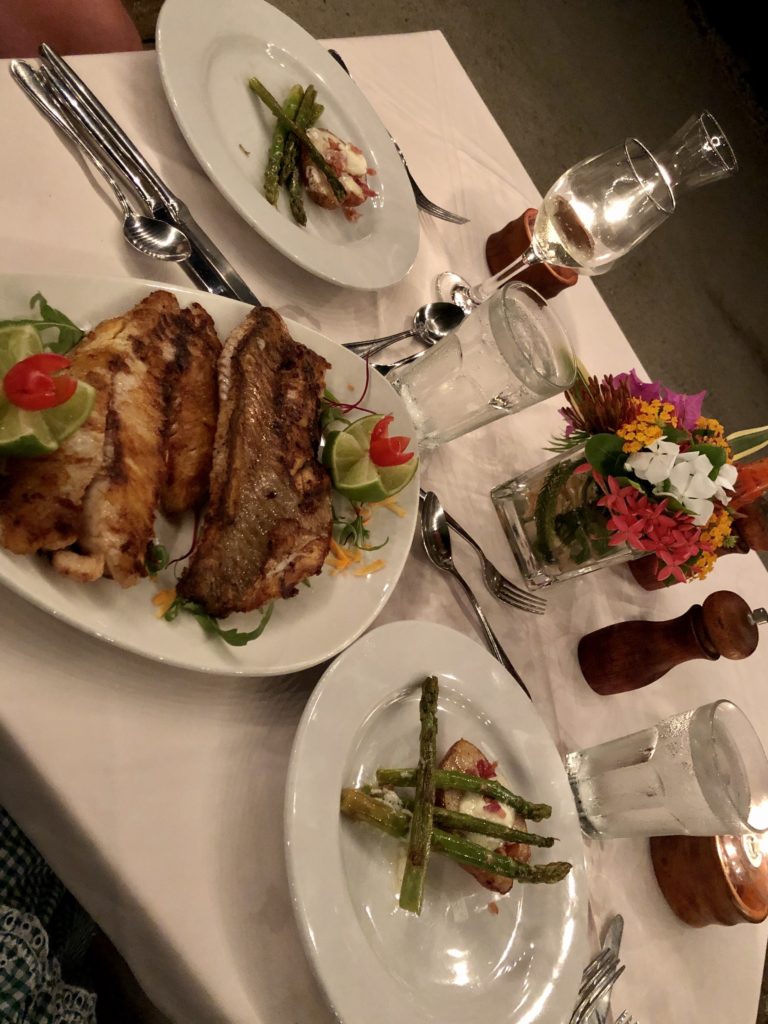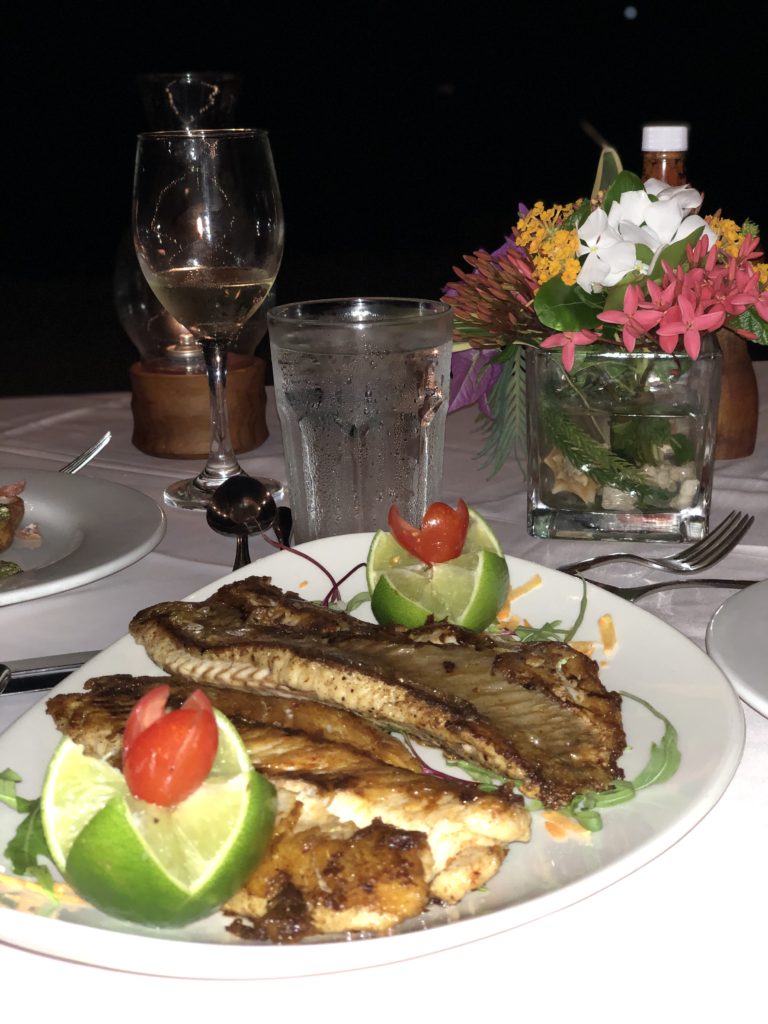 From the snorkeling, to swimming with sharks and turtles, to the VIP fishing trip, every experience and adventure was better than the next! The staff constantly goes out of their way to make your stay amazing and the guides and captains were so patient and knowledgable it made every experience all the more special.
I highly recommend participating in as many experience and adventures as you can during your stay at Ray Caye. They will all be life long memories!
Thank you so much to the Ray Caye team for going above and beyond at every step, allowing us to have the anniversary trip of our dreams!
We cannot wait to see you again!
Kisses and adventurous wishes,