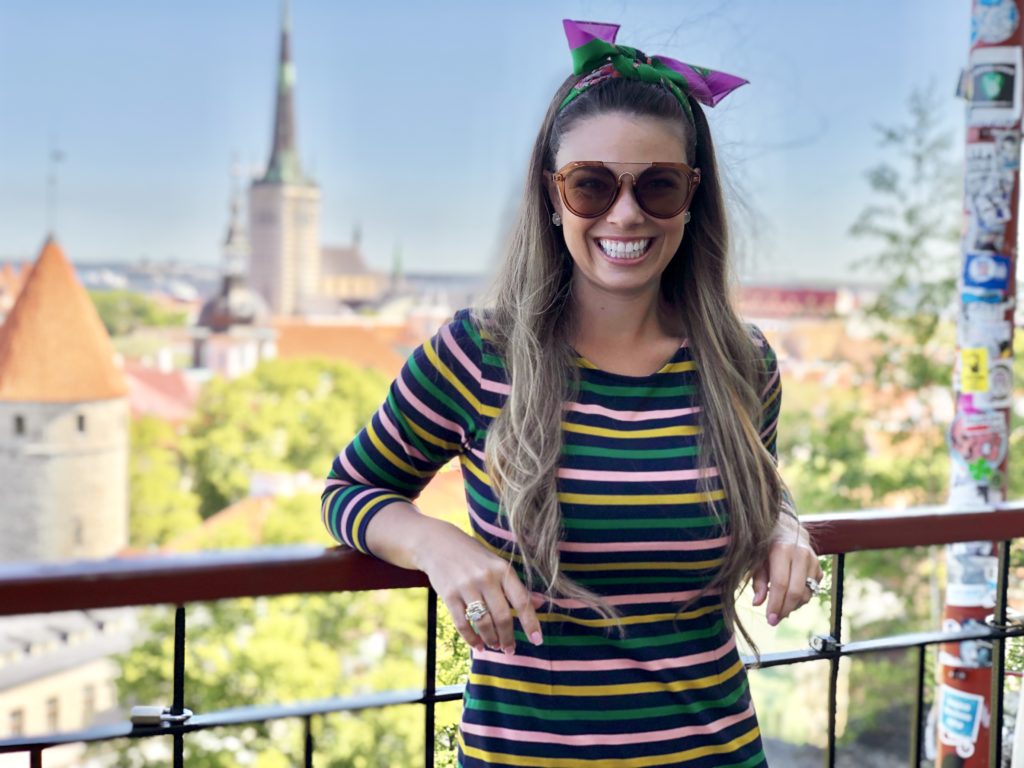 Hello y'all! Today I am sharing everything you need to know about visiting Tallinn, Estonia! We had the most amazing time there with Hotel Schlossle! Keep reading for all the details!

I know most of you probably haven't been to Estonia or even have friends who have been. Until Walker visited there a couple years ago, and came home with rave reviews, I'm not sure if I'd even heard of Tallinn before! But, wow! We were in for a treat just like Walker promised.
Tallinn is the capital and the most populous city of Estonia. It is located in the northern part of the country, on the shore of the Gulf of Finland of the Baltic Sea. Tallinn was first mentioned in 1219, but the earliest human settlements date back 5,000 years. The first recorded claim over the land was laid by Denmark in 1219. Due to its strategic location, the city became a major trade hub, especially from the 14th to the 16th century, when it grew in importance as part of the Hanseatic League. Tallinn's Old Town is one of the best preserved medieval cities in Europe and is listed as a UNESCO World Heritage Site. Tallinn has the highest number of startups per person among European countries and is a birthplace of many international high tech companies, including Skype.
After a quick taxi ride from the airport we arrived at the charming Hotel Schlossle. The yellow building with pops of pink and mint would be our home for the next few days and we were delighted!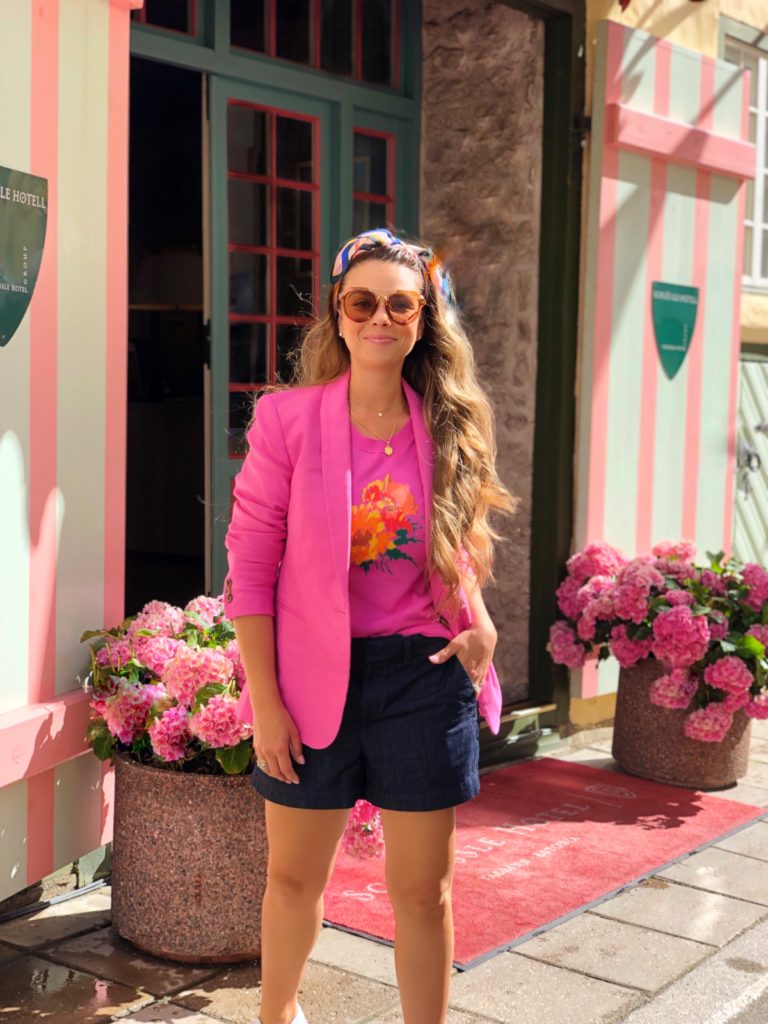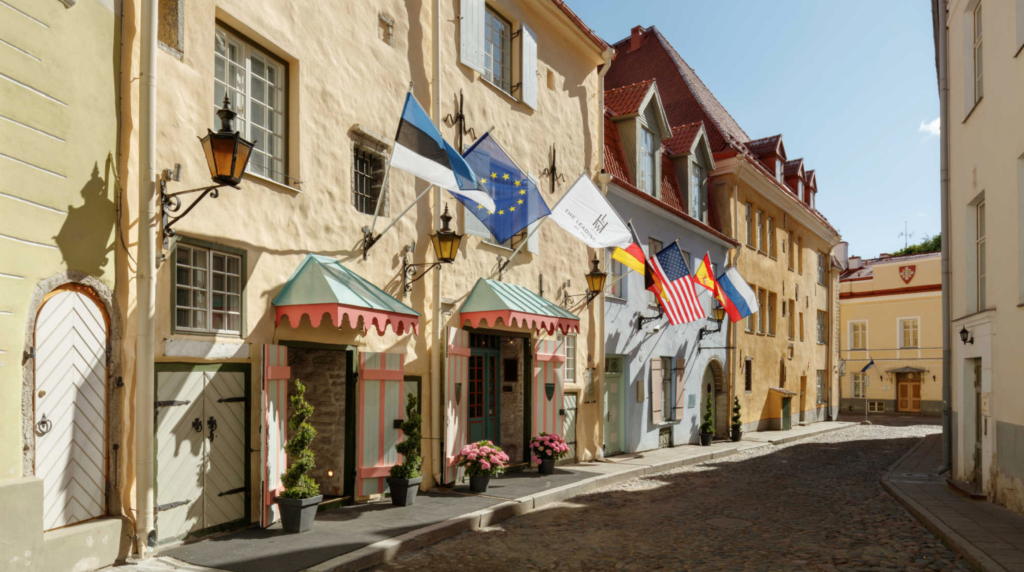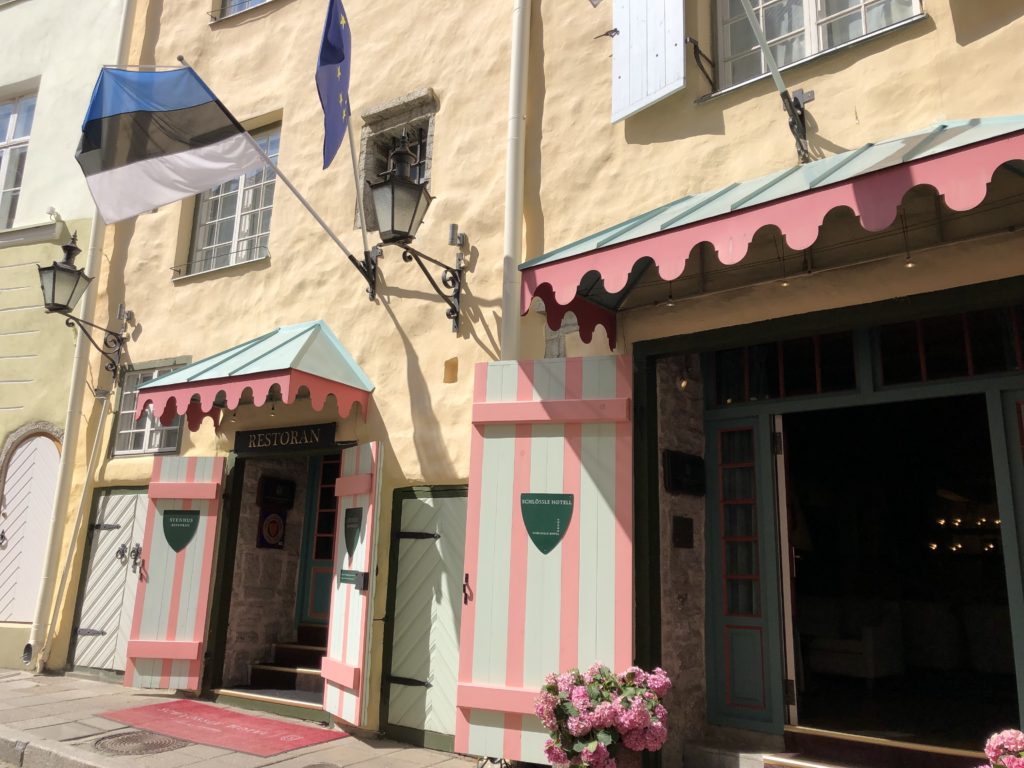 Hotel Schlossle is a 5-star boutique hotel with only 23 rooms. It is the only member of The Leading Hotels of the World in Estonia. The hotel was named Estonia's Leading Hotel in 2011. The location of the present hotel was mentioned in written sources for the first time in 1363.
We were served champagne while we checked it. So fancy! And a kind bell hop helped with bringing our luggage up the stairs. Our room was spacious and elegantly beautiful.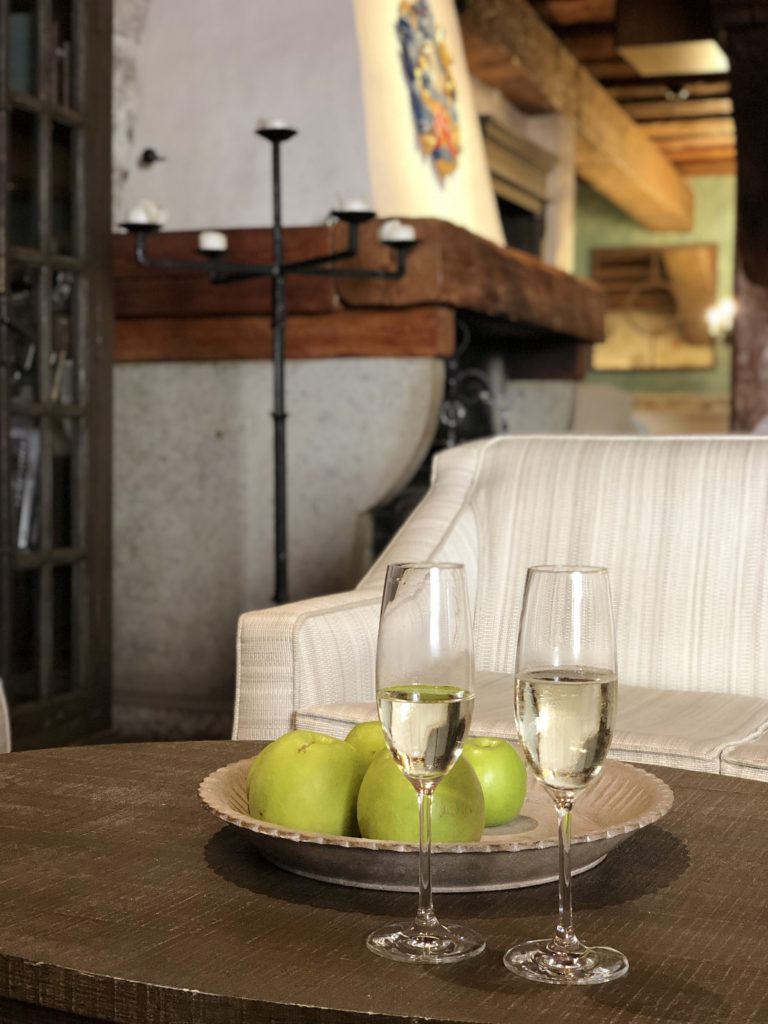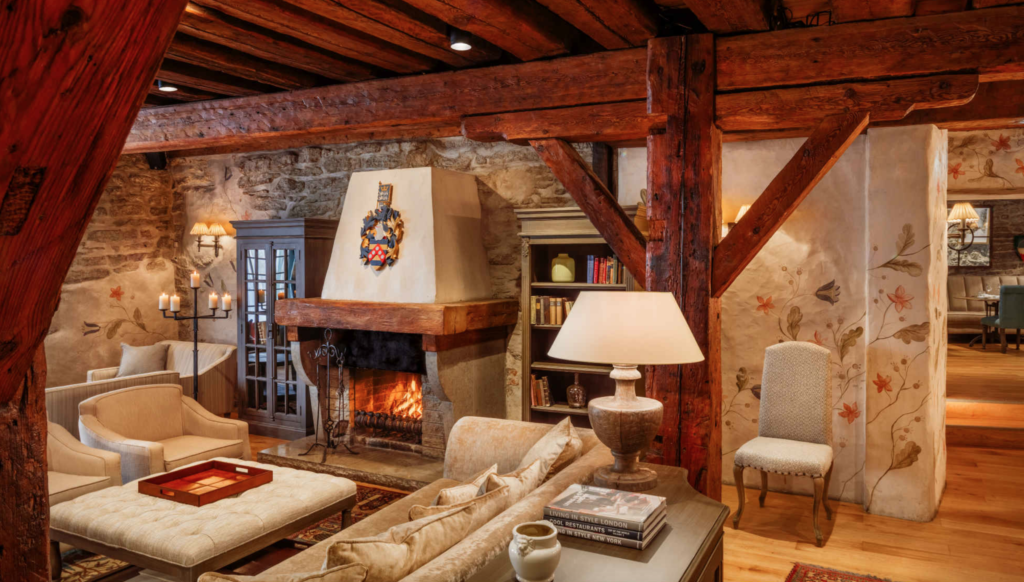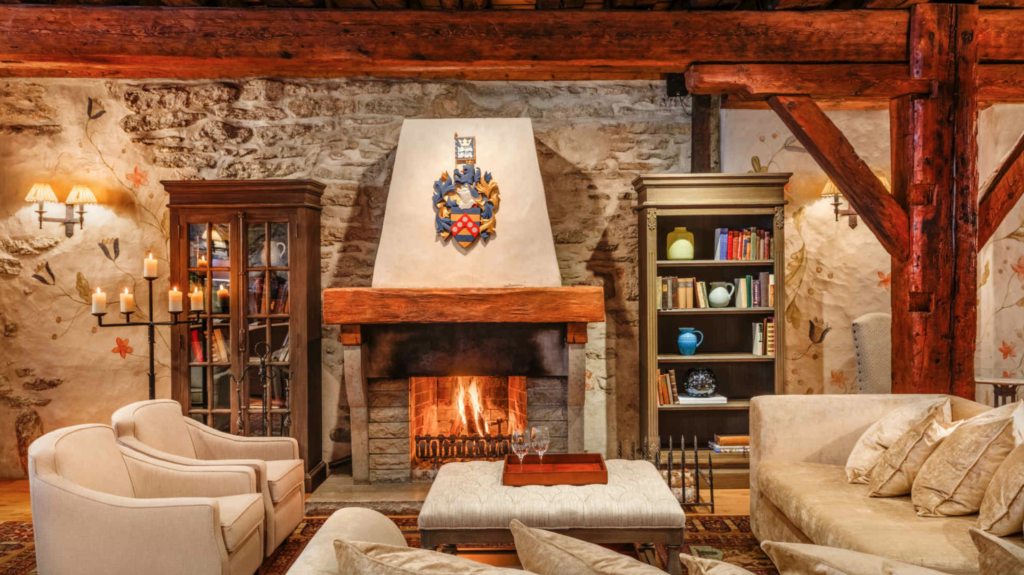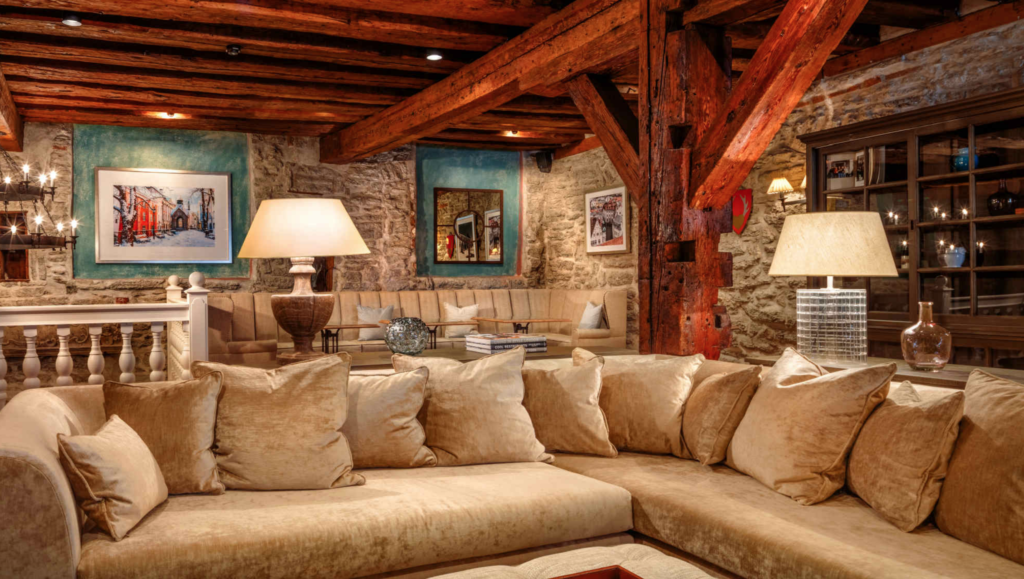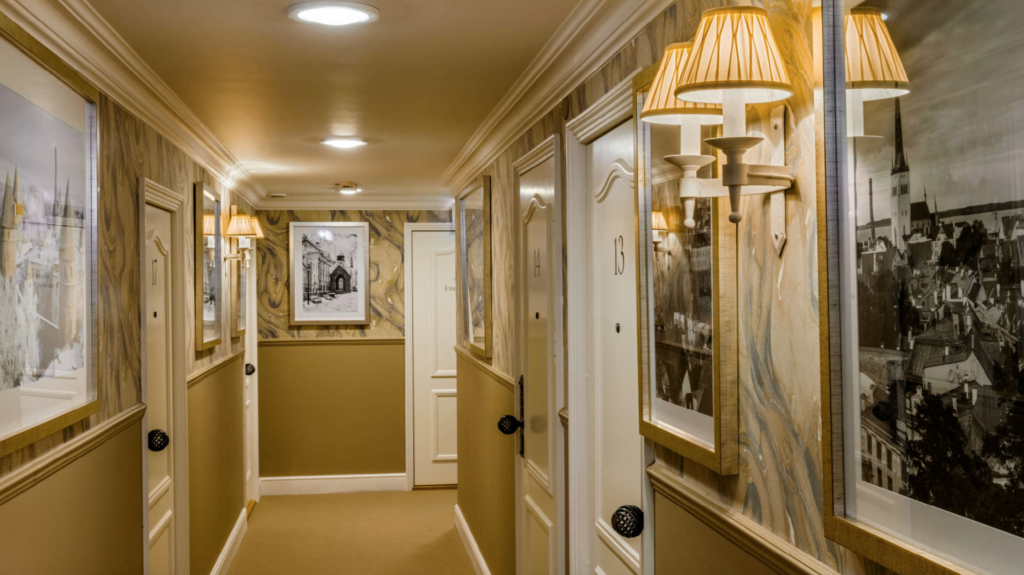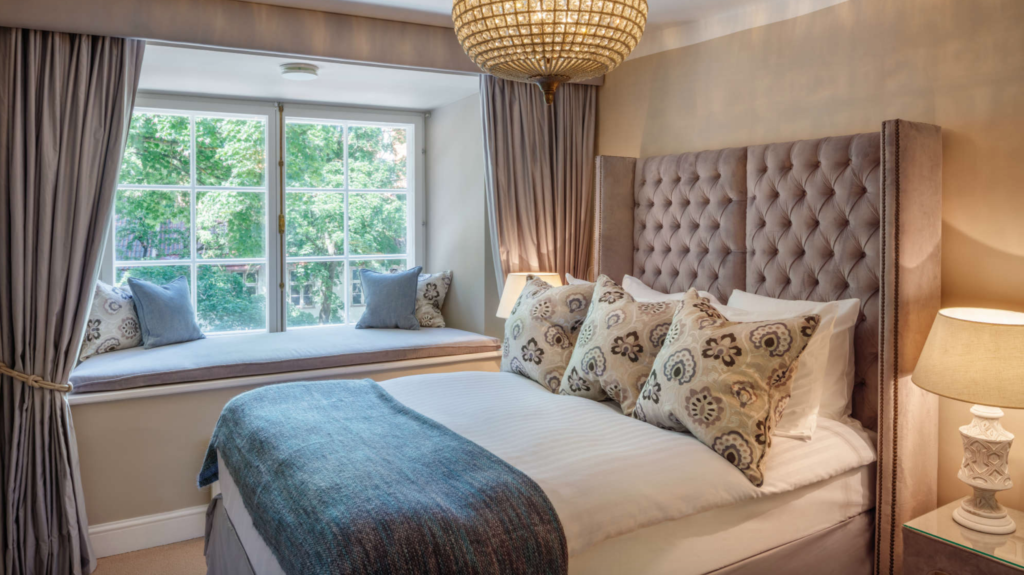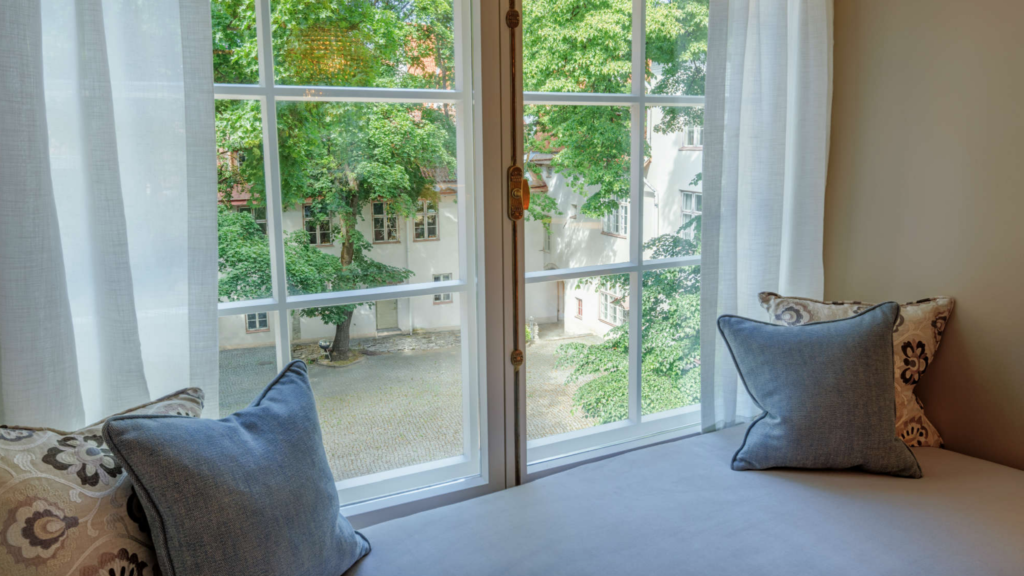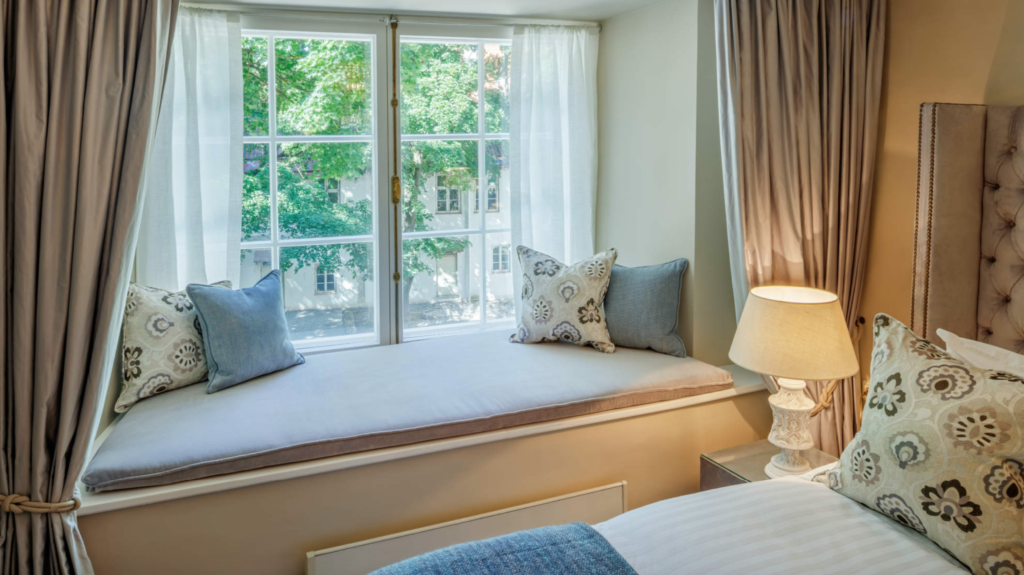 Starving and excited to explore a new city, we were off to lunch and adventure. We had lunch at The Nautilus. First off the décor was amazing! #designinspo and on top of that the food was killer!! We sipped Aperol Spritz and started with a beautiful salad. Next we had maybe the best mussels we've ever had served with crusty garlic bread. It was amazing! I highly recommend eating at The Nautilus for lunch or dinner while in Tallinn!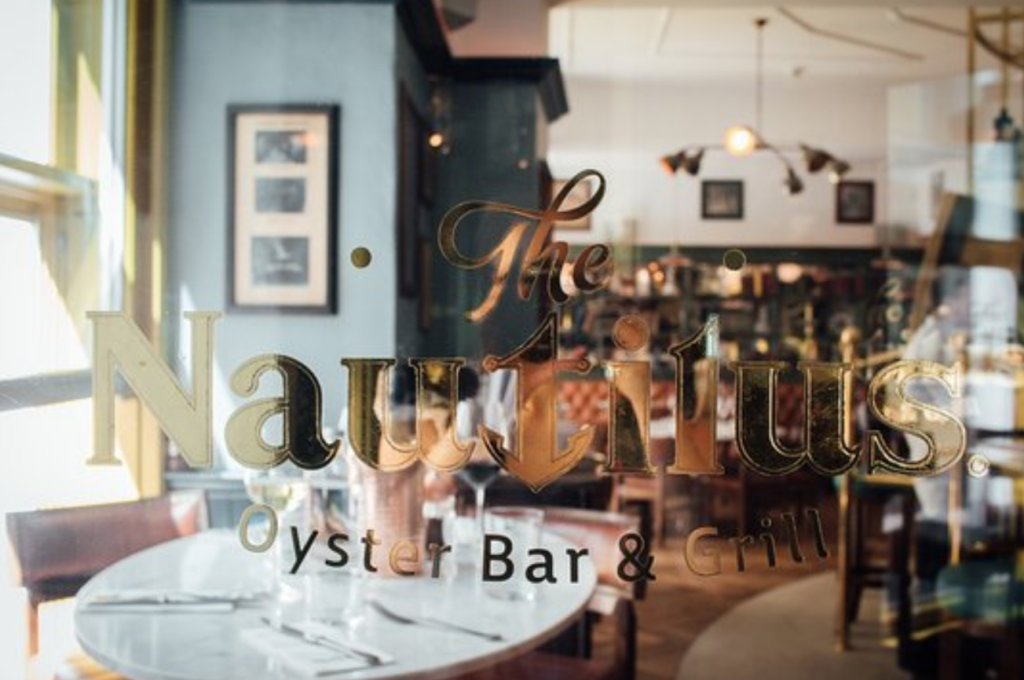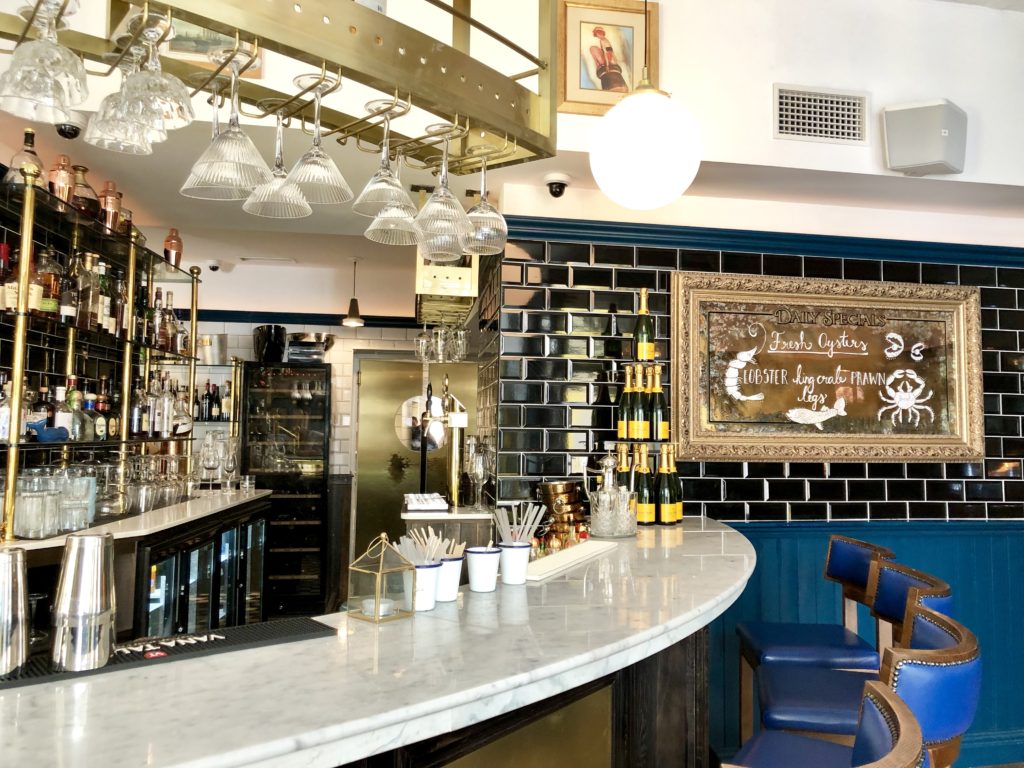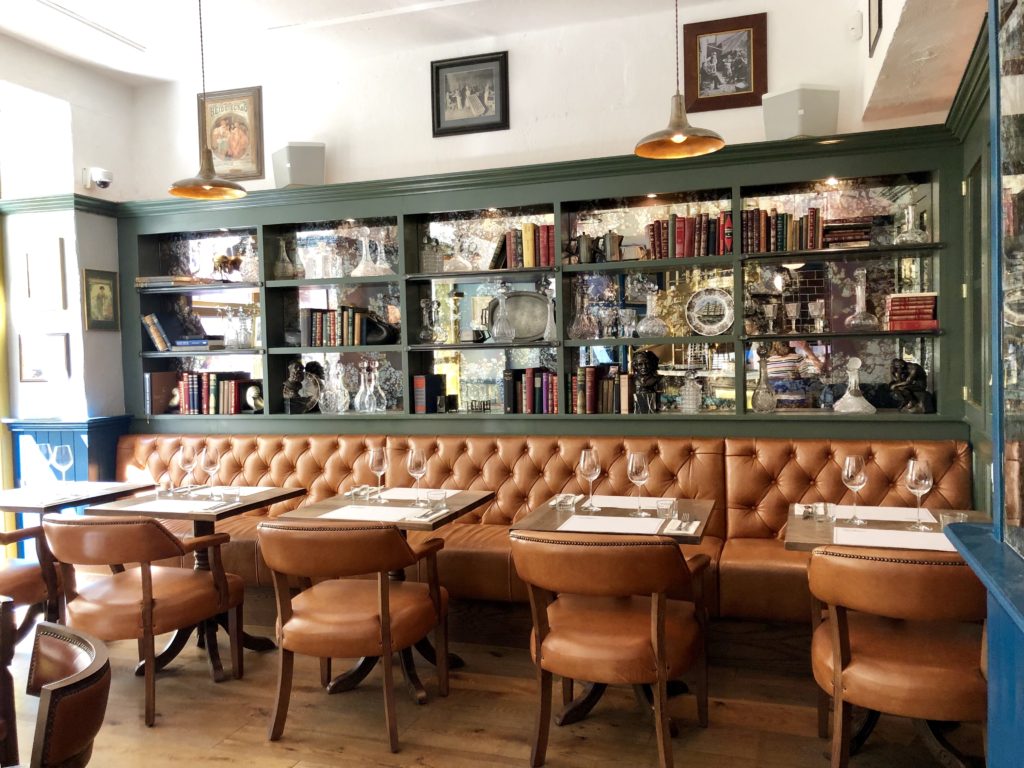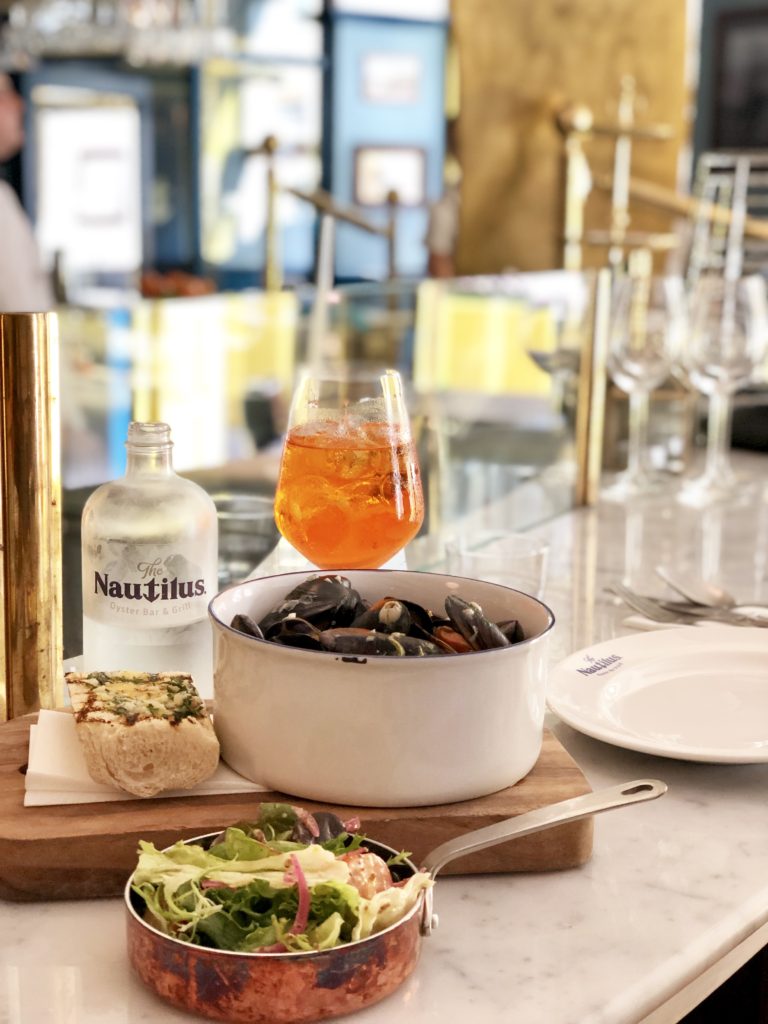 After lunch we roamed around the beautiful city and popped into a few shops.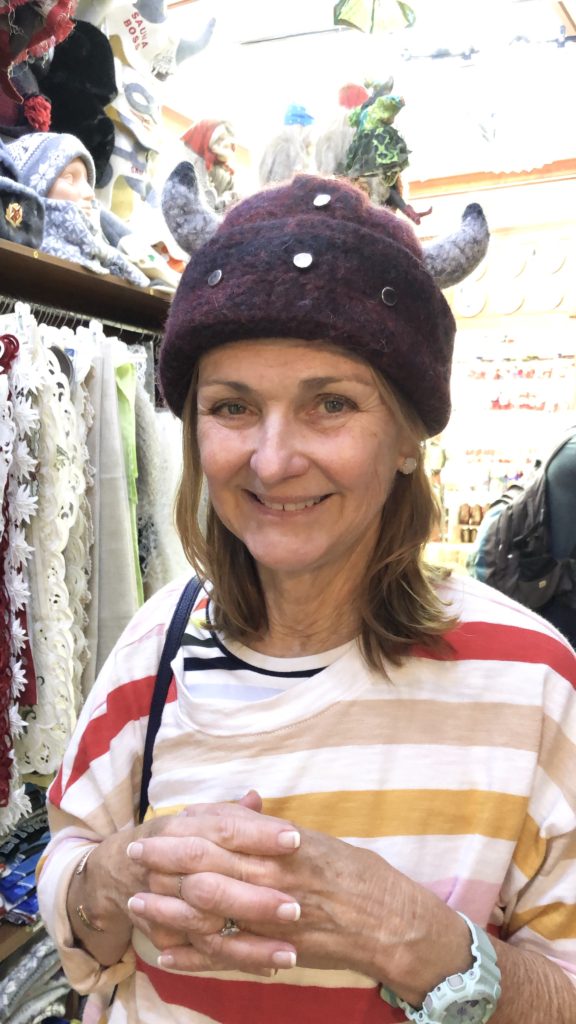 Next we walked to Town Hall Square. It's a large town square with many restaurants and shops. It is also where Tallinn Town Hall is located. Though closed for tours in June, we admired the exterior. It is the oldest town hall in the whole of the Baltic region and Scandinavia.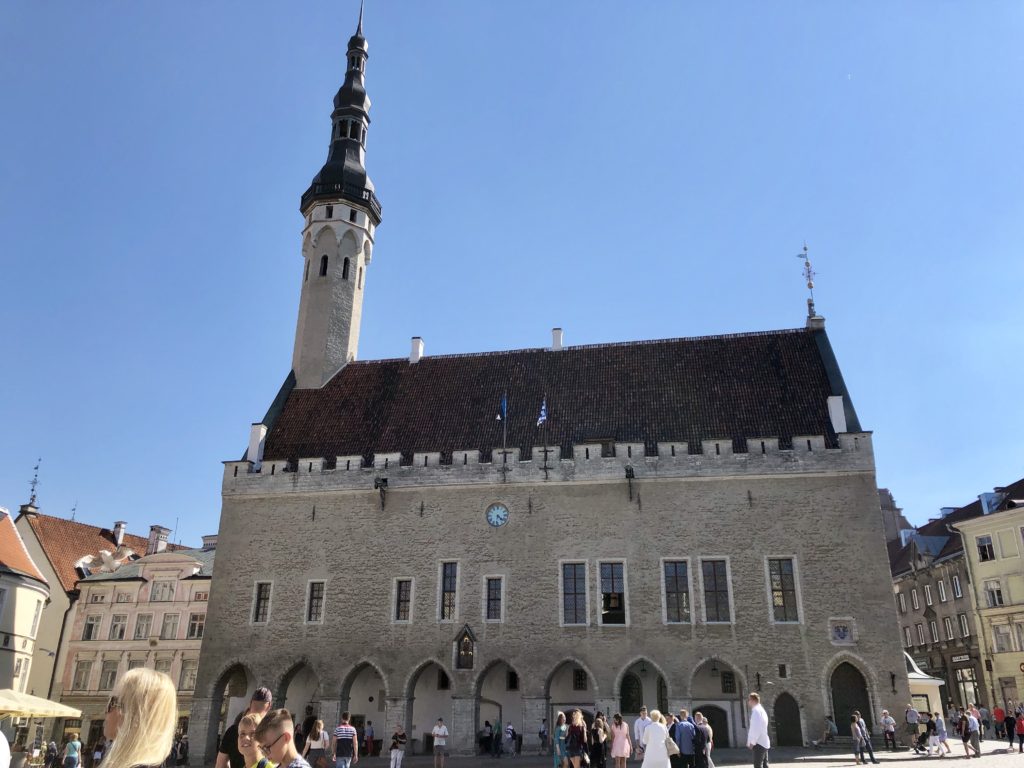 Next we checked out Viru Gate. Viru Gate was part of the defense system of Tallinn's city walls built in the 14th century.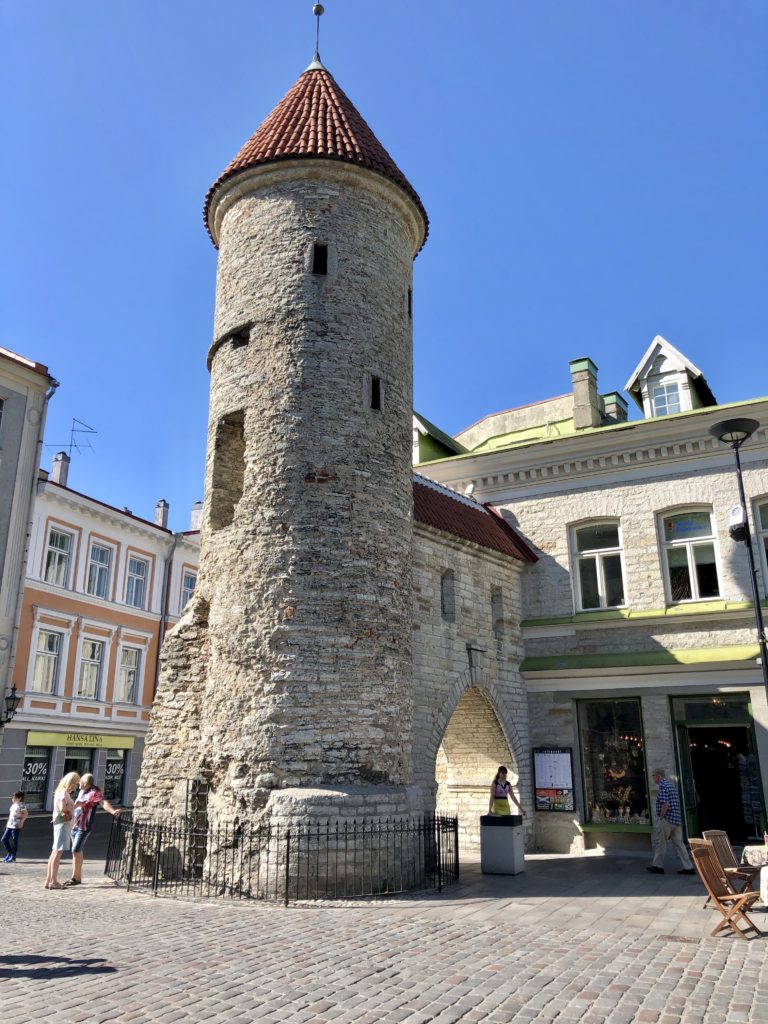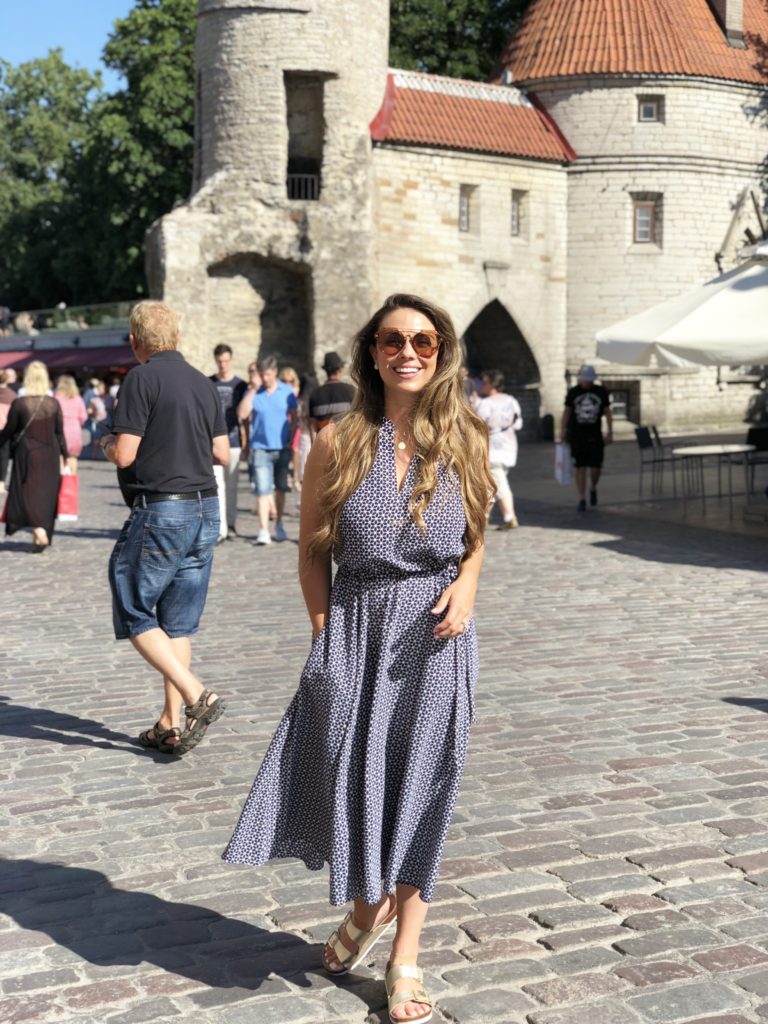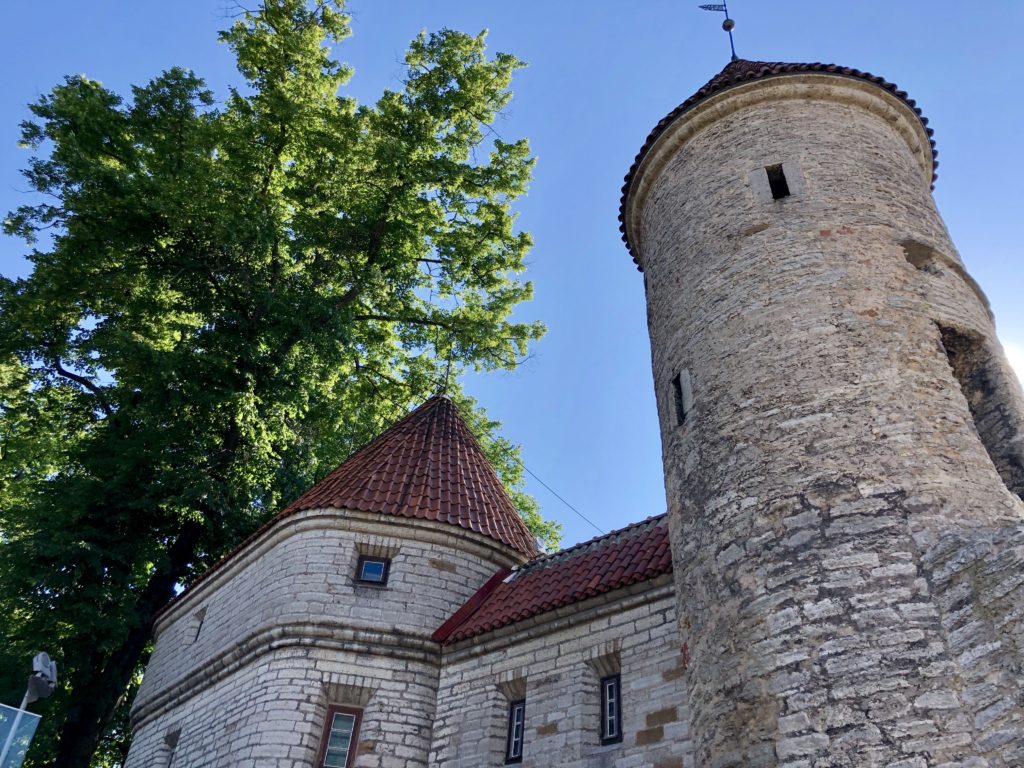 Next we walked through St. Catherine's Passage on our way to St. Catherine's Church. St. Catherine's Passage is one of the prettiest little walkways in all of Old Town. The medieval passage connects the two main streets of Old Town. At one end of the passage you can find what's left of St. Catherine's Church, hence the passage name, and many large, ancient tombstones that used to line the inside of the sanctuary. At the other end of the passage, you'll find numerous artisan workshops.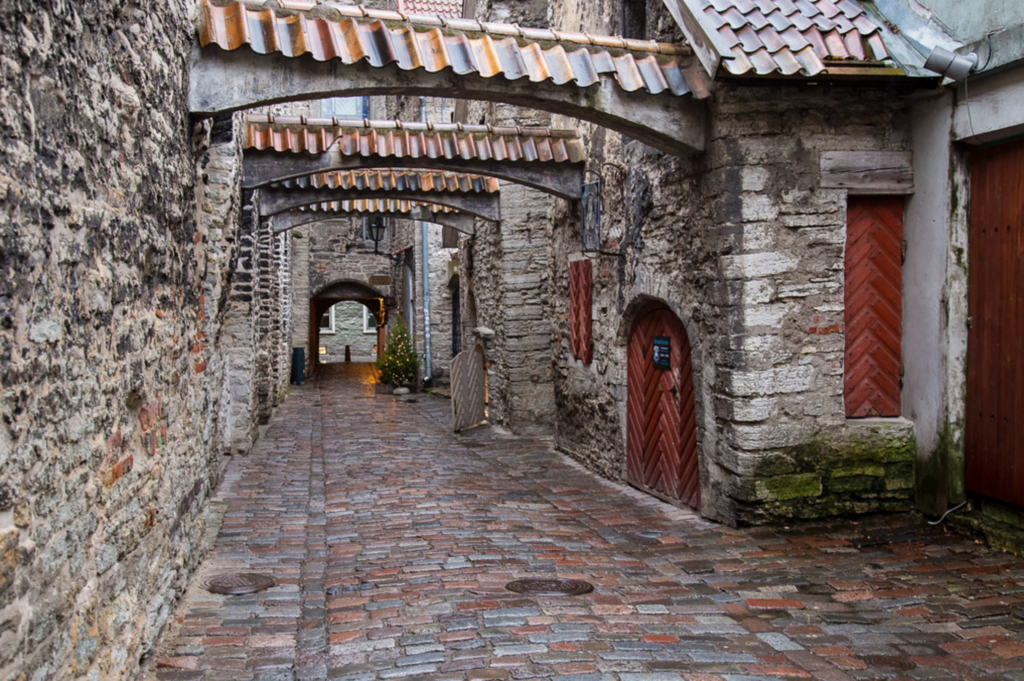 St Catherine's Church is a former Dominican Monastery and one of the oldest buildings in Tallinn. A Dominican monastery is known to have existed at the site since 1246.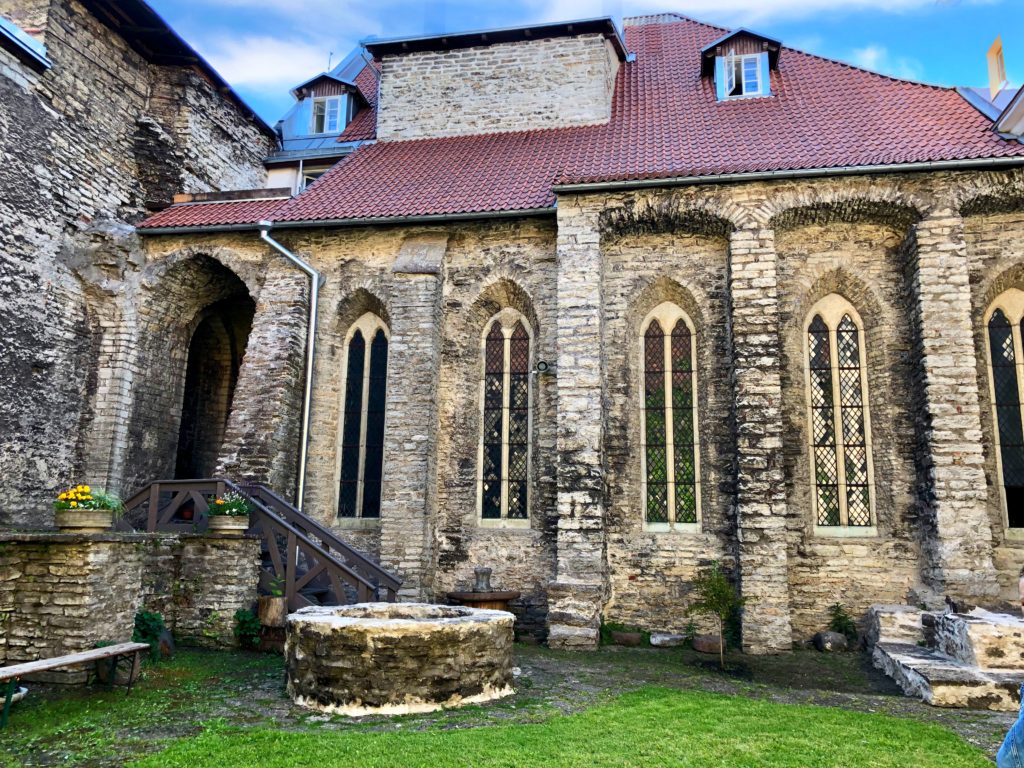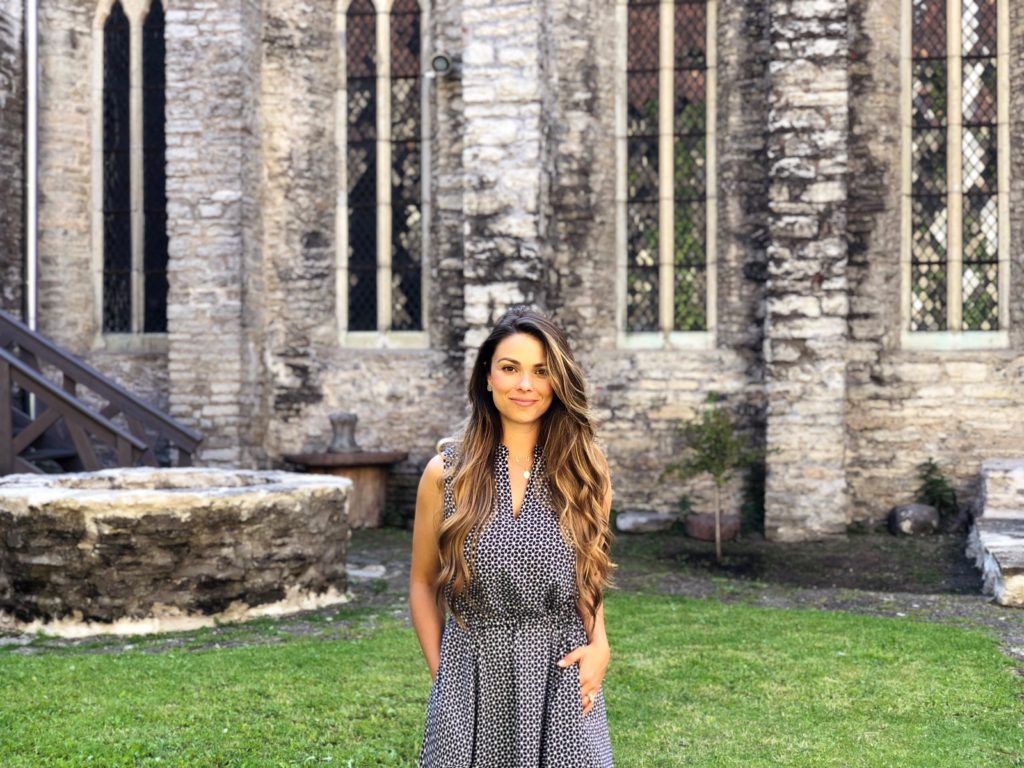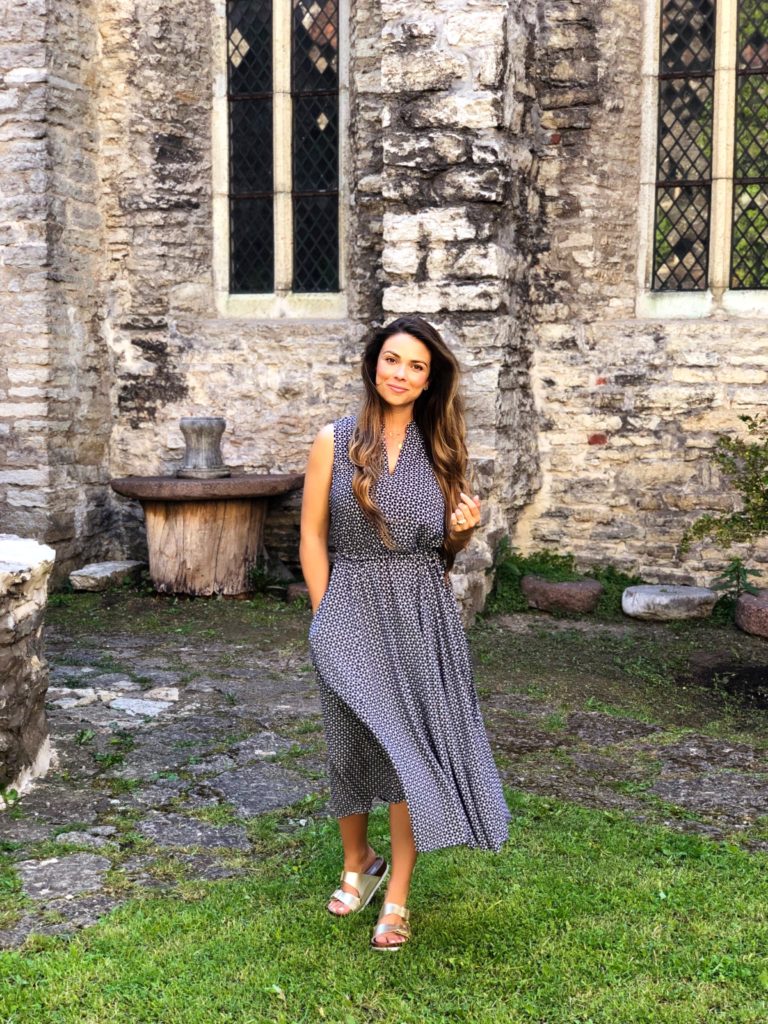 Next we walked back to Town Hall Square for some champagne at The Wine Library. We sipped and enjoyed the beautiful scenes of Tallinn's old town.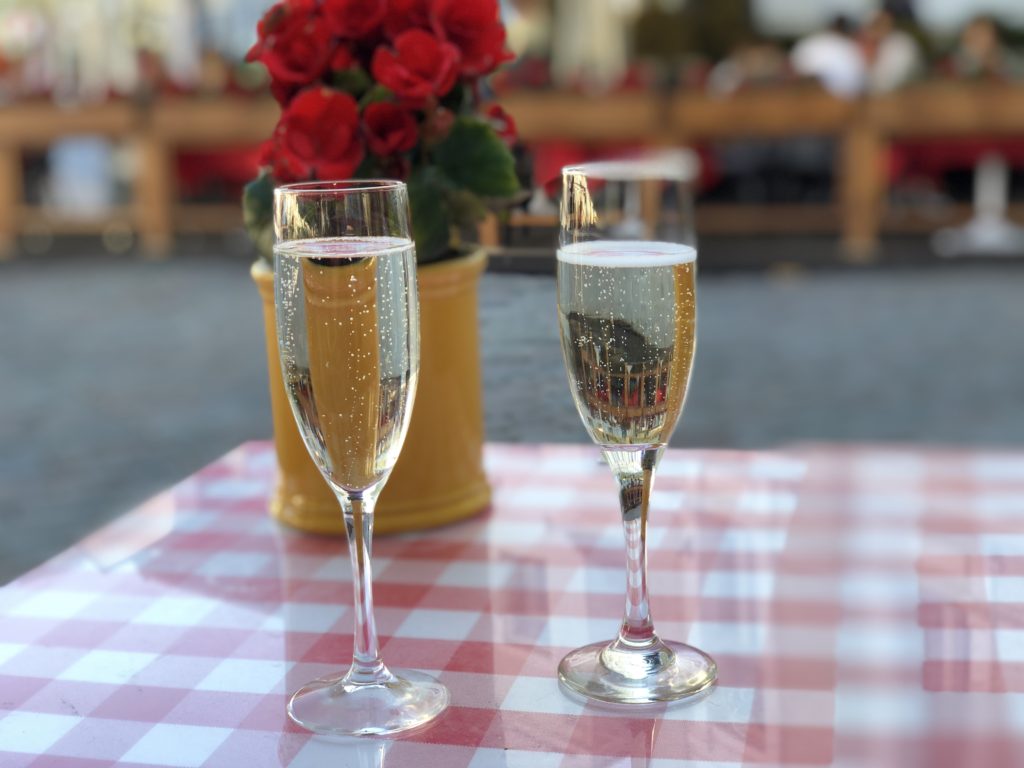 For dinner that evening we ate at Restoran Farm. This was the best meal of our entire trip, and maybe of my entire life. It was beyond amazing! The bright and airy restaurant is elegant but warm, cozy and charming. We started with a bottle of crisp white wine and their house made traditional Estonian black bread. It was very good! For our starters we each had a cup of their creamy sauerkraut soup. It had big pieces of ham in it and the most delicious crispy roasted potatoes too. Judi and I must figure out how to copy cat this recipe so we can enjoy it again and again! For our entrée we split the breaded veal fillet served with grilled carrots and a mushroom ragout and for our side we had a jacket potato filled with a bright and fresh chive pesto. Every course was beyond amazing and the service was top notch too. If you only have time for one meal in Tallinn it must be Restoran Farm!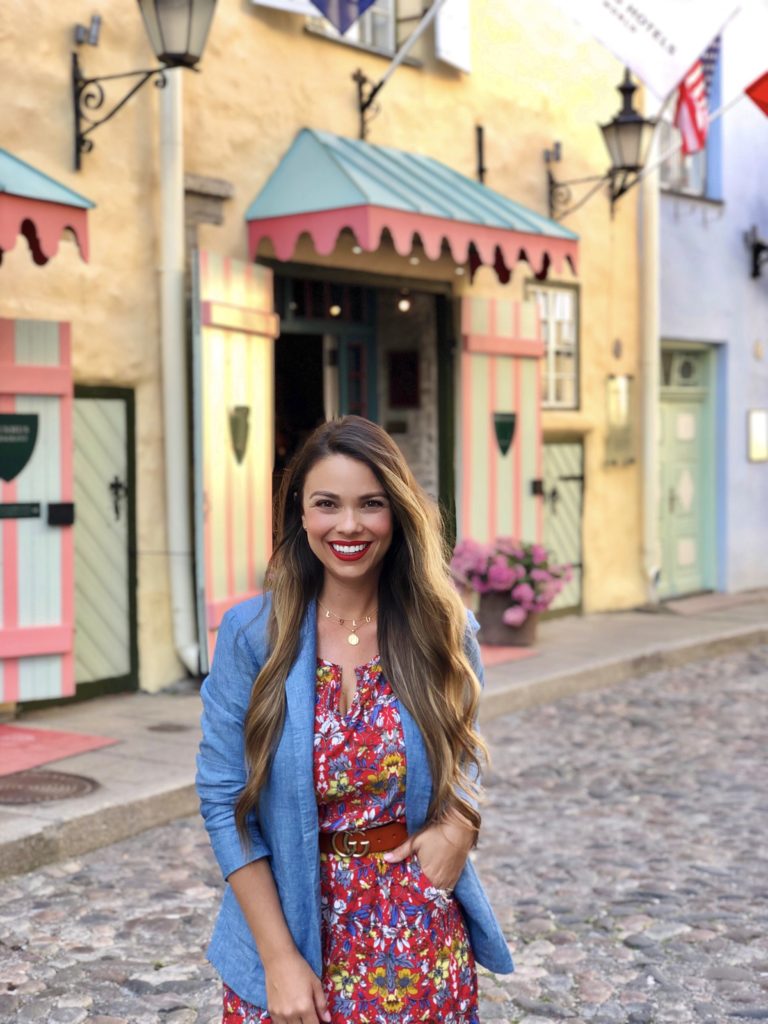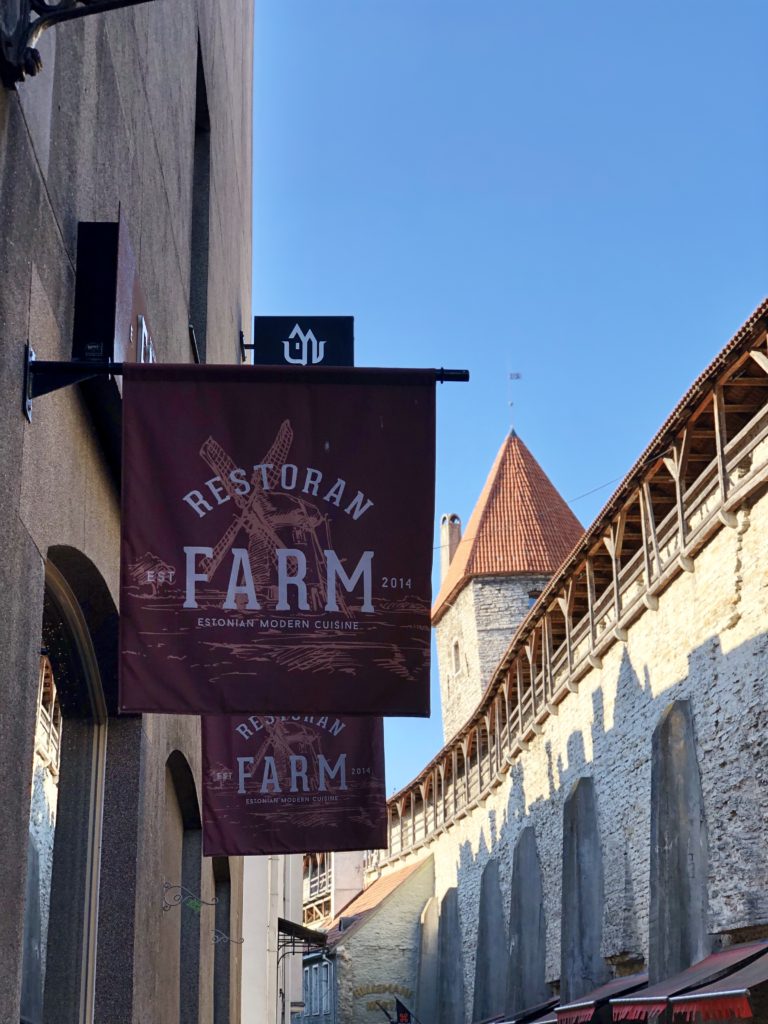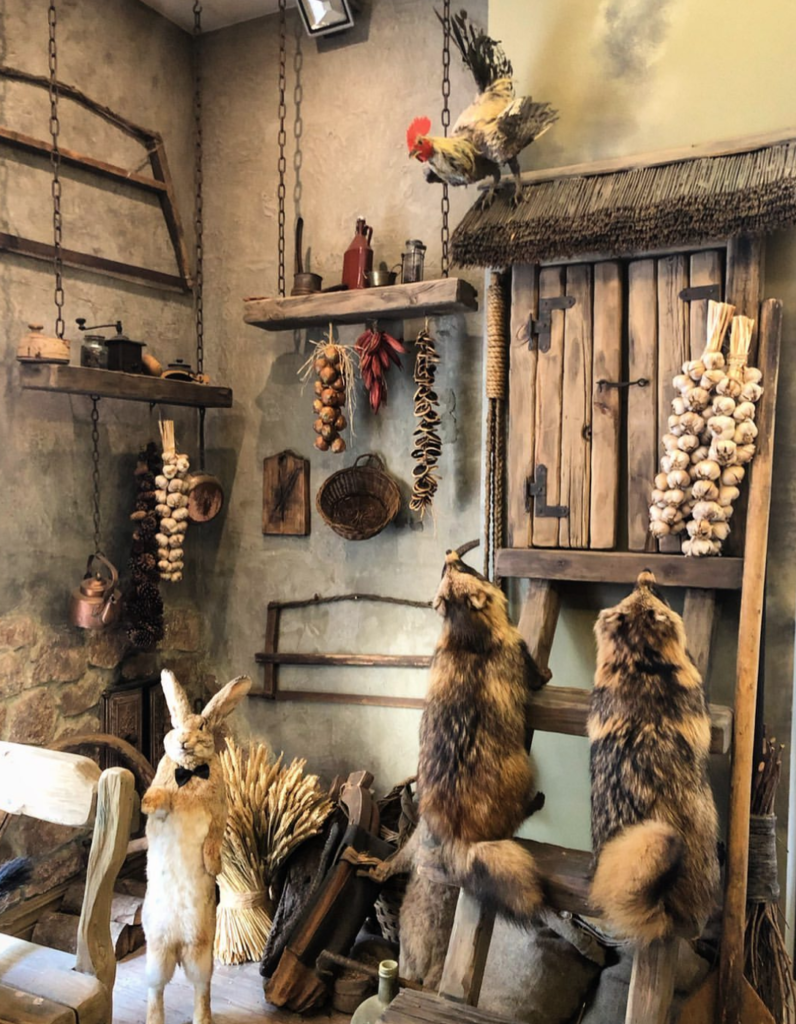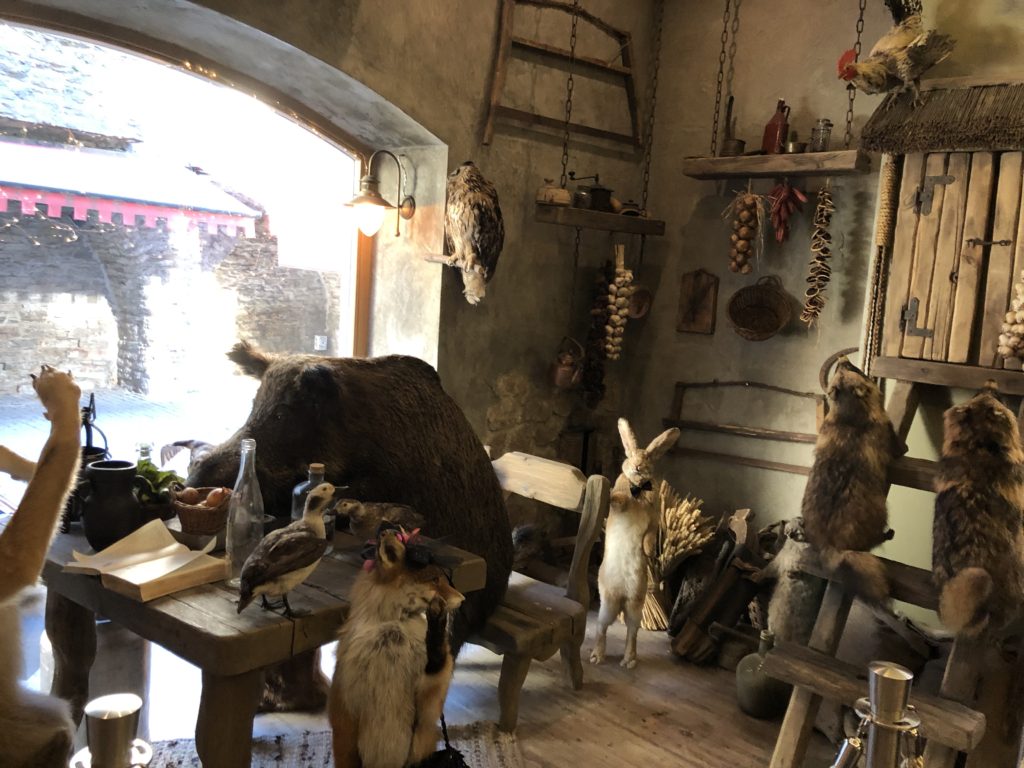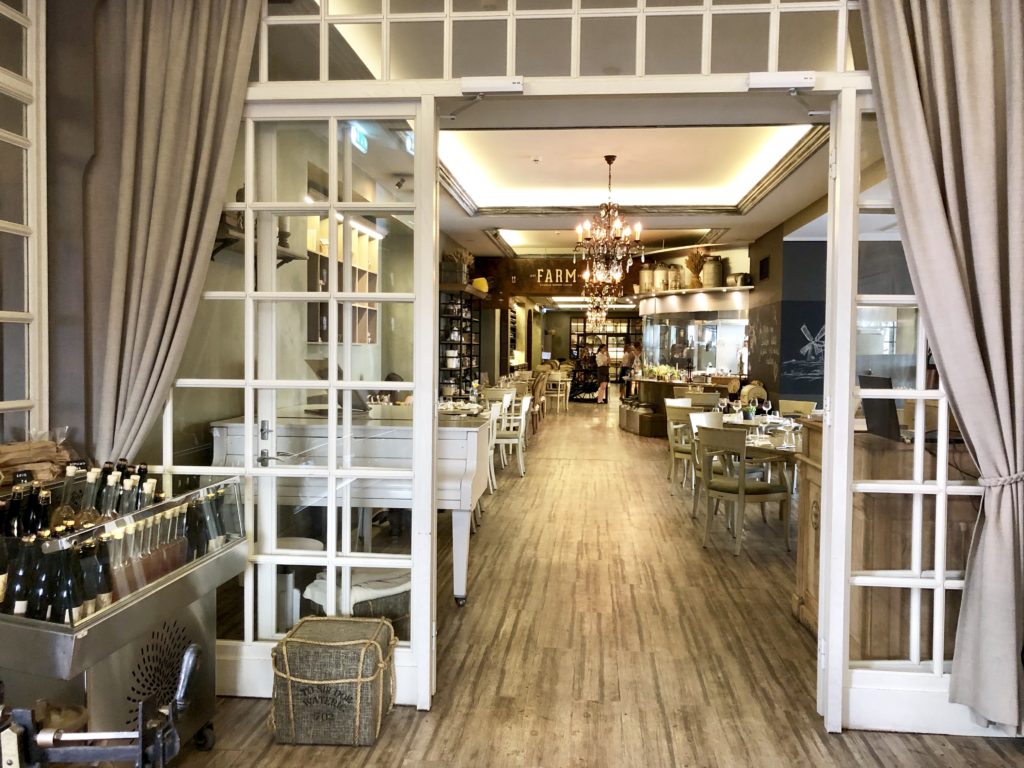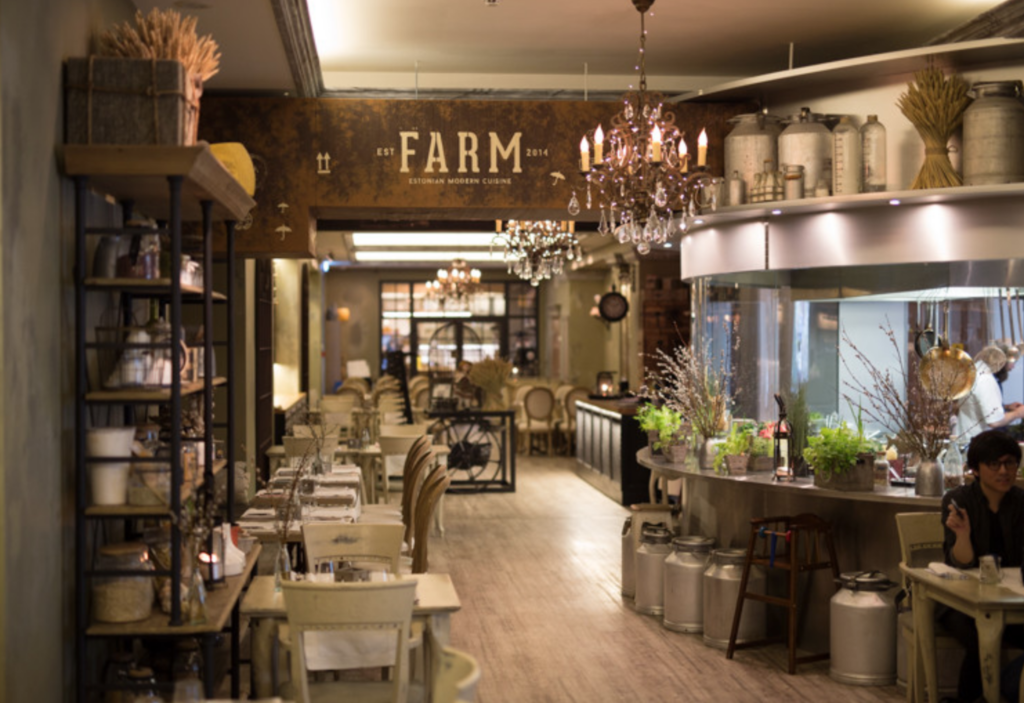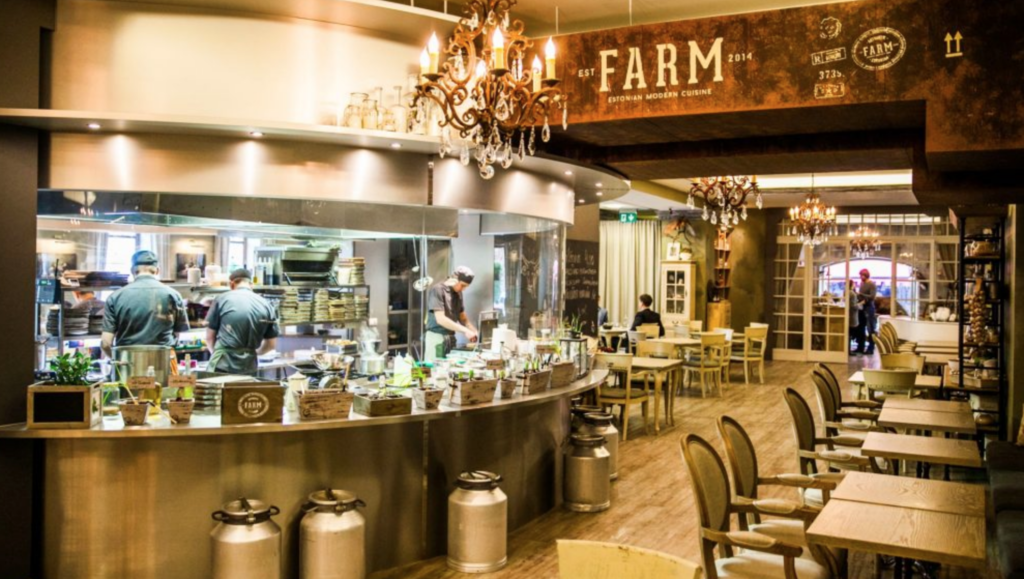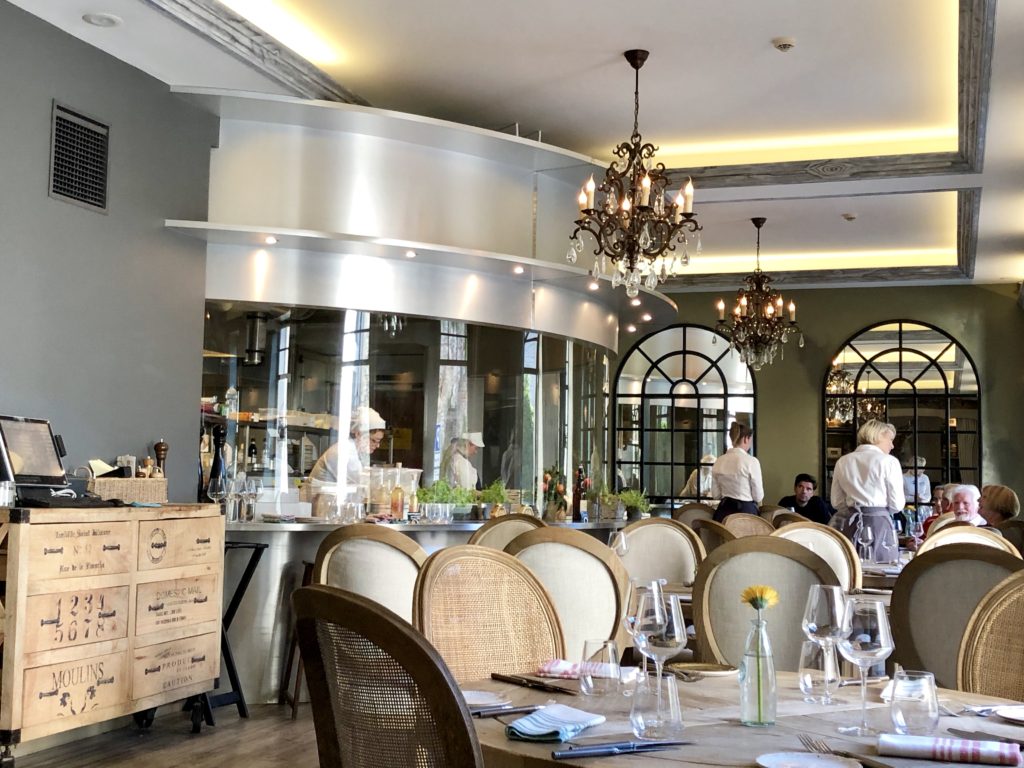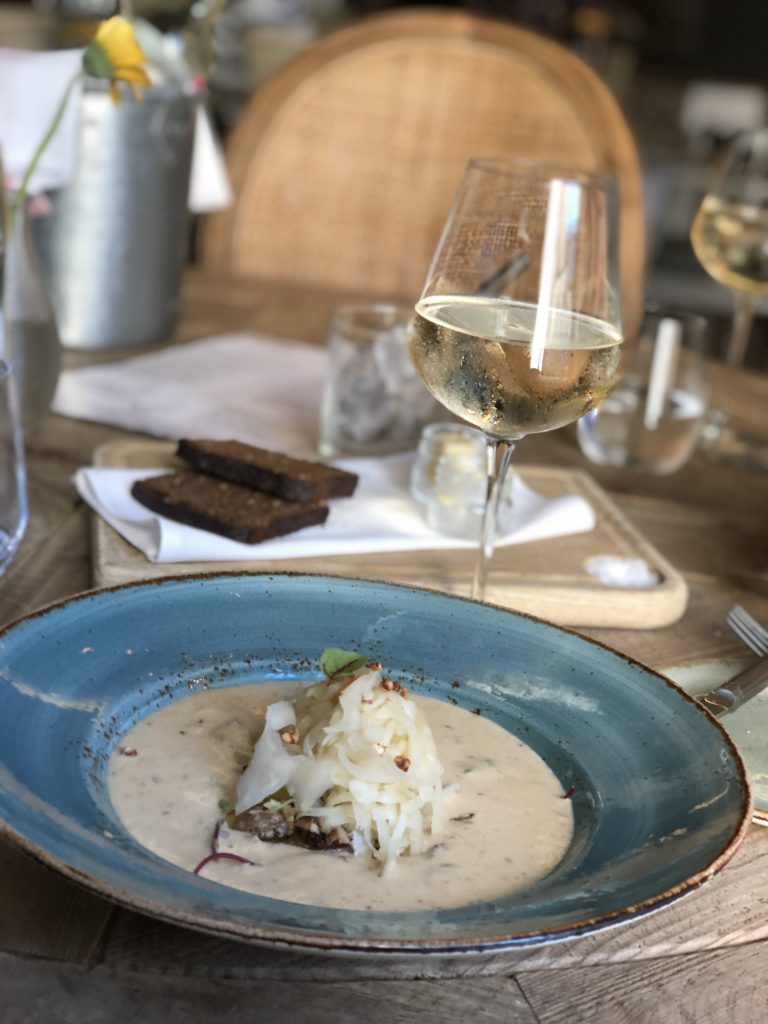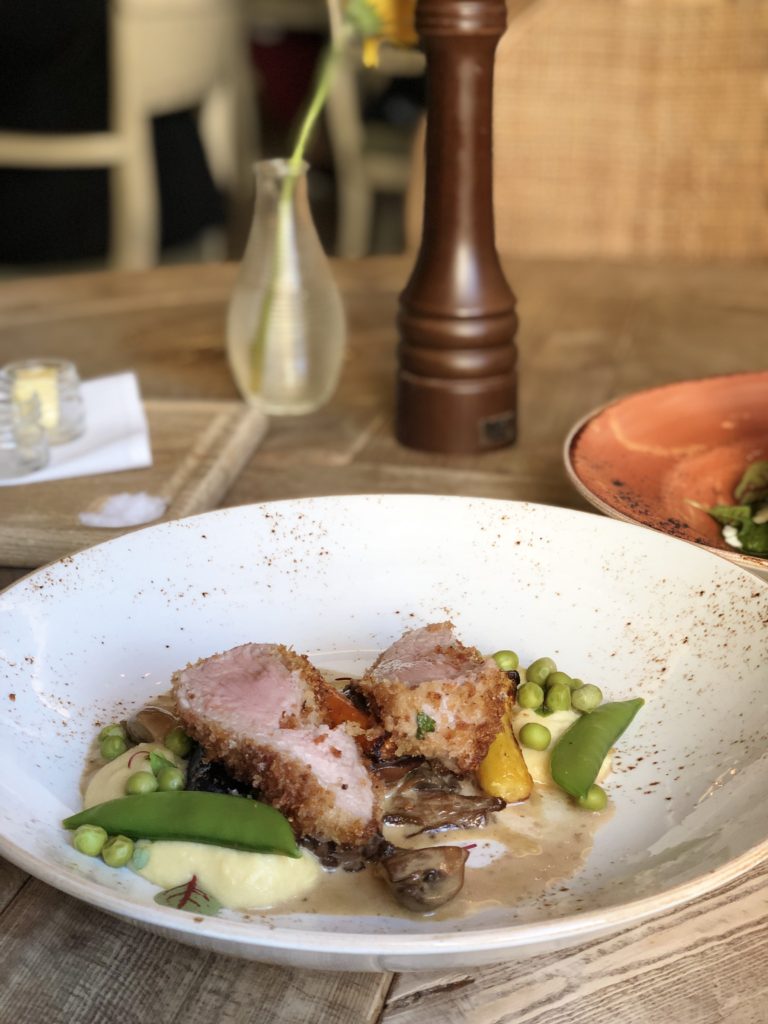 We arrived back to our room and all our clothes from earlier in the day were neatly folded for us and our bed had been turn down and chocolates placed on our pillows. The service at Hotel Schlossle was impeccable!
We woke up well rested and enjoyed coffee in our beautiful room while reading the news. Every morning before guests wake, the hotel staff places a brochure with news articles pertaining to what country the guests are from. I though this was such a thoughtful and unique gesture.
We enjoyed a beautiful breakfast in the hotel's cellar.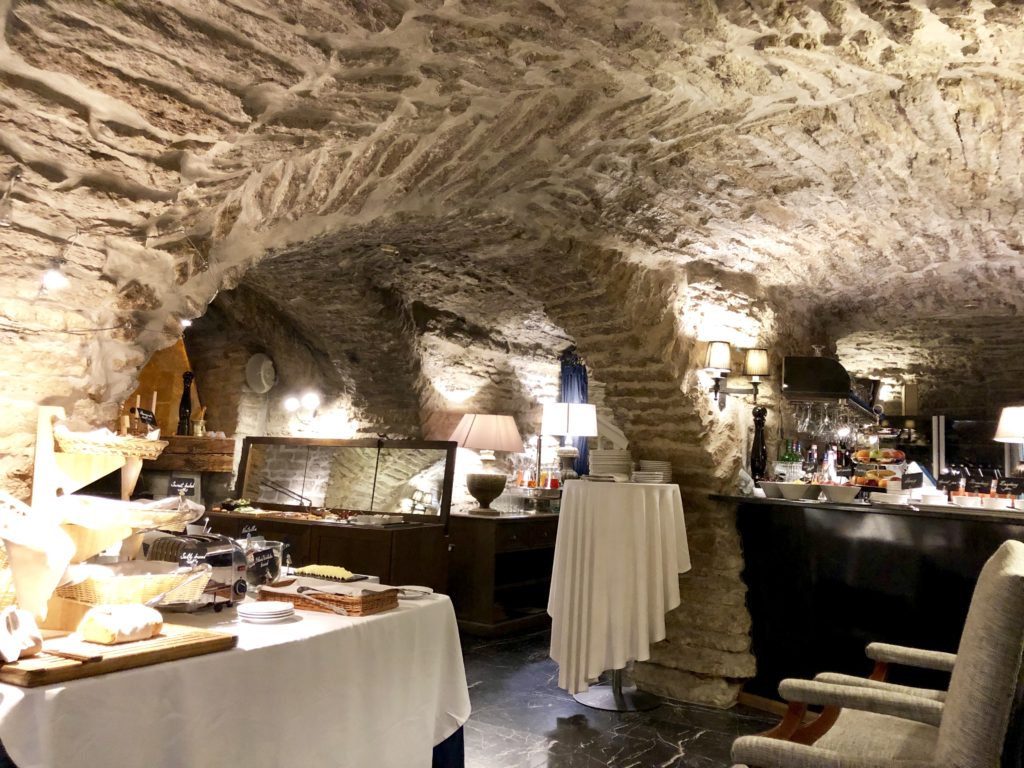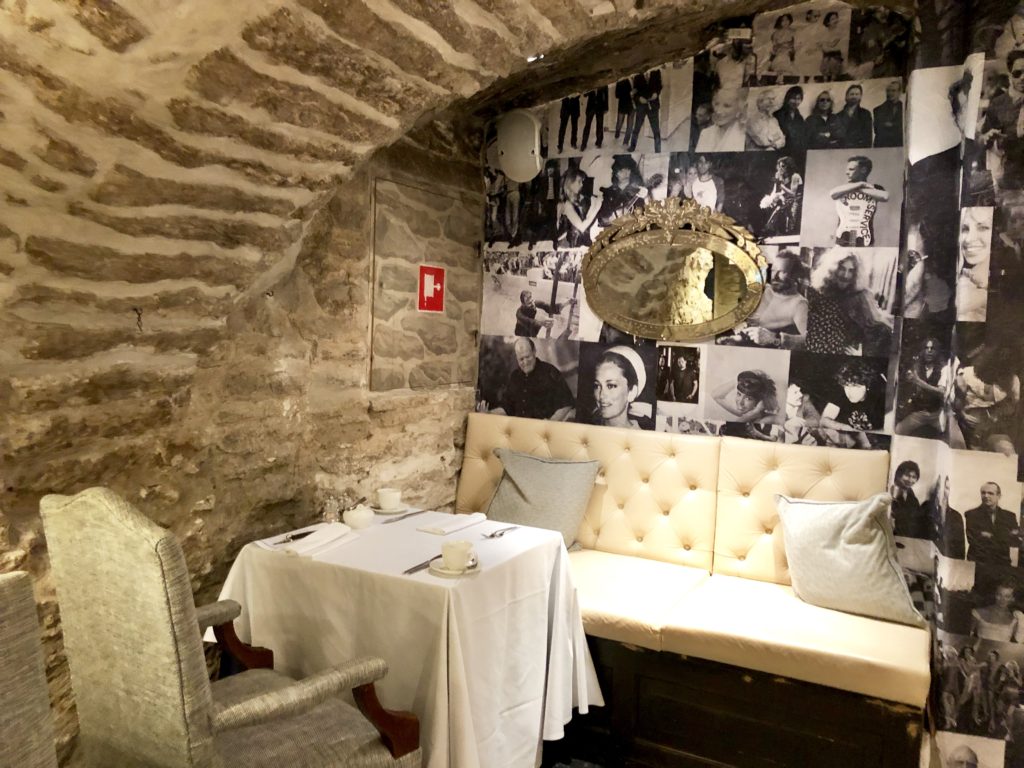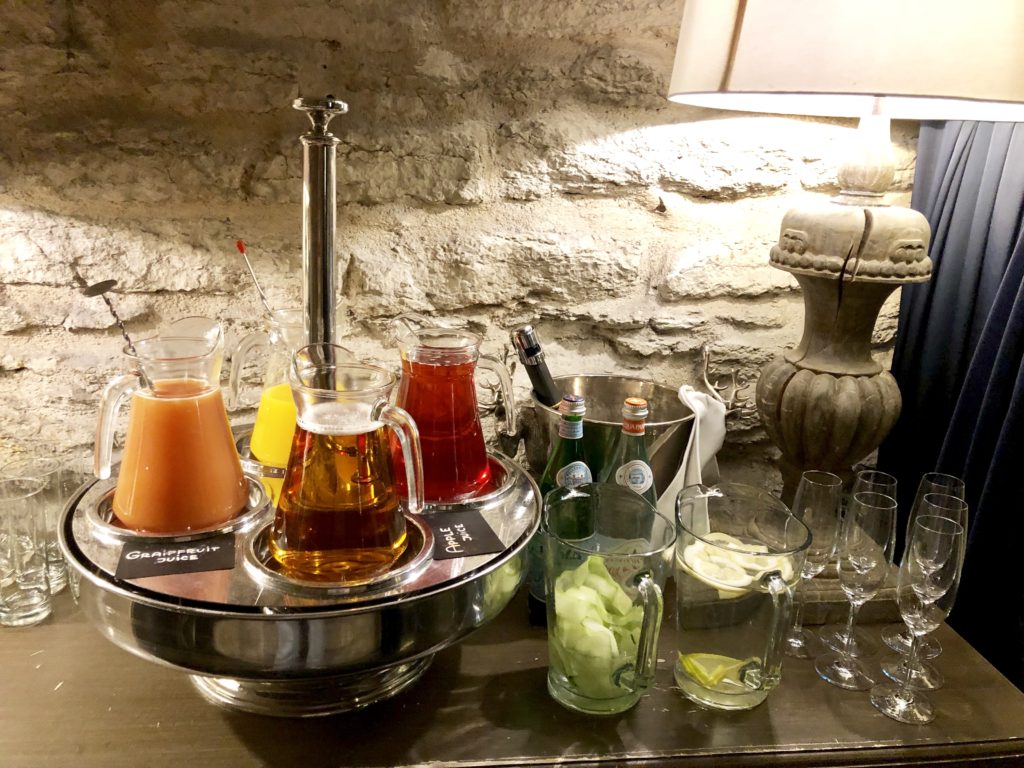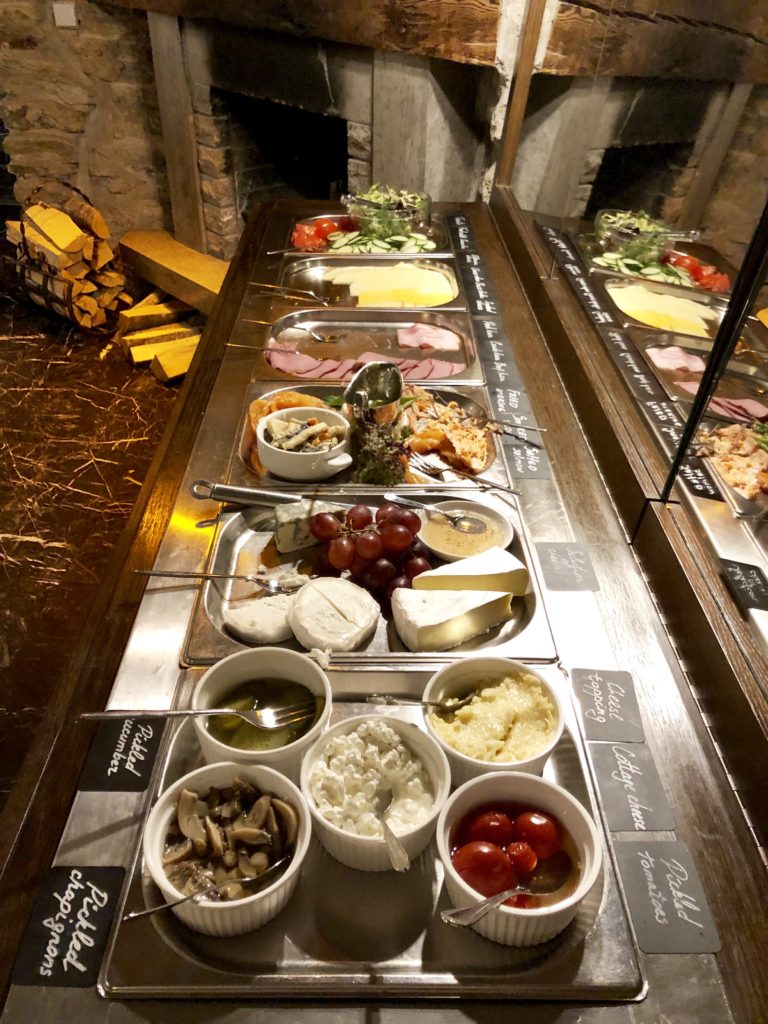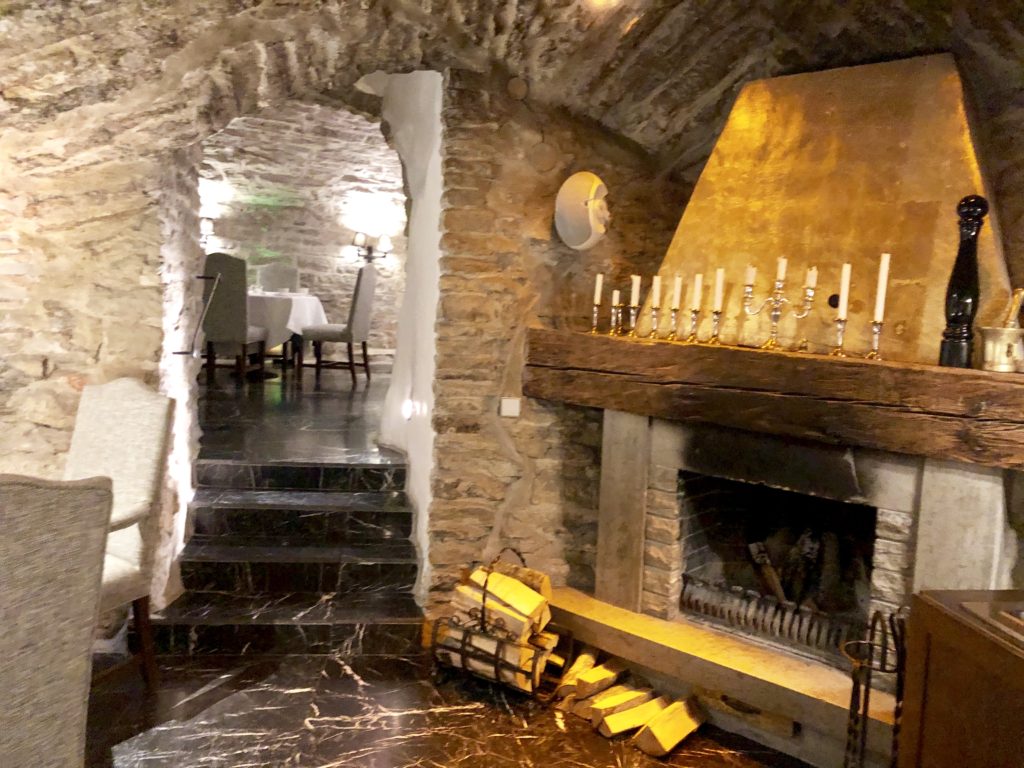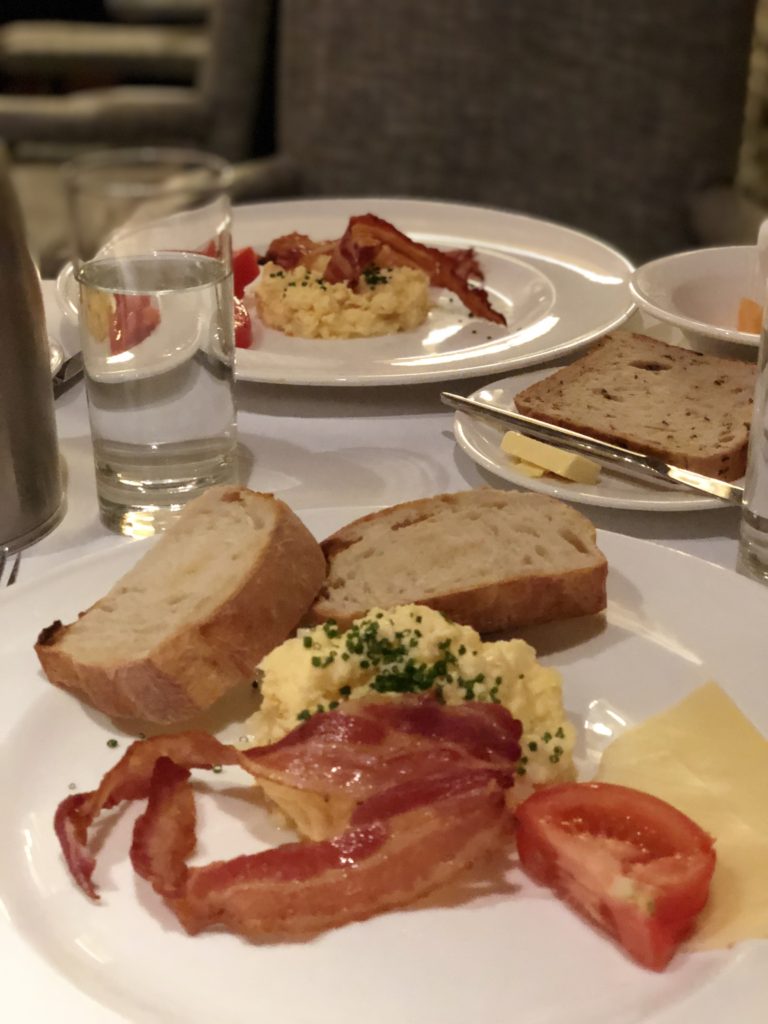 Our first stop was the Tallinn City Museum, which was attached to our hotel. The cellar was originally a medieval merchant house. Now, The Tallinn City Museum showcases the history of the city from its conception to today. The museum houses a wide array of ceramics, porcelain, and metal, exhibitions on the history of the city and luxury items and portraits of aldermen and wealthy townspeople.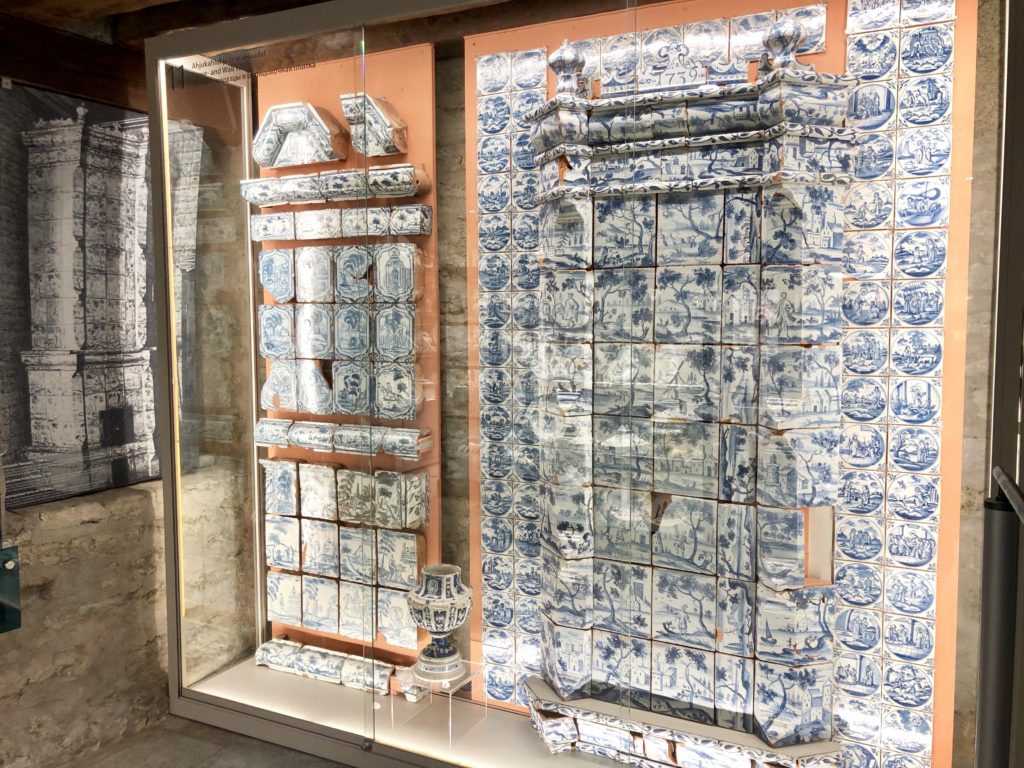 Our next stop was the Estonian History Museum at The Great Guild Hall. The mediaeval Great Guild Hall has always played an important role in the life of the city. The Great Guild Hall was a guild for merchants and artisans operating in beginning of the 14th century and today it is a history museum.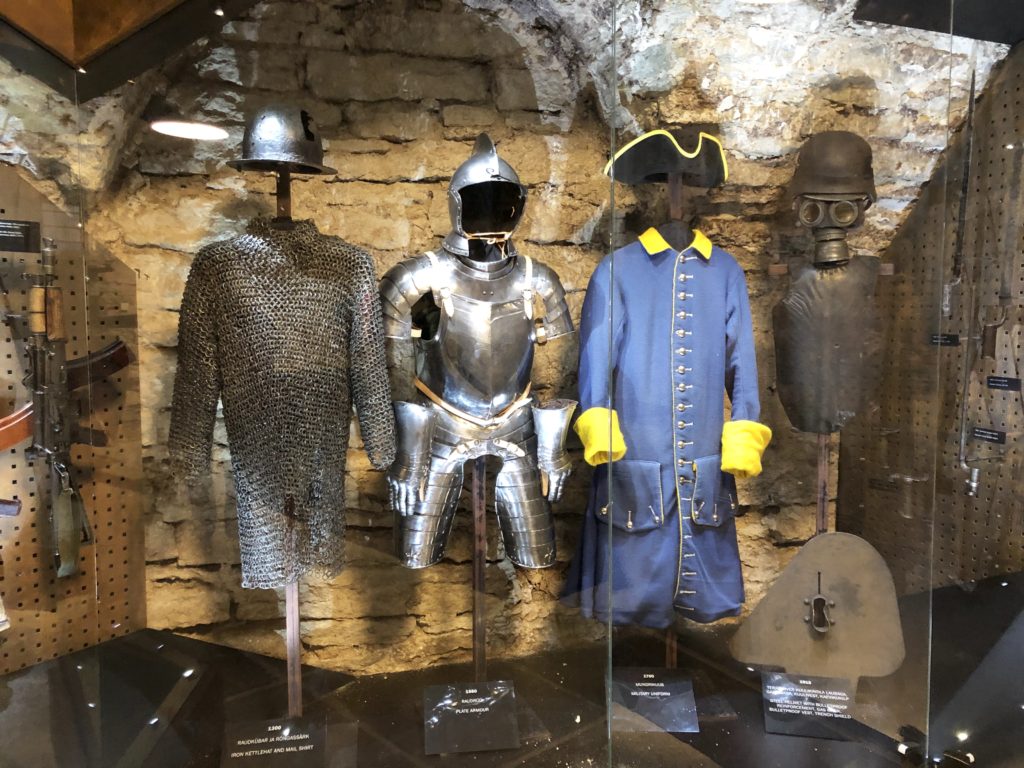 We walked to Toompea Hill, who's fortresses dates back to 1050, for our next stop, the gorgeous Alexander Nevsky Cathedral. Built in a typical Russian Revival style in 1894, when Estonia was part of the Russian Empire. The Alexander Nevsky Cathedral is Tallinn's largest and grandest orthodox cupola cathedral. The exterior and interior of the cathedral are so so stunning!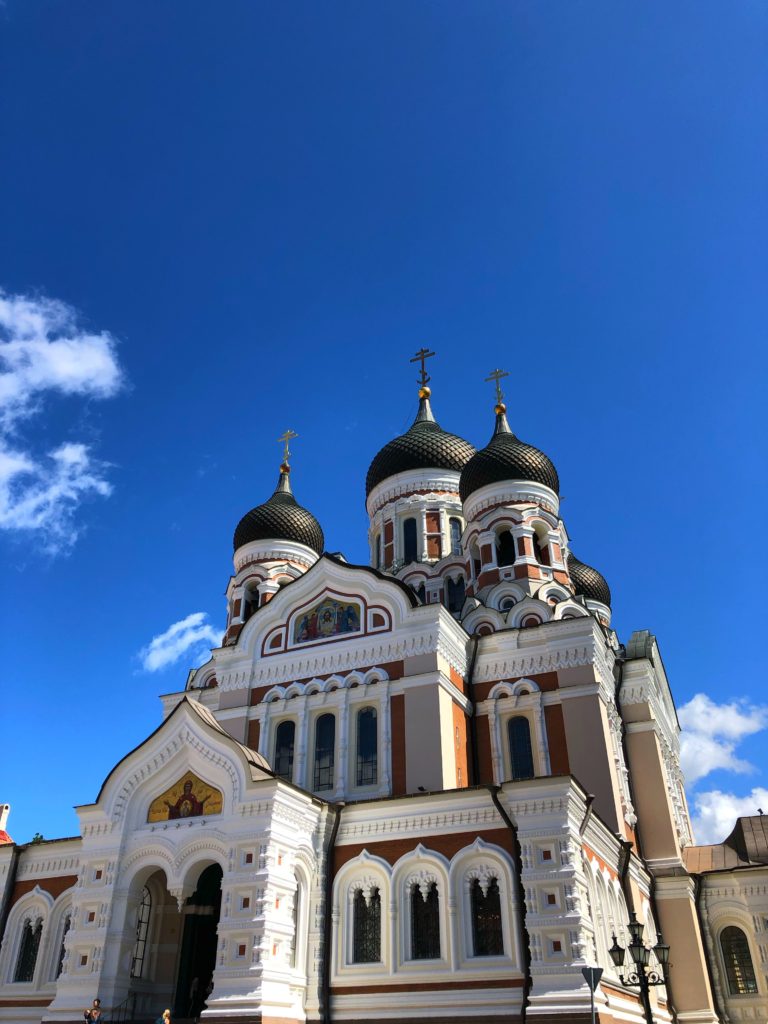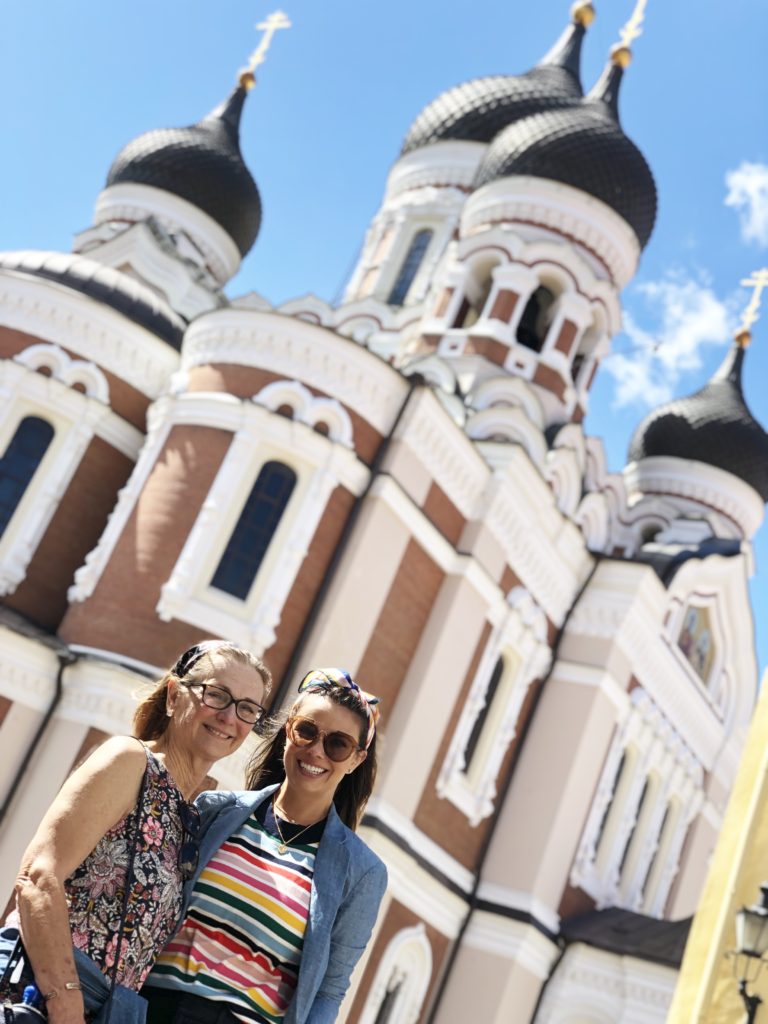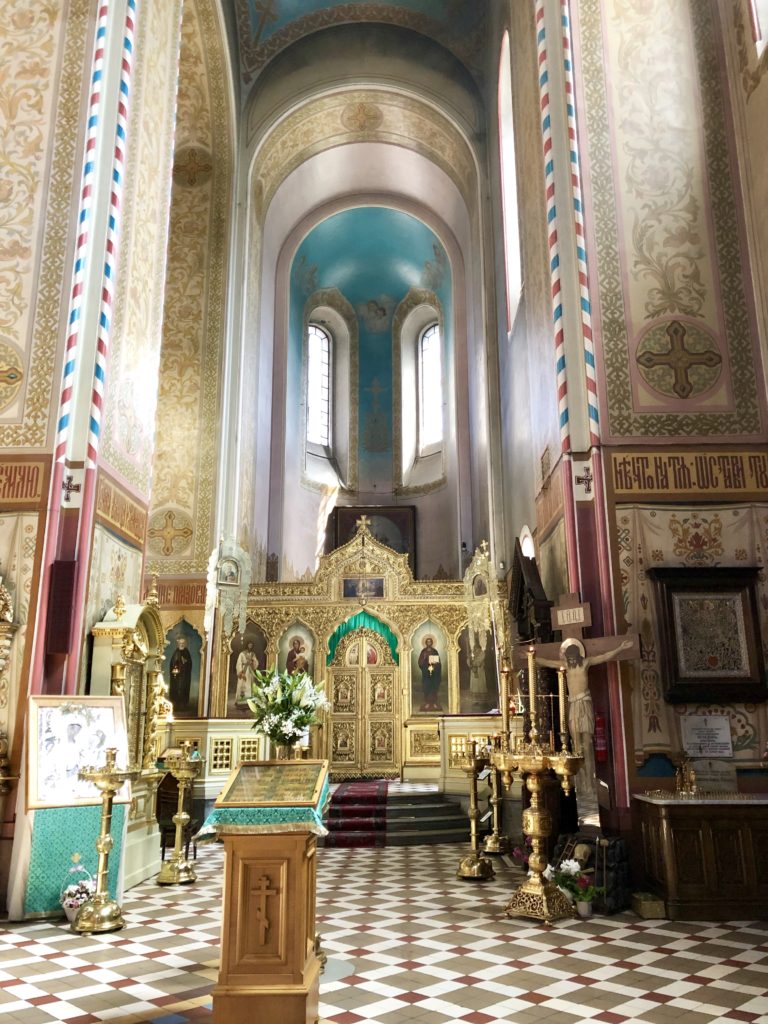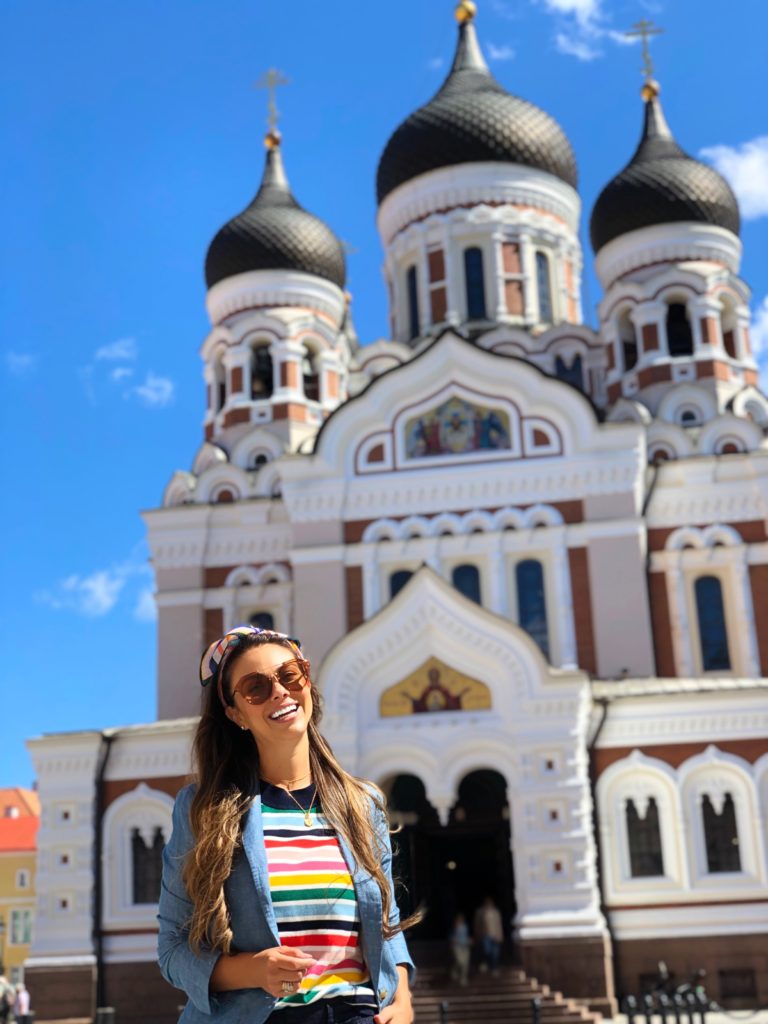 Just a short walk from the cathedral is Patkuli viewing platform where you can catch amazing views of the city!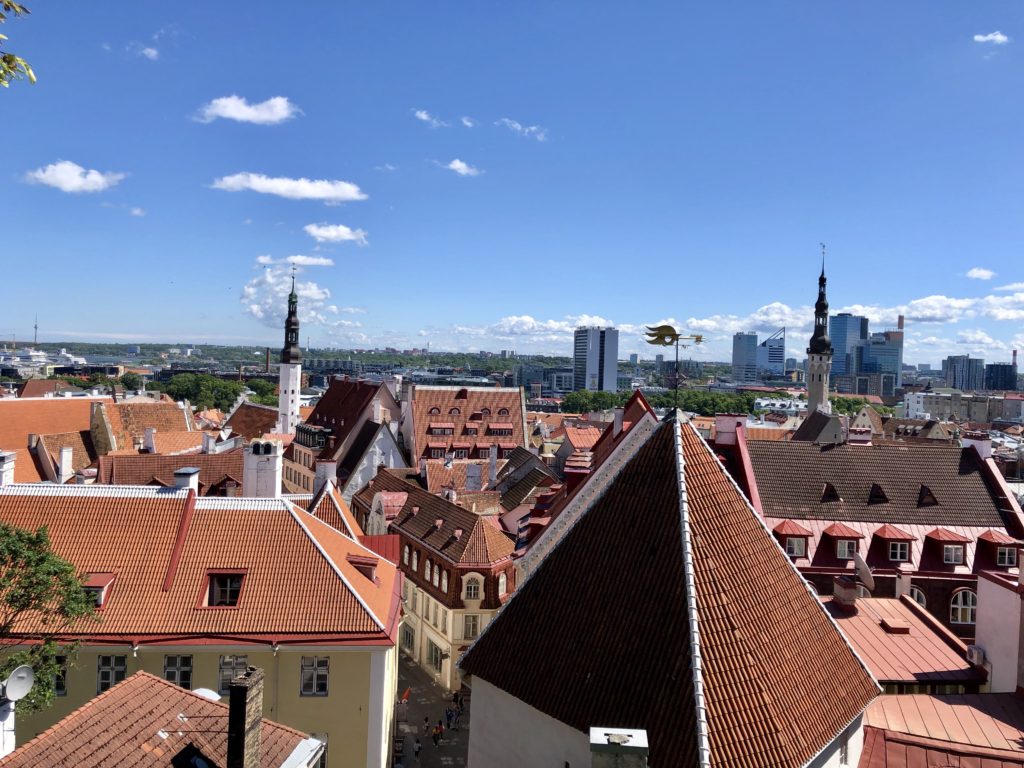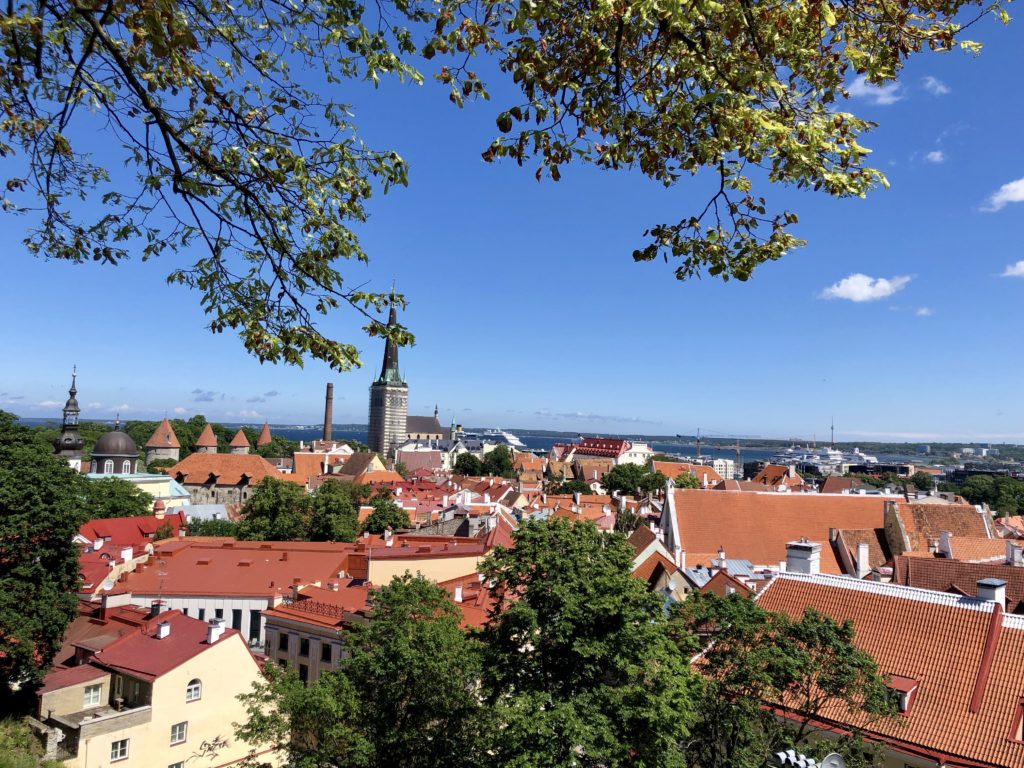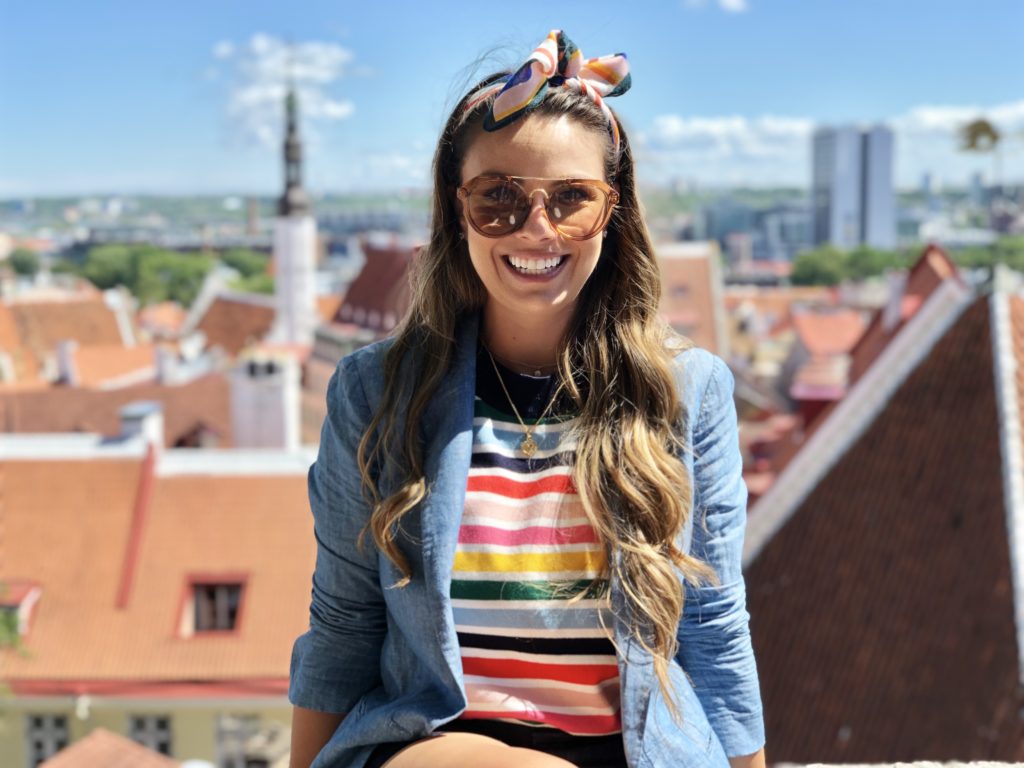 Just below Toompea Hill is the Danish King's Garden. According legend, this is the spot where a flag descended from the sky during Danish invasion and turned the course of the battle in favor of King Valdemar II. Later, the flag became the national flag of Denmark, which is the oldest flag still in use today.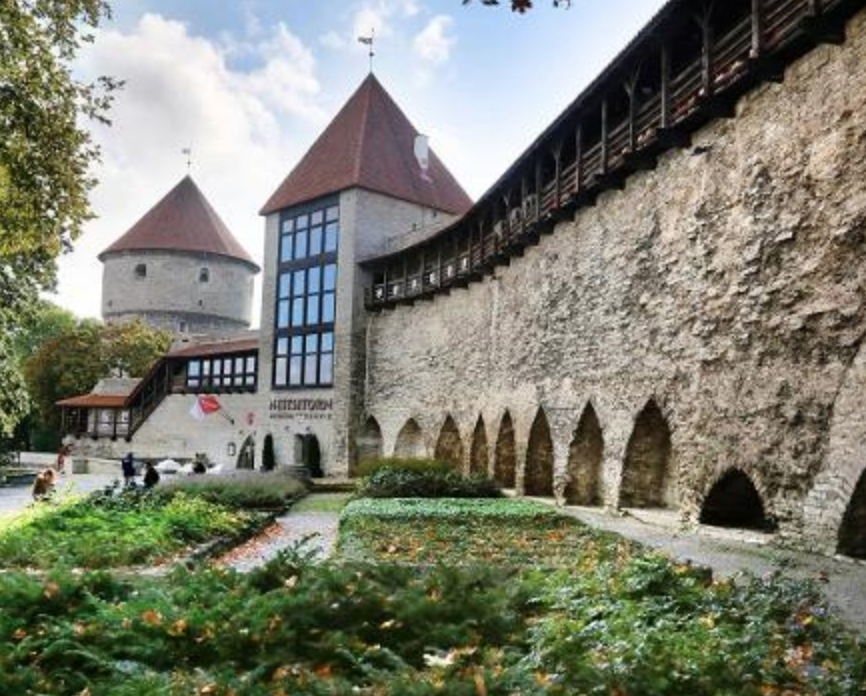 Next to the gardens is Kiek in de Kok. Kiek in de Kök is an artillery tower built in 1475. 125 ft high tower has walls 13 ft thick. You can see cannon balls dating back to 1577 are still embedded in its outer walls.
For lunch we ate at a charming spot in St. Catherine's passage called Restoran Controvento. We sipped Aperol Spritz and dined on delicious grilled artichokes and a wood oven pizza.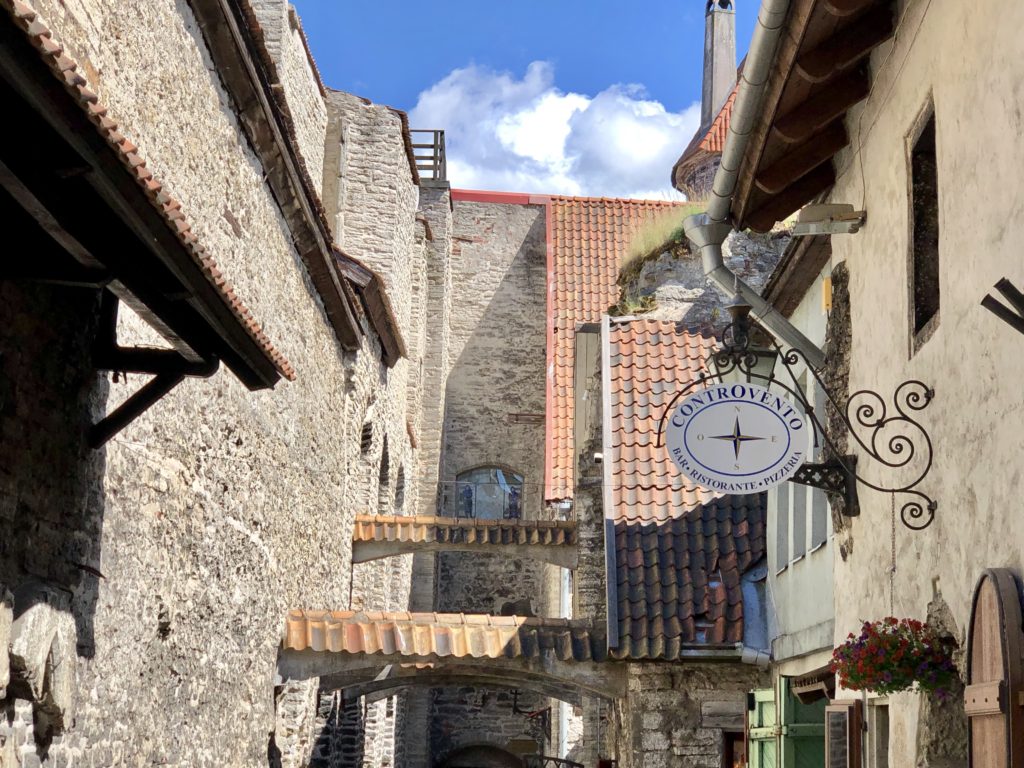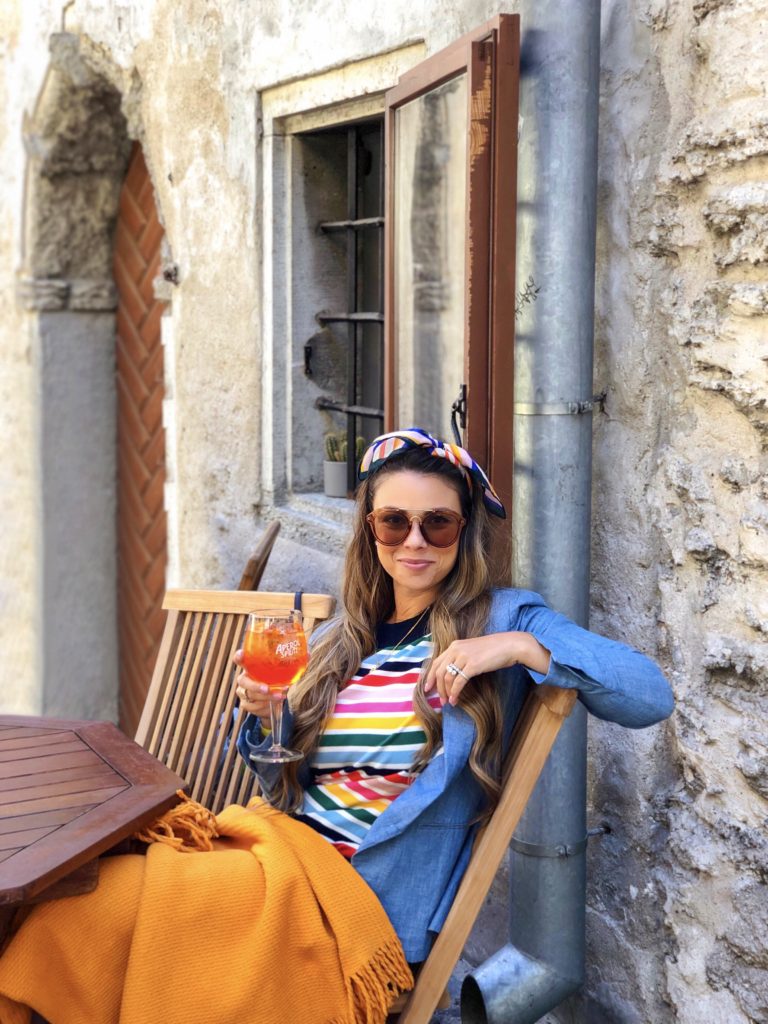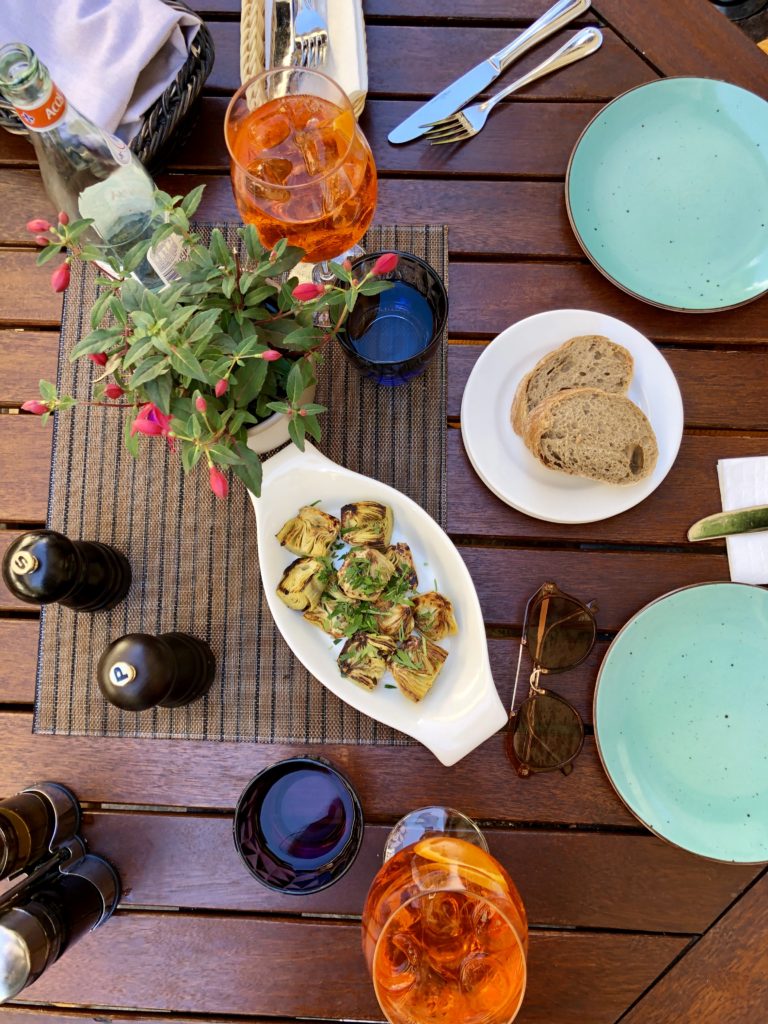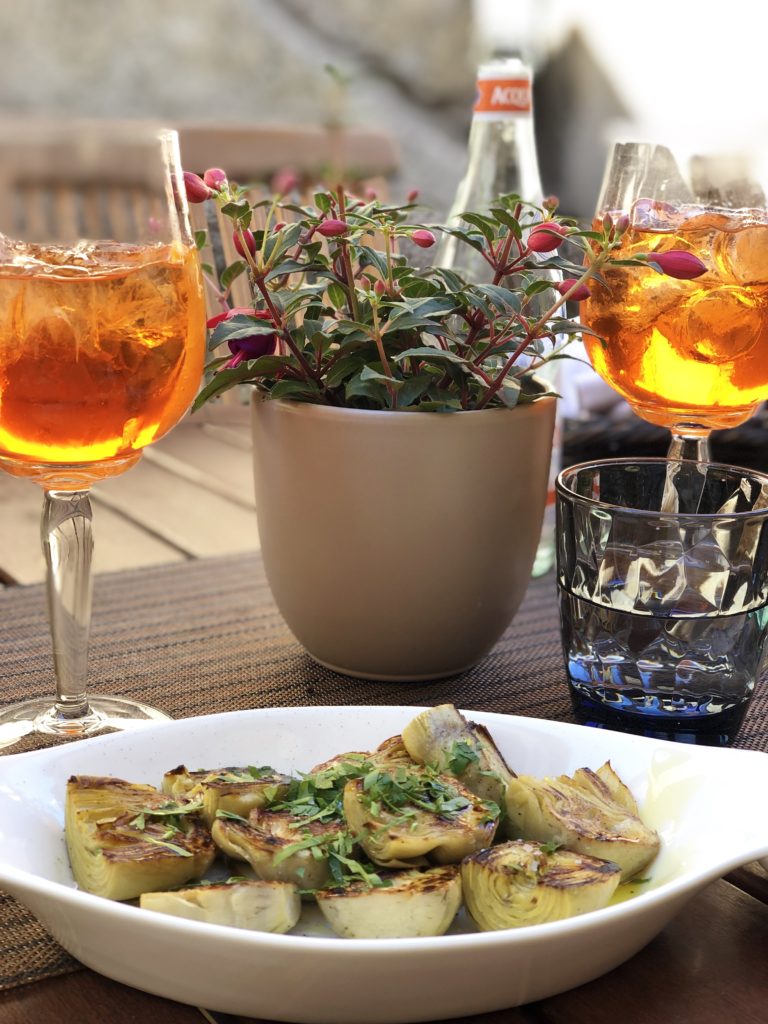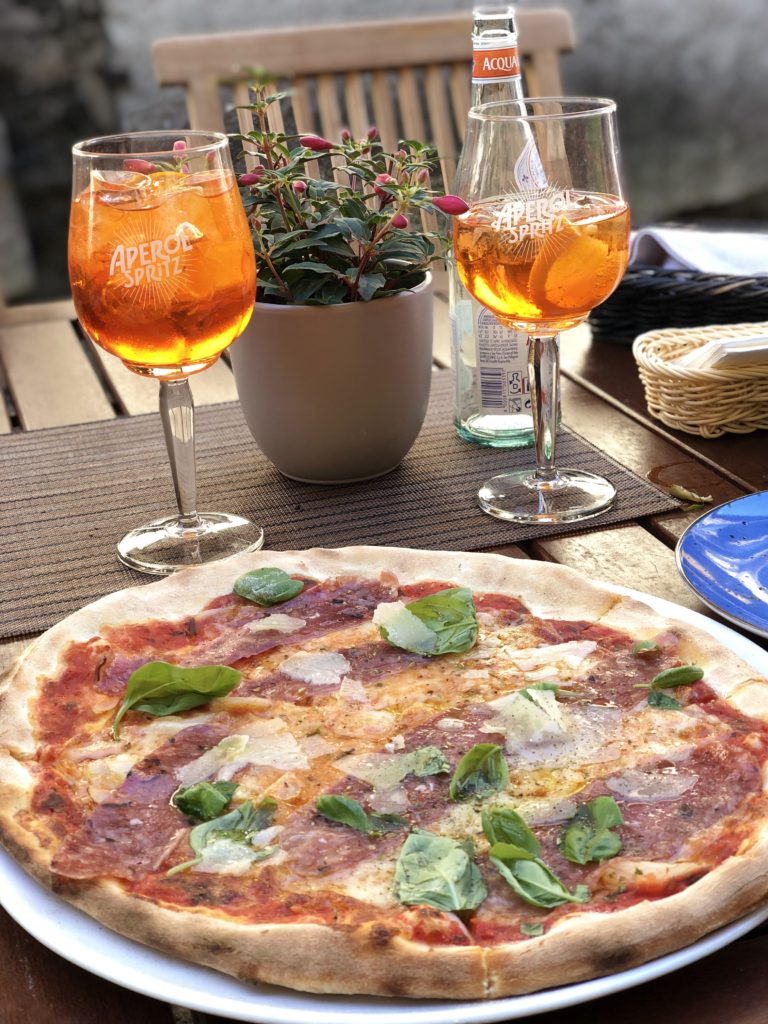 After lunch it was time for St. Olaf's! St. Olaf's is believed to have been built in the 12th century and to have been the centre for old Tallinn's Scandinavian community before Denmark conquered Tallinn in 1219. The first known written records referring to the church date back to 1267. The spire, 123.8 meters tall, was the tallest building in the world from 1549 to 1625 and the coolest part is you can climb to the top! If you are afraid of heights or claustrophobic this ain't the activity for you, but if you aren't I highly highly recommend doing this! The views from the tops are absolutely beautiful!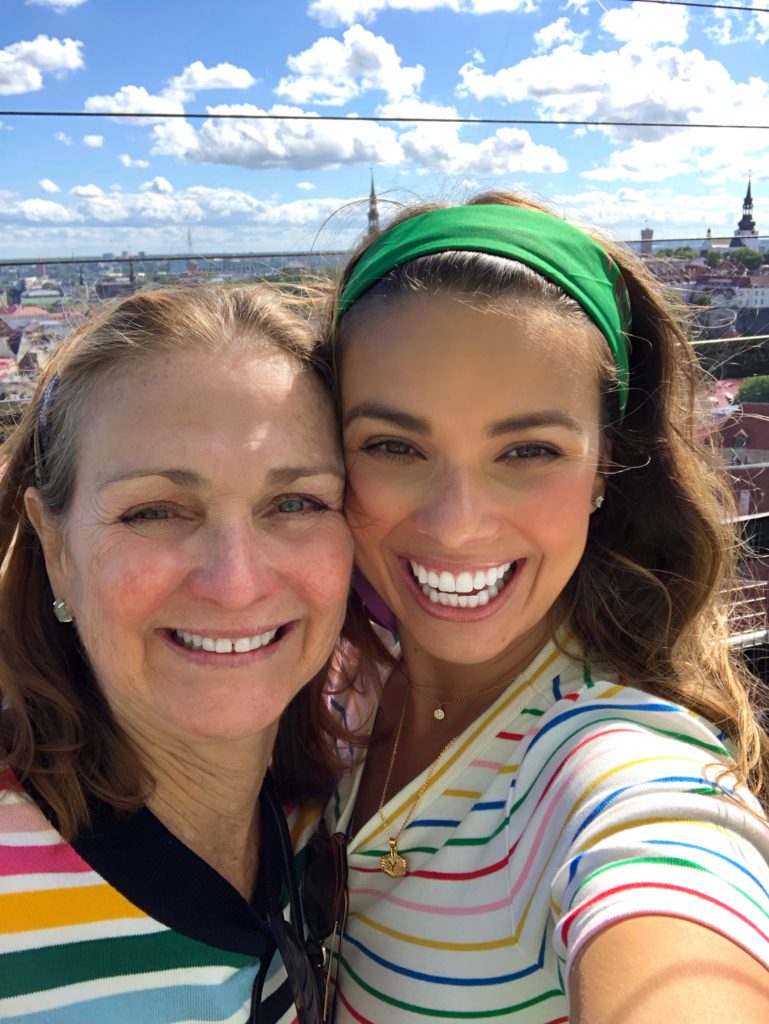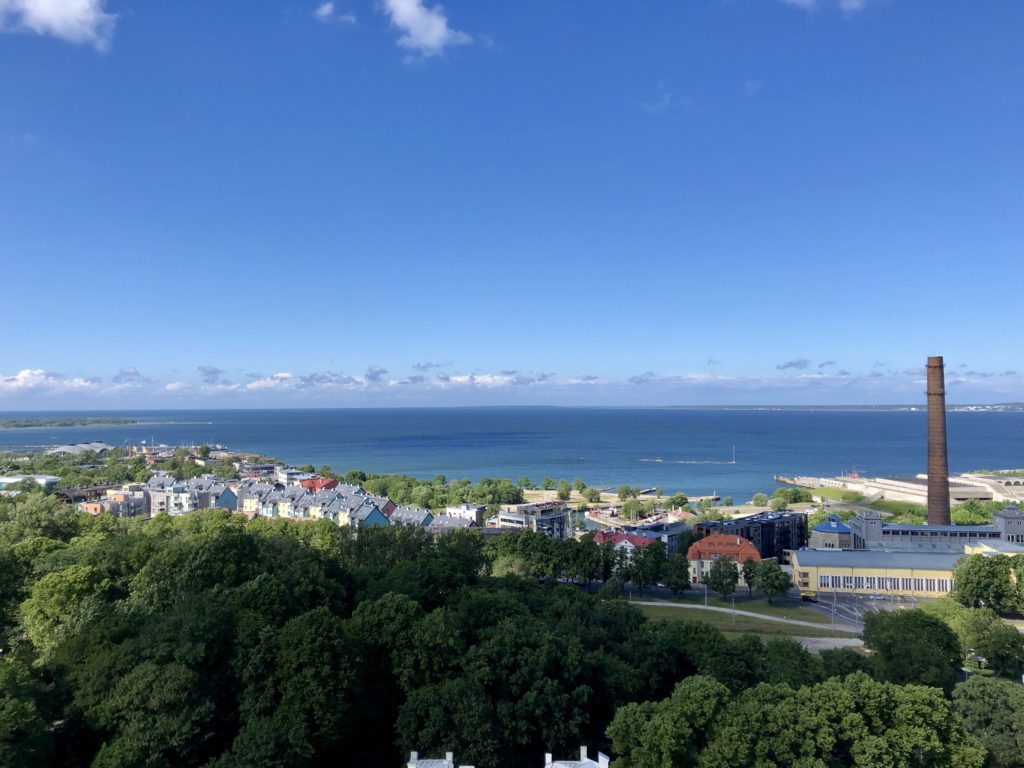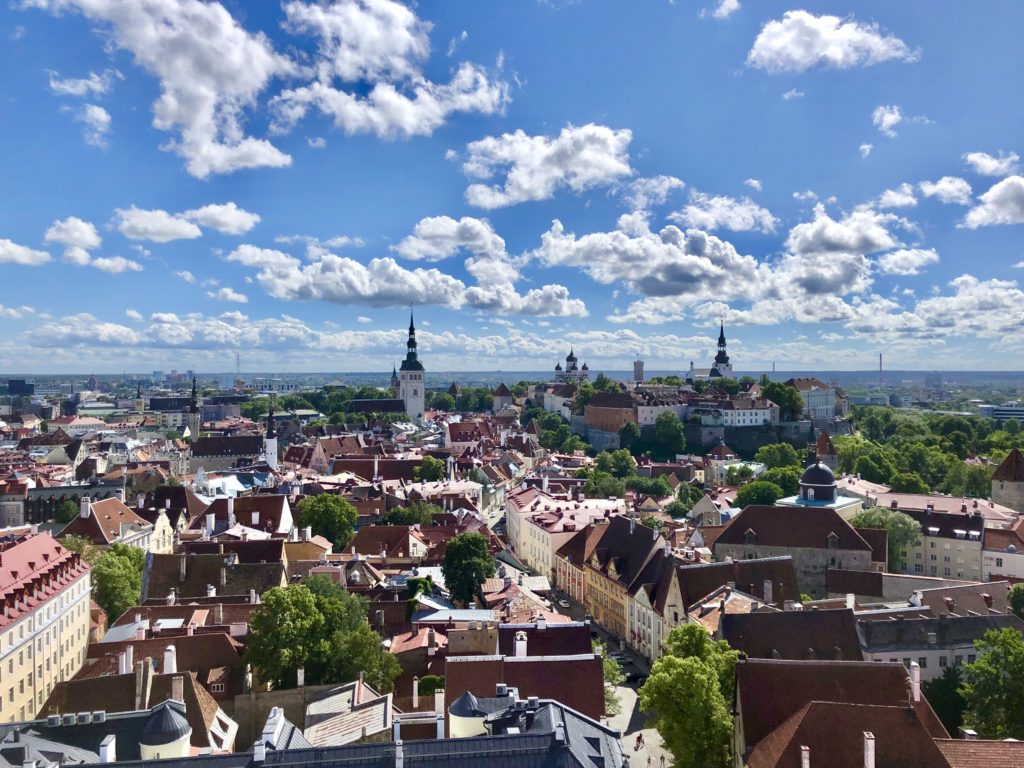 After that workout it was time for some well deserved drinks at the hotel. Hotel Schlossle's garden restaurant is so charming! Judi had white wine and I an Aperol Spritz.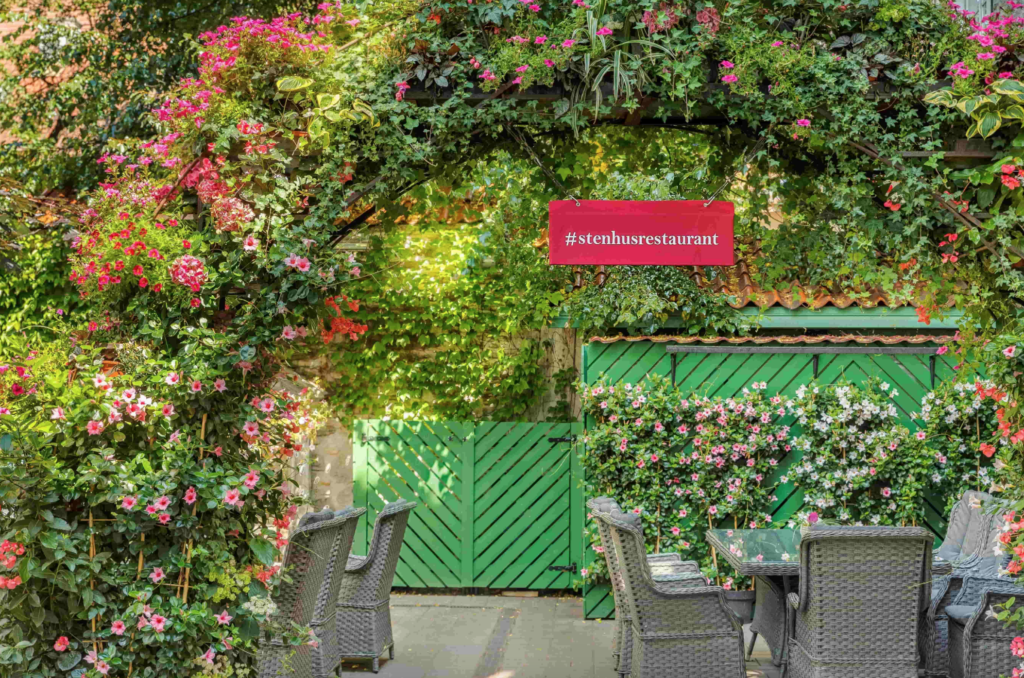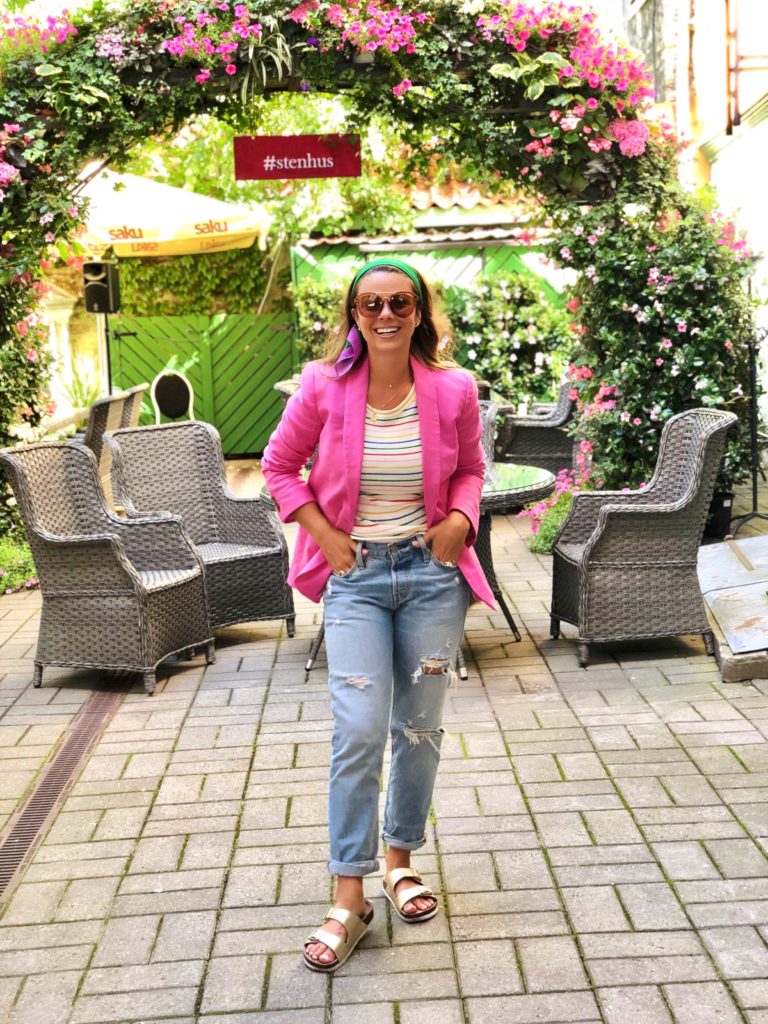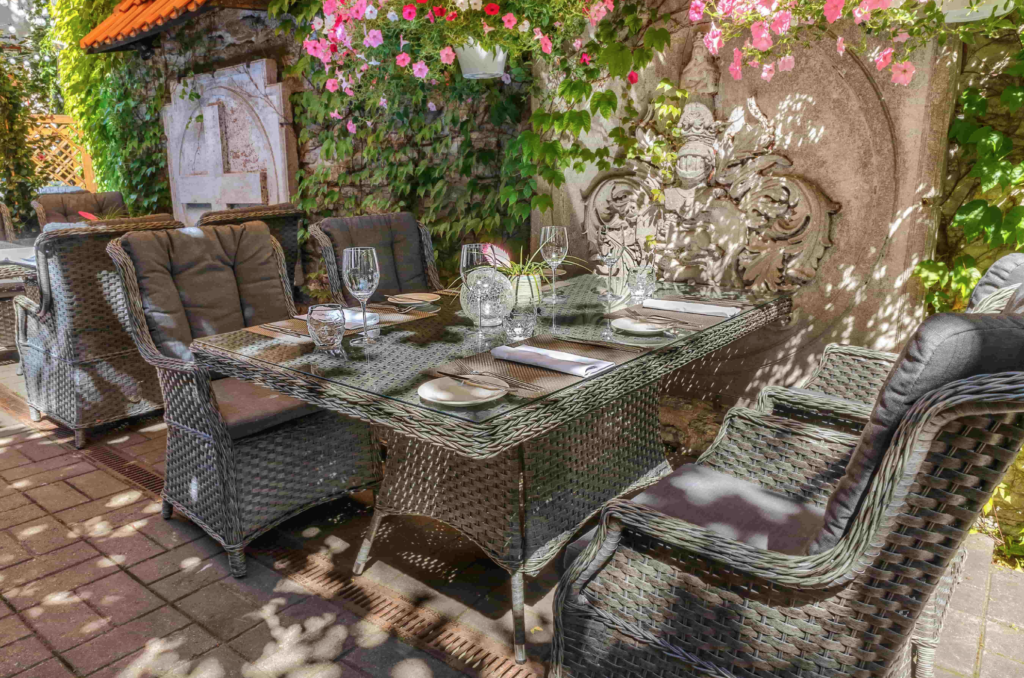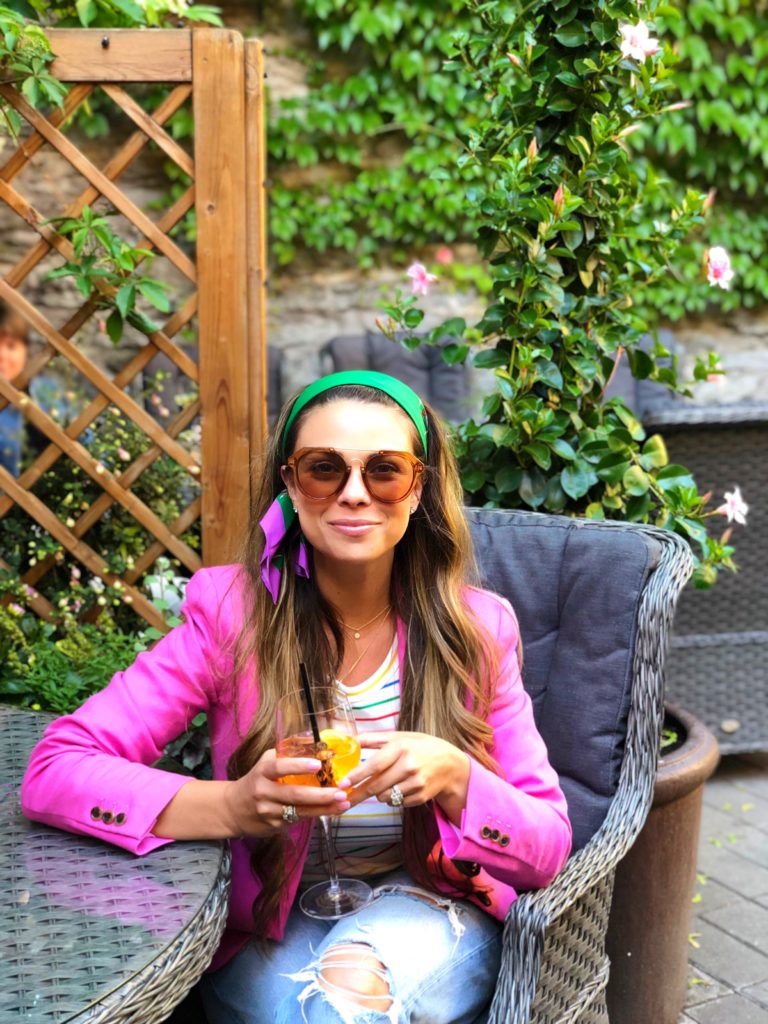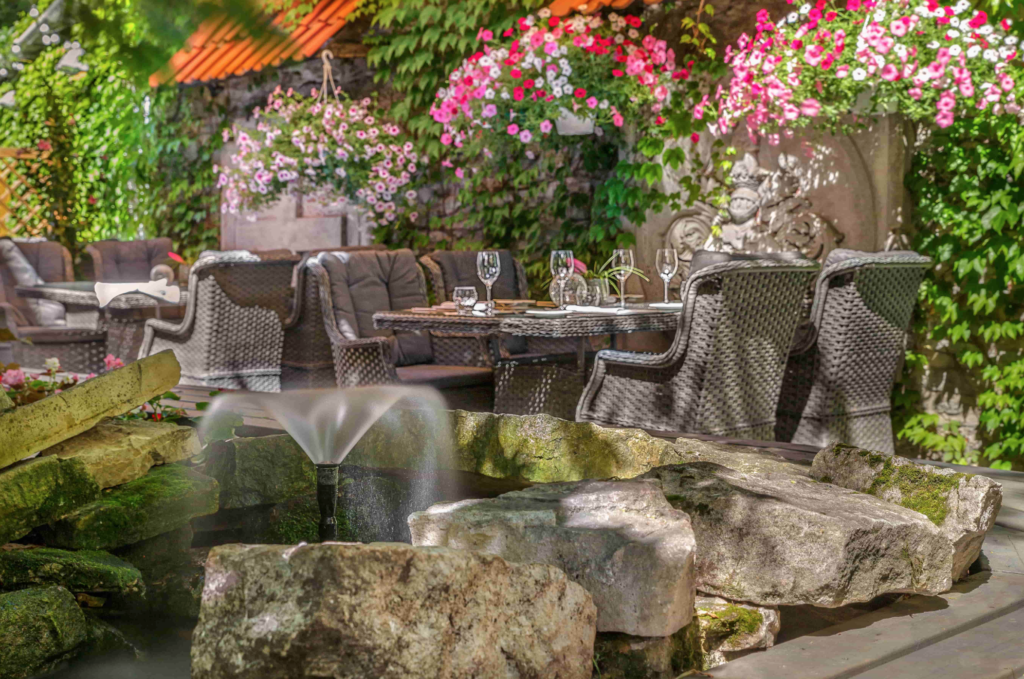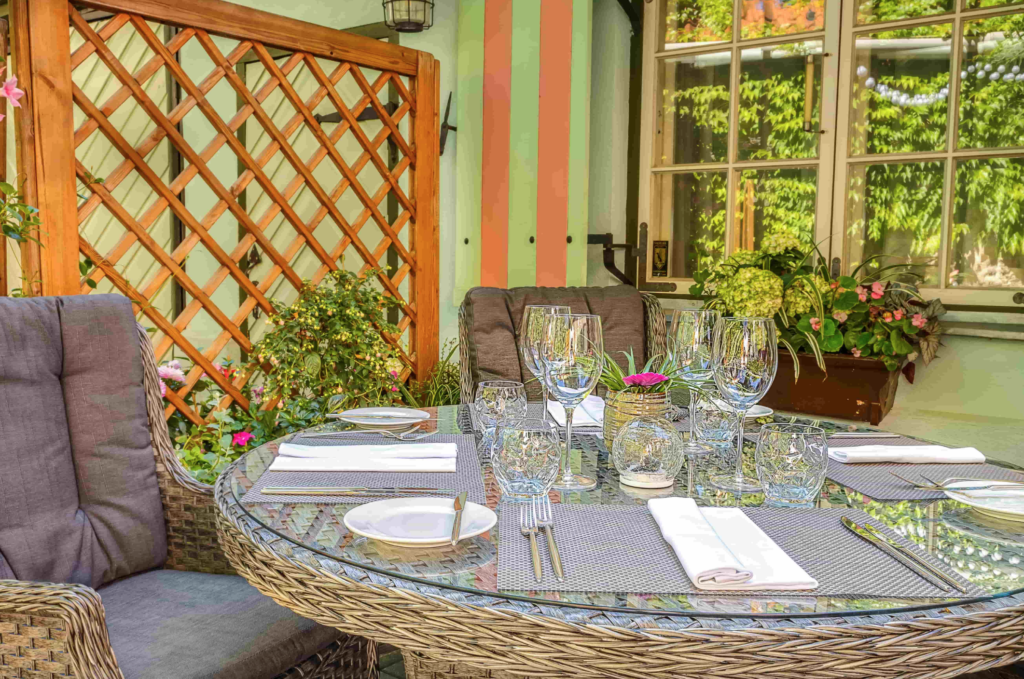 For dinner that night we ate at Balthasar, a garlic restaurant! Balthasar, is located in the very heart of Old Town. Starting from appetizers and ending with desserts, you can pick between various levels of intensity of garlic flavors. We sat on the charming patio and started with white wine and a delicious goat cheese salad served with smoked beetroot, pomegranate, caramelized walnuts and honey and lemon dressing. For our entrée we split the house specialty- a sizzling stone steak served with garlic potatoes, garlic rosette, bacon, madeira sauce and roasted veggies. Yum!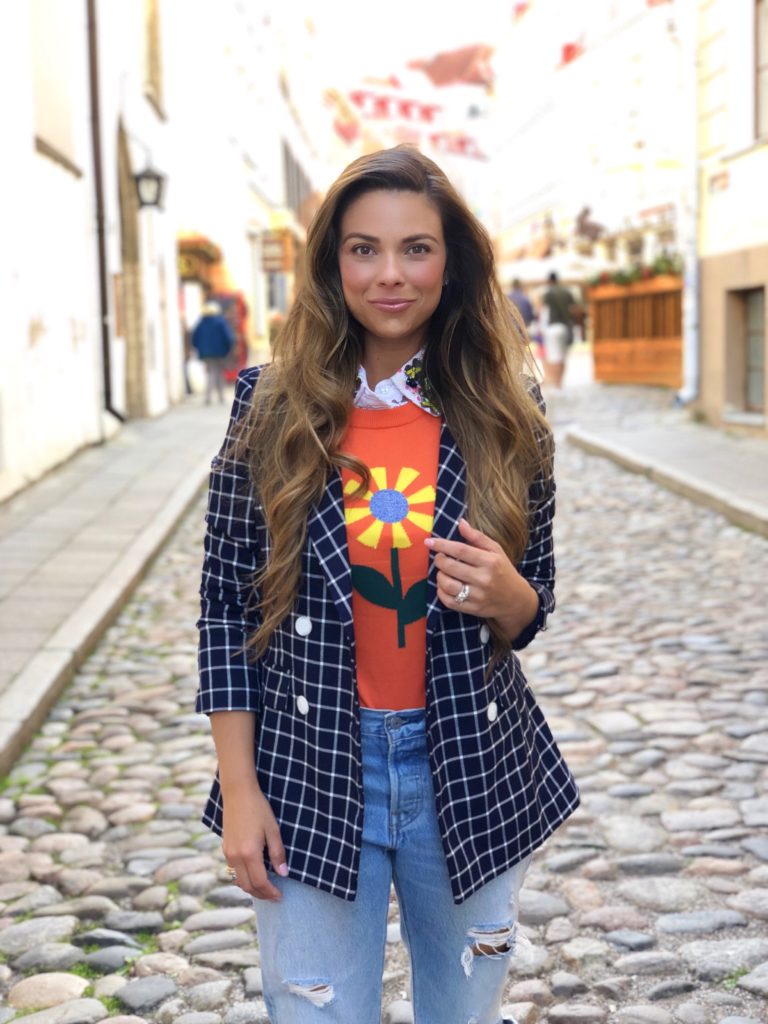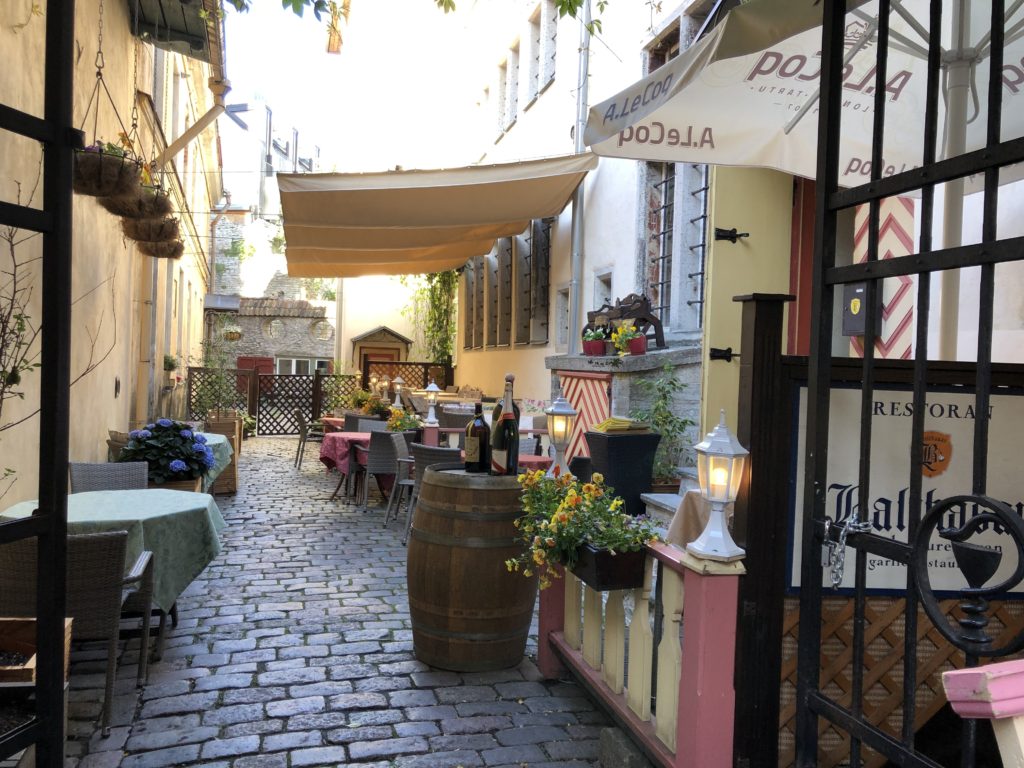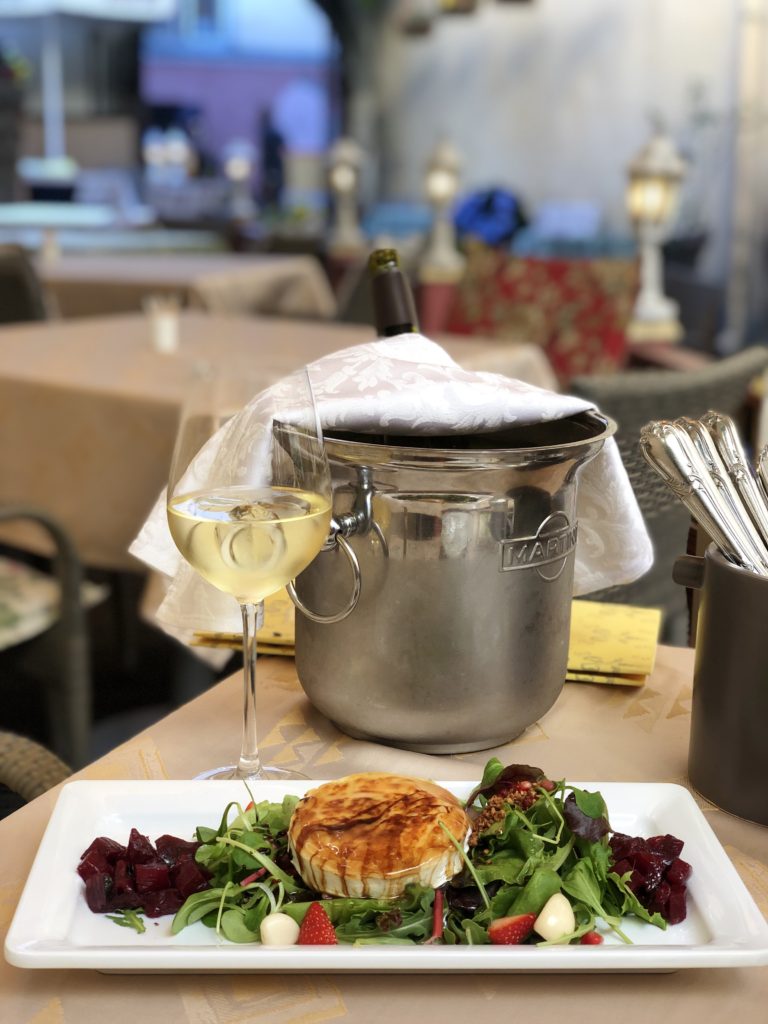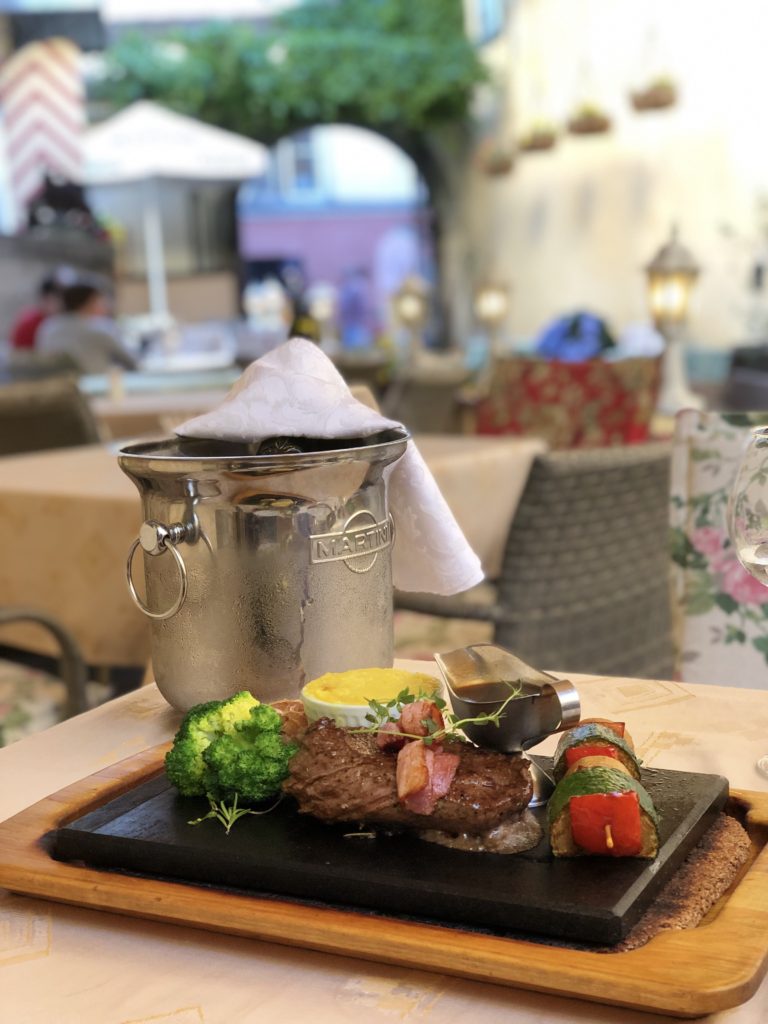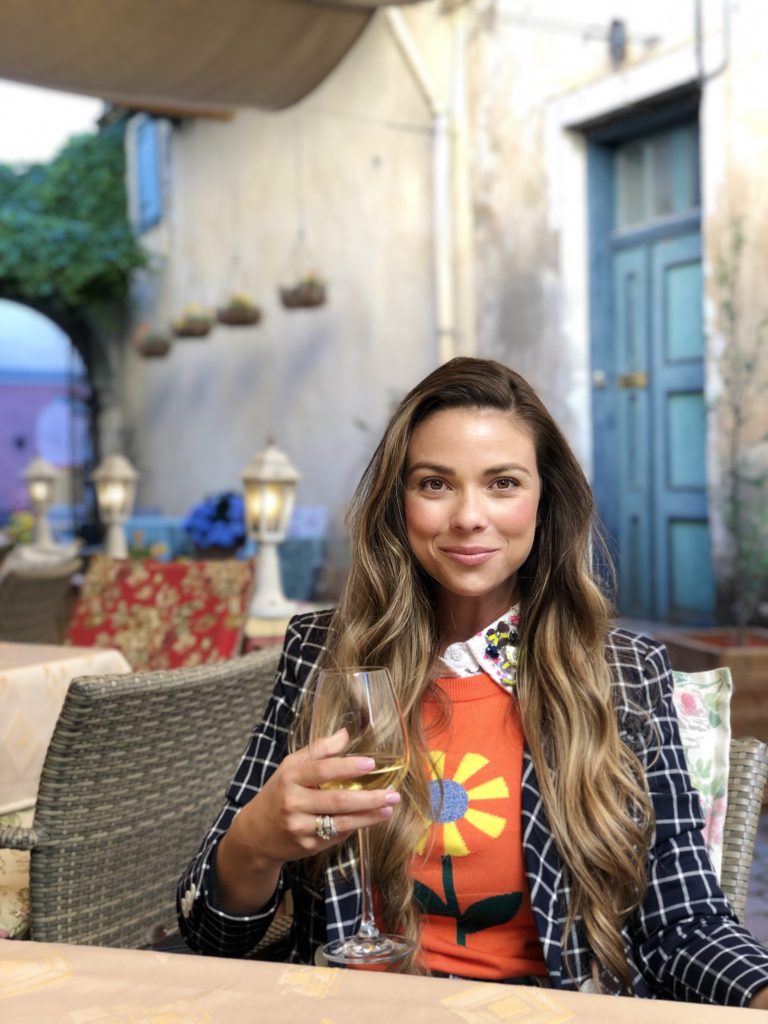 For dessert we walked to Town Hall Square and had apple cake and wine at Liisu Juures. We sipped and ate by the fire place and it was so charming!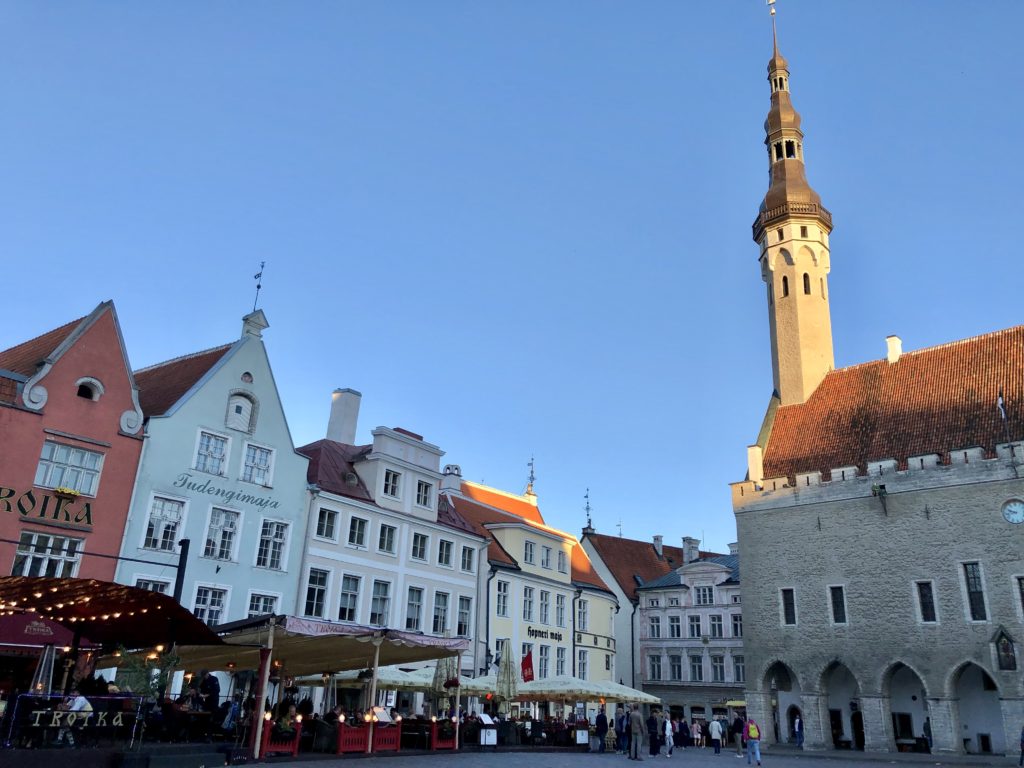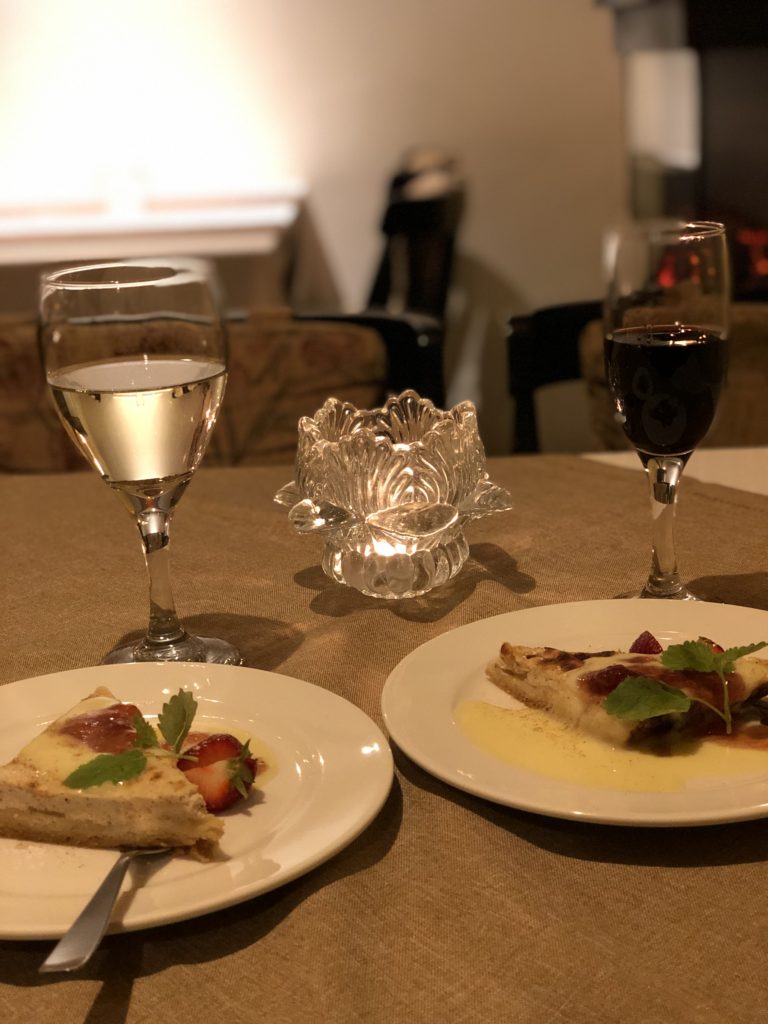 We arrived back to our room again with all the days clothes neatly folded, a turned down bed and chocolates. This was the life!
We enjoyed another lovely breakfast at Hotel Schlossle and hit the town to explore!
Our first stop was viewing platform point Kohtuosta. Much like the platform from the day before, you can see all the beautiful sights of Tallinn.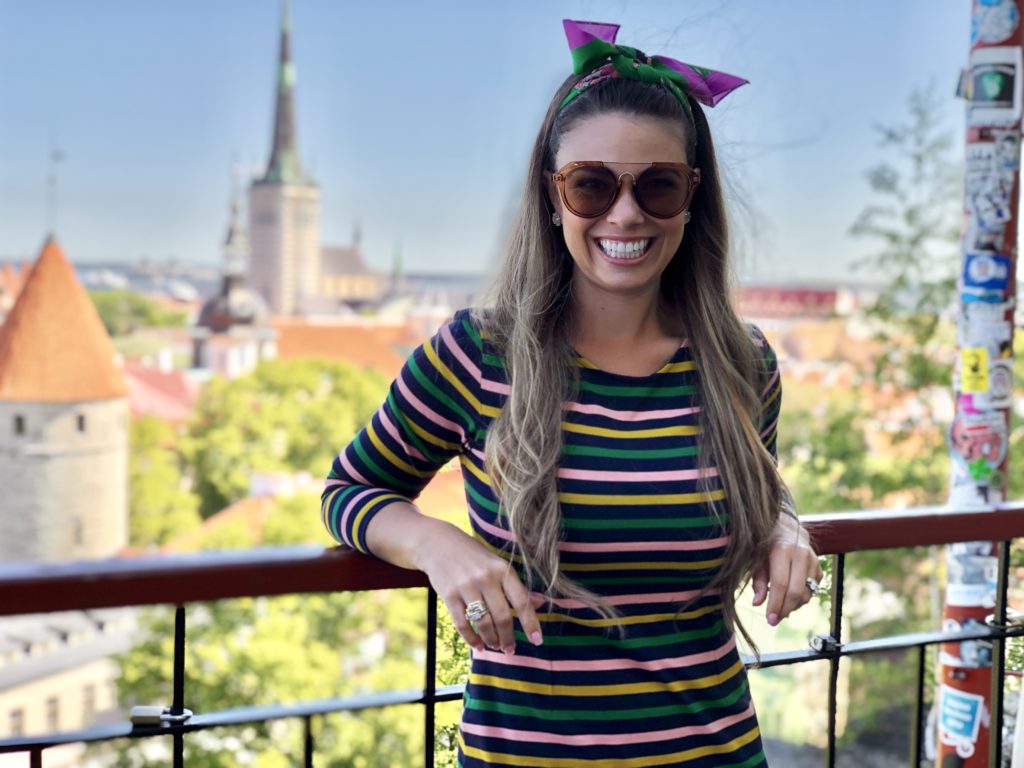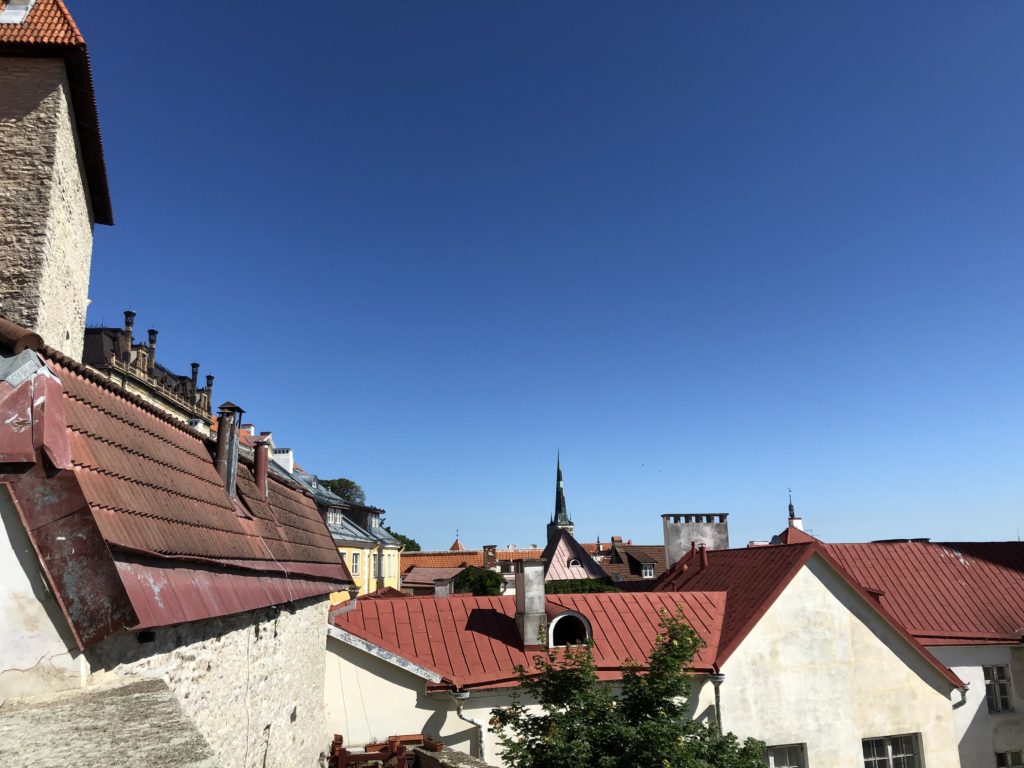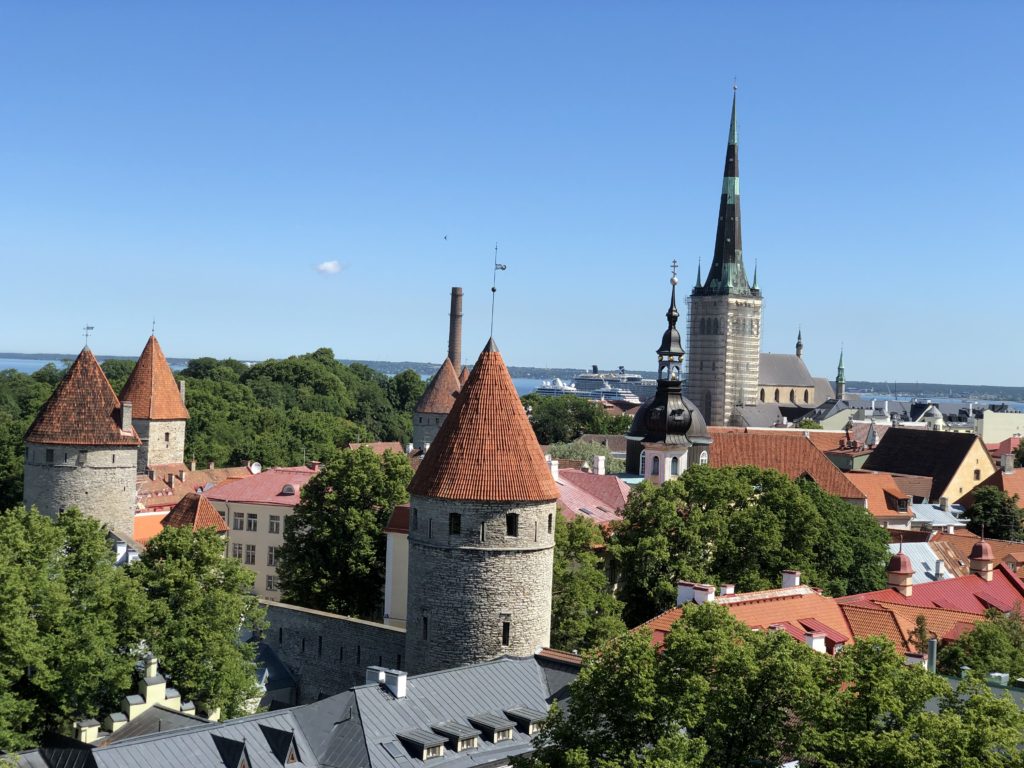 Loving our dessert experience so much from the evening before we had lunch at Liisu Juures. We each had bowls of split pea soup and they were delish!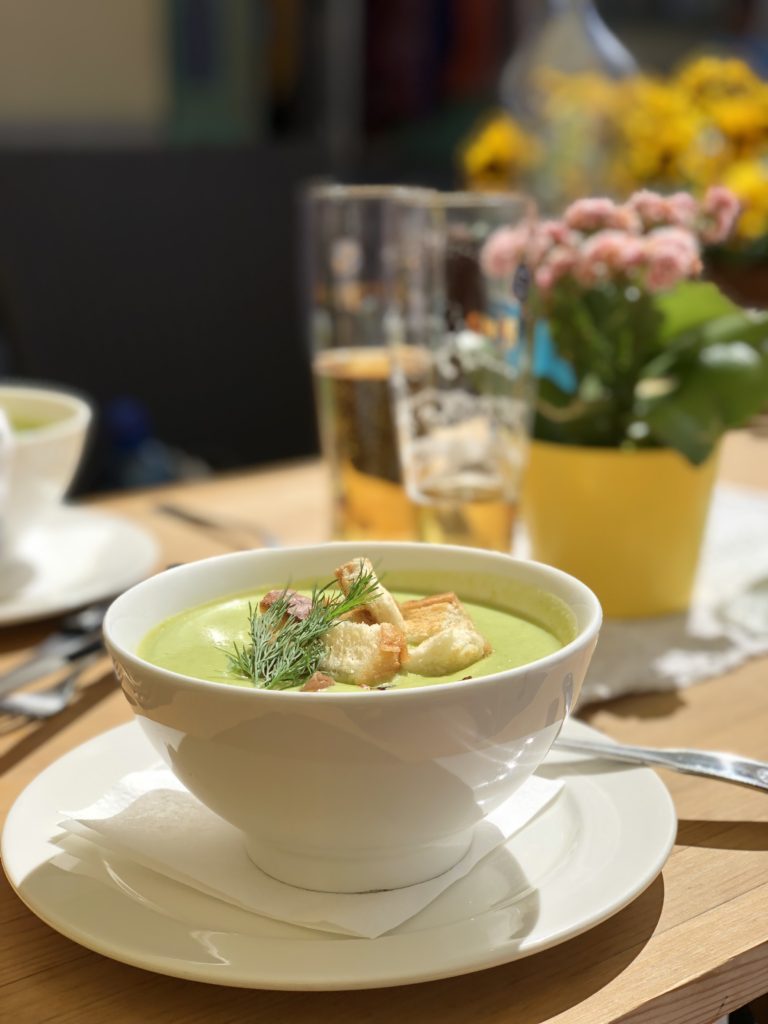 After lunch we explored the KGB Prison Cells where the former KGB headquarters were. In Tallinn, this building has long been a symbol of the former Soviet oppression in Estonia. For thousands of Estonians, the course of suffering began in this very place. In 1941, Estonian Soviet Socialist Republic established the prison cells in the cellar of the building. In the basement, suspected enemies of the state were imprisoned and interrogated before they were either shot or sent to labor camps in Siberia. The bricked up basement windows were intended to mute the sounds of the torturing.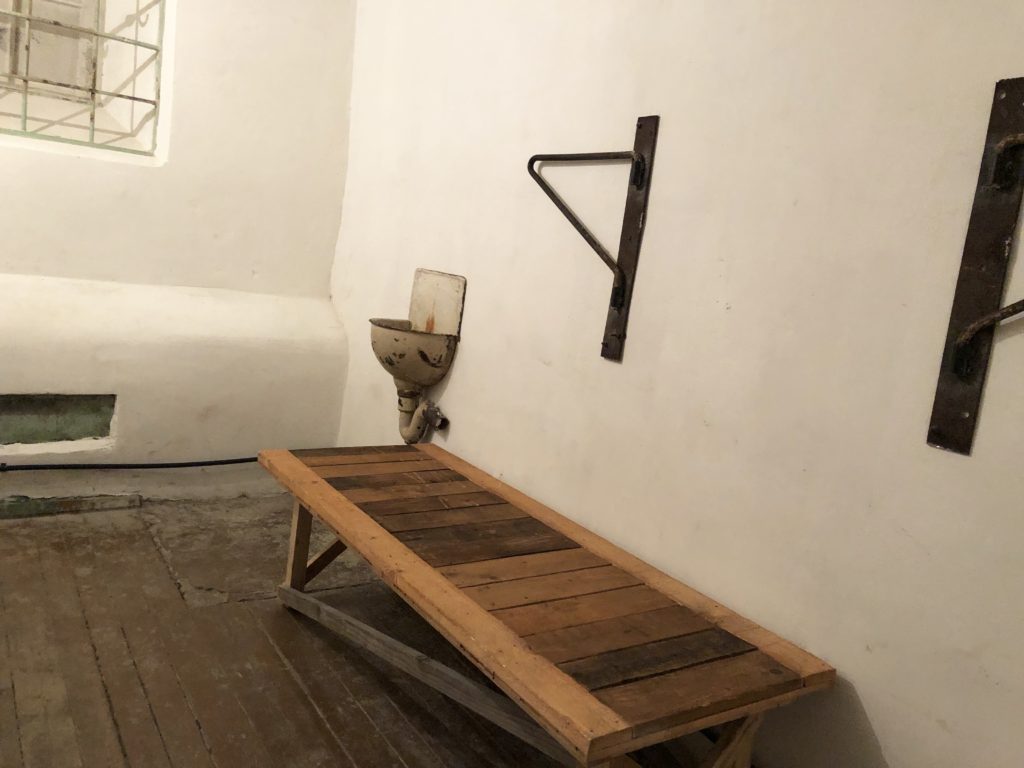 Next we walked down to the water and dipped our toes in the Tallinn Bay.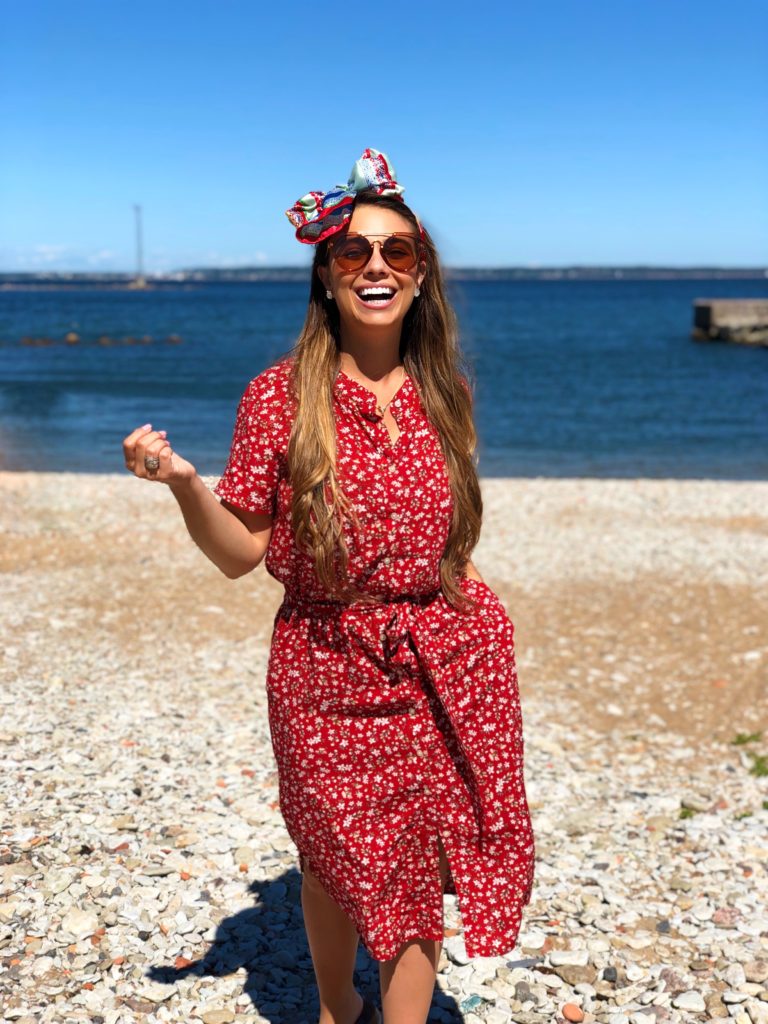 We stopped in the flower market right outside of Viru Gate for afternoon cocktails.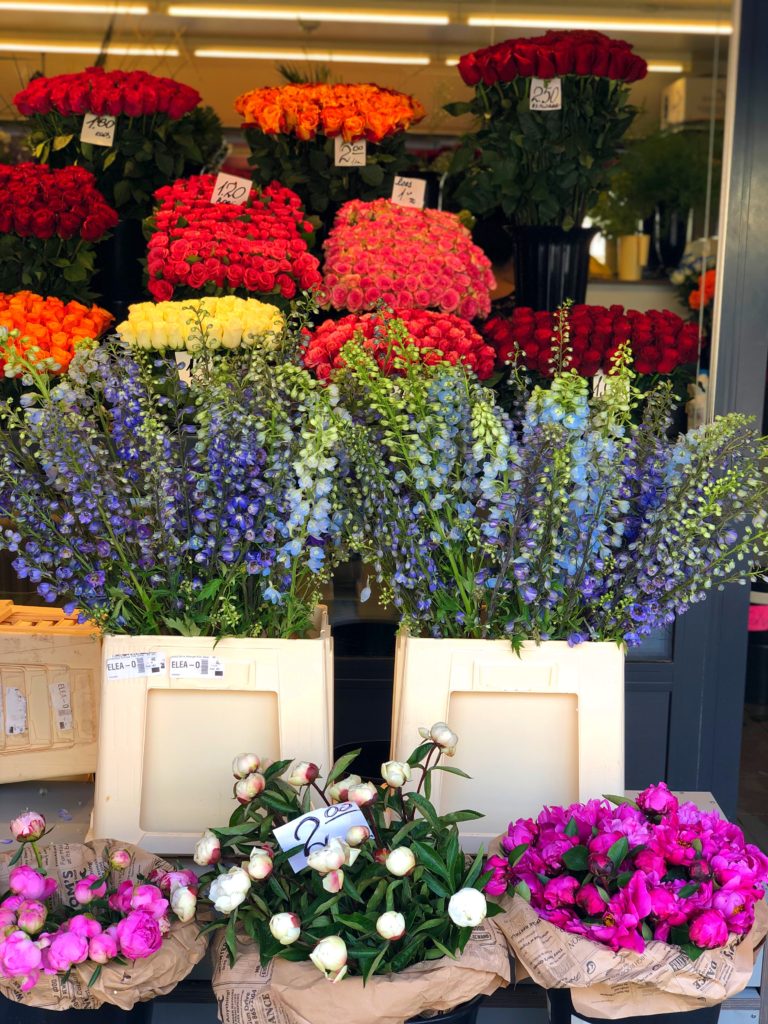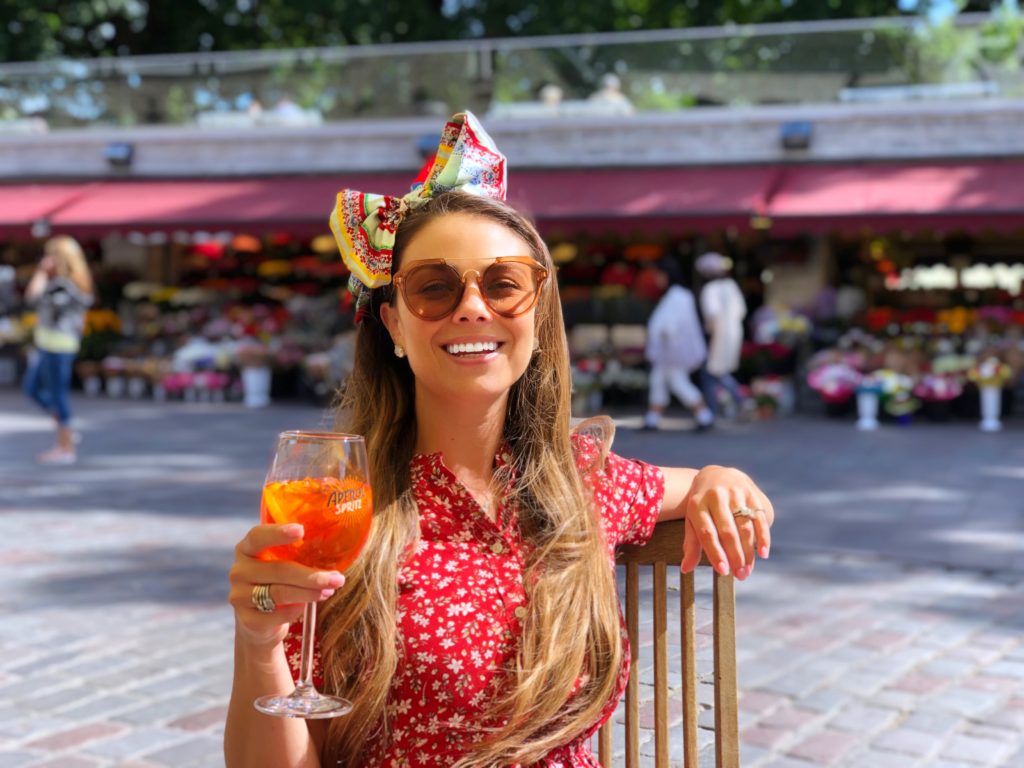 For dinner that evening we ate at Munga Kelder. Hidden in the Medieval archway of St. Catherine's Passage, the "Monk's Cellar" is a mix of stone floors, heavy wood and hanging garlic cloves. Stained glass windows with depictions of monks add an extra touch of color to the décor that is cozy, quaint and beyond charming!  We started with skagen, which is a delicious shrimp and avocado salad on top of bread topped with caviar.  YUM!  For our entrée we split the pan fried zander with garlic potatoes and roasted veggies.  It was also delicious!  I highly recommend eating here!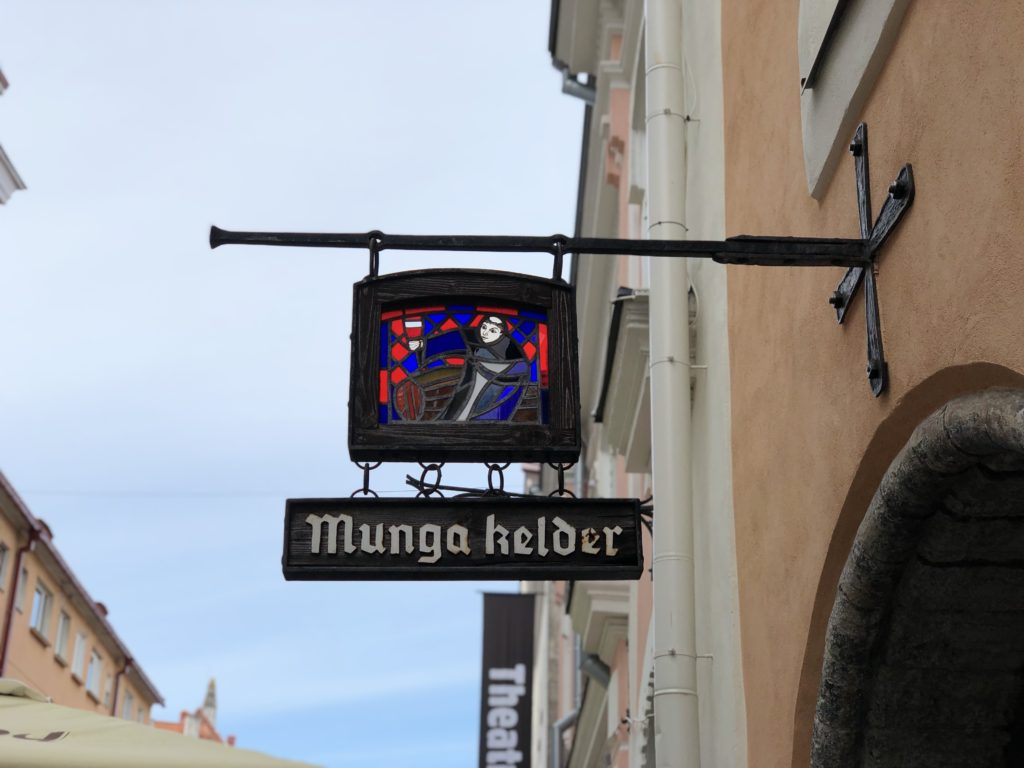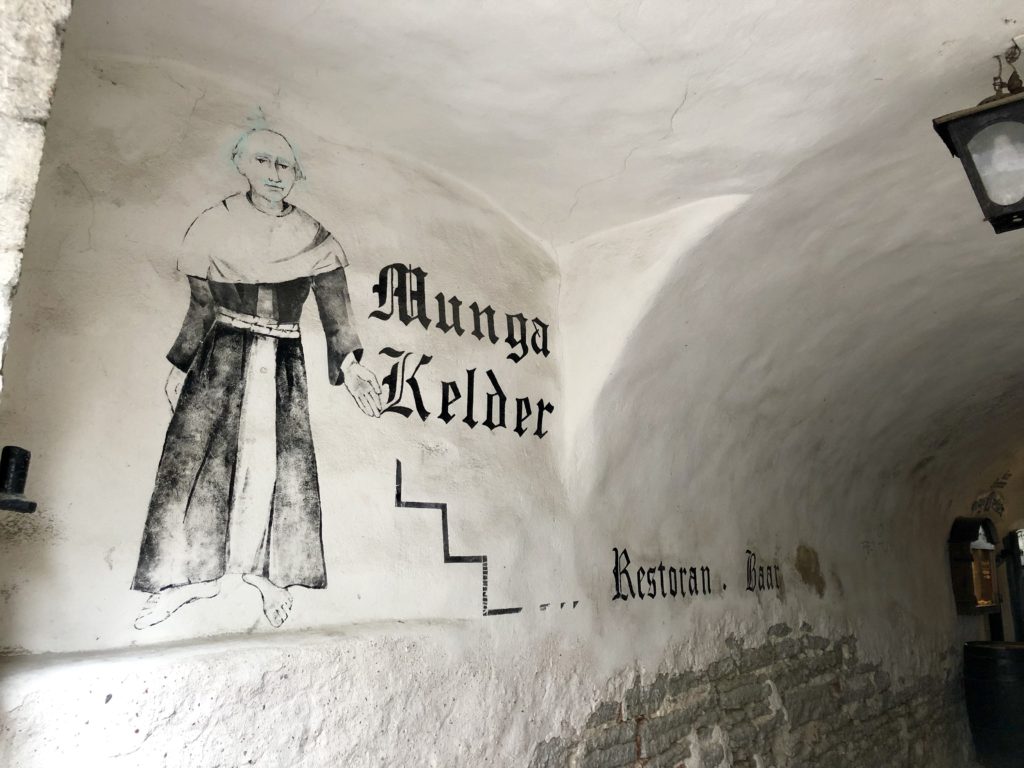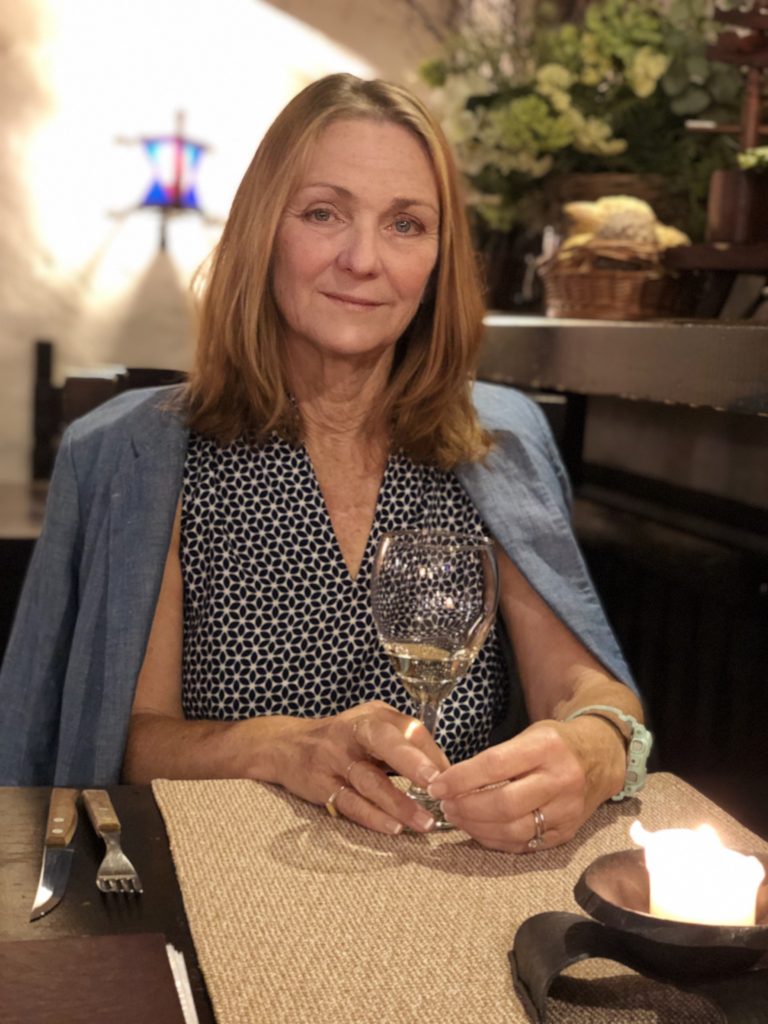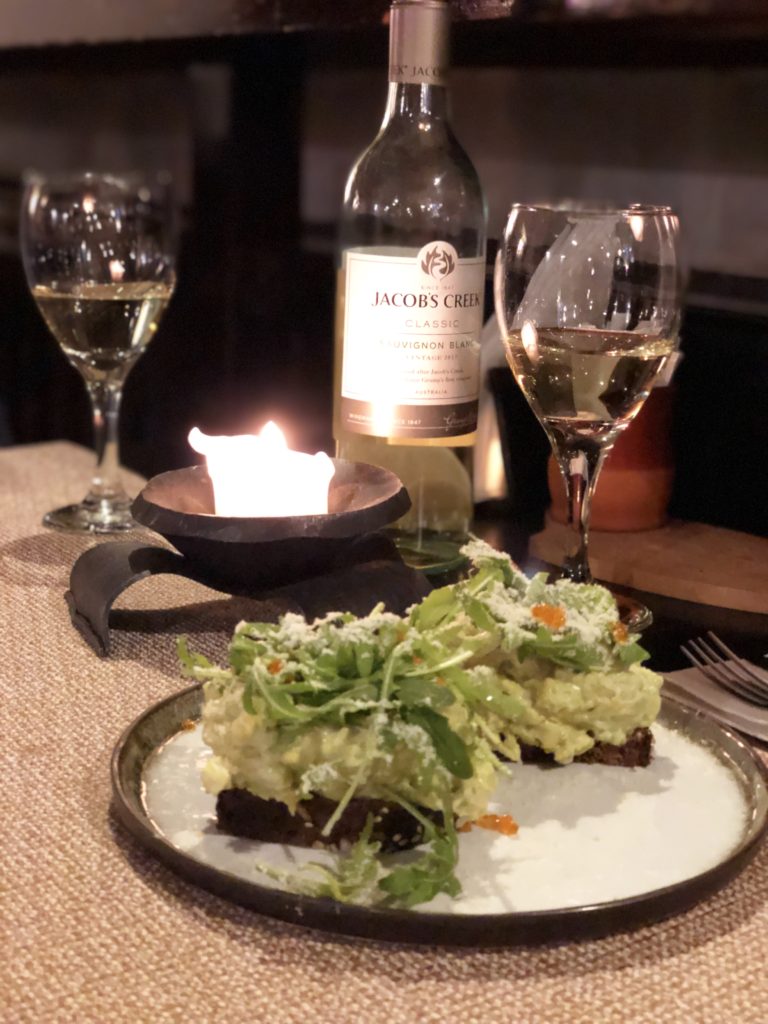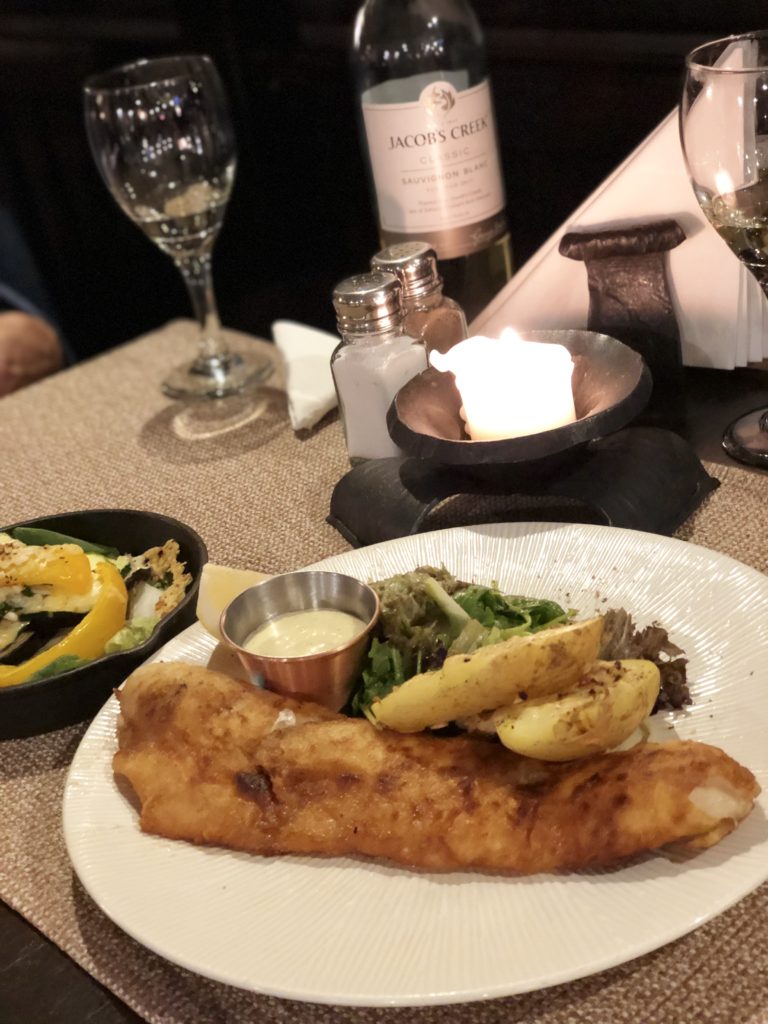 For desert we walked to Town Hall Square again. We had apple cake again but this time we tried the Estonian version of Port and it was so good!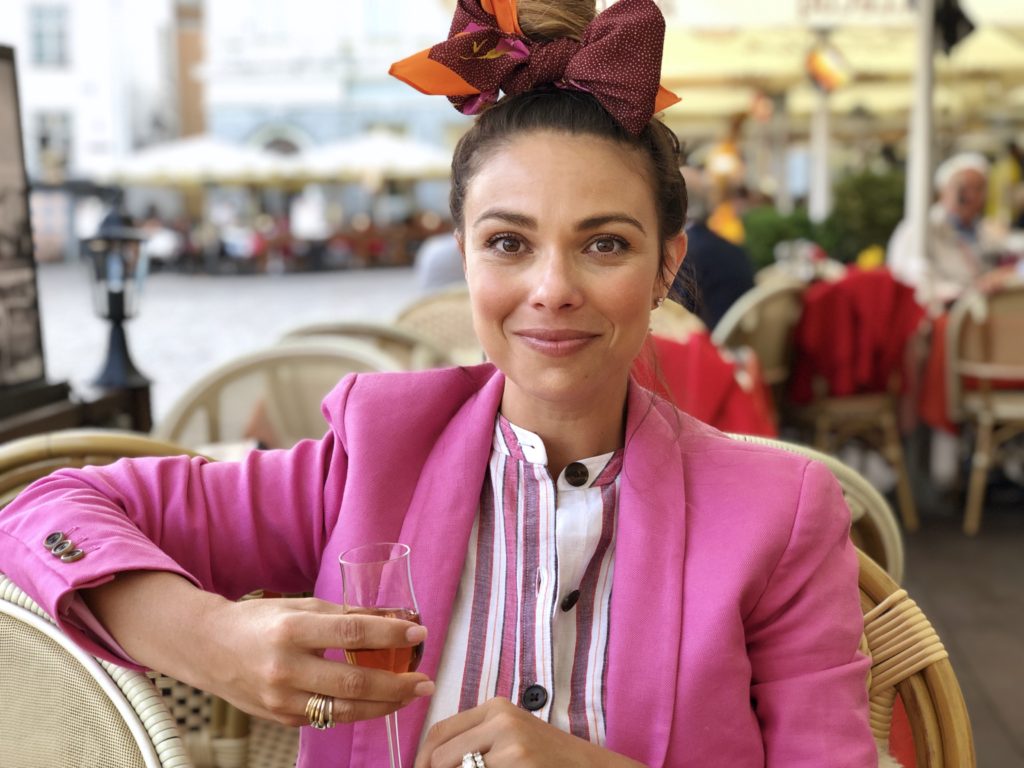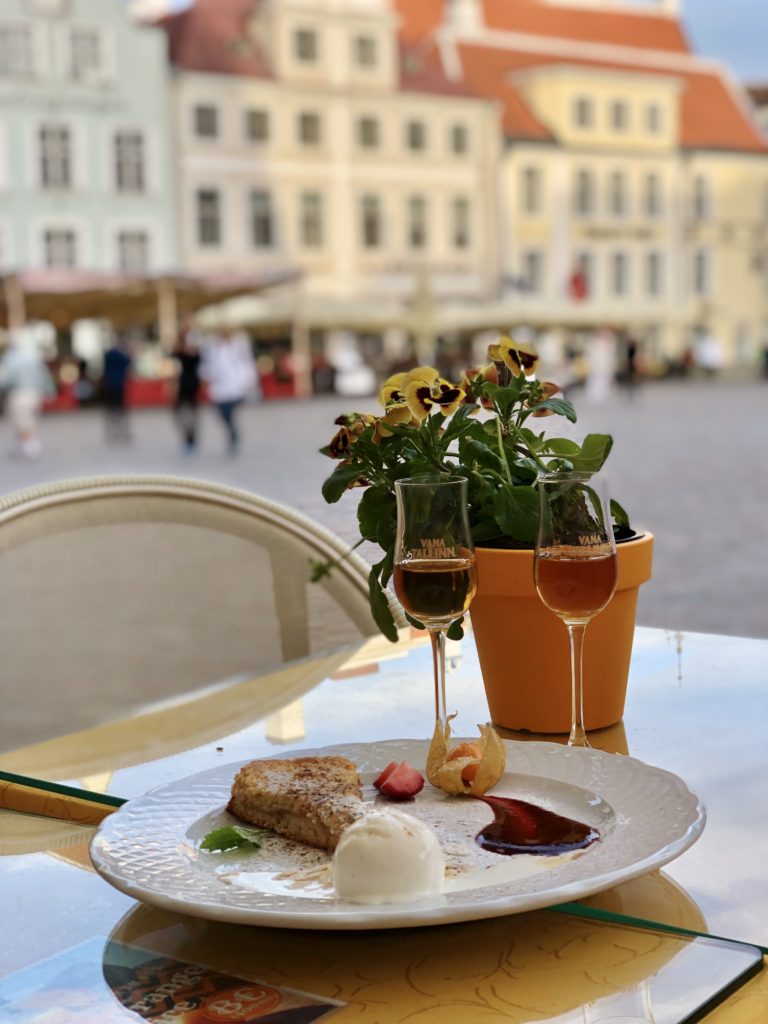 With turn down service as usual, slept so well in our cozy beds at Hotel Schlossle and dreamed of one day coming back to beautiful Tallinn.
We had our final breakfast at Hotel Schlossle and boarded the ferry to Finland, sad to leave such a beautiful city.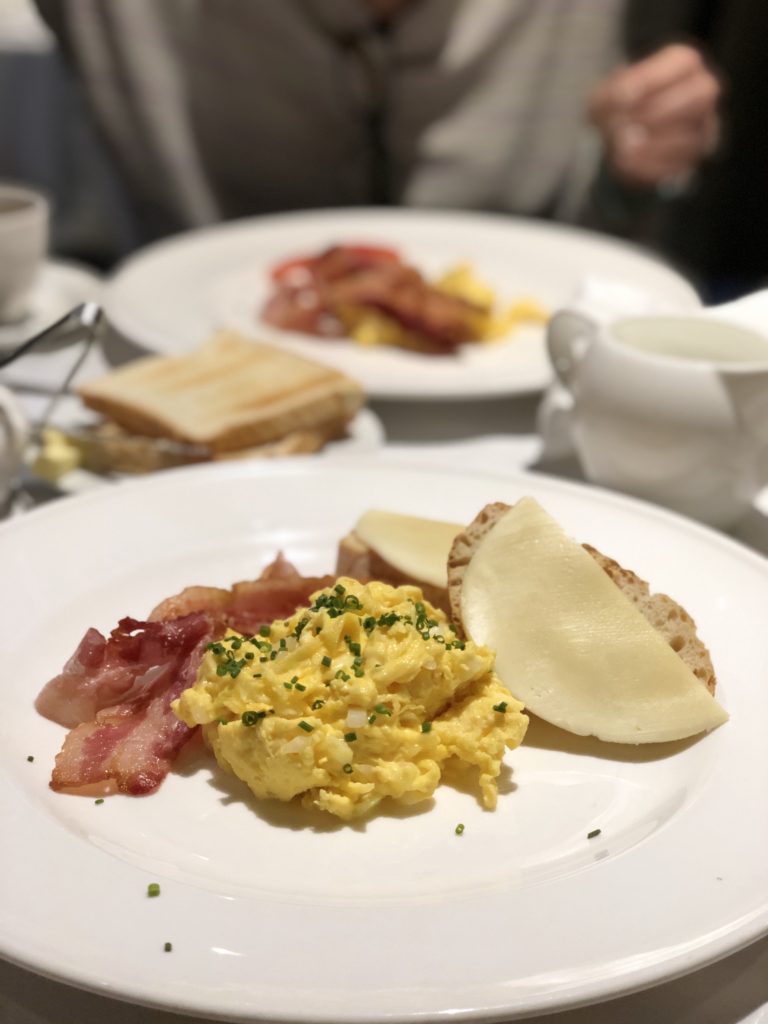 If you are traveling to Tallinn, staying at Hotel Schlossle is an absolute must!  From the location, to the décor, to the service… everything was 12 stars!
Thank you so much to Hotel Schlossle for our flawless stay in your charming hotel and for making our stay in Tallinn one for the books.
Kisses and Estonian wishes,