The Big Game is just around the corner and today I am sharing how I plan to snack like a champ!
No matter who you are rooting for the Big Game involves snacking. Lots of snacking!  No one wants to eat kale and celery this Sunday, but it's a great idea to give your guest guilt free options. Especially ones so tasty that your guests will just assume they're splurging! That's why I've teamed up with PopChips to present some smart snacking options and share some easy, healthy and yummy recipes with you that pair perfectly with my favorite PopChips flavors!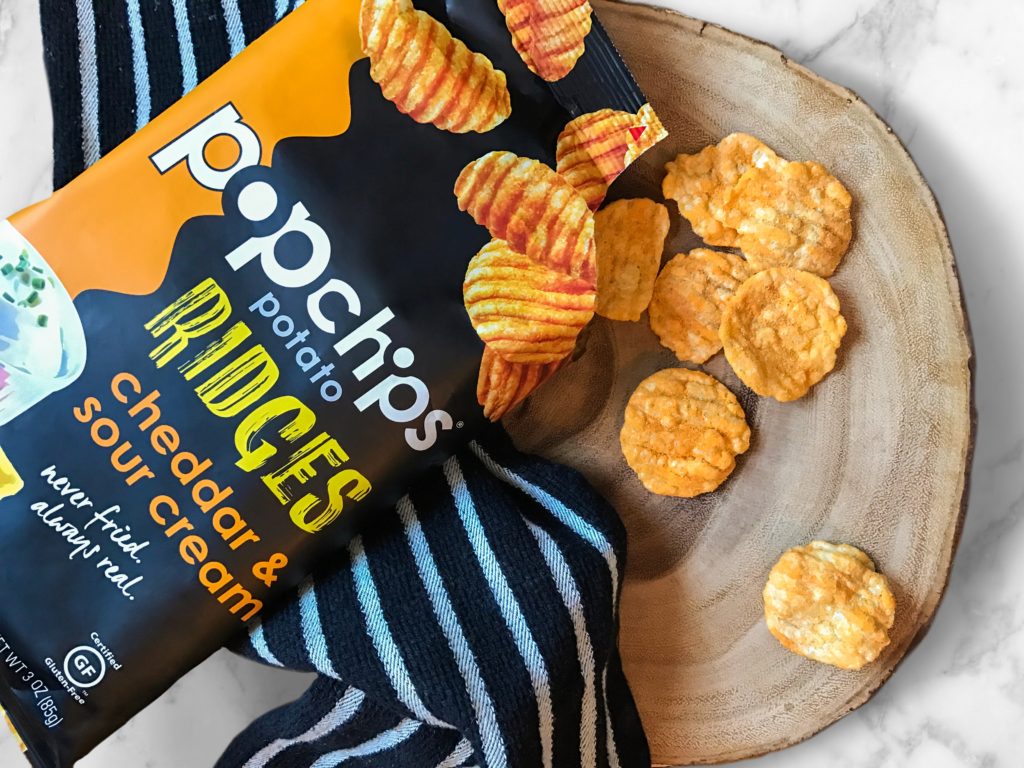 These chips are so delicious your mouth won't believe PopChips aren't deep-fried! My go to PopChip flavors for game day are Perfectly Salted, Cheddar & Sour Cream, Tangy Barbeque and Chili Cheese.
Cheddar & Sour Cream: The flavors of sharp cheddar, smooth sour cream and potatoes will have you convinced you're splurging!
I pair my Cheddar & Sour Cream PopChips with a Ranch Greek yogurt dip.
Ranch Greek Yogurt Dip:
In a mixing bowl combine 1/2 tablespoon dried dill, 1/2 tablespoon dried parsley, 3/4 tablespoon garlic powder, 1/2 tablespoon onion powder, 1/4 tablespoon cayenne pepper, 1/4 tablespoon kosher salt and 1 cup plain non-fat Greek yogurt until well mixed. Place in a serving dish and garnish with a dash of dried or fresh parsley. Serve with Cheddar & Sour Cream PopChips.
Tangy BBQ: These babies are sweet and smoky with a touch of spice for some extra sass.
I pair my Tangy BBQ PopChips smoky gouda cheese bake.
Smokey Gouda Cheese Bake:
Combine ½ cup reduced fat smoked gouda cheese, 1⁄4
cup non-fat Greek yogurt, 1 
teaspoon liquid smoke, 1 
teaspoon Tabasco sauce and a 1/2 
fresh chopped jalapeno. Mix well and transfer to a baking dish. Bake for 15 minutes at 350 and serve with Tangy BBQ PopChips.
Chili Cheese: These bad boys are hot, hearty and taste just like comfort food!
I make healthy chip pie with these Chili Cheese PopChips.
PopChip Pie:
In a bowl top Chili Cheese PopChips with heated canned turkey chili. Top with reduced fat shredded cheddar and chives.
Perfectly Salted: These crispy treats are packed with flavorful punch! The simple flavor of these PopChip pairs perfectly with all the above recipes.
PopChips are so tasty and satisfying you won't want to stop, and you don't have to!
Shop PopChips online and get 20% off on your order with Offer code: BIGGAME20
This post is sponsored by Single Edition Media on behalf of PopChips.
Kisses and game day wishes,