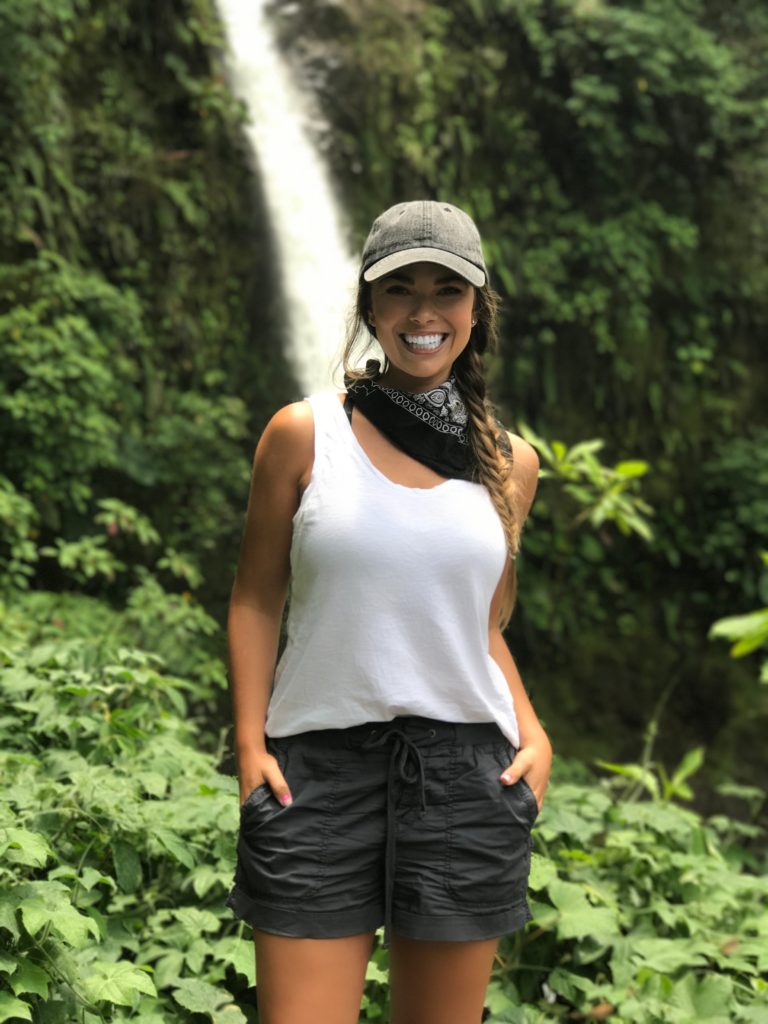 Earlier this week I shared the vacation Walker and I took to Uvita, Costa Rica with you all, which I hope you enjoyed. Before we arrived in Uvita we spent two nights in San Jose, Costa Rica at Hotel Alta Las Palomas. Keep reading for full details on our quick trip to Costa Rica's capital!
We arrived to the moonlit hotel around 8:30 P.M.; we were exhausted, hungry and in need of an immediate cocktail! The staff must have read our minds, as delicious welcome cocktails were waiting for us when we entered the beautiful lobby!
Hotel Alta Las Palomas was beautifully decorated and the friendly and welcoming staff alone lifted our spirits! The check in process was a breeze and the staff could not have been more accommodating. We arrived at our charming room, slipped into our robes and finished our cocktails on our patio, while taking in the city lights and the glittering valley below us.
Exhausted from the day of travel, we decided to keep our robes on, cozy up in bed and order room service. Walker ordered chicken breast served with spring veggies and mashed potatoes and I got a tasty and comforting pesto pasta. We dined in bed with the doors to our patio opened. The warm breeze and city lights were divine! Full and happy, we fell fast to sleep.
Rested from a great night of sleep we rose with the sun and ventured into the lobby for the complimentary coffee which was set up in a beautiful reading nook. We returned to our room and sipped our coffee on our patio and the view in the daylight was such a surprise! We had a perfect view Paos Volcano, which had begun erupting a few days before our arrival. It was one of the most awesome views I had ever seen! The plumes of smoke stretched high into the crisp blue sky. We were both amazed to see this wonderful natural phenomenon in action and felt lucky just to witness our first active volcano! Our plans called for us to hike the volcano later that day and we couldn't wait to explore it.
Once well caffeinated we went down stairs to the hotel's restaurant for the complimentary breakfast. Served with Costa Rican coffee and fresh cantaloupe juice, you had the option of a traditional Costa Rican breakfast of eggs, gallo pinto, plantains and fried cheese or fresh fruit and yogurt. Walker chose the traditional breakfast and I sided with the fruit yogurt. Both were delicious and the open air restaurant's view of the pool created a very relaxing atmosphere while we chatted with our friendly server about the local volcanoes and growing up in the capital.
We went back to our room and got ready for our day of adventure. We had a full day of sightseeing and exploration ahead of us- a tour of Doka Estate Farms, Poas Volcano and La Paz Waterfall Gardens.
Abner our tour guide from Abner's Custom Costa Rican Tours arrived right on time and we were on our way! Our fist stop was Doka Estate Farms. We walked around the beautiful grounds that were lush with vibrant flowers. We toured through the factory and also learned how coffee was grown, harvested, dried and fermented.
Next was Paos Volcano! We arrived at the entrance and were informed that the volcano was too active for us to explore it. We were disappointed but we certainly understood the Park's rationale. Better safe than sorry.
For our third and final stop, we toured the La Paz Waterfall Gardens. On our way we came across a waterfall and Abner pulled over so we could take photos. I'd never seen a waterfall before and this was a great introduction!
We arrived at La Paz Waterfall Gardens and we weren't sure what to expect but we were thrilled with our time there! La Paz Waterfall Gardens is a massive park in the middle of the jungle, complete with five natural waterfalls, cloud forest and rain forest, hiking trails, an aviary with numerous species of birds, insect exhibit, butterfly observatory, monkey sanctuary, hummingbird garden, snake exhibit, jaguars, pumas and ocelots, oh my.
We started our adventure at the top of the park and stopped at every exhibit on the way down! We started in the bird aviary, home to dozens of species of birds like the scarlet macaw, keel billed toucan, crimson fronted parakeet and gray hawk. Birds are one of my biggest fears so this was really a big step for me! The toucans were awesome though! Walker fed and petted them and I gladly watched from a reasonably safe distance. But, one flew so close to me that his wings touched my arm…and I had my cue to leave.
Our next stop was the butterfly observatory. There were thousands of multicolored butterflies flying all around. It was so magical to see. Some even landed on us, which was awesome! The exhibit had a large wall filled with cocoons at every stage and we got to see butterflies emerge from their cocoons. It was so fascinating to see!
Next we enjoyed the cute monkeys and watched while they had an afternoon snack and swung from tree to tree. We also walked through the hummingbird exhibit and their rainbow wings buzzed by us, as they stopped for sweet nectar in the garden's many flowers.
We stopped for lunch at Colibres Restaurant, one of La Paz's restaurants, after working up quite an appetite! We ate and sipped on margaritas and enjoyed the massive jungle around us.
After lunch, Walker explored the snake exhibit, which I passed on, but he reported back that were snakes bigger than him in there! I'm very happy I chose to forgo that experience.
Up next- the jungle cats! La Paz is home to many different cat species- pumas, jaguars and ocelots (Walker's favorite). We spoke with an employee of La Paz, who gave us detailed insight about each cat and their unique personalities which was fascinating to hear! The jungle cats were our favorites and we would seriously consider adopting/purchasing one but we fear Lulu wouldn't last a week with one of these ferocious felines.
Next, it was time for the waterfalls! We hiked all five, each more beautiful than the next! We explored the rivers leading from fall to fall and the entire experience was exciting, romantic and magical!
Once we made it to the very top of the falls we found a bar that has 360 degree views of the jungle and we relaxed with some well deserved cold beers.
We arrived back at the hotel with dinner reservations in town, but the smells from the kitchen were wafting through the lobby and we decided to cancel our reservations and eat at Hotel Alta Las Palomas' restaurant, La Luz.
We arrived back at our room which had been impeccably cleaned by the staff! All our clothes had been hug and all my makeup, brushes and toiletries had been but back in their proper bag. We both agreed we'd never see hotel maids do such a wonderful job! We were also left bottled waters which was a welcomed treat after our adventurous day!
For dinner, we started with a tuna tower served with avocado, sweet plantain, honey crostini and a light chili and mango sauce, which was refreshing and delicious. We both had seabass as our entrees- mine with seafood sauce and potato medallions and Walker's with lemon aioli, veggies and a passion fruit sauce. We topped the amazing dinner off with dessert and after dinner drinks and we were off to bed because we had an early flight on Nature Air in the morning.
Thank you Hotel Alta Las Palomas for your impeccable hospitality. We wish we could have stayed longer but we know that anyone who visits your beautiful hotel will love their stay.
And thank you to Nature Air! You made our regional travel quick and fun! We loved the views on our quick hops around the country!
Kisses and adventurous wishes,