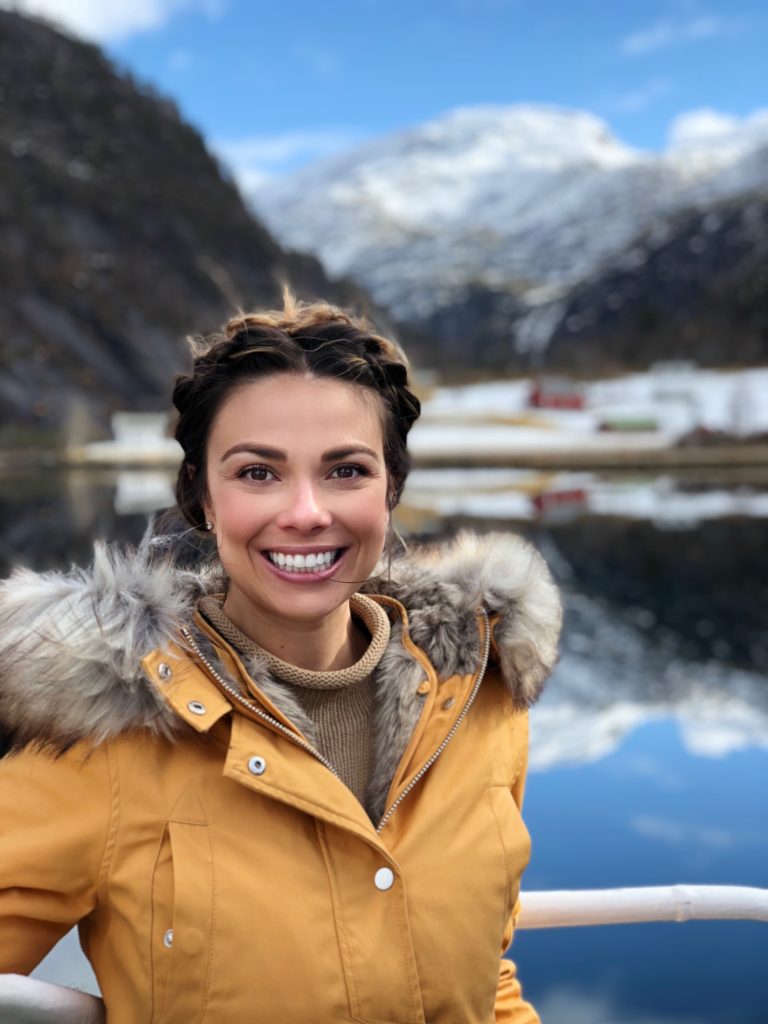 Hi friends!
Today I am sharing my top 10 things to do in Bergen. Planning trips, especially aboard can be daunting. But no need to stress if you're off to Norway. I've done all the work for you! Keep reading for a full list of the must see places in Bergen.
Top 1o Things to do in Bergen
1. Fly Norwegian
Not only are the fares ridiculously affordable on Norwegian Air, but the booking process is simple and the planes were new, clean and high tech. Their affordable prices make traveling abroad guilt-free!
2. Try Unique Foods
Don't be a palette pansy in Bergen! They have so much beautiful and unique food here it'd be a shame to miss out! Try whale and cod tongue at Enhjorningen. This is a charming and quaint restaurant I'd HIGHLY recommend. Also try whale at Fjellskal Fisk & Skalldyr in the fish market. They will give you a sample at the counter. Try reindeer sausage at Tre Kroneren. This is a great spot for a cheap and casual lunch or for late night/post bar munchies. Try plukkfisk, a traditional Norwegian dish made of mashed fish and potatoes at Bare Vestland. Try the venison capriccio at Olivia's. This is a gorgeous restaurant right on the water with amazing food all around.
3. Have drinks at Frille og Dyvekes Vinkjeller
Frille og Dyvekes Vinkjeller is THE oldest bar in all of Norway! It is so cozy and charming inside and also has great prices on wine. This is a must when in Bregen! They have live music every Thursday and I highly recommend going if your stay falls on a Thursday.
4. Go on a Fjord Cruise
We took a fjord cruise from Bergen to Mostraumen and I was blown away by the beauty of the Norwegian landscape! I recommend purchasing your tickets a few days in advance. There is a discount if you have the Bergen Passes.
5. Take The Fløibanen To Fløyen
The Fløibanen, a funicular railway starting at the city's center that transports you to the mountain of Fløyen, which is 1050 feet above sea level! The Fløibanen was so fun to ride and the views from it were pretty impressive as well, but nothing compared to the views at the top of Fløyen! We had never seen anything like it! During the summer there is wonderful hiking as well. These views are something that shouldn't be missed!
6. Take A Food Tour With Bergen Food Tours
I could not recommend this tour more! Cheyenne, the tour guide of Bergen Food Tours, could not have been sweeter and the food was wonderful! This tour is also a great way to explore and get acquainted with the city.
7. Have Drinks at Magic Ice Bar
Magic Ice Bar, a bar made completely out of ice! We sipped our cocktails in the freezing bar while wearing fur lined capes and gloves for warmth. It was so cool! Though touristy, if you haven't been to an ice bar you should totally do this!
8. Visit the Fish Market
Inside the market there are multiple fish counters and restaurants. We dined at Fjellskal Fisk & Skalldyr and it was amazing! We started with smoked salmon and each tried fish soup, a dish Norway is famous for! If you only eat at one restaurant in the fish market, make it this one!
9. Visit The Edvard Munch Exhibit At The Kode Museum
The Kode Museum has many buildings, but building 3, housing Edvard Munch's work was by far my favorite.
10. Have Fika
Fika is the Scandinavian version of the Spanish siesta, but instead of napping, you have coffee and pastries in the middle of the day. My favorite spot in Bergen for Fika is Sweet Rain.
Click here to read my full Bergen, Norway travel guide!
Thank you so much to Magic Hotel and Visit Bergen for a phenomenal stay with your beautiful city! We can't wait to visit again!
I hope you enjoyed my lost of the top 10 things to do in Bergen, Norway and this list has inspired you to visit this beautiful and charming, history packed, culinary destination!
Kisses and Norwegian wishes,