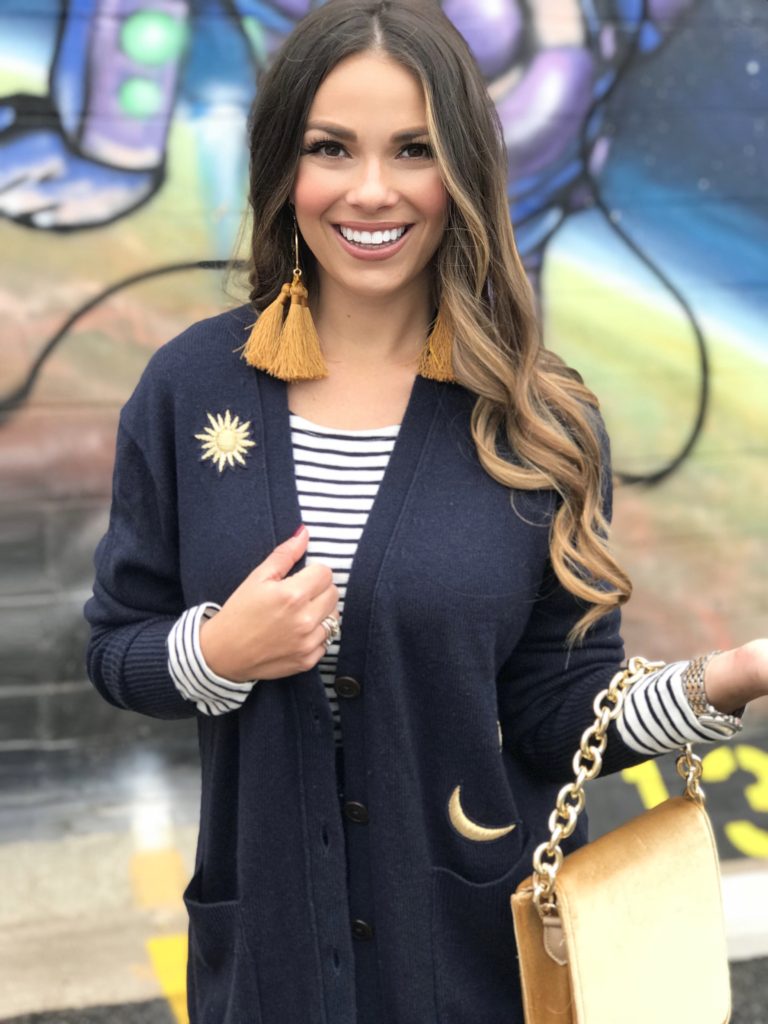 Happy Monday!  Today is another post for my Winter Fashion Trends Series.  Today's hot winter trend is galactic prints.  Out of this world patterns are hot this season and I'm sharing some of my faves with you!
Keep reading for full details on this look, some of my favorite galaxy print pieces and a full run down of all my favorite winter trends!

I paired this space embellished cardigan (under $35) with a white and navy striped boat neck tee (under $30), a pearl beaded skirt (under $65), gold tassel earrings (under $20), gold mules (under $100) and a gold velvet bag (under $40).
This look is perfect for any holiday occasions or parties you have coming up!  The gold accessories and pearl detailing make the look festive and dressy.
1.  Grey plaid.

2.  Red, hot! All red everything.

3.  Berets.  Ms. Lewinski loves them too!

4.  Vintage inspired faux fur.

5.  Silver, and well, silver.

6.   prints.  Oh, my. Starry eyed surprise.

7.  Turquoise on turquoise on turquoise.

8.  Be a leopard lady!

9.  Be a flamingo and think pink!

10.  P. Diddy's fave- puffer jackets.

11. Patent leather and vinyl.

12.  Winter white.

13.  Demin on denim.

14.  Neckerchiefs galore!

15. Workwear.  Not just for 9-5 anymore.

16.  Embellished denim.

17. Mules.  The shoes.  Not the animal.

18.  White boots.

19. Military jackets.

20.  Pearl detailing.

Stay tuned for more winter fashion trends posts and I will he your HQ for everything Christmas!  From recipes, to gift guides, to #OOTD's… and more!
Kisses winter wishes,