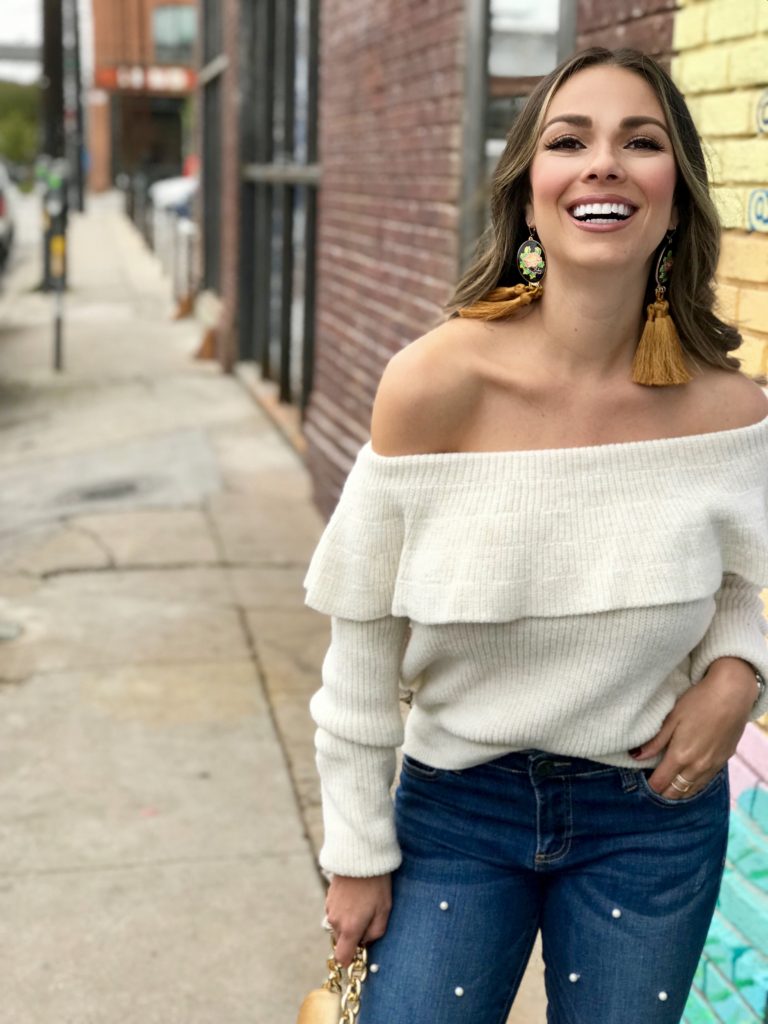 Good morning gal pals! TGIF! Can you believe it is Christmas weekend already?! Wow!  This holiday season has flown by.
Today I am sharing another post as a part of my Winter Fashion Trends Series!  Today's trend is pearl detailing.  If you've been following me on here or on Instagram you've for sure seen me rocking this trend!  It's one of my favorites.
Keep reading for full look details plus a complete rundown of my top 20 trends for winter!

I'm kinda in love with this pearl detailing trend.  Pearl embellished pieces have an extra touch of girlie and feminine to them that I just can't get enough of!  I paired this pair of pearl embellished jeans (under $100) with a cream off the shoulder sweater (under $60), gold mules (under $90), a gold velvet bag (under $40) and gold tassel earrings.
1.  Grey plaid.

2.  Red, hot! All red everything.

3.  Berets.  Ms. Lewinski loves them too!

4.  Vintage inspired faux fur.

5.  Silver, and well, silver.

6.  Galactic prints.  Oh, my. Starry eyed surprise.

7.  Turquoise on turquoise on turquoise.

8.  Be a leopard lady!

9.  Be a flamingo and think pink!

10.  P. Diddy's fave- puffer jackets.

11. Patent leather and vinyl.

12.  Winter white.

13.  Demin on denim.

14.  Neckerchiefs galore!

15. Workwear.  Not just for 9-5 anymore.

16.  Embellished denim.

17. Mules.  The shoes.  Not the animal.

18.  White boots.

19. Military jackets.

20.  Pearl detailing.

Stay tuned for more winter fashion trends posts and I will he your HQ for everything Christmas!  From recipes, to gift guides, to #OOTD's… and more!
Kisses winter wishes,