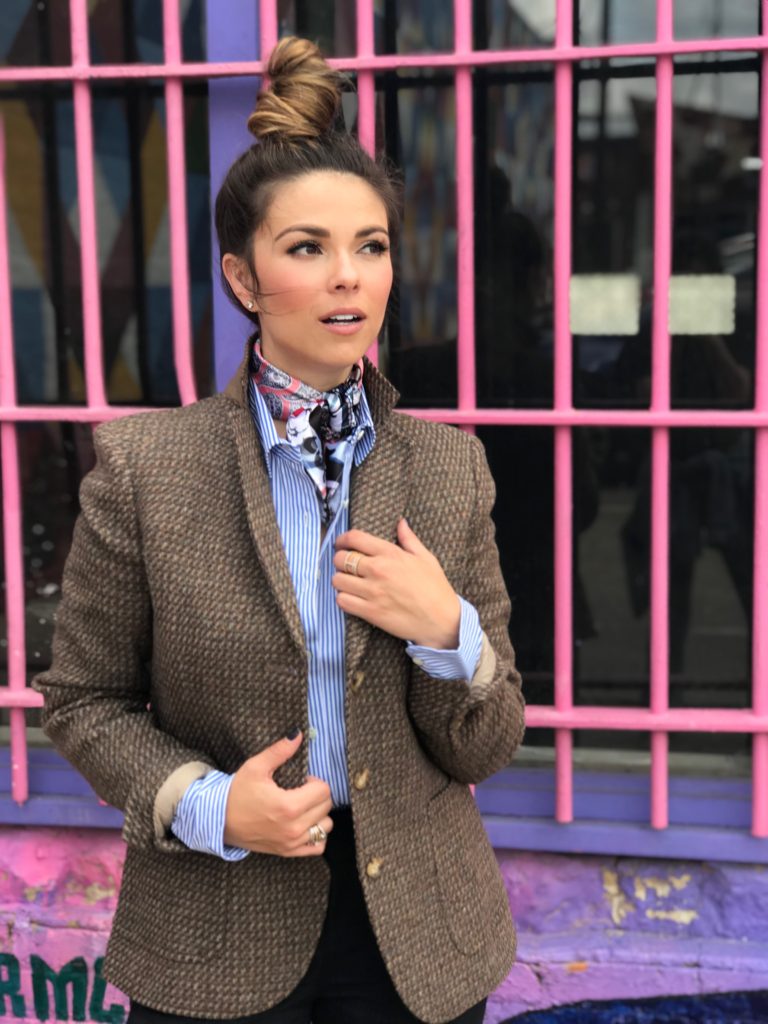 Hello friends and good morning!  I hope everyone's weekend's are going wonderfully!
Today is another post as a part of my winter fashion trends series.  Today's winter trend is work wear!  Now I'm not talking boring grey suits, I'm taking fun and fresh pieces that can take your from work to play!  Keep reading for full look details, hoe to pull off this hot trend and a full run down of my favorite winter fashion trends!

 When pulling off this work wear trend think bright colors and fun patterns.  Don't be afraid to mix and match.  This look should be able to take you from the office to cocktails with friends so don't be too stuffy.
I paired this brown plaid blazer with a blue and white striped dress shirts (under $70) and blue plaid slacks (under $90).  I topped the look off with a blue and pink scarf (under $10) and my favorite Gucci heels (similar here).
1.  Grey plaid.

2.  Red, hot! All red everything.

3.  Berets.  Ms. Lewinski loves them too!

4.  Vintage inspired faux fur.

5.  Silver, and well, silver.

6.  Galactic prints.  Oh, my. Starry eyed surprise.

7.  Turquoise on turquoise on turquoise.

8.  Be a leopard lady!

9.  Be a flamingo and think pink!

10.  P. Diddy's fave- puffer jackets.

11. Patent leather and vinyl.

12.  Winter white.

13.  Demin on denim.

14.  Neckerchiefs galore!

15. Workwear.  Not just for 9-5 anymore.

16.  Embellished denim.

17. Mules.  The shoes.  Not the animal.

18.  White boots.

19. Military jackets.

20.  Pearl detailing.

Stay tuned for more winter fashion trends posts and I will he your HQ for everything Christmas!  From recipes, to gift guides, to #OOTD's… and more!
Kisses winter wishes,