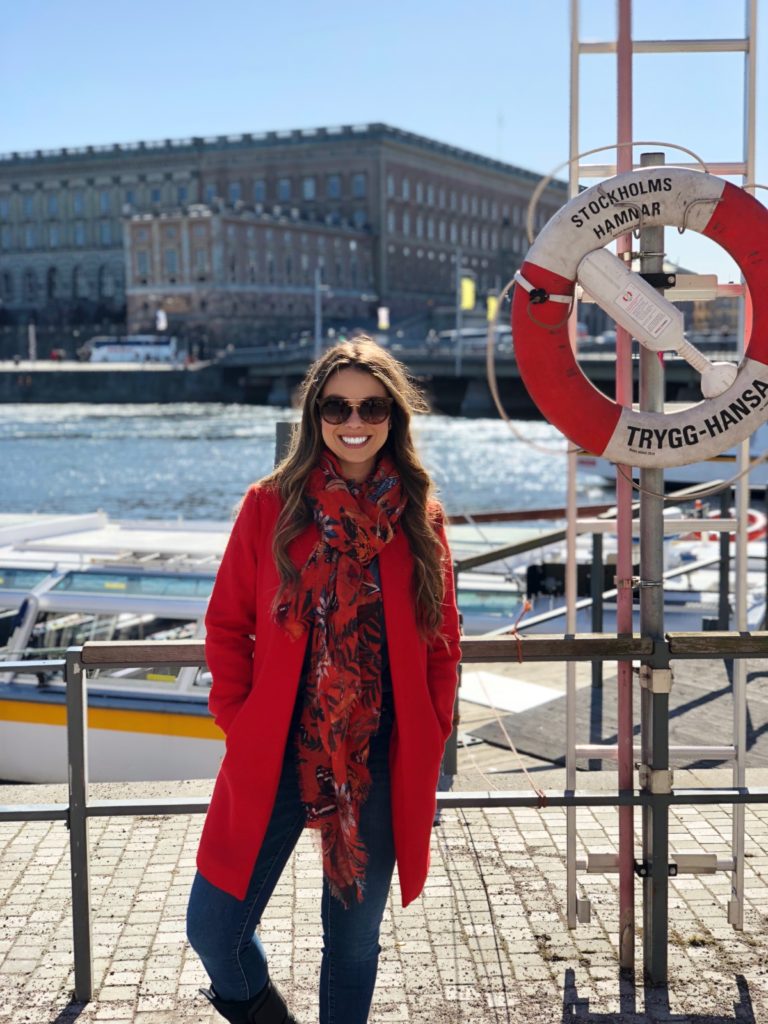 Hi friends!
Today I am sharing my top 10 things to do in Stockholm. Planning trips, especially aboard can be daunting. But no need to stress if you're off to Stockholm, Sweden. I've done all the work for you! Keep reading for a full list of the must see places in Stockholm.

Top 10 Things to do in Stockholm
1. Tour The Royal Palace
The available tours change daily and are effected if the royals are in residence so be sure to visit the ticket counter right when you arrive to the city so you can map out your itinerary.
2. Visit the Vasa Musuem
The Vasa museum houses the Vasa, which is a retired Swedish warship built in the 1620's. The ship sunk after sailing only 1,400 yards in its maiden voyage in 1628. Forgotten until the late 1950s, she was rediscovered in a busy shipping lane just outside the Stockholm harbor and was salvaged and brought to land in 1961. The beauty and magnitude of the ship were so impressive!
3. Explore Djurgården
Djurgården is a tranquil island known for being the royals' hunting grounds back in the day. Now home to the Vasa Museum, Skansen open-air museum, the ABBA museum, Gröna Lund amusement park and the Nordic Museum.
4. Eat at The Hairy Pig Deli
The Hairy Pig Deli, a tapas style restaurant in Gamla Stan and I highly recommend getting reservations here. Every single bite was more fabulous than the next! If you only have time to dine at one restaurant while in Stockholm, make sure it's the Hairy Pig Deli!
5. Take the Hop On Hop Off Bus Tour
Yeah, I know it's totally touristy, but its fun, informative and also allows you to get acquainted with the layout of Stockholm.
6. Visit the Stortorget
The Stortorget is the oldest square in Stockholm and is home to beautifully painted colorful buildings. We had two lunches and afternoon cocktails here in the Stortorget.
7. Tour City Hall
Stockholm's City Hall houses offices and conference rooms as well as ceremonial halls, the luxury restaurant Stadshuskällaren and its major claim to fame is its the venue for the Nobel Prize banquet each year! The tour was so beautiful and educational.
8. Take the Royal Canal Boat Tour
The 50-minute tour offers a true sightseeing experience of Stockholm and its most famous waterside views. Travel through the beautiful Djurgården canal and see some of Stockholm's most well known places, such as Old Town and the islands of Fjäderholmarna.
9. Go Antique Shopping
There are many antique shops in Stockholm, especially in Gamla Stan. Our favorite was Antique Maps and Prints, a charming boutique in old town that sells well, antique maps and prints. Here I bought four lithographs for myself dating back to the 1920's and my mom bought two pieces for herself as well.
10. Dine at Östermalm's Market Hall
Östermalm's Market Hall dates back to the 1880's. This food hall and market houses antique stalls selling produce, seafood & gourmet goods, plus several cafes. I highly recommend having a casual lunch here.
I hope you enjoyed my recommendations for the top 10 things to do in Stockholm, Sweden!
Thank you so much to Scandic Hotels and to Visit Stockholm. We had the most wonderful stay in your beautiful city and cant wait to return!
Kisses and travel often wishes,