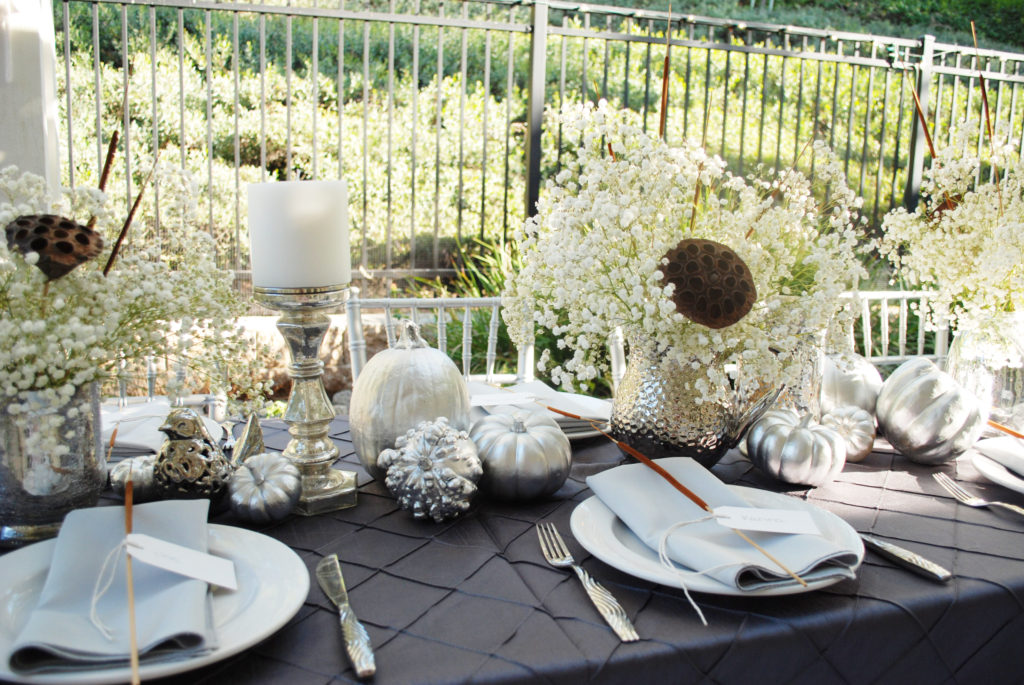 Happy Sunday Sunday my friends!  Last night Walker and I went to Buffalo Wild Wings here in Sherman to watch the TCU game.  Hot date night baby!  And tonight we're going to see Murder On The Orient Express, which we're both really excited about!!! Today while he's at work, I'll be meal prepping for him for the week, he's now in the veto diet as well, and working on some new and fun fall content for y'all!
Today I am sharing some Thanksgiving table inspiration with y'all!  Last year I did an all silver tablescape and think it turned out so polished and chic!  Keep reading for how to get this look, hostess tips and a steal peek of what this year's Thanksgiving table is going to look like!  And because I always get ants in my pants when I buy new stuff and I just want to share it with y'all ASAP, I'm also sharing some recently purchased pieces with y'all too!


Get this Thanksgiving table look!
 1.  Think silver, silver, silver!

2.  Use different shades and textures to create depth.

3.  Make it festive and "harvest-y" by spray painting pumpkins silver.

4.  Keep your florals simple.

5.  Add sparkle with mercury glass and candles.

5 Hostess with the Mostess Tips:
1. Make as much of your food in advance so you can spend time socializing with your guests instead of slaving away in the kitchen.  This make ahead mashed potato recipe is perfect for this!
2. Make a play list!!!  Adding music will give your party more ambiance and make it feel more festive. This is honestly a must y'all!
3. Don't be too brave!  You maybe a bad ass in the kitchen, but don't attempt new recipes on your guest.
4. Serve dessert away from the table.  This allows guests to get a change of environment and also take a breather and make room for the sweet stuff.  I like doing dessert in the living room.
5. Don't let the guests do dishes! Though they may offer, its most likely an empty offer and now their elbows deep in your sink with your mildew-y sponge.  Vom.  And they've now probably chipped their fresh mani.  Double vom.
This year's Thanksgiving table sneak peek!

What my UPS guy will be delivering this week:

Checkout this Thanksgiving table too for even more holiday inspiration!
Kisses and Turkeyday wishes,