"Growing up, I learned life's important lessons at the dinner table." -John Besh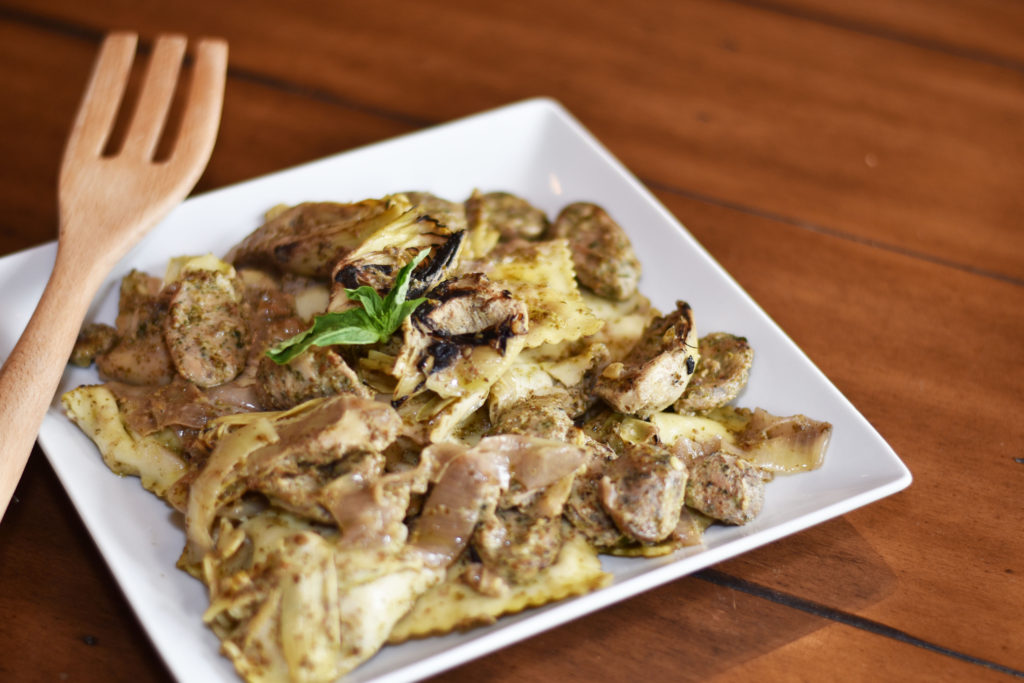 The struggle is real! Life is so busy. Balancing work and friends and family. There is so much on everyone's plate that sometimes it's difficult to get something besides takeout on your plate for dinner.
This recipe is a perfect week night dinner for anyone who feels guilty about ordering take out multiple nights in a row and wants to put something homemade on the table. Slice, dice and boil and this recipe is pretty much done.

INGREDIENTS:
3⁄4 cup heavy whipping cream
2 tablespoons butter
1⁄2 cup prepared pesto sauce
1⁄8 teaspoon garlic powder
S&P to taste
1⁄2 cup parmesan cheese, shredded
1 yellow onion, sliced in 1/2 inch slices
1 jar of grilled artichoke hearts, drained
1 package spicy Italian sausage or pesto turkey sausage, sliced
2 packages cheese raviolis
1 tablespoon EVOO
DIRECTIONS:
Heat EVOO in a skillet over medium heat.
Add onions and saute until brown and caramelized.
Add sliced sausage pieces and warm throughout.
Add artichoke hearts and mix well.
Meanwhile, heat heavy whipping cream and water in a small, heavy saucepan over medium heat until hot but not boiling.
Add butter, pesto sauce, garlic powder and S&P.
Reduce heat and continue to cook for 5 more minutes over low heat.
Stir in 1/2 cup parmesan cheese until completely melted.
Add the veggies and sausage to the sauce.
Cook ravioli according to directions on package.
Top raviolis with sauce and serve. Top with basil and extra parm if desired.
Kisses and easy dinner wishes,