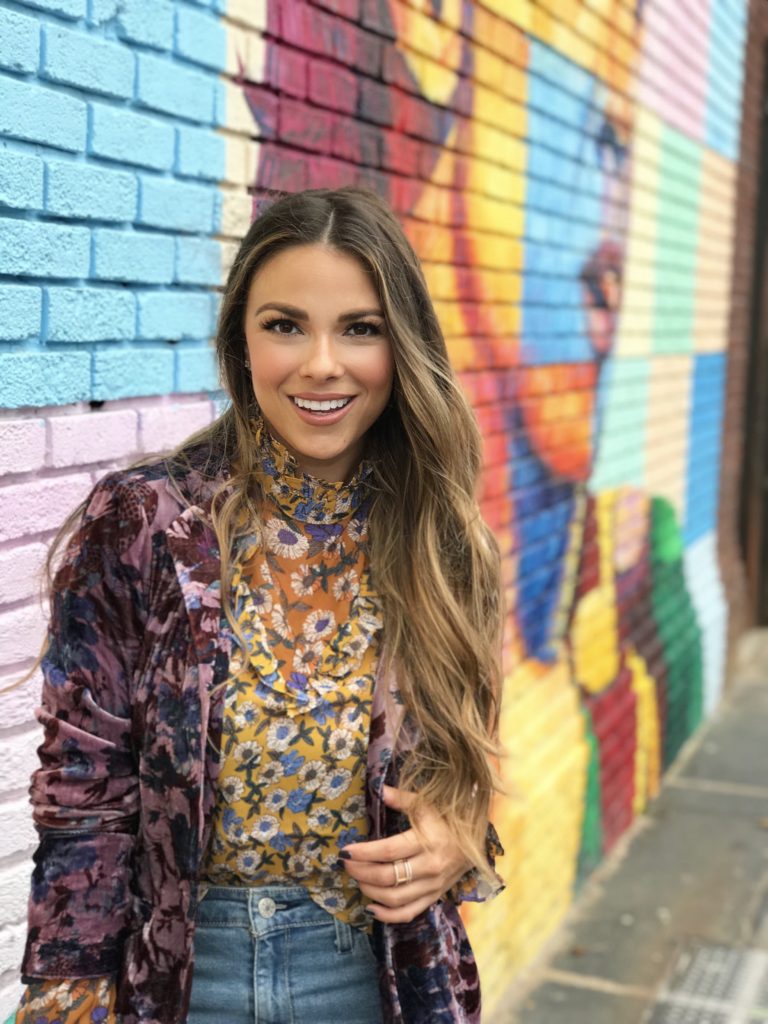 Good morning friends and happy Tuesday!  Today Walker and I are heading to Orange County, California to spend the Thanksgiving holiday with my family.  We have lots of fun stuff planned like cooking, cooking, cooking, brunch with my best friend and her hubs and eating at some of my favorite places like The Crab Cooker, Da Bianca Trattoria and Bistangos!  If you're in OC you HAVE to try these spots.  So yum!
Today's blog post is all about Victorian collars! This high and ruffled neck line is a chic, classy, sophisticated and feminine trend I love!  If you follow me on Instagram you've seen this trend on repeat!  I've been wearing a chambray Victorian collar nonstop!

Today's Victorian collar blouse is a beautiful fall approved floral print.  Because I love mixing and matching bold prints I paired this blouse (PS: it's only $32!), with a velvet floral blazer (under $90), a suede backpack, cropped flare jeans (they're only $64) and burgundy heels (similar here and here).
Top 20 Fall Fashion Trends

2.  Monochromatic red- red from head to toe.

3.  Florals.

4. Pajamas in public. Now this is a trend I can get behind!

5.  Fun with fur! Think bright colors and bold prints.

6. Fishnet tights.

7.  Fringe. Feeling like a flapper?


9.  70's plaid! Plaid-a-delic, baby!

10. Retro hats.

11.  Victorian collars.

12.  Canadian Tuxedo, some may say. Denim on denim!

13.  Midi- skirts and dresses.

14. Sherling? Sure thing!


16.  Bodysuits.

17. Jewel tone velvet. How regal!

18.  One shoulder pieces.

19.  Leather, duh.

20.  Lingerie inspired pieces. Oh la la!

I hope you enjoyed this post about Victorian collars!  Sunday will be my final Fall Fashion Trends Series post, but since y'all seemed to love it so much I will be doing something similar for winter fashion trends, so stay tuned for that!
Kisses and fall fashion trends wishes,