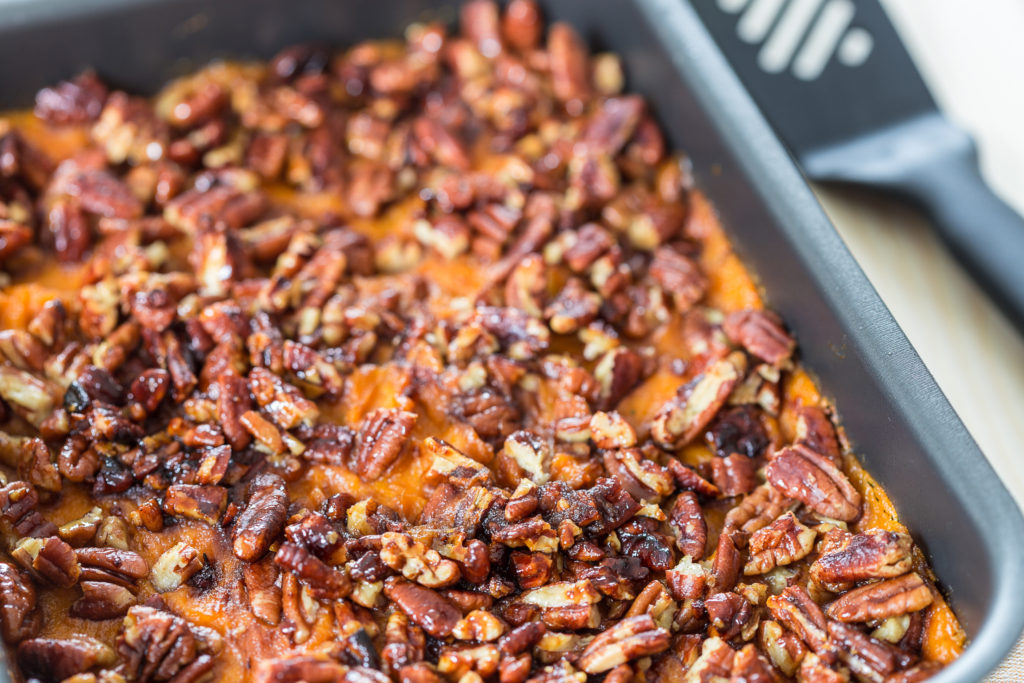 Good morning guys! Thanksgiving is in just a few days y'all!  So exciting!  Tomorrow Walker and I leave for California to spend the Holiday with my family.  We've celebrated Easter, Mother's and Father's Day together, but this is our first "big" holiday we're spending together and I honestly could not be more thrilled to be doing so!  Thanksgiving is my favorite holiday and to have who I am most thankful for celebrating with me is just a dream come true!
Today I am sharing mine and my mom's boozy sweet potato casserole recipe.  We love putting booze in everything we make, so our sweet 'taters are no exception!  And let me tell you, these are AMAZING!
Keep reading for full recipe details and also for some Thanksgiving #OOTD inspo and a sneak peek of some recently purchased pieces!
Boozy Sweet Potato Casserole
Ingredients:
Casserole:
2 1/2 pounds sweet potatoes (about 3)
1 orange, zested and juiced
1 teaspoon ground cinnamon
1 tablespoon honey
1/2 cup milk
1/2 cup of spiced rum
Topping:
1/4 cup firmly packed brown sugar
2 tablespoons extra-virgin olive oil
2 tablespoons butter
1/2 cup chopped walnuts
Directions:
Preheat the oven to 375 degrees F.
Put the sweet potatoes on a sheet tray and roast for 35 to 40 minutes.
While the sweet potatoes are baking make the topping. In a food processor, brown sugar, olive oil, butter, and walnuts .
Pulse until mixture comes together.
Once the potatoes are cool enough to handle, peel them and cut them into 1-inch chunks. Discard the skins.
Put the potatoes into a large dish and add the remaining ingredients. Mash together with a potato masher until well combined.
Transfer the mixture to a 2-quart casserole dish.
Crumble the topping mixture over the potatoes.
Bake 30 minutes.
More Thanksgiving recipes:
Thanksgiving #OOTD Inspo:

Recently Purchased Fall & Winter Pieces:

For My Upcoming Vacation to Mexico:

Kisses and be thankful wishes,