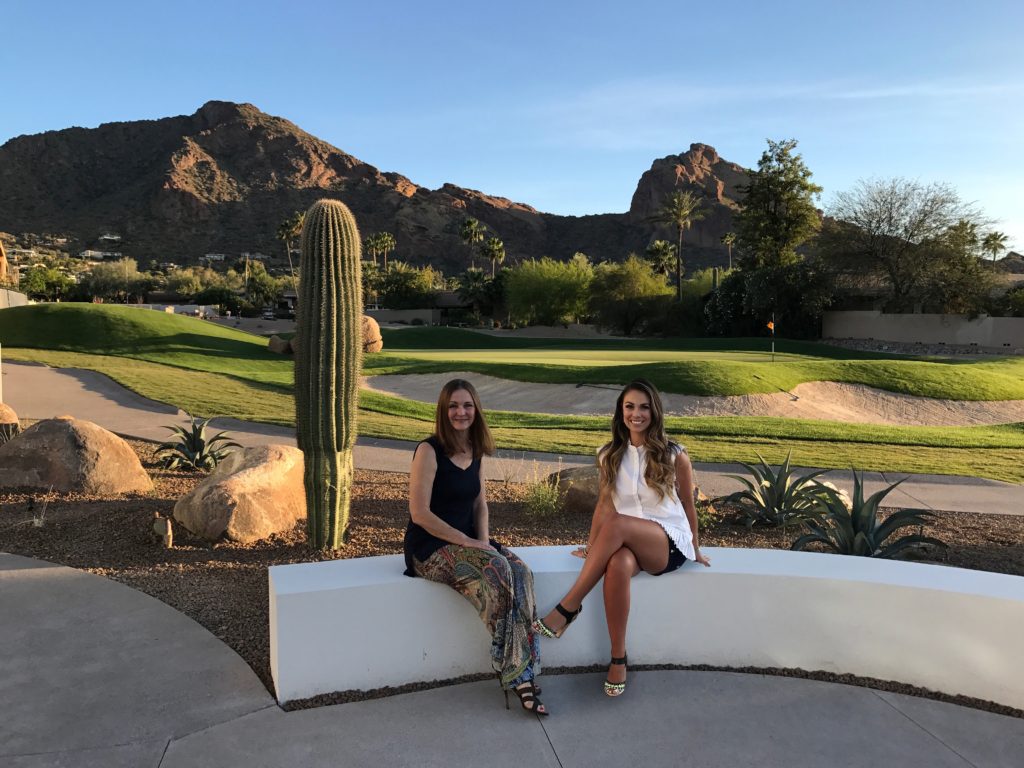 Last week my mom and I enjoyed a beautiful and relaxing girl's trip to the desert oasis of Scottsdale, Arizona. Keep reading for the full play by play of our amazing trip!
We started our vacation at Mountain Shadows, a brand new boutique resort in Paradise Valley.  We checked into our garden view suite where chocolates, assorted nuts and macaroons were waiting for us, and enjoyed the breath taking views of the golf course and mountains.  What a sweet surprise! We settled into the spacious suite, which was modern yet inviting, and changed for some fun in the sun!
The pool could not have been more relaxing!  The warm sun and light breeze were the perfect setting for a wonderful day poolside. We were waited on like queens by the pool attendant and we ordered a cheeseburger and fries for lunch, which proved to be one of the best burgers either of us had ever had.  Once well sunned, we went up to our suite to enjoy our massive balcony.  We sipped on cocktails and watched as the golfers finish up their games.  The mountain backdrop could not have been more picturesque. The staff at the hotel truly went above and beyond the call of duty throughout our stay. From getting us ice to putting up umbrellas at the pool, every staff member waited on us with warm smiles and impeccable hospitality!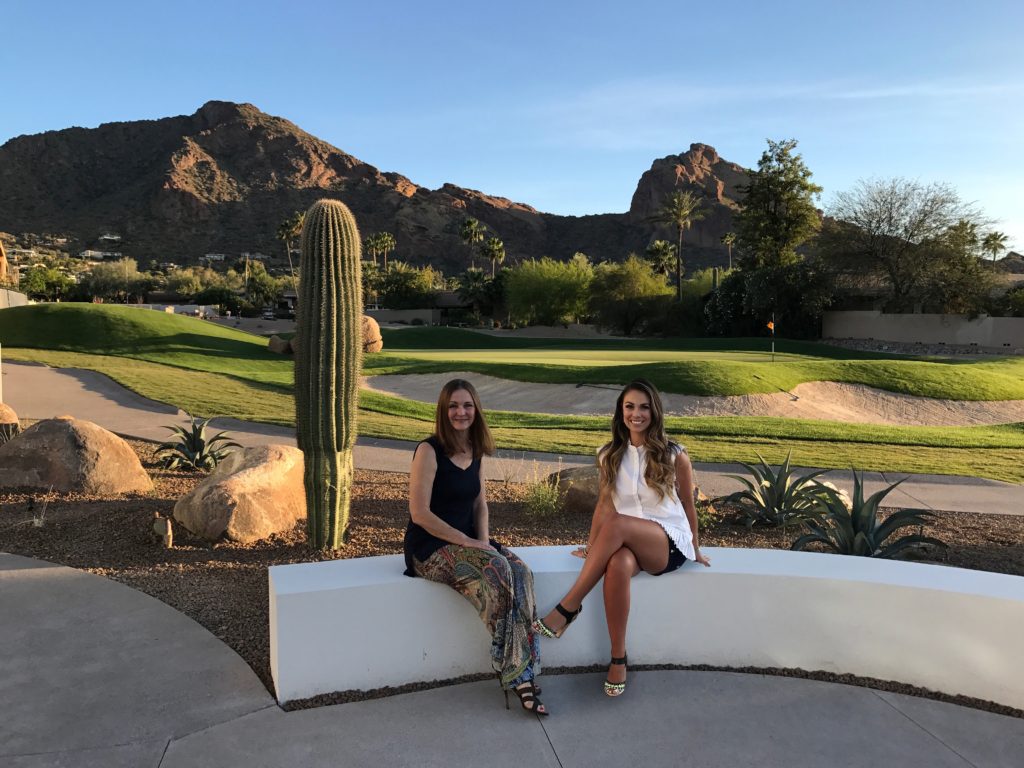 We cleaned up before dinner and explored the grounds before hitting the beautiful hotel bar for some pre-dinner champagne.  We had dinner reservations at the resort's restaurant, Hearth '61, and we were sure in for a treat! We started with a bottle of Sauvignon Blanc, obviously, and took in the beautiful restaurant's charming ambience.  Executive Sous Chef Christopher Brugman greeted us with a delicious amuse-bouche of riccota, spring peas and lemon zest and wow did it set the tone for the mouth-watering meal ahead of us! Next, we split the mussels.  Made with tomatoes and fennel sausage and served with crusty bread, this dish made us wish we had ordered it for room service instead of at a public restaurant so wecould lick the bowl and feel no shame.  Mussels are my mom and I's go to; if they're on the menu, we're ordering them!  So as self-styled mussel aficionados, we were in heaven and both agreed they were the best mussels we'd ever had. After the mind blowing mussels we split the creamy burrata salad accompanied by smoked beets, grapefruit, pistachios and greens.  Yum! For our entrée we went with the beef tenderloin served with a red wine demi glaze and blue cheese fondue.  Blue cheese fondue!  The quality of meat was out of this world and it was cooked to perfection.  You could have cut the meat with a butter knife it was so tender.  As a side we ordered the cauliflower which was served with raisins and a caper gremolata, which was equally mouthwatering! Though we hardly had any room for dessert, we persevered and split a poppy seed cake accompanied by a rhubarb compote and grapefruit sorbet.  It was the perfect end to a perfect meal. We went back to our suite and fell into a sweet, sweet, food coma.
The next morning we enjoyed coffee and macaroons on our patio and took in the beautiful surroundings. We went to Hearth '61 for breakfast and it was another grand slam!  Breakfast sandwiches and fresh coffee were just the fuel we needed to explore the grounds one last time and then we were off to out next destination.
Just a short ride away, we arrived at Hotel Valley Ho.  A charming a mid-century resort that felt like the love child of glamorous old Palm Springs and retro Hawaii.  I felt like I was on vacation with Mad Men's Don and Megan Draper.  In the late 50's, the resort was a hideaway for Hollywood royalty like Bing Crosby and Zsa Zsa Gabor. We checked into our massive suite and were truly blown away! The 900 square foot suite was home to a spacious living area, private balcony with views of Camelback Mountain, full-service kitchen with Sub-Zero appliances, walk-in closet and full-size washer and dryer.  This suite had everything one could need on vacation and more!  We went straight to the Oh Pool, the resort's larger pool and sipped on ice cold beers and split a delish club sandwich.
After a full day of sun we wanted to explore Old Town Scottsdale, which was less than a 5 minute walk from the resort.  We browsed around the shops and galleries and stopped into a winery tasting room, Su Vino, for a tasting and some baked brie with preserves.  The wine and cheese were the perfect afternoon treat!
Once back at the resort we freshened up for the evening then hit the bar for refreshing cucumber sake martinis.  They hit the spot! We had dinner at the resorts restaurant ZuZu, which had a glamorous retro vibe.  We started with a bottle of Sauvignon Blanc and shrimp cocktail.  They were the biggest shrimp we had ever seen! Next we split the New York strip, which was peppered and served with truffle mashed potatoes, mushrooms and a port demi glaze.  For dessert we had an almond cake that redefines dessert dreaming! Both the service and food at ZuZu were sublime!
The next morning we walked into Old Town Scottsdale again and had huevos rancheros at a local diner. Wanting more of a quiet day, we relaxed at the resort's lap pool, which was just what the doctor ordered! For lunch that day we enjoyed a cheeseburger on ZuZu's patio paired with fries and refreshing iced teas. Sadly, after lunch it was time to pack and say our good byes to beautiful Arizona.
Thank you so much to Mountain Shadows and Hotel Valley Ho for hosting my mom and I and for showing us such an amazing time! We cannot wait to see you again!
…shop my vacation looks…

Kisses and vacation wishes,