Hello friends and happy Tuesday! I have just 3 more stops from our honeymoon to share with you and I figured I'd share 1 or 2 before leaving for Europe this weekend for a month. Keep reading for all the scoop of our amazing time in Hội An, Vietnam and Koi Resort and Spa and click the following links to check out my blog posts on some of the other stops we also made: Hanoi, Ha Long Bay and Huế.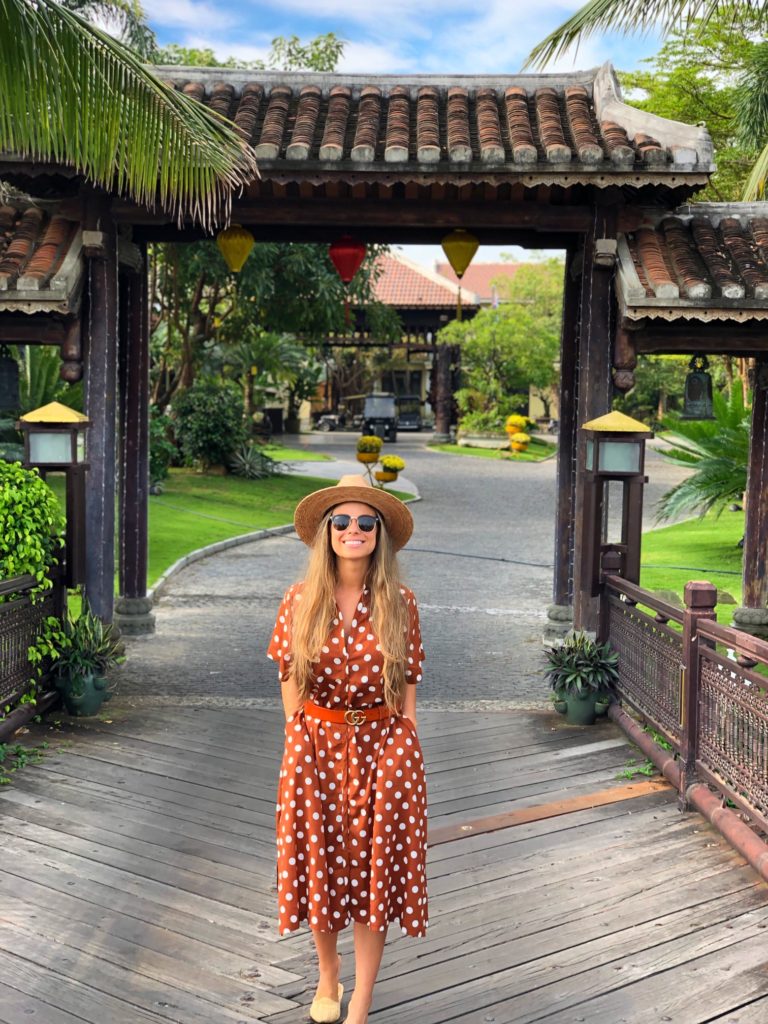 We arranged for our tour guide, Tommy Dao Tours, to pick us up from our hotel in Huế and take us to our hotel in Hội An before our tour began.
We swiftly checked into our STUNNING room at Koi Resort and Spa and were off to explore Mỹ Sơn Sanctuary with Tommy Dao tours. Our tour guide, Mr. Kim, was probably our favorite part of the tour. He shared many fascinating and heart breaking stories of his time during The American War, as it is called in Vietnam. He played a fascinating part in the conflict and his stories of its suffering were incredibly moving. But Mr. Kim was engaging and upbeat throughout our tour and provided an authentic and memorable connection to the country and the region, which we will never forget.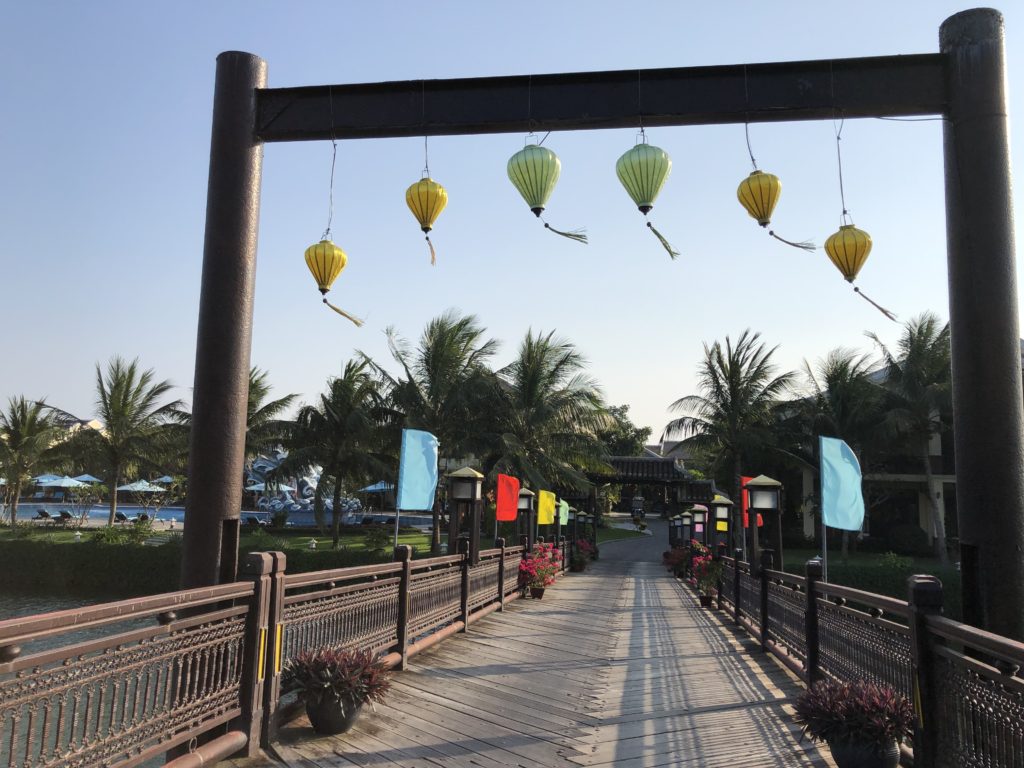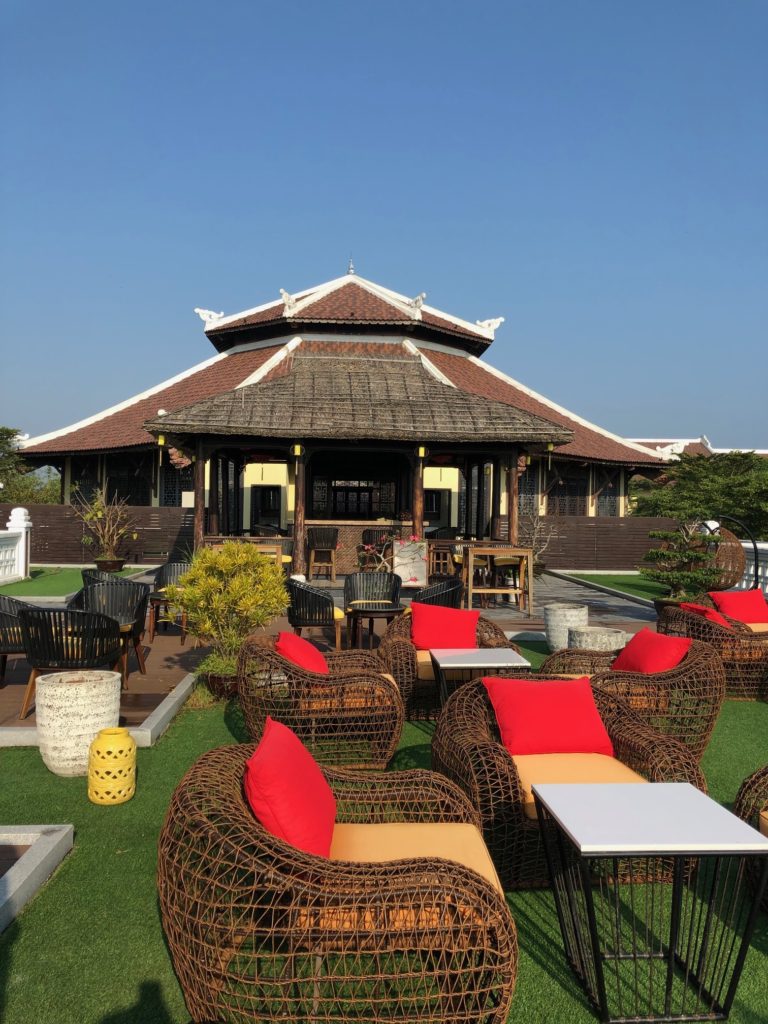 We arrived to Mỹ Sơn Sanctuary, a UNESCO World Heritage Site built by the Champa people between the 4th and 14th centuries. The Champa were Hindu and their remarkable impressive temples reflect this, complete with a form of Sanskrit etched on many of the buildings. What's even more remarkable is that this complex was still largely intact despite about two thousand years of wear and tear. In fact, most of the buildings there were not destroyed until the American War. South Vietnamese and American officials believed the North Vietnamese Army was using the complex as a hiding spot and began bombing it regularly with large ordinances. Standing in those massive craters left by American bombs looking up at ancient Hindu temples provide a fascinating historical juxtaposition.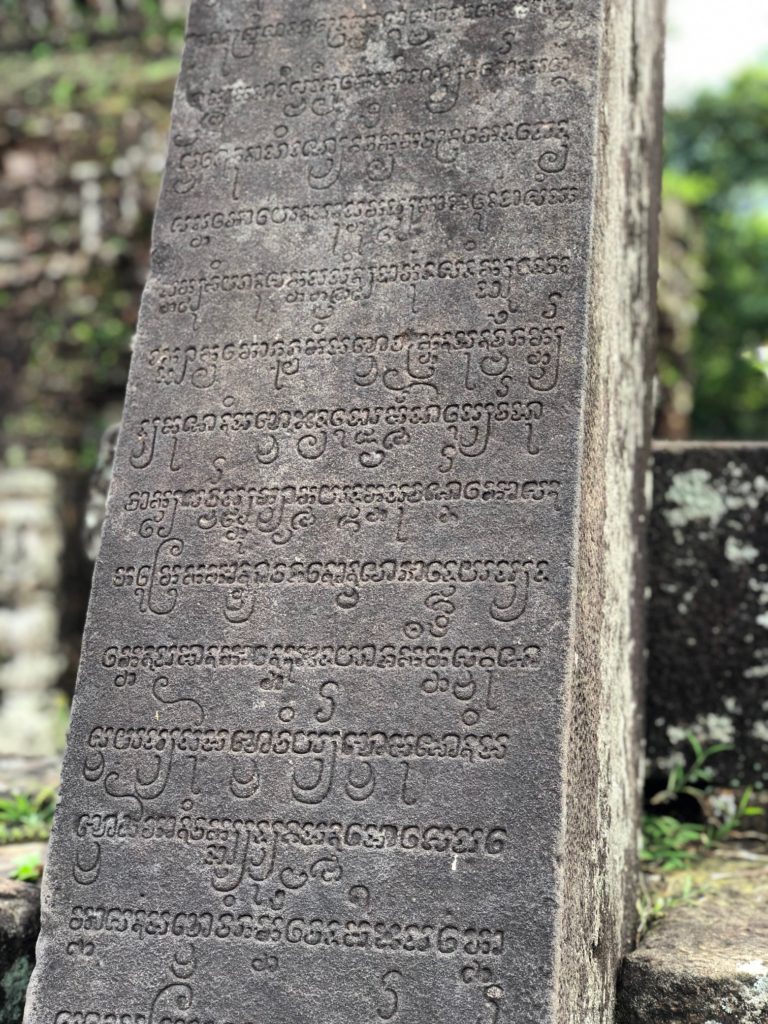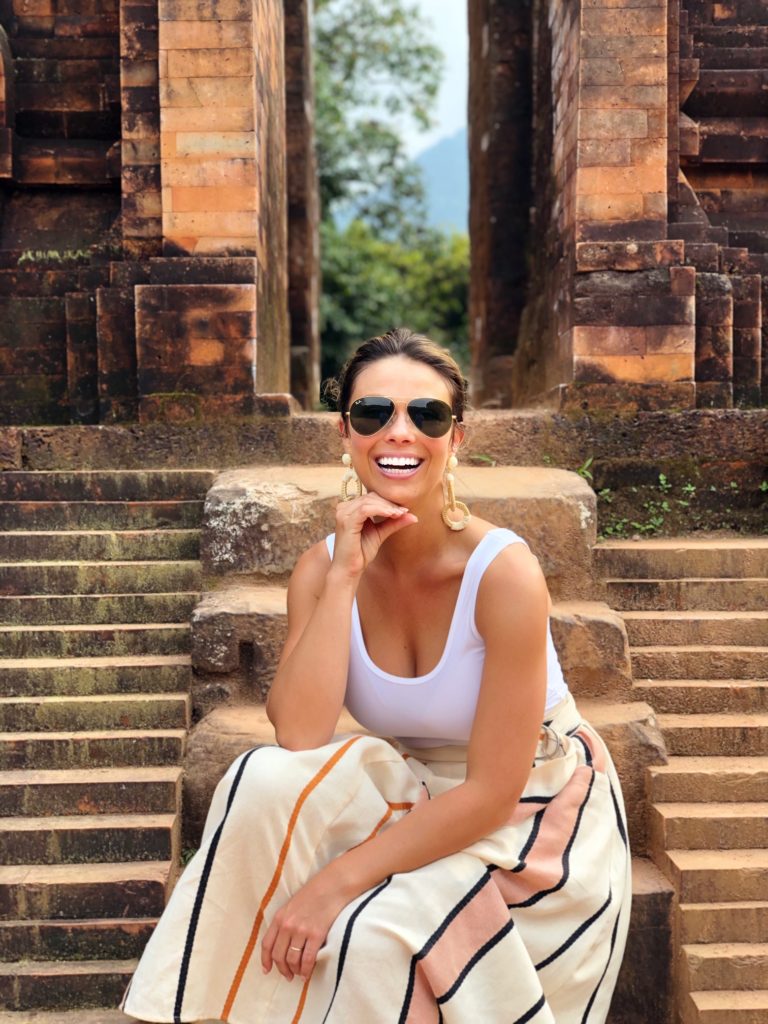 shop the look: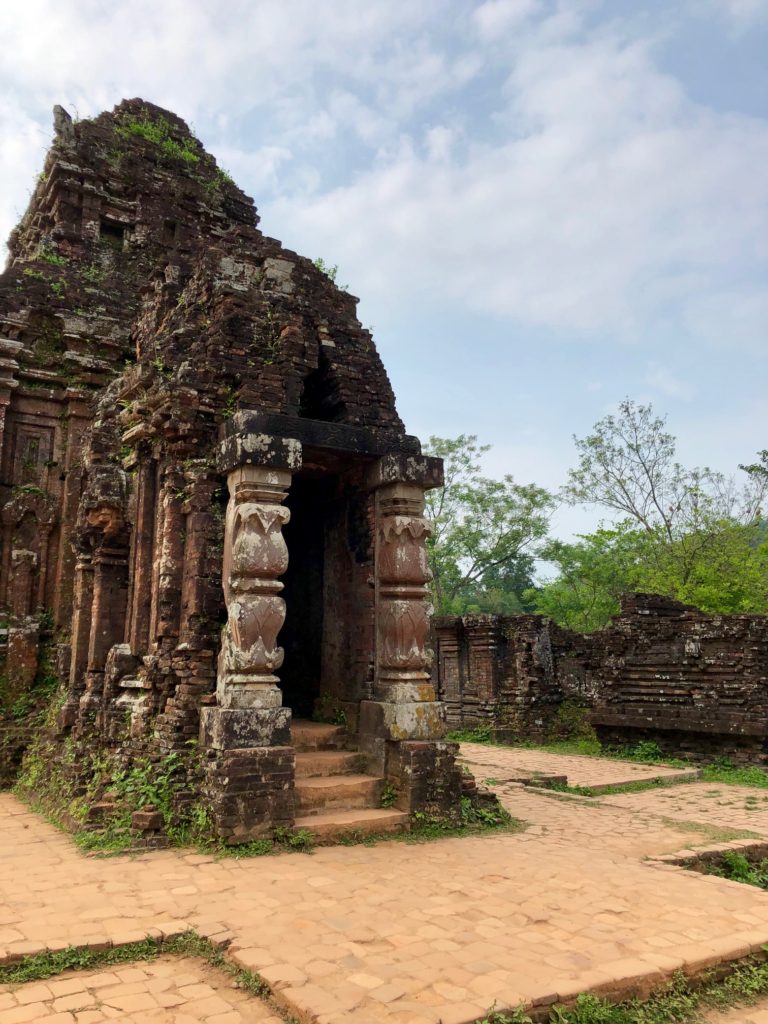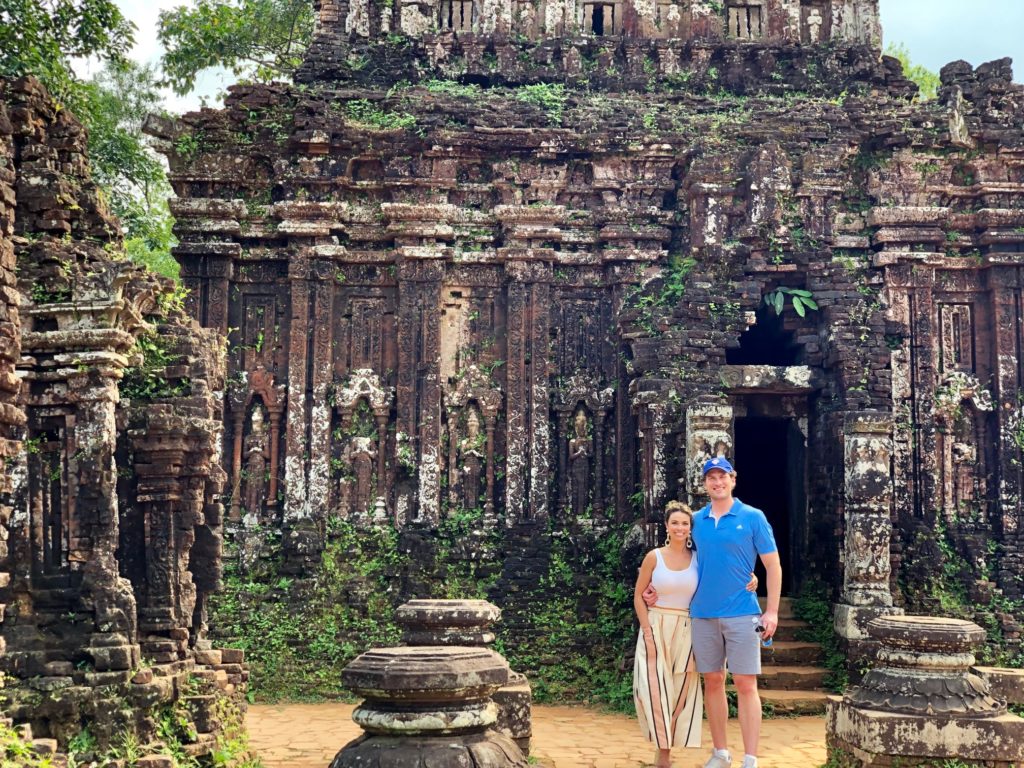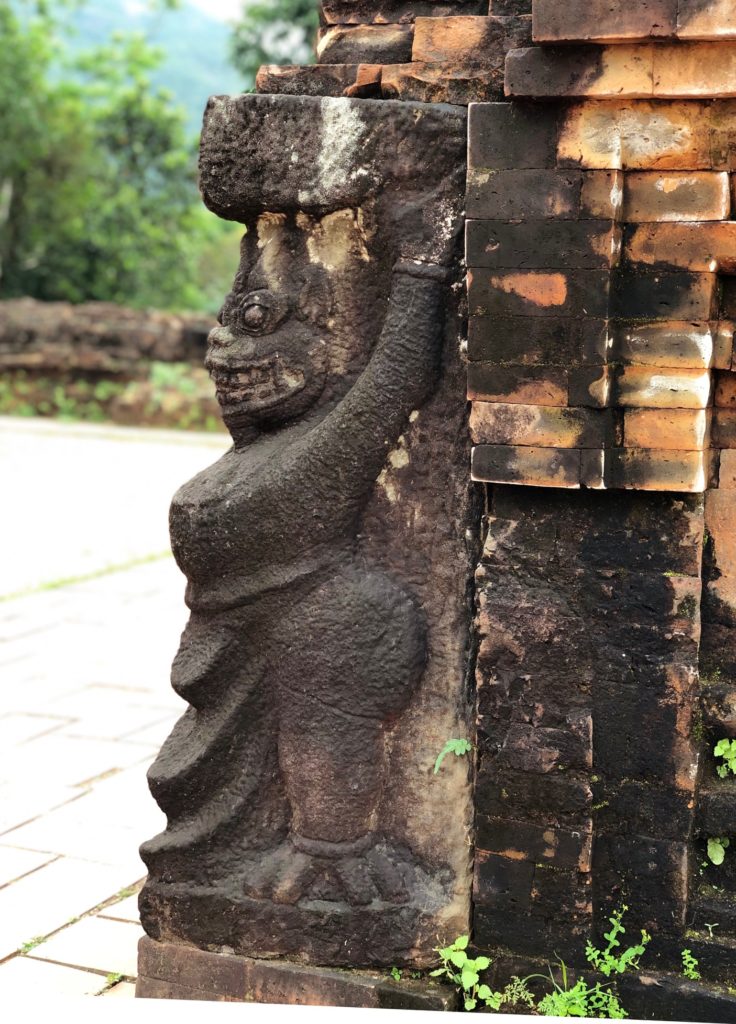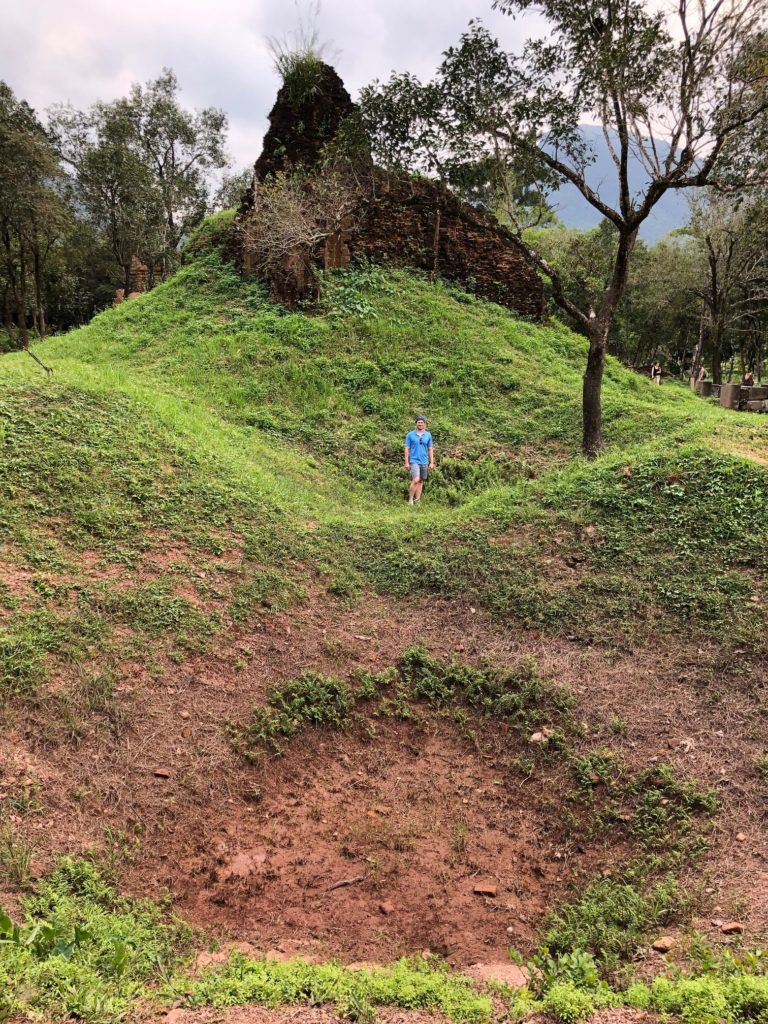 After our marvelous tour with Mr. Kim, he treated us to chicken feet soup. Walker was a big brave boy and slurped it up and I politely sipped the broth, which was actually delicious!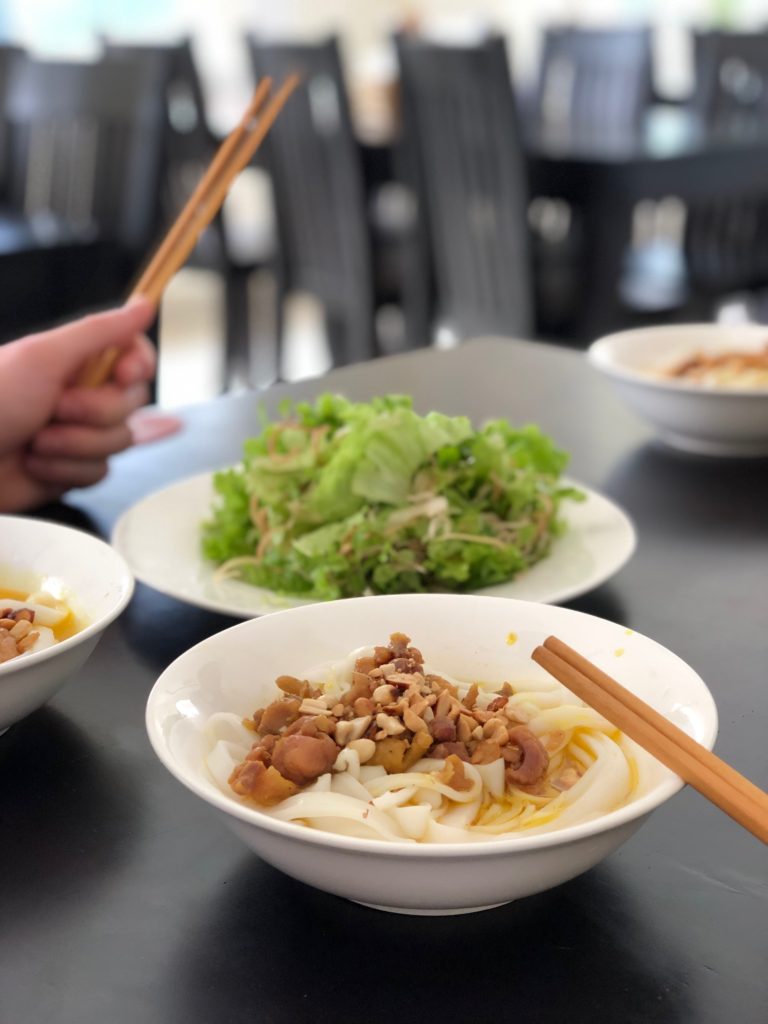 After our afternoon snack at the sanctuary we took a dragon boat down into old town Hội An . Mr. Kim dropped us off at a silk factory in old town Hội An where we were able to tour the factory which was pretty crazy to see! We also bought a few silk ties for Walker in the gift shop.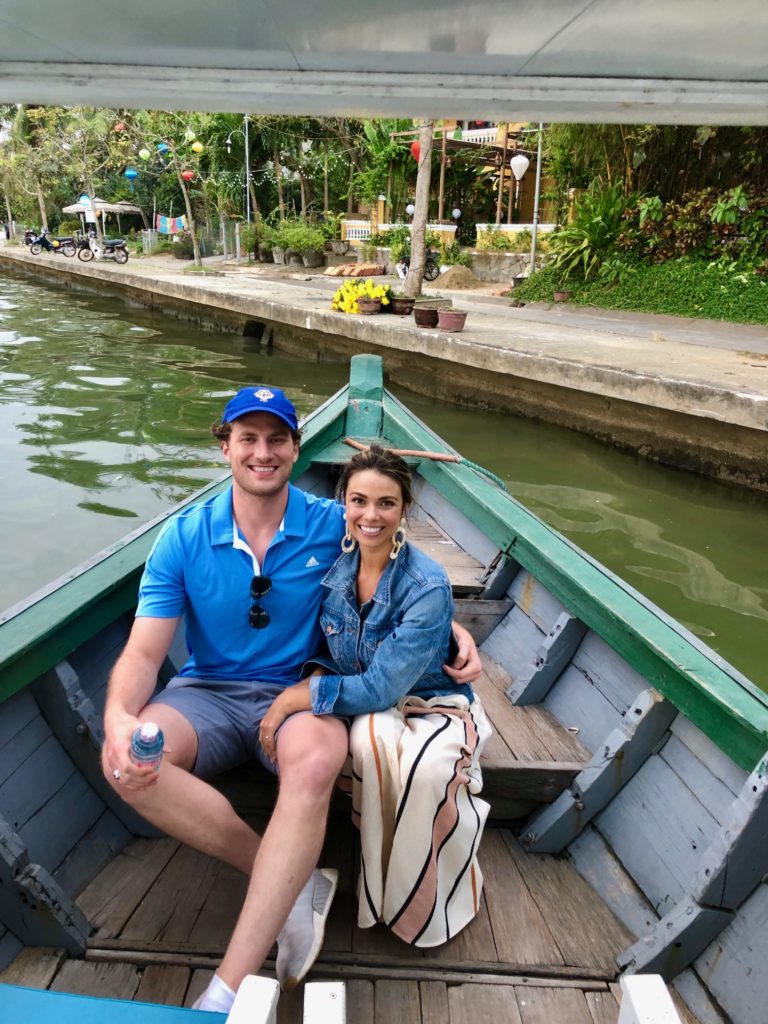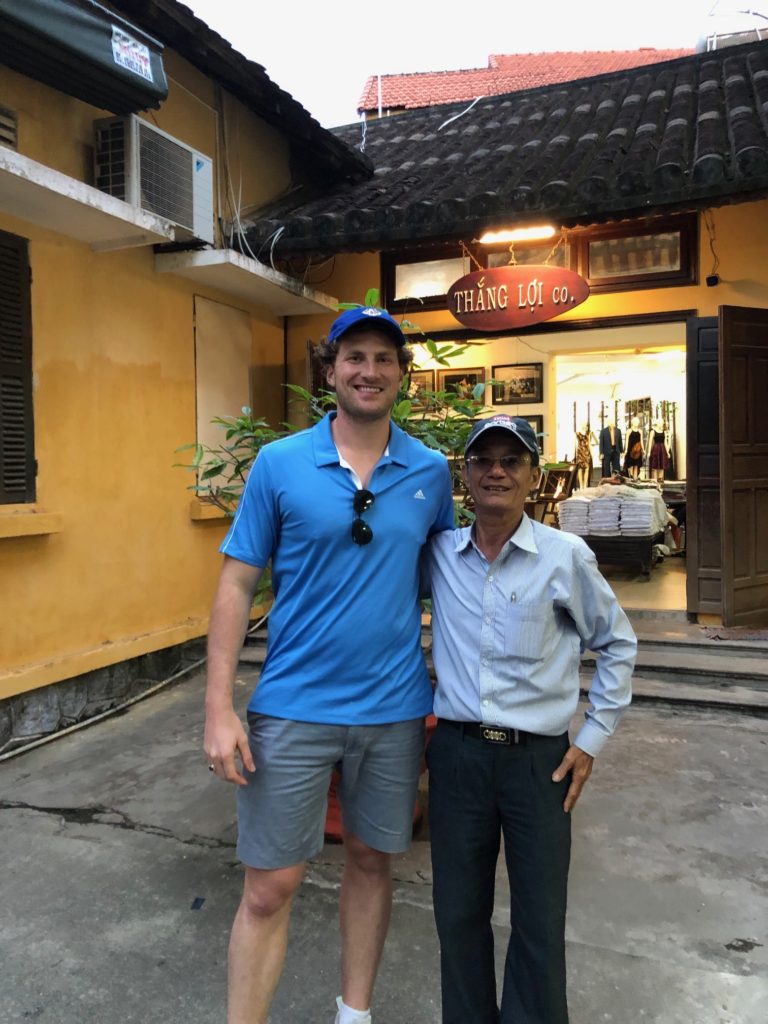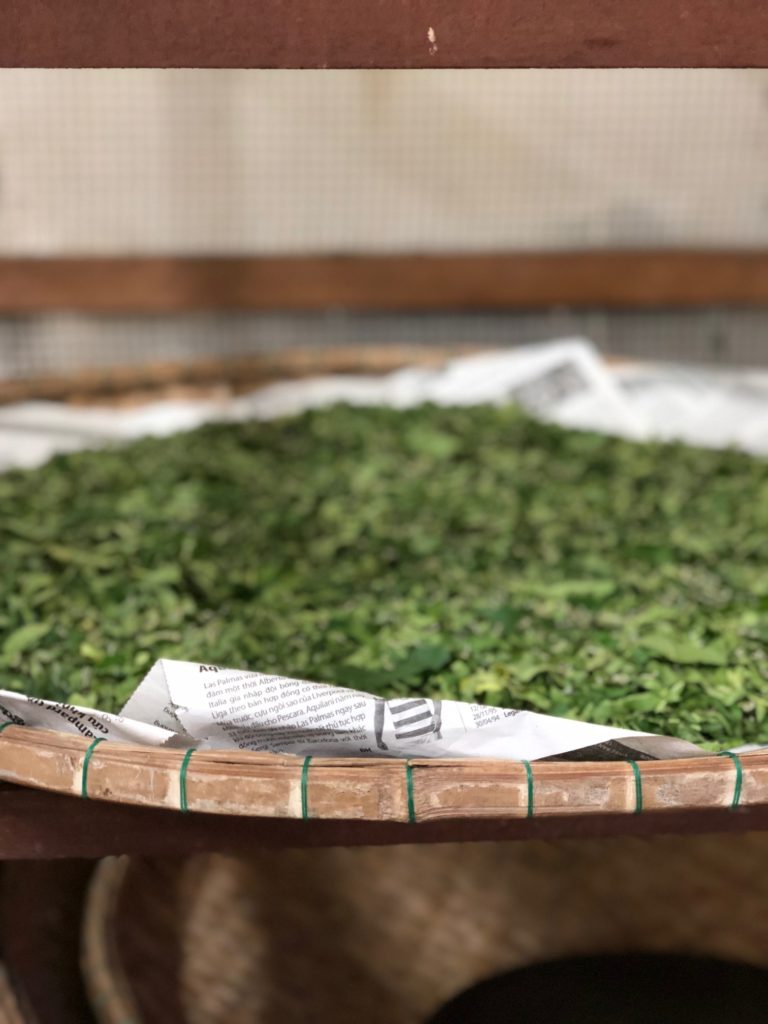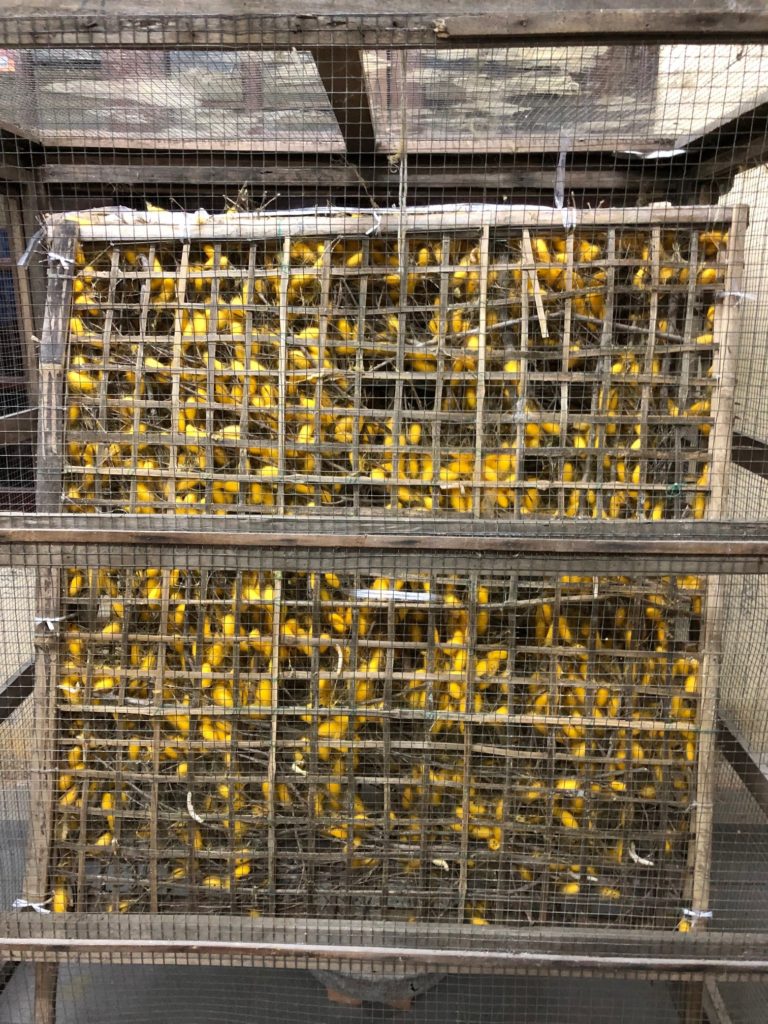 Next we strolled through the breathtaking streets of Hội An. The entire city lights up at night in a really magical way. Colorful lanterns are floating down the river while equally beautiful lanterns float above your head (they are these little balloon like creations) and all the light reflects off the river to create this Disneyland-like image that reminded us in the best way possible that we were not in Kansas (or Dallas) anymore.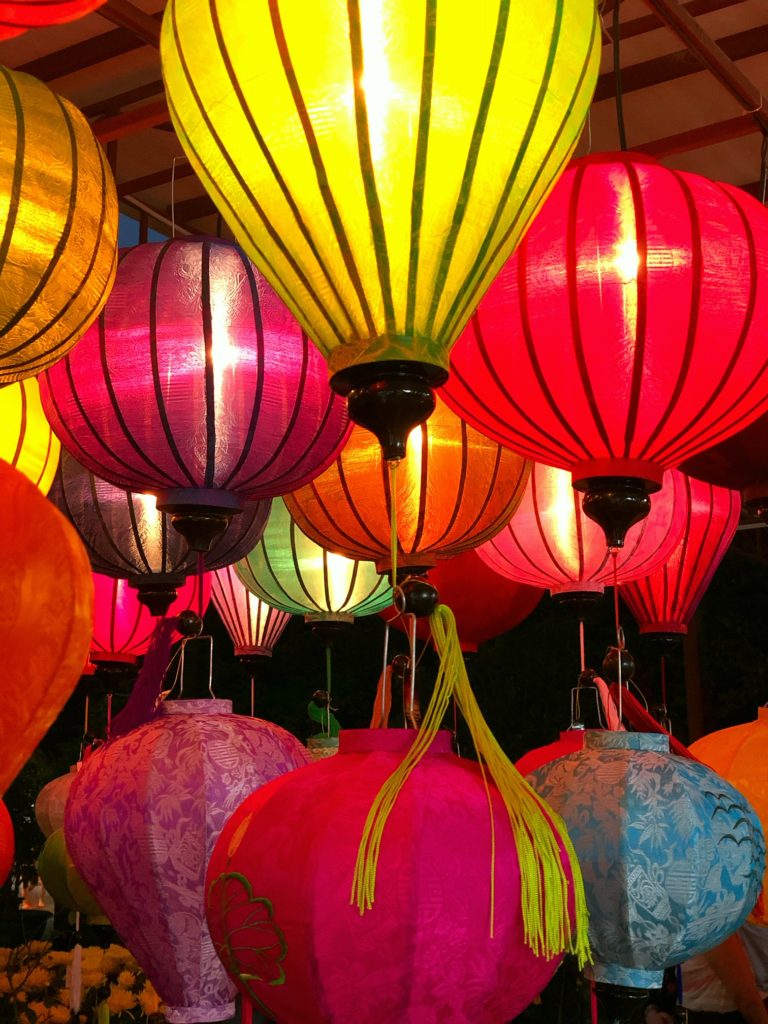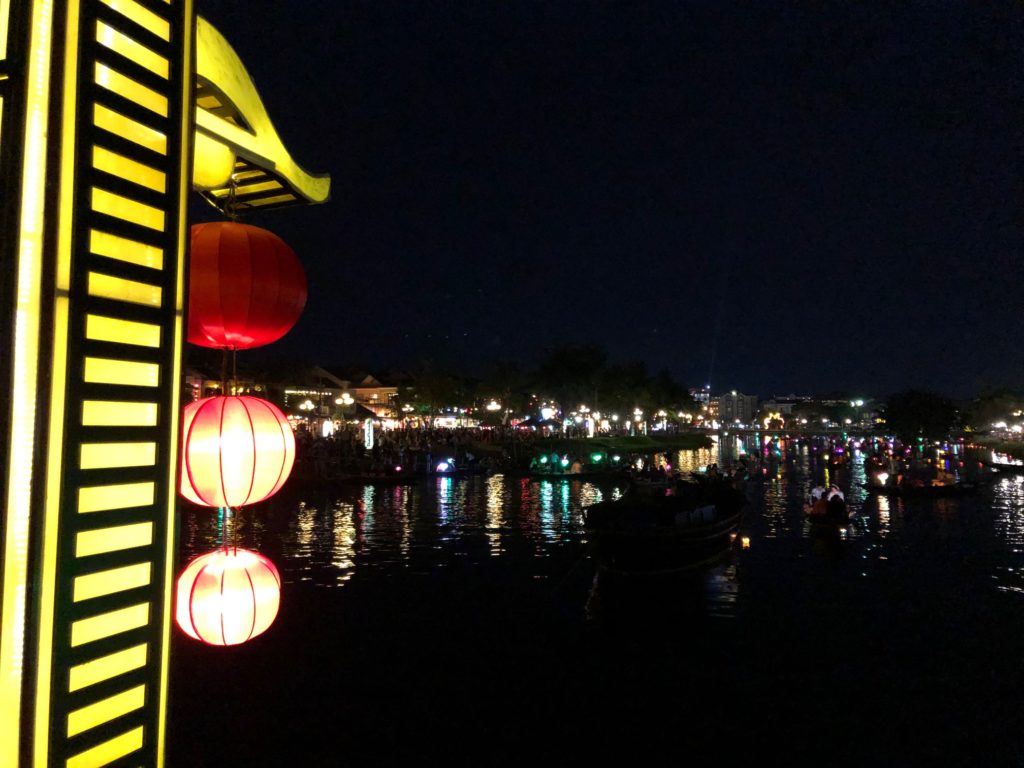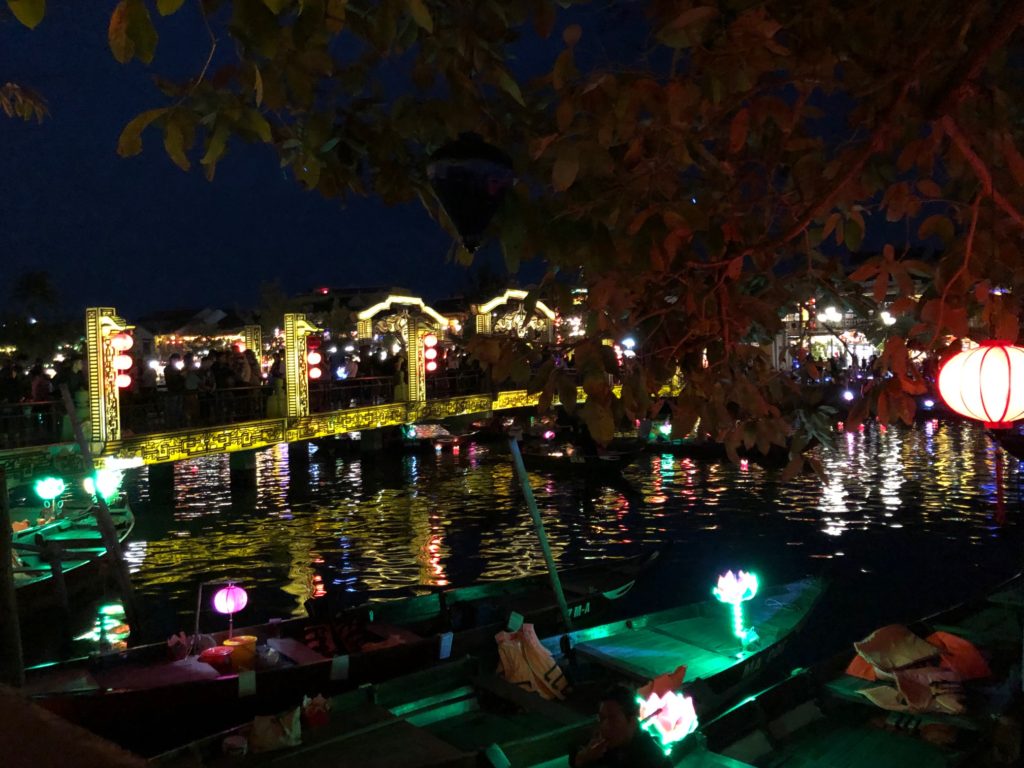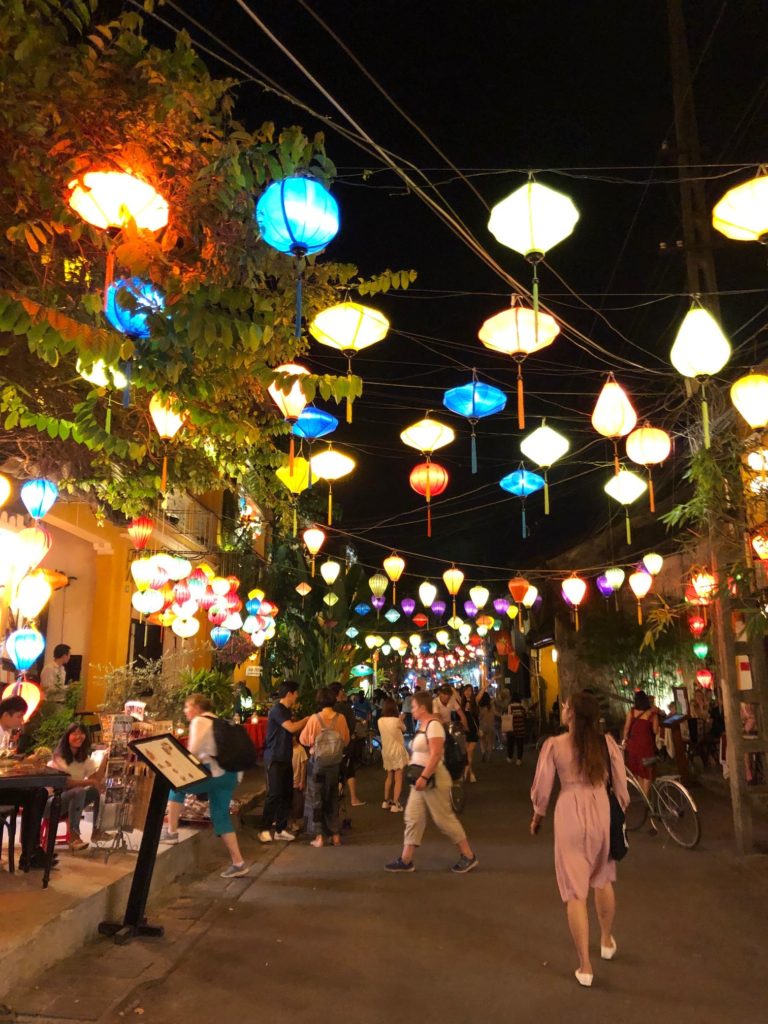 We had worked up an appetite and had dinner on the balcony of a charming restaurant over-looking the streets of Hội An called Little Faifo. We started with a delicious green papaya seafood salad. For my entrée I had BBQ ribs which were divine and Walker had the fish special. For dessert we split the fried banana. Yum!
We arrived back to our room at the Koi Resort and Spa to a bathtub filled with beautiful and fragrant flowers and a chilled bottle of champagne, which was so thoughtful and also well enjoyed!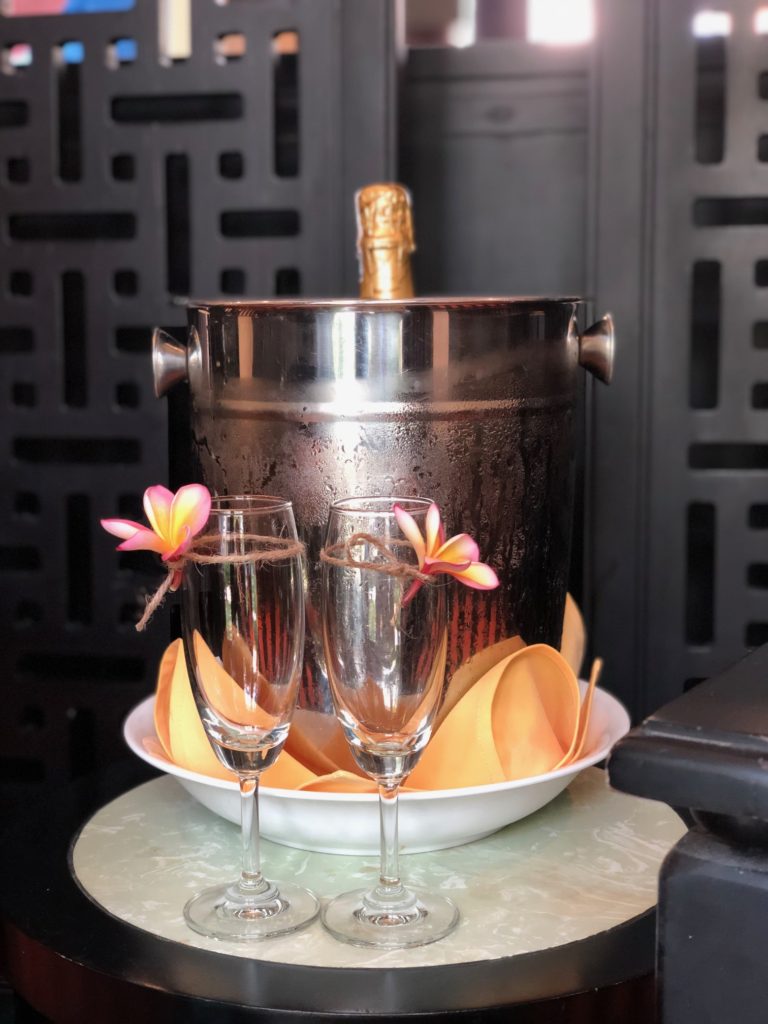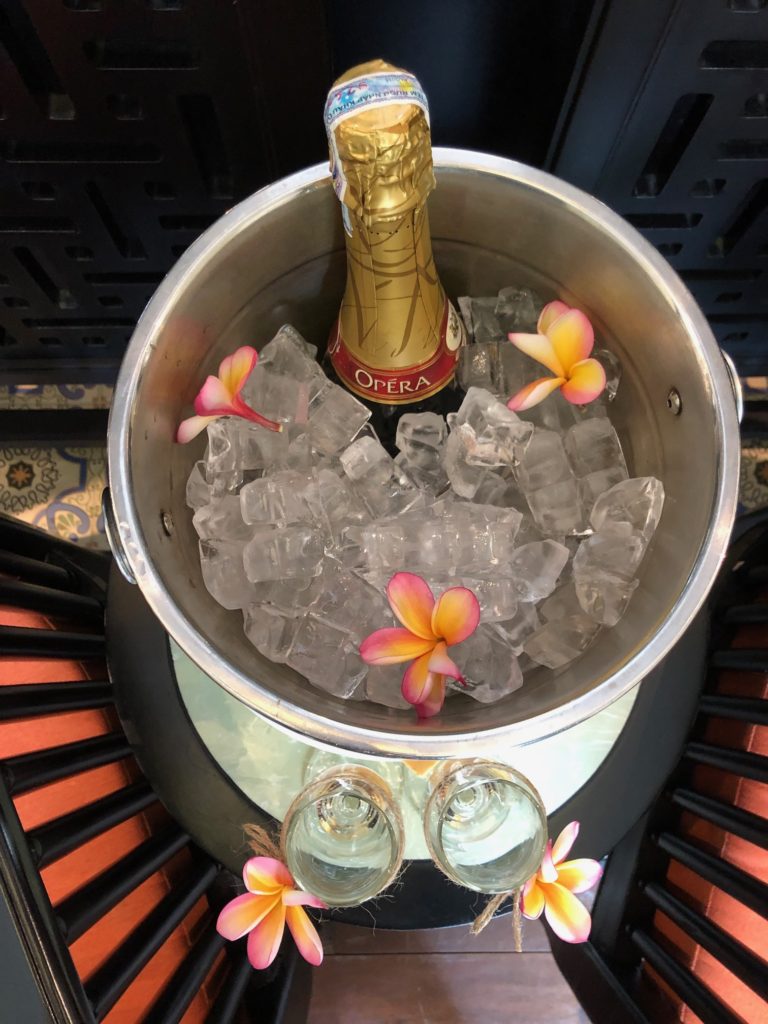 The next morning we enjoyed a few relaxing cups of coffee and tea on our waterfront deck. We were in such a rush to get on our tour the day prior we didn't have a real chance to soak in the beauty of our room and the hotel itself. The room was pristinely decorated and on the water. The view from the bed was simply beautiful!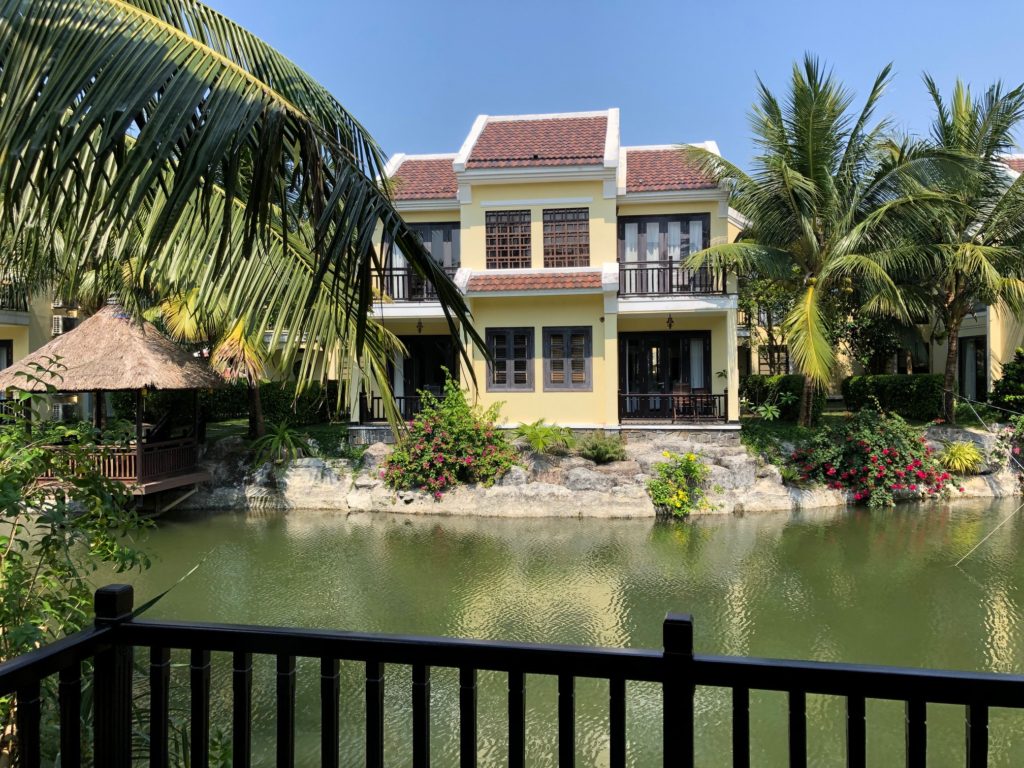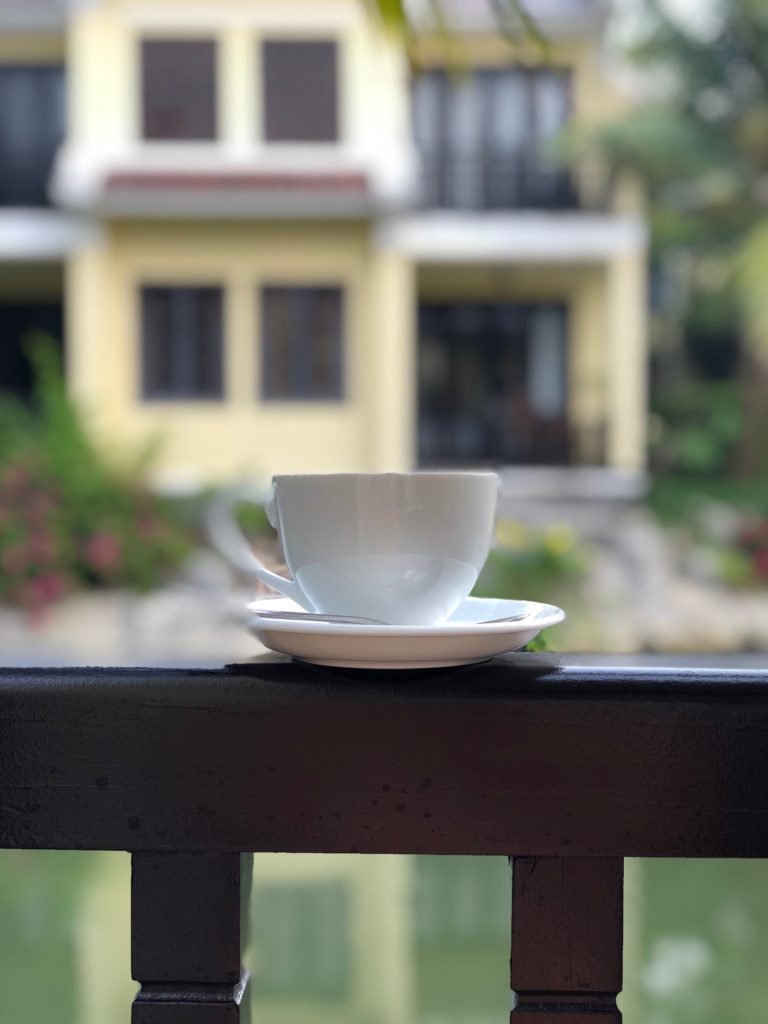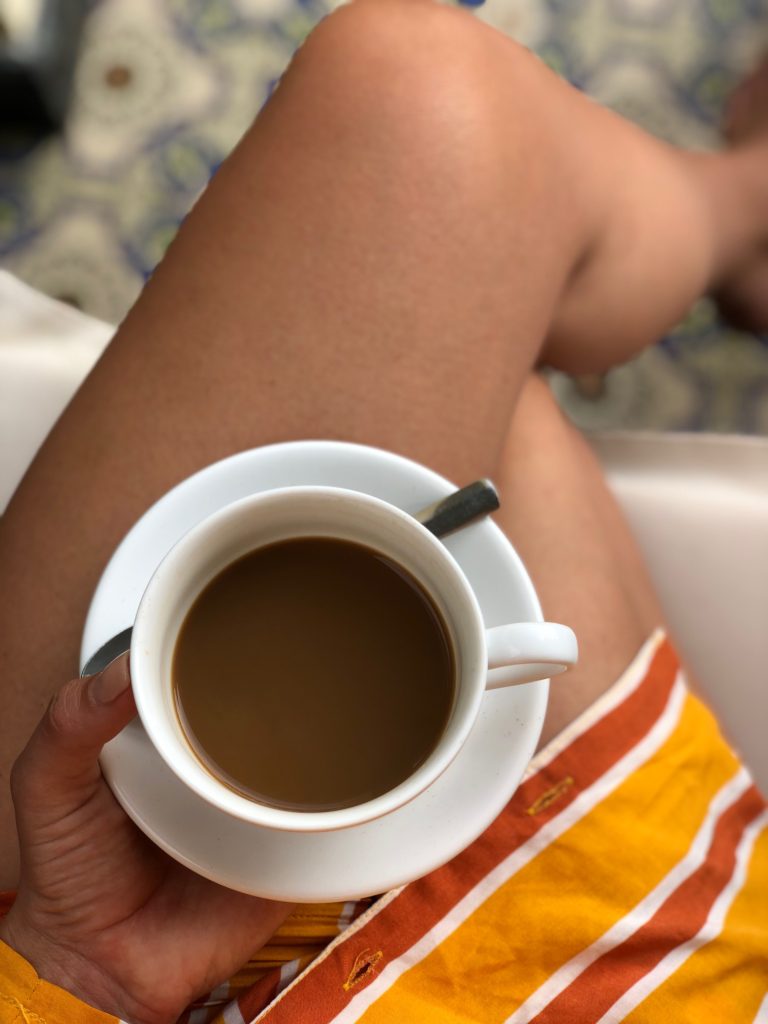 shop the look:

After a much needed relaxing morning on our deck we walked over to the hotel's restaurant for a beautiful breakfast buffet that offered a plethora of both local and Western delights!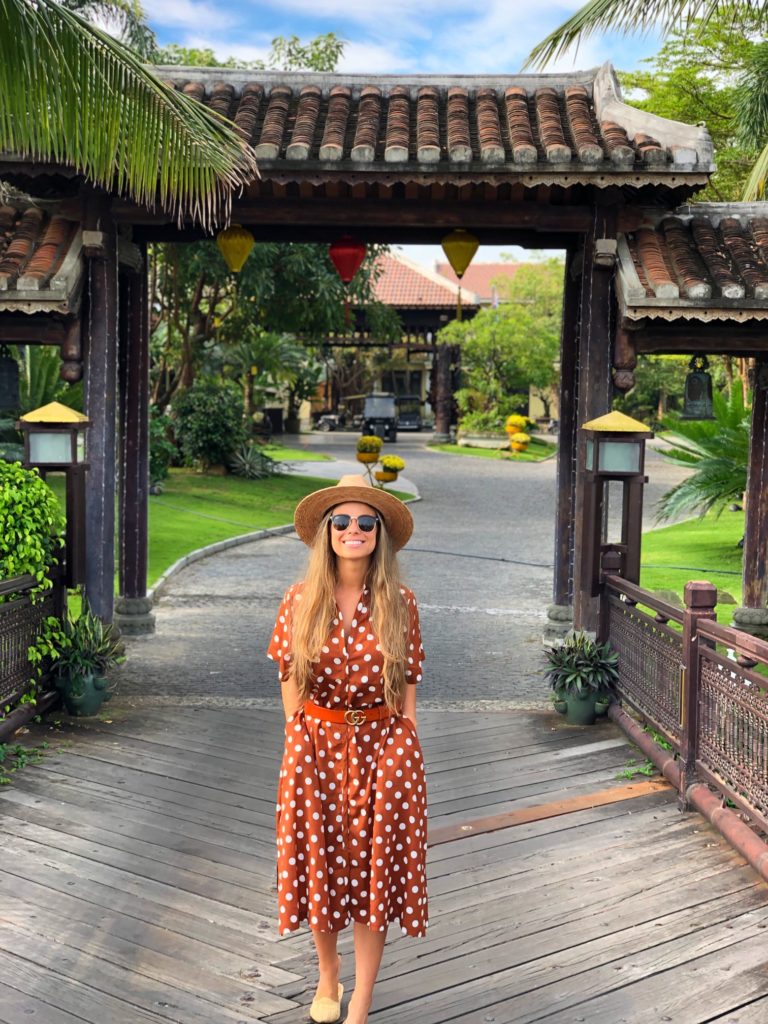 shop the look: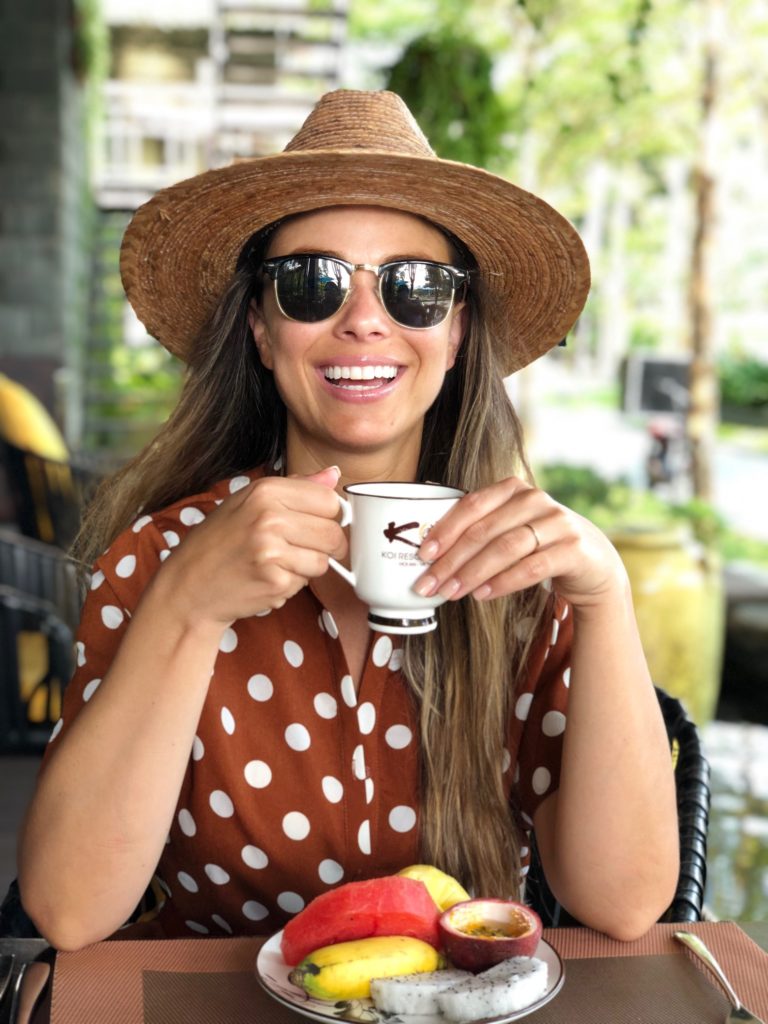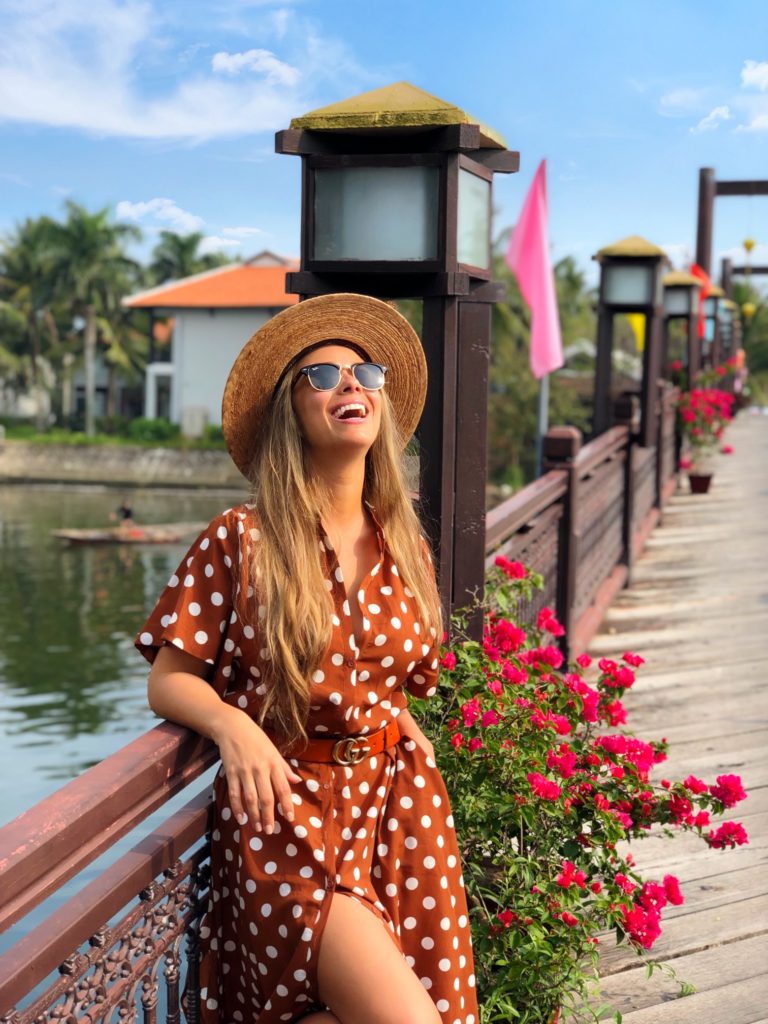 shop the look:

After breakfast we hit the beautiful spa pool which was just what the doctor ordered! The pool was right on the water and it was so beautiful and tranquil. We sipped spicy cocktails and relaxed all afternoon. We had lunch poolside at the spa's restaurant as well: we split a spicy beef salad and beef tacos and both enjoyed extra helpings of carefree living.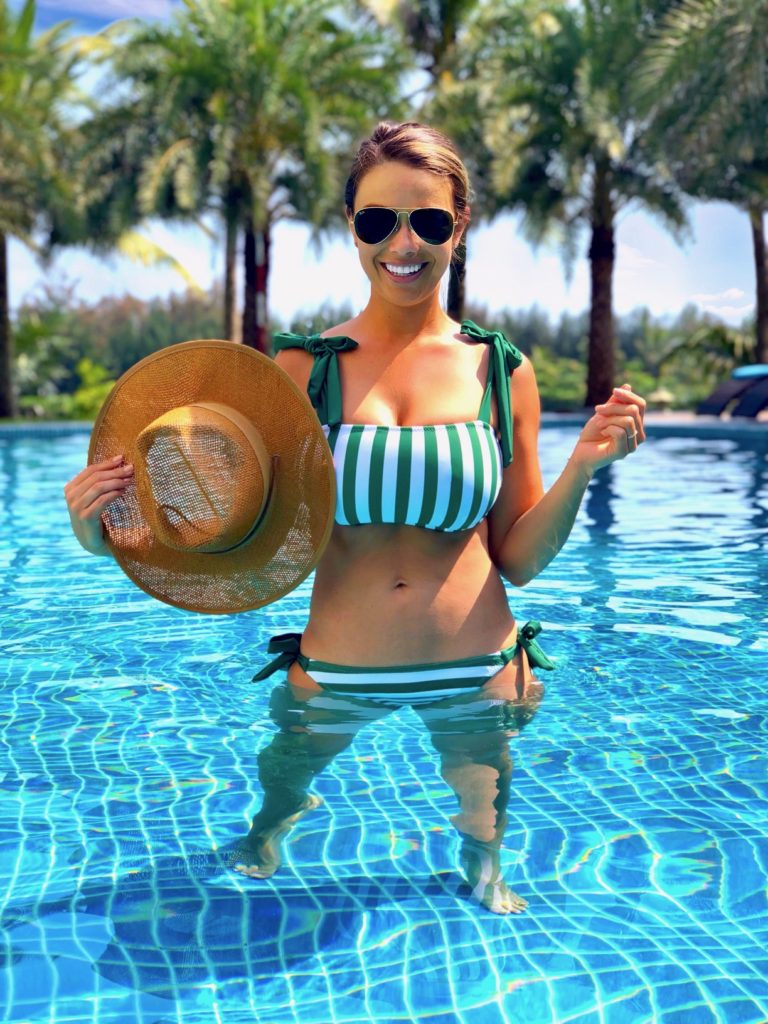 shop the look: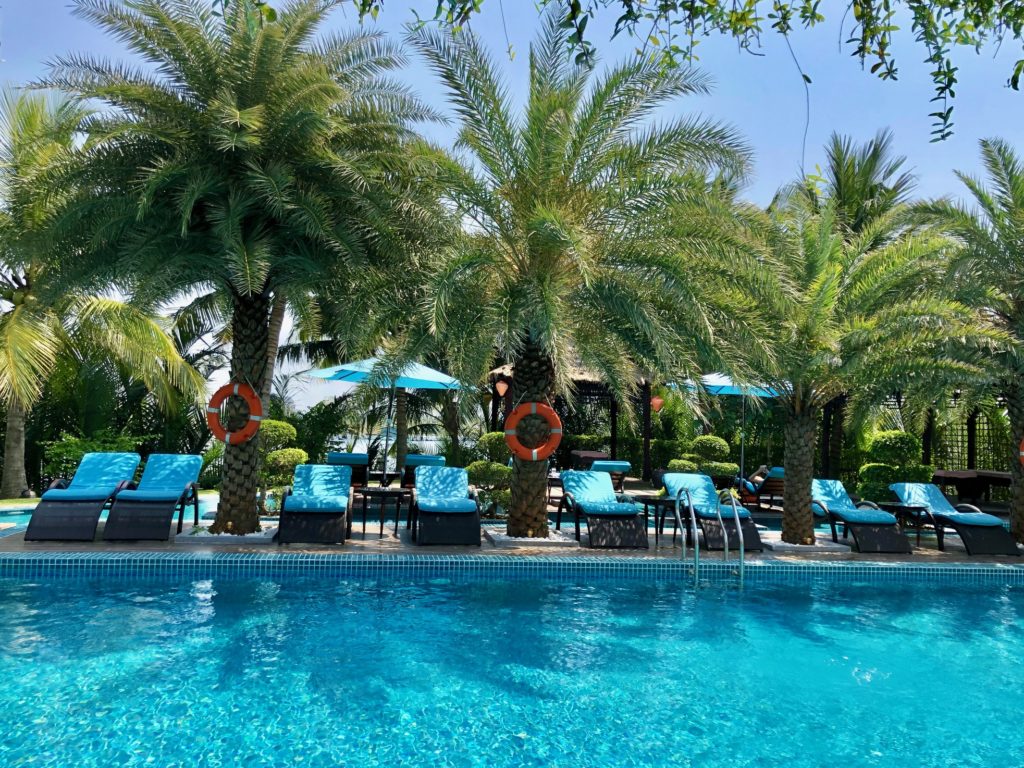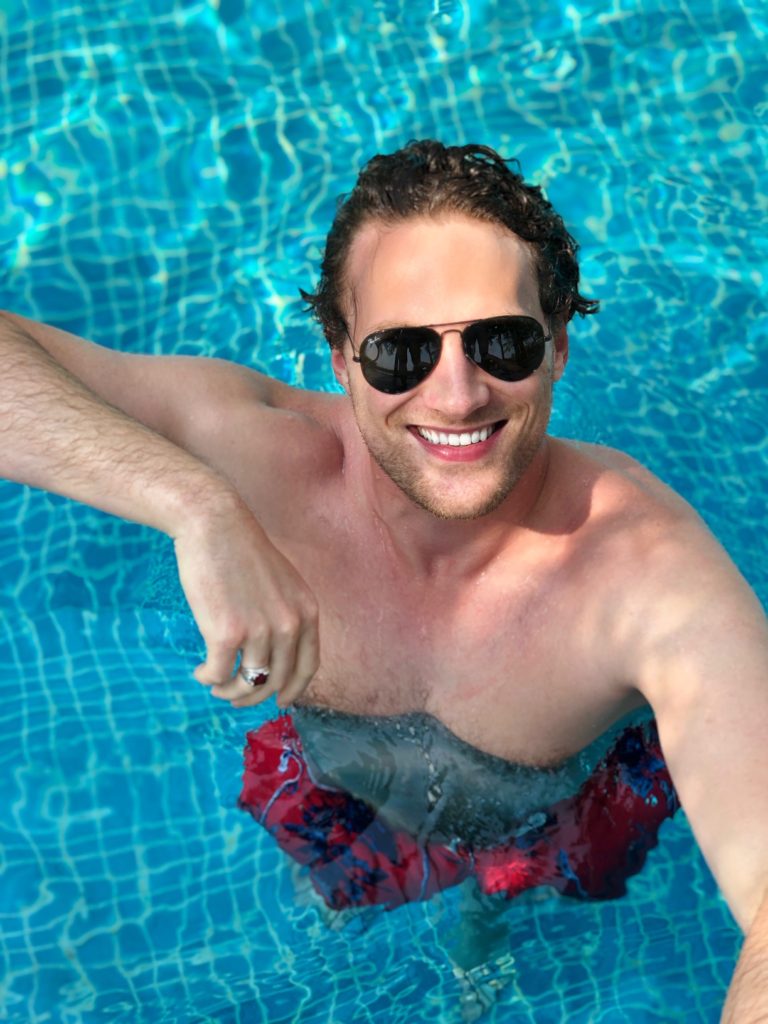 In the late afternoon we checked out the hotel's beach and had happy hour at the main pool's bar.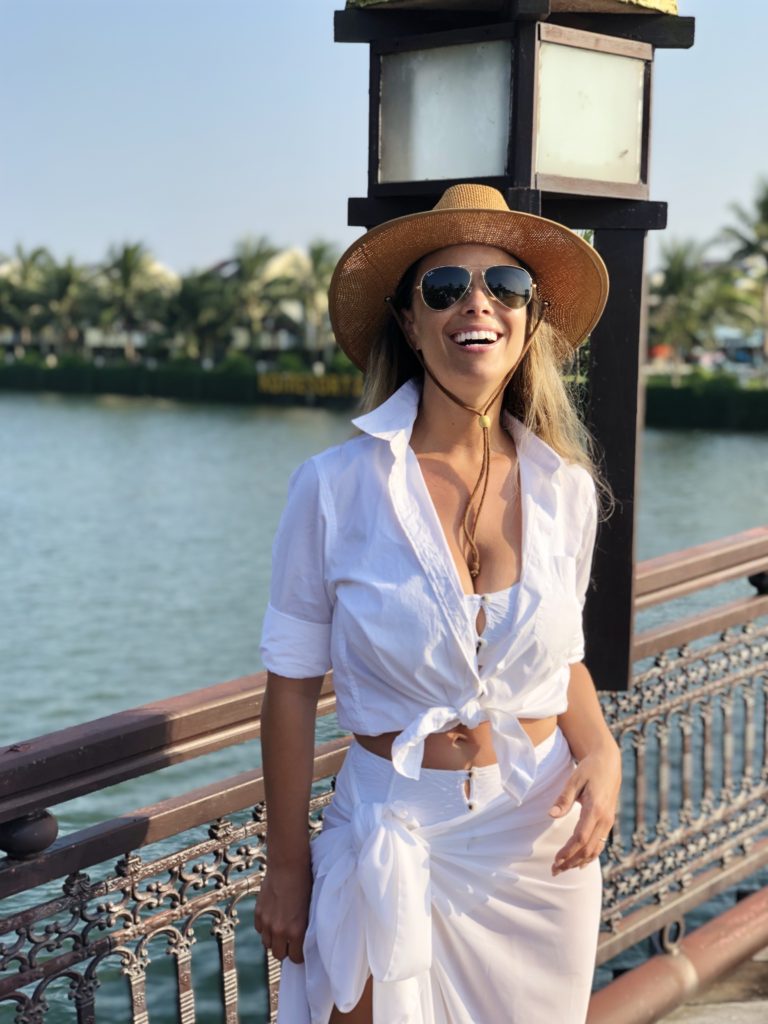 shop the look:

shop the look: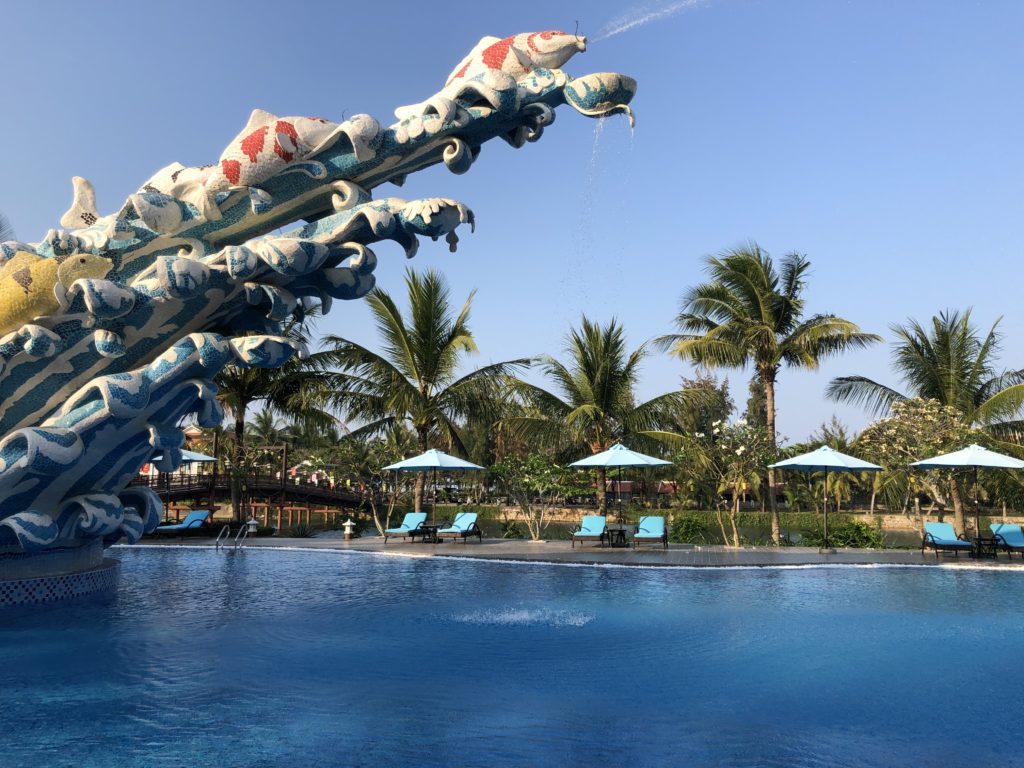 For dinner, we ate at the hotel's restaurant which was delicious. We were mesmerized by the koi fish inhabited a stream surrounding the restaurant. As we ate, we also fed the koi fish wish made them jump and splash out of the water which was a beautiful sight! We both had lamb for our entrees. Mine with a curry sauce and Walker's with a rich wine glaze. For dessert I had an amazing passion fruit crème brulee and Walker had cheesecake. His favorite!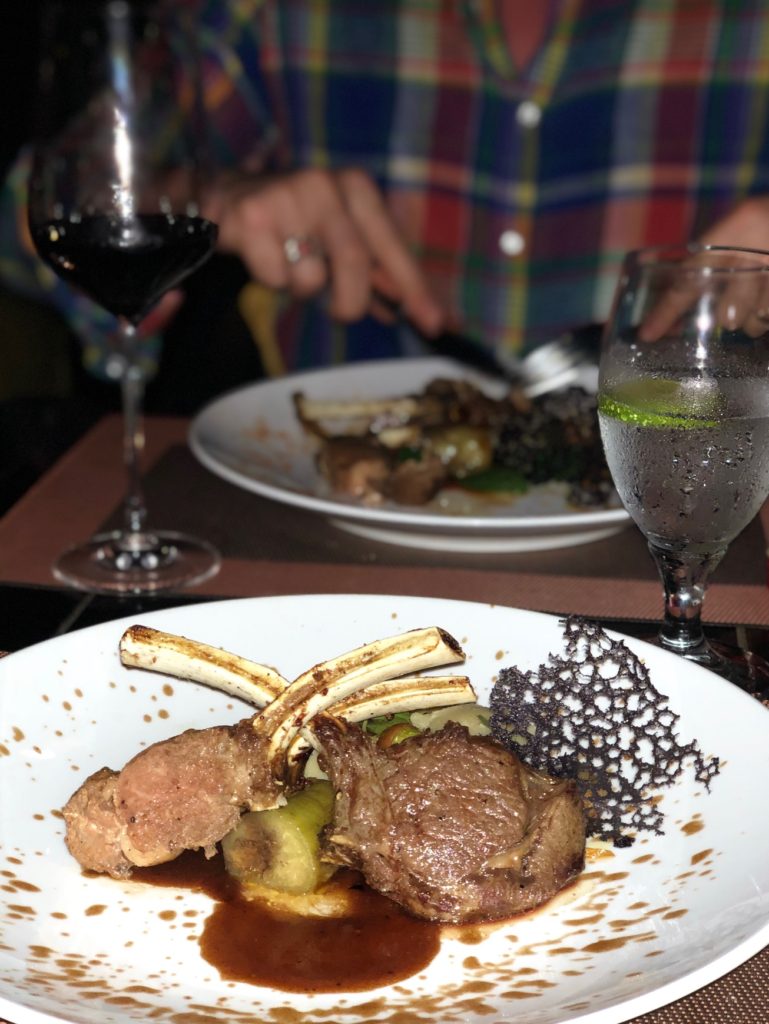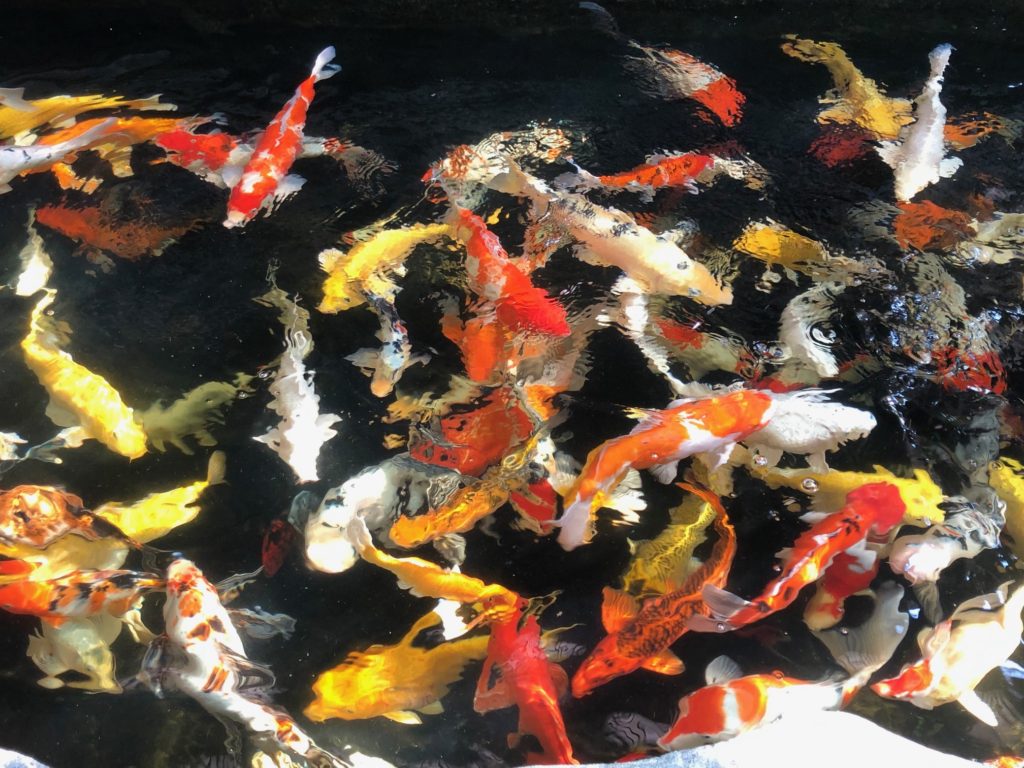 We slept like babies in our beautiful room and the next morning we enjoyed more R&R and coffee on our patio and the scrumptious breakfast at the hotel's restaurant.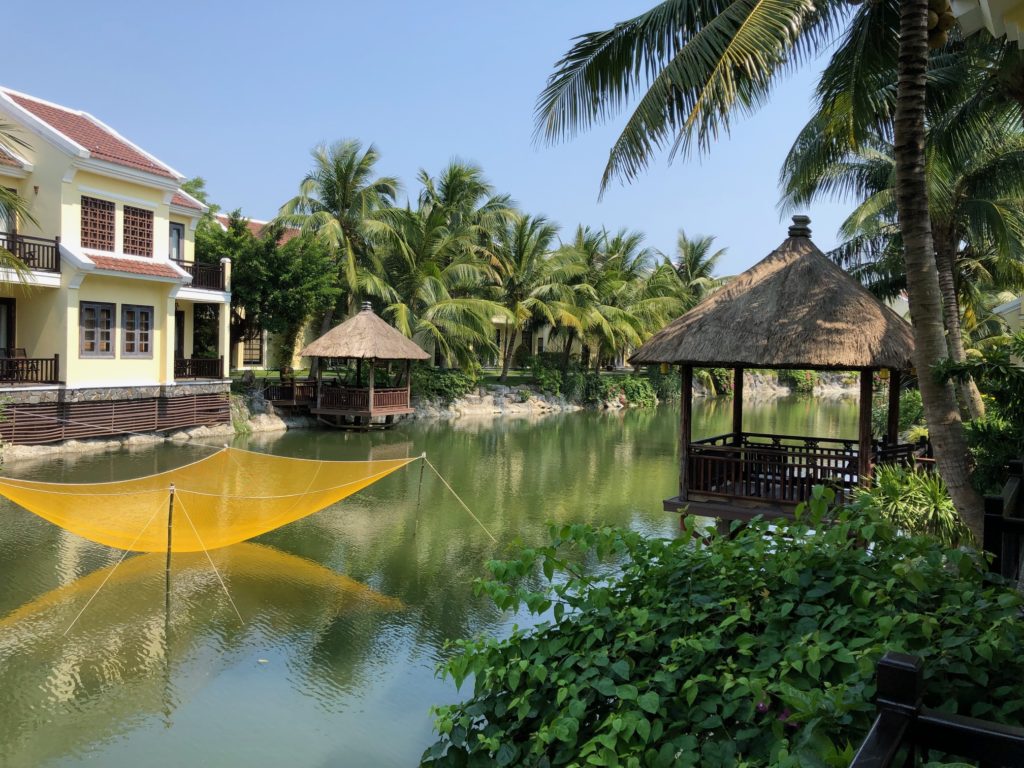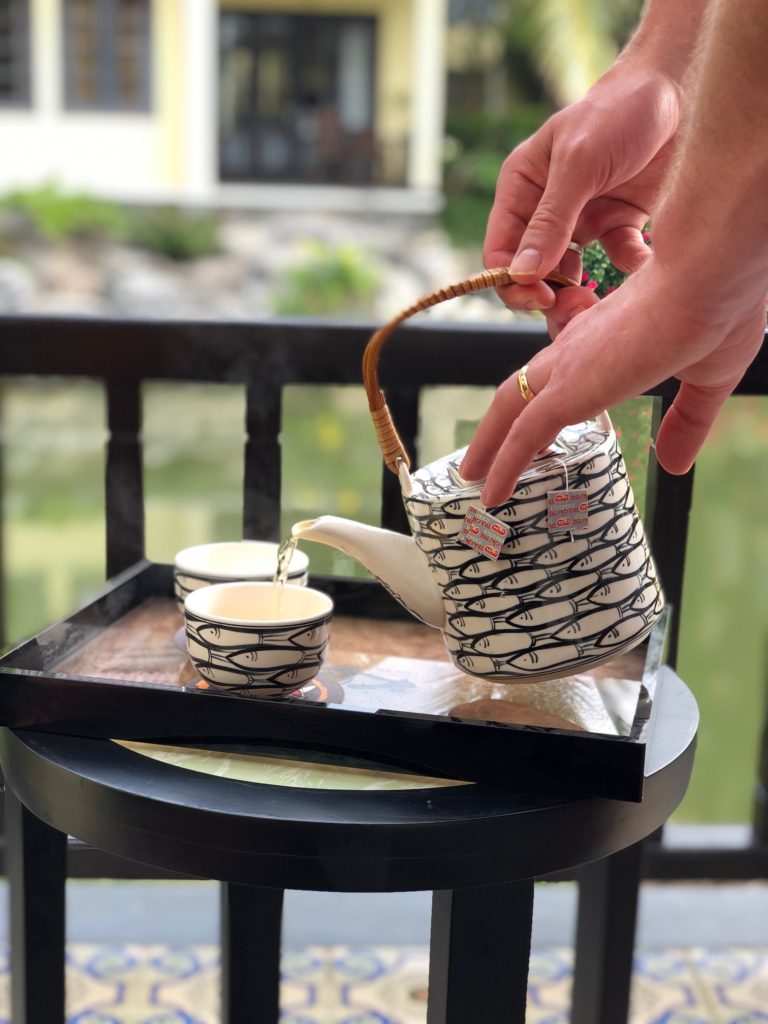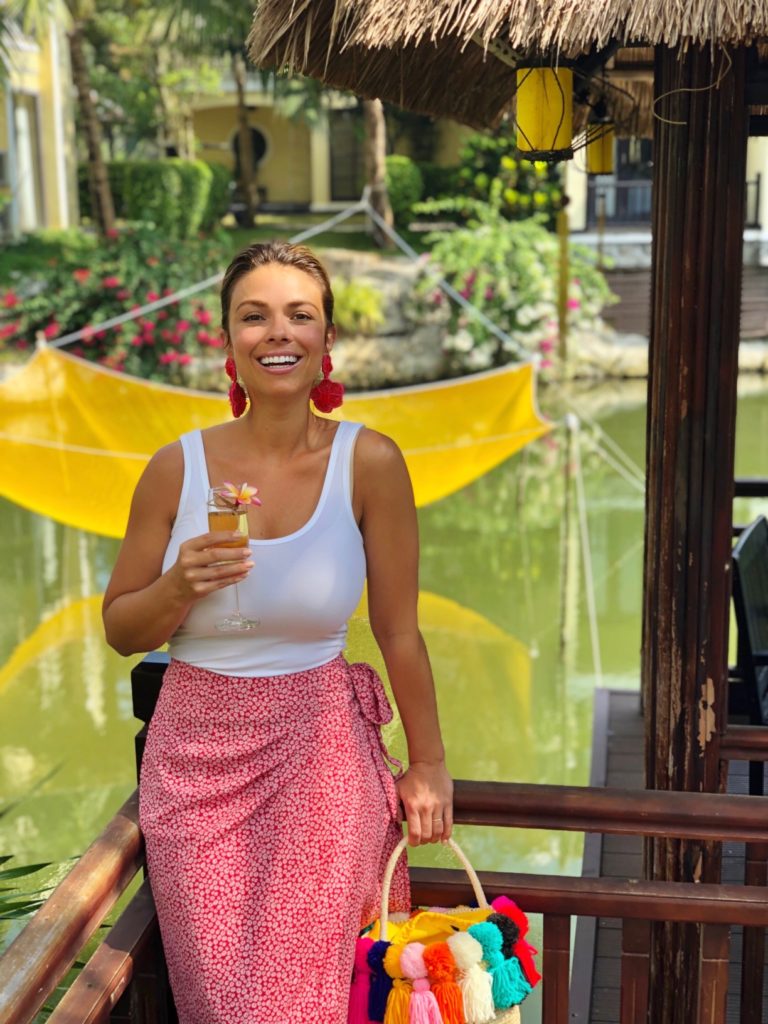 shop the look: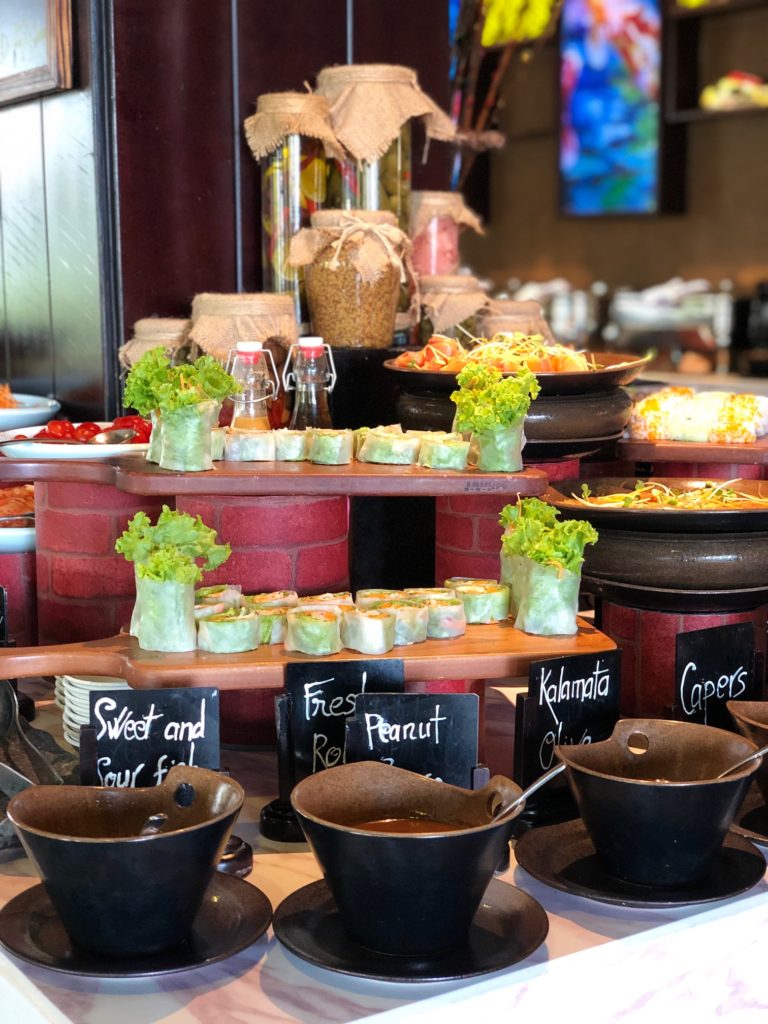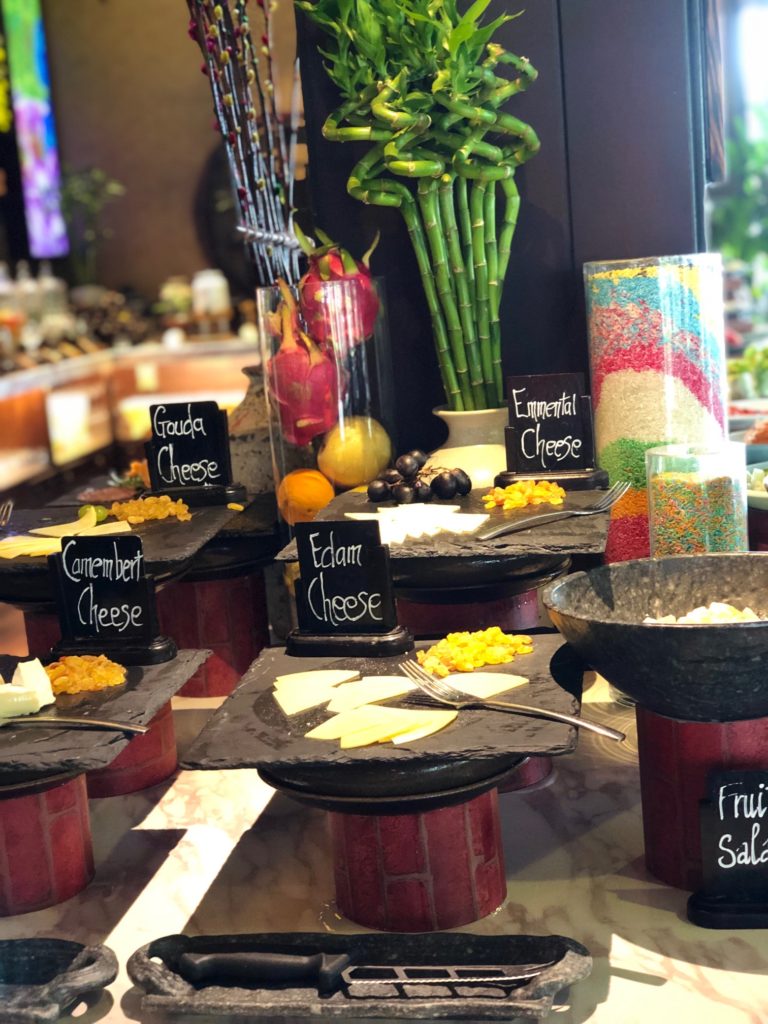 Koi Resort and Spa offers shuttles into and back from Old Town so we went into town to do a little exploring! Our first stop was the Japanese Covered Bridge (Cau Chua Pagoda). The Japanese Covered Bridge is one of the most famous tourist attractions in Hội An. This bridge was built in the early 17th century and is a perfect example of Japanese architecture of that time period. Right outside the bridge we stopped into an antique shop and I bought a beautiful 100 year old ginger jar. I collect ginger jars and adding one from Vietnam to my collection was very exciting!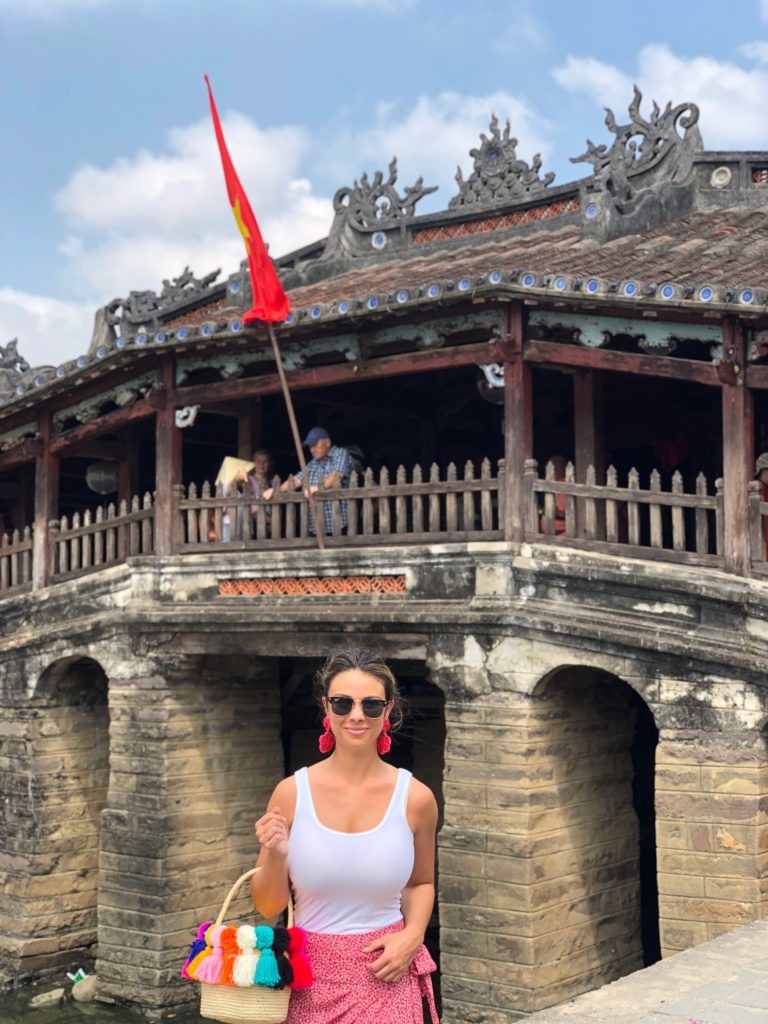 shop the look:

Next we visited the Cantonese Assembly Hall, an ornate, historic building featuring a garden, statues & a fountain with a dragon made of pottery and was built in 1885.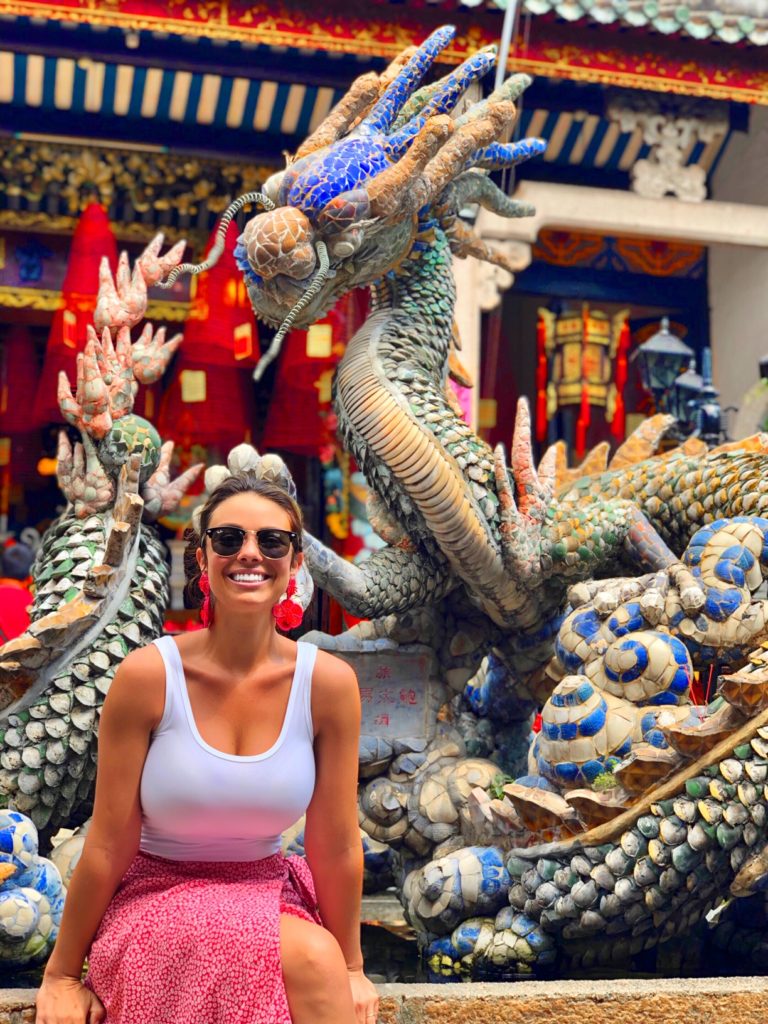 Our third stop was Fukian Assembly Hall which is an elaborate Chinese-style temple founded in 16