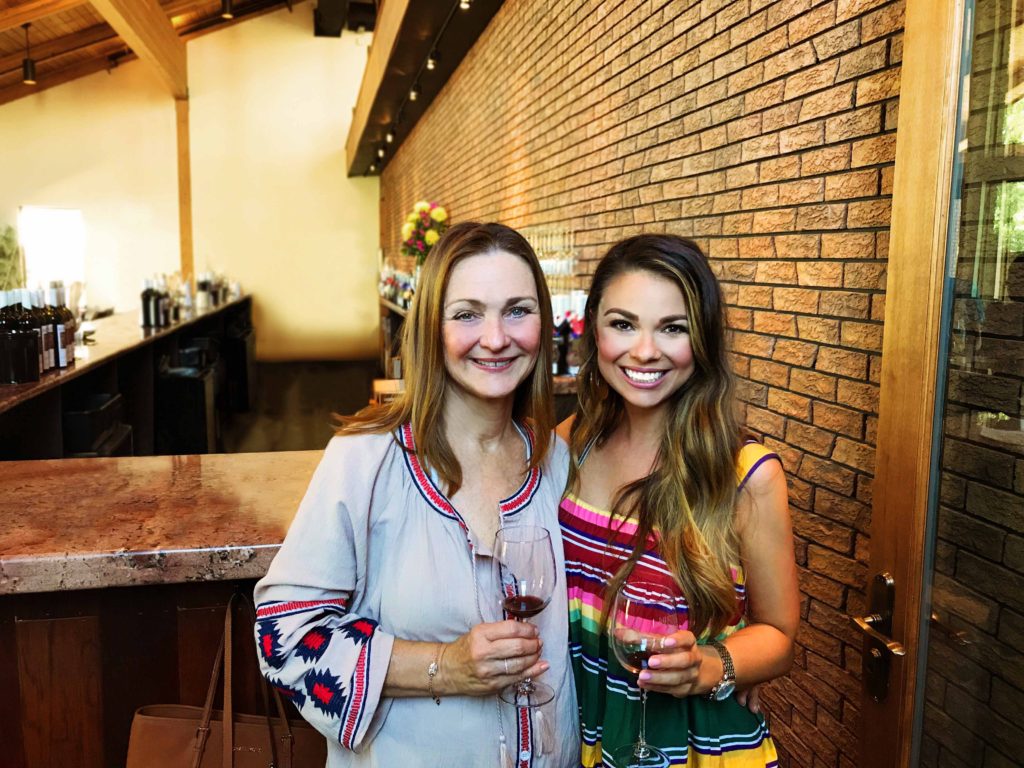 A few weeks ago, my mom and I took a fun girls' trip to Colorado. While in Denver, we went on a wine tasting tour with Mile High Wine Tours and had the most amazing time! It's hard to decide which was better: the wine, the food or our tour guide, Kim. Keep reading for a full run down of our wine filled day in the Mile High city.
Mile High Wine Tours offer guided wine tours through the beautiful city of Denver in an intimate yet social manner so its guests can experience and taste the best that Denver urban wineries have to offer.
Guests get to visit a few charming, hidden gem wineries with their own private driver and expert tour guide. They offer tours Thursday through Sunday, both in the early afternoon and evening.
The tours include food, an abundant amount of wine tastings at every winery, a gourmet meal, cheese and cracker pairings, a tour guide and chauffeured luxury transportation. Mile High Wine Tours takes their guests to Balistreri Vineyards, Infinite Monkey Theorem, Wild Women Winery, Silver Vines Winery, Bonacquisti and many others! On our wine tour we got to visit Balistreri, Bonacquisti and Wild Women.
Mile High Wine Tours offers two pick up locations for its guests: Wild Women Wineries or Union Station. Since Wild Women Winery was walking Distance from our hotel, we could actually see it from our window, we opted for that location.
Kim, our chauffeur and tour guide, met us at Wild Women Winery a little before 11am and we were off to pick up the other four guests at Union Station. Our first stop was Balistreri Vineyards.
Balistreri Vineyards is a family-owned and operated winery whose award-winning wines are traditionally handcrafted, without sulfites or other chemicals. Their beautiful tasting room and vineyard is located just 10 minutes from downtown Denver! While at Balistreri, we sampled 17 amazing wines! Some of my favorites were the Colorado Malbec, the Colorado Syrah, the Colorado Cabernet Sauvignon and the Balistreri Port. The Colorado Malbec exploded with clean and vibrant red fruit flavors. The Colorado Syrah, made from grapes grown at Horse Mountain Vineyard, would pair perfectly with rich red meats like lamb. The Colorado Cabernet Sauvignon lead with fruit forward flavors and tasted like it was made for grilling season. Finally, the Balistreri Port offered hints of butterscotch, fig and date flavors that left a lasting impression. The winner in my book though was Balistreri Vineyards' Colorado Cherry. I am not usually a fan of sweet wines but this barrel aged cherry wine blessed me with aromas of almond, fall spices, hazelnuts and obviously cherries! This wine was so good that my mom and I had to buy a couple bottles of it! During our tastings we snacked on delicious cheese and crackers provided by the winery.
Half-way through our tastings, we broke for lunch. Unable to decide on just one item, mom and I decided to each order something different and split it! We chose the roast beef sandwich with horseradish crème, caramelized onions, arugula and provolone cheese and the shredded chicken sandwich with baby kale and fennel slaw, chipotle berry compote and provolone cheese. Yum! Both of the sandwiches were so tasty we almost licked our plates!
After lunch and our final few tastings, we took a tour of the winery. The whole operation was so impressive and made even more so by the fact that all of Balistreri's amazing work is done by hand.
Our next stop was Bonacquisti. Opened in the fall of 2006, Bonacquisti Wine Company is a family-owned, urban winery located in a funky, industrial warehouse space. We were so lucky to have the owner, a certified Sommelier and winemaker Paul Bonacquisti doing our pouring!
At Bonacquisti my favorites were Vinny No Neck, a Sangiovese, named after Paul's son, Vinny, and the peach sangria, the perfect summer patio pounder.
Our third and final stop was Wild Women Winery in Downtown Denver. Turning ten years old this year, Wild Women Winery imports the highest quality crushed juice from vineyards in California's Central Valley. They then blend and handcraft all of their wines onside in their downtown urban winery facility. Sporting sassily named wines like "Skinny Bitch Sauvignon Blanc", you know you're in for a good time at this tasting room!
At Wild Women Winery, my favorites were the Tempranillo, Petite Sirah, Semillon/Sauvignon Blanc blend and the Super Tuscan. Mom and I loved the Super Tuscan so much we each bought a bottle as gifts for my dad and Walker. At Wild Women Wine they can custom print labels for you, so I chose a photo of Lulu for Walker's and my mom chose a photo of her and I for my dad's.
Wild Women Winery was the perfect way to wrap up a perfect day.
I cannot recommend Kim, this tour and Mile High Wine Tours enough! If you are in Denver, a tour with them is an absolute must!
Thank you Mile High Wine Tours for such a beautiful day packed with memories my mom and I will cherish forever!
Kisses and winey wishes,
PS:  Like this post? You'll love this one too!