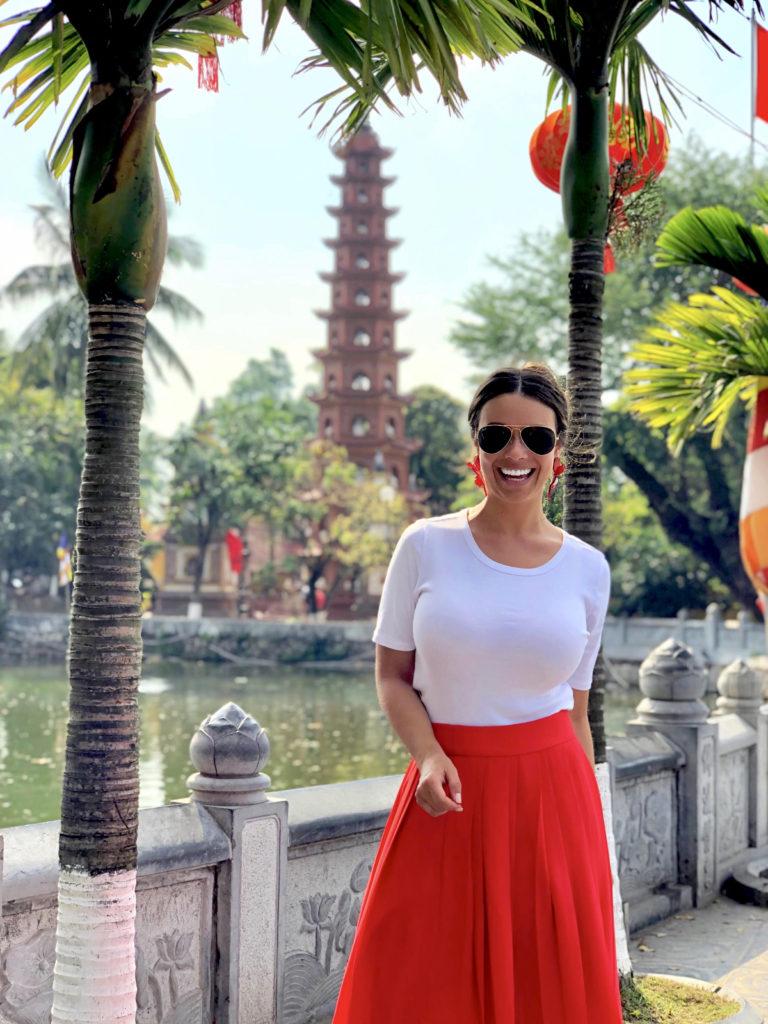 Last week Walker and I returned from Southeast Asia and the first of many stops was Hanoi, Vietnam.  Today's post is a detailed round up of where we stayed, where we ate and what we did!  For a look into our full itinerary click here!
After over a day's worth of travel we landed in Vietnam's capital, Hanoi. We pulled up to the Sofitel Legend Metropole and it was even more stunning in person than online. We were greeted by two helpful bellmen who assisted with our luggage and led us to the immaculately and ornately decorated lobby. Check in was a breeze and we were escorted to our room.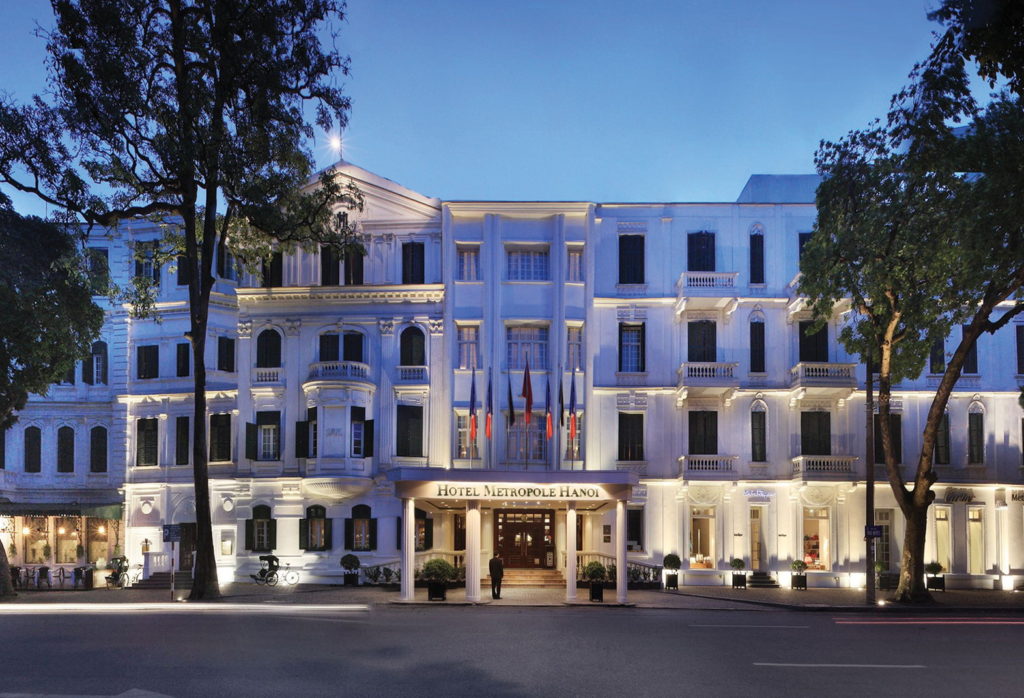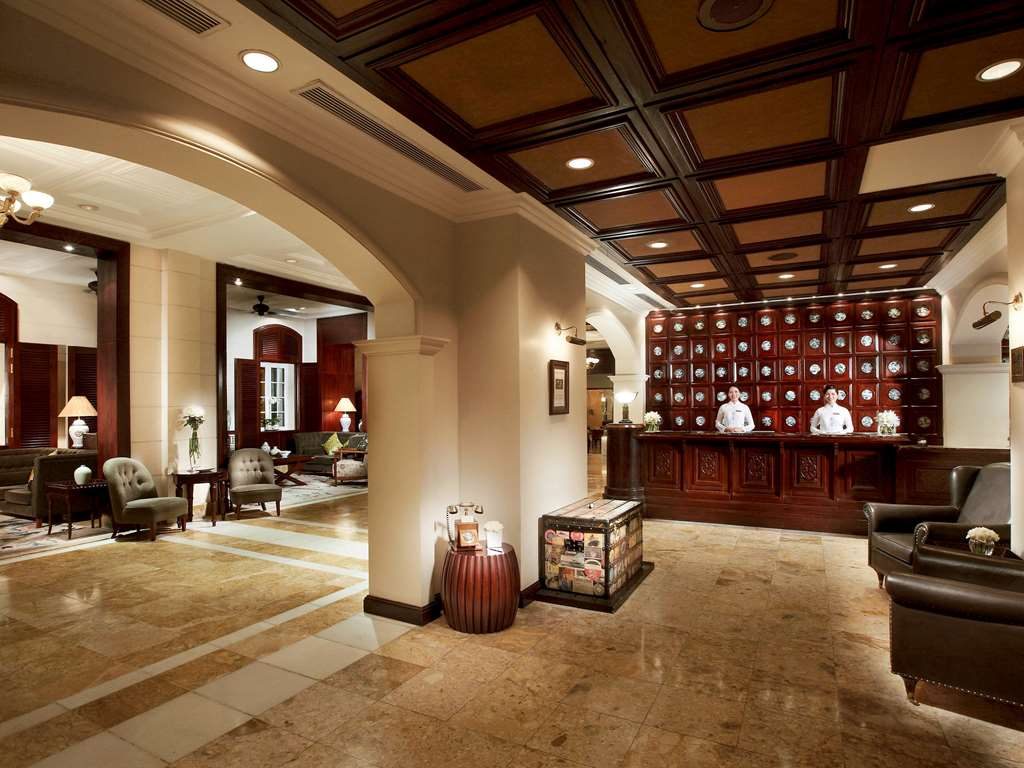 I was given a bouquet of roses and to our surprise our room was elaborately decorated to celebrate our honeymoon. There were candles lit throughout the room, chocolates, sweet treats and fresh fruit, rose petals on the bed and champagne! The attention to detail was like no other and we knew we were in for a 5 star luxury stay at the Sofitel Legend Metropole.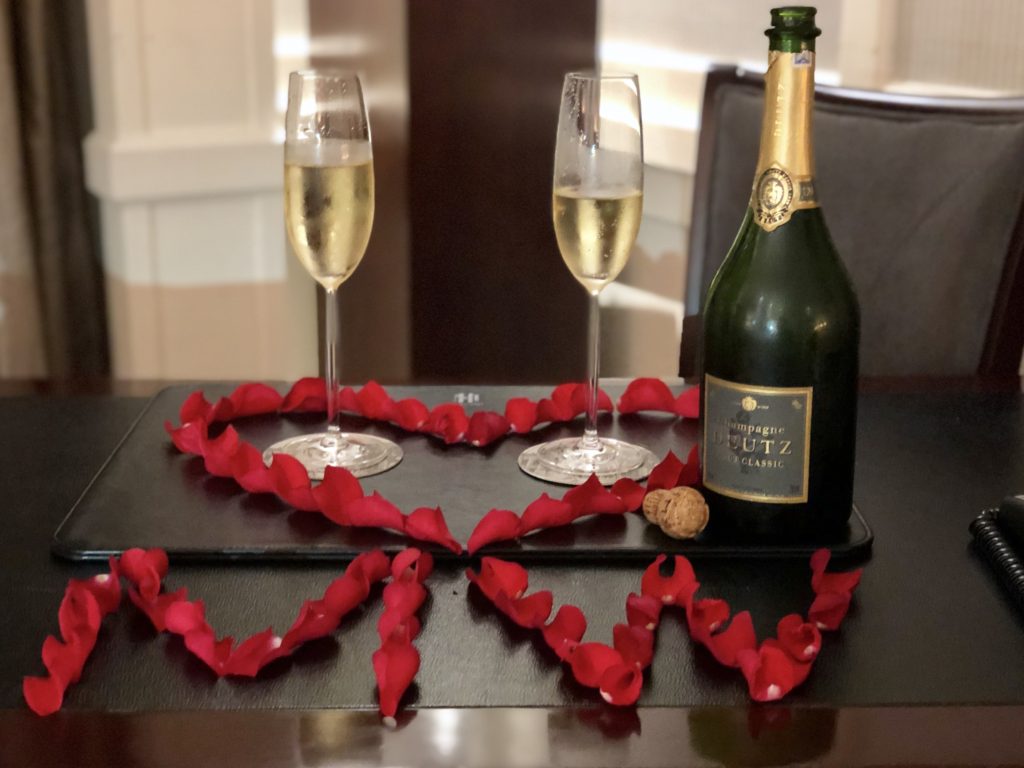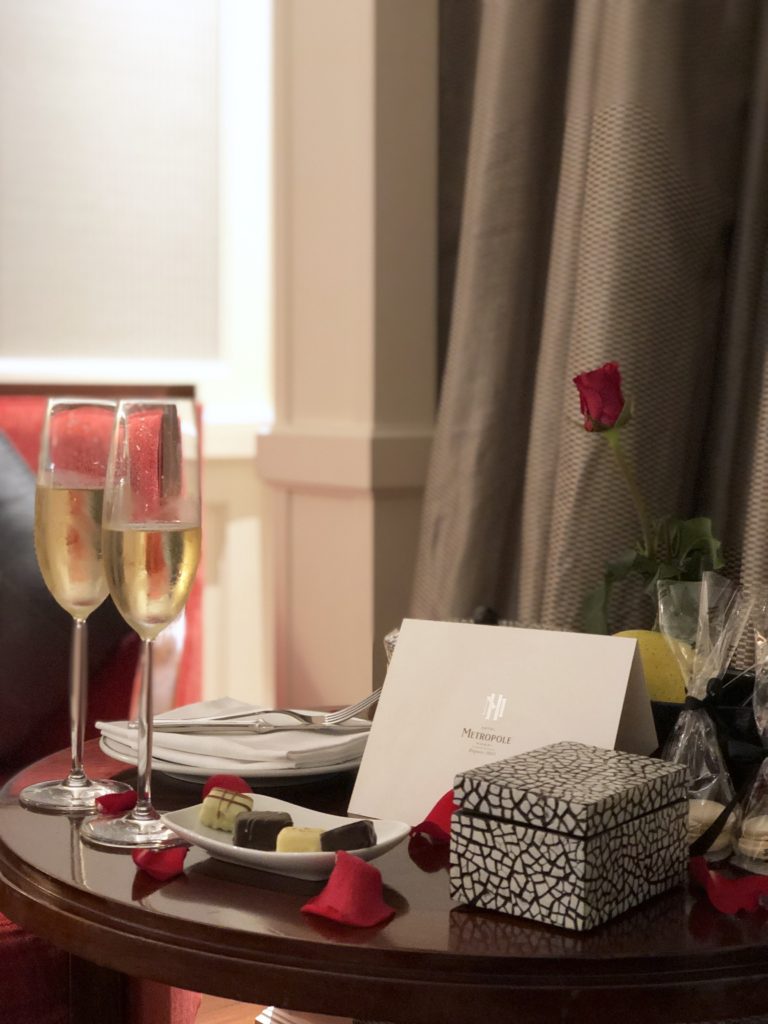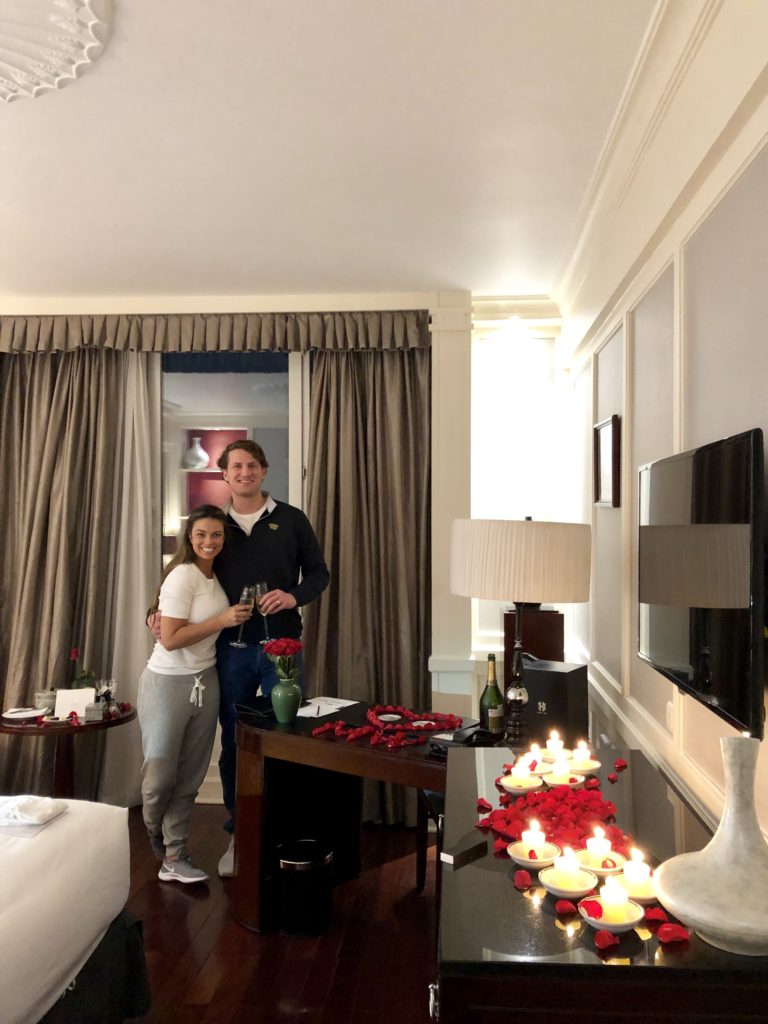 shop the look: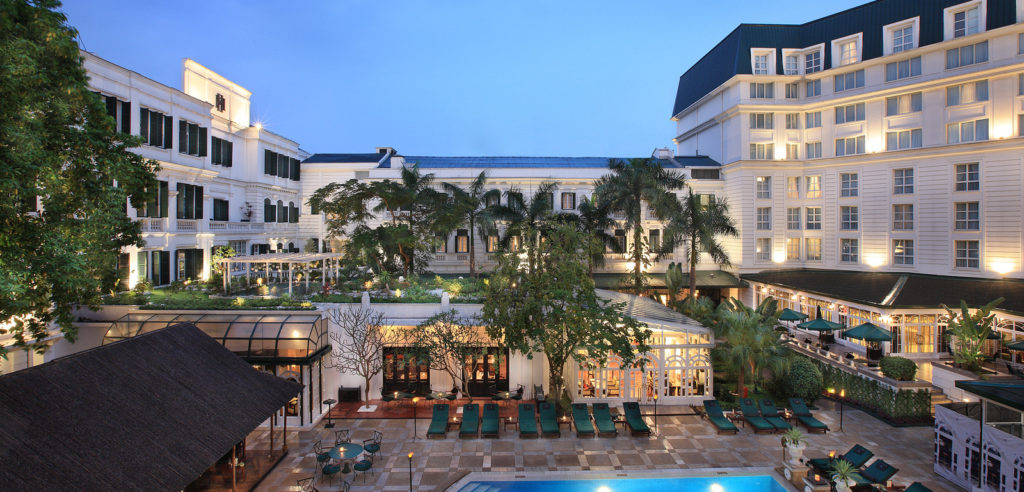 We enjoyed our champagne and chocolates in the room's beautiful bathtub and were off to bed.
On our walk to breakfast the following morning we (I really) noticed there was an Hermes store inside the hotel. An Hermes in our hotel!? Had I died and gone to heaven?! The grounds at the resort were simply stunning as well and we both remarked that we wished we had more time at Sofitel Legend Metropole so we could enjoy the gorgeous pool and charming tiki bar.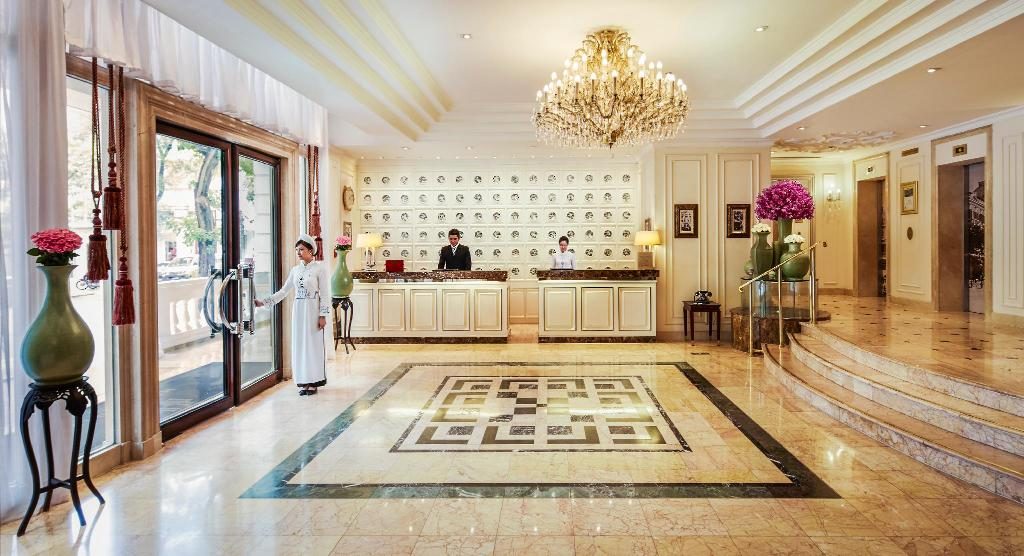 We enjoyed the complimentary breakfast at one of the hotel's three restaurants. The breakfast was phenomenal and we enjoyed plates full of the delicious local cuisine. Little did we know that just a week later Donald Trump and Kim Jung-Un would be sitting in our exact seats for a meeting! So cool! The fact the two met here shows just how impeccable and luxurious the Sofitel Legend Metropole truly is!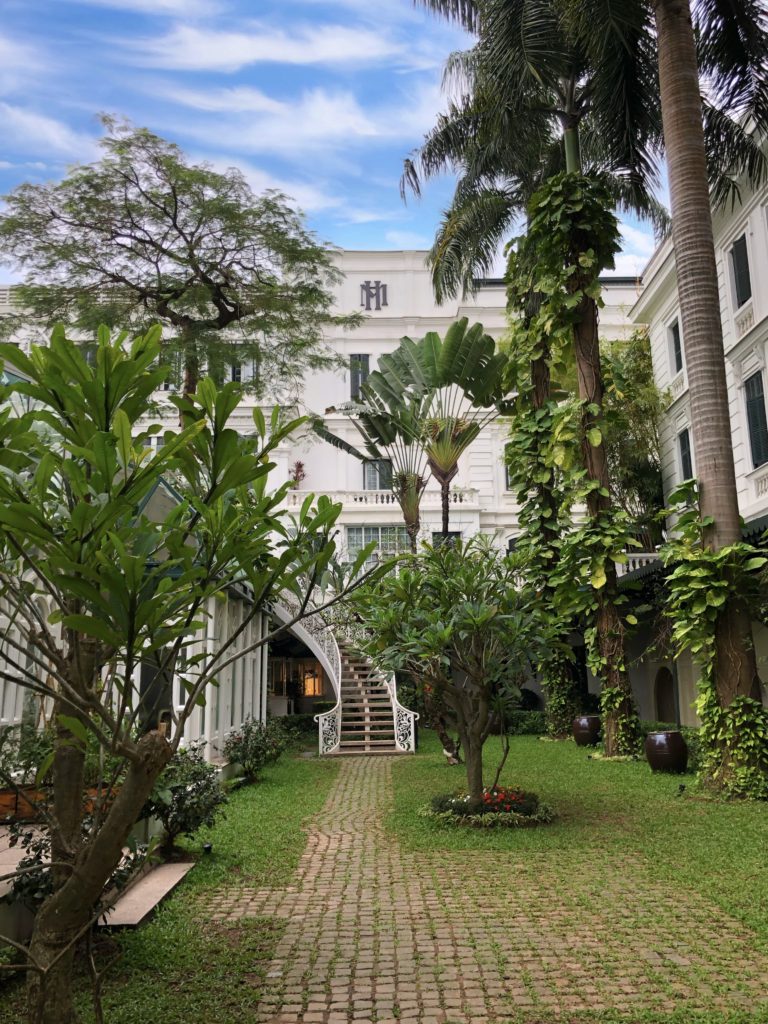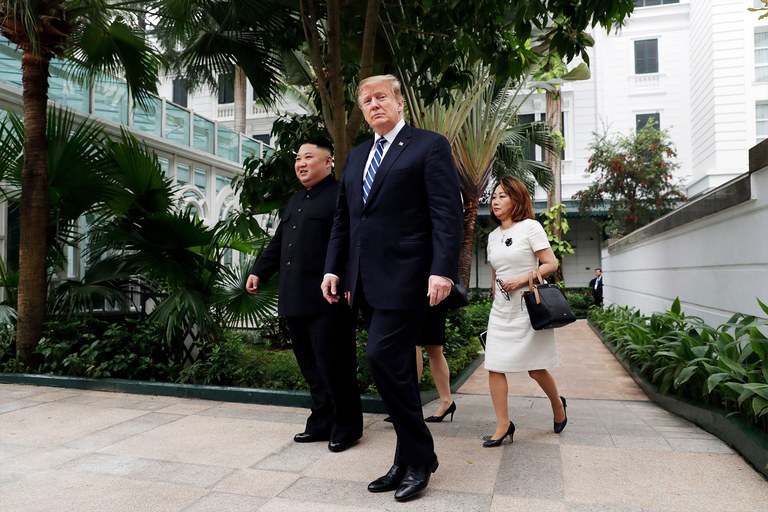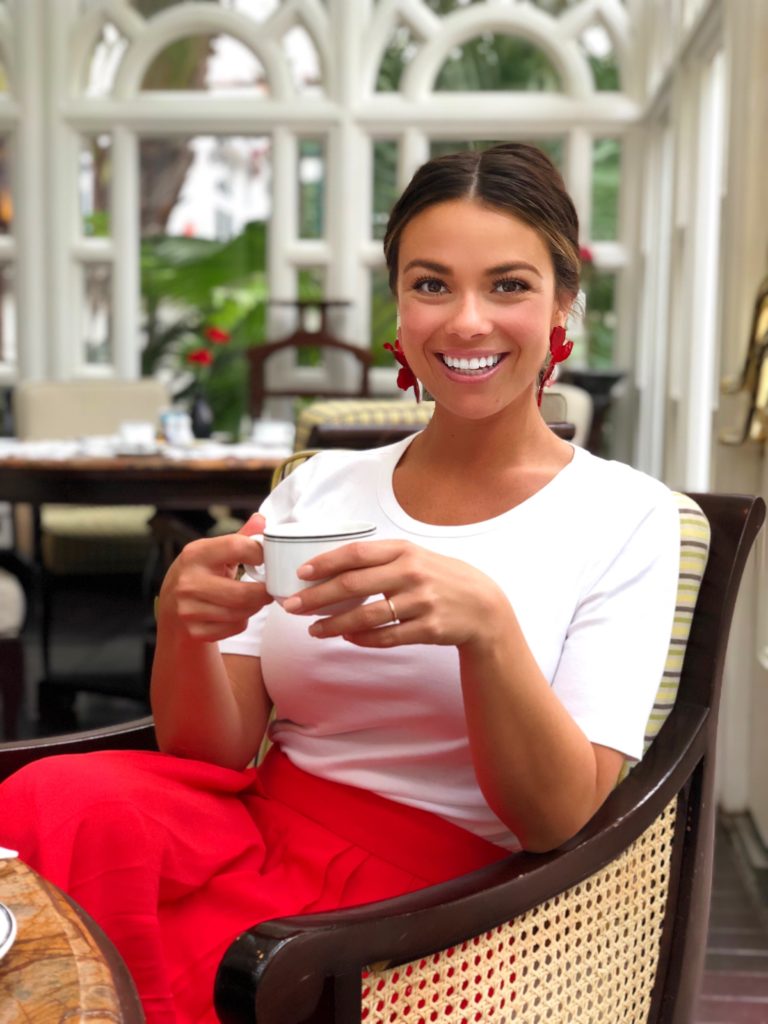 shop the look: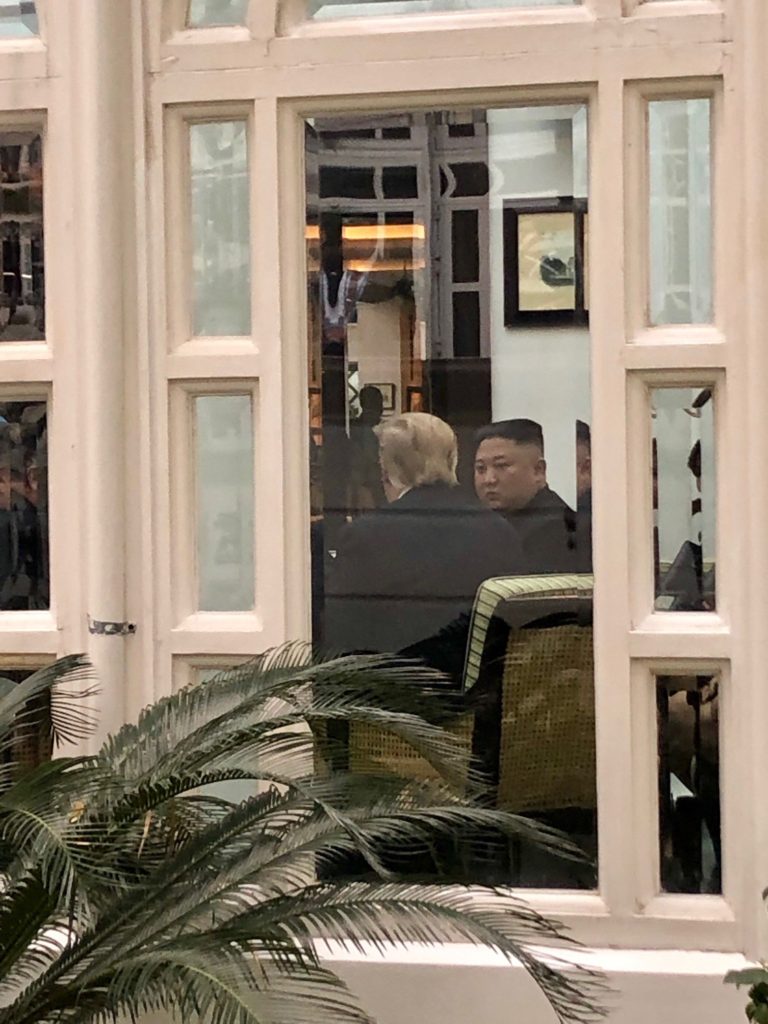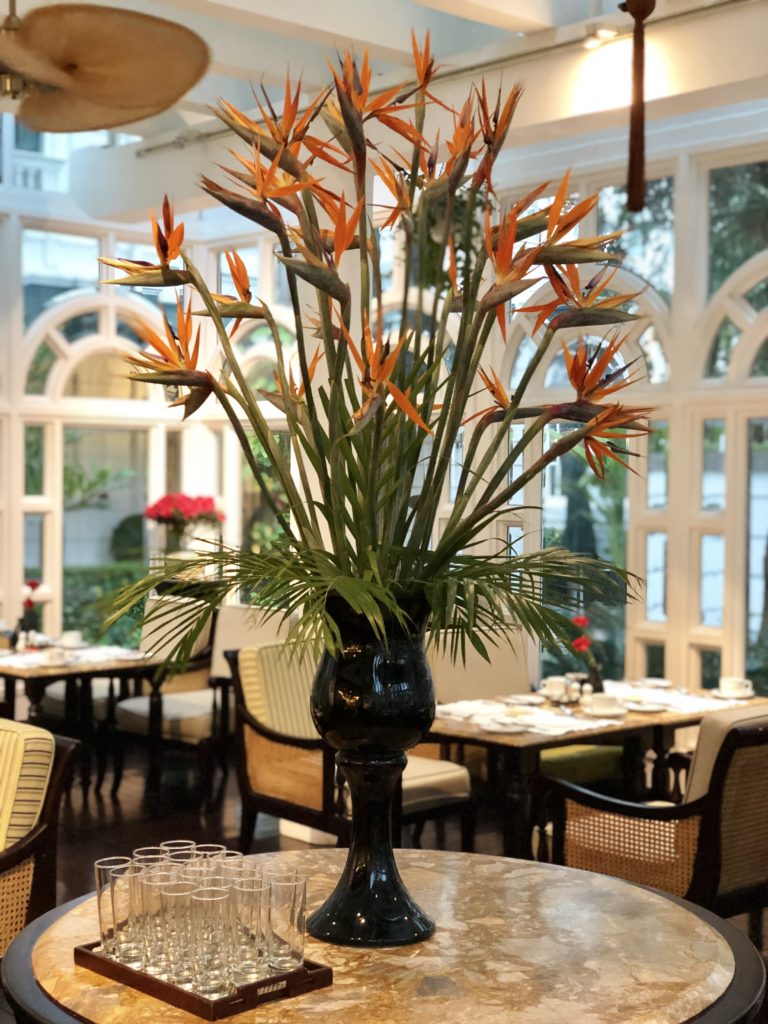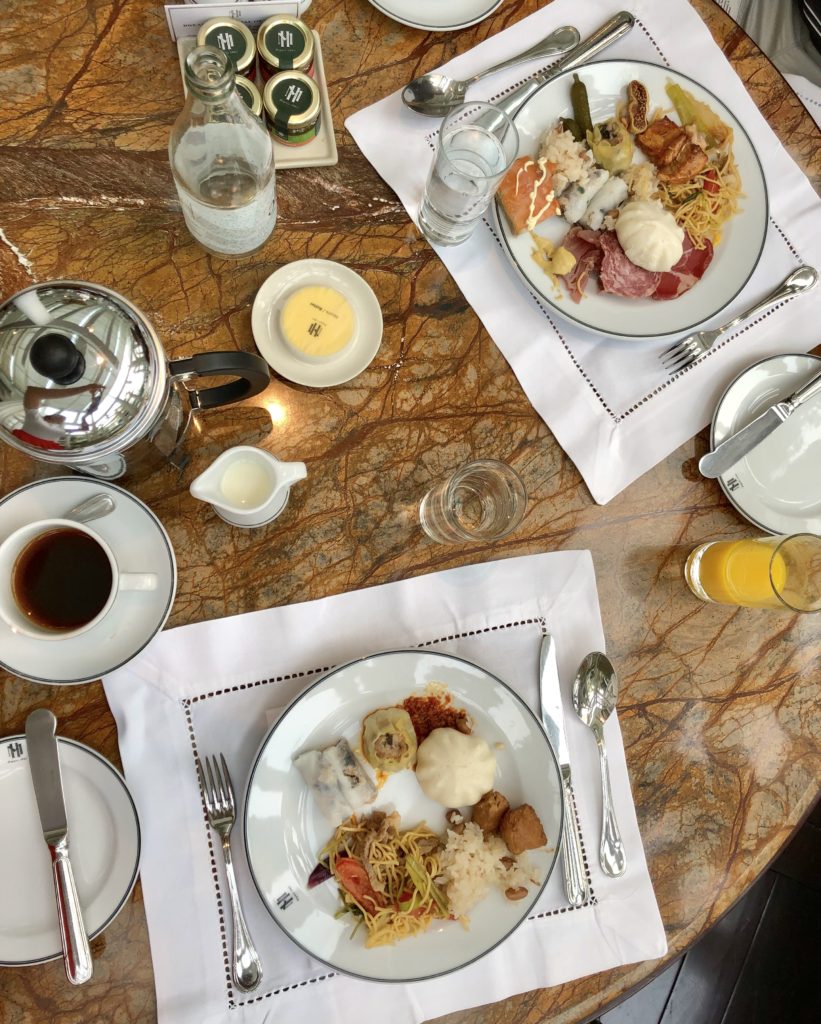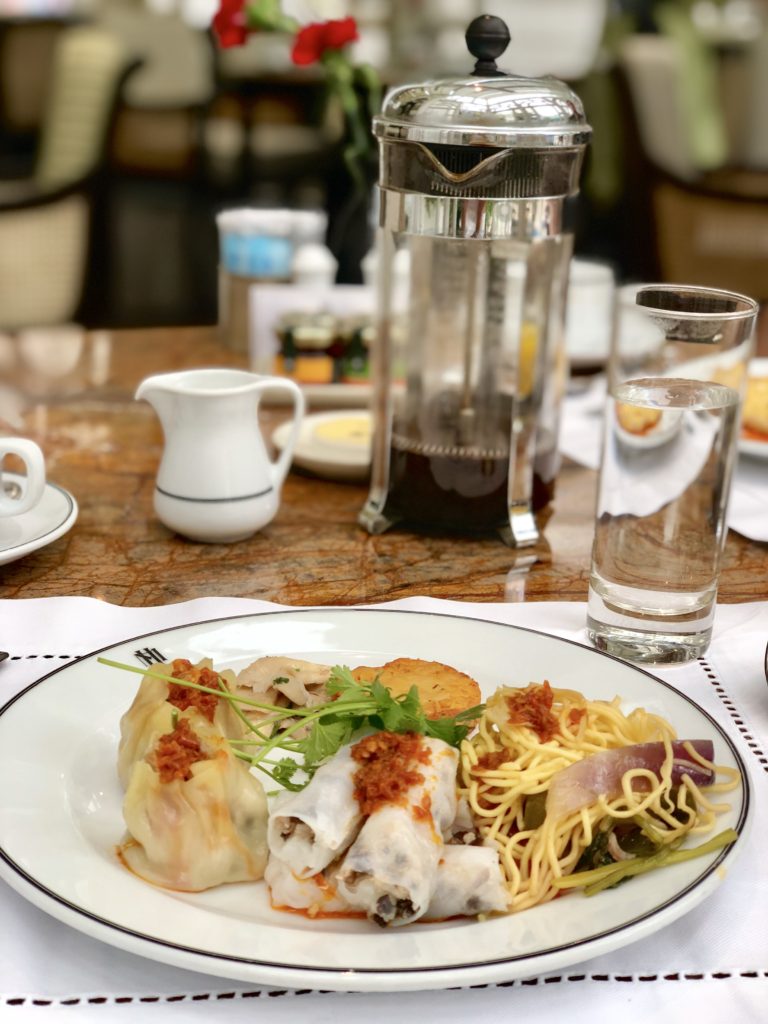 After breakfast it was time to explore Hanoi! The Sofitel Legend Metropole is in a PERFECT location! It is away from the city's crazy hustle and bustle and traffic and noises and smells but everything touristy you want to see is within walking distance.
We began at Hoan Keim Lake to see the Temple of the Jade Mountain (Ngoc Son Temple). Hoan Kiem Lake is a fresh water lake in the historical center of Hanoi. Built in the 18th century, Temple of the Jade Mountain is Hanoi's most visited temple. It sits on a small island on the lake and is connected to the lakeshore by a beautiful red bridge called Rising Sun Bridge. The temple is dedicated to General Tran Hung Dao who defeated three separate Mongol invasions of Vietnam in the thirteenth century.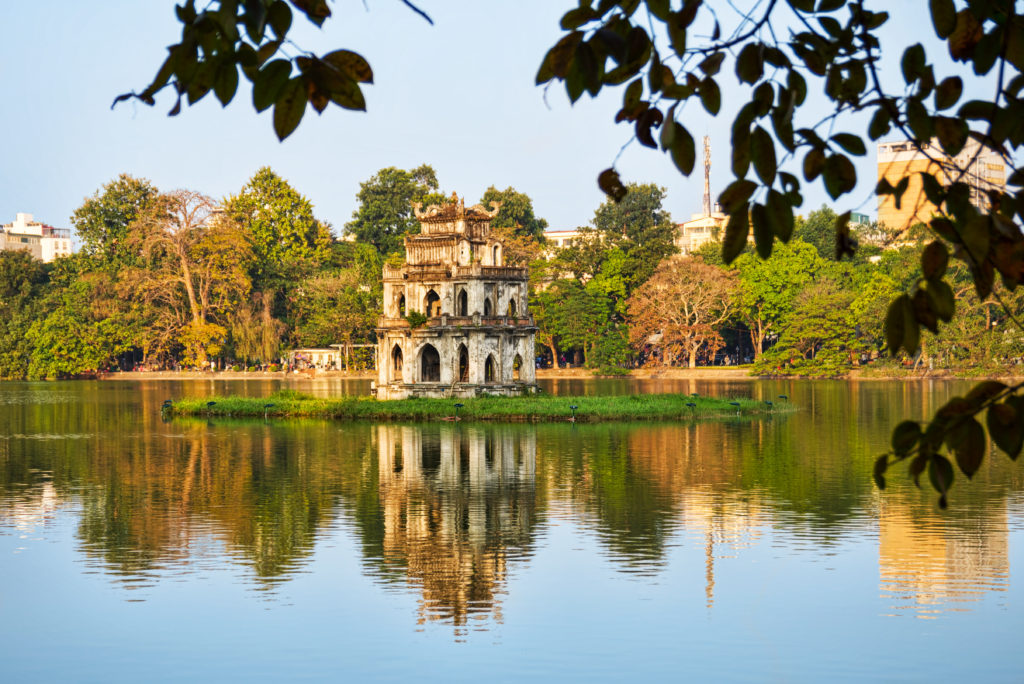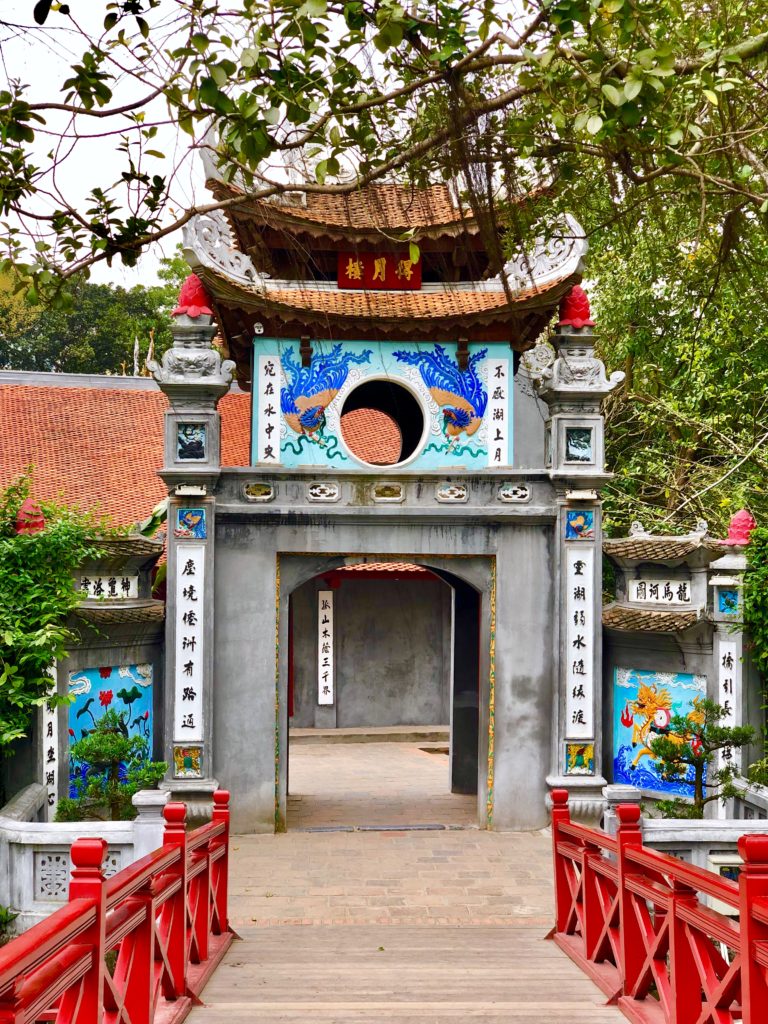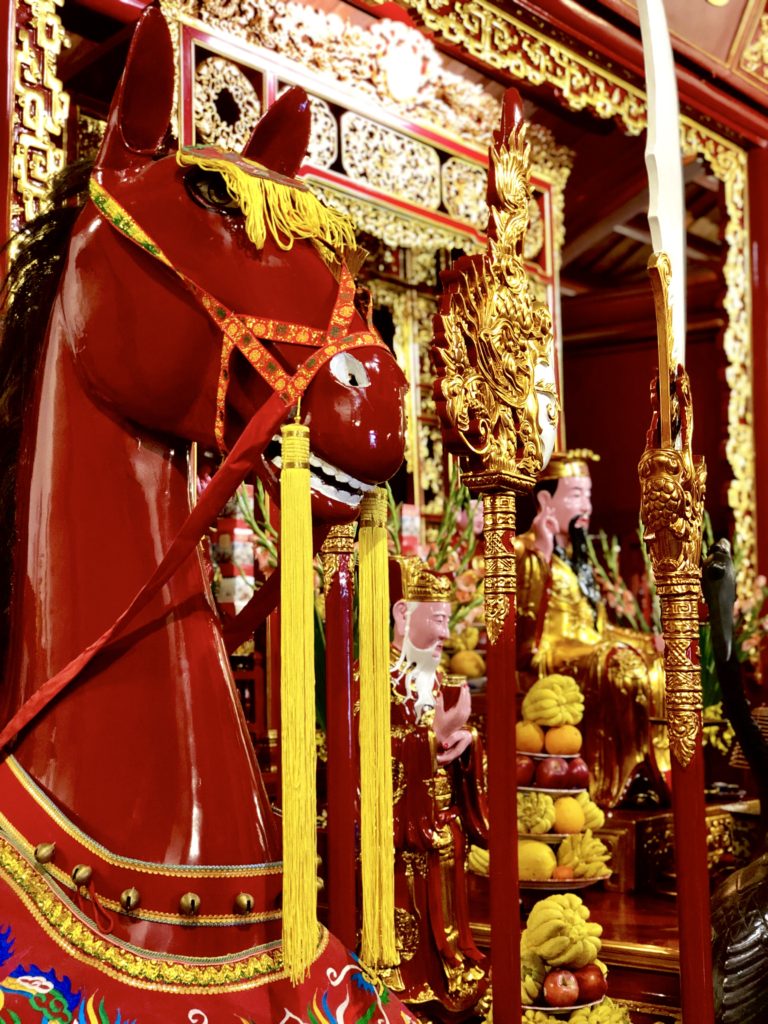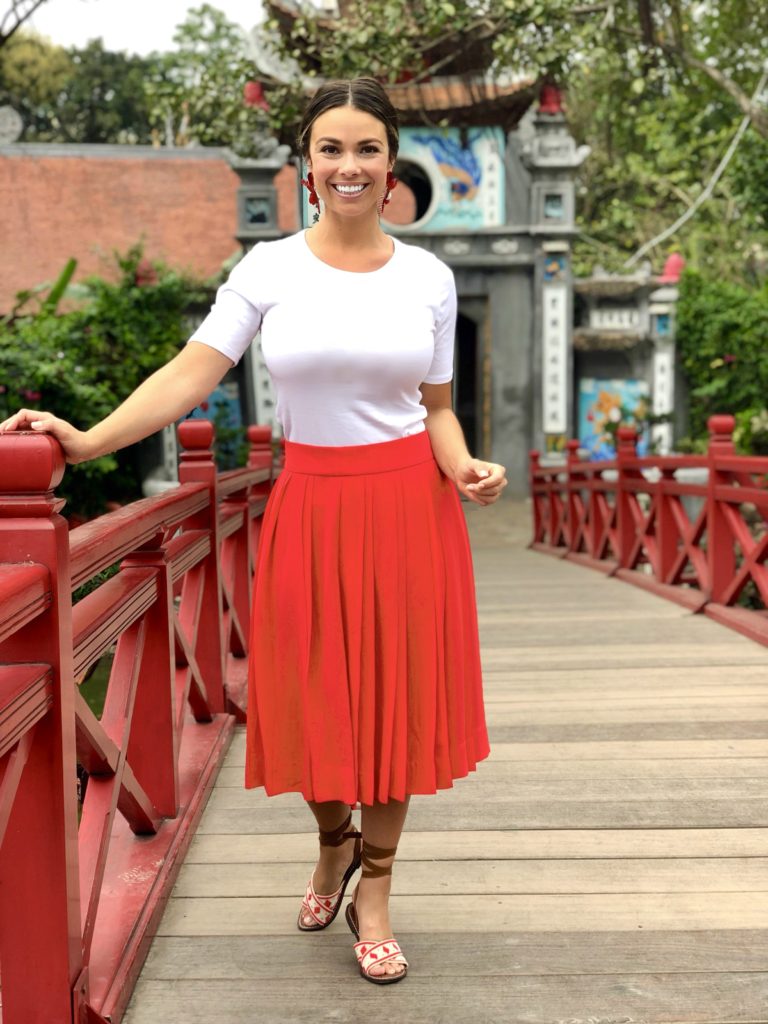 shop the look:

Next up was Bach Ma Temple. The elaborate Ly dynasty temple was founded in 1010 and is believed to be Hanoi's oldest temple. We giggled over the Budweiser offerings. It seems fitting that Buddha would enjoy Budweiser!? The Temple was very beautiful though and serene considering the traffic chaos outside.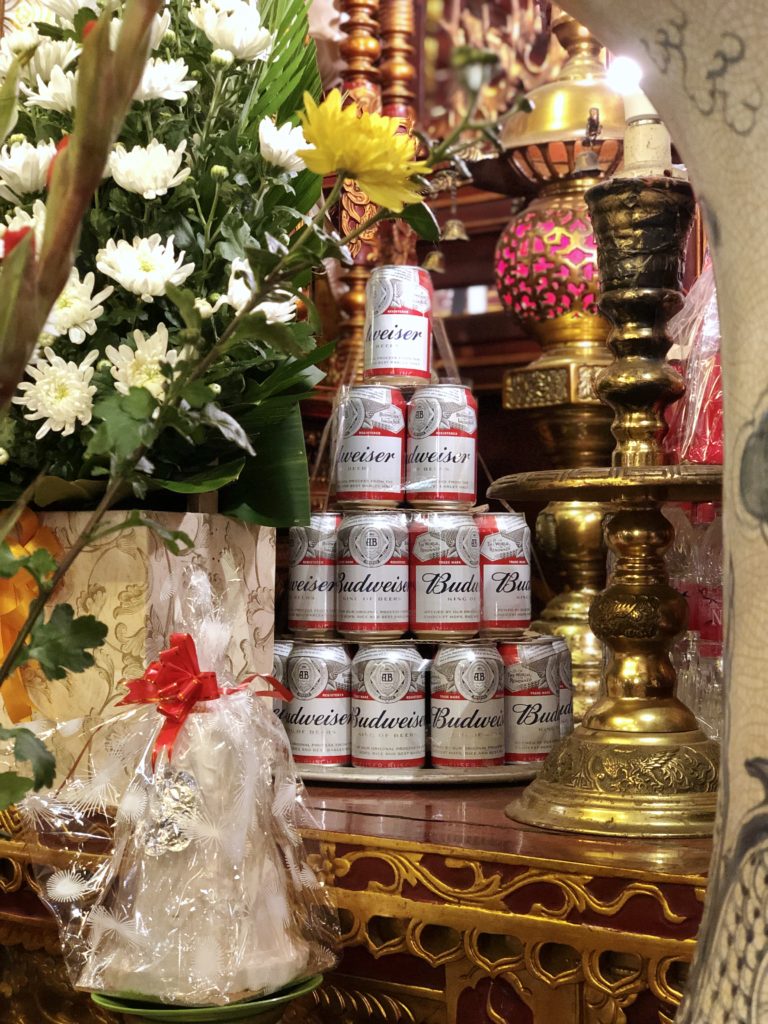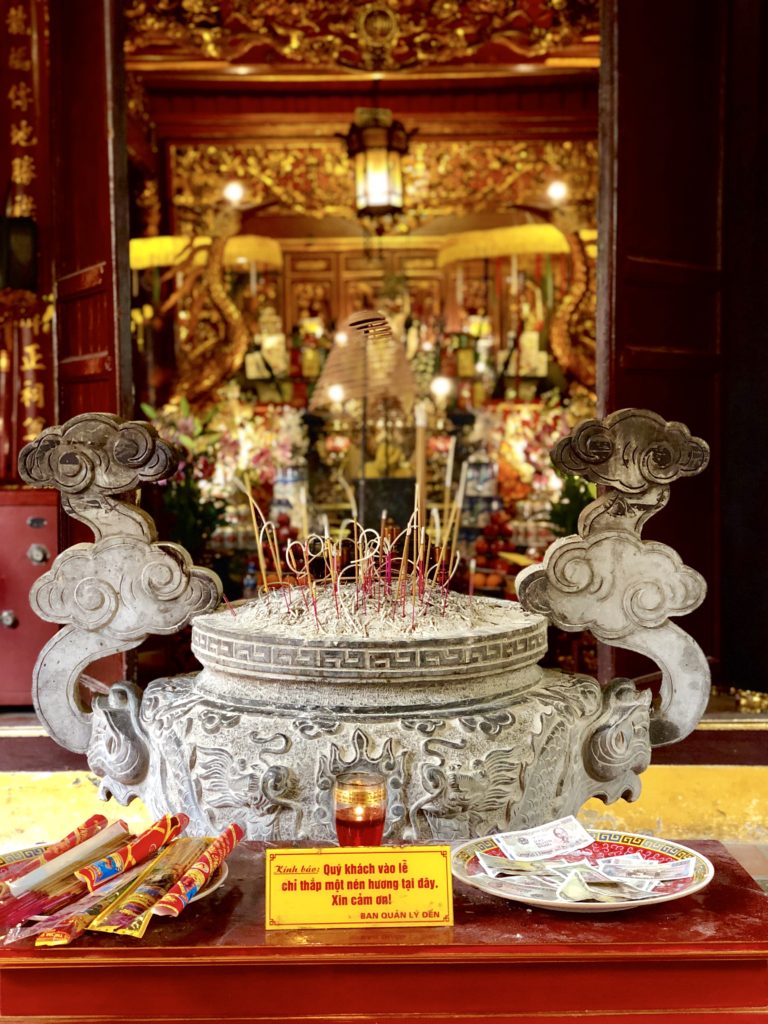 Yeah. Hanoi's streets are crazy. Think of the craziest traffic you've ever seen and then magnify that by 100 and you probably still aren't even in the neighborhood. And there are no sidewalks to walk on because everyone parks their motorbikes on the side walk so you're forced to walk on the street amidst the insane traffic. After about two hours of walking through the streets our nerves were a little shot so we stopped for a refreshing beer at a little corner café. It was $3 for two beers. This was our first purchase in Vietnam and we were shocked by the price. You can't get one beer during happy hour for $3 in the States! We sat on our tiny chairs which Walker looked hilarious in and took in the sights. There was so much to see just walking around Hanoi or sitting on a café's patio! Women with large baskets hanging from their shoulders walking around selling fresh produce, a family of 5 including the dog all on one motorbike with no one wearing a helmet, families washing their dishes on the side of the street, women butchering animals on the side of the street. We were definitely not in Kansas (Texas) anymore and we liked it. It was all fascinating!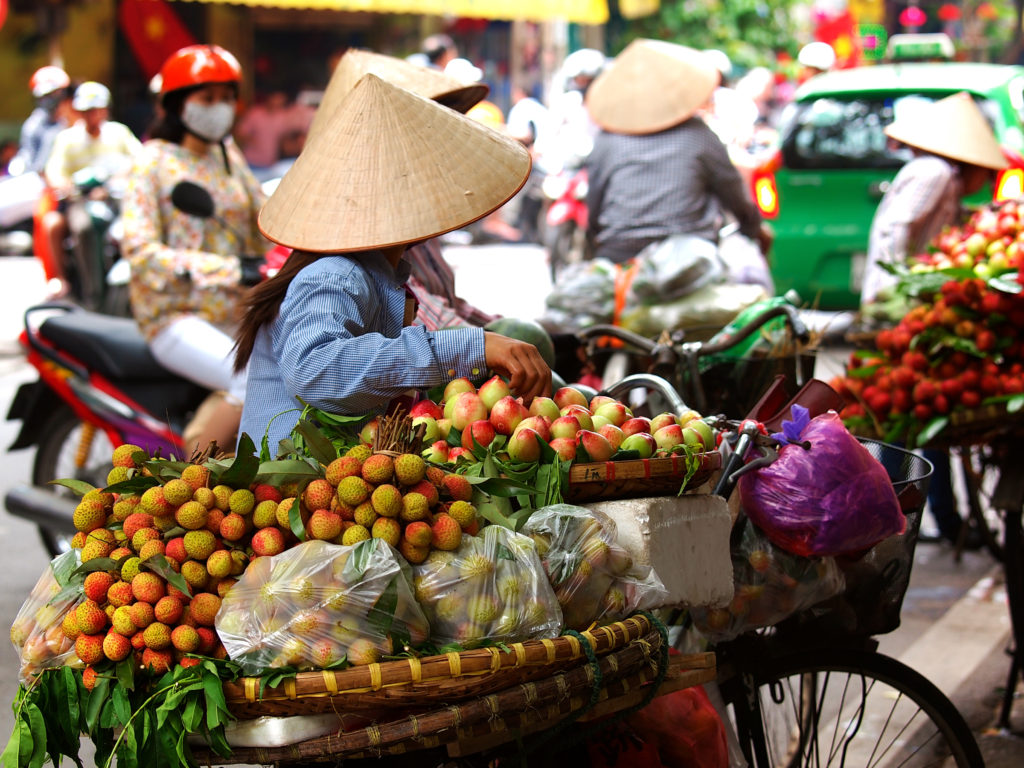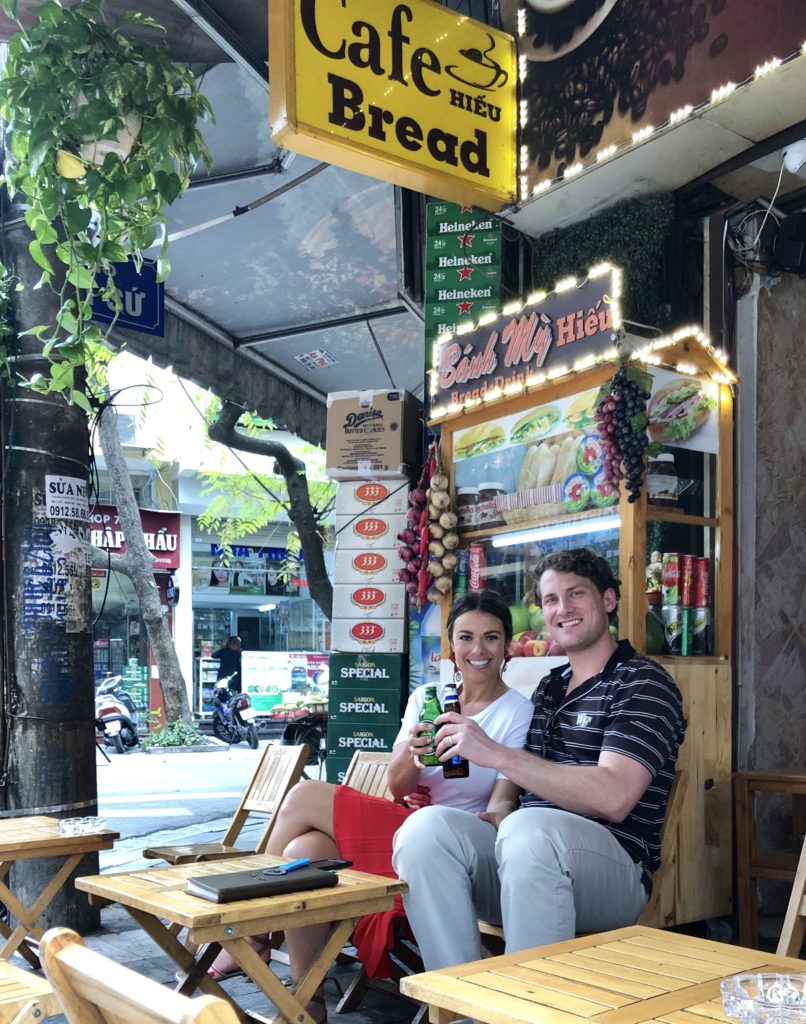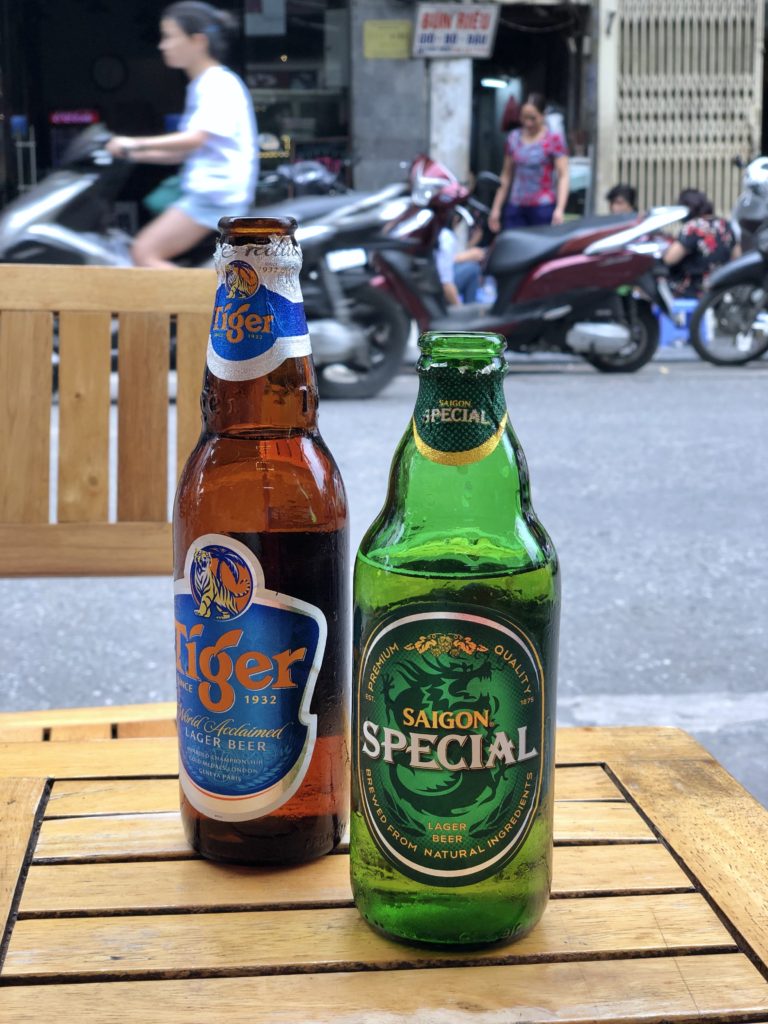 *Pro Tip: Wear closed toe shoes. The streets are busy (see above) and not in the cleanest of conditions (also see above). Loved my time walking Hanoi but I unfortunately wore sandals and I fear my feet are now forever unclean.
After our beer, it was back to exploring! Thang Long Imperial Citadel was our next stop. The royal enclosure was first built during the Ly dynasty in 1010. It remained the seat of the Vietnamese court until 1810 and the structure was used during the Vietnam War, or as they call it, the American War, as a bunker and command center as well. Climbing through the rooms were critical decisions were made was mesmerizing and eerie. The fact that it is nonchalantly located deep within a thousand year old citadel is just as fascinating.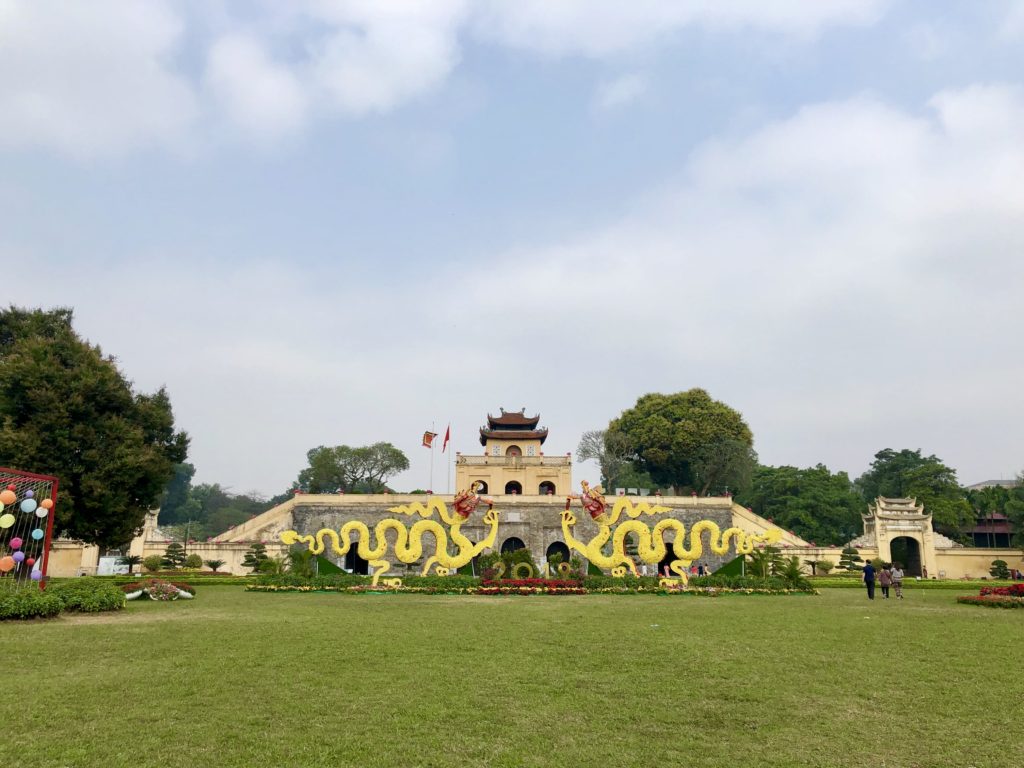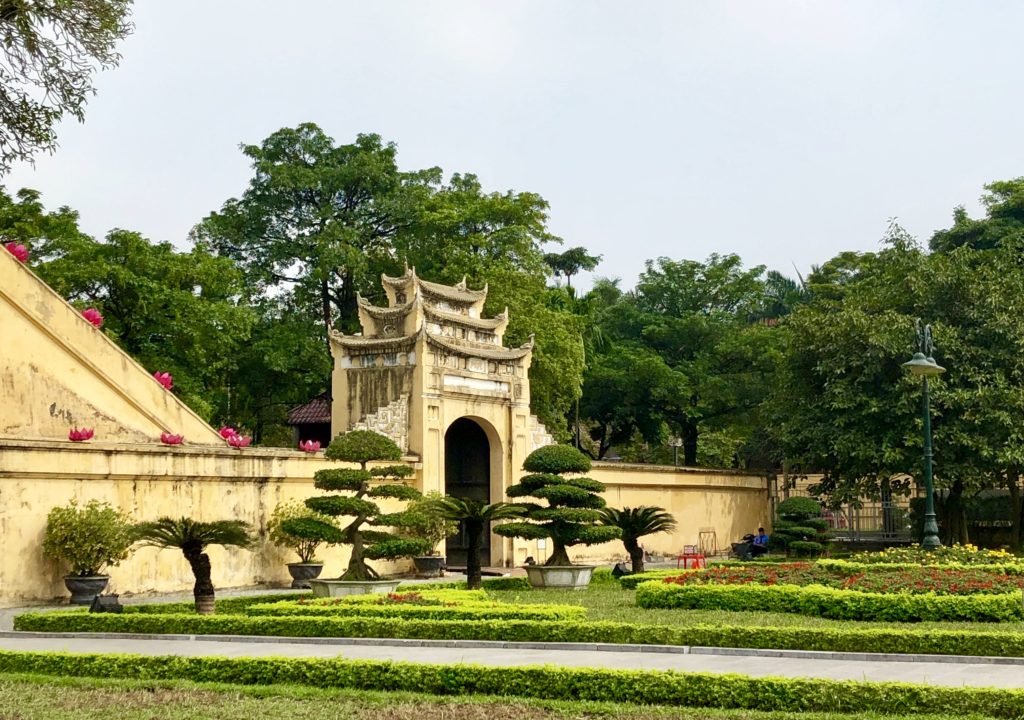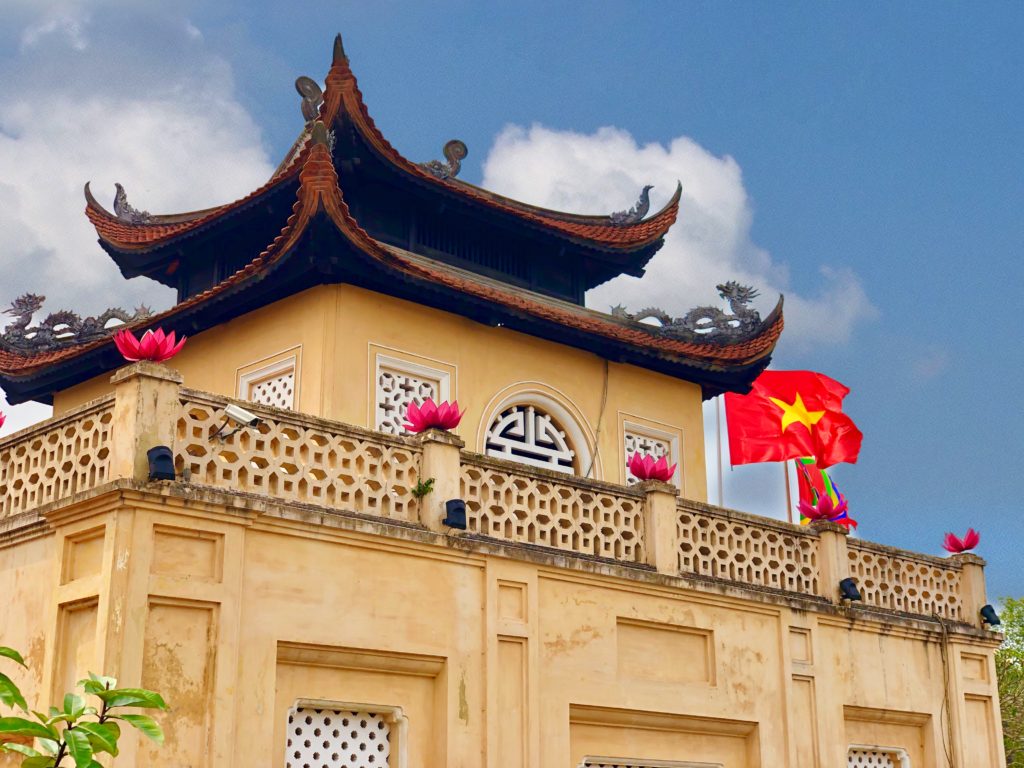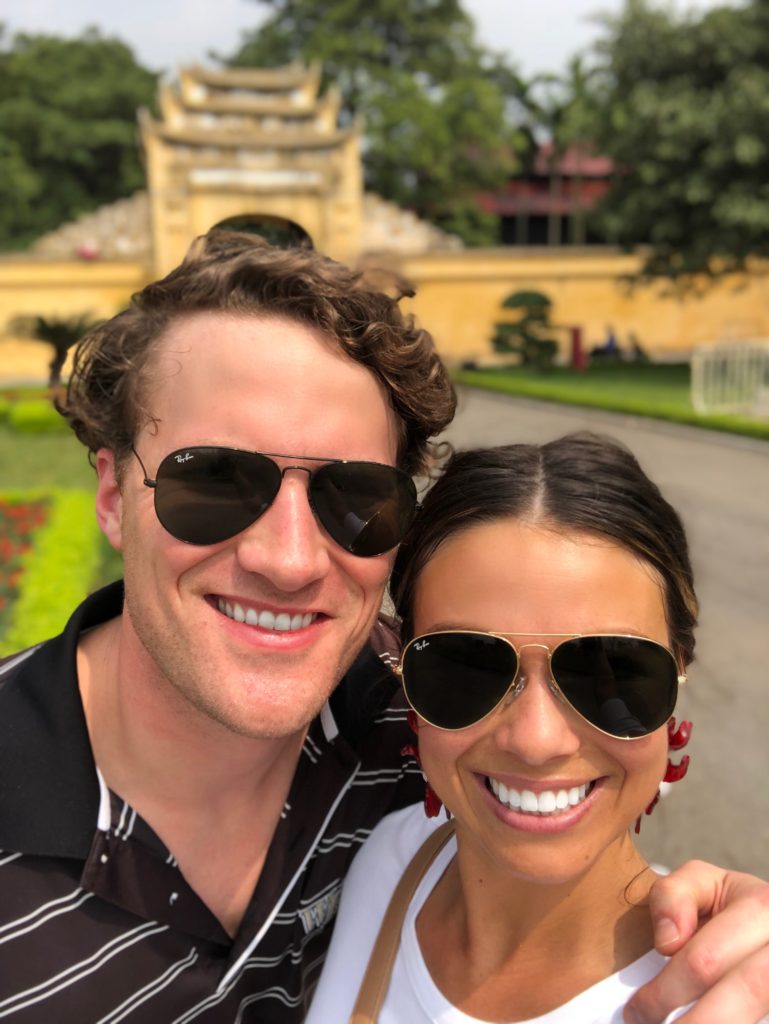 After the citadel we enjoyed lunch at a restaurant right by the citadel called Heritage. We drank beers and started with crispy shrimp spring rolls. Next we had pineapple shrimp which were amazing and mystery meat noodles. For 6 beers and 3 dishes our bill was $27. Again, shocked by how affordable, or dare I say, cheap things were!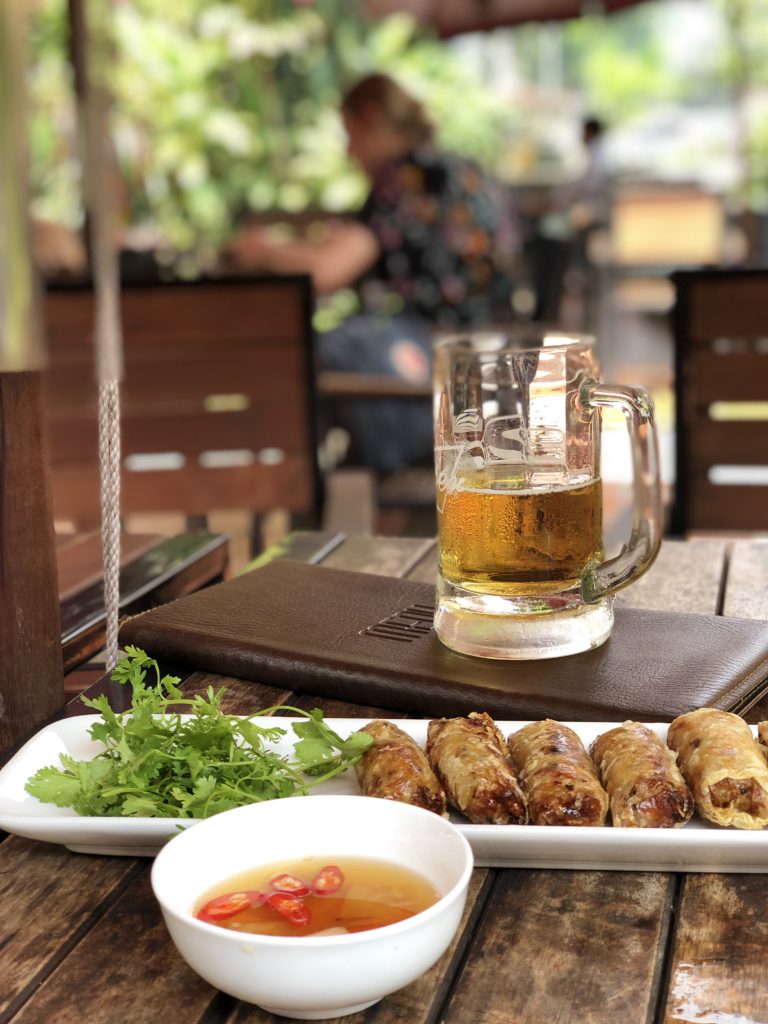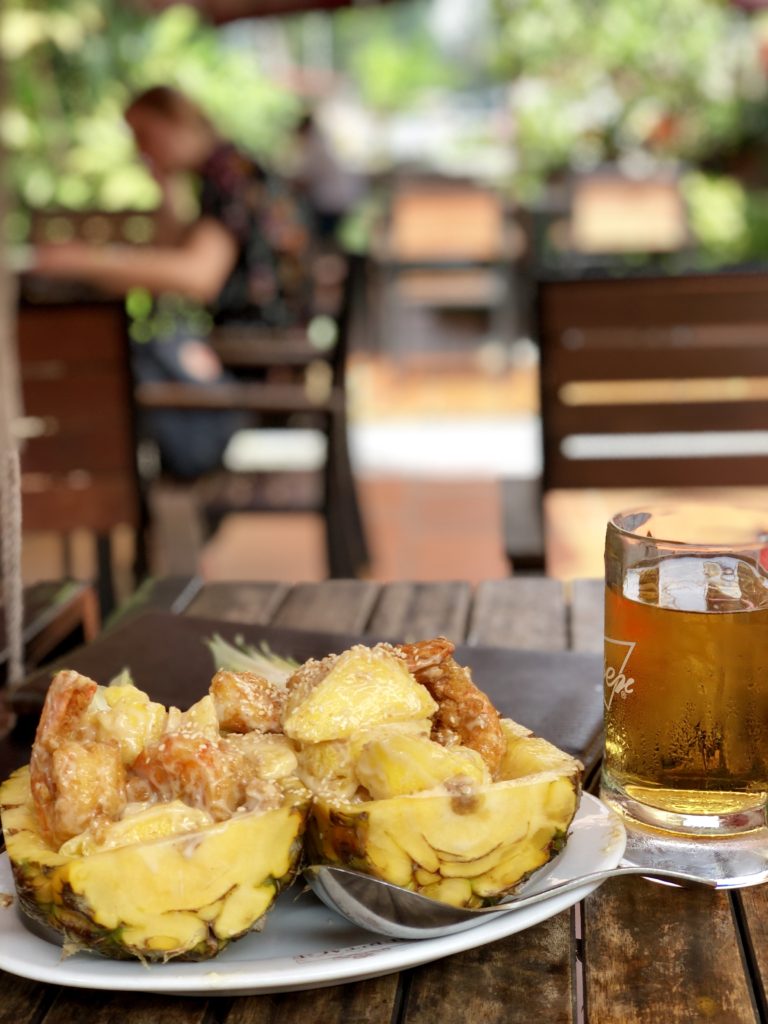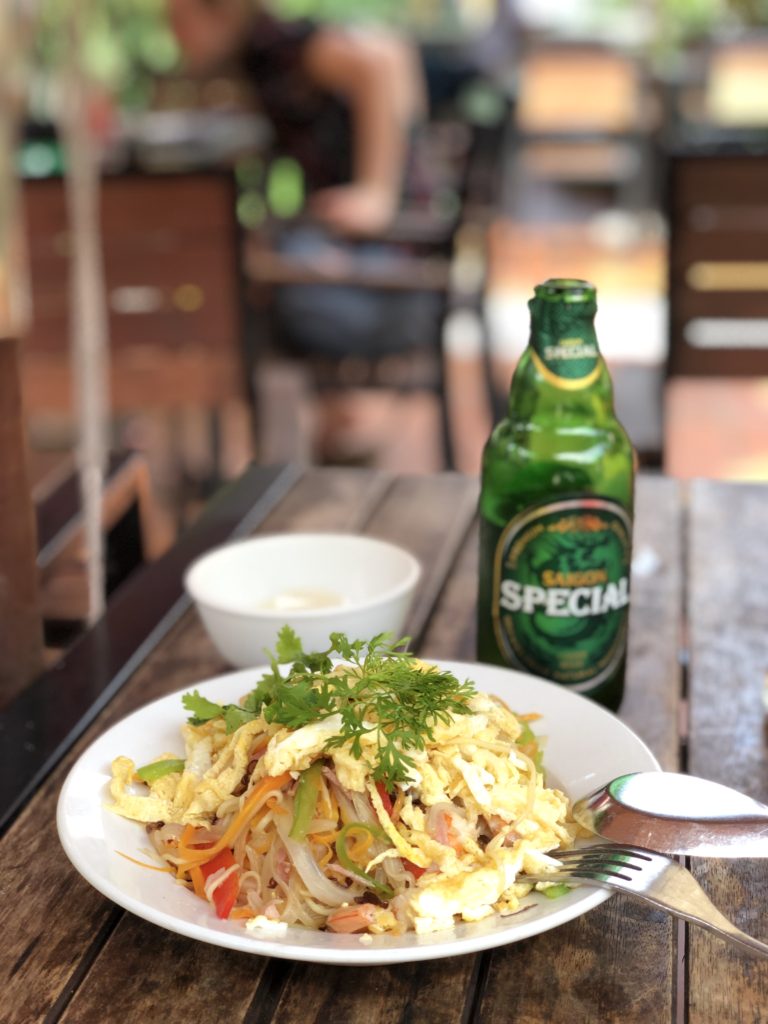 *Pro Tip: They don't served their beers really cold in Vietnam and it's SO stinkin' hot your beer is warm by the time you're halfway through. I recommend ordering 1 beer at a time and splitting it. This may be the most impactful tip I offer.
Next we visited One Pillar Pagoda. One Pillar Pagoda is a historic Buddhist temple and is regarded as one of Vietnam's two most iconic temples. The temple was built by Emperor Ly Thai Tong, who ruled from 1028 to 1054. There were monks there worshiping and chanting which I just found fascinating! Again, not in Kansas anymore.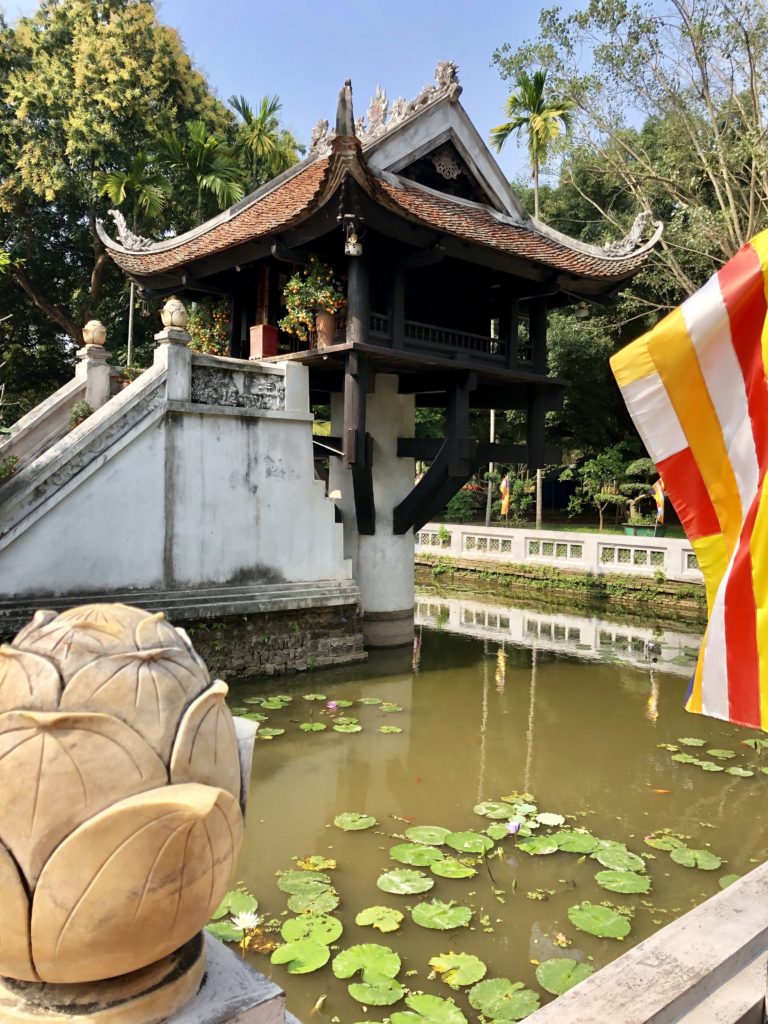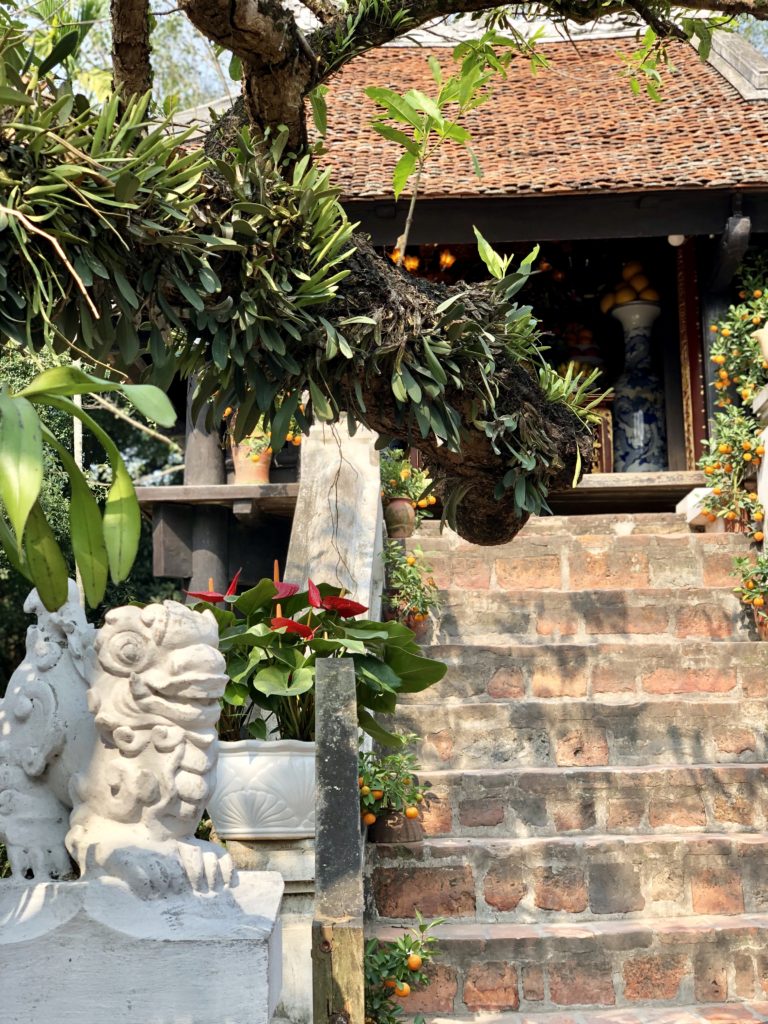 Next we saw Ho Chi Minh's Mausoleum. Apparently you can also visit Ho Chi Minh's stilted house and the pond he used to fish in. I didn't realize this until after we had left and I wish we could have seen this as well. Completed in 1975, this structure towers over its surroundings and its Soviet style architecture, adorned with hundreds of hammer and sickle flags, certainly leaves an impression. One CNN travel writer called it one of the world's ugliest buildings and that's not fake news.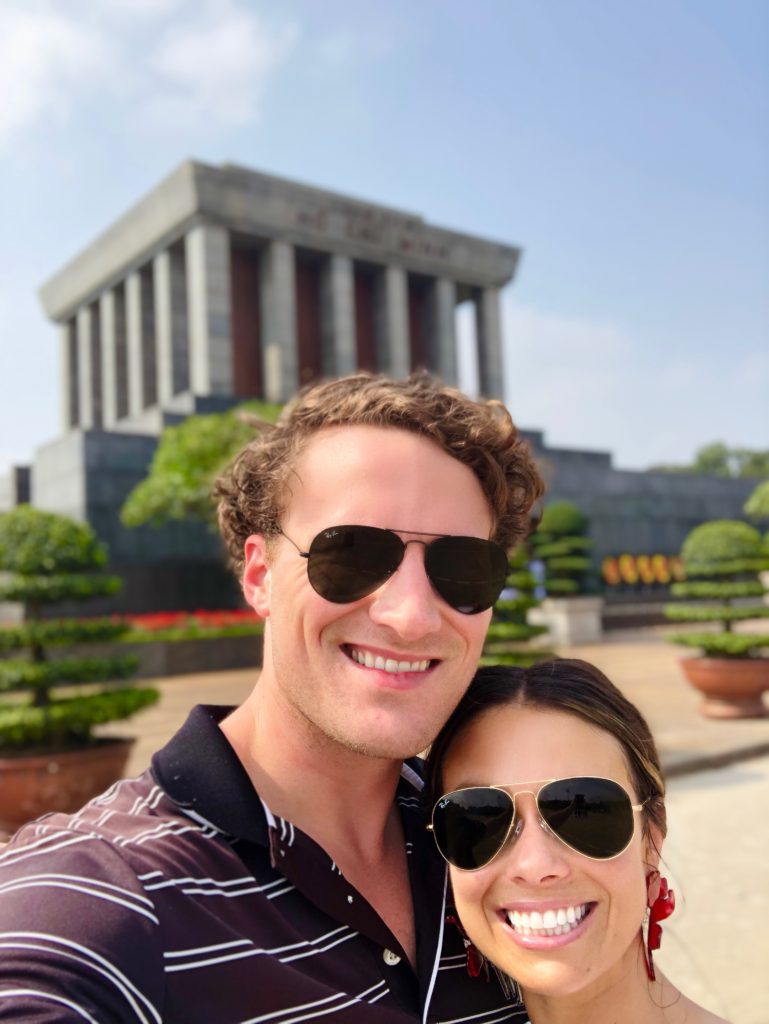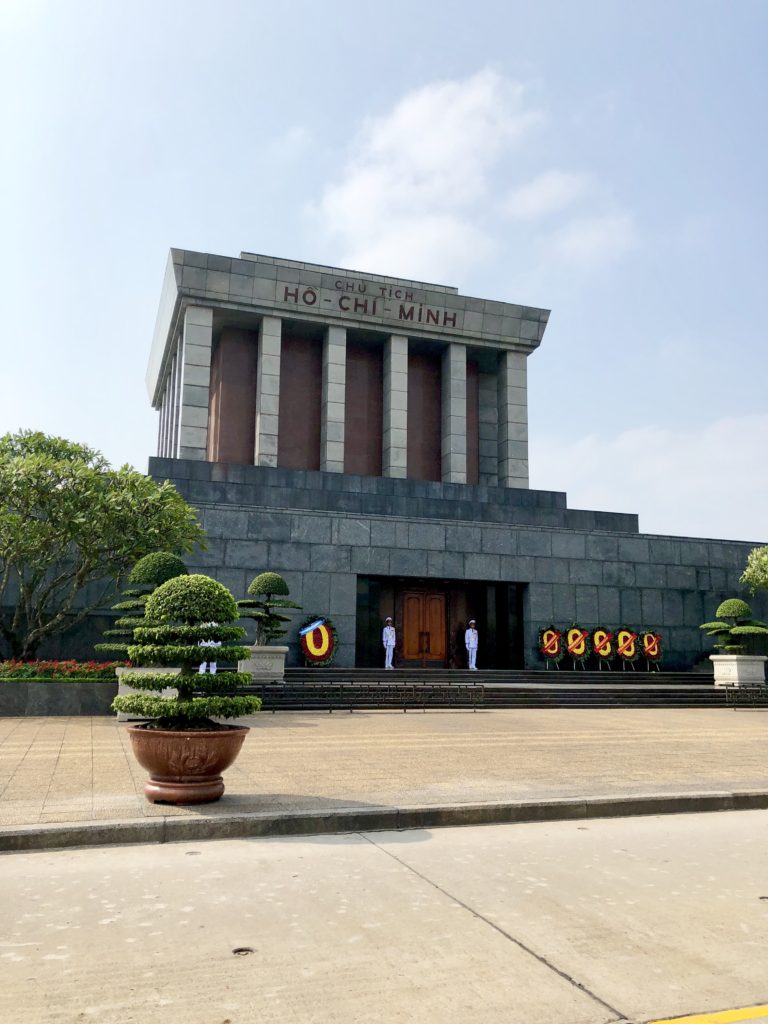 Next we visited our last temple of the day Tran Quoc Pagoda in West Lake. This is Hanoi's oldest pagoda. It was constructed in the sixth century making it 1,450 years old. This was my favorite temple of the day. The West Lake area is beautiful and a great place to walk around. The streets are much less congested and the sidewalks are open and clean. This is actually the lake where John McCain landed after being shot down.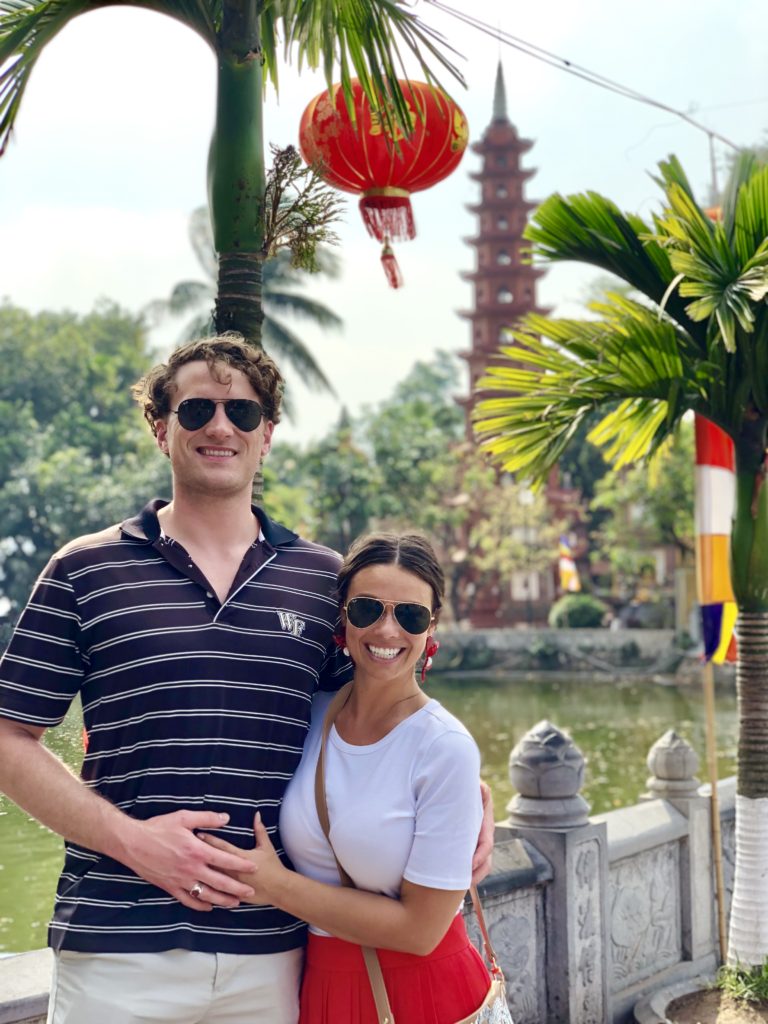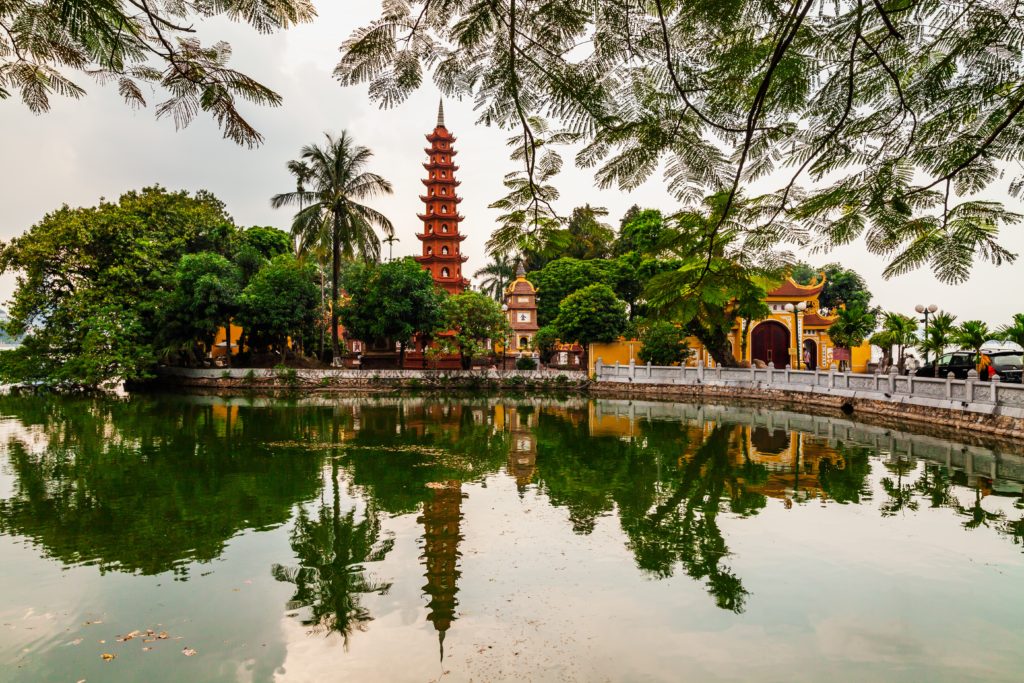 Our final stop of the day was Hoa Lo Prison or commonly known here, the Hanoi Hilton. Hoa Lo Prison was a prison used by the French political prisoners and later by North Vietnam for U.S. POWs, most notably John McCain, during the Vietnam War. Be warned: historical accuracy is a relative concept at this site. A museum runs through what remains of the prison and it accurately and extensively details the mistreatment of the Vietnamese at the hands of the French but it completely whitewashes the treatment of captured American pilots during the Vietnam War. The museum would have visitors believe that the imprisoned Americans received the Vietnam War equivalent of a luxury hotel experience. Obviously, that's wildly inaccurate and it soured us both on the experience.
We walked back to our hotel and were delighted to shower and relax in the luxurious room after a long and exhausting day of exploration.
We took a rickshaw to pre-dinner drinks which was fun and exciting! I don't think the driver was used to having to peddle someone as big as Walker. We arrived at Diamond Sky Bar just in time for happy hour! We sipped on dirty martinis and snacked on chicken satay. Yum! Diamond Sky Bar has a beautiful view of Hoan Keim Lake and the Temple of the Jade Mountain. It was so beautiful to see it at night all light up! Our 3 martinis and appetizer were only $24. Again, not so bad.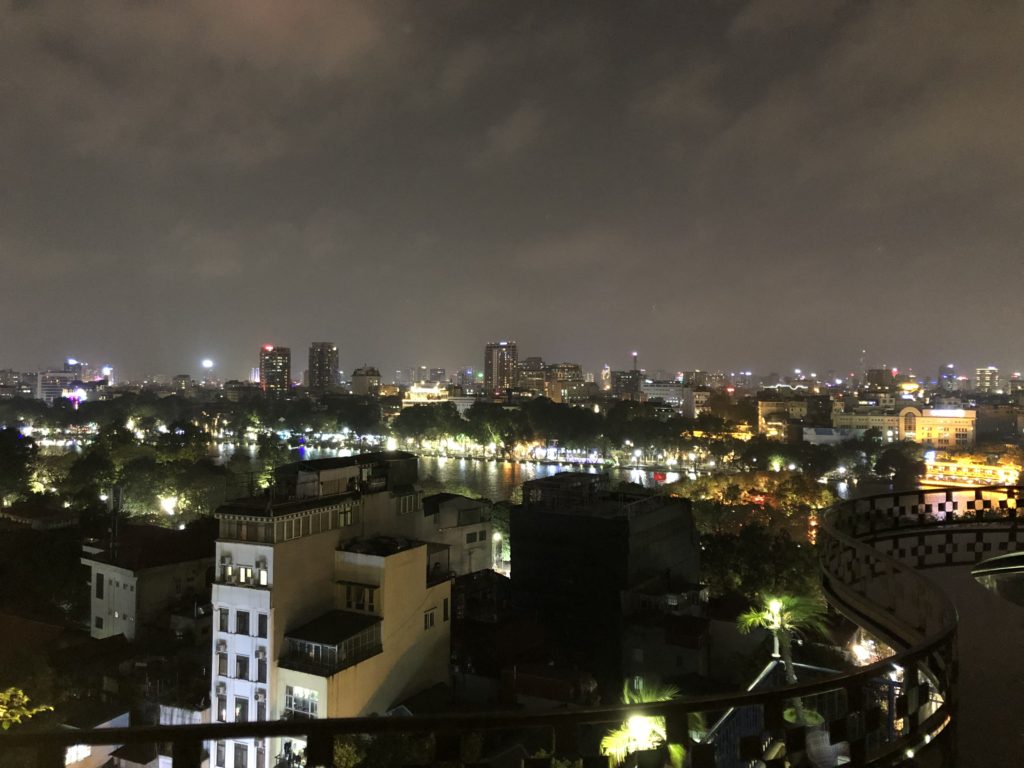 We were enjoying ourselves so much we decided to have dinner there as well at their restaurant called Gourmet Corner. We started with crispy spring rolls and I had beef in a clay pot and walker had Pho and we split a bottle of wine. All this for only $60!
After dinner we walked around the lake and took in the beautiful lights.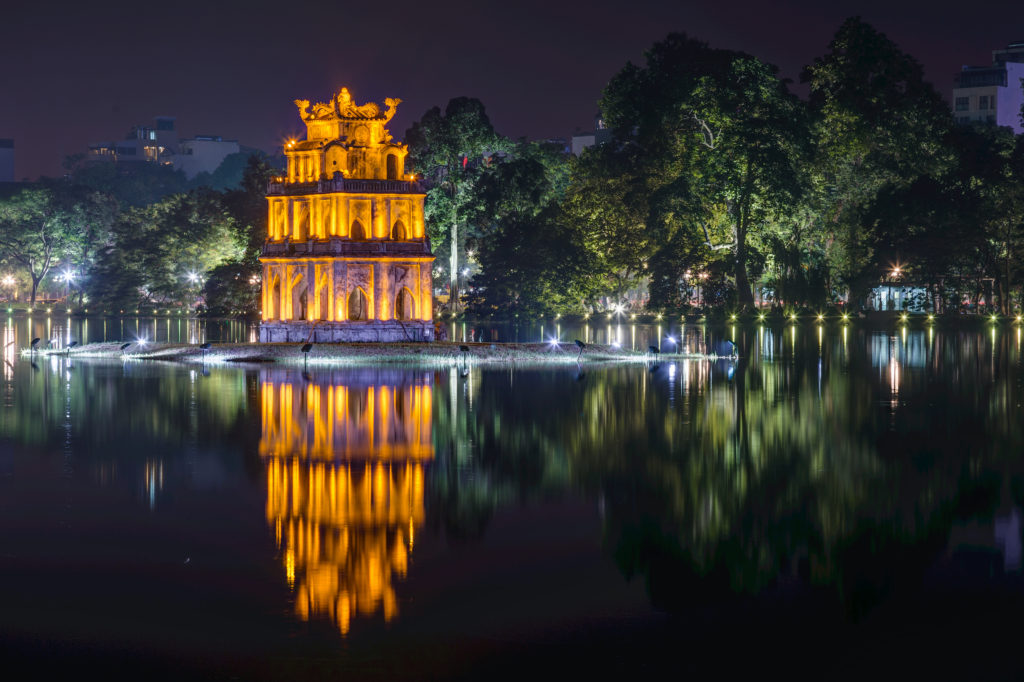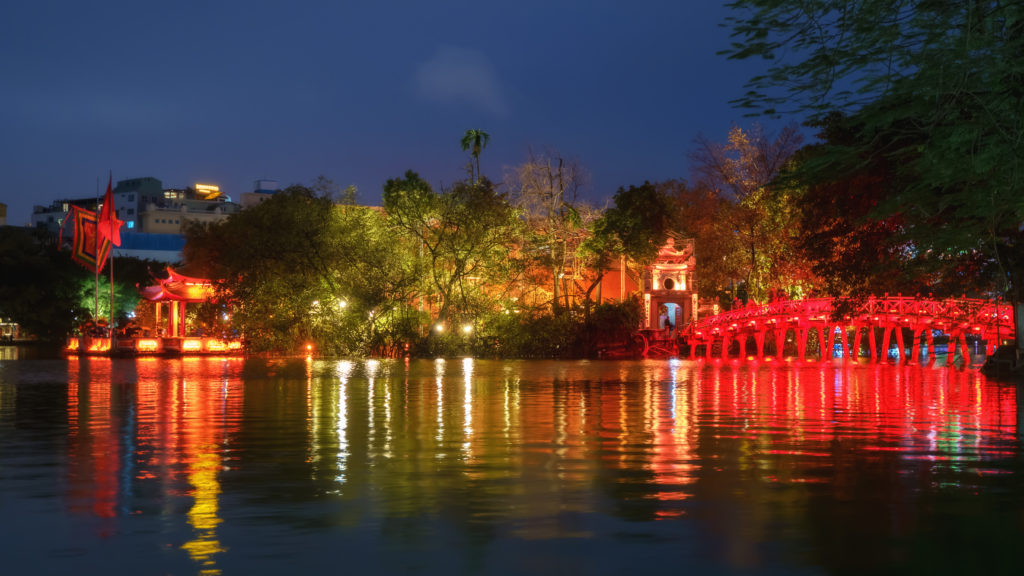 We slept like absolute babies and enjoyed yet another superb breakfast at the Sofitel Legend Metropole.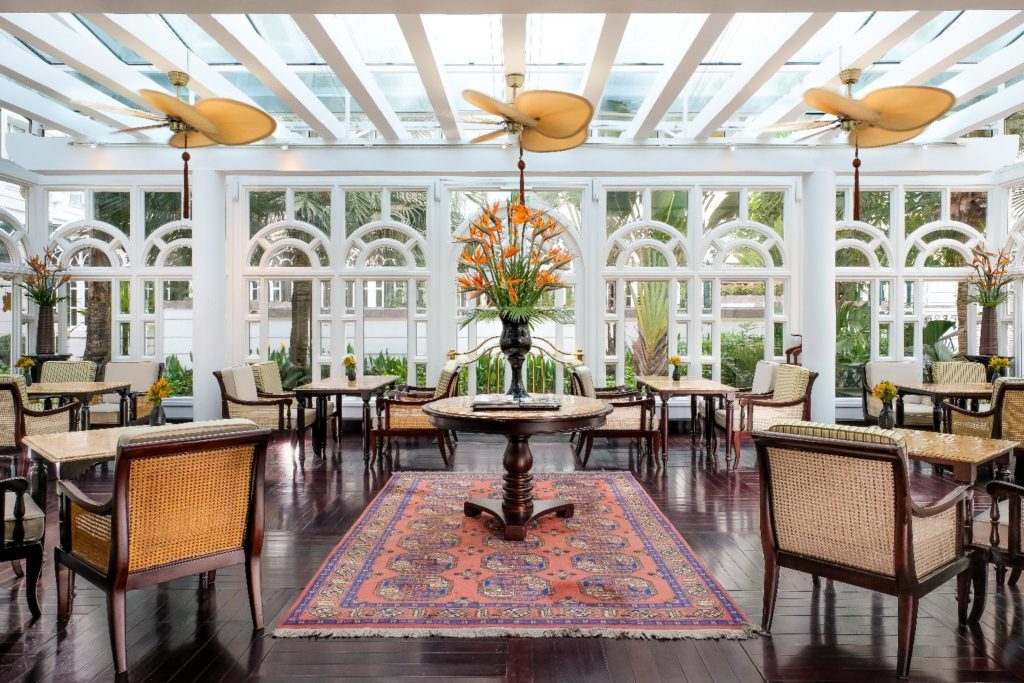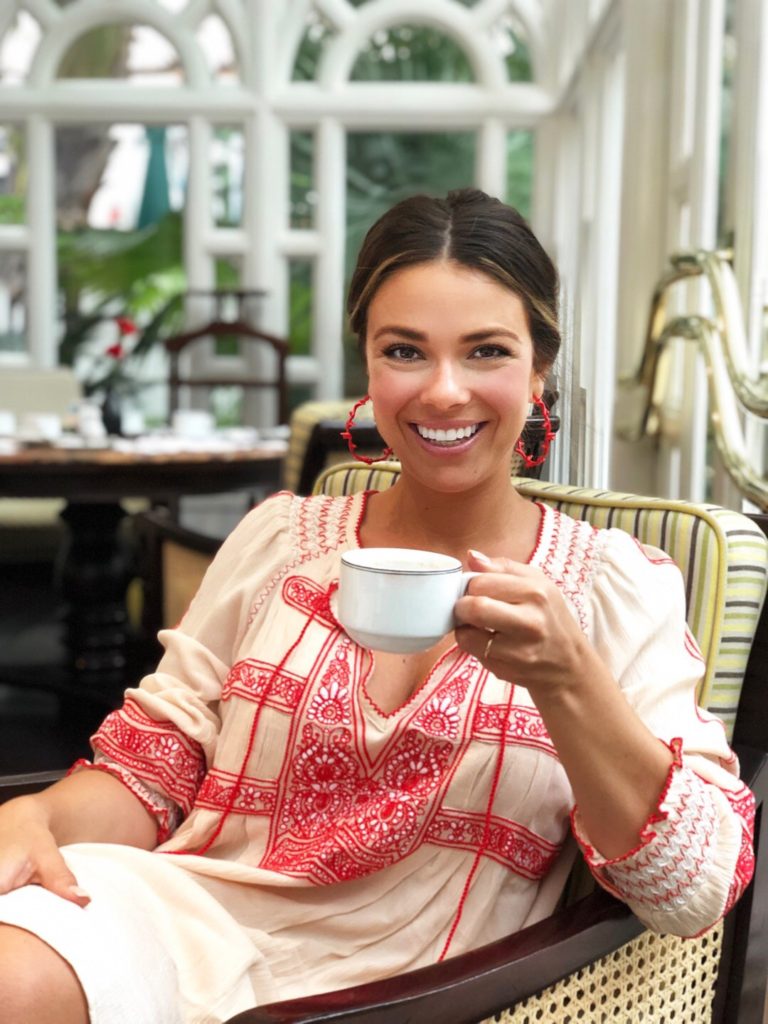 shop the look: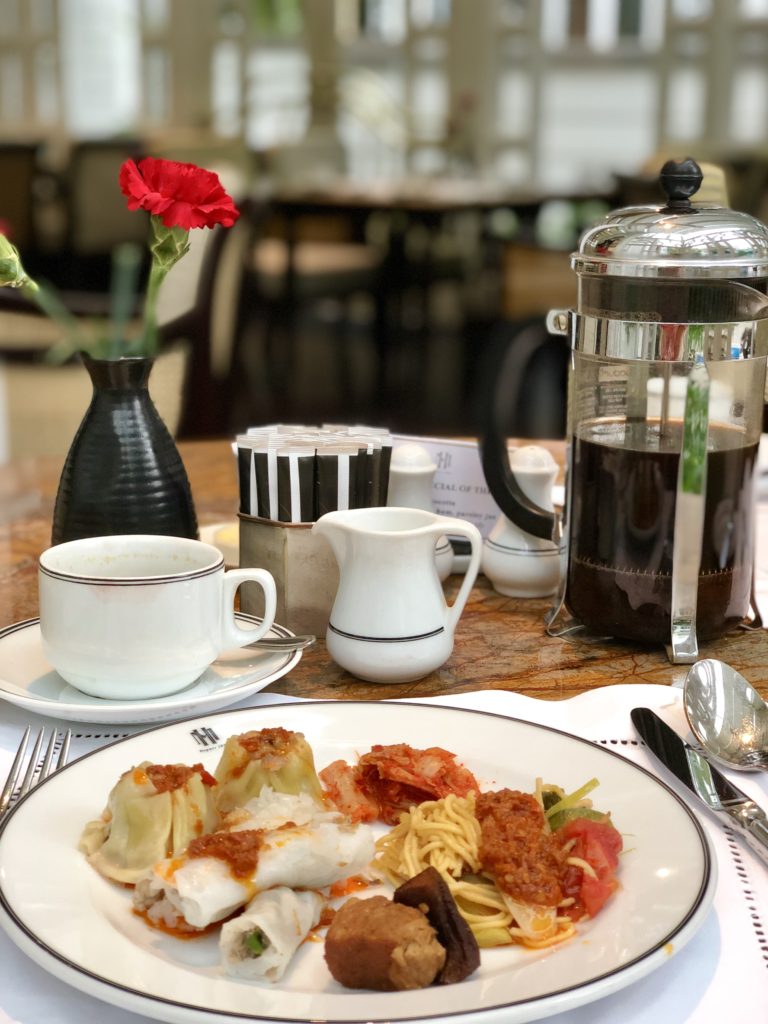 Sadly it was time for us to leave for our cruise of Halong Bay.
*Pro Tip: I highly suggest staying 3 nights at Sofitel Legend Metropole. I wish we would have spent our first day relaxing at the pool and enjoying the resort's amenities and exploring the beautiful neighborhood the resort is located in and then exploring Hanoi on the second day. The resort is so stunning and it needs to be enjoyed. I think a day of rest would have helped greatly with the jet lag.
After our cruise we returned to Hanoi for the night and stayed at the Essence Hotel. And we tried our hand at another rooftop bar, which boasted a great view but not great drinks. I'm not going to share the name of the place but I've heard Twilight Sky Bar has a great roof top bar. I recommend rooftop drinks before sunset because watching the hustle and bustle of the city is pretty fascinating!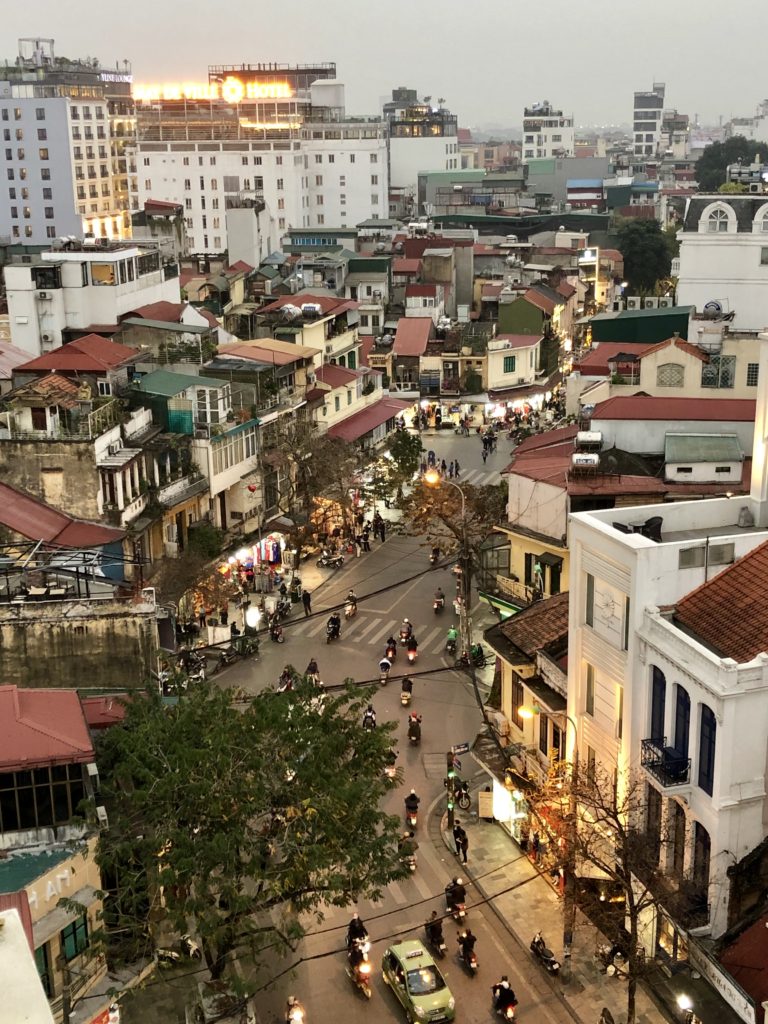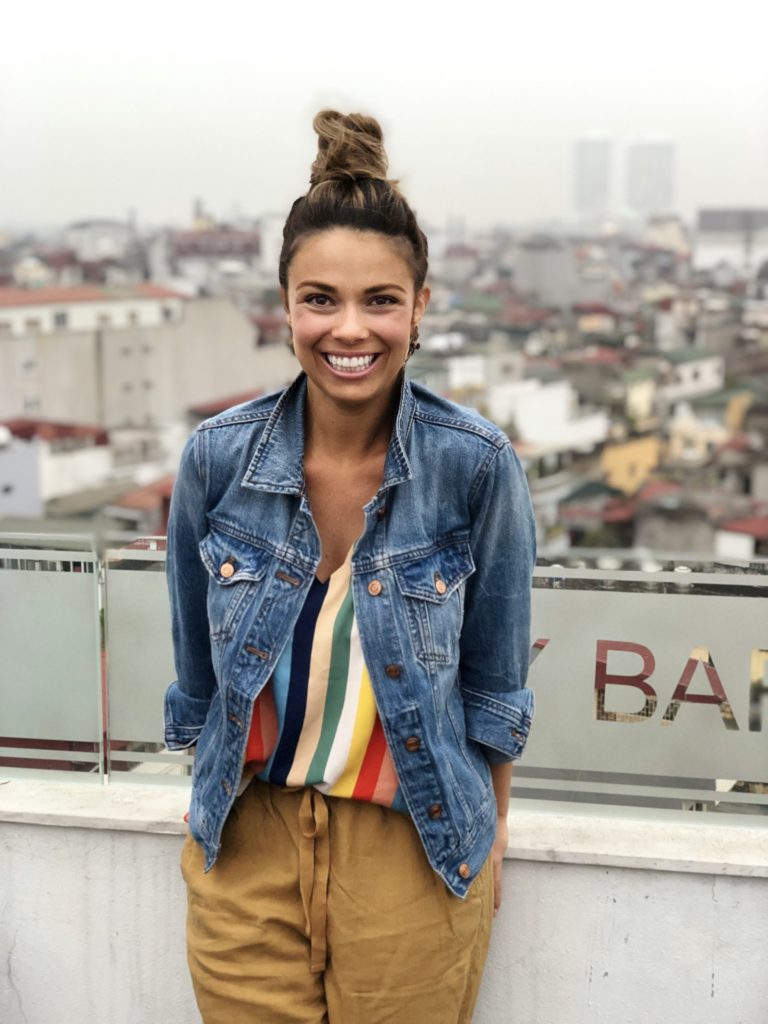 shop the look:

After drinks we had dinner at Grandma's which was lovely! We sat by ourselves on a second story patio over looking a quiet side street. We shared a bottle of wine and started with crab spring rolls. Next we split a delicious duck and beef cooked in bamboo. Our total for the evening was $60, again, very reasonable.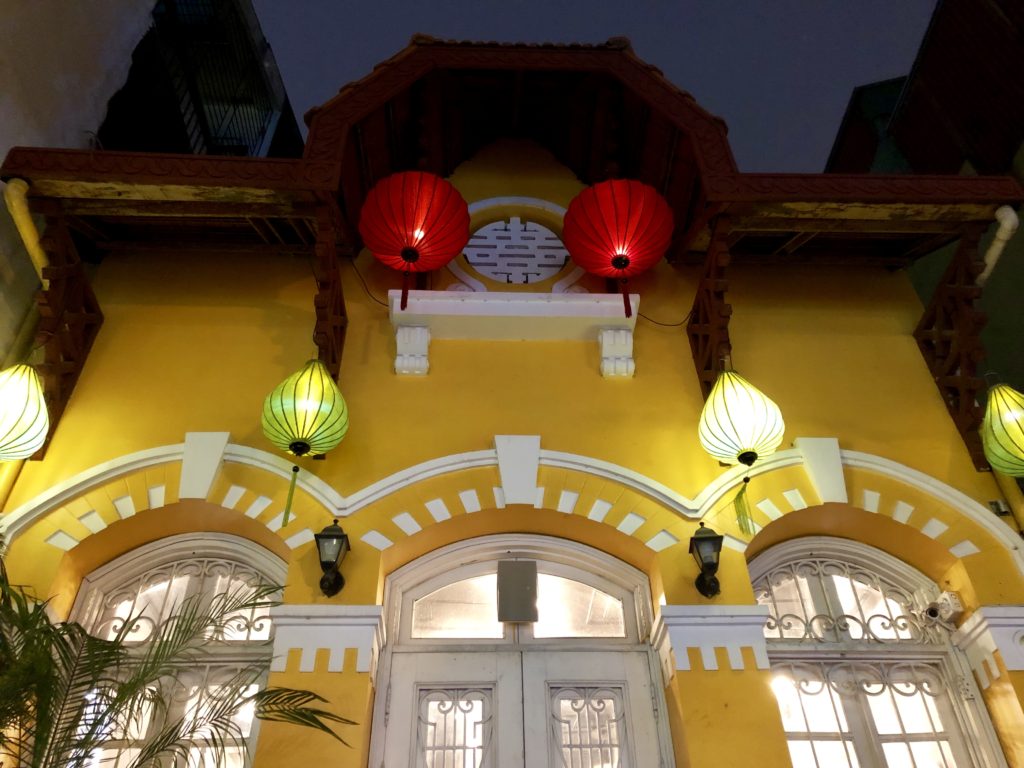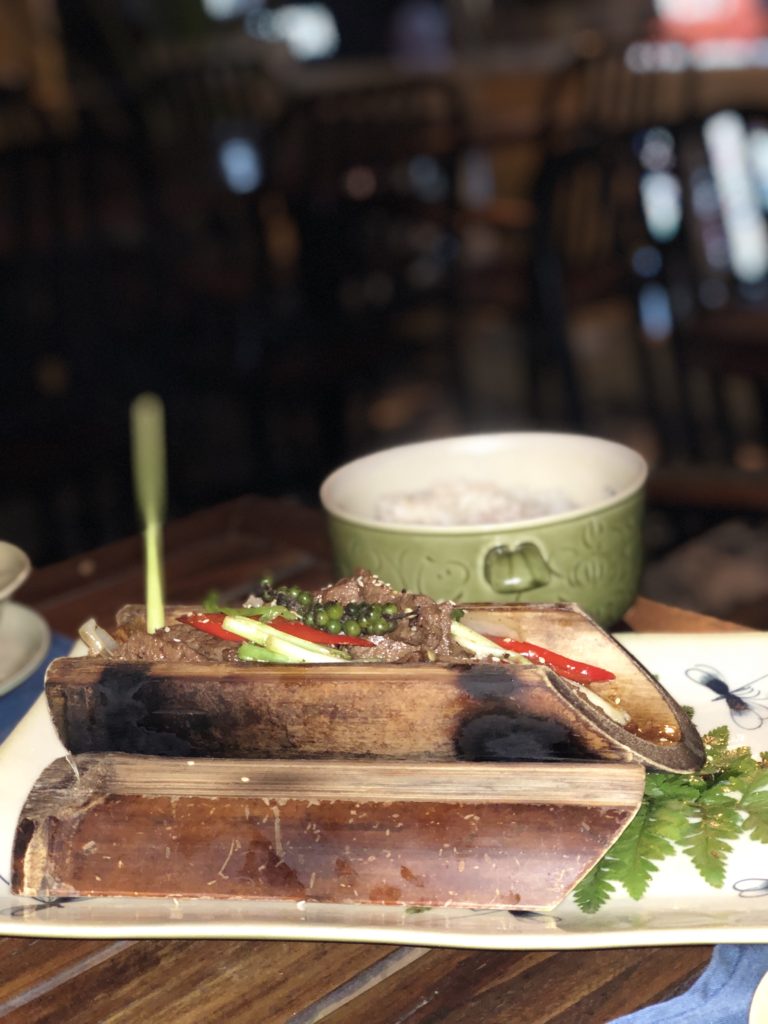 After dinner we explored Hanoi's night market which was fun!
I could not recommend the Sofitel Legends Metropole more! The hotel was 5 stars in every aspect! My only complaint is we couldn't stay there long enough.
Thank you so much to the Sofitel Legends Metropole for an amazing kick off to our honeymoon and for such a wonderful experience at you fabulous hotel and in your fascinating city.
Kisses and traveling wishes,