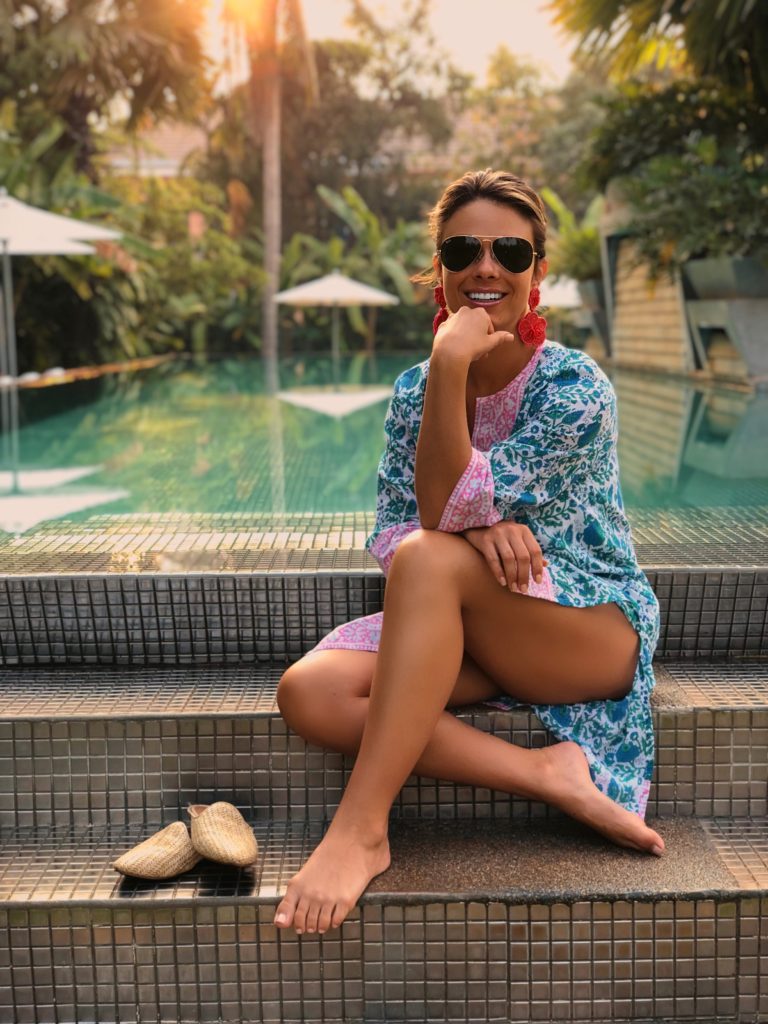 Hello gal pals! As most of you know Walker and I just returned from our honeymoon in Vietnam and Cambodia (and a brief stop in South Korea). I will be posting about every aspect of our exciting trip but since SO MANY of you asked for our itinerary so you could recreate the trip yourselves, I decided my first post about our honeymoon would be our itinerary.  Keep reading for our exact itinerary, what we actually ended up doing, and in some cases, what we wish we had done.
DAY: 1-2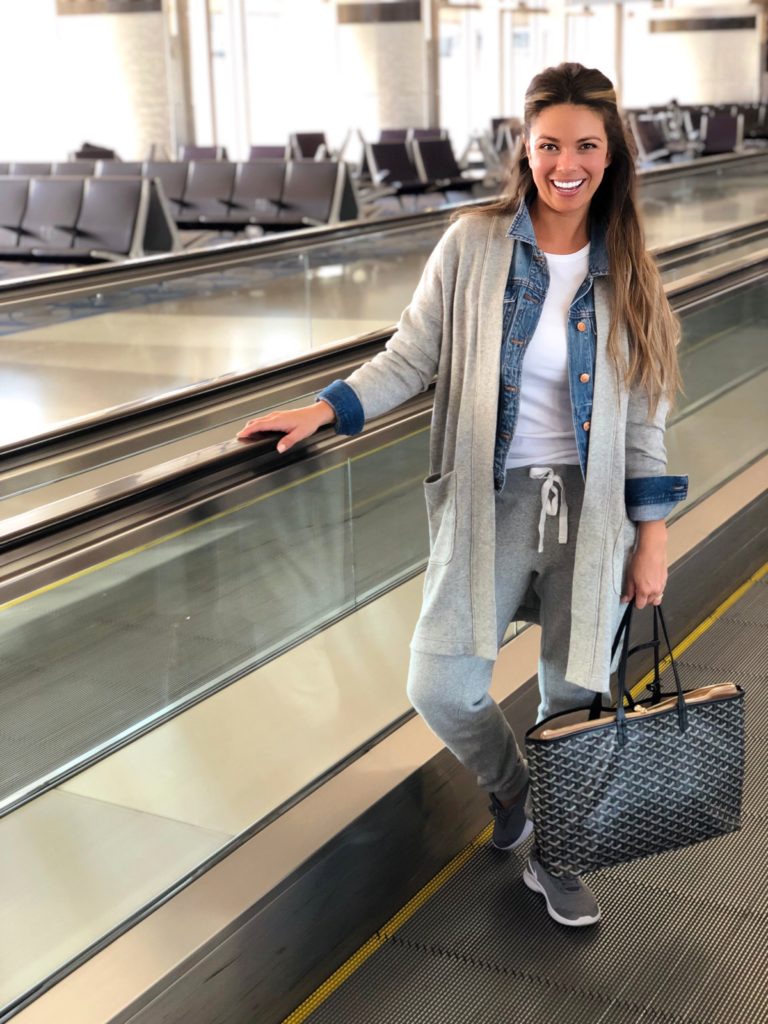 shop the look:

Fly from Los Angeles to Seoul, South Korea to Hanoi, Vietnam on Asiana Airlines.
*This was the first time we flew Asiana Airlines and it was rather hit or miss. The flights were all on time, which I greatly appreciate. 3 out of 4 of the aircrafts were modern and up to date with large screen TVs and charging docks. One of the aircrafts was at least 30 years old, had no charging docks and the TV screens were smaller than an iPhone. I'm not sure if it was the plane's age or what but that entire 10 hour flight was excessively bumpy. Some of the meals served on board were edible but we both passed on the last meal because we simply couldn't stomach it Wine limited to a half thimble served twice on the long haul flights and once on the shorter five hour flights. Water and juice were served slightly more frequently but I highly suggest buying ample water for the flights. Walker and I purchased larger waters for our flight to Seoul and Walker drank his in about ten minutes and then we found ourselves sneaking snips of the remaining bottle when the other wasn't looking #marriage. Also, half way through each flight they turn on all the cabin lights and over the main audio and video system provide a seated aerobics lesson. The worst part is, all the individual TVs play the aerobic demonstrations and you are forced to watch it. So if you intended to sleep or watch a movie, tough luck because its cardio time! We chose Asiana because it was the cheapest option and it did largely deliver but in hindsight another airline might have provided a more pleasant experience.
*For your Vietnam visas, I'd recommend just getting those when you land. We thought we had prepaid for those but we actually prepaid for some Visa sherpa and it wound up costing us the same as our Visas but without saving any time. So unless you're sure you have the real deal, I'd just get your Visa in country.
Check into Sofitel Legend Metropole.
*I wish we would have had one extra day here at Sotifel Legends Metropole to just relax and decompress. The hotel is so luxurious, the pool was STUNNING and I really wish we had more time to spend enjoying it all.
DAY: 3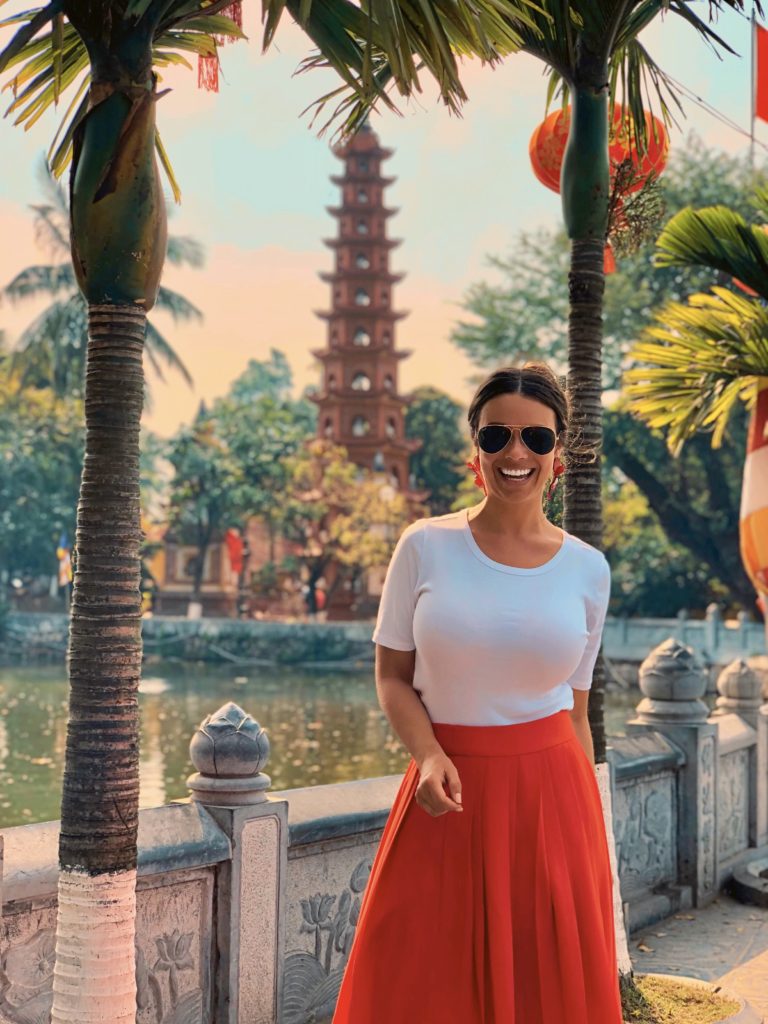 shop the look:

Have free breakfast at hotel.
Explore Hanoi on our own: Begin at Hoan Keim Lake and Temple of the Jade Mountain (Ngoc Son Temple), next Bach Ma Temple then lunch at Hungry Hanoi. After lunch explore Thang Long Imperial Citadel, Temple of Literature (Van Mieu Quoc Tu Giam), One Pillar Pagoda, Ho Chi Minh Mausoleum, Quan Thanh Temple and Tran Quoc Pagoda in West Lake. Stop for drinks at Summit Lounge at Pan Pacific Hotel then walk through Hanoi Ceramic Mural in route back to hotel. That evening, walk to Diamond Sky Bar for pre-dinner cocktails. Take rickshaw or cyclone to Ngon Villa Restaurant for 8:00pm dinner.
*We didn't visit the Temple of Literature or Quan Thanh Temple because we were exhausted and our feet were killing us!
*We had lunch at Heritage, which is right by the Imperial Citadel.
*Summit Lounge didn't open until 4pm and it was only 3, so we took a cab from the West Lake area to the Hanoi Hilton (Hoa Lo Prison). We both felt that we should visit the Hanoi Hilton while we were there but we found the experience especially upsetting because the presentation didn't accurately depict the torture American airmen experienced there.
*We had drinks at Diamond Sky Bar and loved it so much we stayed there for dinner and ate at their restaurant Gourmet Corner.
DAY: 4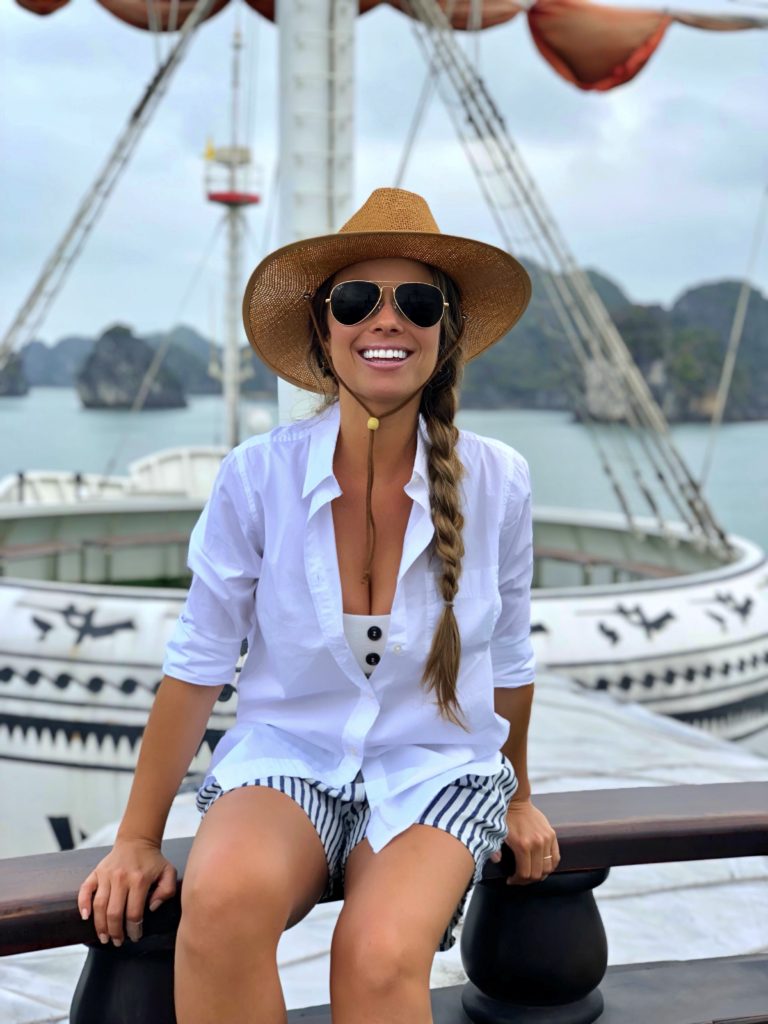 shop the look:

Have free breakfast at hotel.
Depart on Dragon Legends Cruise for 2 day/1night cruise
DAY 5: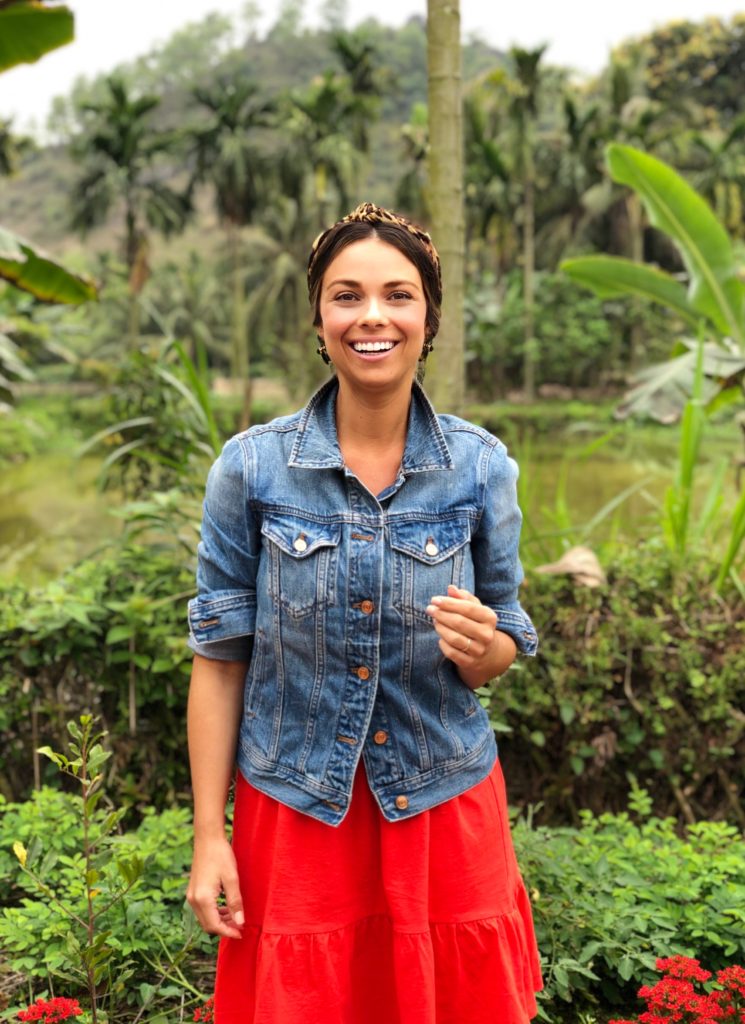 shop the look:

Depart Dragon Legends Cruise.
* Dragon Legends offers a cruise and one night village stay option which I think would be really cool if you had the time. We were on a strict two week time schedule (lol) so we had to keep things tight.
Return to Hanoi.
*We wish we could have flown to our next destination right after the cruise but because of flight times we had to go back to Hanoi, stay the night and fly out the next morning. I suggest seeing if you could arrange your own transportation from the cruise docks to the airport. The cruise provides transportation and a traditional village for a puppet show which was entertaining but we would have preferred to have gotten to Hue a day earlier.
Stay at Essence.
Dinner at Grandma's.
After dinner options: Have drinks at Twilight OR explore Hanoi Night Market.
*We explored the night market and loved it!
DAY 6: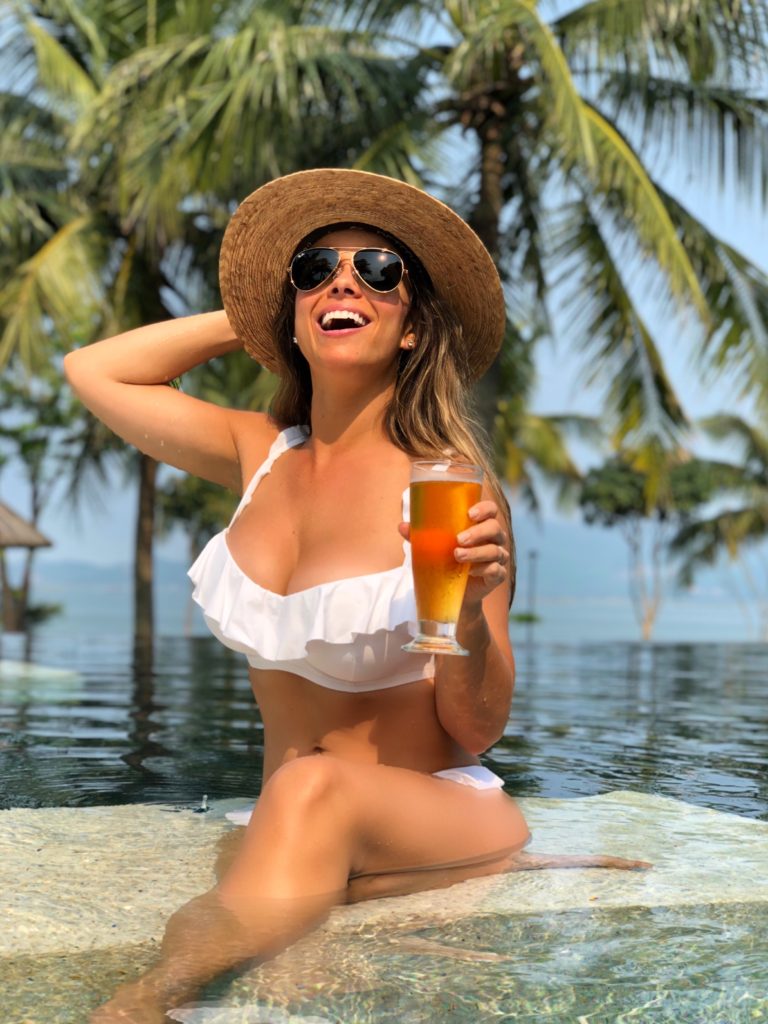 shop the look:

Fly from Hanoi to Hue on Vietjet.
*Fly Vietnam Air instead. Yes the flights are only like $32 on Vietjet but pay the extra and save yourself from the near heart attacks. Our flight was an hour delayed and after reading many reviews we realized we were blessed to have our flight only an hour late! I paid extra for "extended leg room" and our seats actually had less leg room than most seats on board. There's no in flight service so its BYO- drinks. I'm more sensitive than most to turbulence but the flight was very bumpy. Of course that's not completely the airlines' fault but I really wished I had a stiff drink especially when the flight attendant hurried to the jump seat next to us and put his head between his knees when things got really rough.
Check in to Vedana Lagoon Resort & Spa.
*We did on over water bungalow and this is a MUST! I'd recommend 3 nights here if your schedule allows. The extra day of lounging at the pool on the lagoon would have been great!
Spend the day relaxing at the pool.
Dinner at hotel.
DAY 7: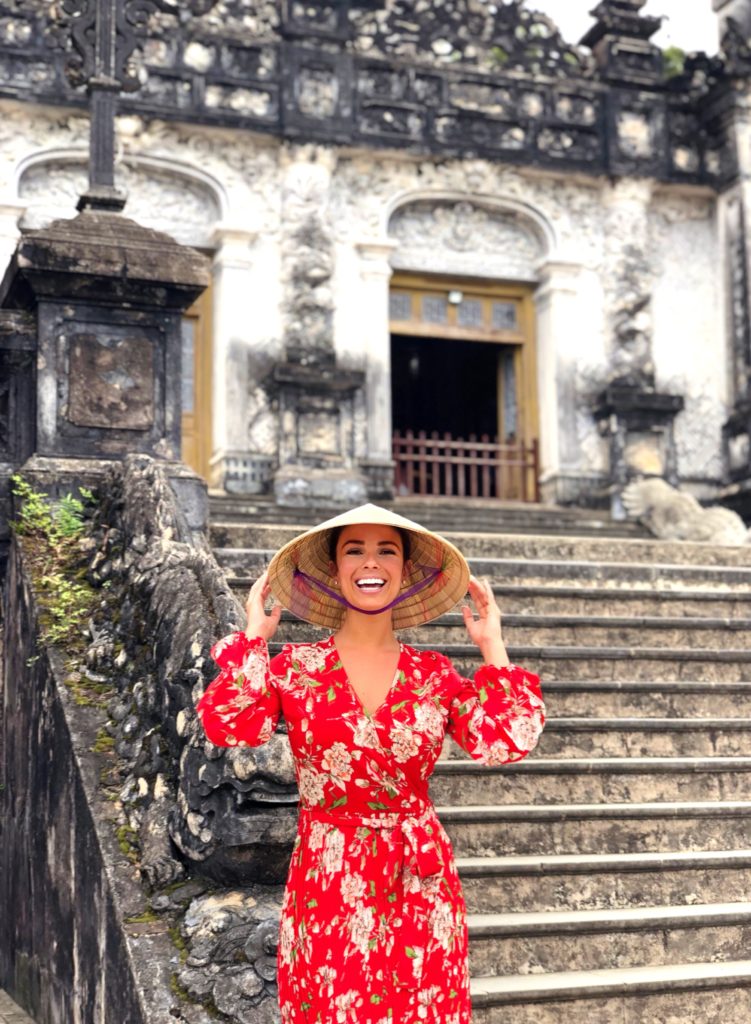 shop the look:

Have free hotel breakfast.
Explore Hue with Stop & Go Tours: Visit Minh Mang Tomb, Khai Dinh Tomb, Hue Citadel and Imperial City by car and Thein Mu Pagoda and Garden House by boat on the Perfume River. Lunch served on tour.
*The boat portion of the tour was extra and again, I highly recommend it! It was one of the highlights of my trip! A tour guide is also extra and I also recommend!
Dinner at hotel.
DAY 8: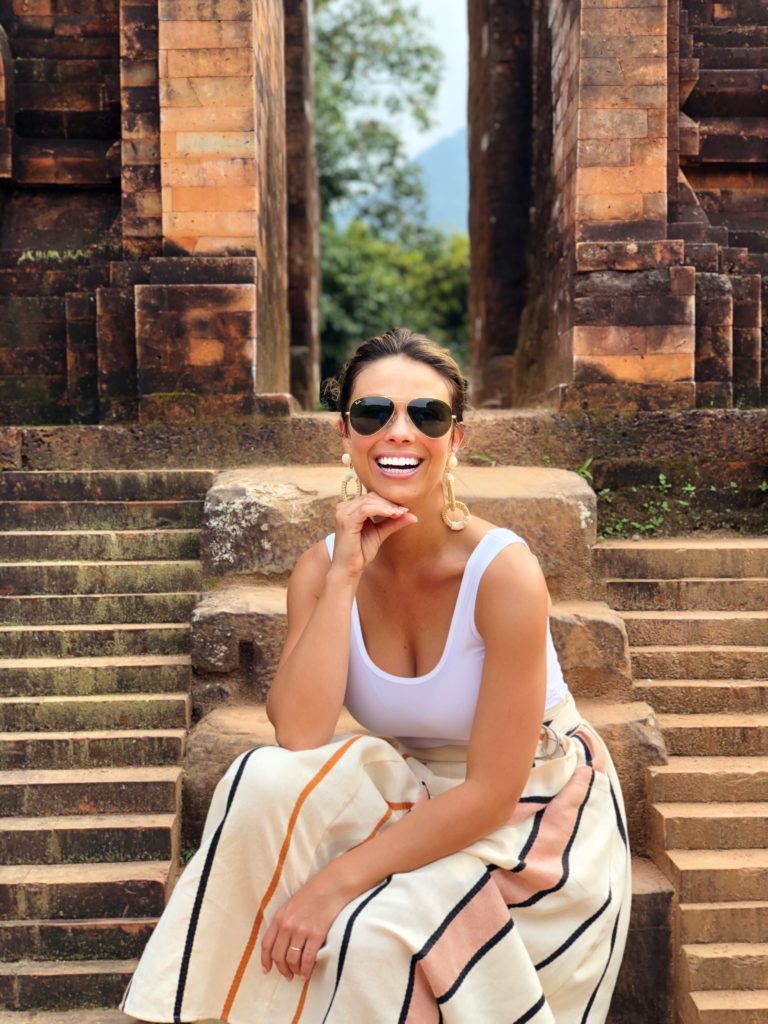 shop the look:

Have free breakfast at hotel.
Drive from Hue for Hoi An.
*When booking our tour for that afternoon, I arranged for our tour driver to pick us up in Hue and drive us to Hoi An prior to our afternoon tour which worked out perfectly!
Mỹ Sơn Holy Land for tour with Tommy Dao Tours.
*The tour guide was extra and could not have been better. Kim was the absolute highlight of our entire trip for Walker.
After tour explore Hoi An Night Market and have drinks at Corner Corner Sky Bar.
Walk to Little Faifo Restaurant for 8:30 dinner.
*After our tour, we asked our driver to drop us off at the night market instead of our hotel. He was happy to do so.
*I'd pass on drinks at Corner Corner Sky Bar.
*We moved our reservation from 8:30 to 7 because we were starving and exhausted.
DAY 9: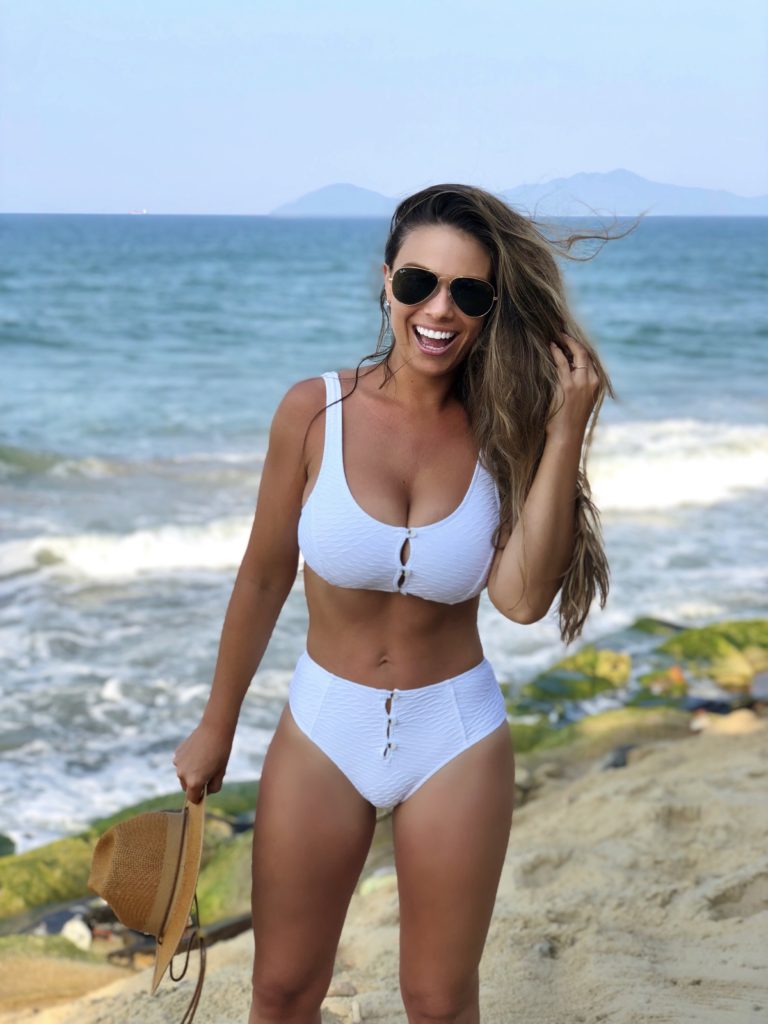 shop the look:

Da Nang City Tour with Tommy Dao Tours: Tour of Marble Mountains, Giant Lady Buddha and Dragon Bridge.
*We were so exhausted from the wedding and traveling for 9 days we canceled our tour and spent the day relaxing at Koi and I don't regret it at all!
Dinner options: An Gia Cottage, The Deck House or the hotel.
* We had all our meals at the hotel that day.
DAY 10: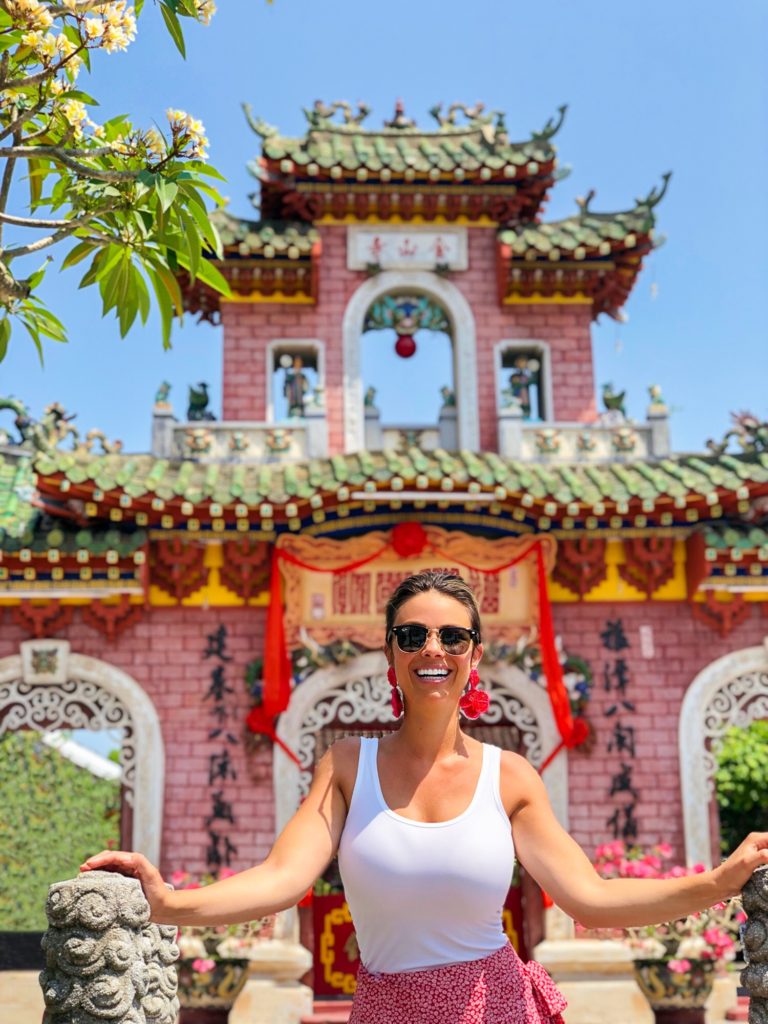 shop the look:

Explore Hoi An on our own: Take taxi to Ticket Office for Old Town (15min drive from hotel). Next visit Japanese Covered Bridge (Cau Chua Pagoda) and Cantonese Assembly Hall. Stop for lunch at Home Hoi An. Then visit Hoi An Ancient Town, Fukian Assembly Hall, Hoi An Market and lastly Quan Cong Temple.
*The hotel offers transportation into town which is awesome so we utilized that!
*We also didn't have lunch but if you do have lunch in town I'd recommend Bánh mì Phuong, which is apparently the best Bánh mì in Vietnam according to Anthony Bourdain.
*If your schedule allows, I'd suggest 3 nights here at Koi.
Fly from Da Nang to Seim Reap on Cambodia Angkor Air.
*We did our VISAs ahead of time for Cambodia as well, and unlike in Vietnam this was actually a success and I would recommend it!
Check into Jaya House River Park.
DAY 11: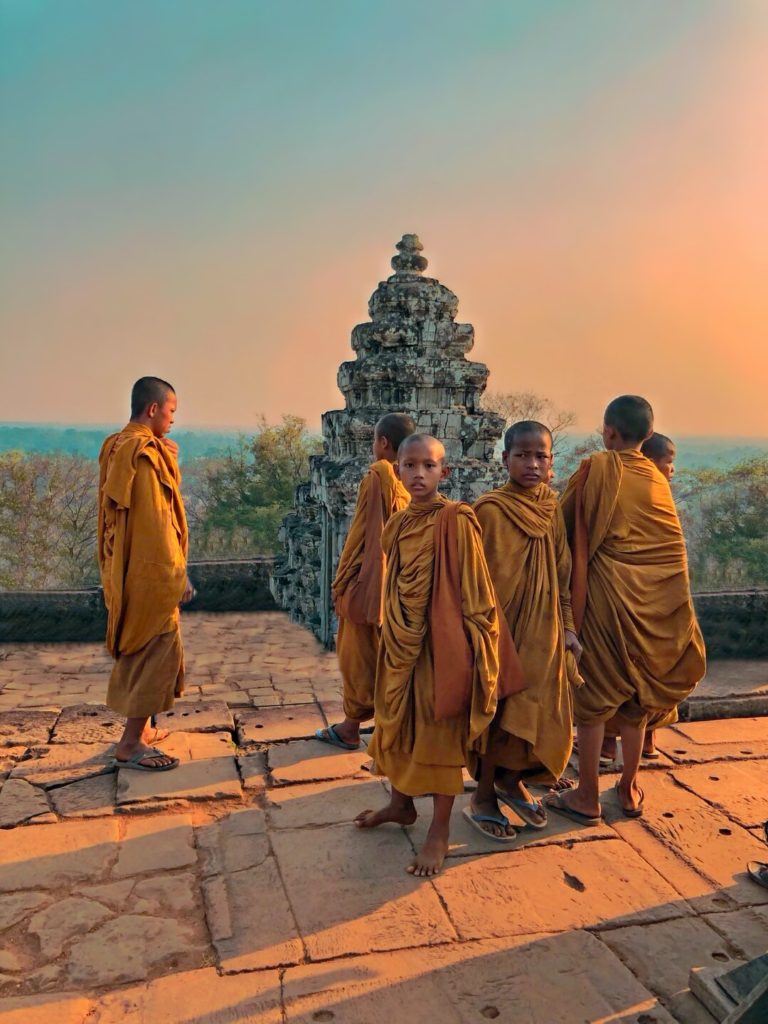 Have free breakfast at hotel.
Private Full-Day Angkor Temple & sunset viewing with Bravo Indochina Tours: Begin tour of temples at Angkor Thom and Bayon Temple. Next have lunch at a local restaurant. After lunch, visit Ta Prohm Temple, Angkor Wat and lastly Bakheng Hill to watch the sunset over Angkor Wat.
Dinner options: The Touich, Jomnan's Kitchen or eat at hotel.
*We had a wonderful dinner at the hotel.
DAY 12: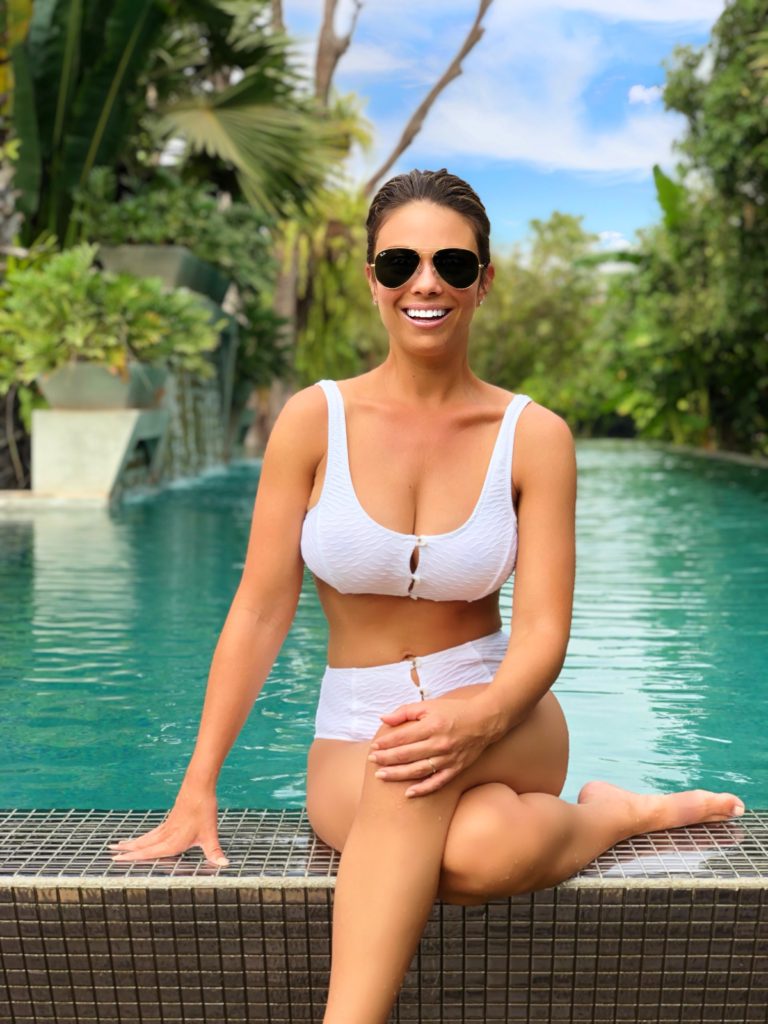 shop the look:

Have free breakfast at hotel.
Relax in the morning by the pool.
Afternoon exploring Siem Reap: Take cab to Wooden Watermill Wheel (1mi/5min drive from hotel) then Wat Bo Temple. Stop for lunch at The Sugar Palm. After lunch explore Wat Damnak and Psah Chas (Old Market). After exploring the Old Market walk to Siem Reap Night Market and explore. Next walk to Angkor Night Market, explore and have drinks at Island Bar. Next, stop at Miss Wong's Cocktail Bar on the way to dinner at Viroth's.
*We had a boozy breakfast at the hotel, spent the afternoon at the pool and had lunch at the hotel as well. Around 3:00 we took the hotel's complimentary tuk tuk into town. We explored Wat Bo, Wat Damnak, both markets and Wat Preah Prohm Rath then went back to the hotel to catch sunset on the roof top bar. I wouldn't recommend Island Bar. I wasn't feeling well so we had room service that night. The old market was fascinating and Wat Preah Prohm Rath was kinda cool but we wished we would have just stayed at the hotel.
DAY 13: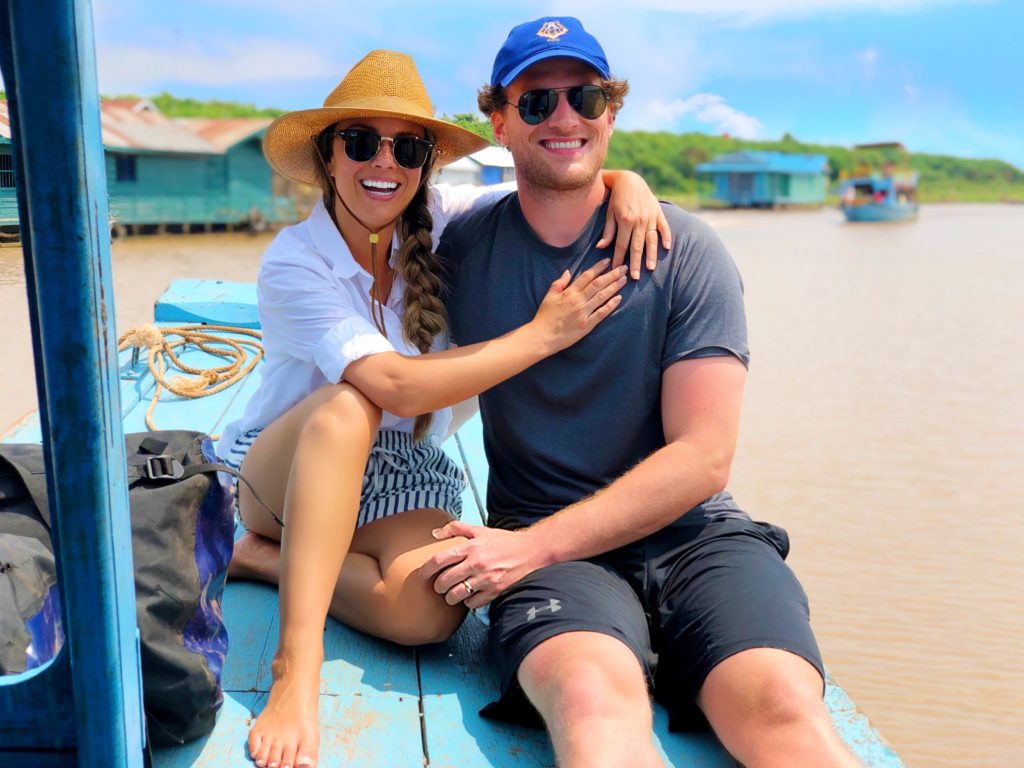 shop the look:

Half Day tour of floating village on Kampong Kleang Stilted Village with Indochine Exploration.
Fly from Siem Reap to Hanoi on VietJet
*Our flight was an hour late again and we were VERY nervous about missing our connecting flight. When booking flights, if you are changing airlines you have to go though customs and immigration, get your bags, recheck them and go through security. We had 3 hours (should have been 4 but only had 3 because of the delay) and it was tight! Also remember, if you do it this way you was re-entering the country and you'll need a multiple entry VISA.
Fly from Hanoi to Seoul on Asiana Airlines
DAY 14: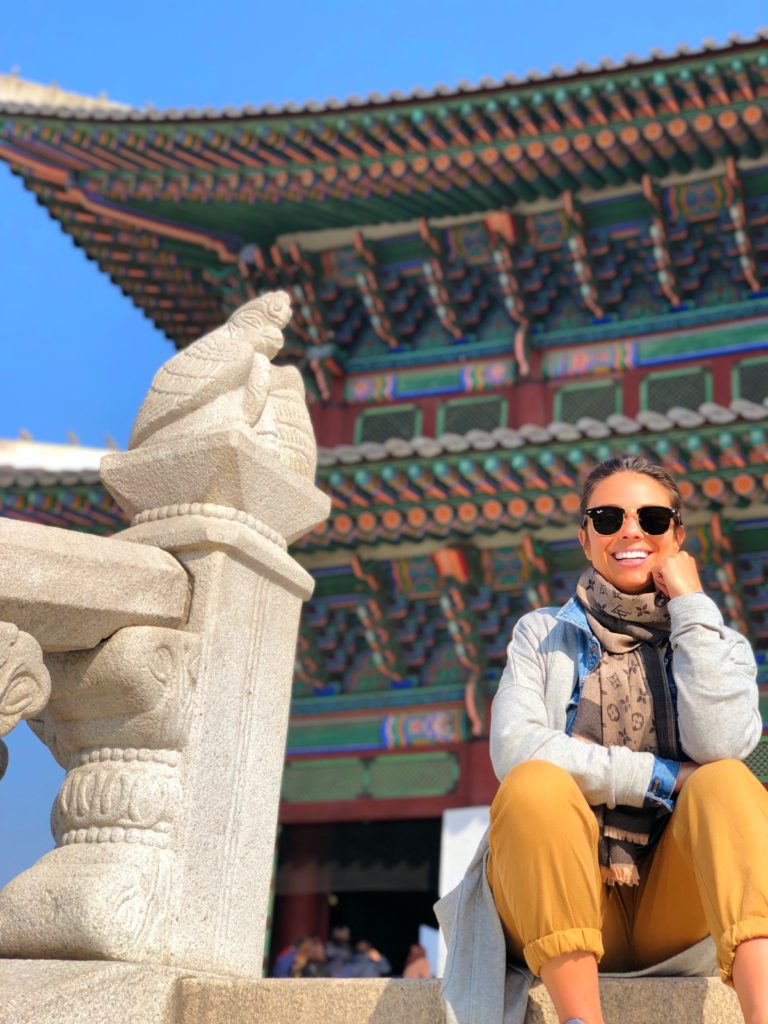 shop the look:

Land in Seoul and explore city during 15 hour layover.
*Most airlines, unless you want to pay an excessive amount more, force you to have a long layover somewhere in Asia on one of the legs of your trip. I'd recommend taking it on your flight there. You're still excited and not completely exhausted and you'll be able to enjoy it.
Take Airport Railroad Express (AREX) from ICN to Downtown Seoul take express, not "all stops".
Explore Gyeongbokgung Palace, Bukchon Hanok Village and Namdamun Market.
*The airport offers prearranged tours you can book upon arrival, but Walker and I aren't group tour people so we wanted to do it on our own.
Have lunch at Maple Tree House.
*We stored our large carry ons at the airport before boarding the train. The Changing of the Guards is at 10am at Gyeongbokgung Palace which was pretty cool to see.
*Since we were there on a Sunday Namdamun Market was closed.
*We had dinner at the airport which I deeply regret and I'd recommend eating in Seoul before taking the train back to the airport.
Fly from Seoul to Los Angeles on Asiana Airlines
Fly from Los Angeles to Dallas on Southwest
I hope you find this itinerary helpful and stay tuned for more posts highlighting our fabulous honeymoon in Southeast Asia! Up next: Our exciting stay in Hanoi!
Kisses and traveling wishes,