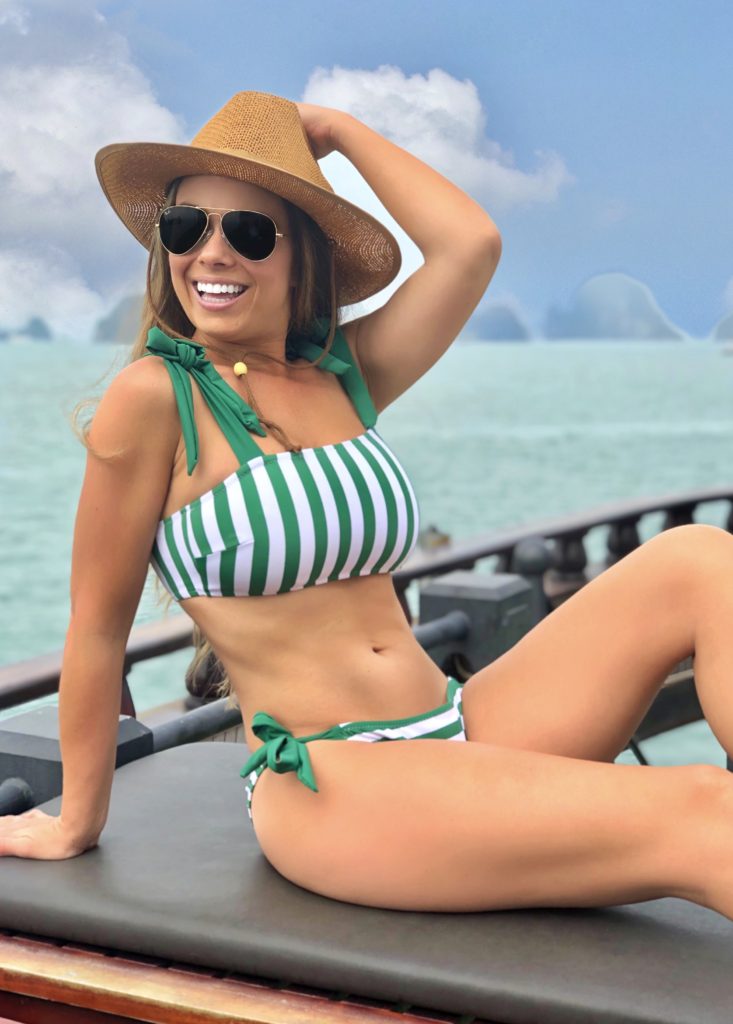 Good morning Friends and happy Monday! I hope you all had wonderful weekends. Last week I shared our full honeymoon itinerary and also a play by play of review of our fast times in Hanoi. Our next stop was a 2 day, 1 night cruise with Dragon Legend through the incomparable Halong Bay! Keep reading for all the details!
At 8:45am we were picked up by or driver in a 6 passenger luxury van equipped with charging docks and wifi (hell yeah!). Dragon Legend arranges and provides transportation from your hotel in Hanoi to the dock in Halong Bay which makes planning and arriving a breeze. The drive is about 4 hours long with 1 stop about half way through. The drive was painless. I listened to a few podcasts, edited photos and slept. The views out the window were fascinating too! Miles and miles of rice paddies and beautiful scenery.
We arrived at Halong Bay, were given our boarding passes and shortly afterwards boarded a small boat that would take us to the cruise ship, the Dragon Legend II.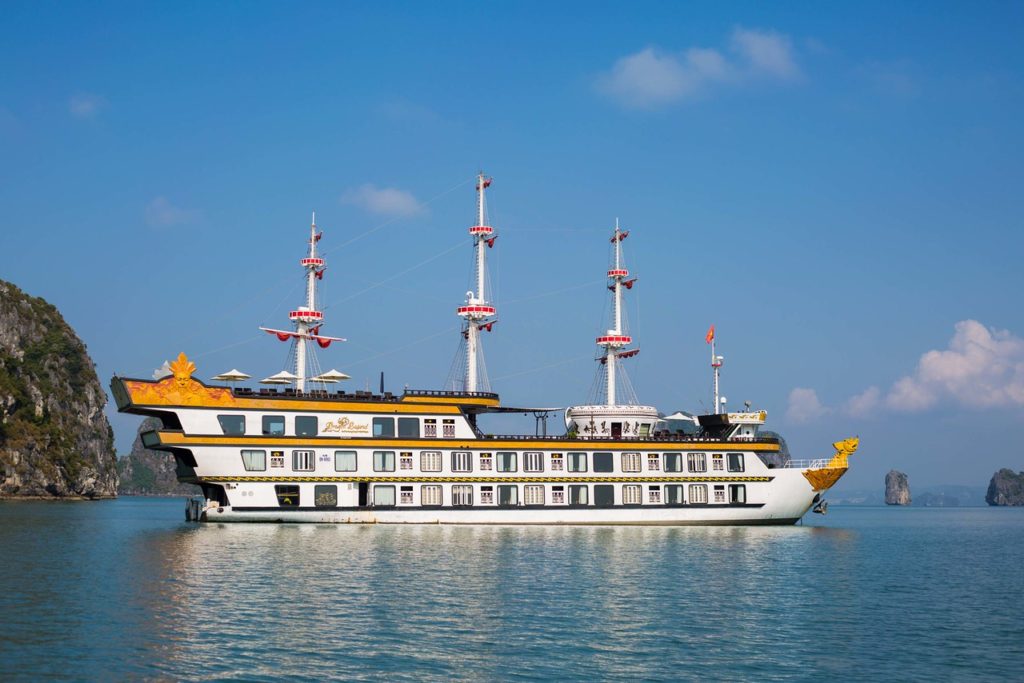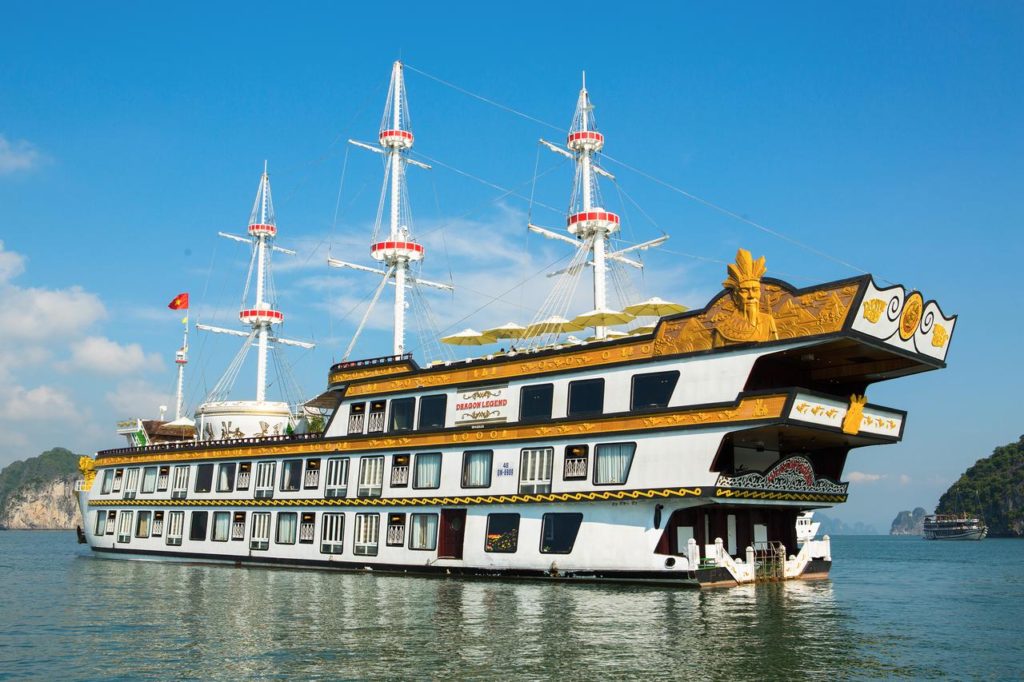 The boat was beautiful! We checked into our cabin which was in the very font of the ship. The ship is small, with only 24 cabins. It featured multiple decks, a eagles nests, a spa and even a pool. Our cabin was phenomenal and shockingly spacious! It was bigger than some of the hotel rooms we stayed in during our time in Southeast Asia. It boasted a queen bed, a sitting area and desk area,massive windows to take in the amazing views of Halong Bay. The massive bathroom had a huge Jacuzzi tub and a shower. So luxurious!!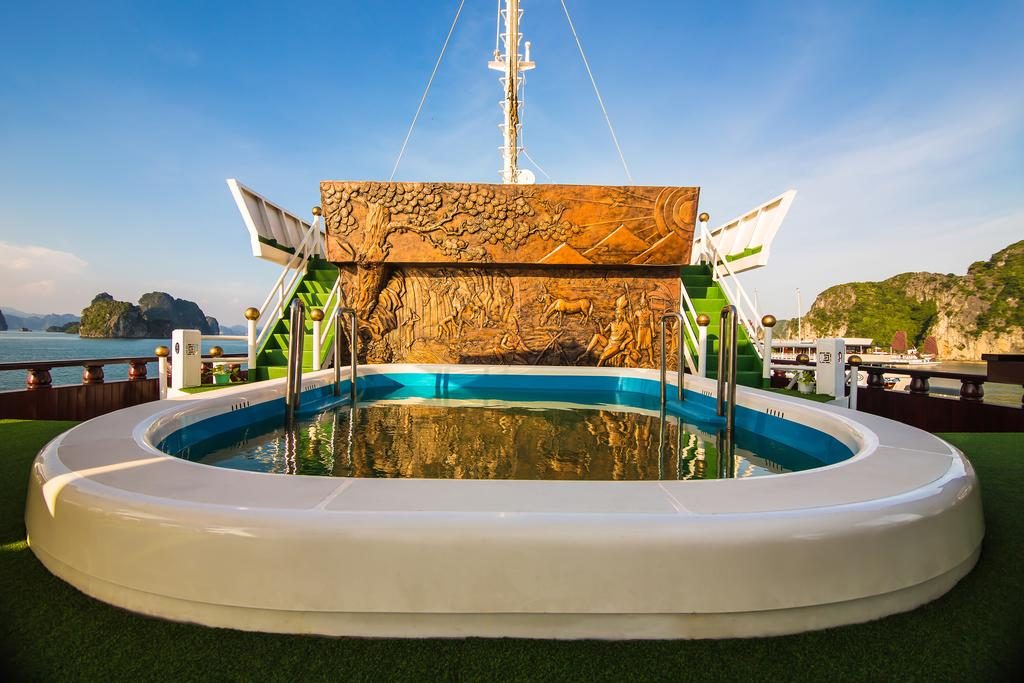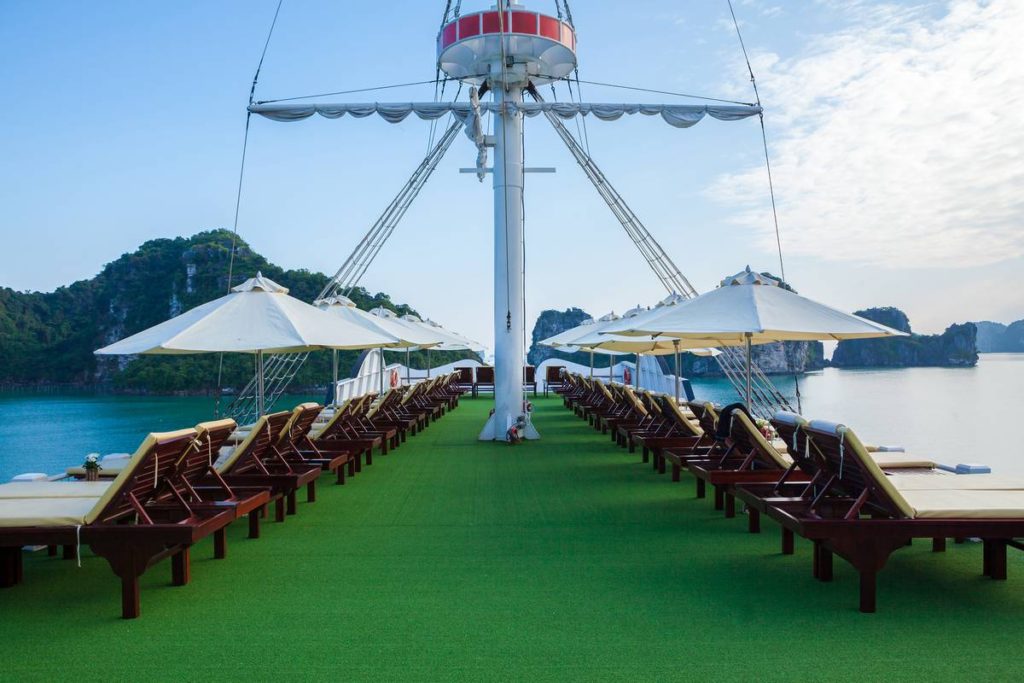 After freshening up it was lunch time on the main deck and boy were we in for a treat! We started with martinis- mine watermelon and Walker's up with an olive. We sipped and gawked at the amazing natural beauty we were cruising through. It is impossible to do the views justice with my words alone. Needless to say we were spellbound by the sights.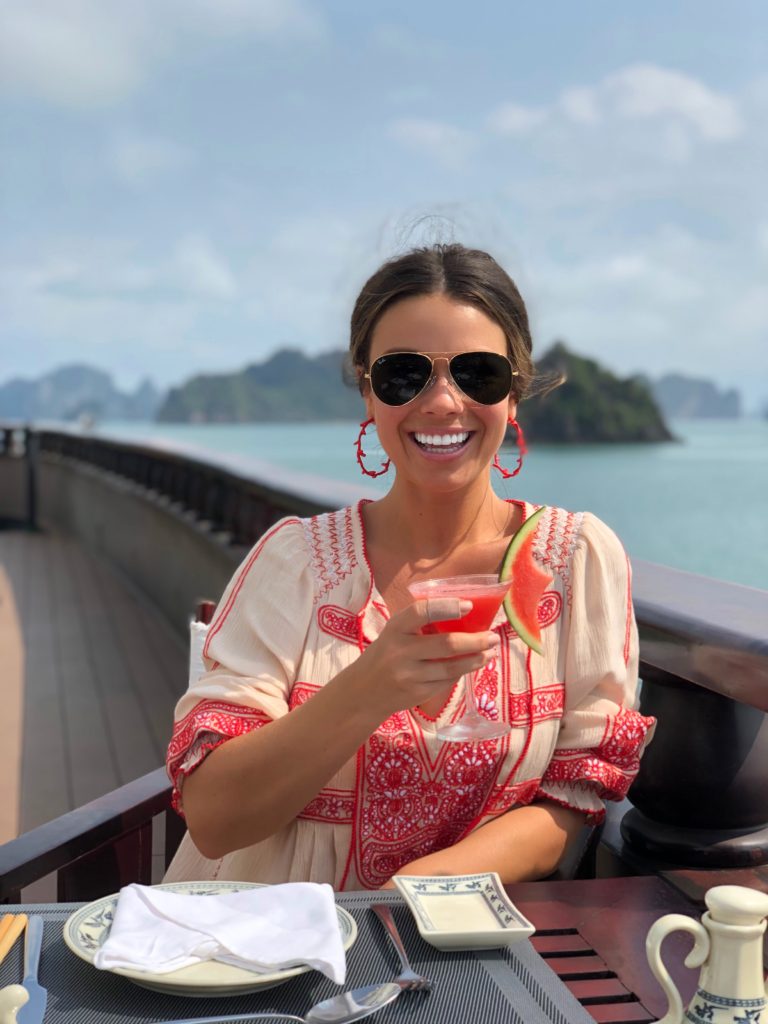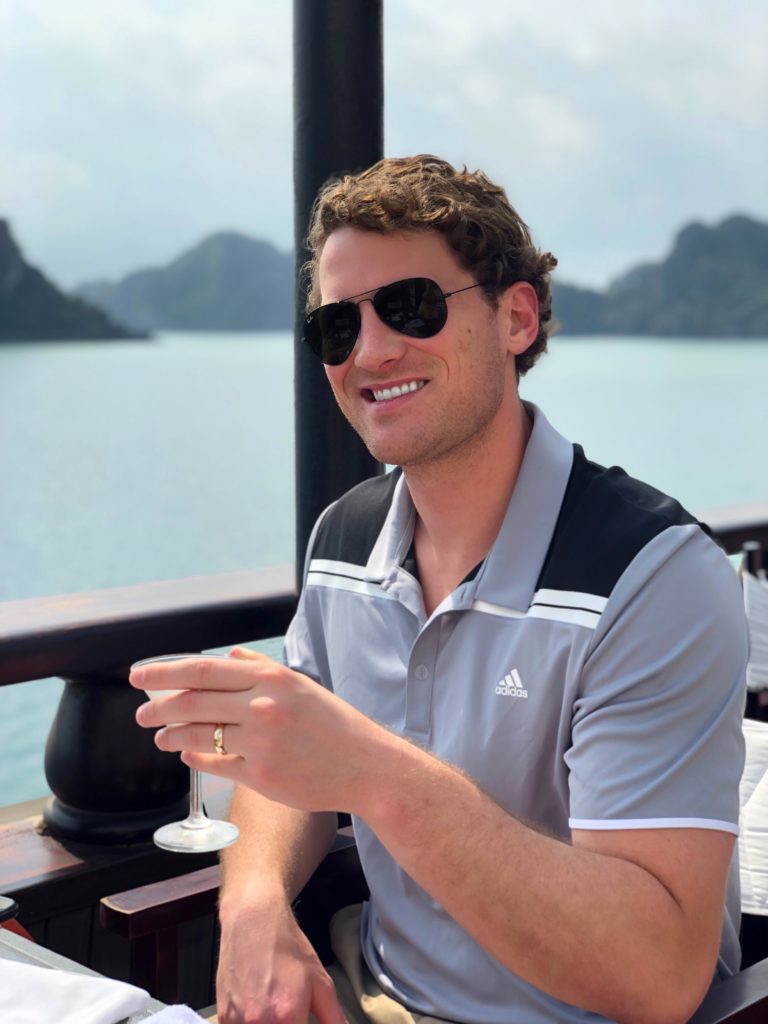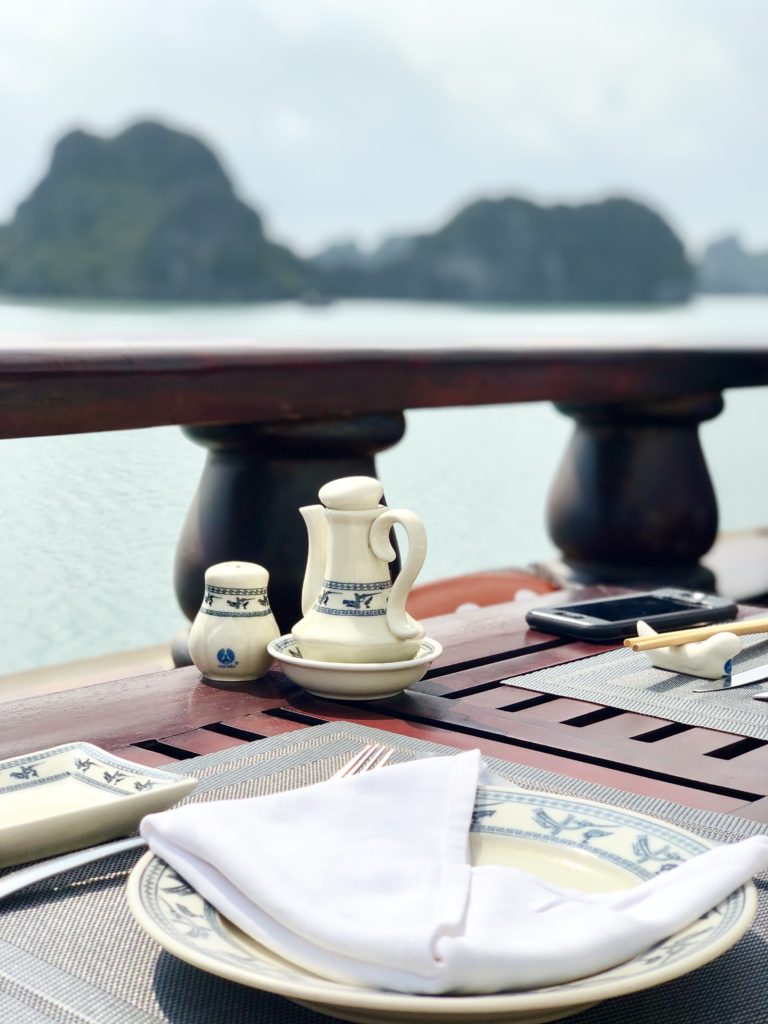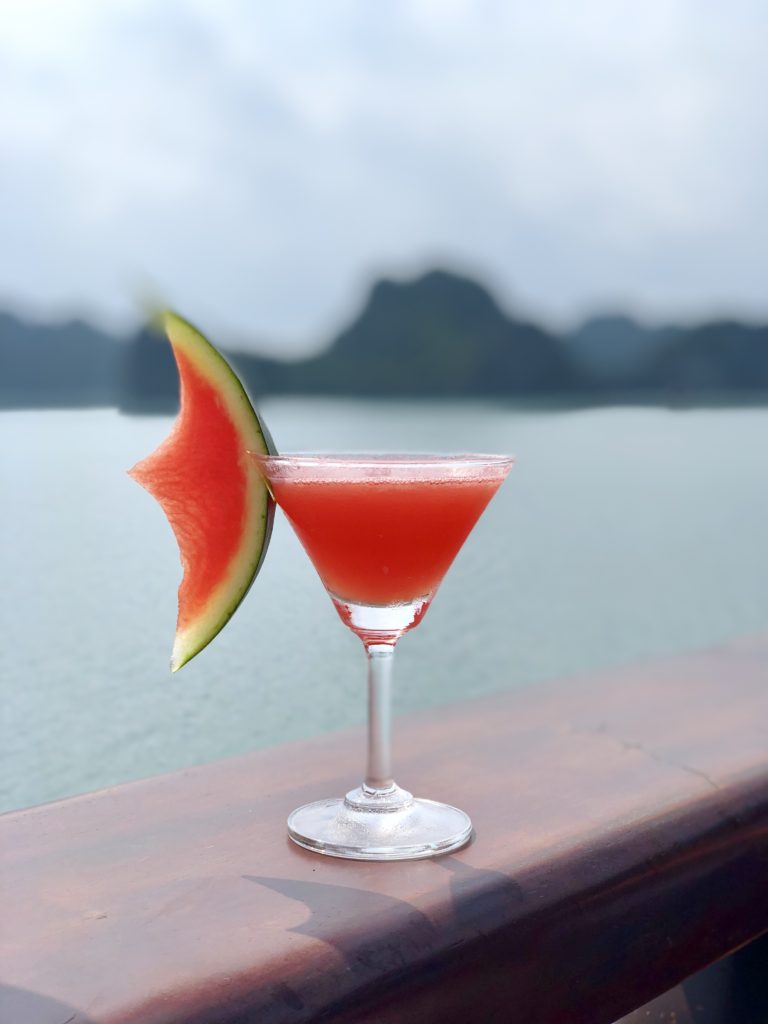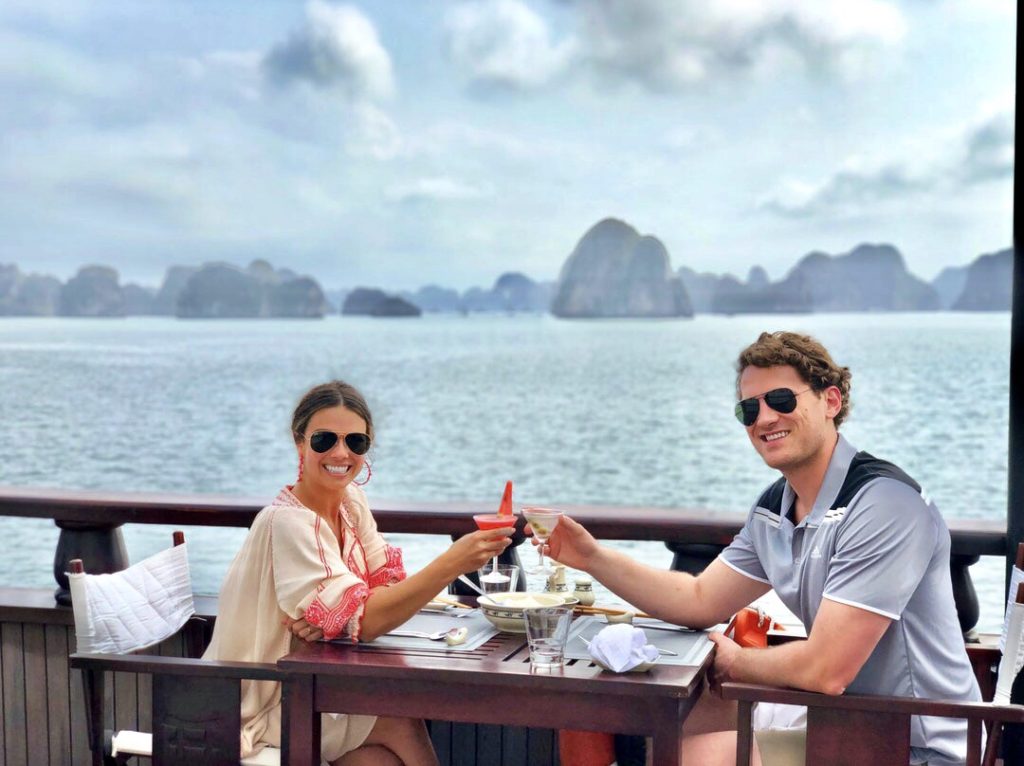 Halong Bay is a UNESCO World Heritage Site and popular travel destination the in Quang Ninh Province of Vietnam. The name Ha Long means "descending dragon".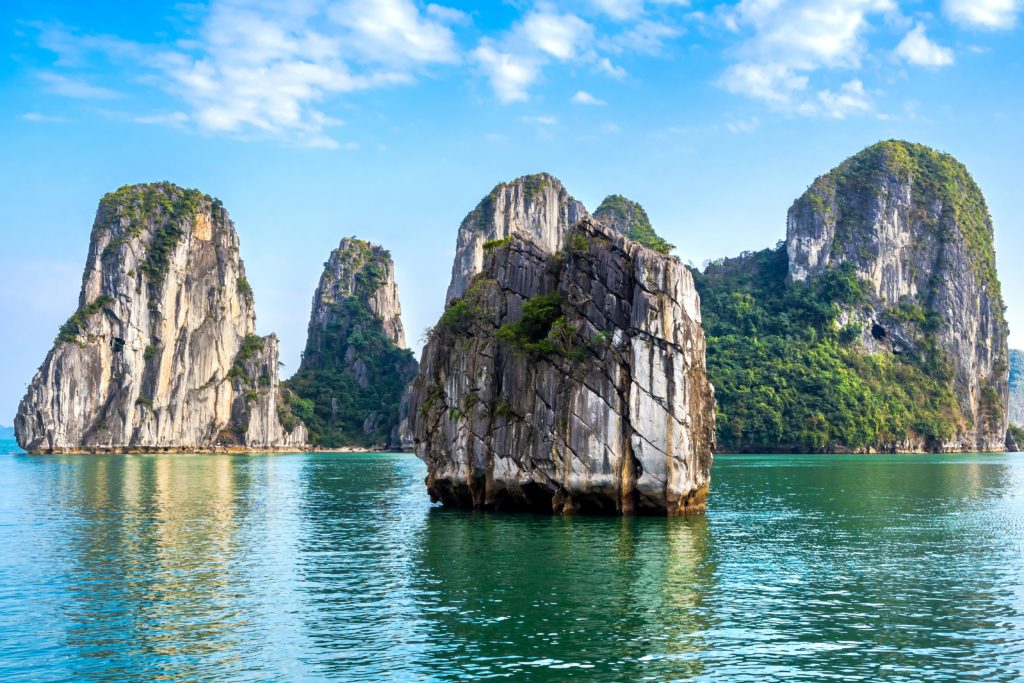 According to local legend, when Vietnam had just started to develop into a country, they had to fight against many invaders. To assist the Vietnamese in defending their country, the gods sent a family of dragons as protectors. This family of dragons began spitting out jewels and jade. These jewels turned into the islands and islets dotting the bay, linking together to form a great wall against the invaders. After all the battles were won, the dragons chose to live on the peaceful bay.
The bay features thousands of limestone karsts and isles in various shapes and sizes. Halong Bay has an area of around 600 sq mi, including 1,960–2,000 limestone islets. The evolution of the karst in this bay has taken 20 million years to form. So cool!
Historical research surveys have shown the presence of prehistoric human beings in this area tens of thousands years ago. A community of around 1,600 people live in Halong Bay's floating fishing villages today.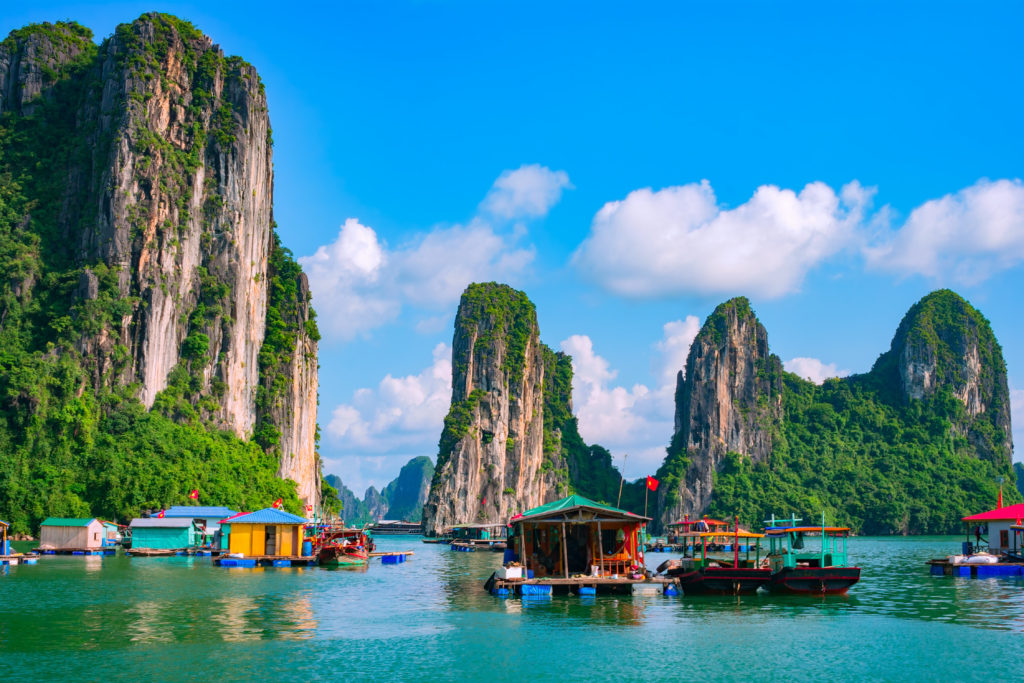 Our first course for lunch was an insanely delicious sweet and sour shrimp soup. Next was a beautiful cucumber salad with fresh herbs and a lime dressing. For our main course we had lemon grass prawns, chicken mango curry, steamed sea bass and rice. It was all so delicious! The service was 5 stars as well.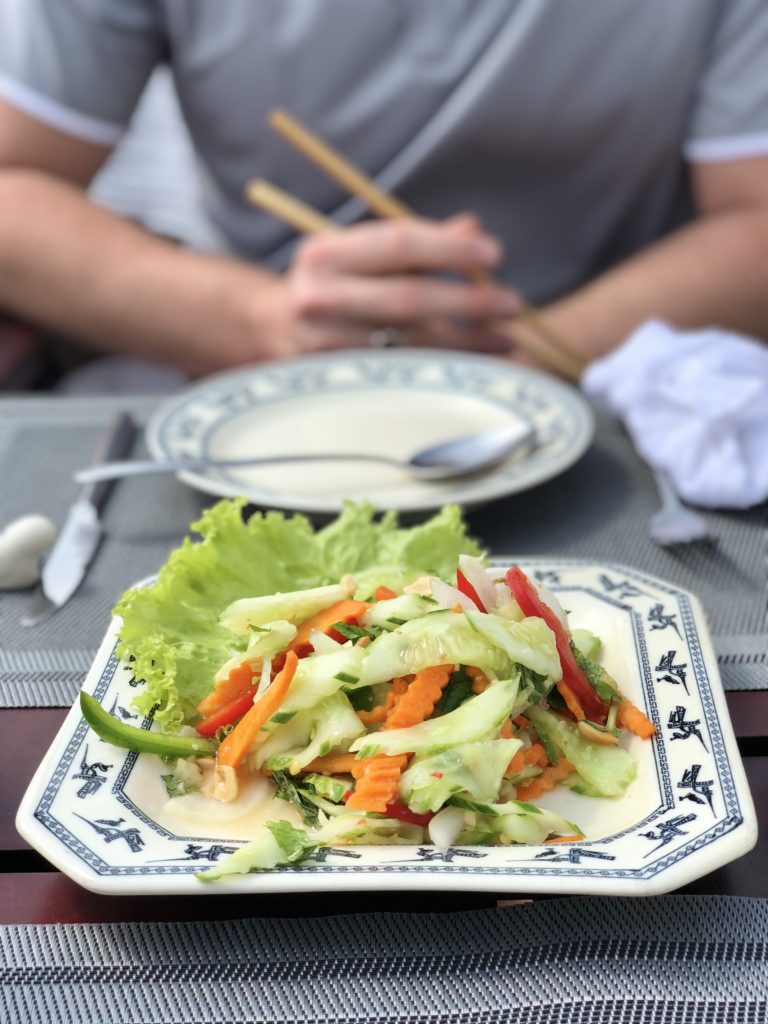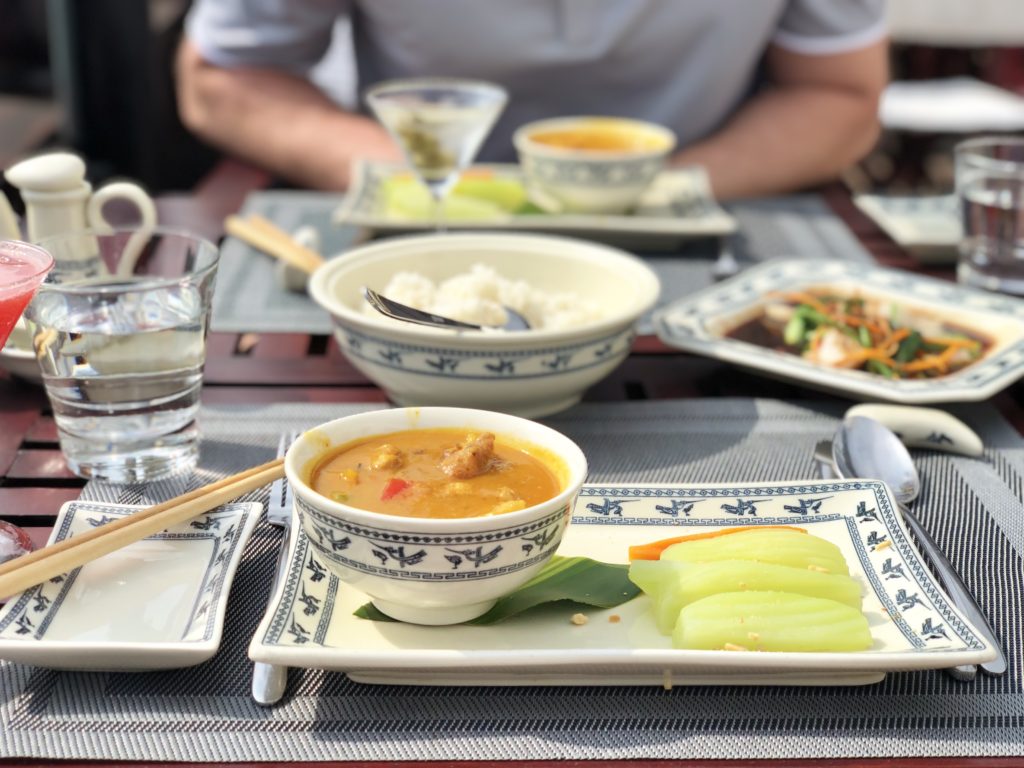 After lunch it was kayaking time! It was stunning and magical getting to kayak through the massive formations and be up to close to the gigantic limestone karsts.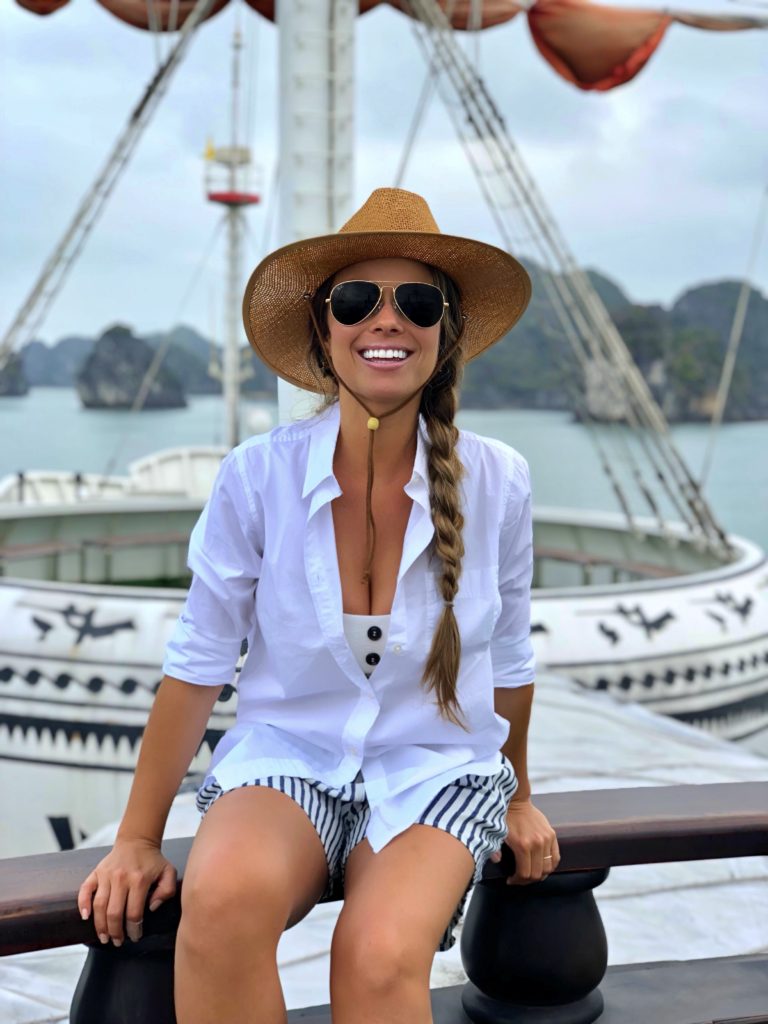 shop the look: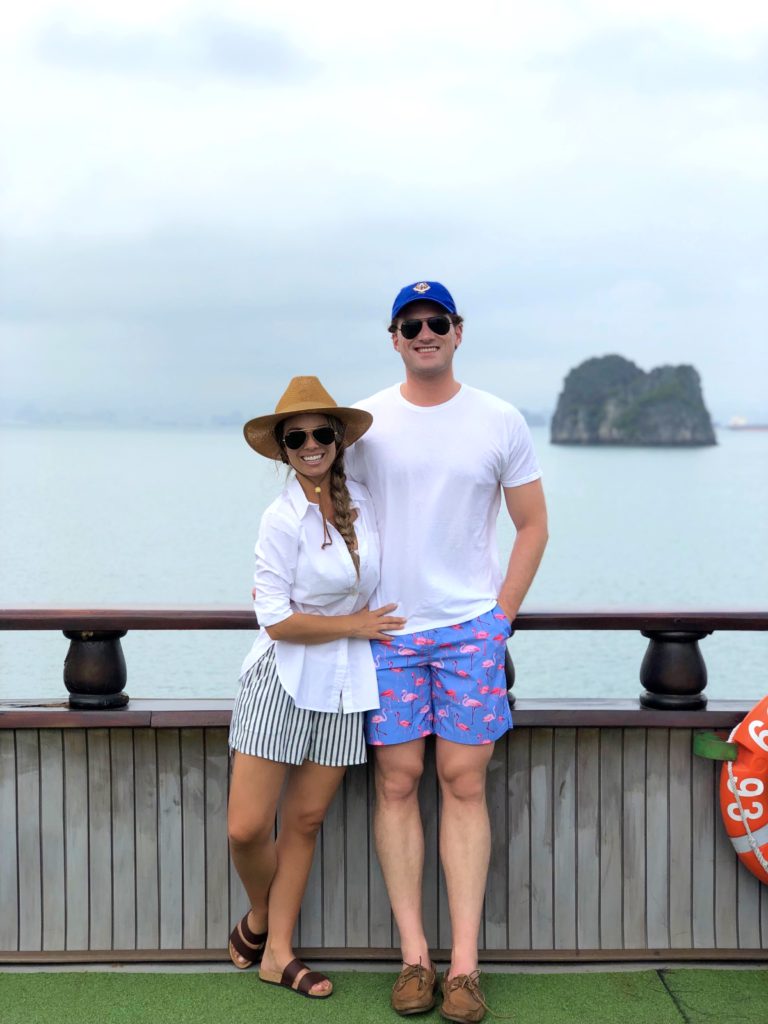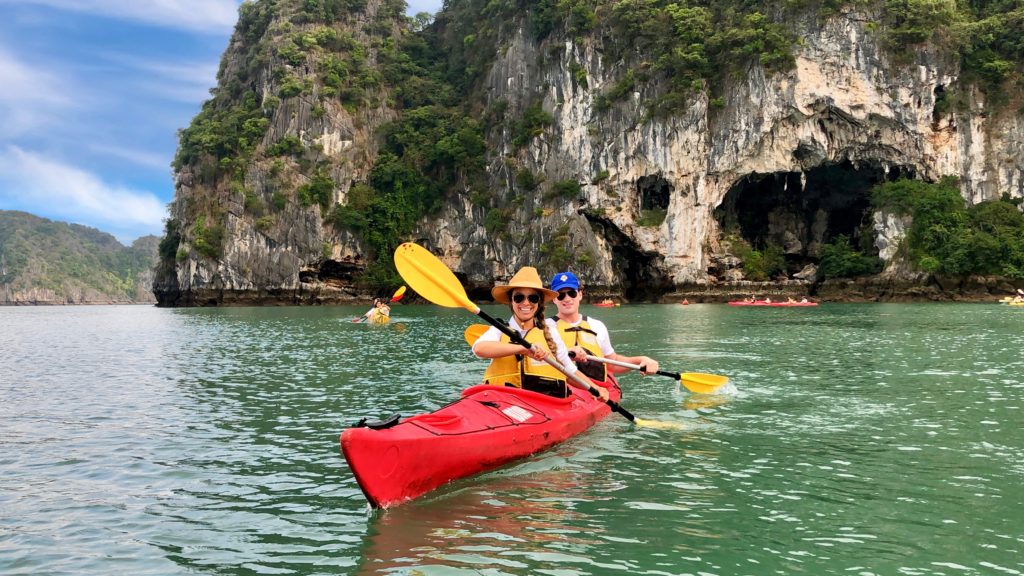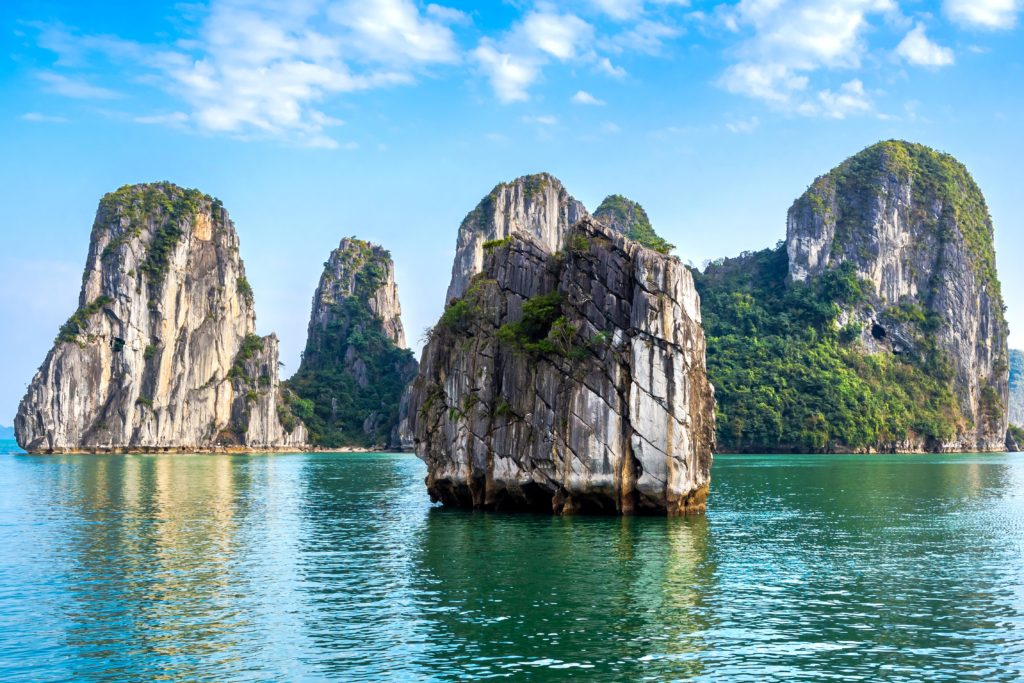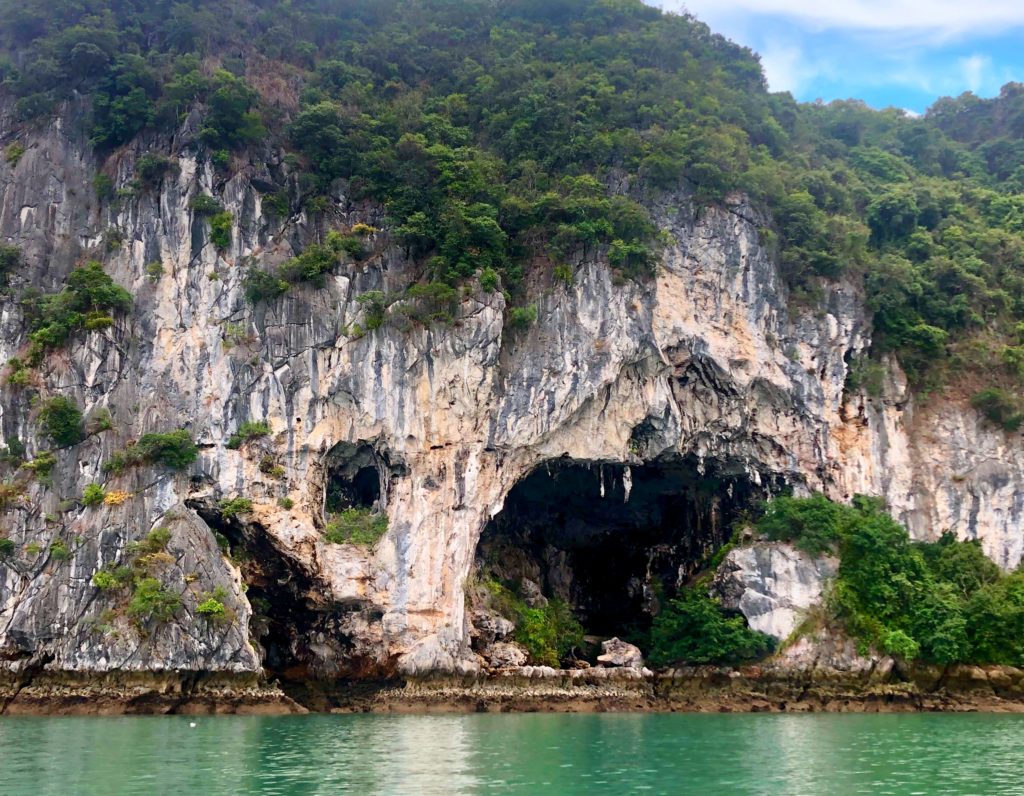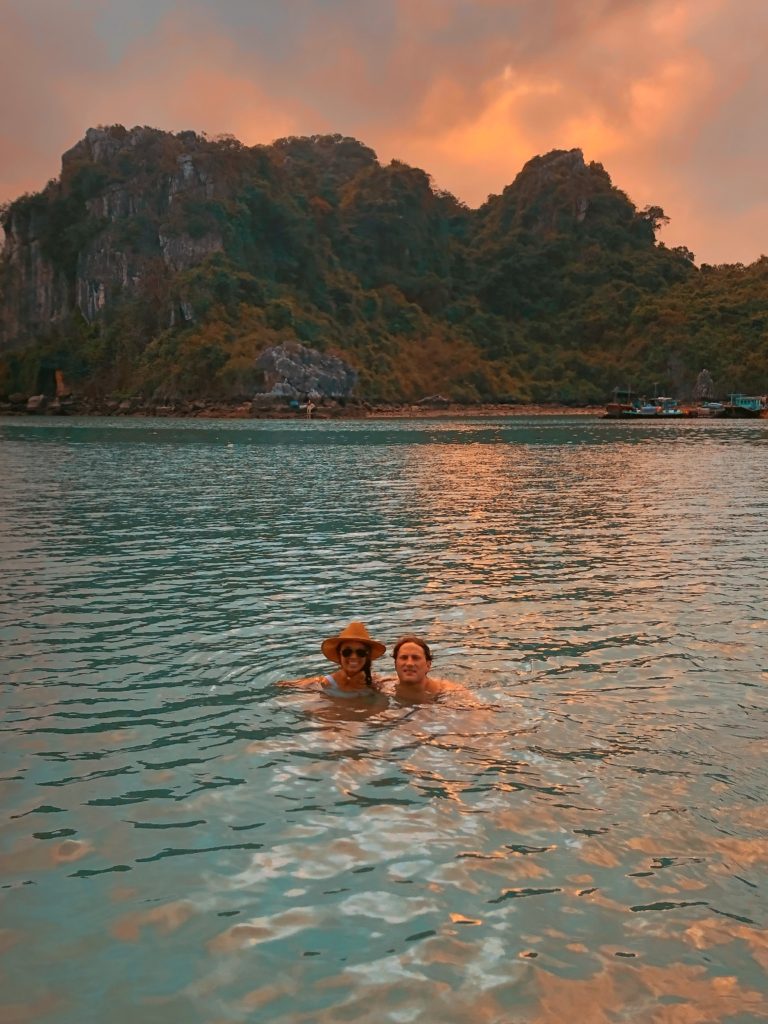 When we were done kayaking we took a refreshing dip in the bay. The water was really cold but certainly worth it.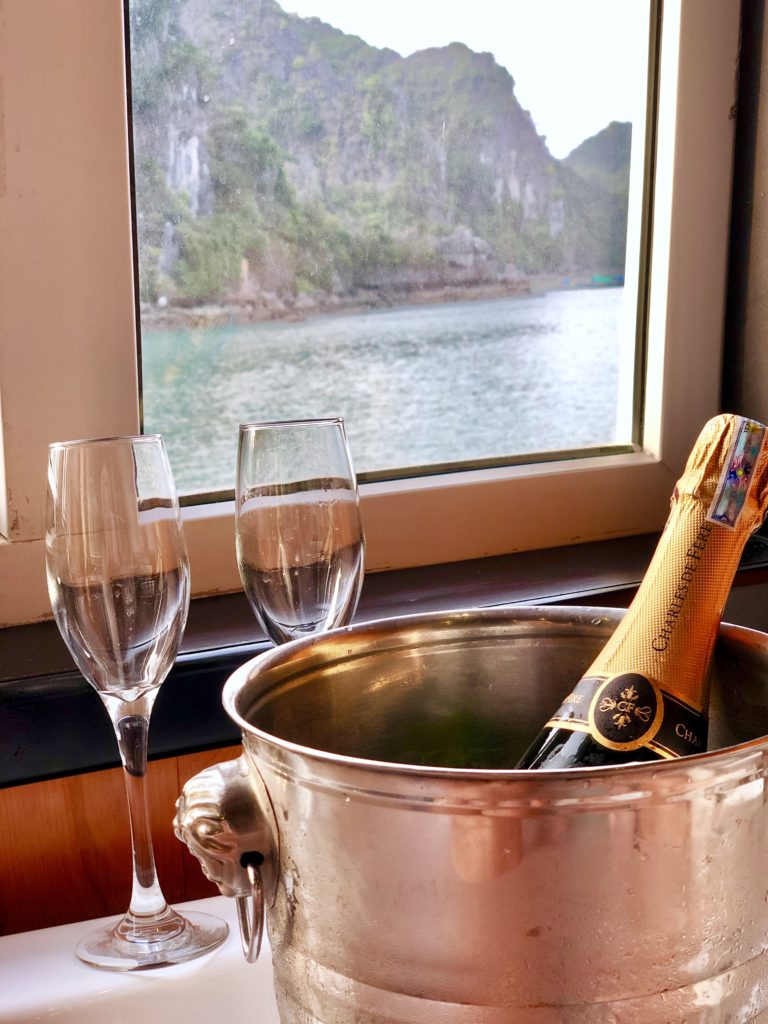 To relax before dinner, Walker got us a bottle of champagne which we sipped in the hot bath overlooking the passing formations and local fishermen. We finally felt like the relaxing portion of our honeymoon had begun!
Once cleaned up, we enjoyed a few pre-dinner cocktails on the sundeck while the captain dropped anchor.
We moved inside the ship's main dining room for dinner, which was also very spacious and beautiful. We sipped on a bottle of white wine and started our meal with a green papaya salad and sweet and sour pineapple clams. Next up was mackerel on a sizzling plate which we used to make spring rolls with! It was so cool! Our next course was freshly caught fried squid and lastly stewed beef. We were stuffed! And for dessert the staff sweetly surprised us with a cake to celebrate our anniversary.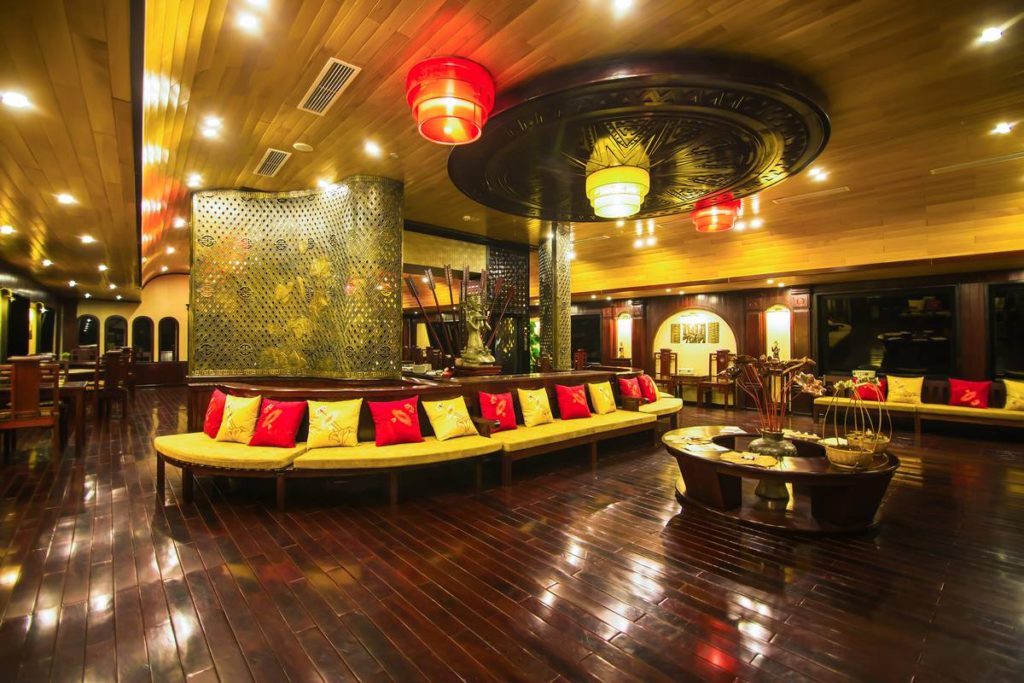 After dinner guests have the opportunity to go squid fishing on the deck which I really wanted to do but we were exhausted so it was off to bed for us.
The next morning we sipped coffee on the eagle's nest of the ship. We were the only passengers up and it was so peaceful and tranquil!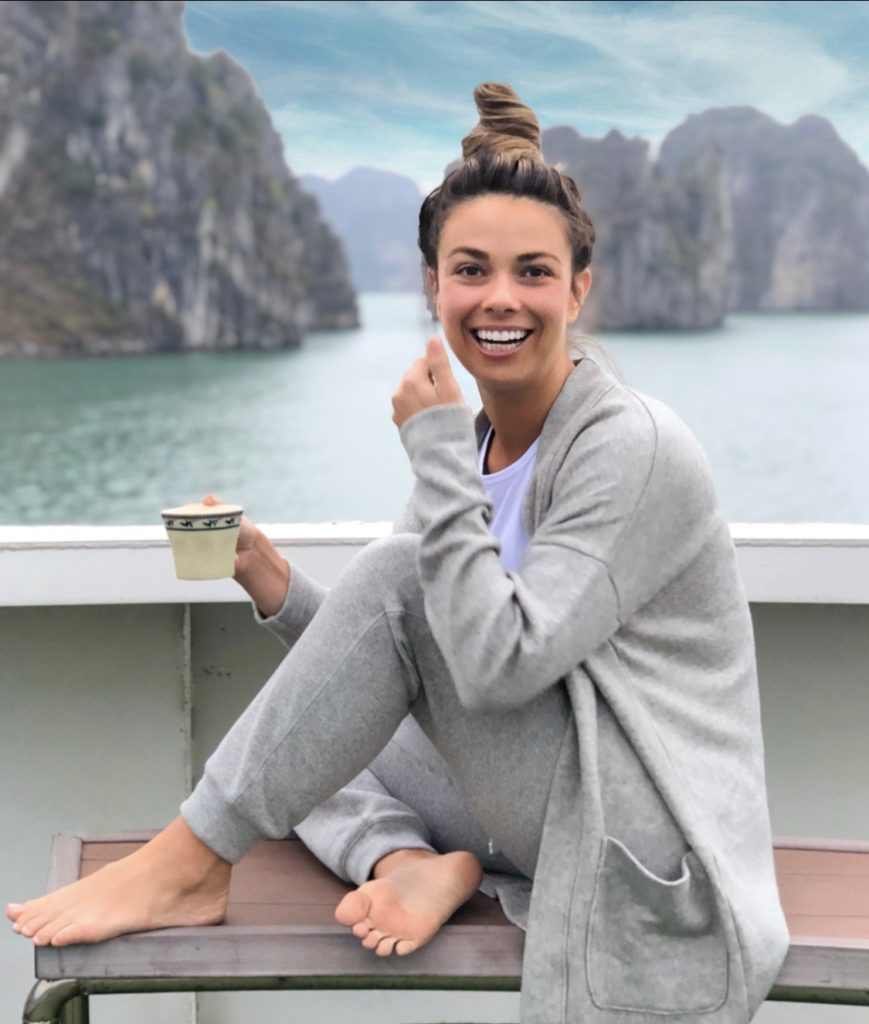 After coffee we did Tai Chi on the main deck. It was my absolute favorite part of the cruise. Doing Tai Chi while cruising through the narrow passage ways, while birds dove down to catch fish was honestly magical!!!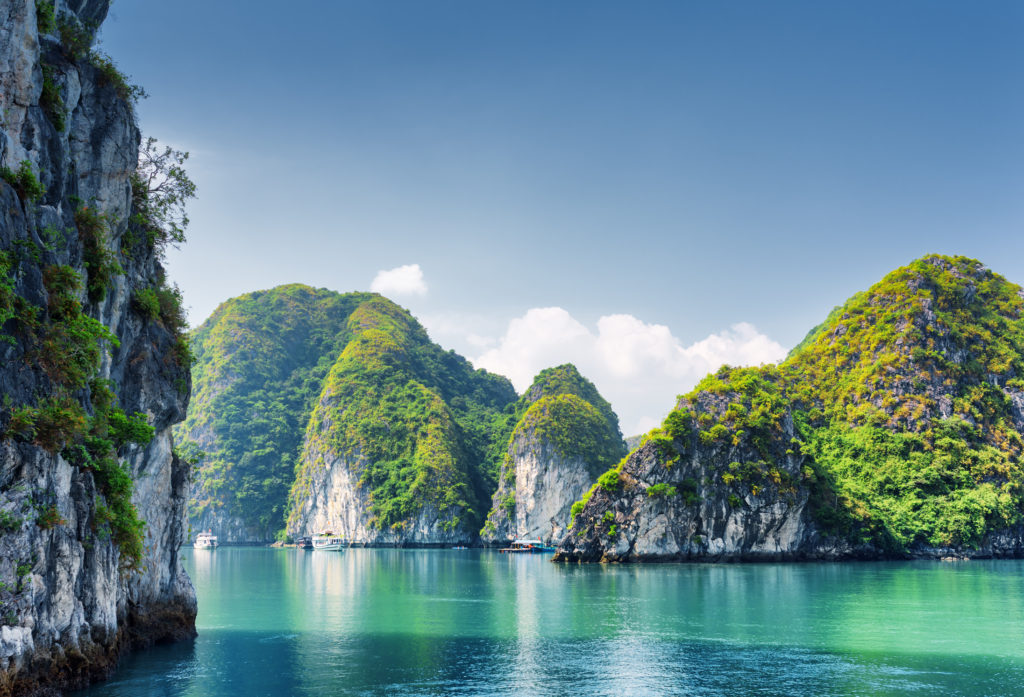 Hungered from our intense workout (jokes), we headed down for breakfast, which featured an expansive array of Western and local options. We had with beef Pho, which Walker was quickly becoming obsessed with!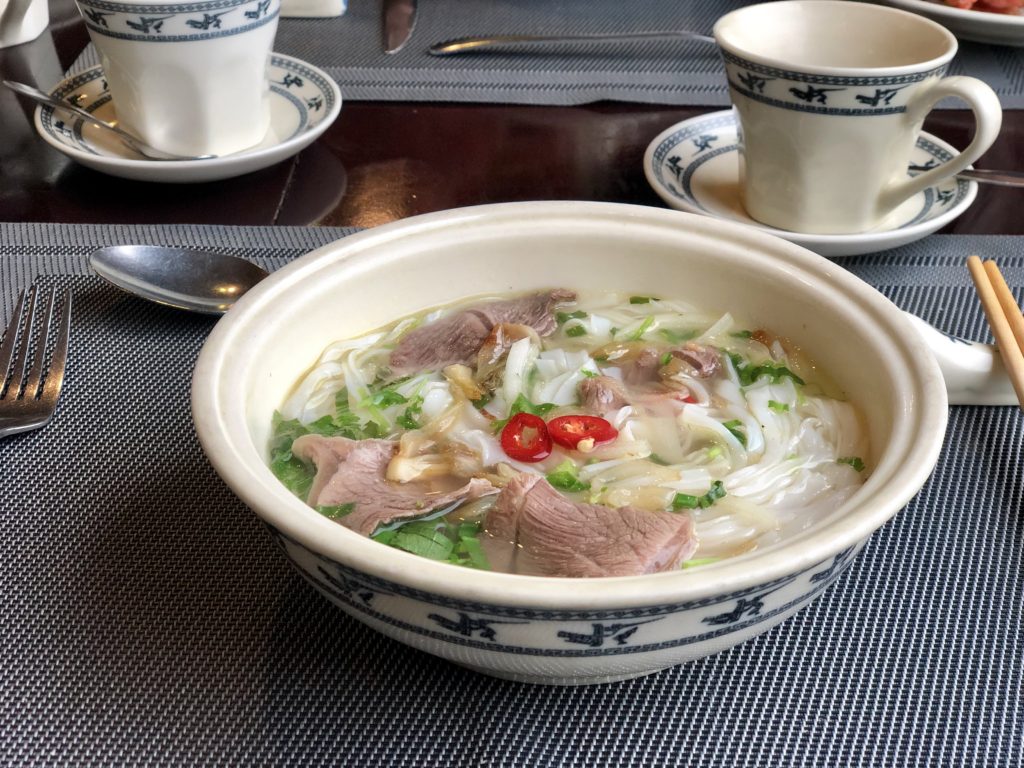 After breakfast we took the ships smaller boat to explore Thien Canh Son Cave. Again, the natural beauty of this place must be seen to be understood. Needless to say, standing in a thousand year old cave makes you reevaluate your importance in the grand scheme of things.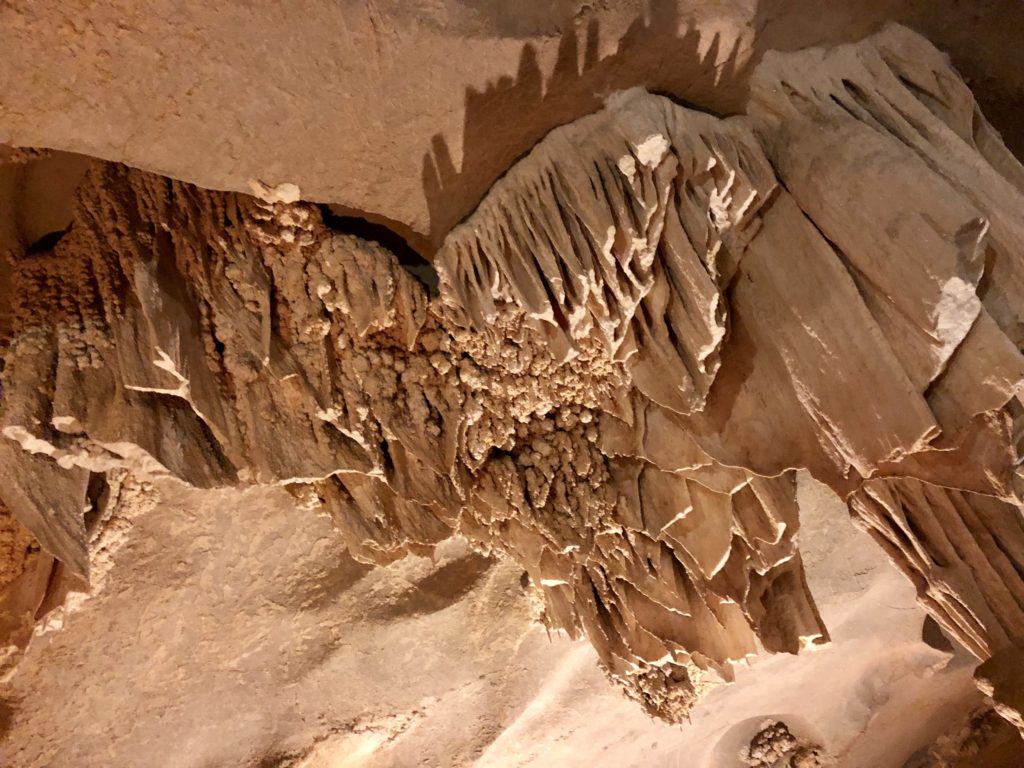 We got back to the ship. freshened up and packed. We were so sad to leave! As we packed, Walker realized that he had misplaced his precious Aviators. He thought he had left them aboard the small boat the day before (they were really in his bag) and virtually the whole ship's crew began a search like they were looking for the Lindbergh baby. Thankfully the crisis was resolved quickly but I bring this up to compliment the crew on their exceptional service to their passengers. They were top notch all the way and very gracious!
We had our final lunch on the ship which was a delicious buffet and sipped a few beers while we took in our last views of the beautiful bay.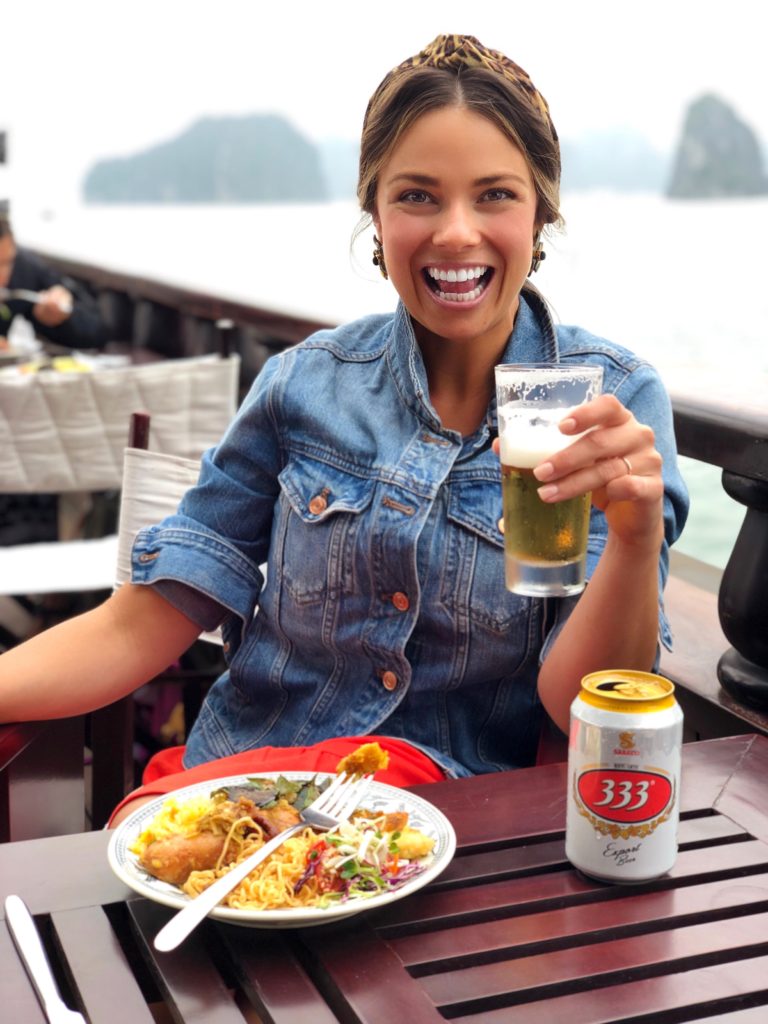 Dragon Legend also provides transportation back to Hanoi in another luxury van. On the drive home you stop at Ten Duc Village to see a traditional Vietnamese water puppet show. The cruise offers extended stays in the village as well which I think would have been cool to experience, but we were pressed for time unfortunately.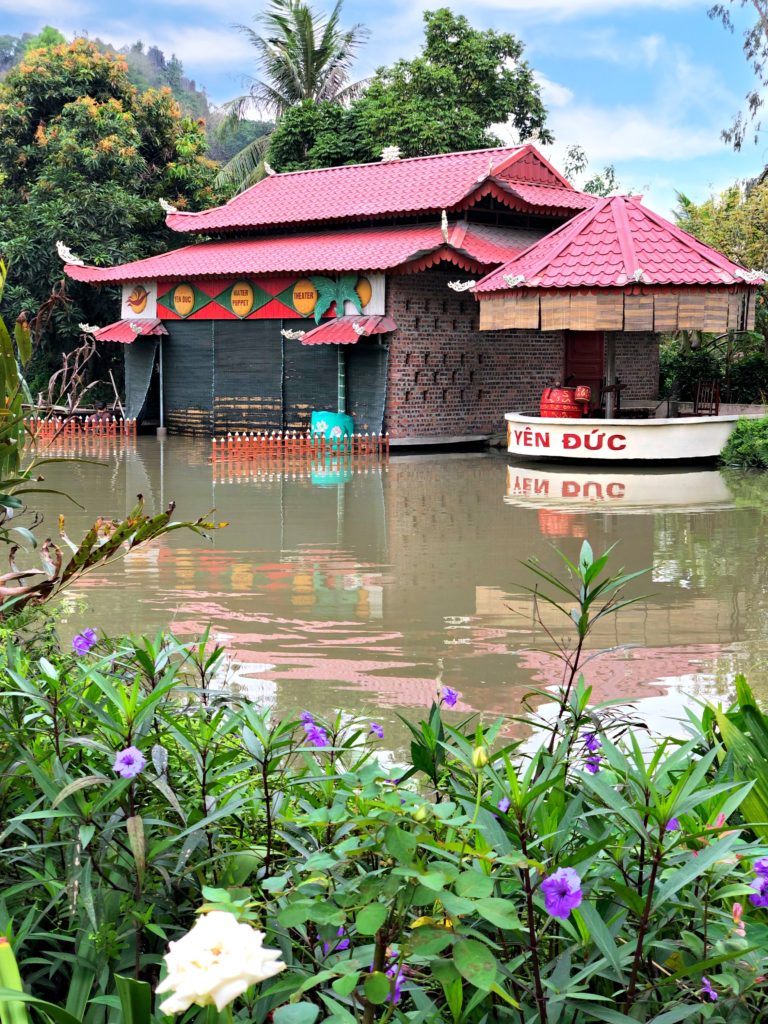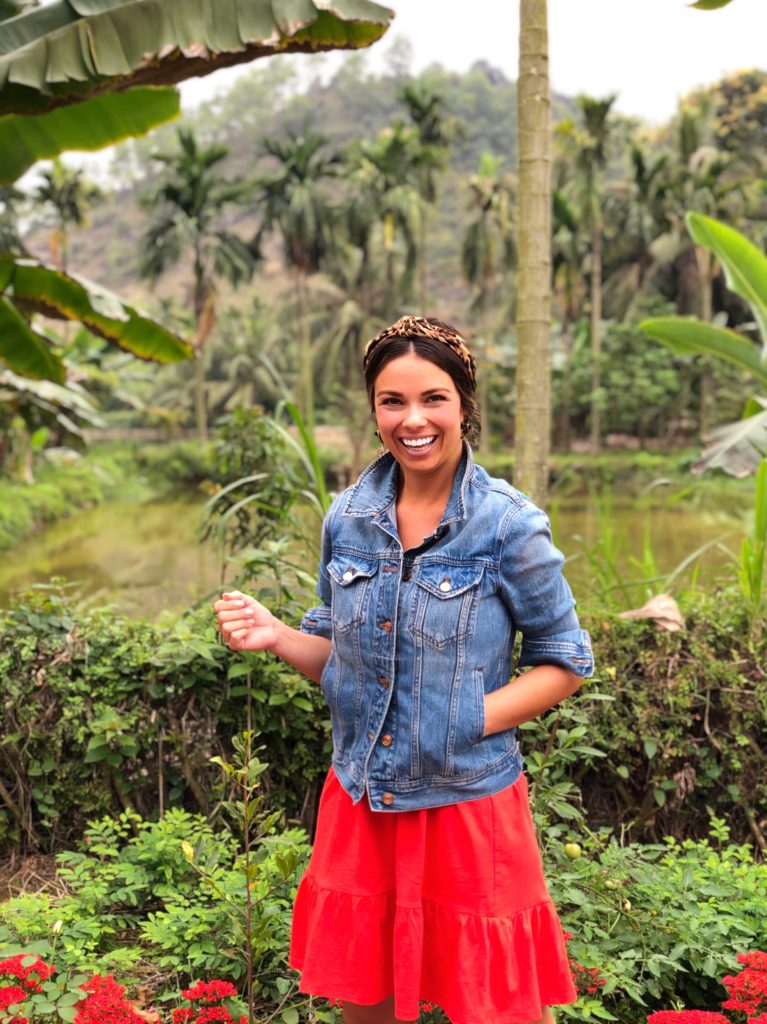 shop the look:

I couldn't recommend the Dragon Legend Cruise more! It was a once in a life time experience and we thank Dragon Legend Cruise so much for such a wonderful and exciting experience!
Kisses and cruising wishes,