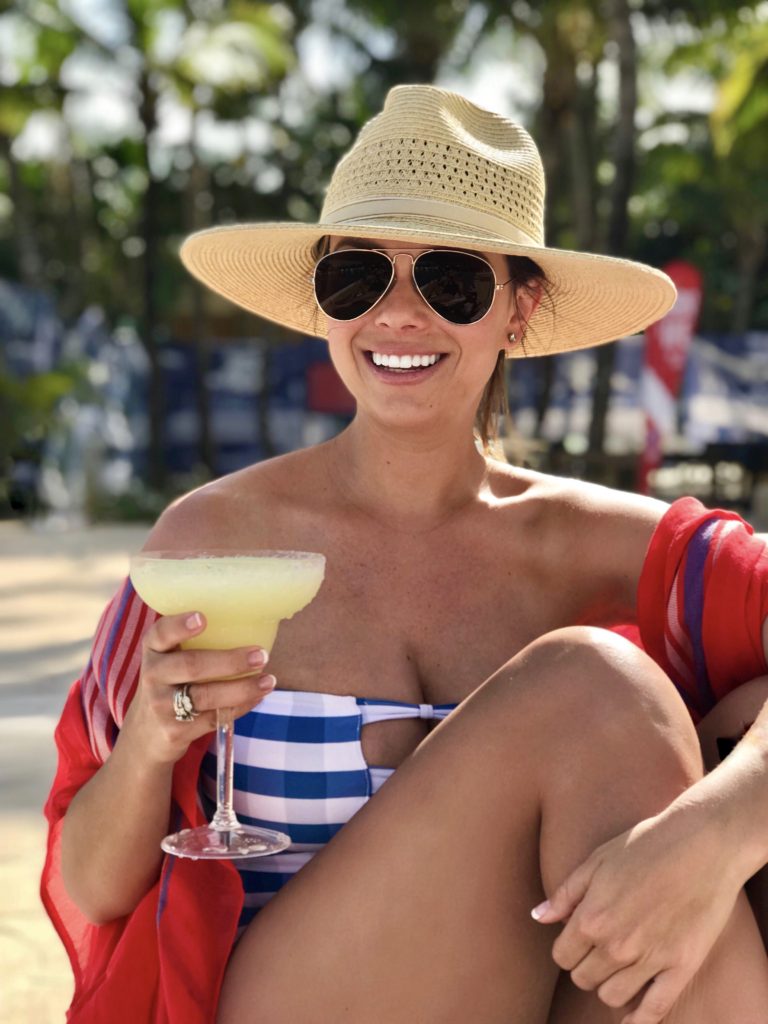 Hello friends! So many of you have been asking about the mother daughter trip my mom and I recently went on to Mexico, so today I am spilling the details. Well, half of them at least.
We were #blessed to spend a week in Mexico– half our time in Playa del Carmen at Catalonia Playa Maroma and the second half in Tulum. Today I am sharing all the details of our stay in Playa del Carmen.
DAY 1:
We arrived at the tropical resort and were greeted with friendly smiles and margaritas. They clearly knew the way to our hearts! Check in was a breeze and we were so pleased with our suite. It was very clean and spacious, boasting a massive balcony, jungle view and a hot tub!
We arrived in between lunch and dinner but starving as we were, we decided to hit up the resort's main buffet. Catalonia Playa Maroma is an all-inclusive resort that's home to multiple dining options.
We sipped on margaritas and enjoyed chips, salsa and queso and were so excited to finally be in Mexico!
That night we went to a Cirque du Soleil show at Vidanta (read about that experience here) and I could not recommend this more if you are in the Playa del Carmen area. We got ready for our evening and hit up the lobby bar before heading to the show.
Day 2:
We woke up after a wonderful night's sleep and ordered coffee from room service. Since we wouldn't be spending Christmas together this year, my mom and I thought it'd be fun to put up a tree in our room. We decorated and sipped on hot coffee.
Our next stop was the breakfast buffet. The main buffet at Catalonia Playa Maroma, El Parajito, is massive and had any and everything one would possibly want! We sipped on more hot fresh coffee and enjoyed plantains (my mom and I LOVE plantains and were thrilled to see them as an option at the buffet), refried beans eggs and delicious salsas.
After breakfast we changed into our suits and hit the beach. The beach at Catalonia Playa Maroma was breathtaking! We soaked up the sun, sipped frozen margaritas and relaxed all afternoon.
For lunch, we dined at the second story beach front restaurant, Terrace, which had amazing beach and ocean views. We sipped on Coronas and snacked on grilled veggies. We couldn't decide what to order because everything sounded so good, so we decided to each order something and split it. My mom ordered a grilled pork torta, a traditional Mexican sandwich, and I ordered their fish tacos. We made great choices! The fish tacos were some of the best I've ever had!
After lunch we went on a long walk along the water and couldn't believe how beautiful the water was!
On our walk back to our room, we stopped by the bar and got glasses of wine to go. We relaxed in our hot rub overlooking the jungle and got ready for our night on the town in Playa del Carmen.
We went into town and ate at one of my favorite spots in Playa, Plank. We started with baked brie and split the ribeye and mashed potatoes. We enjoyed our night, but in hindsight I wish we would have stayed at the resort for dinner because the food at every meal was so AMAZING! I've stayed at multiple all-inclusive hotels and the food at Catalonia Playa Maroma is in a completely different category. All the meals we had were amazing, packed with flavor and made from high quality ingredients.
Day 3:
We woke up and ordered room service coffee again and took in our breathtaking views from our balcony.
Once caffeinated, we ventured to the buffet for breakfast. Since, we enjoyed our breakfast so much from the day before, we both selected the same items!
After breakfast we hit the beach! The sun was shining and it was a beautiful day! The weather during our stay was just perfect- not too hot, not too cold. I would highly recommend visiting Playa in December. It was the perfect weather to sip margaritas and relax in the sun.
For lunch that day we went back to Terrace and both had the fish tacos. They were so good the day before we wouldn't wait to have them again. We also had a few Coronas and started with the ceviche, which was also delicious.
After lunch, we hit the pool, which was much livelier than the beach. We had more frozen margaritas and enjoyed the festive music.
On our walk back to our room we stopped at the resort's coffee bar and got coffees to go, which we sipped on from the hot tub.
We had dinner reservations at a nearby hotel that night but we canceled them and decided to stay at the resort for dinner. We had been so impressed with the breakfast and lunch options at Catalonia that we wanted to try one of their restaurants for dinner.
We got ready, enjoyed some refreshing cocktails on the beach and watched the sunset before dinner. For dinner we decided on the resort's Italian restaurant, Toscana. It was amazing! We split a bottle of wine and started with the caprese and the carpaccio. Both were to die for! Next we split the carbonara pasta, which my mom said was the best she's ever had. Next, we split the fish special, which was mahi mahi and also amazing!
Day 4:
As creatures of habit, we woke up and ordered room service coffee and sipped and relaxed in bed. We were so sad this was our final morning at Catalonia Playa Maroma. After coffee, we enjoyed the buffet again and were quickly off to Tulum.
I have stayed at many all-inclusive resorts all over the world and nothing compares to how amazing the experience was at Catalonia Playa Maroma. If you are planning a trip to Riviera Maya, I could not recommend this resort more!
Thank you so much to Catalonia Hotels and Resorts for a perfect vacation in Playa del Carmen.

Kisses and travel wishes,