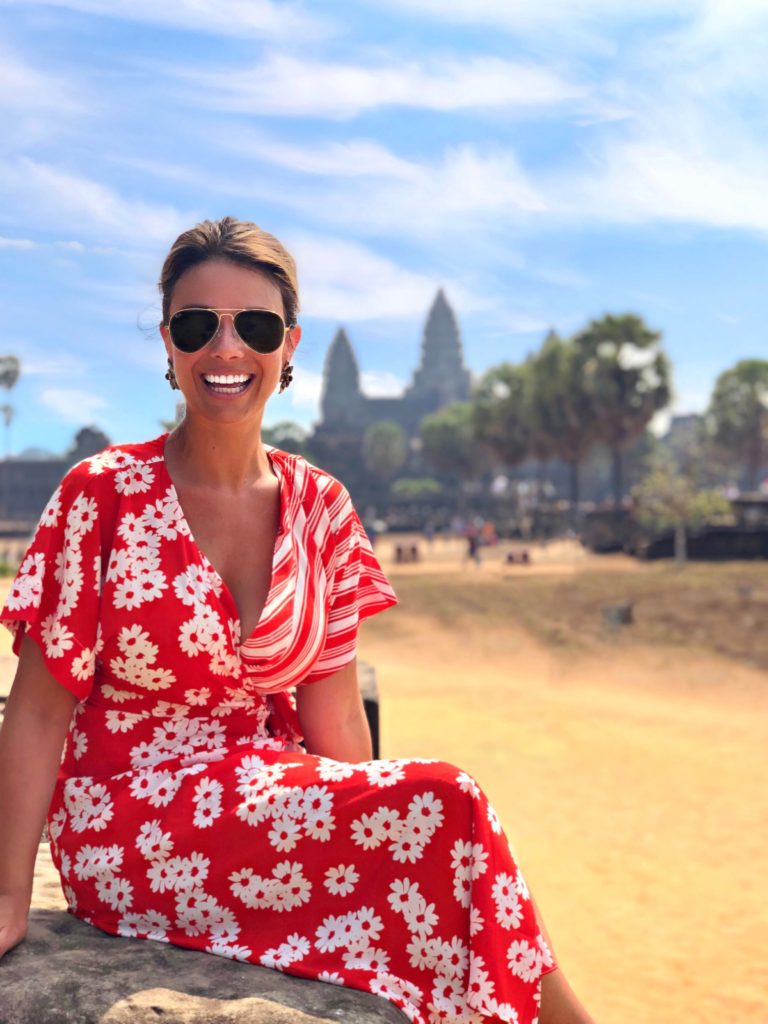 Our second to last stop on our honeymoon was Siem Reap. We stayed at Jaya House River Park and it was more than we could have ever wished for! Keep reading for all the details of our time in Siem Reap and our beautiful stay at Jaya House River Park.

After an exhausting delayed flight we arrived in Siem Reap, Cambodia and were greeted by the sweetest and bubbliest Jaya House River Park staff member. She showed us to our air-conditioned luxury van and adorned me with a bouquet of beautiful fresh flowers and had iced cold water and fresh cut fruit for us as well. We thought we had died and gone to heaven!
Our water was in a reusable bottle, which we were given to use throughout our stay. Jaya House RiverPark has partnered with Coco Cola & together have taken the lead in reducing plastic waste in Cambodia, launching the "ReFill Not Landfill" campaign. This campaign is aimed at revolutionizing the way water is consumed by tourists in Cambodia and thus spurring a transformation of the Kingdom's landscape. Sustainability aside, the refillable bottles were super convenient and the staff continually offered refills.
We sipped and snacked and chatted about Siem Reap with our sweet driver and quickly arrived at the stunning resort. Jaya House River Park is Indiana Jones meets Buckingham Palace. The design and décor was 3 thumbs up (2 is simply not enough). Check in was a breeze and our bags were whisked off to our room.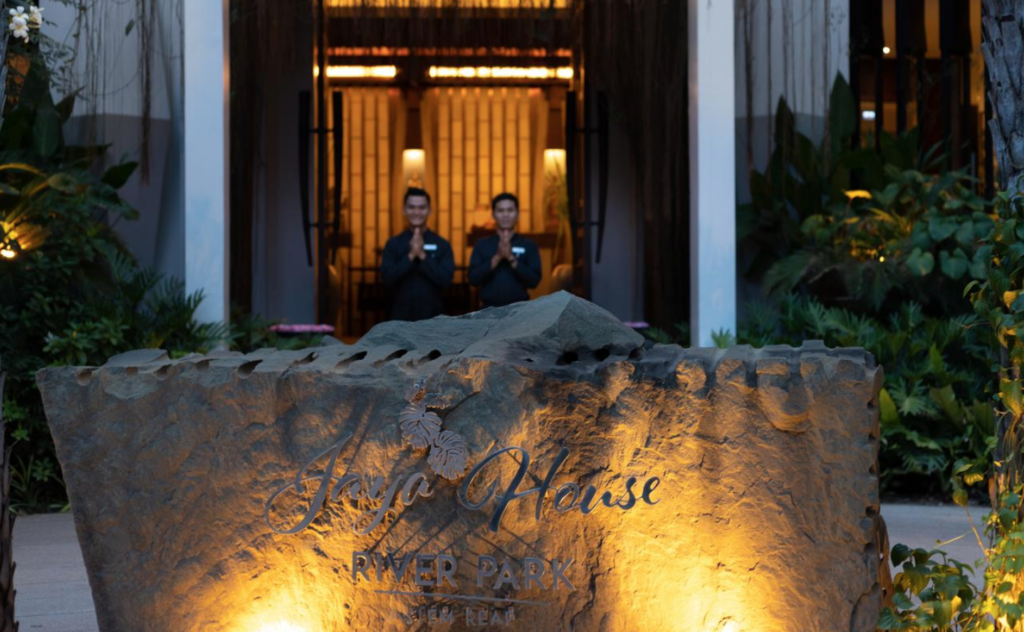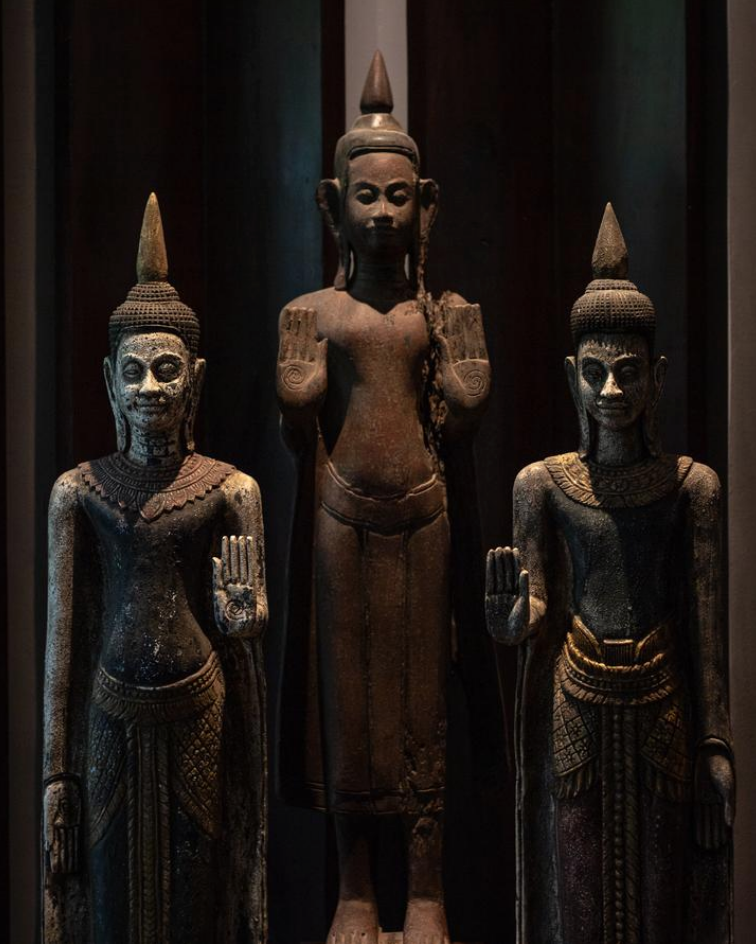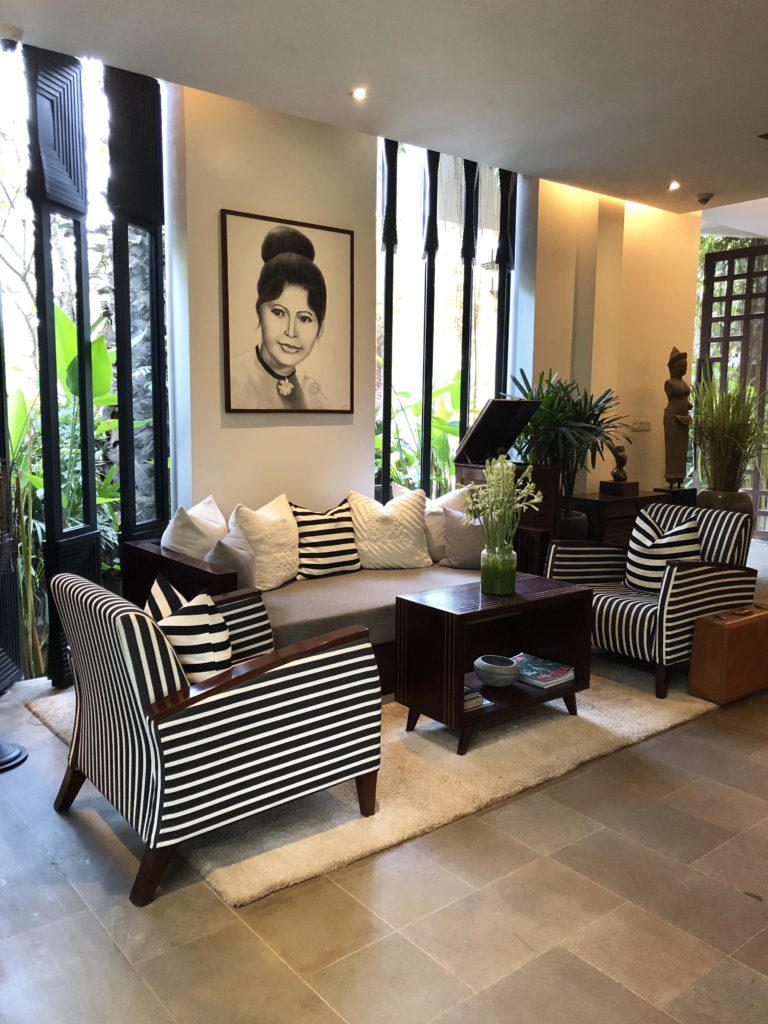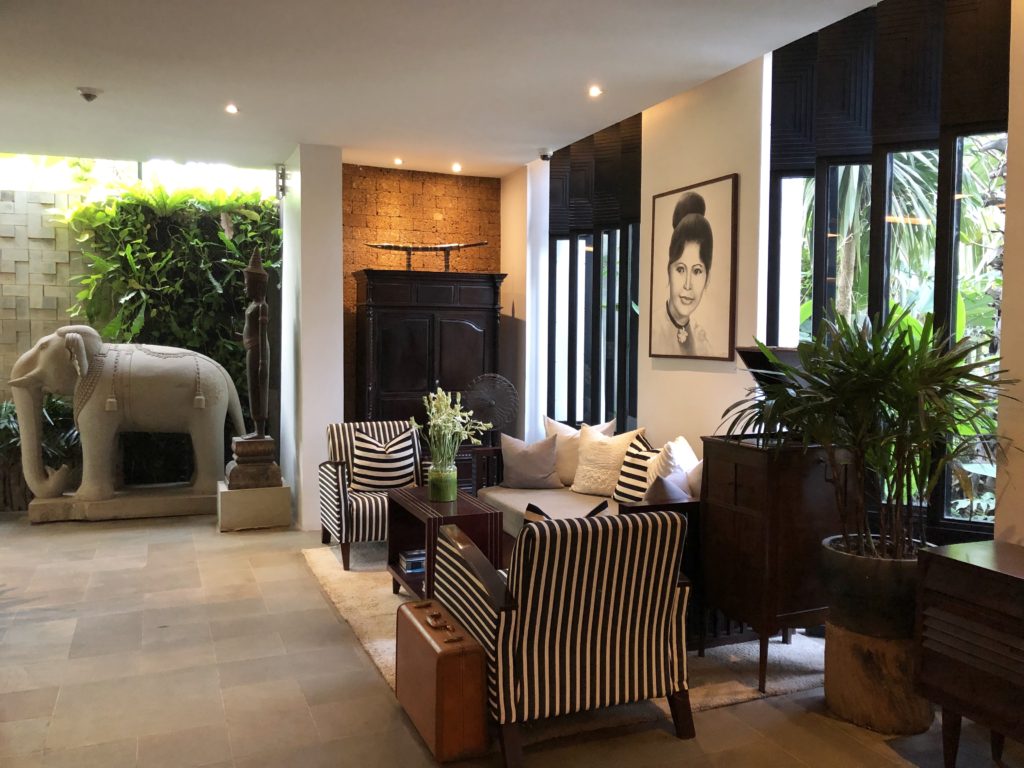 Our flight was delayed and knowing this, the staff planned ahead and had set aside two dinners for us. Delicious grilled cheese sandwiches with seasoned fries and Sauvignon Blanc. Please and thank you. We could already tell that our stay here at Jaya House River Park was going to be over the top!
Another charming and bubbly staff member escorted us to our suite. WOW! Firstly, the room was stunning! There was also a beautiful board of delicious snacks- mixed nuts, cheese, olives, cured meats and smoked salmon- and champagne waiting for us. And there was also a hot bath filled with aromatic flowers drawn and waiting for us. It was THE perfect way to end a long day of travel.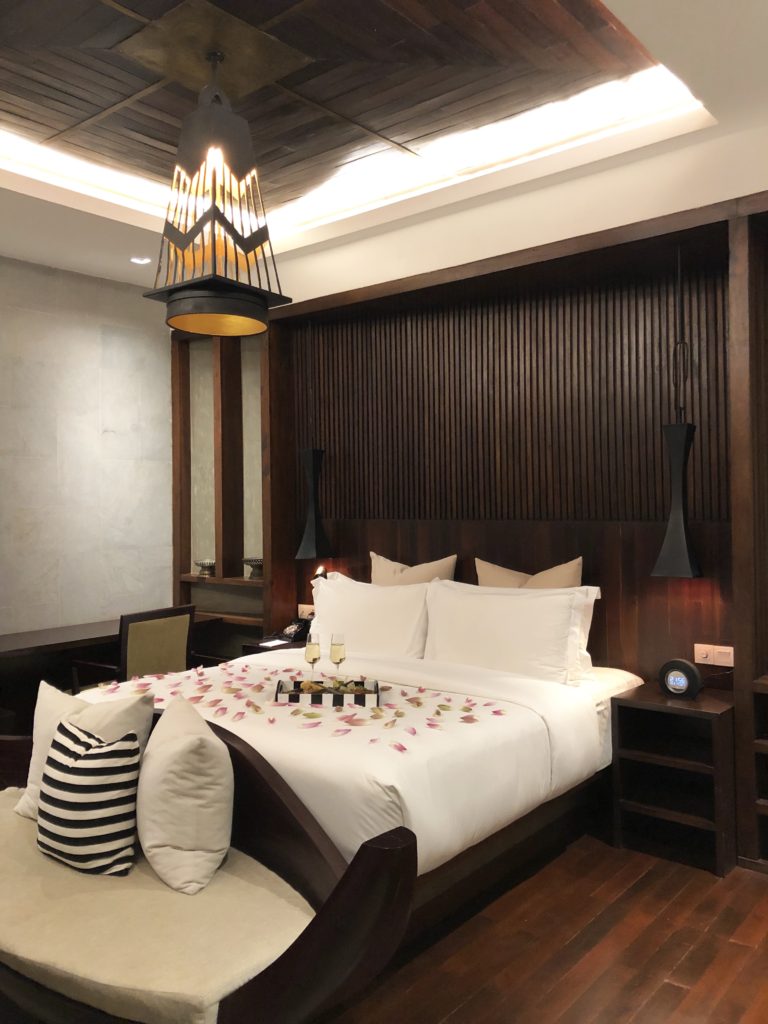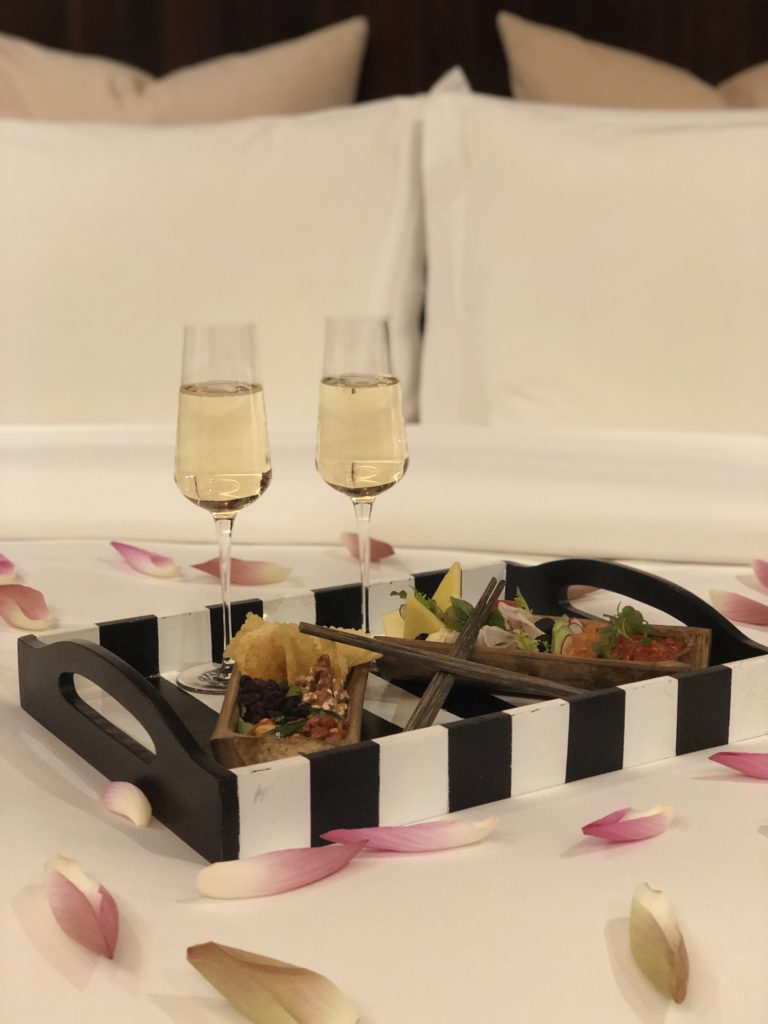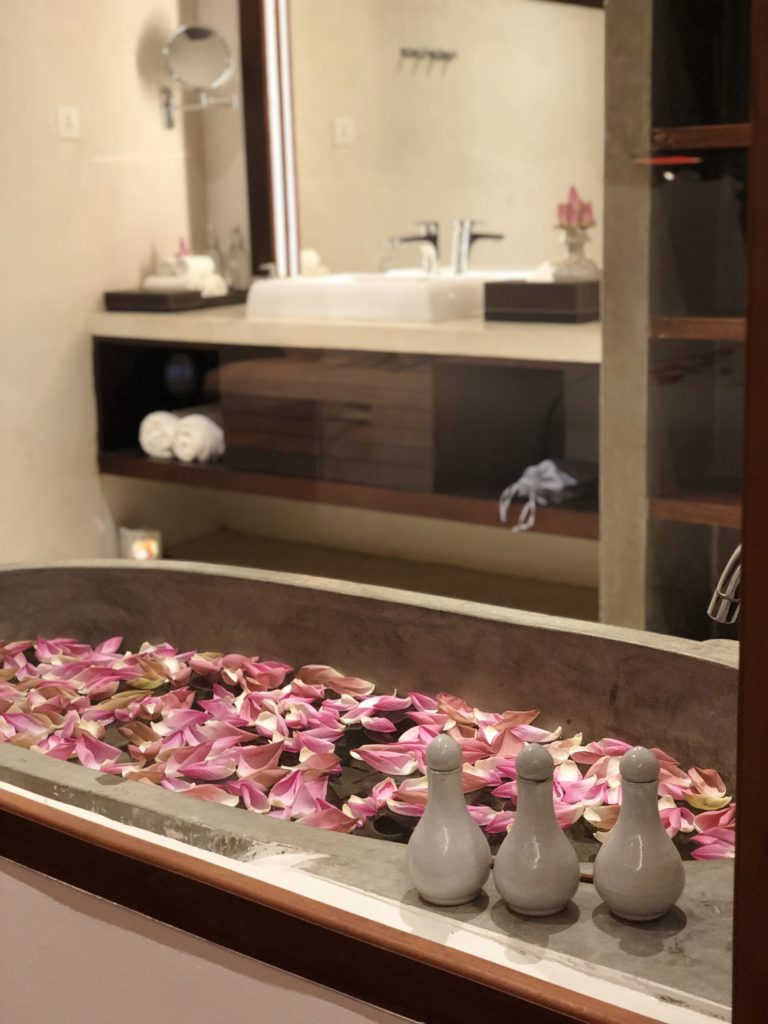 We slept like babies in our deluxe king suite and woke up refreshed and ready to take on our first day of adventure in Siem Reap.
We sipped coffee and nibbled on freshly baked banana bread on our room's balcony and we felt as if we were in the middle of the jungle! The grounds of Jaya House River Park are simply stunning!
Next we enjoyed breakfast in the resort's beautiful dining room. The resort offers a beautiful buffet of fresh fruit and fruit juices and baked goods and cured meats and cheeses along with a mimosa bar and a full menu to order from as well. We both opted for the eggs Benedict and were not disappointed.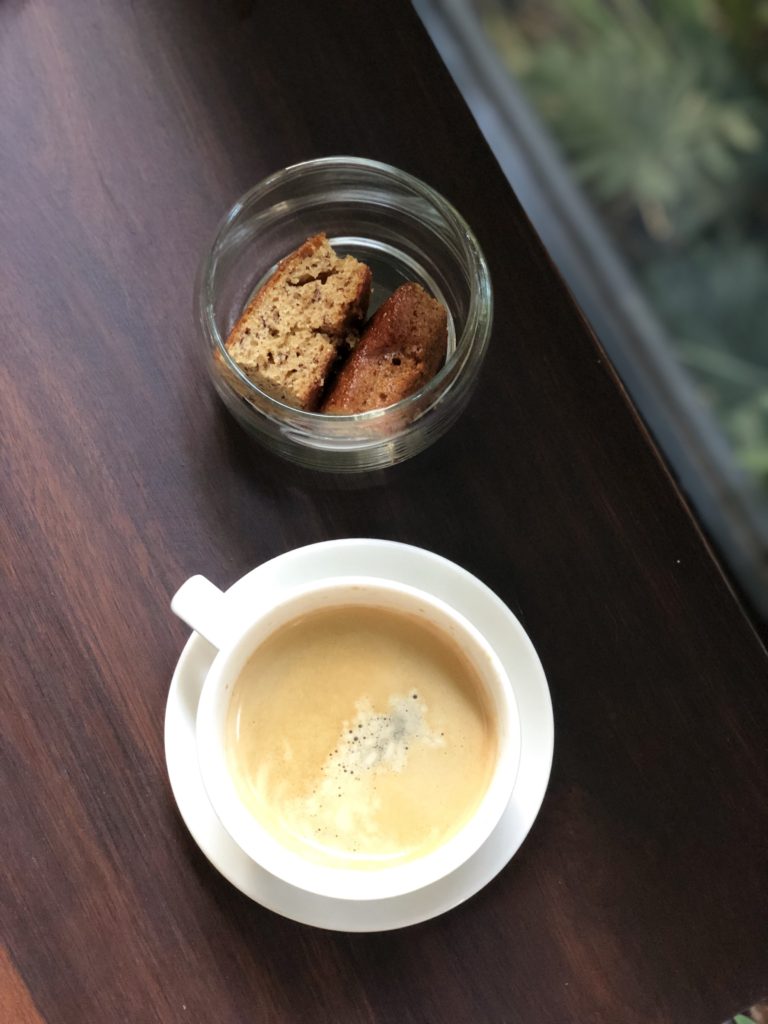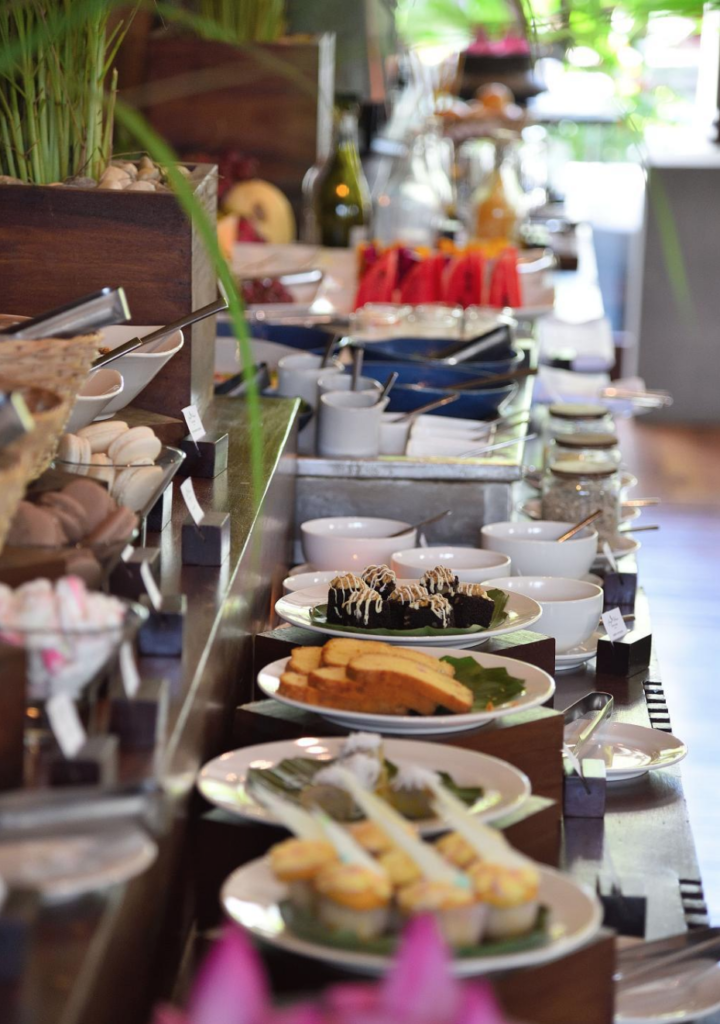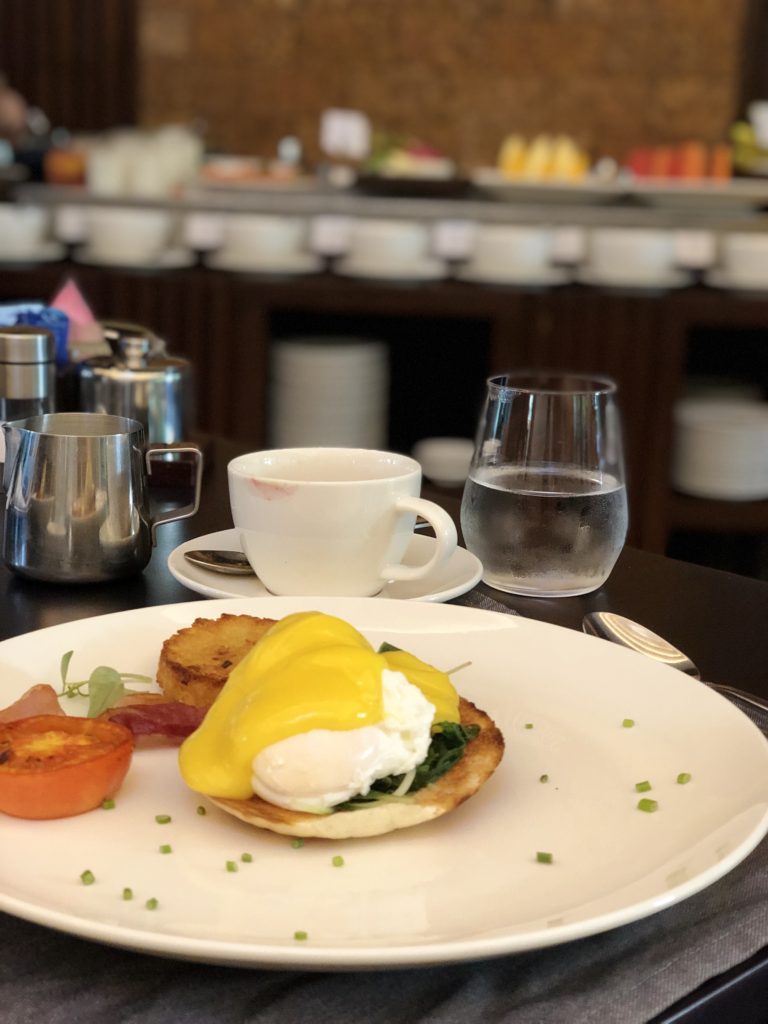 Next we were off to Angkor Wat! We couldn't wait! This was a bucket list experience for both of us. We booked our private tour of Angkor Wat through Bravo Indochina Tours and I highly recommend them!
While waiting for our tour guide to pick us up the hotels staff asked if we wanted any bug spray. We did and instead of handing us the spray and applying it ourselves they applied it for us! The service at this resort is 12 stars and exceeded every expectation going above and beyond!
Bravo Indochina tours picked us up and we were off for a day of exploration! Angkor Wat is a temple complex in Siem Reap, Cambodia. It is the largest religious monument in the world, over 400 acres! It is simply amazing how big the complex is. Originally constructed as a Hindu temple by the Khmer Empire at the start of the 12th century, it was gradually transformed into a Buddhist temple towards the end of the 12th century. Angkor Wat has become a symbol of Cambodia, appearing on its national flag. The history and architecture are both jaw dropping! Inside the temple are walls and walls complete with etched reliefs detailing all kinds of Hindu lore, much of it wildly beyond our comprehension, even with our guide's assistance. And the complex is absolutely stunning in every way. It is a wonder of the ancient world that has withstood the test of time and its scale and detail are simply beyond belief.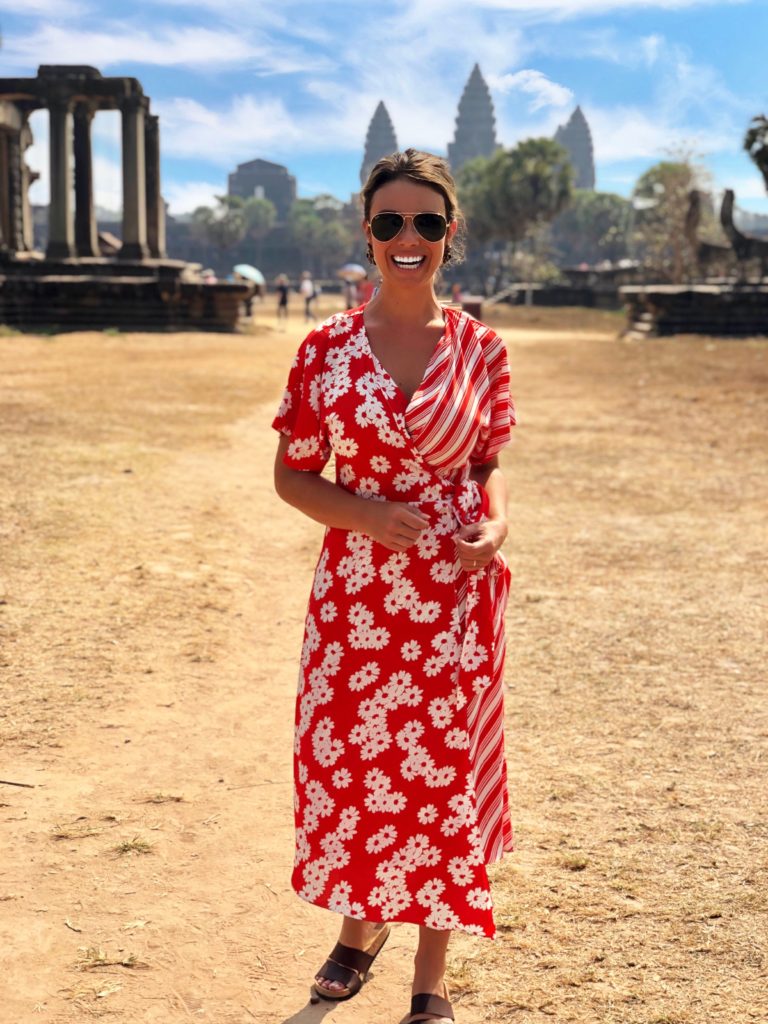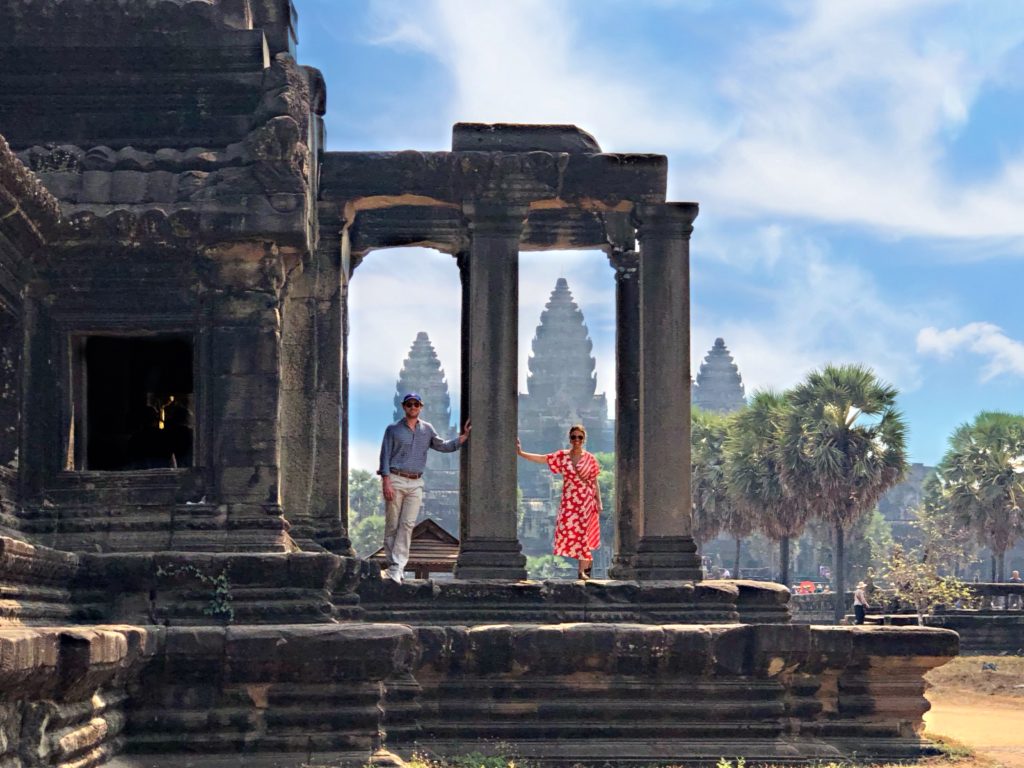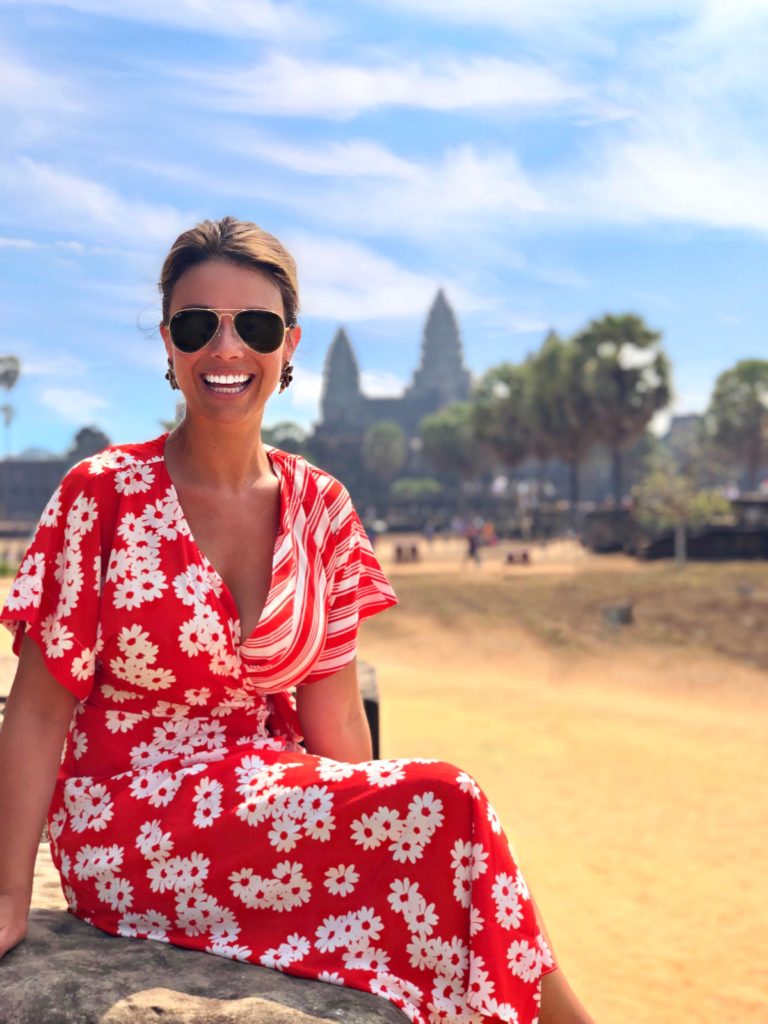 shop the look: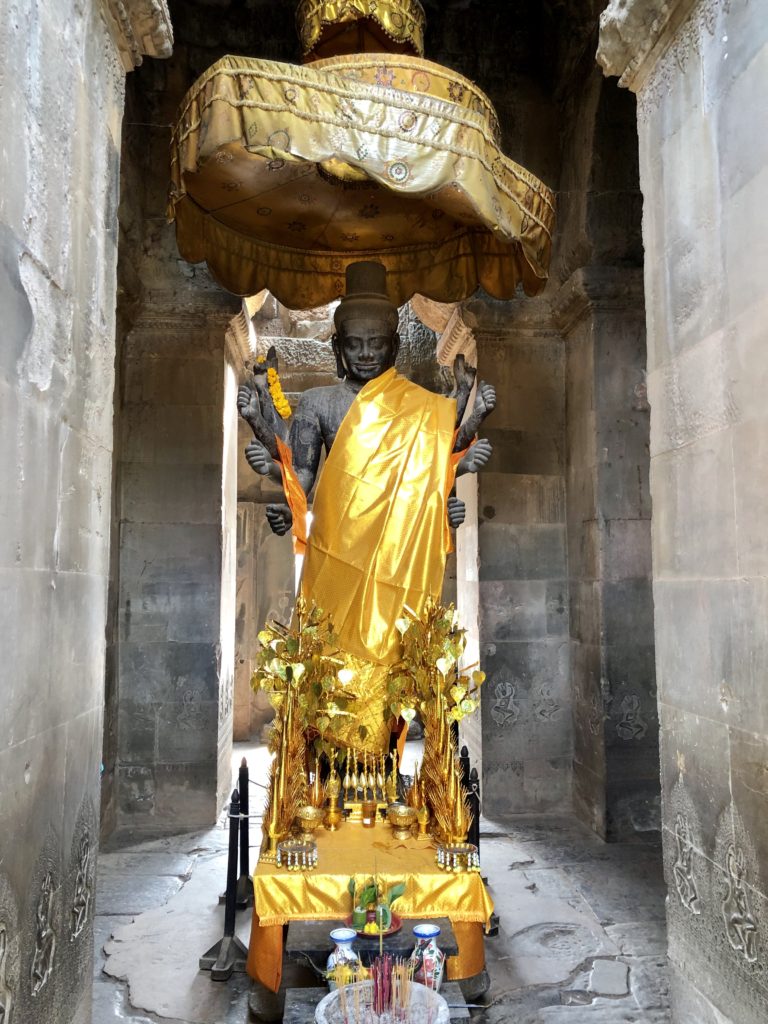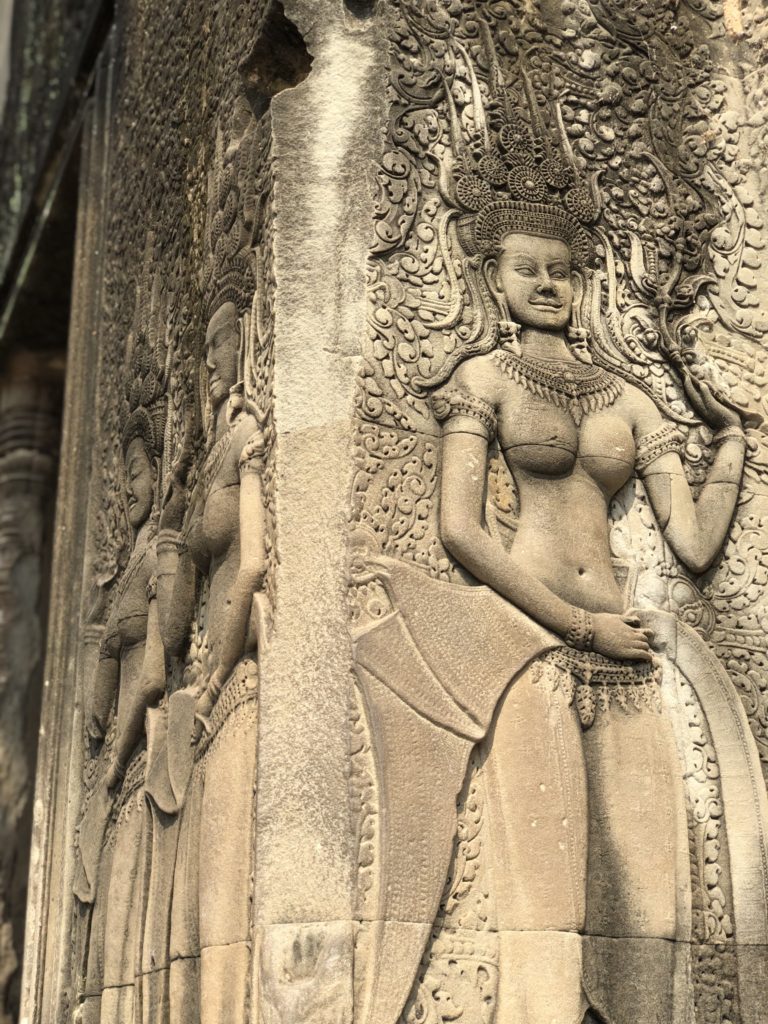 Next we were off to explore Ta Prohm which is located within the Angkor Wat complex. Ta Prohm, also know as the "Tomb Raider" temple because the movie staring Angelina Jolie was filmed there on location. Ta Prohm was founded by the Khmer Empire as a Buddhist monastery and university. Unlike most Angkorian temples, Ta Prohm is in much the same condition in which it was found. The massive trees and ornate architecture is like something out of a movie or a ride at Disneyland.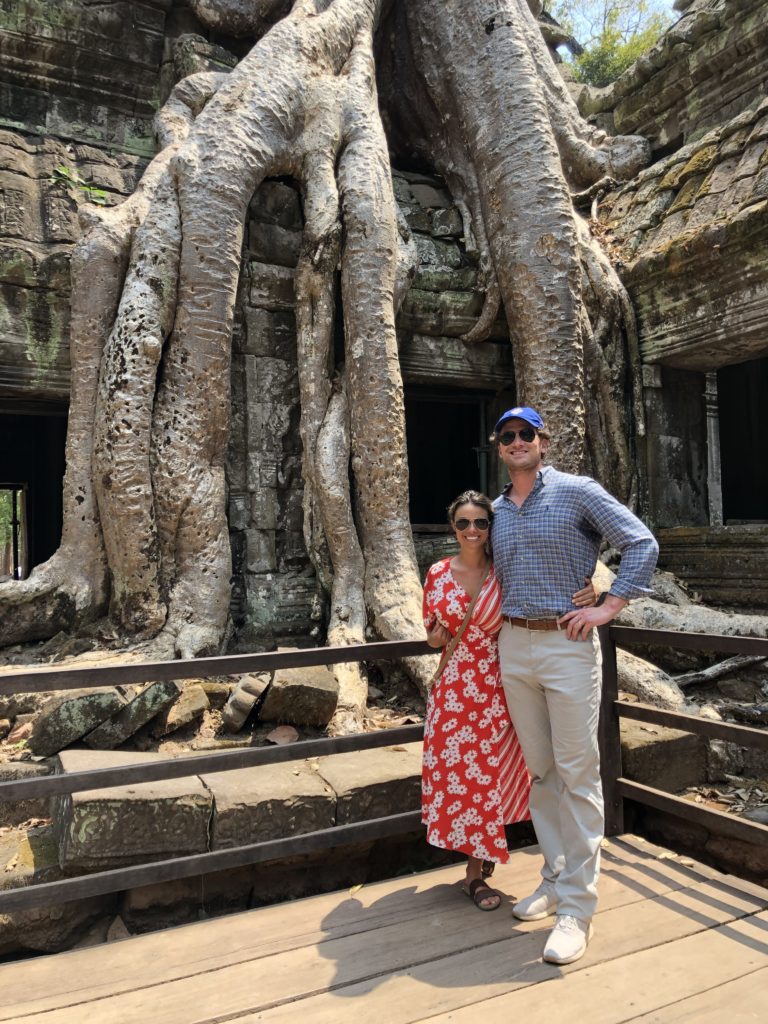 shop the look: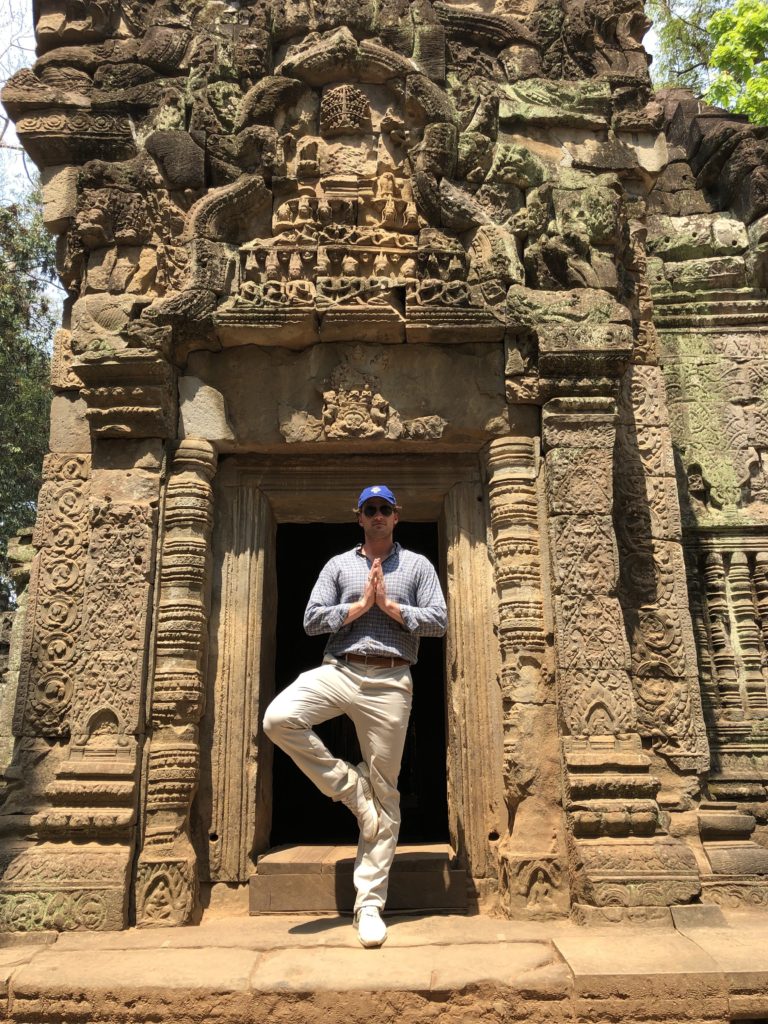 Next we explored Angkor Tom which was our favorite! We had the entire place to ourselves. Angkor Wat is a massive tourist attraction packed with people year round. It was so nice to have some quiet time just to ourselves in this massive structure. We climbed all the way to the top and the views were stunning!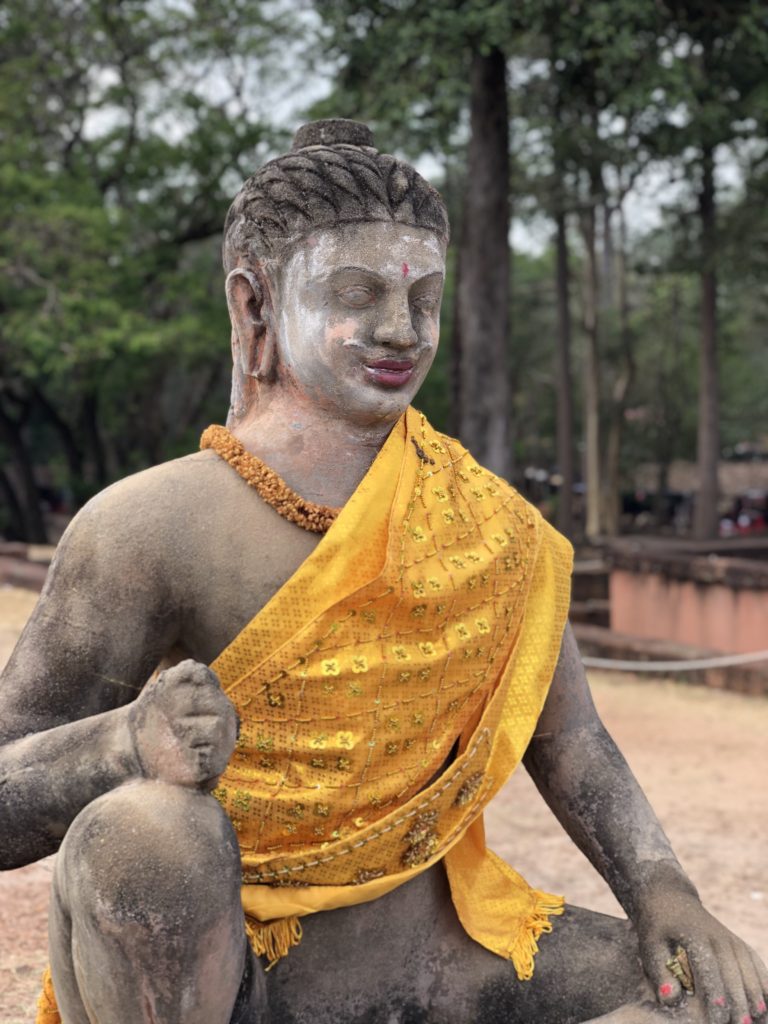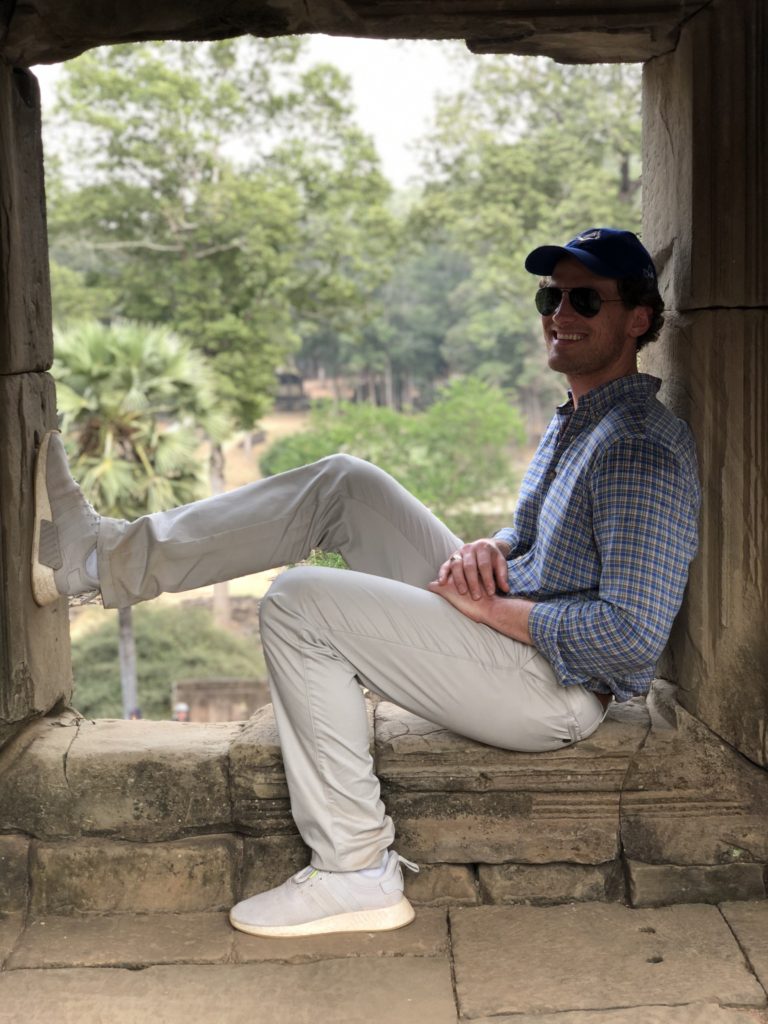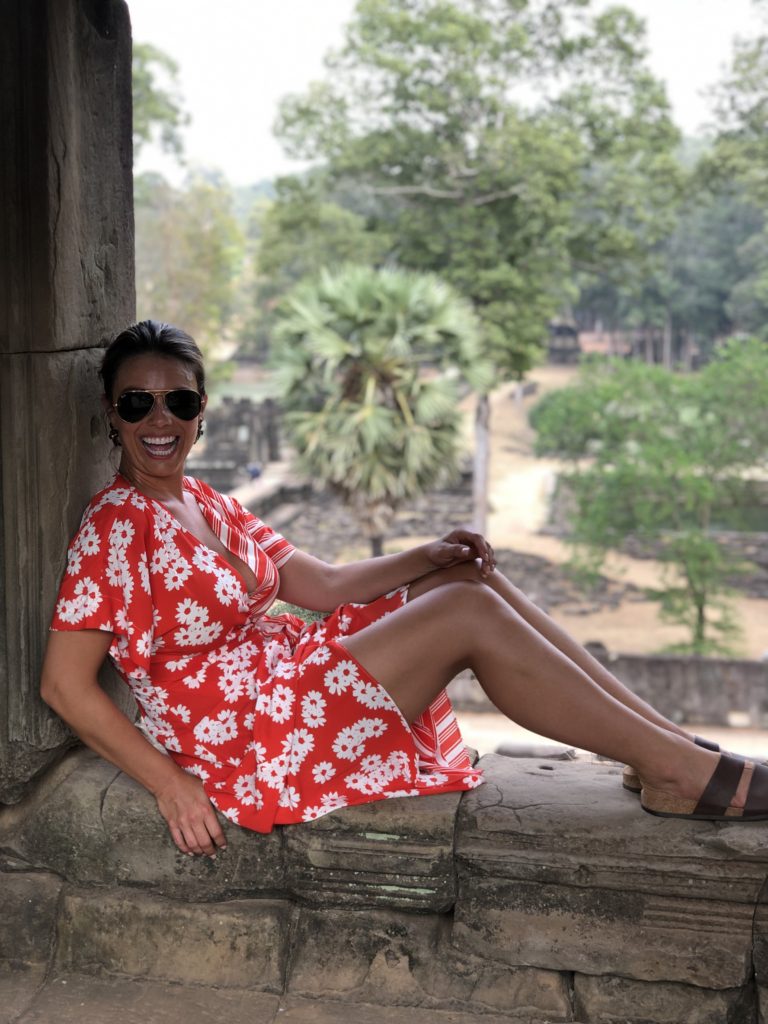 shop the look: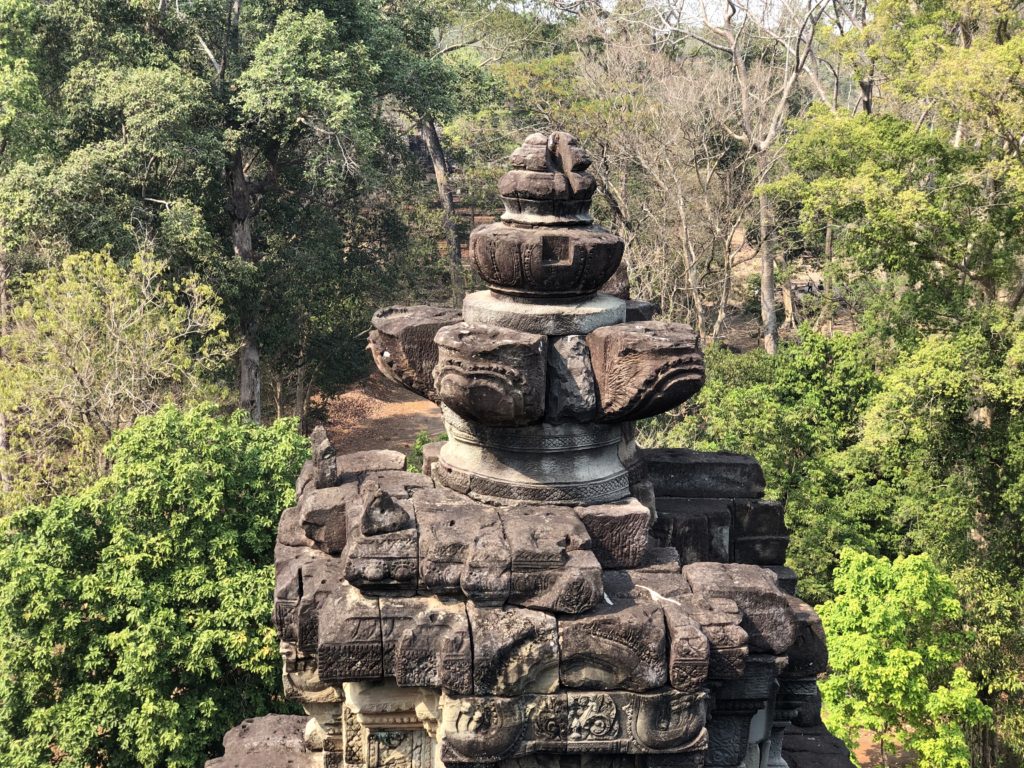 Our next stop was Bayon Temple, a richly decorated Khmer temple built in the late 12th century as the state temple of a Buddhist king. The Bayon's most distinctive feature is the multitude of stone faces on the many towers which have become very famous with tourists.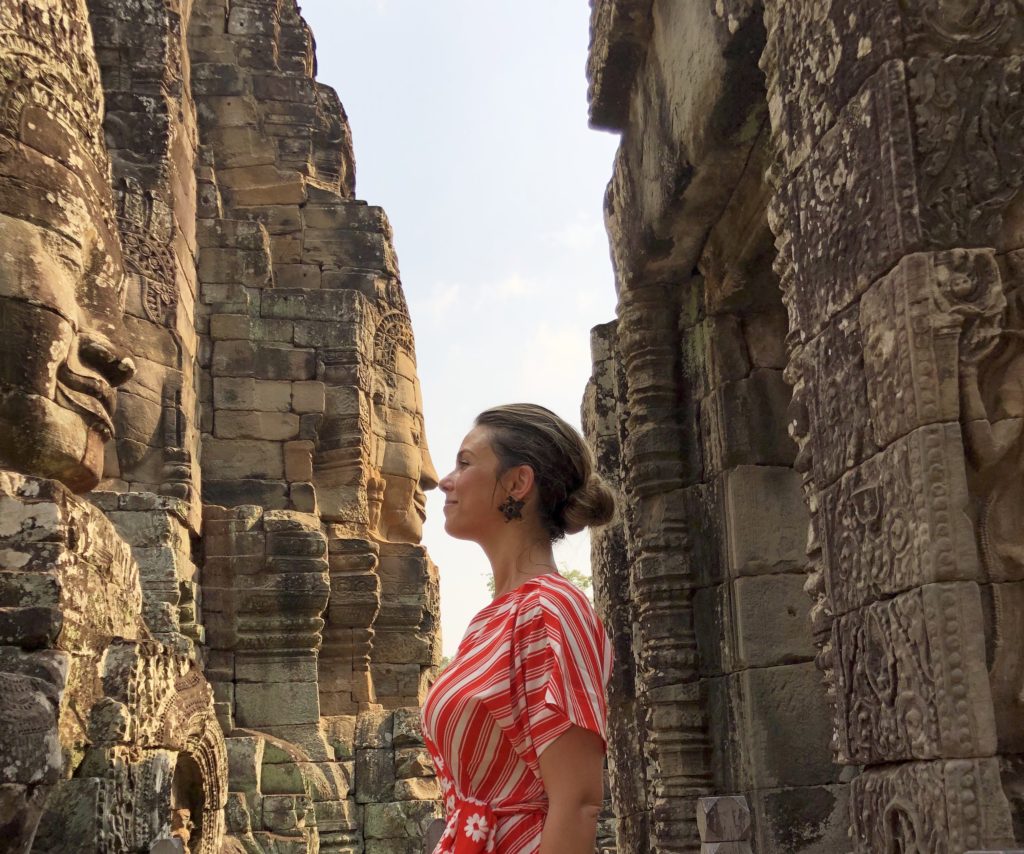 Lastly we went to Bakheng hill to catch the sunset over the beautiful temples. Walker said it looked like something out of Star Wars and I guess I'll have to take his word for it but nonetheless it was pretty amazing to watch. There were many young Buddhist monks there as well which I found fascinating!
The whole experience at Angkor Wat was absolutely magical!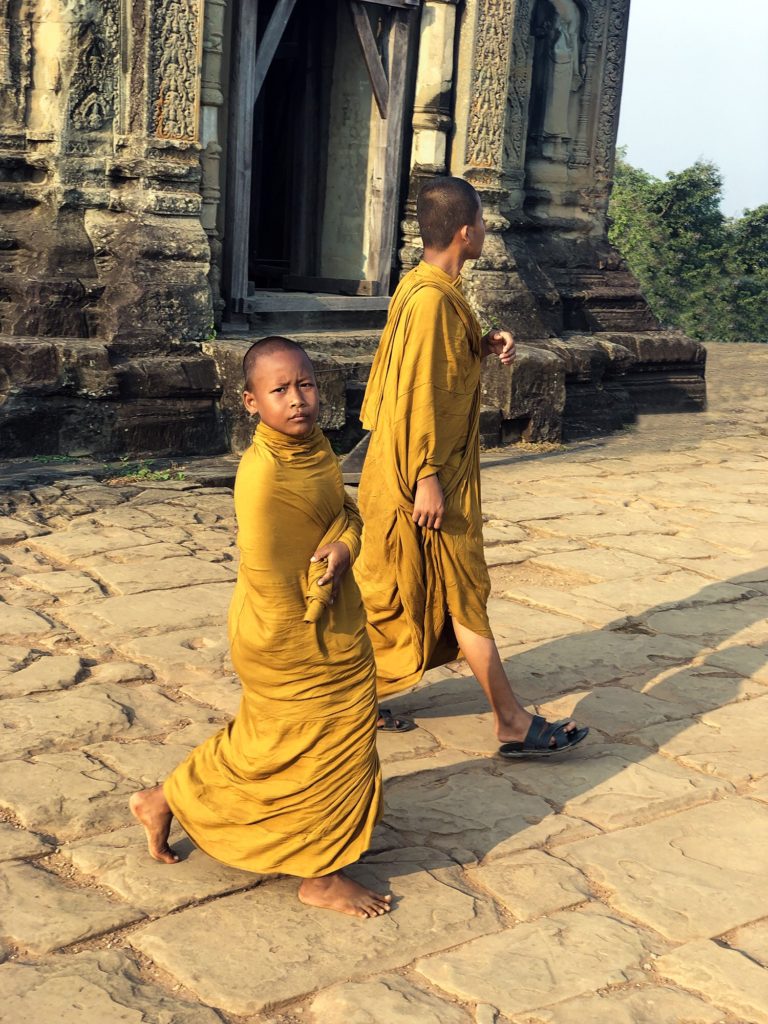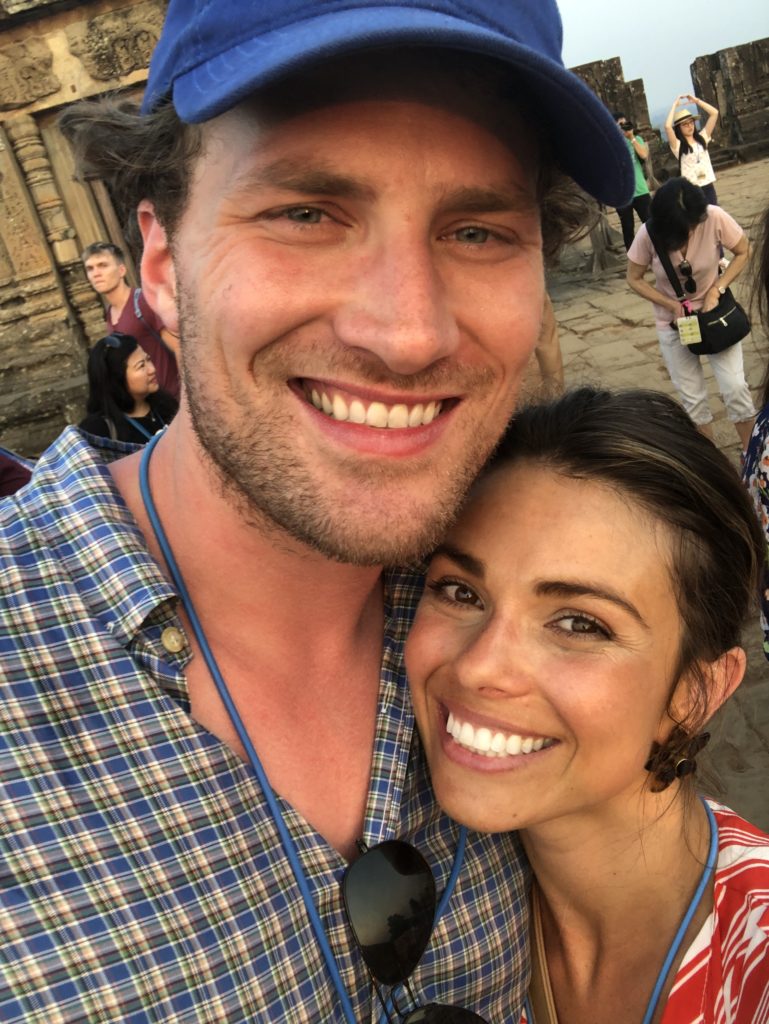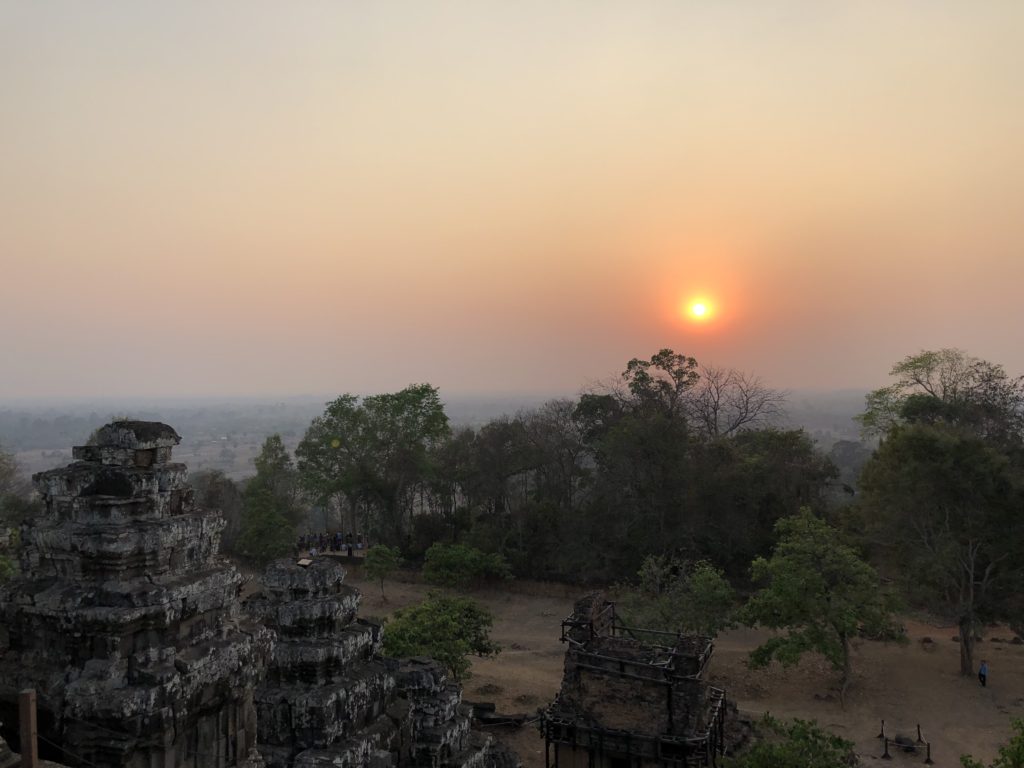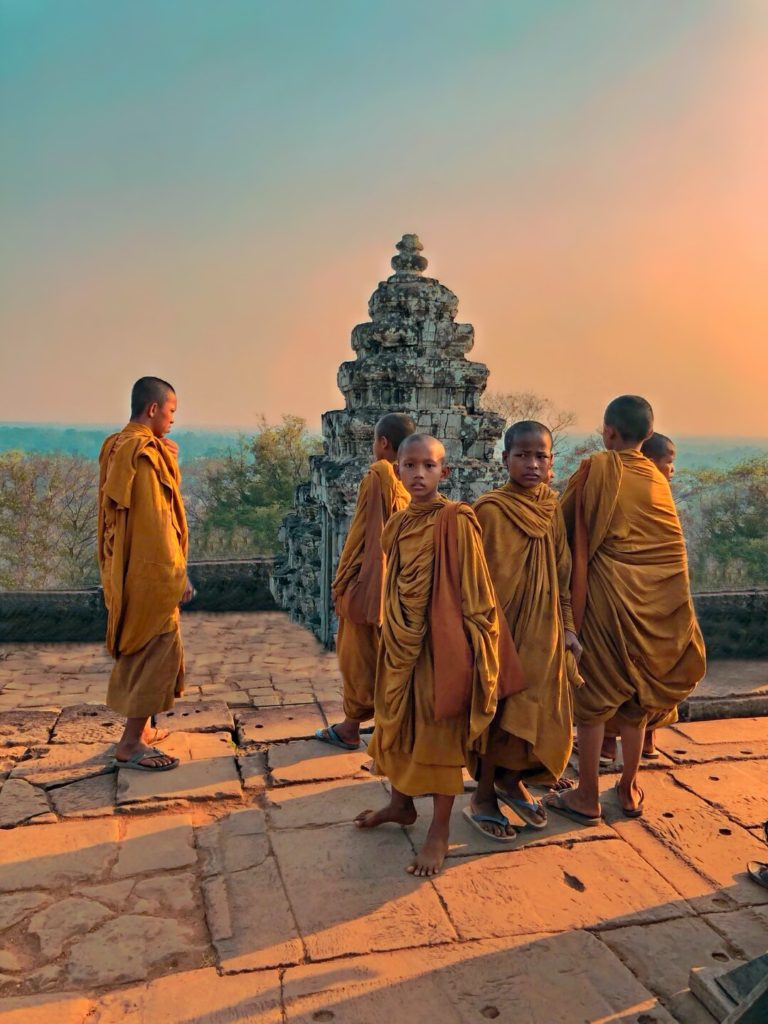 Filthy, sweaty and exhausted we made our way back to Jaya House River Park. After a hot (probably the hottest I have ever been in my entire life) day of exploration, these two Texans NEEDED a frozen skinny margarita. I called down to room service and asked if they could knew how to make frozen skinny margaritas and if they did, could we have two delivered pronto. The sweet bartender said he'd figure it out and be up shortly. And boy did he ever! For his maiden voyage on makin' margs' he knocked it out of the park! Our tangy and ice-cold cocktails were served in beautiful margarita glasses complete with a salt rim and lime wedges! Again, I must talk about the amazing service and attention to detail at the Jaya House River Park!!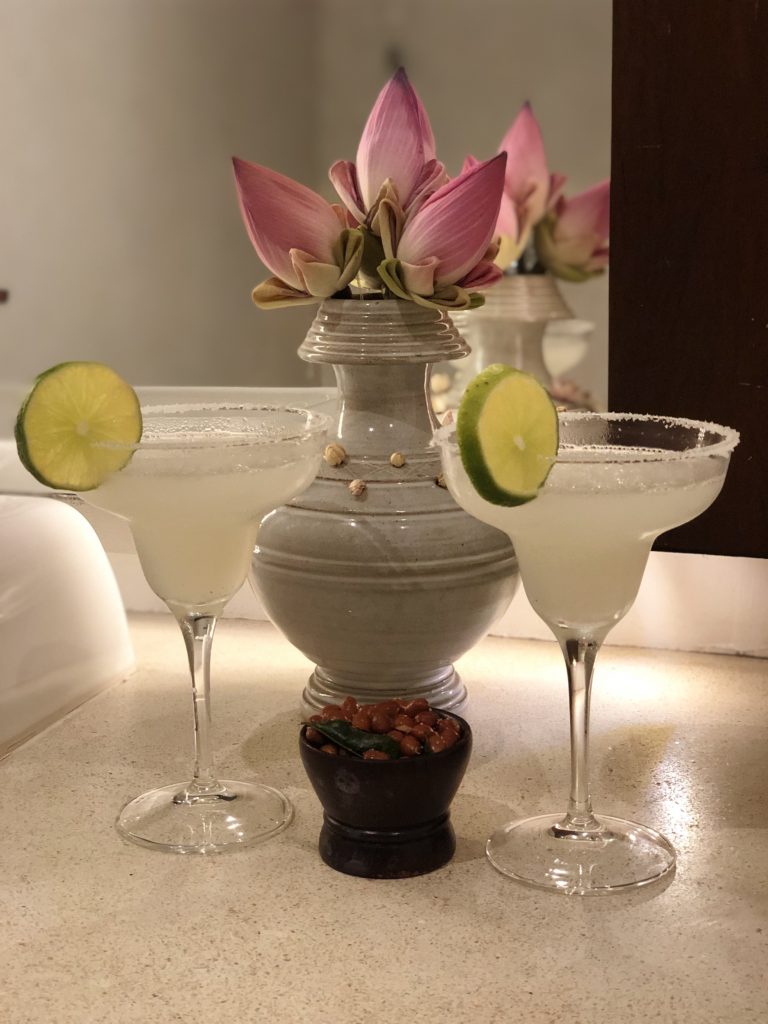 We sipped our cocktails in a cool bath and freshened up for dinner.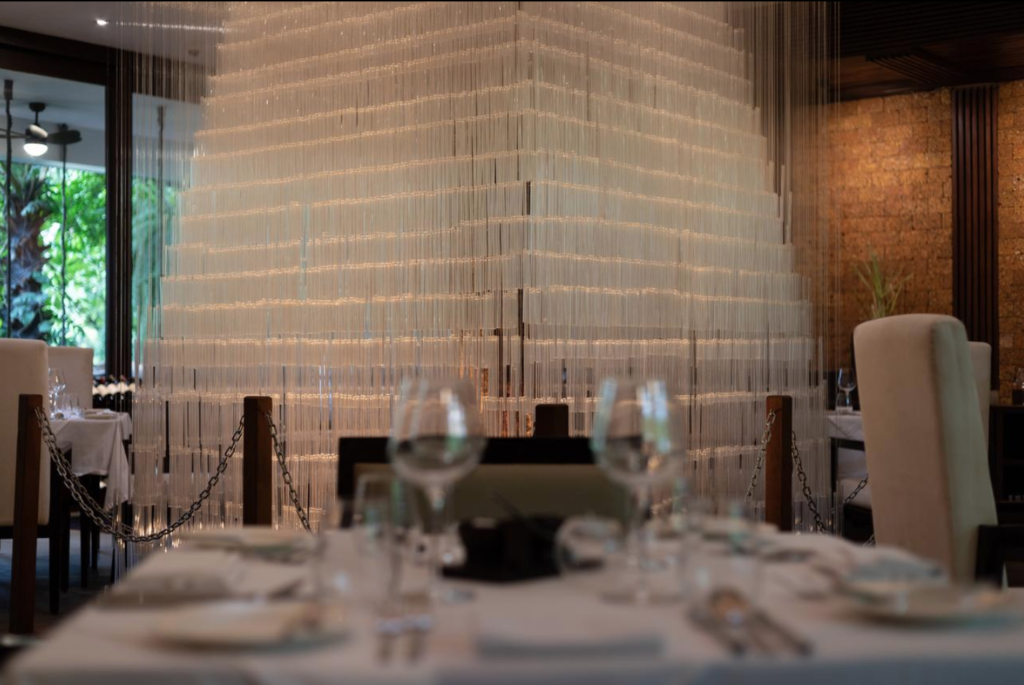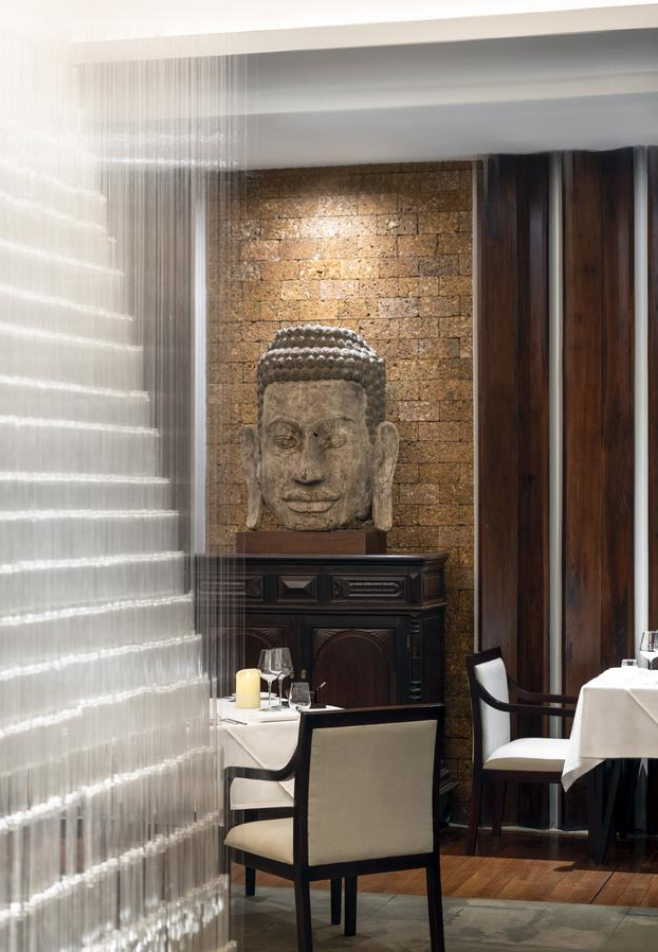 We had dinner at the hotel's restaurant and it was delicious. We started with ant beef. Yes as in the small bug. It was very good and the ants were actually good as well. Crunchy and slightly spicy. For our entrees we both had fish specials.
After dinner we went back to our room to watch the news. President Trump was meeting with Kim Jong-un in Hanoi, Vietnam at the Sofitel Metropole Hotel where we were just staying a few days before. So cool!
Our next morning started much like the days before except this time we sat outside for breakfast in a swinging table which was sooo cool and we also partook in the mimosa bar.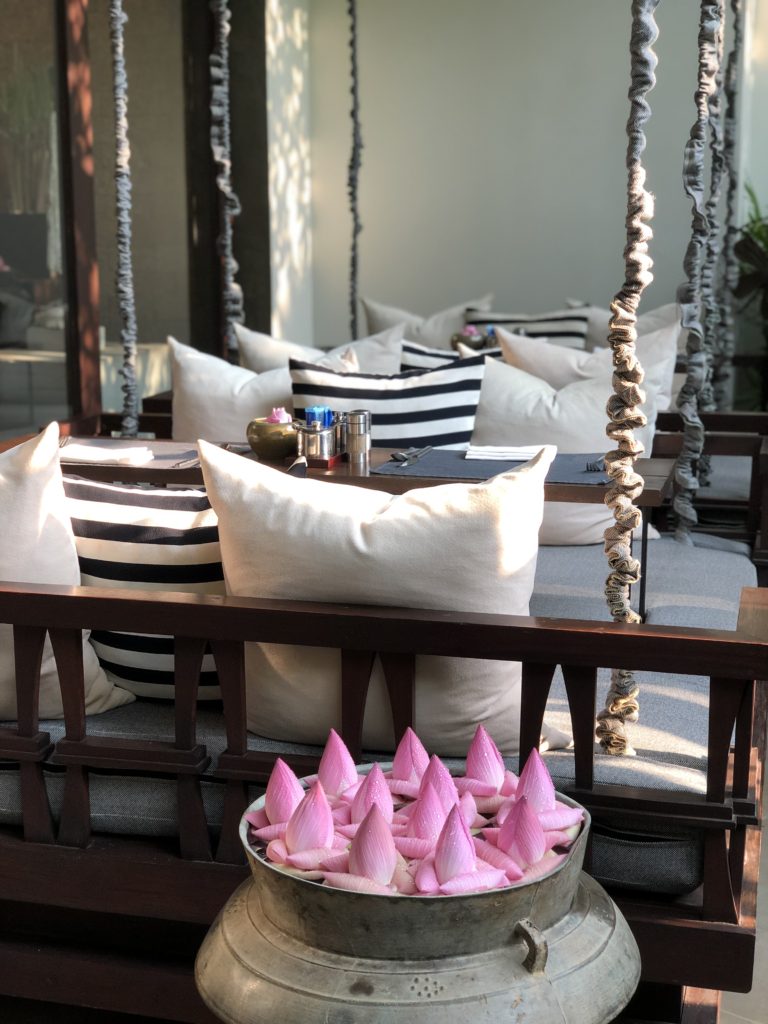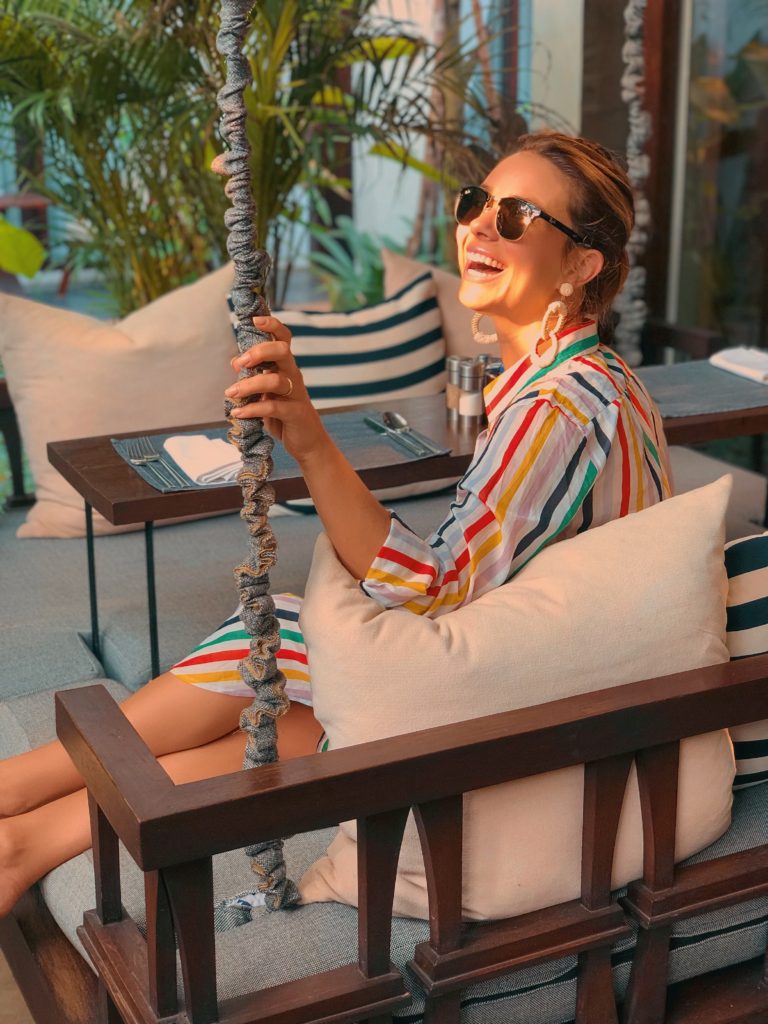 shop the look: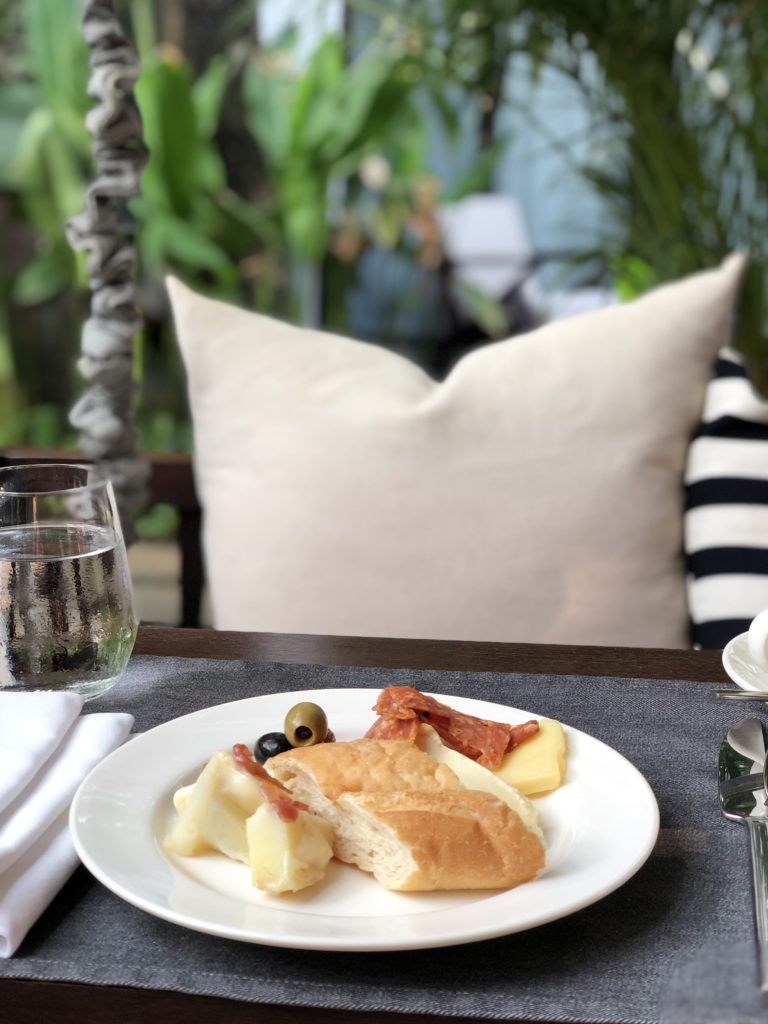 We spent most of the day relaxing at the resort's pools (there's two) and had a delicious lunch outside as well. I had a cheese burger and Walker a shrimp club sandwich.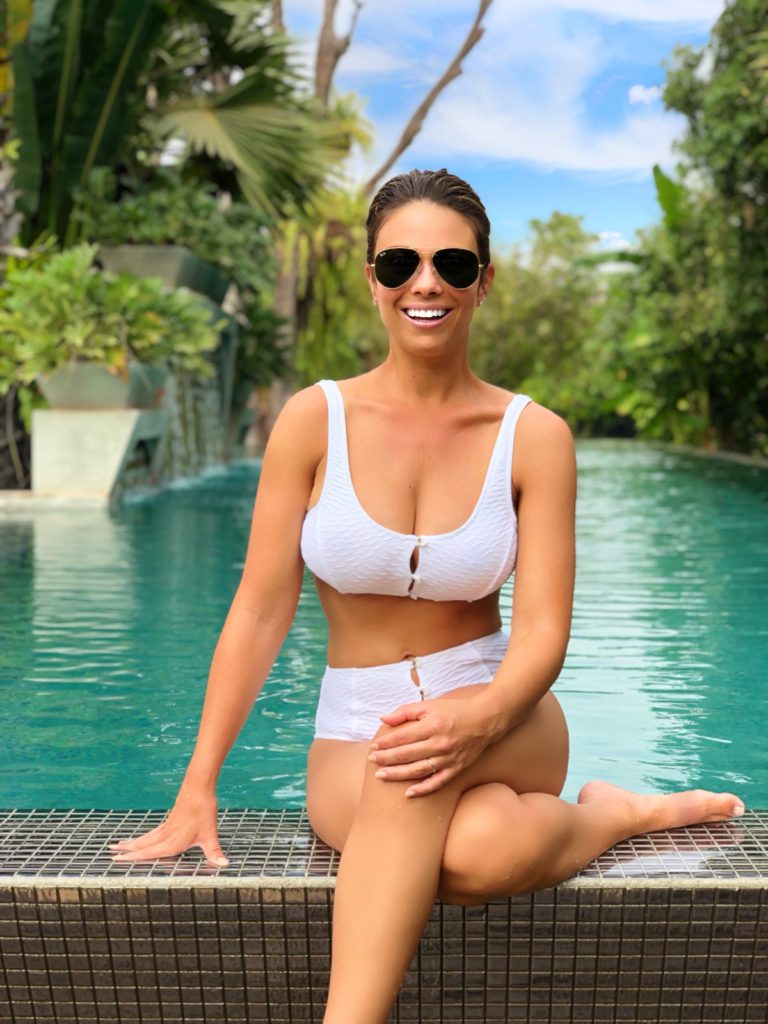 shop the look: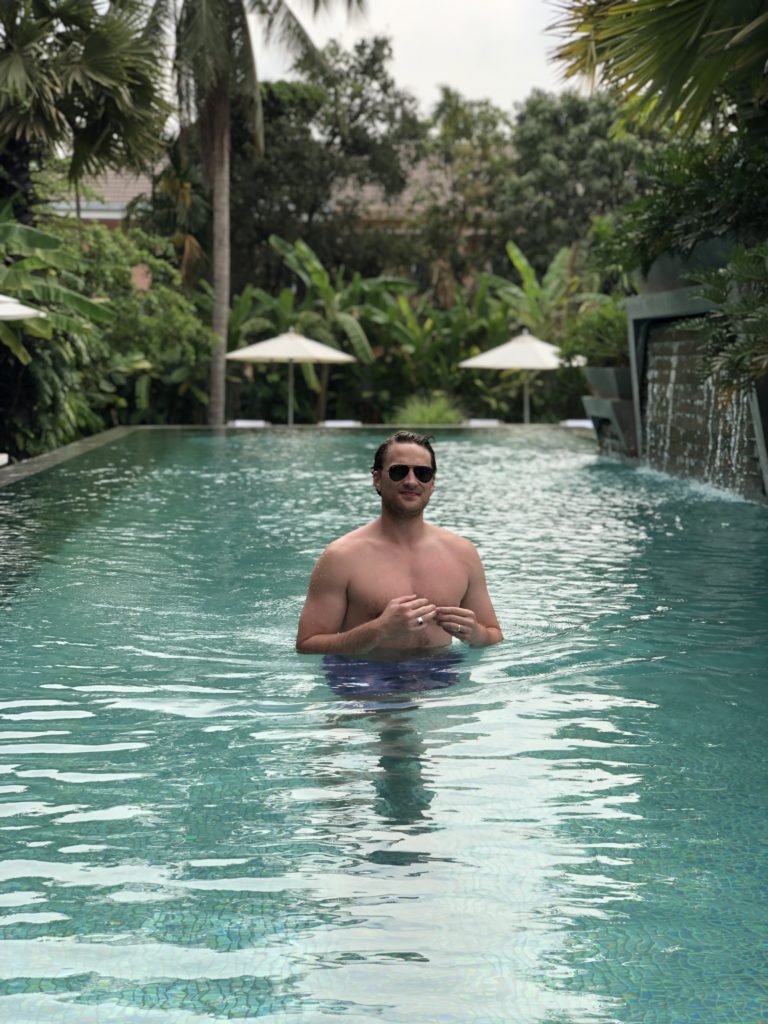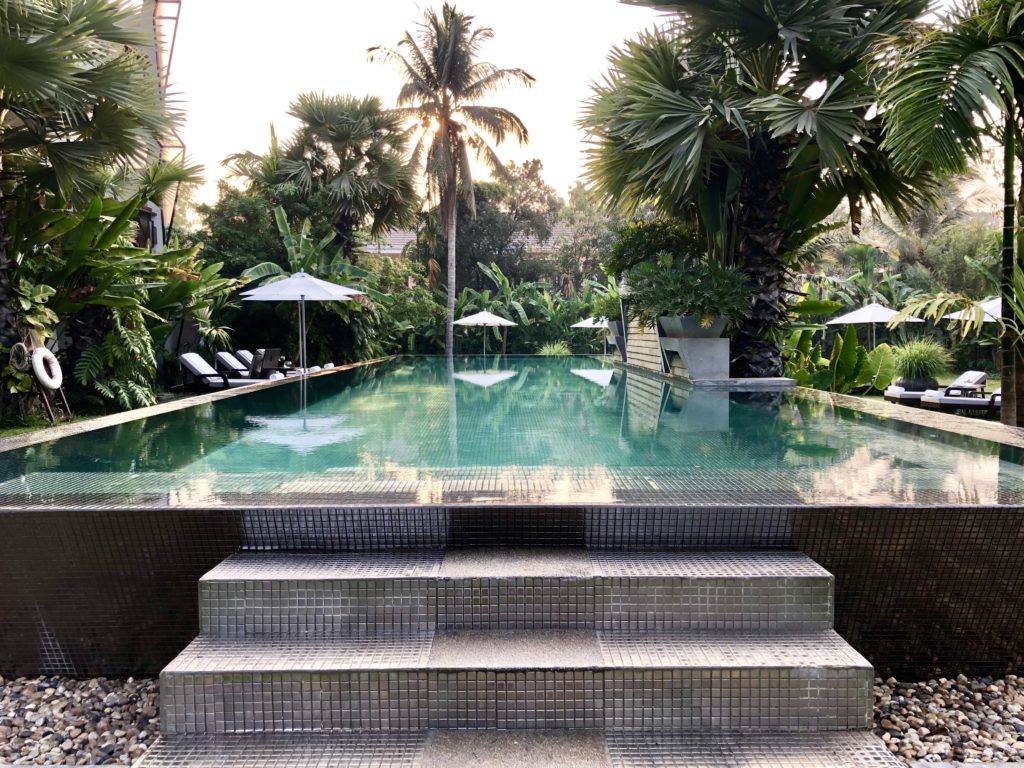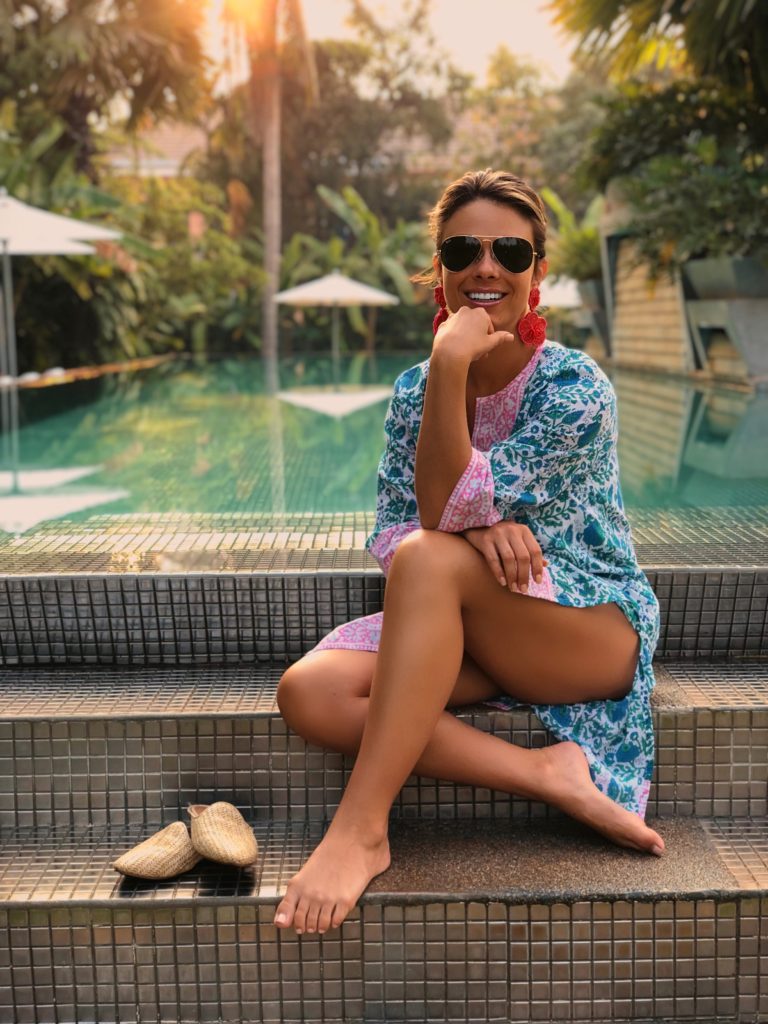 shop the look: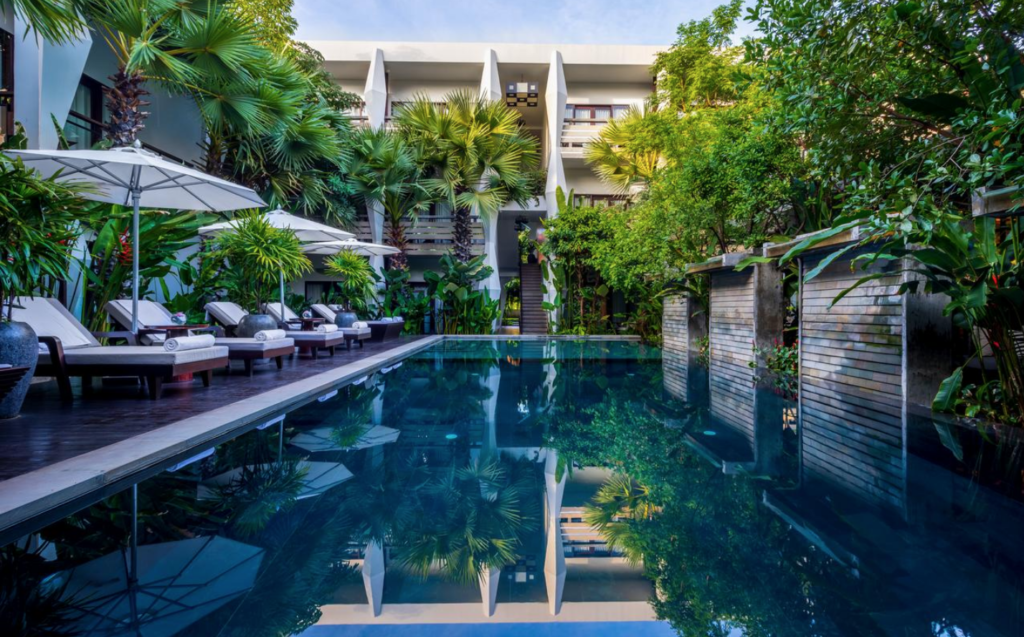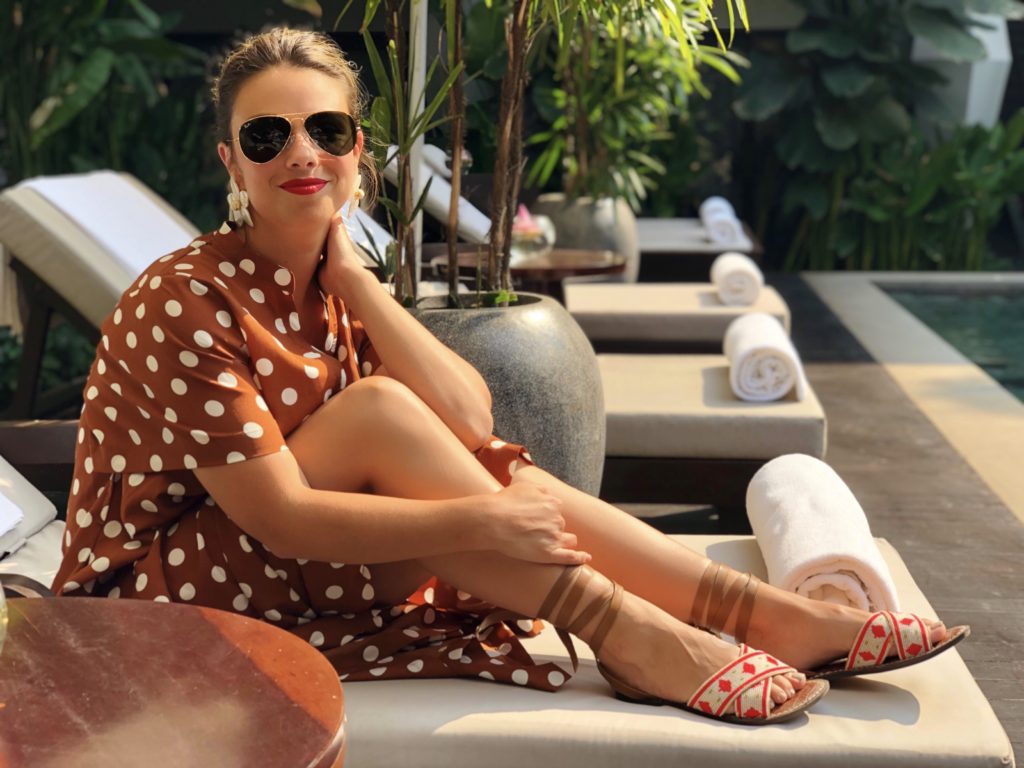 shop the look: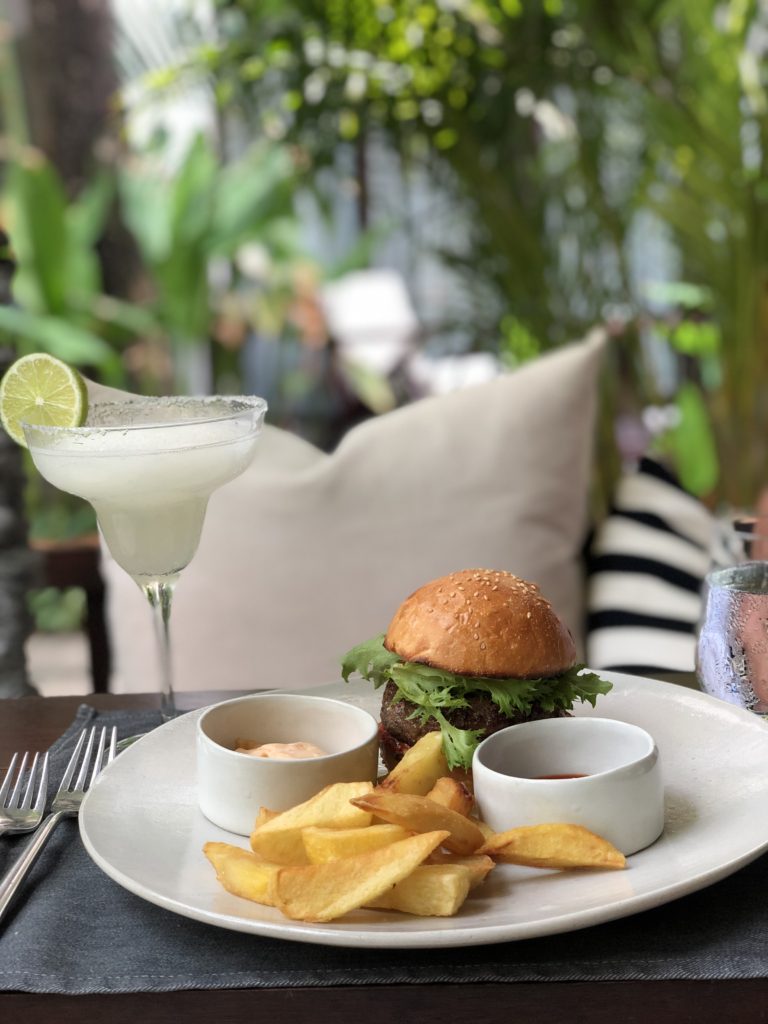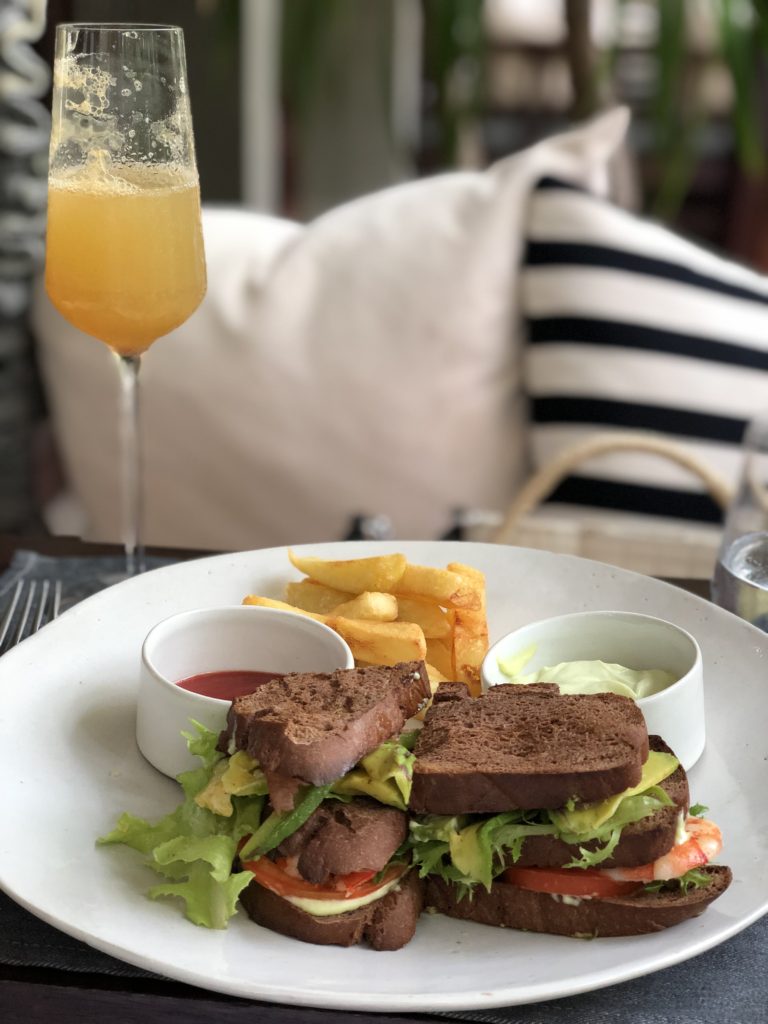 Full and sunned, we decided to go into town for a little exploration. Jaya House River Park has complimentary tuk-tuks for its guests which is yet another wonderful offering.
In town we explored Wat Preah Prohm Rath, a historical Buddhist temple complex with colorful pagodas and gardens. It's also home to one of the counties largest reclining Buddhas. And Phsar Chas, or "old market". The old market was like nothing we have ever seen before! The sights, the scents, the sounds… sensory overload! At the market you can get anything from Buddhist antiques, to live octopus (pet or dinner you think?) to a dye job and blow out. It was totally and completely fascinating! Once done exploring, the resorts tuk-tuk picked us up and we enjoyed happy hour on the resort's roof top bar. Margaritas and sunsets… does it get any better than that?
That night for dinner we ordered room service and relaxed in our beautiful room.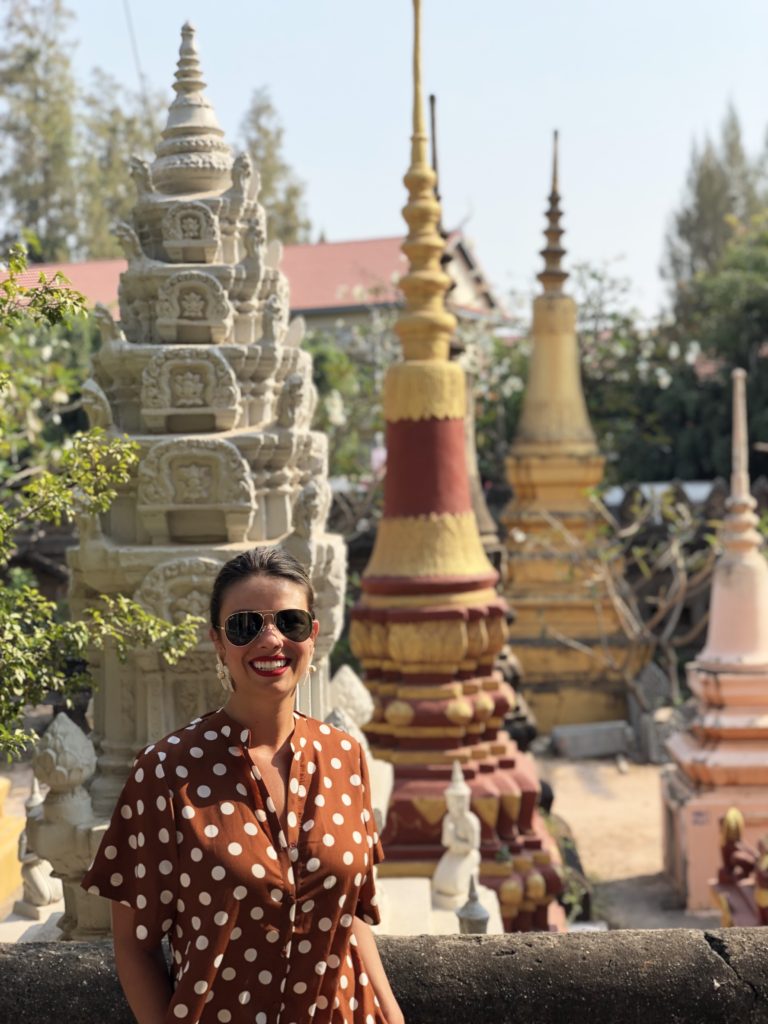 shop the look: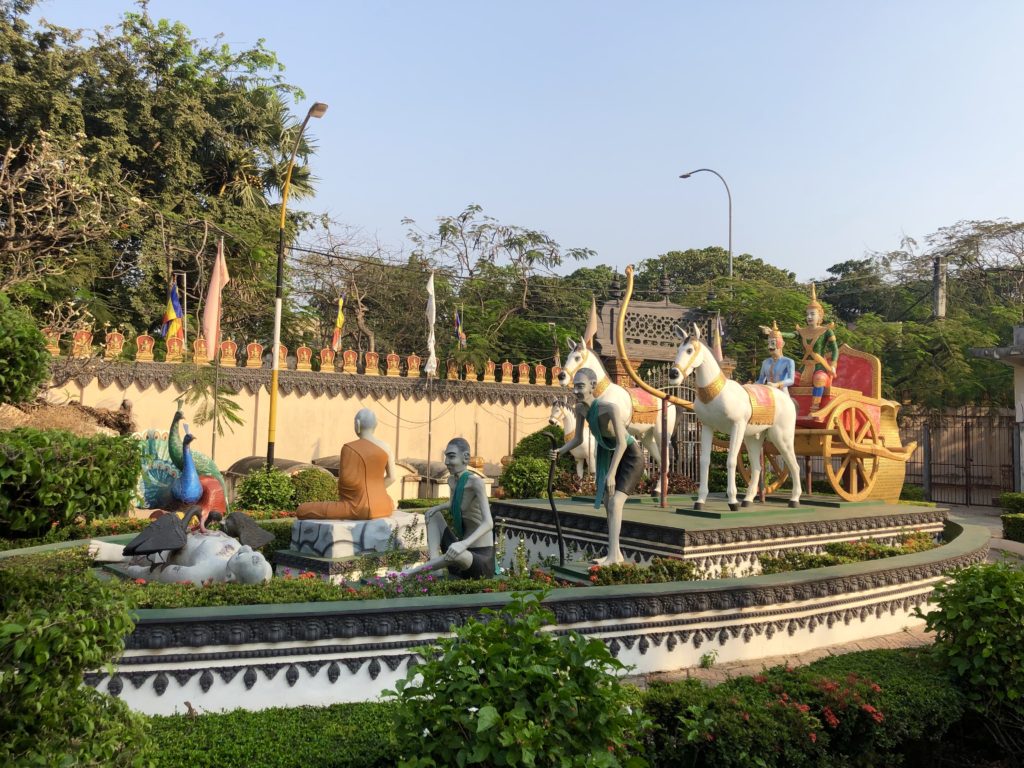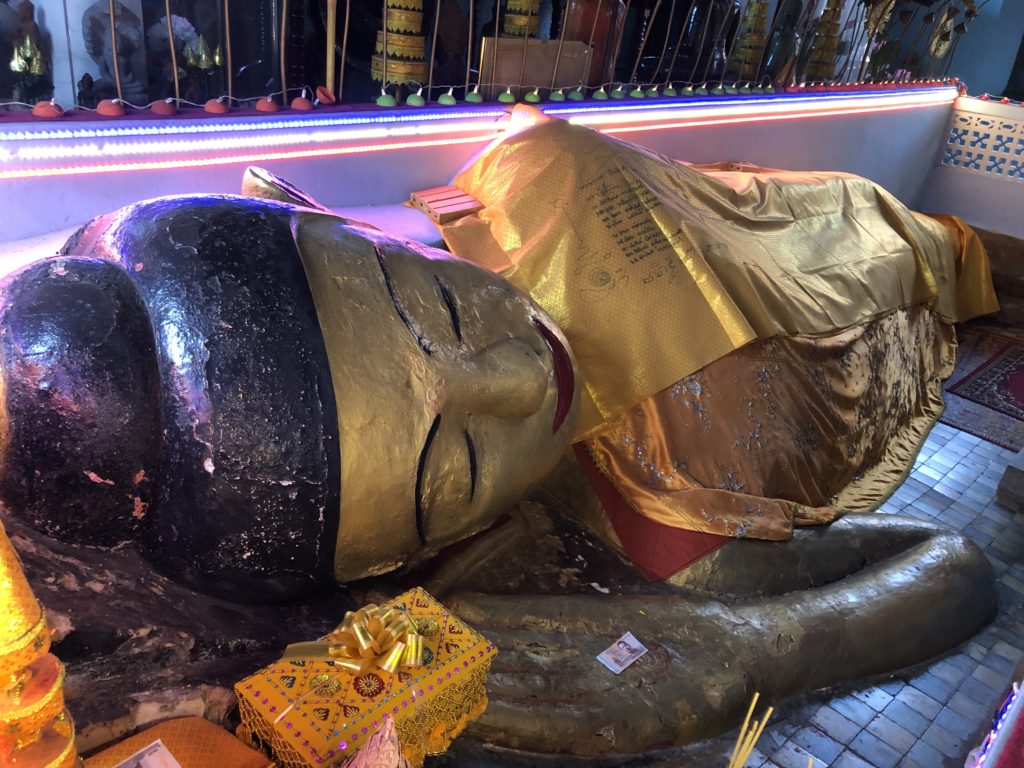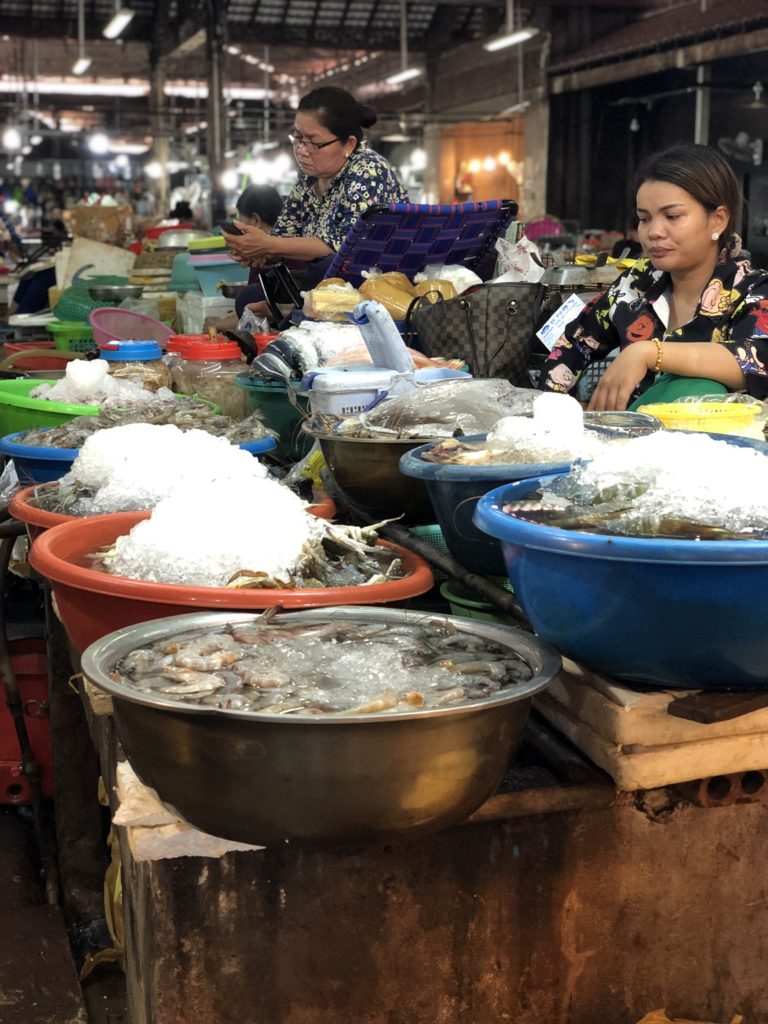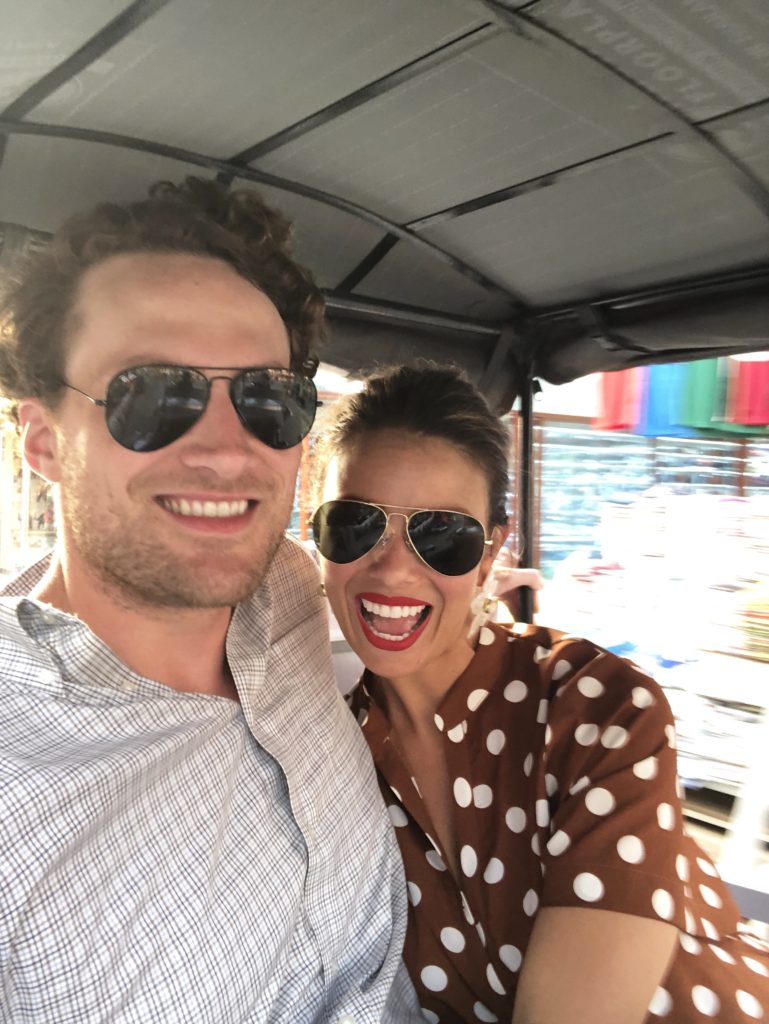 We had another beautiful breakfast at the resort and were excited about aonther day of exploration in Siem Reap! We planned a half day tour of the stilted village in Kampong Kleang and the floating village of Tonle Sap lake with Indochine Exploration and we were pumped! The sweet hotel staff sprayed us with bug repellant and we were off! On our drive down to Kampong Kleang our guide told us he had just taken Leonardo DiCaprio on the same tour we were about to do. Ummm can you say, "so cool!"?
We arrived to the stilted village and jumped on a boat propelled by a lawnmower propeller (Toto, we're not in Kansas anymore) and we were off to kayak! Once we got further into the river, our boat stopped and our tour guide started blowing up our kayaks. We didn't realize our transport into the lake would be umm inflatable. We hopped in and rowed down the river towards Tonle Sap Lake. After a few minutes into it, with lawnmower propelled boats zooming by our small inflatable vessels, I asked Walker if he thought there were snakes in the water. I was told not to ask stupid questions that I knew the answers to would horrify me. I kept rowing. And praying. Walker was on the crew team at Wake Forest so he was a champ! Though he's attempted to perfect my row on many of our vacations, I'm simply not a natural. We would finally get a groove going and my arms would tire and I'd accidentally splash the muddy, murky water we saw children relieving themselves in into Walker's mouth and eyes. We should have had the Reverend add "in triumph and in failure" to our vows for occasions like this one.
We got out to the middle of the lake and it was so calm and beautiful. The floating villages were like something I could never even have imagined. Children bathing in the lake's water, large families living on one small boat complete with TV and a satellite. It was so fascinating! Several dozens of wooden boat houses floating on the river all in a loose circular community. The village moves along the river according to the seasons, and even sits on Tonle Sap lake during the dry season.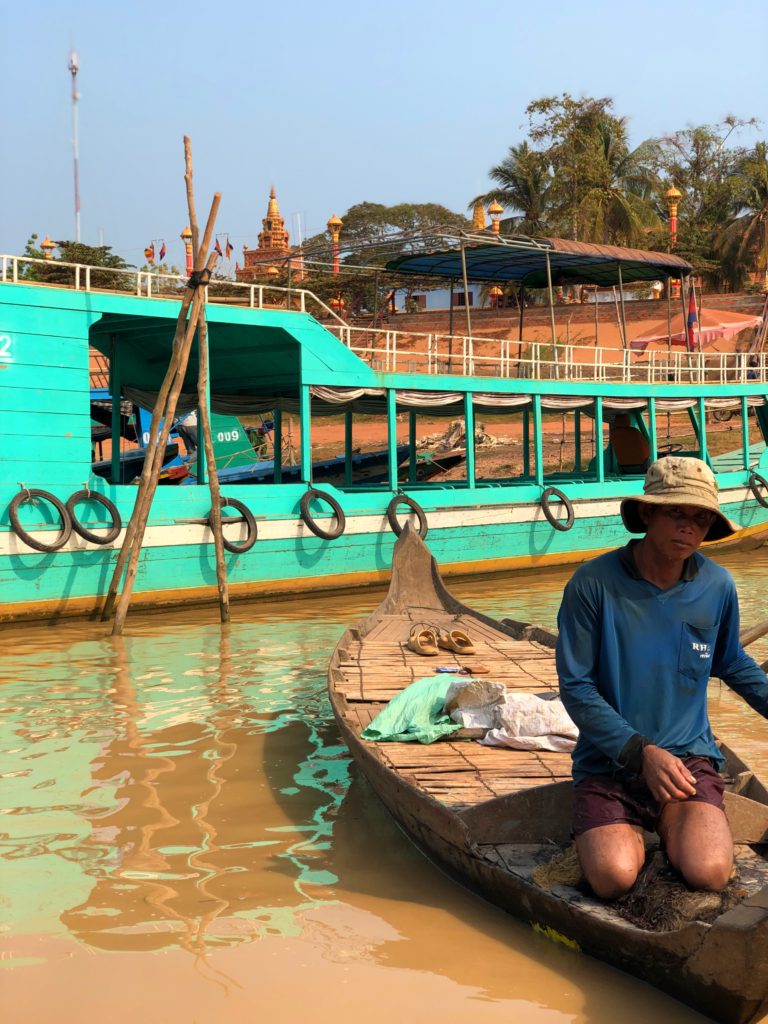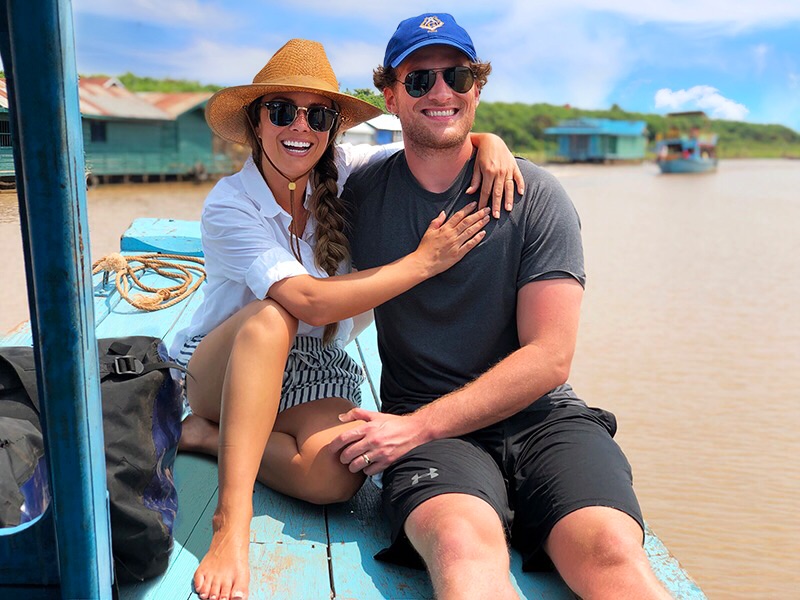 shop the look: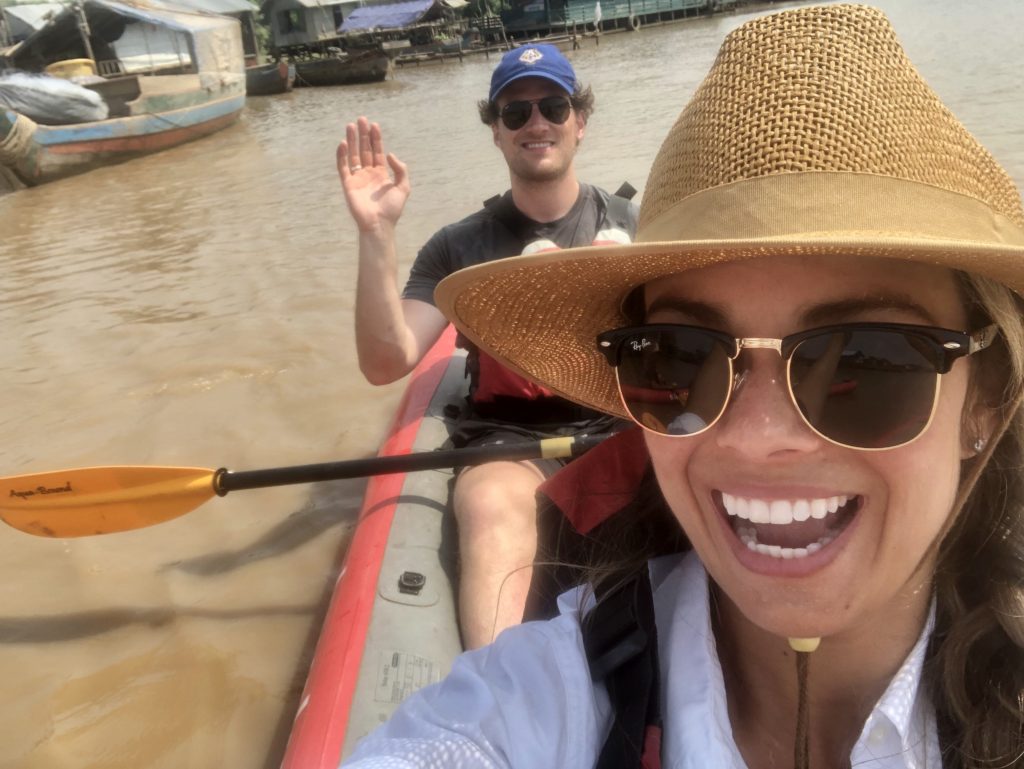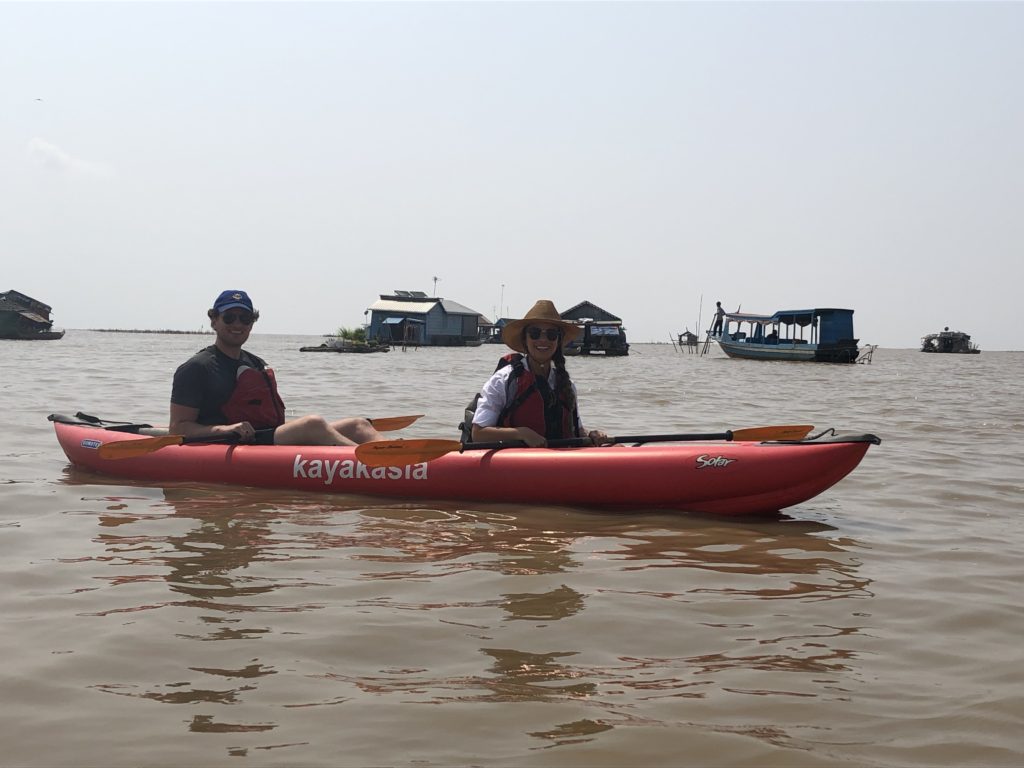 Our boat met up with us and we jumped in and headed to the stilted village. We sipped on cold beers (beer never tasted so good!) and our tour guide shared facts about the area with us. One of the most fascinating tid bits shared was that over 500 thousand snakes are caught for food in the lake each year. Guess that answers that. I cannot tell you how glad I was told that AFTER the end of our canoe extravaganza.
We got to the stilted village and it was so cool! Homes, built on thin tall stilts soar about a hundred feet above the water. They build their houses this way to protect them during the rainy season's flooding. We had a delicious lunch in one of the stilted houses over looking the water. The home owner told us stories of the previous rainy season where her home flooded and they couldn't return for weeks because it had become infested in vipers. Looks like my question is being answered again.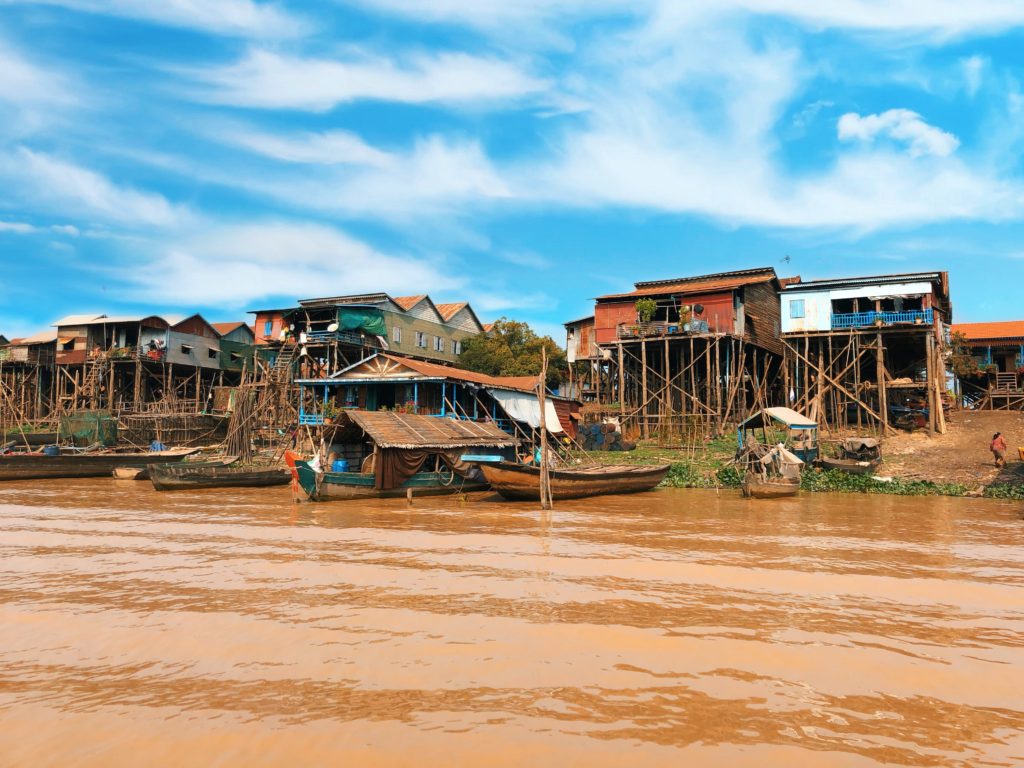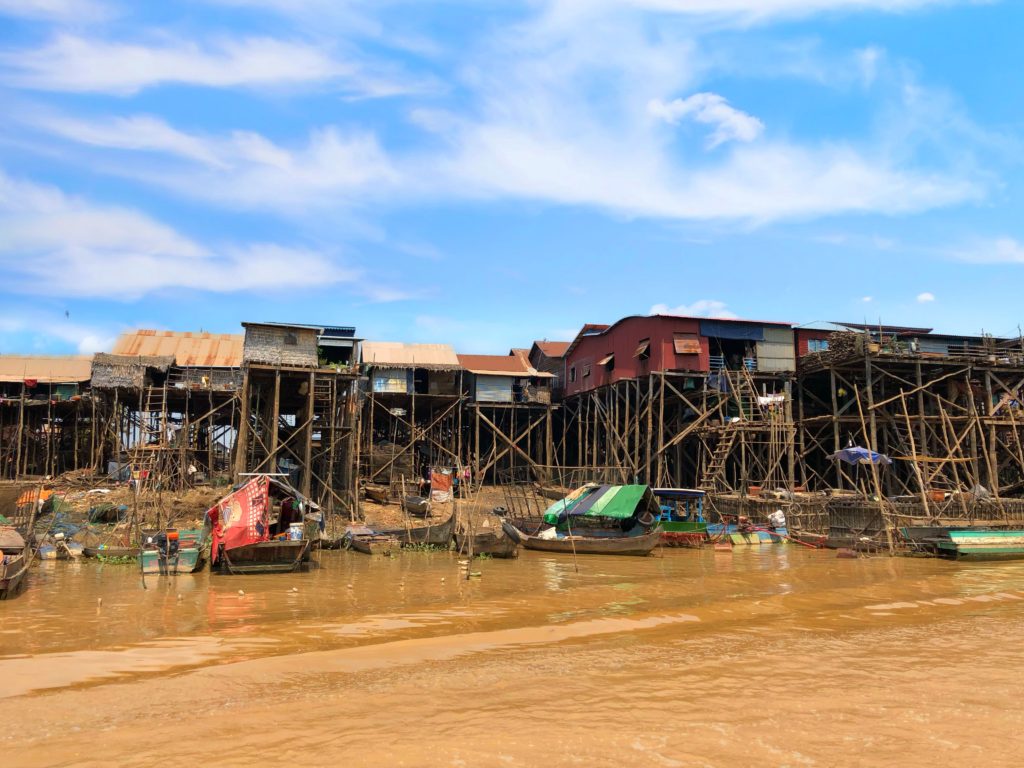 After our lovely lunch we were off to go see a crocodile farm! Say what?! The family owned croc farm was again, like something we'd never seen before! Crocodiles of all sizes from new-borns to 50 year old reptiles. The place was packed with future handbags… I mean crocodiles. The most fascinating aspect to us was that the family actually lived above the farm! With their children!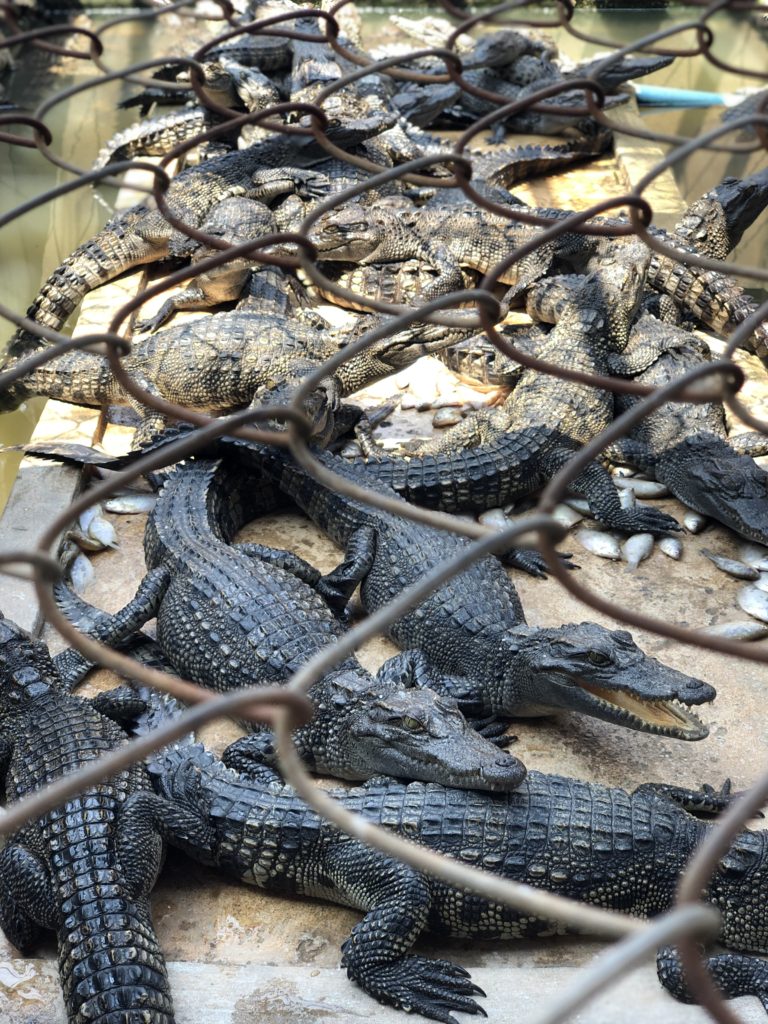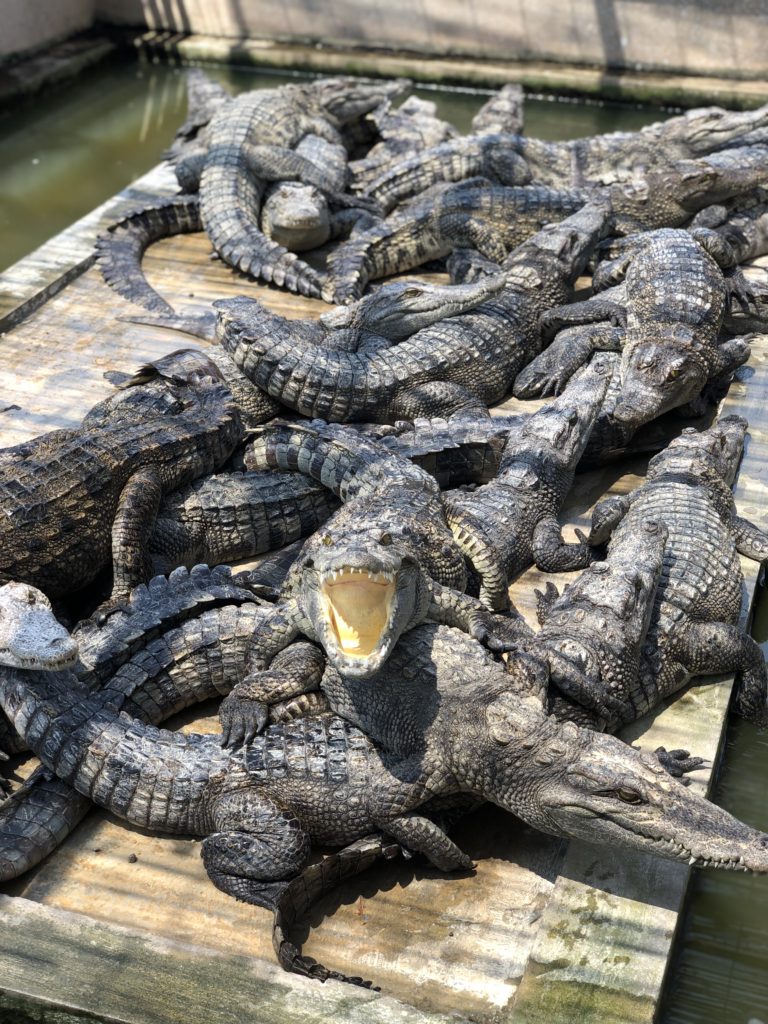 Though parts of this tour were scary and pushed me out of my comfort zone, this was my favorite experience in Cambodia, if not our entire honeymoon! I could not recommend exploring this area of Siam Reap more and think it's an absolute MUST!
We arrived back to our hotel, showered and had a light snack before heading to the airport.
If you are looking for service out of this world and 5 star luxury paired with exciting exploration, Jaya House River Park will make your wildest vacation dreams come true!
Thank you so much to Jaya House River Park for your amazing service and for providing an impeccable stay. You made our honeymoon a true dream!
Kisses and traveling wishes,