According to Walker the most wonderful day of the year is right around the corner and no I'm not talking about Valentine's Day. Super Bowl Sunday is just a few weeks away! Today I am sharing 3 easy recipes that will wow your guest!


Ingredients
1/2 cup milk
1/2 cup Italian style breadcrumbs
1 large egg
S&P to taste
1/2 cup grated Parmesan cheese
1/4 cup Italian parsley, minced
1 pound ground meat such as beef, pork, turkey, chicken, or veal, or a mix
1/2 cup yellow onion, finely chopped
2 cloves garlic, minced
1/2 tablespoon crushed red chili pepper flakes
1 jar spicy marinara sauce
dinner rolls
Fresh mozzarella
1/2 cup basil, chopped
Directions
Preheat oven to 350°F
In a small bowl, combine the milk and breadcrumbs and set aside- the breadcrumbs will absorb the milk and become soggy
Whisk the egg, S&P, Parmesan, chili flakes and parsley in a large bowl
Combine the egg mixture and ground meat
Add the onions, garlic, and soaked breadcrumbs to the meat and mix thoroughly
Form the meat into 1 inch meatballs
Bring marinara sauce to a simmer and add as many meatballs as will fit comfortably in the pan. Cover and simmer for 30 minutes
Meanwhile, slice dinner rolls in half and arrange on a baking sheet
Bake for 5 minutes
Remove rolls from oven and place one meatball on each "bottom" slice of roll and a spoon full of sauce
Top each meatball with a slice of mozzarella, but don't put the "top" buns on yet
Return sliders to the oven
Bake for 10 minutes or until cheese is melted
Top with basil and place "tops" on the sliders. Serve and enjoy!
Ingredients
1 can biscuits
Cooking spray
2 cups pulled cooked chicken, I like to use rotisserie chicken
1 cup BBQ sauce
1/2 teaspoon of Liquid smoke
1/2 teaspoon garlic salt
1/2 onion powder
1/4 shredded mozzarella
Directions
Preheat oven to 350 degrees
Spray mini muffin tin with cooking spray
Mix chicken, BBQ sauce, seasonings and liquid smoke in a mixing bowl and set aside
Separate the biscuits from 1 can of refrigerated dough and divide each biscuit in half
Press the half piece of dough into round pancake like disks about 1/4 inch think
Then press the dough into the mini muffin tin
Fill dough cups with the chicken mixture
Top with a sprinkle of extra cheese
Bake for 7 minutes or until golden
Serve hot with a side of ranch for dipping
Sweet and Spicy Turkey Meatballs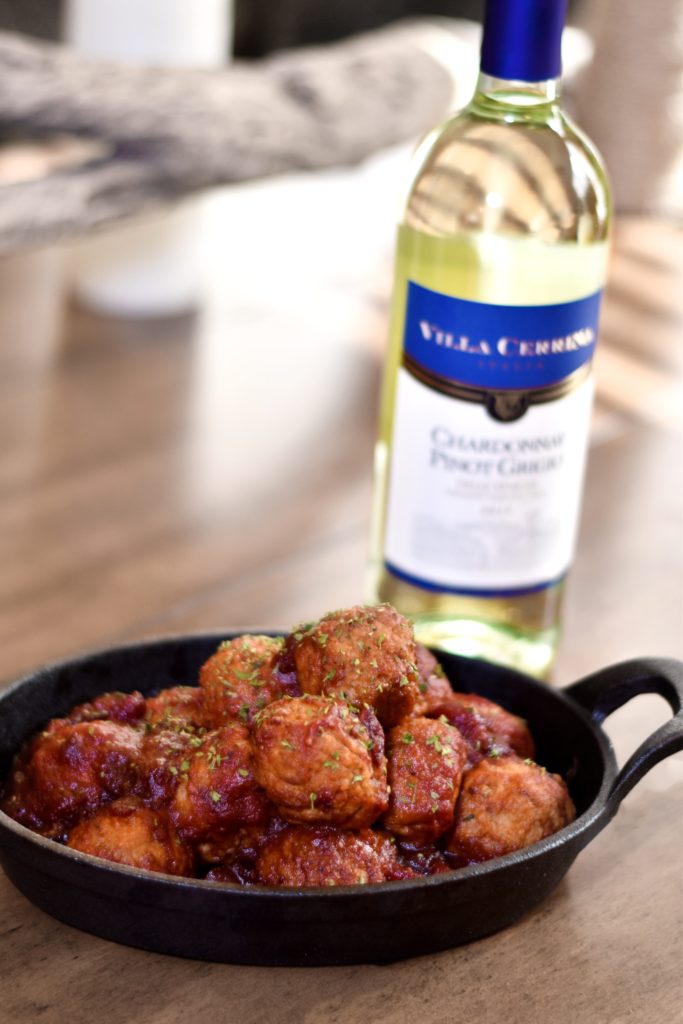 Ingredients
1 can Jellied Cranberry Sauce
1 bottle Heinz Chili Sauce
1 2-pound bag frozen, pre-cooked, turkey meatballs (Trader Joe's has my favorite!)
Directions
Combine both sauces in a large pot and cook over medium-low heat until smooth
Add meatballs
Cover and cook for 15 minutes or until meatballs are heated through, stirring occasionally.
Kisses and snacking by the TV wishes,