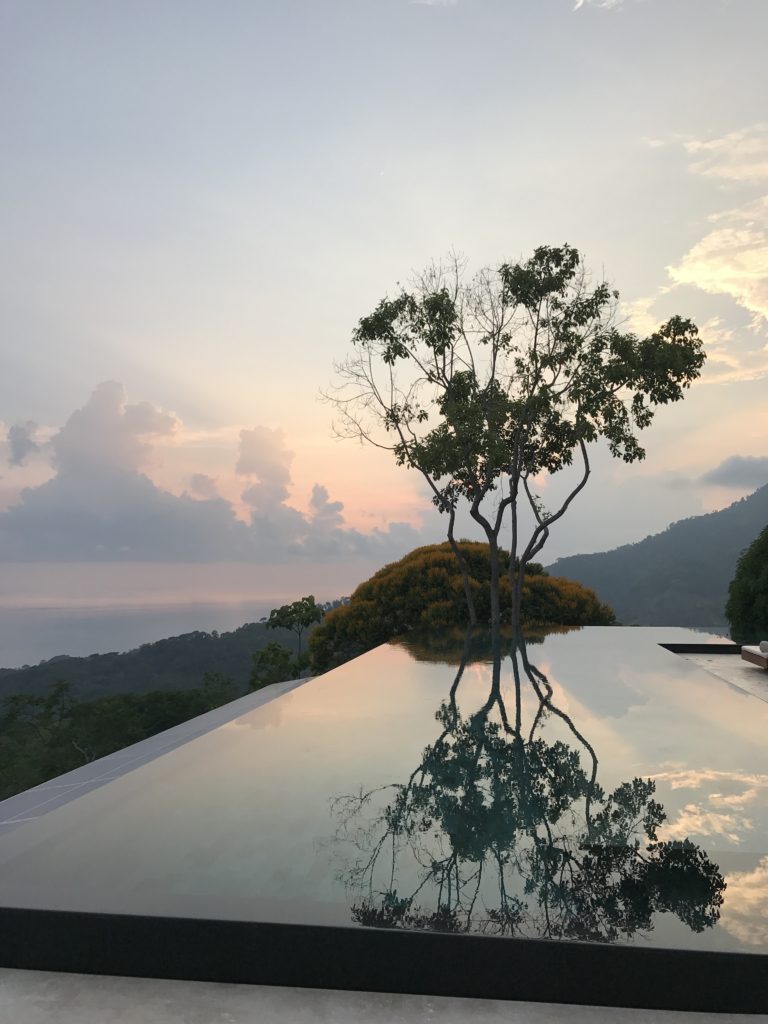 Last month Walker and I took the trip of a lifetime to Uvita, Costa Rica. We were beyond blessed to stay at Kura Design Villas and the experience surpassed our wildest expectations! Keep reading for full details on our amazing vacation and see how Kura Design Villas made our vacation dreams come true!
After a quick flight on Nature Air from San Jose to Quepos, Adam, Kura Design Villa's sustainability specialist, greeted us with a warm smile and refreshing cold waters, and drove us to Kura. As we drove along the beautiful Pacific coast, Adam shared some of the details of Kura Design Villas with us.
This adult only resort has only six rooms, creating an experience that is truly catered to each guest's individual needs. Kura Design Villas is committed to sustainability and preserving our planet's natural beauty. From the bamboo straws, to solar panels, and the salt water pool, this hotel strives, and succeeds, at being green!
We arrived at the jungle paradise and were welcomed by the charming staff and Jaguar Mojitos. Yum! While our room was being prepared for us, we relaxed on the resort's deck, snacked on fresh fruit and homemade banana nut bread and attempted to take it all in.
On the top of a mountain in the jungle that overlooks the Pacific, Kura Design Villas is home to the most beautiful views we'd ever seen! We'd seen photos of the resort and its views online, but they came nowhere near to doing it justice! Surrounded by jungle foliage, complete with the bright yellow May trees in full bloom, and incredible views of the beautiful Whale's Tale beach stretched out before us, we sipped, snacked and asked each other, "Could this be real?".
Our room did not disappoint either! We entered onto our massive patio complete with chairs, table, a hammock built for two and a perfect view of the ocean! Our suite was just as an inviting, with an open floor plan and floor to ceiling glass windows. From every inch of our room we had views of the jade ocean and emerald jungle.
We freshened up and changed into our beach attire and enjoyed cocktails and lunch in the resort's open air restaurant. I had panko crusted seared tuna with an arugula salad, which is grown in Kura's green house, and Walker had a traditional Costa Rican meal of grilled chicken, gallo pinto and plantains, which I snagged from Walker's plate before he even got to try them. Plantains are one of my favorite foods and Kura's were delicious!
After lunch, we hopped in Kura's SUV and were off to Playa Hermosa. Everyday Kura offers transportation to and from a different beach in the area- there are seven magnificent beaches within 30 minutes of the resort.
We arrived at a beautiful beach where jungle meets ocean. The Kura staff had packed and provided beach chairs, towels, an umbrella and waters for us. We claimed our little spot on the practically empty beach and soaked in the sun, salty air and beauty surrounding us. We sipped on fresh coconut waters we purchased from a fruit stand at the beach and read until sunset when Kura's staff transported us back to our jungle paradise. When we arrived back to our room from our beach adventure, the staff had sweetly left a welcome note and t-shirts for us. We were starting to become convinced that Kura had redefined hospitality.
For dinner that night we started with a local smoked trout that came from the town of one of the resort's employees, Jay. For our entrees, our waiter Miguel suggested the fish of the day, snook, which is a local fish. Miguel did not steer us wrong! The fresh catch was served with a decadent beurre blanc sauce, veggies and arugula salad. We capped the meal off with passion fruit pie. It was amazing!
When we returned to our room, the Kura staff had turned down our bed and had lit candles throughout the whole room. It was so romantic!
The next morning we woke to the sound of howler monkeys and enjoyed coffee on our private patio, while Walker used the complementary binoculars, a staple in every room, to bird watch. The bright colors of the birds' feathers were a technicolor dream- with yellows, corals and blues galore.
Breakfast is complementary at Kura and boy is it something! Miguel began our breakfast by serving us fresh Costa Rican coffee and juice. Walker had orange juice and I had a delicious passion fruit smoothie. Our juices came with fresh fruit and homemade banana bread, which was honestly the best banana bread either of us had ever tasted. And those were just the "starters" for breakfast. I ordered the breakfast burrito and Walker chose the traditional Costa Rican breakfast of eggs, gallo pinto and plantains (I know what you're thinking, and yes, I ate them). The toucan's flying through the jungle provided entertainment as we devoured breakfast. We were stuffed but ready for adventure!
We rode the complementary transportation down the mountain to Marino Ballena National Park so we could spend the day exploring Playa Uvita and The Whale's Tail! Again going above and beyond, the Kura staff packed us towels and a cooler of water. Despite it being a weekend, we were almost the only people on the beach! We laid under the shade of the palm trees and were amazed at the beauty of The Whales Tail, a narrow sandy isthmus that stretches in both directions at its end and resembles a whale's tale when visible during low tide. The water was so warm and clear! We waded out at least 300 feet on to the Whale's Tale, which was really magical and exciting experience. High tide was coming and the Whale's Tale was starting to disappear as we waded back; the water was only to Walker's waist but it was about carry me away, as it crashed on both sides of us. Thankfully my handsome merman was there to protect and guide me but it looked like a scene cut straight out of Fantasia!
Once exhausted and over sunned, we wandered into town and stopped at a local restaurant, Los Almendros, for shrimp ceviche and ice cold cervezas. A short time later, we were picked up by Kura's staff and taken back to our jungle retreat.
We were greeted by Jay with welcome drinks- "frog juice" a Costa Rican version of lemonade. Then, we hit the pool for a beautiful poolside lunch of beef croquettes and an amazing charcuterie board packed with the most delicious local meats, spreads and cheeses.
For dinner that night Walker had arranged a romantic and private dinner for us on the rooftop. Wow! We arrived at the rooftop just as the sun was beginning to set and words cannot describe the view. We enjoyed cocktails and a bottle of champagne and watched the sun set behind the mountain. It was so beautiful and romantic. Once the sun was down, we watched the stars come out one by one, just as the lights began to flicker on in the homes in the valley below us. For dinner we both had seabass and it was superbly fresh and delicious. And our server Adam, graciously waited on us like royalty, while entertaining us with tales of his upbringing in the area. After dinner we splurged on a banana flambé crepe and sipped on Grand Marnier, while we observed the stars and planets filling the night sky. We returned to a candle lit room yet again. It was a perfect end to a perfect night.
On our last full day we enjoyed hot tea on our patio, while we watched the colorful toucans fly from branch to branch just out inches from our patio. For breakfast, Jay treated us to Costa Rican coffee brewed the traditional Costa Rican way right at our table. Next was fresh fruit, smoothies and banana bread. Walker had his usual and I had the most amazing eggs Benedict! Remembering Walker had requested hot sauce with his eggs the morning before, Miguel brought it out without even being prompted. Throughout our stay, the resort's staff payed close attention to our preferences and anticipated our needs even before we did making us feel so welcomed and cared for.
We were full and happy and off to Playa Colonia to surf the inside of The Whales Tail. Adam arranged our surfing lessons with Uvita 360 and we met them at their offices in town. After a quick ride, we arrived at the beach and Diego, our instructor, gave us a quick lesson before hitting the waves. I got up on my first wave and Walker on his second! I had surfed a few times before but it was only Walker's second time. The water was perfect for beginners like us- only up to my chest at the deepest point and Diego was such a wonderful instructor. After an hour of shredding, we broke for a quick snack of water and local fruit and watched the unique mating rituals of black lizards in the distance. Once rested we hit the waves again and had the best afternoon ever!
Exhausted, we arrived back at Kura to much deserved welcome cocktails. We showered off and spent the rest of the afternoon in the sun at Kura's infinity pool over looking the expansive jungle and the Whales Tail we had just surfed. For lunch Walker had his usual again, that man really fell in love with gallo pinto, I had an arugula flat bread and we sipped on refreshing local beers.
As the sun began to set, we sat on our patio in our robes and watched a storm roll in. It was so beautiful to see the lightning dance in the sky, as the sound of howler monkeys and thunder filled the jungle around us. Before dinner that night, we had a few cocktails at the bar and got to know some of the other guests, who could not have been nicer or more entertaining. For dinner, we each had delicious steaks. And for our last dessert, I had a mind blowing chocolate lava cake that Miguel recommended and Walker had the passion fruit pie again. Saddened that it was our last night, we arrived back at out candle lit room wishing we could have another full day in paradise.
With an early morning flight to catch, Miguel arranged for our breakfast to be served before the restaurant even opened. Just another example of how the staff at Kura Design Villas goes above and beyond all expectation! We repeated our meals from the morning before expect with pineapple and spinach smoothies this time. We said emotional good byes to the staff, who'd become our friends during our stay and we promised to return again soon.
Thank you Kura Design Villas, Cayuga Resorts and the beautiful staff at Kura for the most amazing, five star, luxurious vacation.
Thank you Nature Air for our regional flights.
Kisses and Pura Vida wishes,