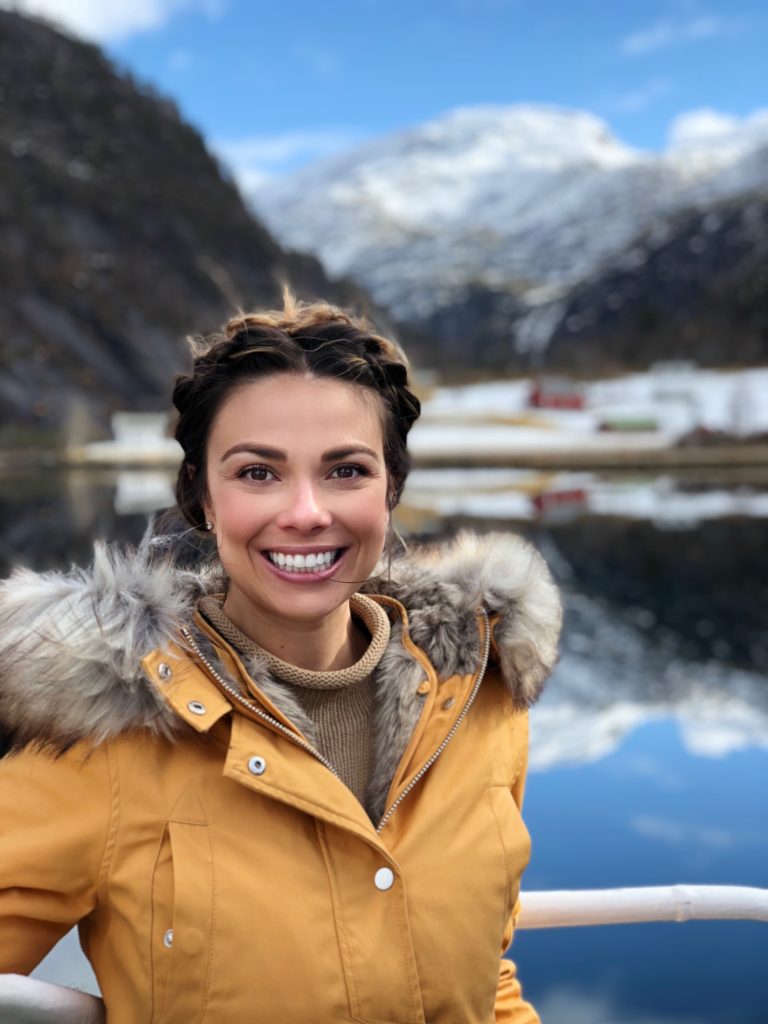 Good morning and happy Wednesday friends!
In April my mom and I went on a two week long Scandinavian adventure which began in beautiful Bergen, Norway. Today I am taking you along the journey with me and I'm sharing my Bergen, Norway travel guide! Keep reading for full details on where to stay, what to do and where to eat!
First, I have to describe what a breeze it was to get there! We flew Norwegian Air and I could not recommend the airline more! The flights were very affordable and the plane was sleek, clean and modern. I would recommending selecting the ticket option that includes luggage fees and meals. This will streamline your check in process and you'll receive better food in flight.
After our flight from LAX to Bergen, we arrived to a beautiful, snowy and breathtaking city. After a short taxi ride (about 30 minutes) we arrived at our hotel, Magic Kløverhuset. There are a few Magic Hotels in Bergen, but we selected this one because location, location, location! This hotel is located in the harbor of Bergen and showcases spectacular views of Bergen's unique and historic landmarks.
We checked in and immediately fell in love with our room. It was very clean, modern and spacious and the view! Omg, the view was like something I had never seen before! Out of our window we could see the fish market, the water and harbor, the beautiful snowy mountains and the Bryggen-a medieval wharf in the historic harbor district known for its colorful, wooden-clad boat houses. It was magnificent!
After checking in, we freshened up and hit the town! We walked to an adorable water front pub, The Flying Dutchman. The interior was cozy and nautically decorated but we opted to sit outside on their charming deck to enjoy the beautiful scenery.
After a few glasses of wine we walked to a Christmas store, Julehuset, to do some shopping!
Next we walked to dinner at Enhjorningen, which translates to "unicorn fish" located in the historic Hanseatic wharf. And boy were we in for a treat! The décor was so charming and quaint- like you were in a Norwegian grandma's living room. The building housing the restaurant was built before 1260! How crazy is that?! We sat and watched the snow fall onto the harbor and enjoyed one of the best meals of our lives!  We started with warm and freshly baked sundried tomato bread and creamy butter (I don't know what it is about the Norwegian butter, but it is amazing!). Not scared to try something new, I was intrigued by the thought of trying whale while in Norway. During my research prior to our trip, I saw it was featured on many menus. So, for our appetizer we split the smoked whale carpaccio. It was highly recommended by our waitress so we figured, when in Bergen! I was expecting it to look like a raw fatty pork chop and two taste, well, fishy. To our surprise it looked like very dark beef! And wow, was it delicious! The flavor wasn't fishy at all! It was served with goat cheese and a berry jam and we pretty much licked our plates!  After seeing we were adventurous eaters and not afraid to try something out of our comfort zones, our waiter brought us fried fish tongues to try! Yes, you read that correct. To our shock they were really really good! They tasted very sweet, almost like crab.  Next we had cod. First of all, the cod was so much different than the cod we have here in the states. It almost tasted like seabass! It was so moist and buttery and unbelievably delicious! The cod was served in a creamy egg and olive sauce accompanied by potatoes and roasted veggies. It was simply to die for! If you're a foodie Enhjorningen is a must when in Bergen.  We wrapped up our decadent meal with berry cobbler and walked home to our hotel in the snow. What a perfect way to start our Norwegian vacation!
The next morning we enjoyed complementary coffee in our room and watched the snow flutter over the beautiful harbor. The snowy view was simply unreal!
We had breakfast at Vista Bar located in the hotel where they offer complementary coffee and breakfast for the guests. Another great perk of Magic Kløverhuset! We enjoyed bacon, eggs and toast. Yum!
Located directly across from the hotel, we stopped by the Bergen Tourism Center and picked up our Bergen Passes. I highly recommend getting these passes. They offer great discounts on excursions and museums. Some tickets are even free with the pass!
Our first adventure for the day was to the Bergen Maritime Museum, which we walked to (we literally walked everywhere we went which is something I absolutely love dabout Bergen). Founded in 1914, this museum contains ships, boats, artifacts & films about Norway's seafaring past. They even had a small Viking boat which was amazing to see!
Next we went to the Kode Museum. We saw a beautiful exhibit on antiques such as silver and gold serving ware, children's toys and décor.
For lunch we walked to the fish market directly across from our hotel. Inside the market there are multiple fish counters and restaurants. We dined at Fjellskal Fisk & Skalldyr and it was amazing! We started with smoked salmon and each tried fish soup, a dish Norway is famous for!  If you only eat at one restaurant in the fish market, make it this one!
After lunch we went on a long walk and explored the charming city of Bergen.
For an afternoon pick me up we had fika. Fika is the Scandinavian version of the Spanish siesta, but instead of napping, you have coffee and pastries in the middle of the day. And let's be real, I'd much rather eat than sleep! We sipped hot coffee and nibbled on vanilla patsies at Lie Nielsen and warmed up, which was the perfect way to wrap up our adventurous and chilly first full day in Bergen.
We freshened up back at the hotel and walked to No Stress, one of the best bars in Bergen. We both ordered "ginger slappers" which were whiskey drinks with you guessed it, ginger, and also rosemary and apricot. They were amazing and the bar was so cozy and charming! I highly recommend this bar for pre or post dinner drinks while in Bergen.
After drinks we walked to Bryggeloftet & Stuene for dinner, which would end up being our favorite meal of the entire trip.  On our way we witnesses the most beautiful sunset! We sat in the window over looking the harbor and sipped on wine in the cozy restaurant. We started with mussels which we both agreed were the best mussels we'd ever had in our lives! Literally mind blowing! For our entrée we split the duck which was paired with beets and it was also very good! We wrapped up our meal with apple cake and briefly thought about ordering second of everything because it was all so good! This would be my top restaurant recommendation for Bergen restaurants.
Our first stop for the day was the Hanseatic Museum, which is also walking distance from the hotel. See what I mean when I said we picked this hotel based on location! And keep in mind, I had a broken foot, so I was doing all these walks with a boot on (thankfully the trip was worth it!). The main part of the museum is located in one of the wooden buildings on Bryggen. The museum covers the Hanseatic League period in Bergen. The Hanseatic League gained influence in Bergen around 1360 and for the following four centuries, many assembly halls and other buildings were built for the Hanseatic merchants. Seeing the old furnishing and hand painted walls inside this historic building was fascinating!
Our next stop was Haakon's Hall. Haakon's Hall is a medieval stone hall located inside the city's medieval fortress. The hall was constructed in the middle of the 13th century, during the reign of King Håkon Håkonsson. In medieval times, it was the largest building of the royal palace in Bergen.
After working up quite the appetite, we went back to the fish market for lunch at Lokalt og Lekkert.  My mom had fish soup and I had tomato soup. Feeling jet lagged, we went back to our hotel after lunch for a quick nap.
Feeling much better and now well rested, we went off to have fika and explore more of Bergen.  We had fika at Sweet Rain. The coffee was beyond delicious and we each had cookies with our coffee which were simply perfect!
After fika, we went on a long walk all across Bergen and it was so beautiful! We explored charming little neighborhoods as it softly snowed.
Next we went to Frille og Dyvekes Vinkjeller for a pre-dinner glass of wine. Frille og Dyvekes Vinkjeller is THE oldest bar in all of Norway! It is so cozy and charming inside and also has great prices on wine. This is a must when in Bregen!
For dinner we went to To Kokker, meaning two cooks, which is located in the Bryggen directly across from our hotel. All of their appetizers sounded so good we decided to order a few and split them, tapas style. We started with the elk carpaccio, then the lobster ravioli, then the mussels. We finished our meal with chocolate cake.
After dinner we went back to Frille og Dyvekes Vinkjeller for live music which was fabulous and we had an absolute blast! They have live music every Thursday and I highly recommend going if your stay falls on a Thursday.
The next day we went on a Fjord cruise from Bergen to Mostraumen. I wasn't exactly sure what to expect but we were blown away by the beauty of the Norwegian landscape! We took an hour and a half cruise through the Fjords to Mostraumen and the snowy surrounding mountains and water falls were something out of a painting they were so beautiful! I recommend purchasing your tickets a few days in advance. There is a discount if you have the Bergen Passes. The boat boards right by the fishmarket. I recommend getting there early to select a good seat and walk all the way to the back of the boat for the best seats. The door to exit onto the deck of the boat is in the back so this will allow you to get the best views and photos.
For a post cruise lunch, we went to Anne Madame which is walking distance from the harbor. We sat by the window and enjoyed the pretty view and people watching while we had amazing fish and chips!
After the cruise we went to the Magic Ice Bar, a bar made completely out of ice! We sipped our cocktails in the freezing bar while wearing fur lined capes and gloves for warmth. It was so cool! Though touristy, if you haven't been to an ice bar you should totally do this!
After our chilly cocktails we were off to more adventure! We took the Fløibanen, a funicular railway starting at the city's center that transports you to the mountain of Fløyen, which is 1050 feet above sea level! The Fløibanen was so fun to ride and the views from it were pretty impressive as well, but nothing compared to the views at the top of Floyen! We had never seen anything like it! During the summer there is wonderful hiking as well. These views are something that shouldn't be missed!
After our mountain and railway excursion we were absolutely starving and craving Italian food. We went to Olivia's which is located right on the water. We sat outside under heat lamps and snuggled up with fur blankets. We started our meal with venison capriccio served with a yummy cream sauce and fried capers. Yum! For our entrée we split shrimp and zucchini pasta which was to die for! We both promised to attempt to recreate the dish once back in the states. For dessert we had amazing chocolate soufflé! It was the best dessert we'd had in Norway! I would highly recommend making a reservation here. Especially on a weekend night.
The next day we went on a food tour with Bergen Food Tours. I could not recommend this tour more! Cheyenne, the tour guide, could not have been sweeter and the food was wonderful! We began our food tour just outside our hotel and our first stop was Søstrene Hagelin for fish soup made from a recipe from 1920! It was delicious and much different than the other fish soups we had tried in Norway.  Next, we went to Sweet Rain and it was as sweet a treat on our tour as it was for fika just days before. Here at Sweet Rain we had brown cheese cake, the only place in Norway serving up this delicious treat!  After the bakery, we went to the fish market and sampled many types of smoked salmon, rainbow trout and whale. They were all fabulous!  Next we visited Tre Kroneren to try reindeer sausage. It was amazing! The sausage was served with a sweet berry sauce, brown mustard and crispy onions! Just typing about it makes my mouth water! If you decide not to partake on the food tour adventure while in Bergen this sausage cart is still a must! It's great for a quick, cheap casual lunch or even late night/post bar munchies.  Next we stopped by Bare Vestland to try plukkfisk, a traditional Norwegian dish made of mashed fish and potatoes. I know mushy fish mixed up with mashed potatoes does not sound appealing, but this was our favorite dish of the day! It was absolutely amazing and I will be sharing the recipe on here soon, so stay tuned! Trying plukkfisk while in Norway is a must and Vestland's is supposed to be the best!  Our last stop of the day was back to the fish market for beer tasting!
Fat and happy, we were ready to walk it off and do more exploring! We strolled through Byparken, a park in the city center, and Lille Lungegårdsvannet, a small lake in the center of Bregen. Both absolutely beautiful!
Next we went to the Kode again (this time building 3- there are 4 buildings to this museum) and saw an amazing exhibit of Edvard Munch's work which was one of the highlights of the entire trip for me!
After our sightseeing we stopped into To Glass Vinbar for a glass of wine on their patio.
Before dinner we went on another walk and had dinner at Potetkjelleren, meaning potato cellar. This potato cellar turned restaurant dates back to the 1400s! I had the beef with crispy onions and my mom had the cod with chorizo. Both were tasty!
The next morning we had our final cups of coffee looking at our beautiful view and we were off to Stockholm!
Thank you so much to Magic Hotel and Visit Bergen for a phenomenal stay with your beautiful city! We can't wait to visit again!
For those of you flirtying with the idea of visiting Norway I highly recommend Bergen! The quaint, charming city, coupled with the history and amazing food and breathtaking nature really make it a place unlike any other I have ever been to! Use this Bergen, Norway travel guide to plain your next trip and you won't be disanointed.
I hope you enjoyed my Bergen, Norway travel guide and be sure to stay tuned for my Stockholm travel guide next week!
Kisses and traveling wishes,